The sky is falling!
The end is nigh!!
This is #FacebookZERO!!
It's a Facebook Apocalypse!
Freakouts aside, if you've been following all the chaos since Mark Zuckerberg made his announcement about sweeping changes to the News Feed, you might assume that Facebook is no longer a place for businesses. (At least not for free.)
And perhaps part of that is true.
The BIG Facebook News Feed Announcement
Zuckerberg made an announcement on January 11, 2018 that some have labeled "Facebook's Nuclear Bomb":
You can read the post for yourself, but these are the highlights:
People feel better and happier when they have conversations with friends on Facebook
Focus shifting from "helping you find relevant content to helping you have more meaningful social interactions"
More posts from friends, family and groups
"You'll see less public content like posts from businesses, brands, and media"
This change may mean people spend less time on Facebook
This video from Facebook sums it up quite well:
The Social Media World Responds
Most of the response I've seen about this Facebook change has been gloom and doom. People are freaking out.
Mike Stelzner from Social Media Examiner was the first one to go Live on Facebook about this and used the hashtag #FacebookZero to describe his feelings about it.
His video has over 540k views as of writing this:
Brian Grimes-Viorrt from Social Element had this to say:
"The days of organic reach are definitely over. Businesses already have to invest in ads on Facebook to get their content in front of their audiences. But there will be fewer opportunities to buy ads, so the prices will be higher."
Mari Smith added this thought to the conversation:
"Folks, this is a pretty HUGE update today. Sigh. "Facebook Zero," here we come… it was always on the cards. That is, to see solid ROI on Facebook, businesses must invest in ads. The good news, though, is advertising done properly on Facebook and Instagram can dramatically grow your business."
Joe Lazauskas of Contently made this proclamation:
"I always balked at past predictions of Facebook's demise, but this will seriously hurt the company. People will spend less time on Facebook, which will make it less important to marketers who pay for content distribution. Start adjusting your strategy accordingly: prioritize owned media and transfer as much of your audience as you can to your email lists. That way, you'll have a direct line to them."
Mike Isaac of the New York Times had this thought:
"Thursday's changes raise questions of whether people may end up seeing more content that reinforces their own ideologies if they end up frequently interacting with posts and videos that reflect the similar views of their friends or family. And bogus news may still spread — if a relative or friend posts a link with an inaccurate news article that is widely commented on, that post will be prominently displayed."
Chris Cunningham of Unacast said this:
"The impact of the News Feed (algorithm change) will be positive for user experience but terrible for brands, publishers and other third-party players. "
Marcus Andrews of Hubspot weighed in on the changes:
"Facebook has clearly put a stake in the ground that user experience is more important that the brands that pay them. By making this shift they clearly prioritized one over the other, and are potentially a bit nervous about the current (really negative) narrative about the negative impact of social media on society. Organic reach for business pages on Facebook has been under assault for a long time now, this is not new."
Not all the reactions were negative however.
Joel Comm said this in a comment thread:
"Feeds are way too overloaded with too many page likes. Groups are way more effective. You want to play, you pay. And if it becomes cost prohibitive for people to do so, that just means Facebook is prime for disruption, right?"
Douglass Karr of DKNewMedia says:
"No one can stop great content from being shared socially. We will continue with our efforts."
David Foster of GeeksLife said:
"I understand, it will be a change for sure, but I don't think it is such a huge shift that we need to think all doomsday like. Facebook is notorious for this kind of thing. "
You get the picture.
What Does The Facebook News Feed Change Mean for Your Business?
In reality we don't know the answer to this exactly — not yet anyway.
You're probably guaranteed to see lower reach, especially if you aren't getting much engagement now.
Conversations are Gold
Facebook's new focus will be on conversations, and primarily conversations between friends.
These comments could be on posts by pages, or by friends so keep that in mind.
So as a page owner you'll be rewarded when your followers get into threaded comments/conversations on your posts.
There isn't any mention if just random people that aren't friends going into long back and forth comments will help your page or not. The focus seems to be on "meaningful interaction" between friends.
As a local business this could be great news as many of your followers will likely be friends, especially in small towns.
Facebook Groups
Some say Facebook Groups will be more important now than ever. And remember you can connect groups to your pages. Closed or Private groups tend to spur on more conversation, as the posts aren't seen in the News Feed of your friends. So your comments remain hidden to the masses.
Groups would be a great idea for schools, churches, municipalities, non-profits and other local organizations.
If you run a burger joint locally you may not get much traction in a group, although you could use it to maybe give "Exclusive Specials" to those members. Keeping them engaged will be crucial though.
See First
There are many pushing their followers to turn on the "See First" option for their pages. Which is supposed to put the posts into the top of the News Feed if you have it turned on for a page or person.
Social Media Examiner even went so far as to make a quick tutorial video on how to do this, and I've seen others do so as well.
Personally I wouldn't expect many to do this.
Outside of instructional type pages this has little to no value IMHO. But I could be wrong.
Facebook Ads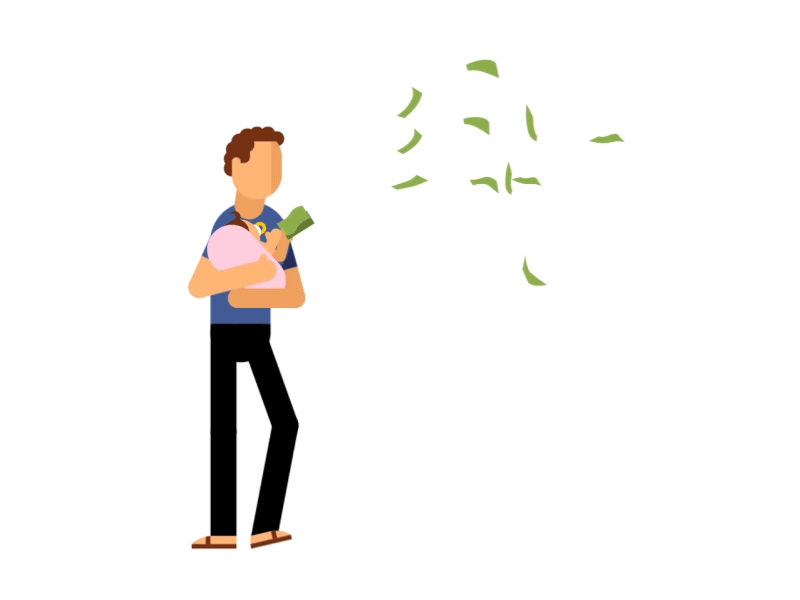 Your marketing budget will probably need to increase moving forward on Facebook. (and yeah that likely means Zuck's kids will get a bigger trust fund!)
Facebook ads aren't a bad thing if you're getting good ROI on them.
But because pages are going to feel the pinch on organic reach I'd assume ad space will be even harder to get and will cost you more than it does now.
Contently states that 35% of all web traffic comes from Facebook — both a mix of paid and organic. If the organic amount of traffic decreases will pages spend money to get that percentage back?
We don't know yet.
A solid and consistent ad strategy will be important for any business page on Facebook (even before these News Feed changes).
This will be hard for non-profits to figure out and we'll have to see if those pages see a drop in reach due to this change, as they don't likely have ad dollars to spend.
Facebook Video
Everyone has been saying for years now that this is the "Year of Video" on Facebook. 2017 was a huge year for video, both Facebook and YouTube made massive changes to their platforms because of it.
More changes will come to Facebook video due to the focus of Facebook Watch, which is kinda like a mix of Netflix and YouTube, but with lower quality videos currently.
For your business page, Facebook Live video should still be a focus at this point, although this News Feed change says even videos will see lower reach.
This is due to the fact that most videos don't get interaction, people just simply watch them.
Currently the News Feed tends to favor Live Video over uploaded videos or other posts types so it's still something you'll want to attempt, even if it's just once per week.
Make your Facebook Live interesting though. Don't just babble on and on.
Show behind the scenes of your business, have live Q&A sessions, etc.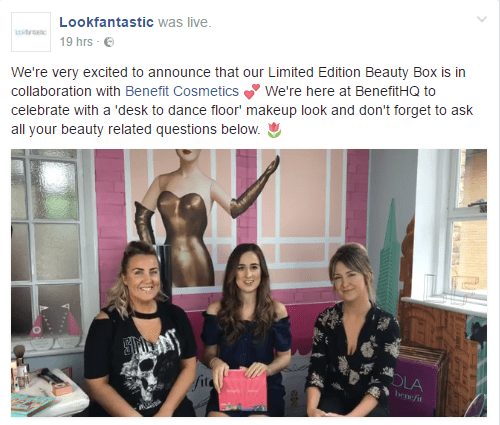 The key is making it worth watching and engaging with.
Best Way to Know How This Facebook Change Impacts Your Page
You could attempt to look at your Insights on Facebook over the next few months and determine if things are on the decline or not.
But Facebook does make that difficult to get a clear picture.
Instead I'd recommend using what we call the "Facebook Page Barometer."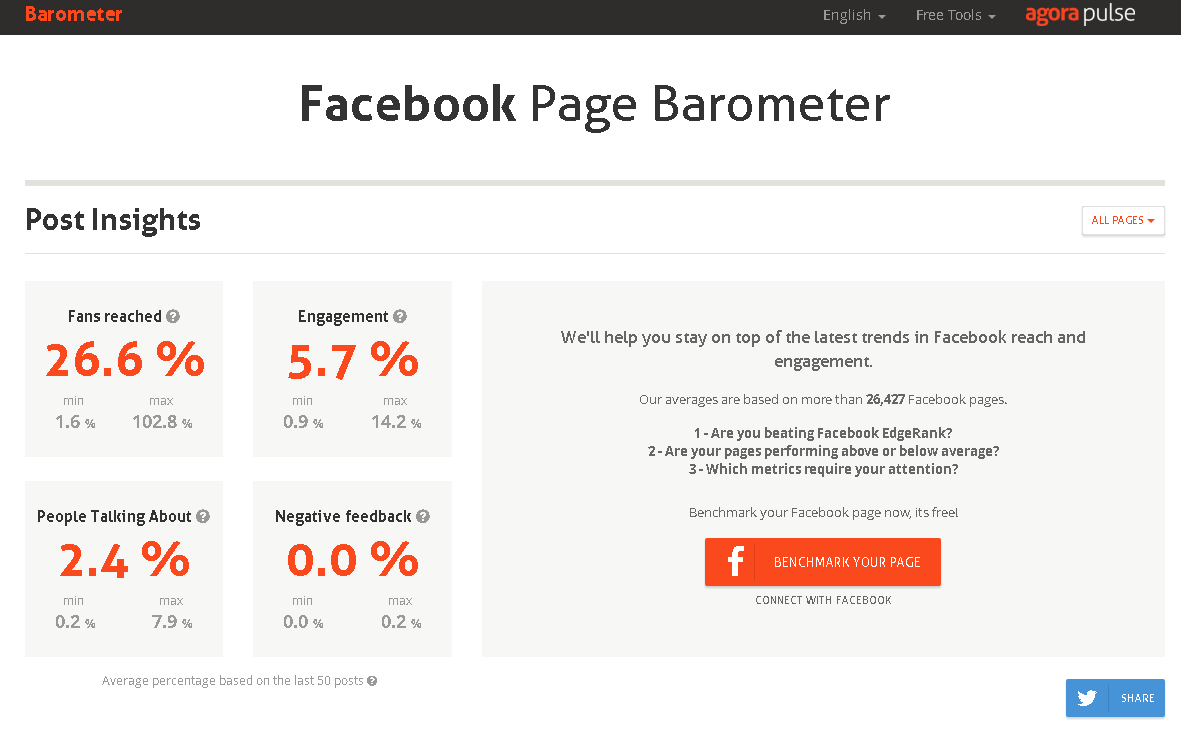 We created this tool a few years ago to help page owners compare their results to other pages of similar size.
It will also show you your monthly organic and viral reach.
Just click "Benchmark Your Page" then you can choose from the pages you're an admin of to see instant results.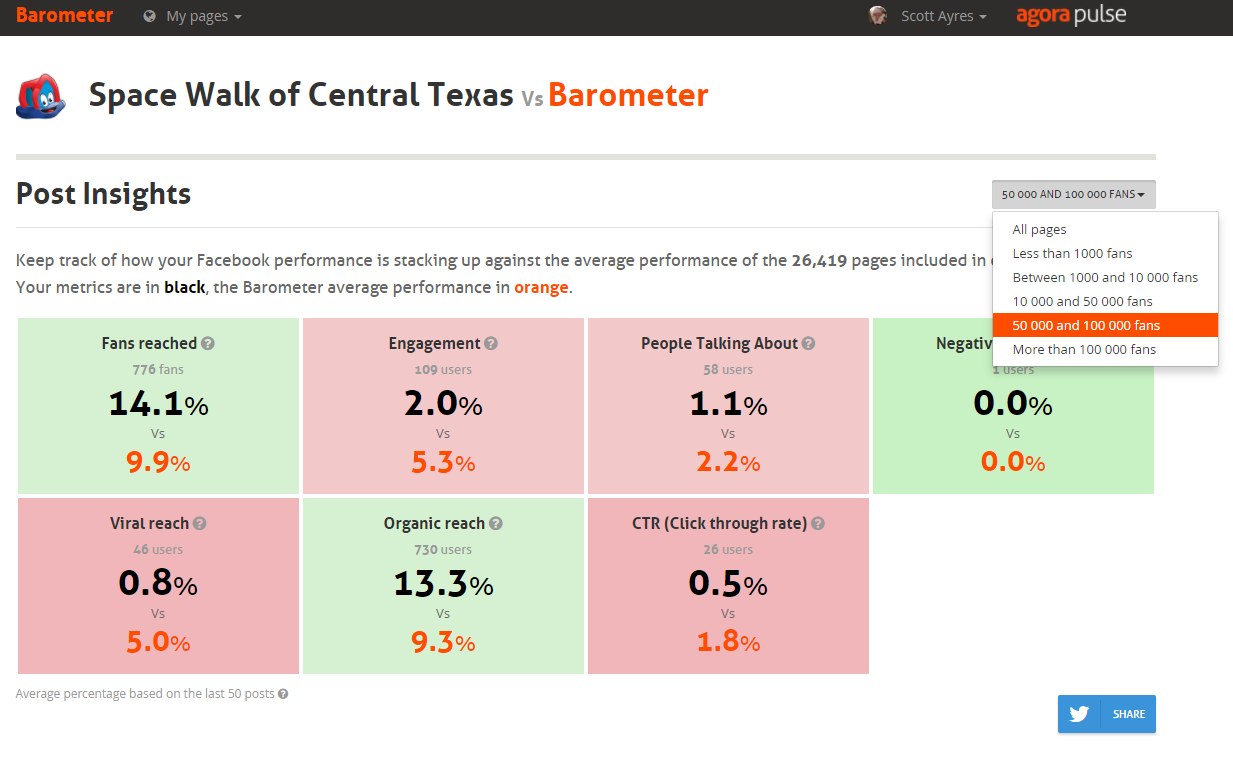 Above is the results I get for a local business page I run — I have some improving to do on this page for sure!
You can also click the drop down on the upper right and compare against pages of different sizes or all pages.
These percentages are coming from the last 50 posts made on your page as well as the pages being compared to yours.
It's simple to choose your other pages and benchmark them as well.
If you scroll down you'll see the organic and viral reach figures, plus have the ability to compare the last 30, 90 or 180 days.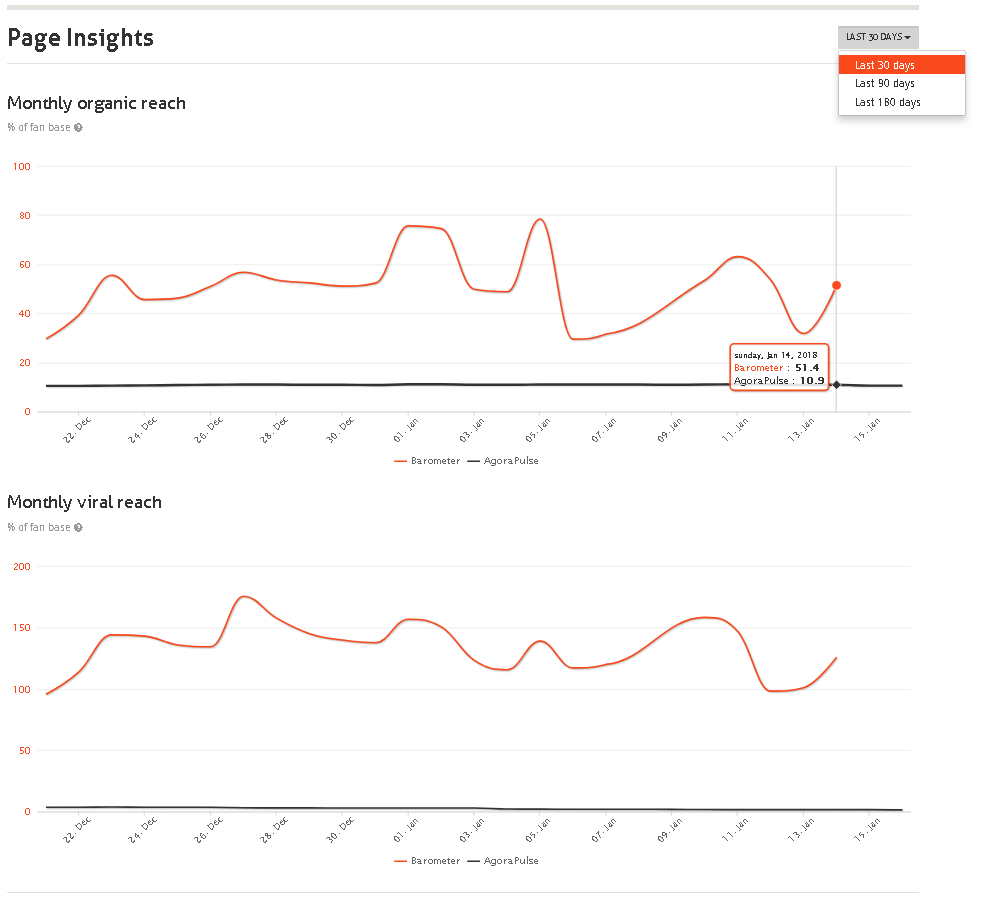 Changing that date field will really be helpful in the coming months as Facebook rolls out these news feed changes.
You'll be able to see a clear picture if your page is improving or seeing a decline in reach.
Which is going to be incredibly important as we move through 2018 and try to figure out these changes.
To find out more about the Barometer and to get our input on all of this watch the LIVE video from our Facebook page:
Is Facebook Dead for Businesses?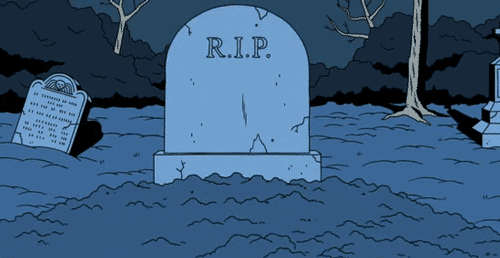 No…
Things will be different moving forward for businesses (and users), but Facebook is light years away from being useless for your business.
If you focus on producing quality content that causes your users to engage you'll be rewarded.
And as a business you should have already been expecting to spend money on ads to get your business in front of eyes.
Remember that every post you make — even if it's a cat meme — is an ad for your business. You're trying to draw attention to your business with your posts.
You can't get a free billboard on a major interstate, and you shouldn't expect to get free exposure on Facebook.
Use the tools right in front of you and run a smarter page.
We will be monitoring the Reach on our pages and testing results in the Social Media Lab over the next few months — so be on the lookout for our results!