Managing several Facebook pages and ad accounts has always been a nightmare. Things can get worse (way worse!) if you are an agency managing dozens of client accounts.
Then came Facebook business manager and the inevitable question: Is it right for my brand (or agency)?
Since its release, Facebook's Business Manager has had its share of criticisms. Just check the comments below in this post to see how unhappy people were (and still are) about it.
Beyond many of the problems users have reported, however, is a solution for some agencies and large scale businesses, especially those managing multiple pages or multiple admins across a large organization.
In this article we'll focus on the practicalities and answer these three questions:
What are the pros of using Business Manager?
What are the cons of using Business Manager?
Who should use Facebook Business Manager and who should stay away from it?
But first, let's take a quick minute to review why Facebook created it in the first place.
Related Post: Facebook 101
The marketers' problem
It all began when in-house social media management teams and agencies started to manage Facebook business accounts and the only viable way to do so was from their personal profiles.
Page owners needed to appoint admins with their personal profiles. This created three huge problems:
Scale
Convenience
Misclicks
Problem 1. Scale
Keeping track of what other page admins were doing was difficult for page owners, especially with large teams.
Just imagine hiring a social media management agency and having to give page access rights to multiple people in the agency. Or consider being in a C-suite management role and knowing that the very face of your company on social media is represented by 5 to 10 different people within your in-house marketing department and 90% of them have only been with your company less than 2 years.
Problem 2. Convenience
Agencies working with such businesses dared not inform their clients when one of the project teammates left the firm, often to avoid the trouble of having to ask them to remove admin access to said personnel.
Problem 3. Misclicks
Page admins needed to tread carefully to avoid mixing up their identities on Facebook. For instance, when they commented on a friend's post, they had to make sure that they had switched back to their personal account to avoid posting as the page. This is a painful and potentially embarrassing experience that many of the earlier Facebook marketers experienced.
Dilemma
In-house social media teams and agencies worked around these problems by creating fake accounts so that they could share login credentials with their team. But it was a risky option, because Facebook recognised these accounts and purged them.
Facebook introduced a short-term solution by offering business accounts to a select group of advertisers. Advertisers had to spend a lot of money before they were offered the account, which meant the majority of advertisers never had access to it.
Note: these accounts were closed by Facebook as of 1 October 2014.
So the idea now is simple: either page admins and advertisers continue to create fake accounts (which creates more work for Facebook) or Facebook had to develop a new tool to solve all these problems.
And that, my friends, is why Facebook launched Business Manager.
I used it for a couple of months, wrote a Business Manager setup guide in November and spoke to social media managers about it. Here's a list of the pros and cons of switching over to Business Manager if you are already an advertiser.
Pros of using Business Manager
1. No mix up between personal accounts and Page admins

Once you've added your page to Business Manager, you'll always see a gray bar on top of your page. This feature distinguishes your Facebook business account and your personal profile, which means it's really hard for you to mix up your identity when you post to your page.
2. Manage your page roles and ad account access in one place
One of the key differences between using Business Manager and using your personal account is the ability to see which pages and ad accounts have been assigned to a particular individual, or a list of people who are working on a particular page or ad account.
I'll illustrate it with two screenshots.

If you want to see which pages and ad accounts are assigned to each person, go to the "People" tab and click on any name to see which pages and ad accounts that individual has access to.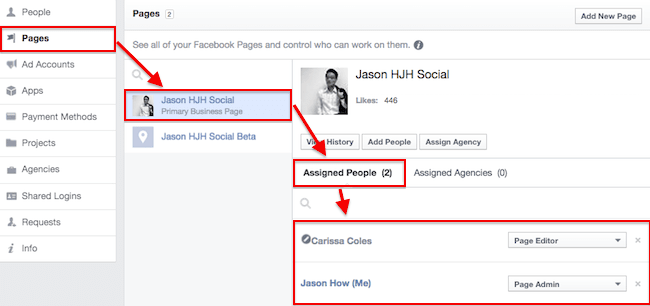 If you want to see a list of all people with access to a page, go to the "Pages" tab and select that page to see who has access to it and the roles they are assigned.
The process is also similar for an ad account, you'll just need to go to the "Ad accounts" tab instead.
3. Agencies can request access to page and ad accounts
I used to do this over email and I think it's archaic and inefficient to do so.
Obviously, if you're providing some form of Facebook page management service to your clients, you'll need access to their pages and ad accounts. I think Business Manager makes this process easier to carry out.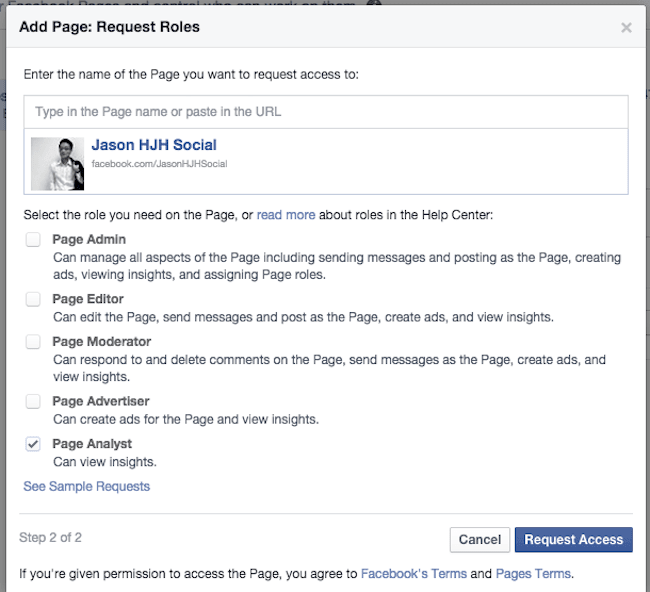 You can simply request access within Business Manager and state the specific level of access you need, such as "page/ad analyst". Your clients will receive an email notification and they'll be able to accept your request with just a click in their Business Manager. Finally, you can easily do this not just for one client, but all of your existing and future clients. This means that the process is very scalable for your agency.
Cons of switching to Business Manager
1. Switching cost
The first con is the time required to set everything up. You'll need to:
Create your Business account
Add your page(s)
Add your ad account(s)
Add your staff members/page admins
Even if you only need to do this once, it will still cost you in time. I estimate the process to take you around an hour as you try to navigate through the process and read the fine print to make sure you understand everything.
Several Facebook page managers have also reported problems with Business Manager. For example, a few mentioned that they lost control of their administrative rights after Facebook closed their Business Account for no apparent reason. I also had a problem when I tried to switch out the main admin rights of my page from my personal account to Business Manager.
2. Inability to remove ad accounts
Some of you might know this already. Basically, Facebook has made it impossible to remove any ad account you have added to your Business Manager.
3. Difficult to remove pages
Here's the good news: you can remove pages from Business Manager.
Here's the bad news: it's a pain in the ass to do so.
To remove a page:
Click on settings in Business Manager
Click on pages

Next, click the "Remove" button as shown in the screenshot below.

If you've only got one page, then you might not see the "Remove" button. In this case, you'll need to:
Create a new page
Add it to Business Manager
Make the new page the primary page
Click on the page you want to remove to see the "Remove" button
Click on the "Remove" button
Did I mention it's a pain to remove a page from Business Manager?
4. You (still) can't schedule shared posts
This may sound a little unfair to Facebook and Business Manager, but you'd have thought that a mega tool like Business Manager would allow you to schedule posts that you want to share from other pages. But no, you still can't do it.
5. Bugs
Business Manager is incredibly buggy.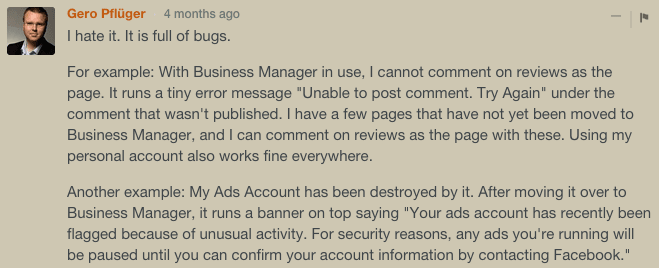 Here's a non-exhaustive list of these complaints:
Inability to comment on page reviews
Lost control of page/ad accounts; unable to recover the accounts because Facebook help desk does not respond
Disappearance of the admin rights that have already been granted [We couldn't reproduce this ourselves but we've seen many complaints and it should be fixed if it happened before]
There's no way to know how much of an investment Facebook is putting into Business Manager These issues may or may not be fixed, and if they are developing out the bugs, there's no indication of a timeline for improvement. So…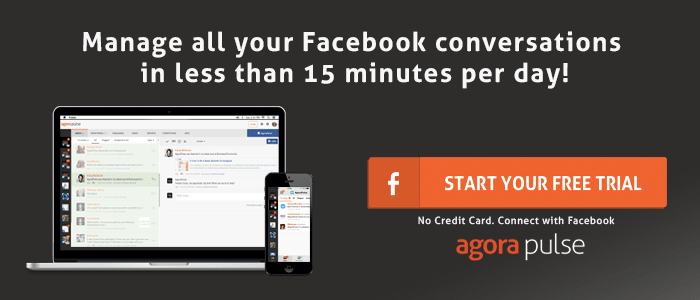 Should you switch over to Business Manager?
At the present moment, I feel that Business Manager brings some useful benefits, but it is far from perfect. Needless to say, I do not recommend it for everyone.
If you're an agency
If you're an agency managing Facebook pages and ads for other businesses, then I'd recommend that you make the switch to Business Manager. The initial setup might take some time but it is a more scalable and organised solution. I believe you'll also find it very useful once you start managing more than 10 pages.
If you're a business owner
Personally, I'd advise business owners and in-house social media teams against switching over to Business Manager, especially if they're only managing one or two pages or ad accounts. Unless you have concrete plans to scale the number of pages and ad accounts you're going to manage, I recommend remaining with the status quo. There are a host of social media management tools that can make life easy for you.
Switching over to Business Manager does require you to change some of your current habits and this will inevitably create friction, so if it's not REALLY necessary for you, I highly recommend that you stick with the "regular" way.
However, if you're a FMCG brand manager or director looking after multiple product lines, brands and pages as a result, then you should definitely consider switching to Business Manager. Similar to agencies, you'll find that Business Manager is a more scalable solution despite its imperfections.
Conclusion
The long term vision is definitely for Business Manager to be the medium for all kinds of Facebook page and ad management, but it's not there yet. The tool is currently an ecosystem that makes communication and collaboration between managers and clients easy, but it isn't scalable for everyone.
Have you made the switch to Business Manager? How did you find it?
We want to hear about your experience, and let me know if I've missed anything you think I should mention.