If you use Facebook to market your clients' brands, you need Facebook Business Manager. But your agency doesn't have to use Business Manager exclusively. In fact, you probably shouldn't depend on it completely.
In many cases, you're likely to find a third-party tool much more capable and convenient for handling Facebook marketing tasks. So how do you decide what to use and when?
Here's a guide to how to use Facebook Business Manager, how your agency can benefit from it, and when your team is better off using a social media solution like Agorapulse.
First, let's get the answer to a common question out of the way …
Why Should I Use Facebook Business Manager?
No, you don't have to use Facebook Business Manager if you want to run company pages.
Alternatively, your team can access client Facebook Pages from their personal Facebook accounts or use a third-party solution.
But if you do opt to use Business Manager, you'll get some decent perks.
You can …
Keep personal and work Facebook activity separate.

That means you can avoid accidentally posting as yourself on a client's business page, and you won't have to switch between personal and client profiles constantly.

Manage Facebook marketing and advertising in a single place.

Business Manager and Ads Manager are linked to streamline organic and paid efforts and access.

Monitor Facebook and Instagram engagement in one inbox.

Business Manager gathers comments and messages from both platforms, so you can respond efficiently.

Work with colleagues, clients, and partners.

You can specify permissions for each partner, so you can keep your account safe and secure.
Why Should I Avoid Using Facebook Business Manager?
Business Manager can make Facebook marketing go much more smoothly for agencies. There's no doubt that it's a far better option than having your team use their personal profiles to manage client pages.
But is Facebook Business Manager always the right choice for social media agencies? Hardly. Business Manager is difficult to use, has limited capabilities, and can slow down agencies.
Facebook Business Manager lacks:
Seamless movement between profiles:

If you manage more than one profile with Facebook Business Manager, you'll need to keep multiple tabs open at all times. You know, just in case your desktop wasn't cluttered enough already.

Real-time collaboration:

When you work with a team, it's important to know when your colleagues are in the midst of handling tasks. After all, you don't want to redo their work or provide contradictory responses.

Engagement moderation:

Managing multiple client profiles means overseeing countless comments and private messages. It's easy to lose important interactions in a busy inbox or get bogged down by spam comments.

Advanced reports:

Downloading raw data is fine if you have unlimited time to convert it into charts and prepare insights. However, growing agencies need easy-to-access reports that you can share with clients in a couple of clicks.
So how can your agency streamline Facebook management? In most cases, you'll get the best results from using a combination of Business Manager and a social media solution like Agorapulse.
In other words:
Set up Facebook Business Manager for your agency, and use it to get access to client Pages and native tools like Commerce Manager and Facebook Pixel.

Then connect client Pages to Agorapulse, and use it for the vast majority of your team's day-to-day management, engagement, optimization, and reporting tasks.
How to Get Started With Facebook Business Manager
Ready to begin using Facebook Business Manager?
Follow these six steps to get started:
Open a Facebook Business Manager account.

Add or create Facebook Page(s).

Connect Instagram account(s).

Add or create Facebook Ad account(s).

Set up Facebook Pixels.

Link apps.

Create catalogs.

Input store locations.

Add or invite team members.

Connect with Agorapulse.
1. Open a Facebook Business Manager account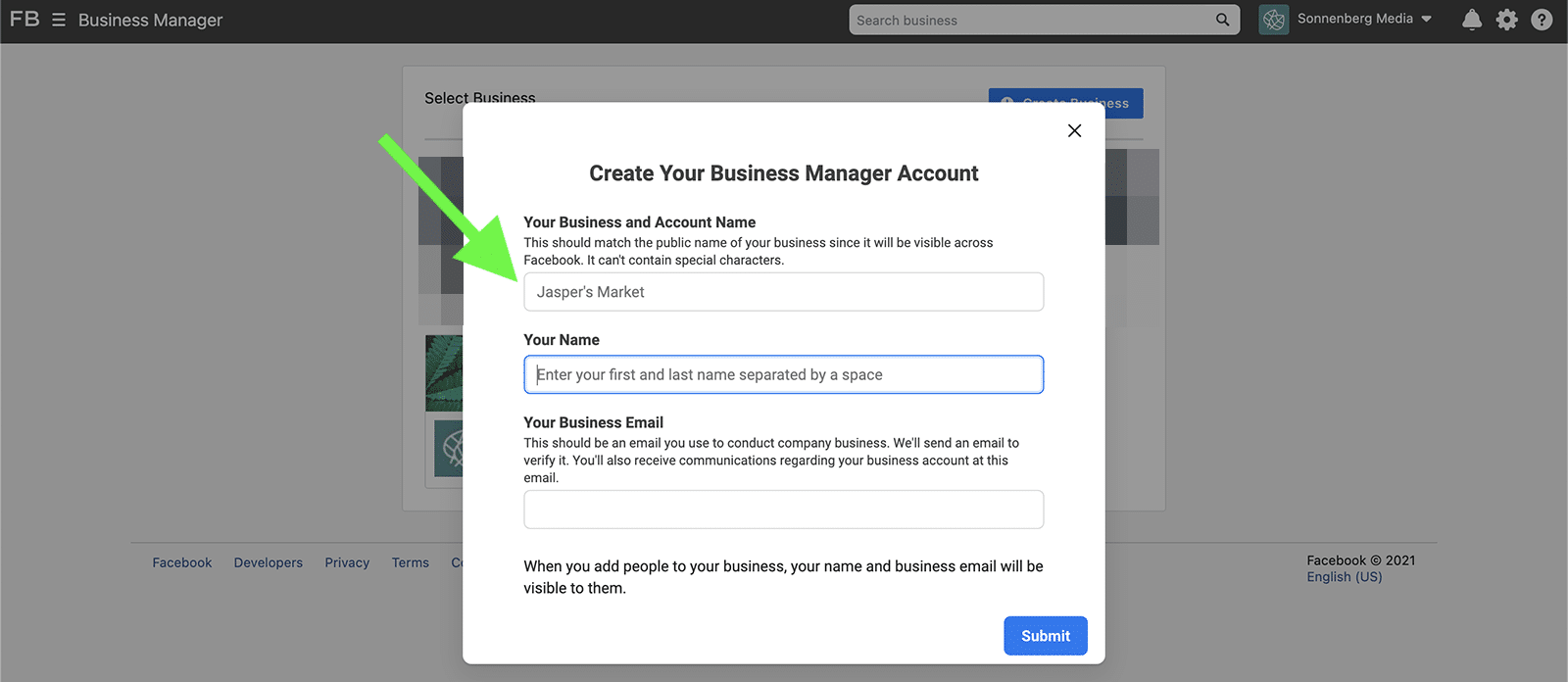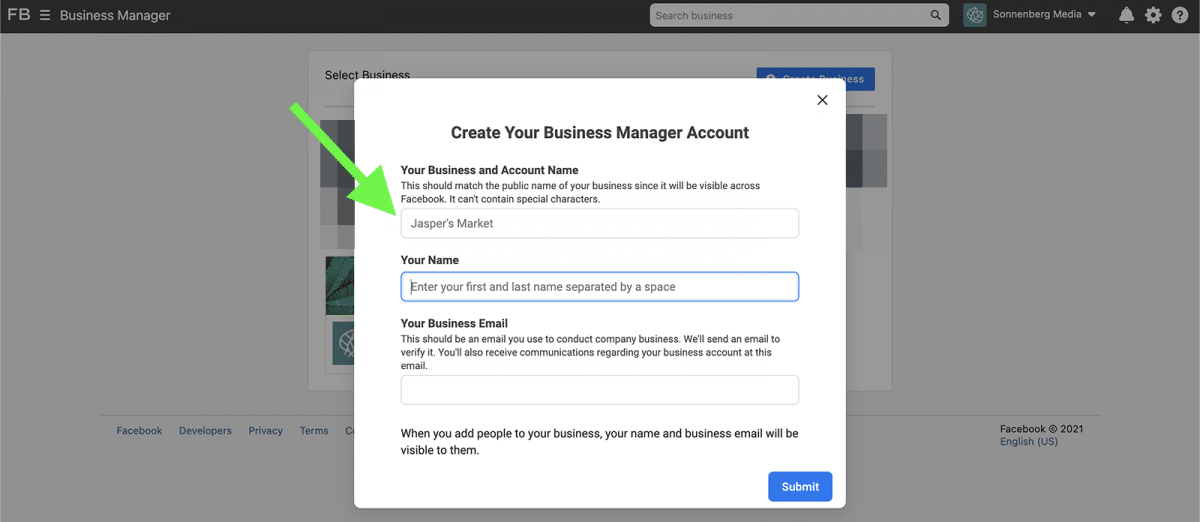 Enter your company's details to create a new Business Manager account.
2. Add or create Facebook Pages
Next, connect Facebook Pages to your Business Manager. Navigate to Business Settings and then add Pages that you already own, such as your agency's Business age.


If you manage Facebook for clients, your agency can also request access to pages that other brands own. Just type in the URL of the Facebook Page or the name of the business and request to add it.
If your agency or client doesn't have a Facebook Page yet, you can also create a new one using this interface.
3. Connect Instagram accounts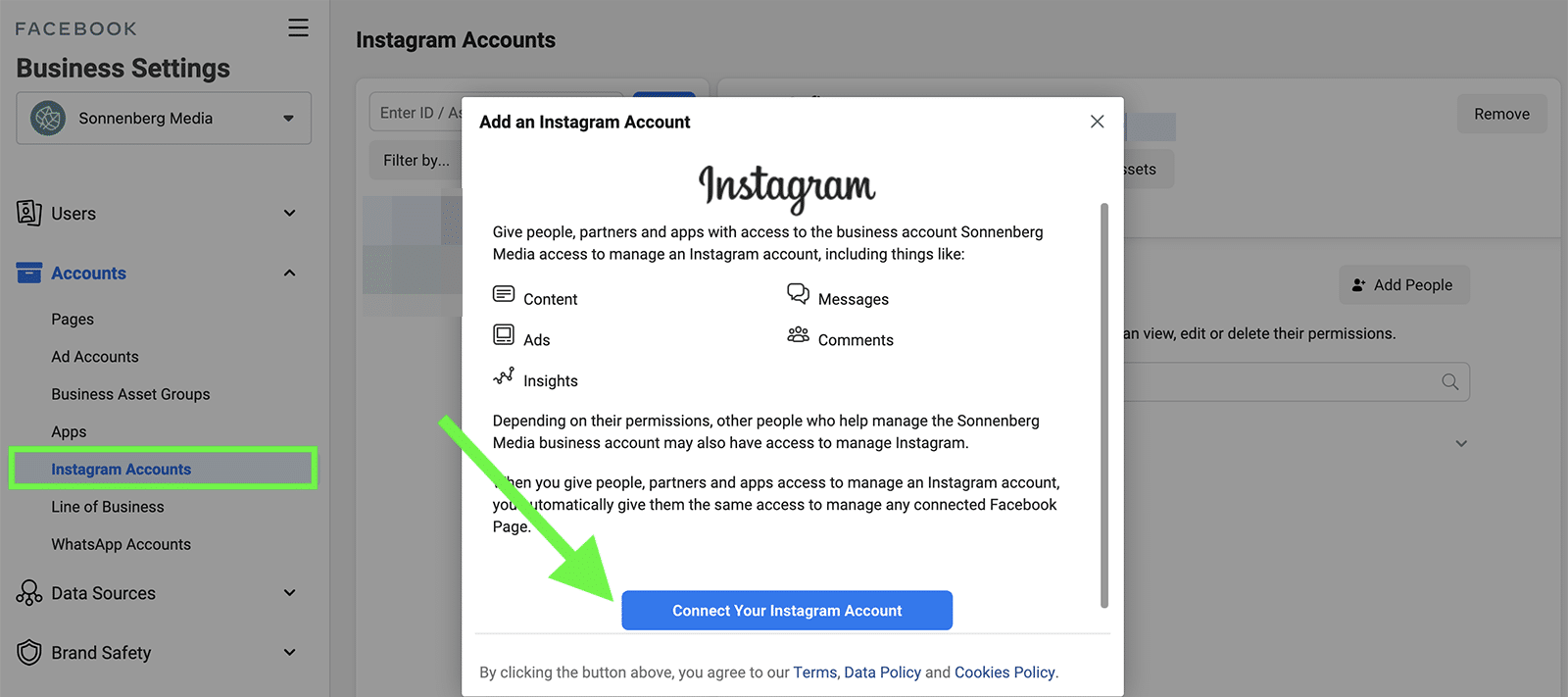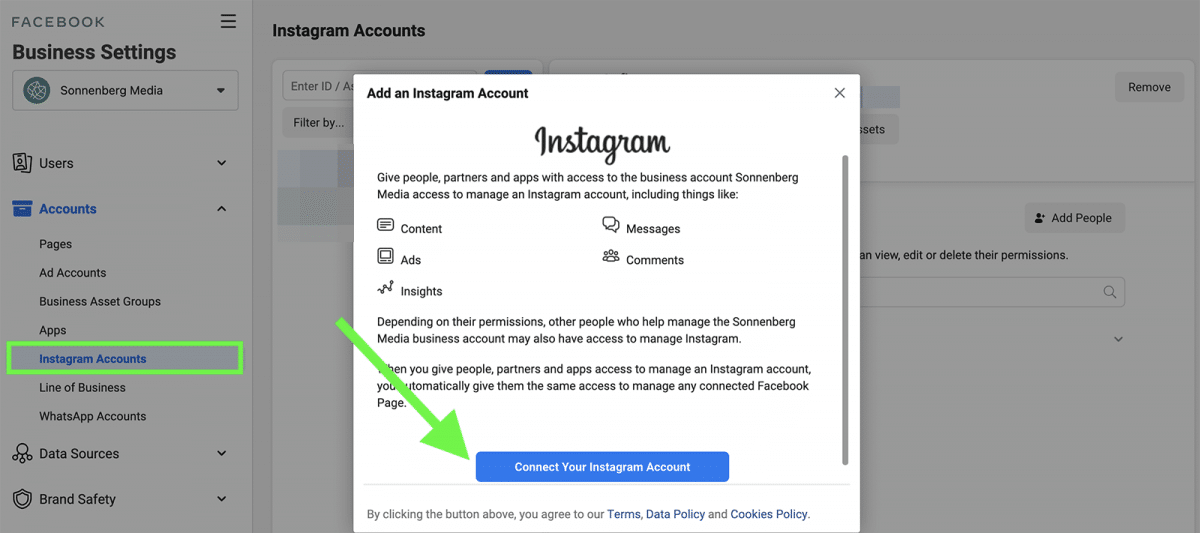 After adding Facebook Pages, connect the related Instagram accounts. You'll need to enter the password and sign in to the app to connect an Instagram account to Business Manager.
4. Add or create Facebook Ad accounts
If you plan to run ads or boost posts on Facebook for clients, you also need access to a Facebook Ad account. In Business Manager, you can claim an existing ad account that you opened with your personal account.


Alternatively, you can request access to a client's ad account or create a new ad account to use with a Facebook Page. The easiest way to access a client's ad account is to ask them to add your agency as a partner.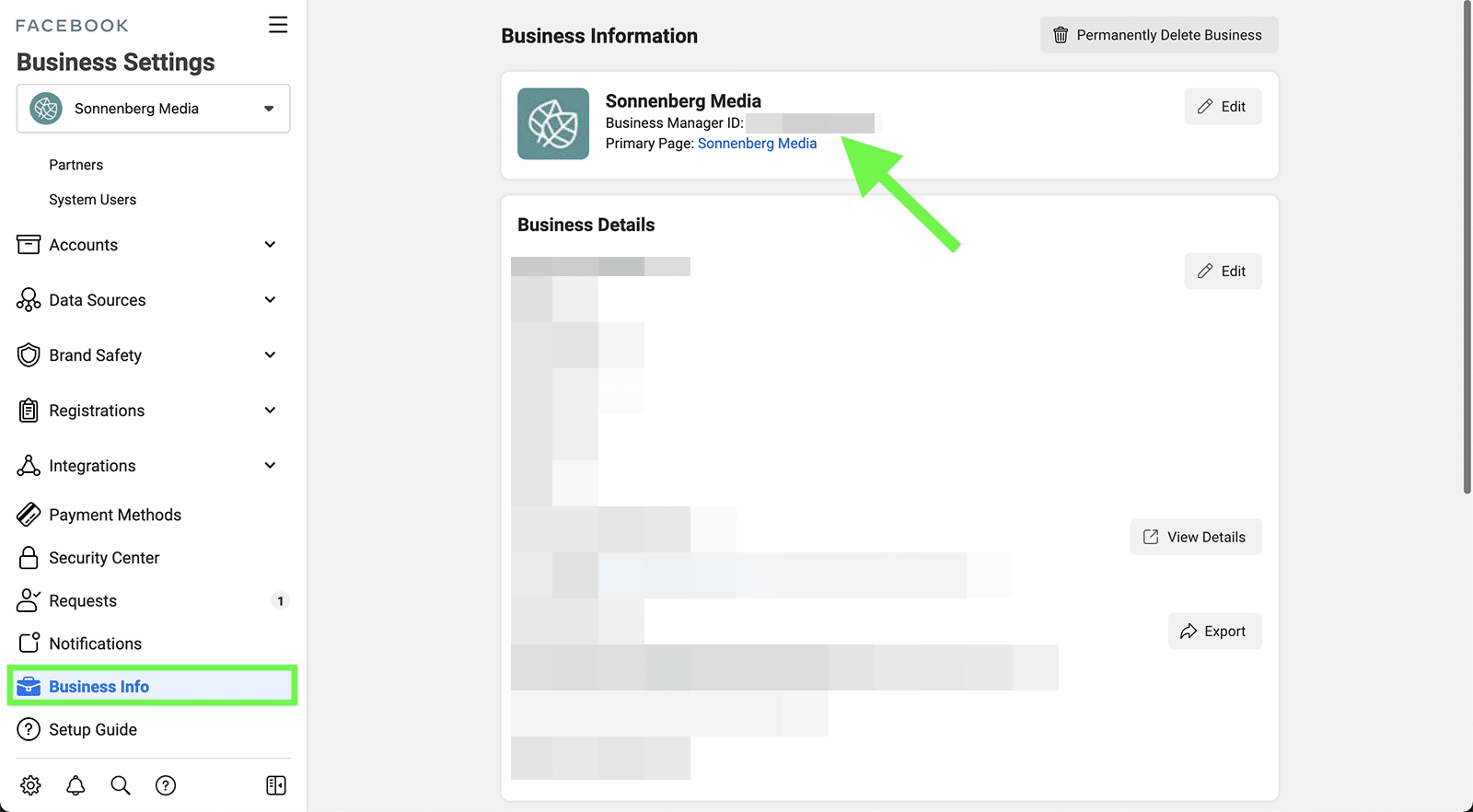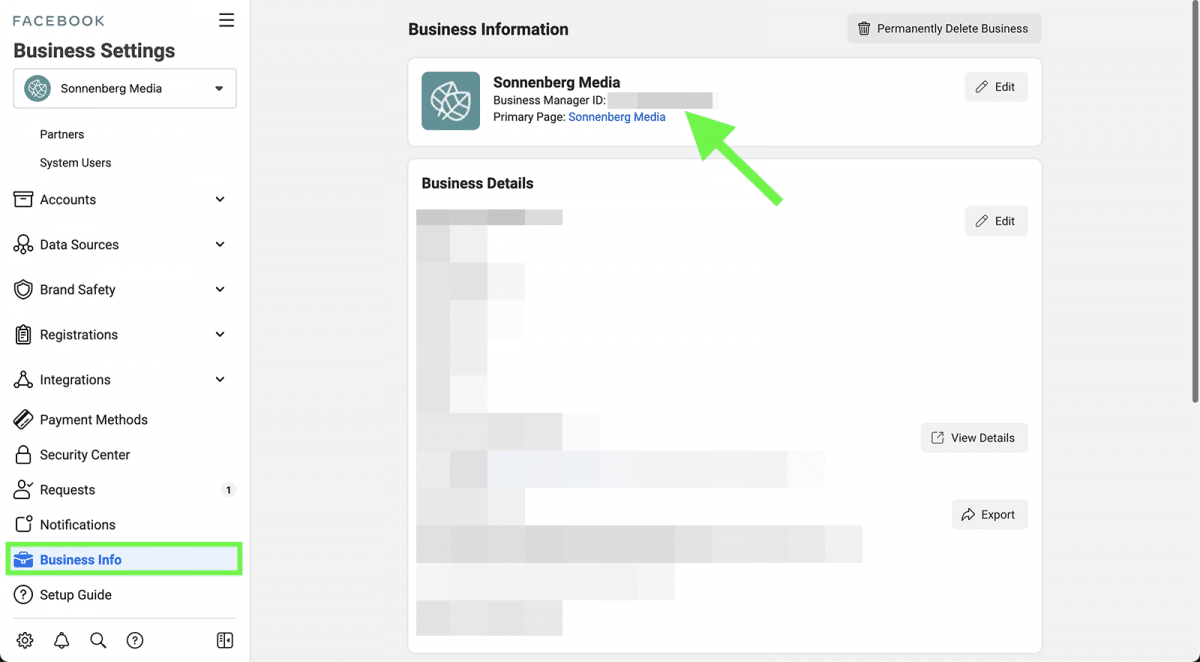 Here's how to do it:
Navigate to the business settings for your agency's Business Manager.

Click on

Business Info

in the left-hand menu.

Copy and paste your Business Manager ID and provide it to your client via email or chat.

Ask your client to go into their Business Manager and add your agency as a partner. All they have to do is paste your Business Manager ID and set permissions.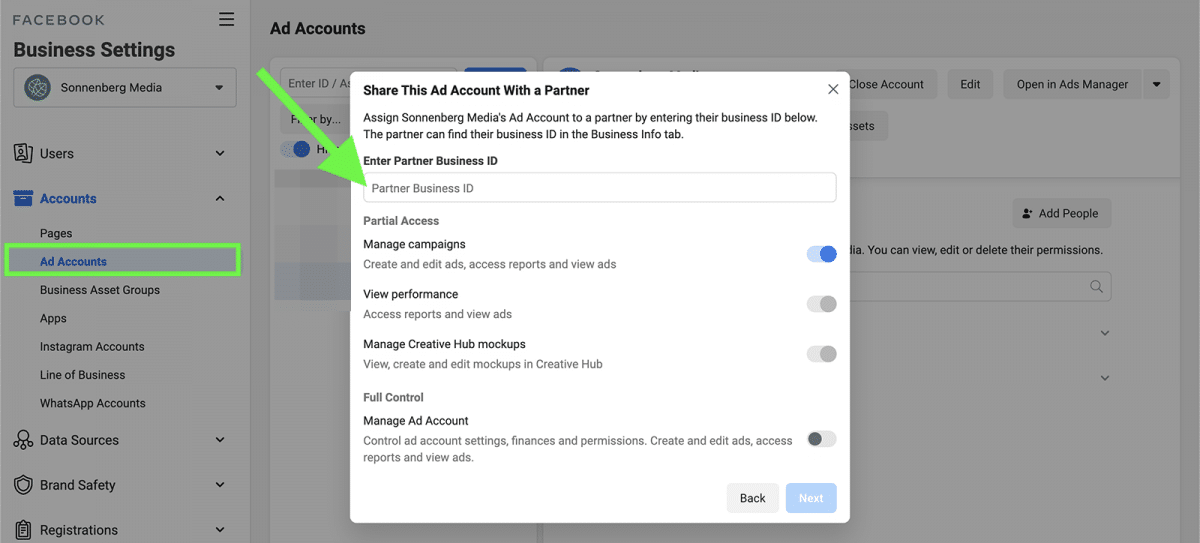 5. Set up Facebook Pixels
After setting up ad accounts, create Facebook Pixels for your agency or clients. Then follow the instructions to set it up properly on your client's website.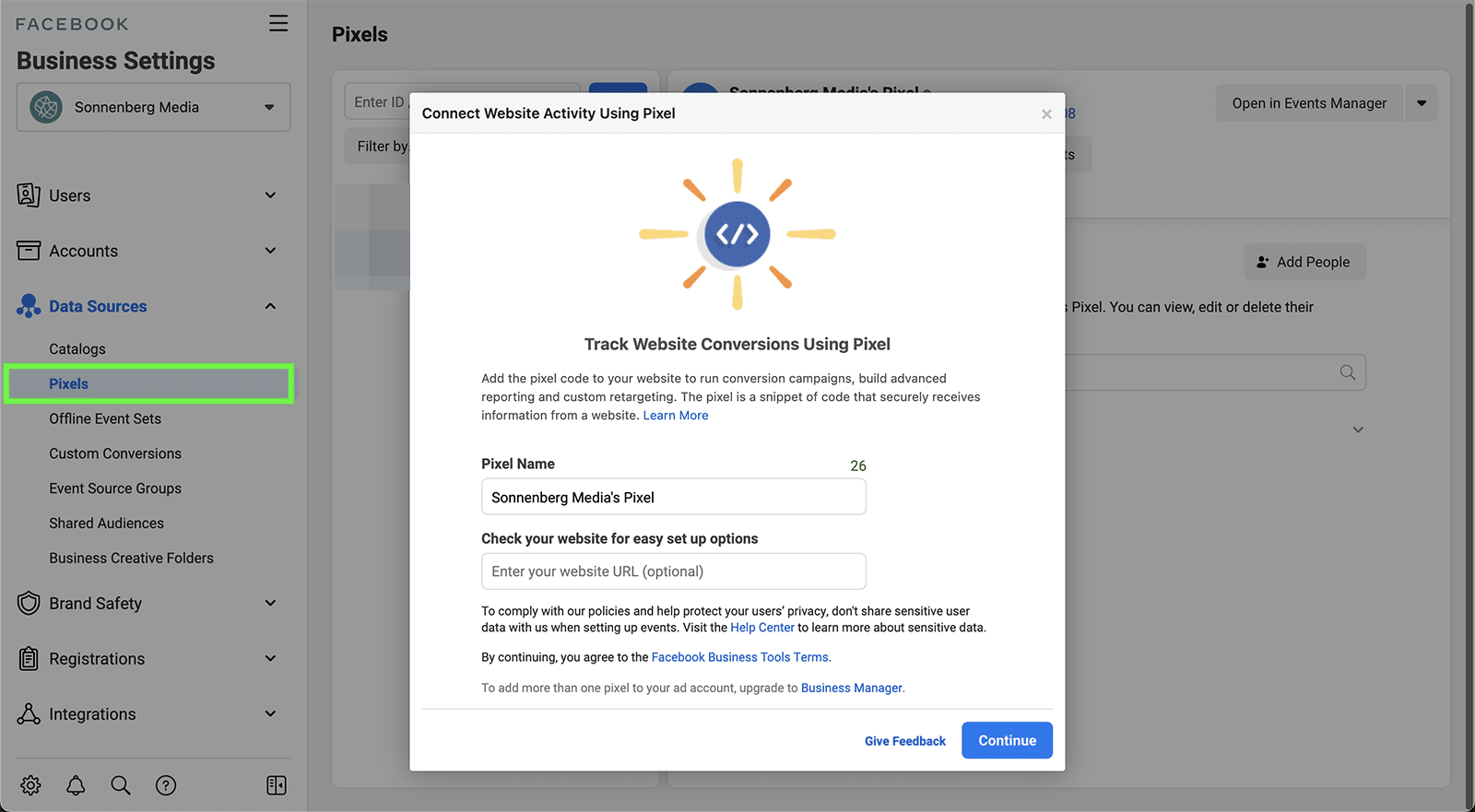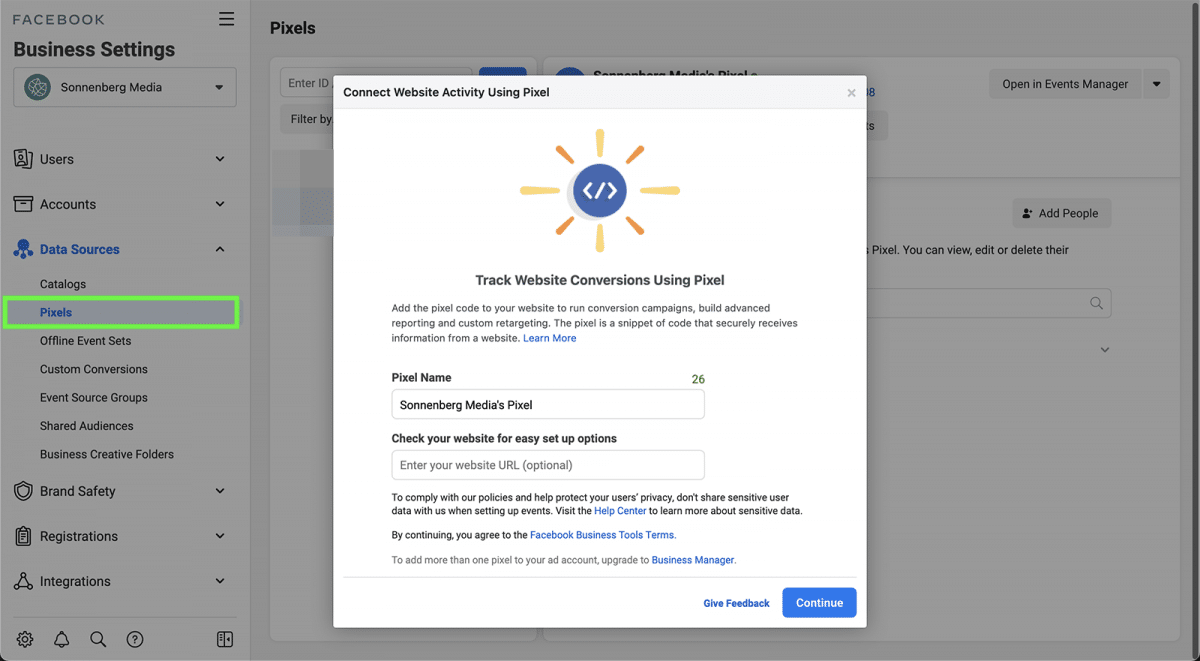 Facebook Pixels generate a snippet of code that goes on the related business's website. Once you install a Facebook Pixel, it starts collecting data about website visitors. You can use the data to create audiences for ads and track ad conversions.
6. Link apps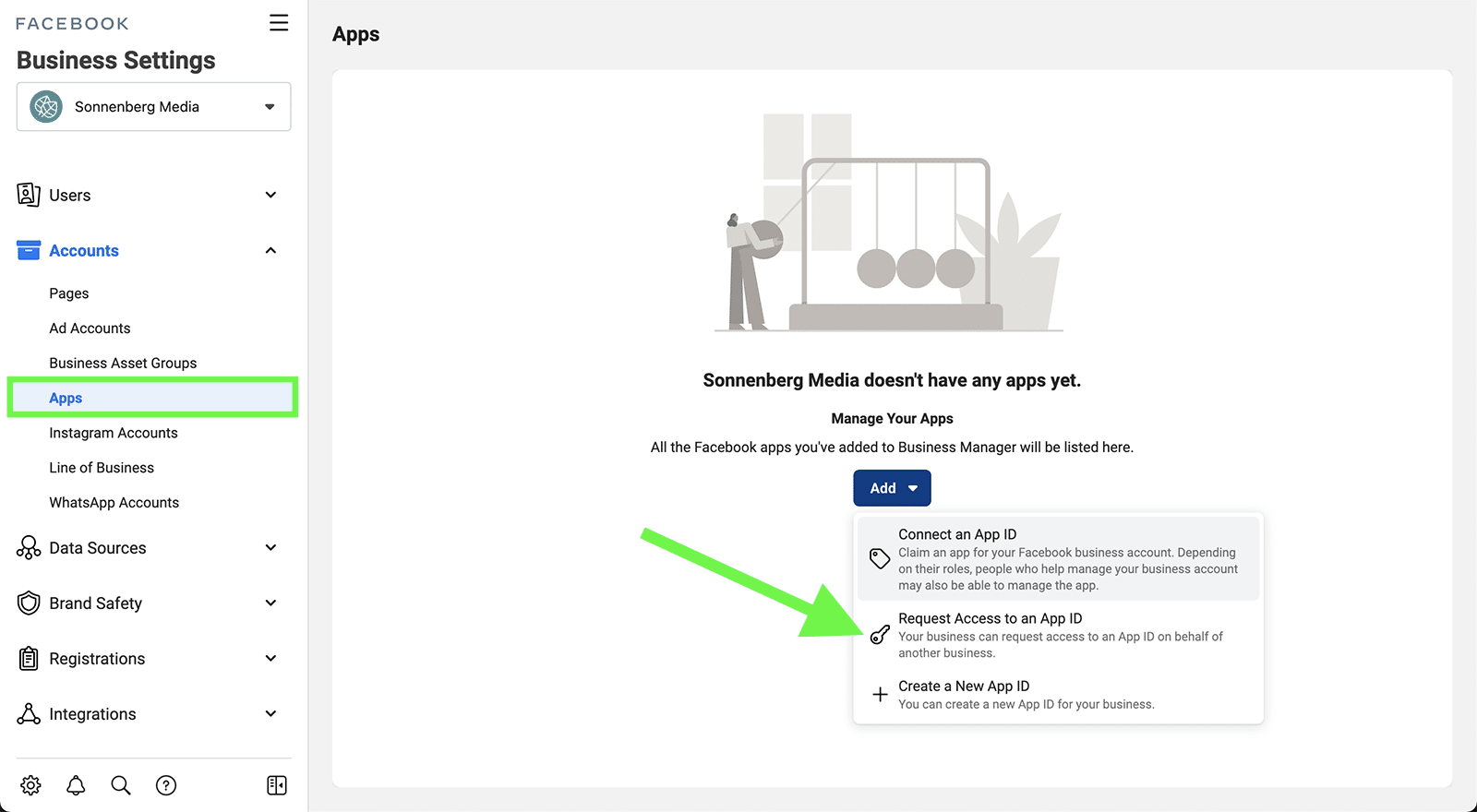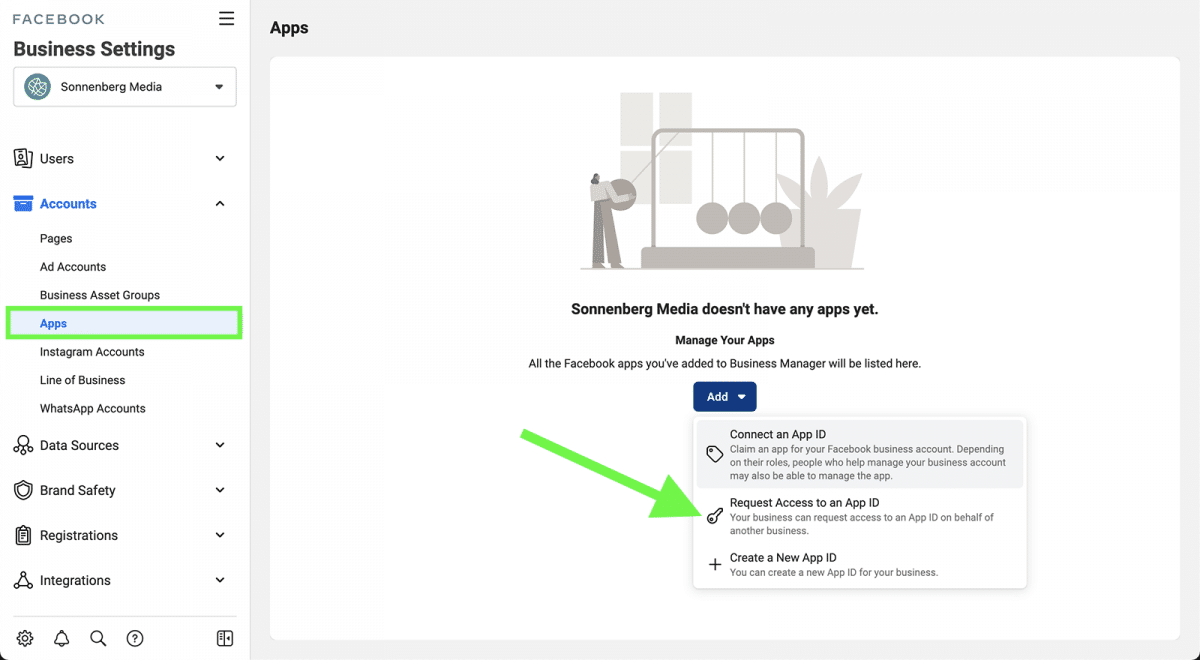 If your clients have apps, you can add them to Business Manager, too. Just click to connect or request access to an existing app ID or create a new one. Then you can build paid campaigns around app installs, engagement, or retention.
7. Create catalogs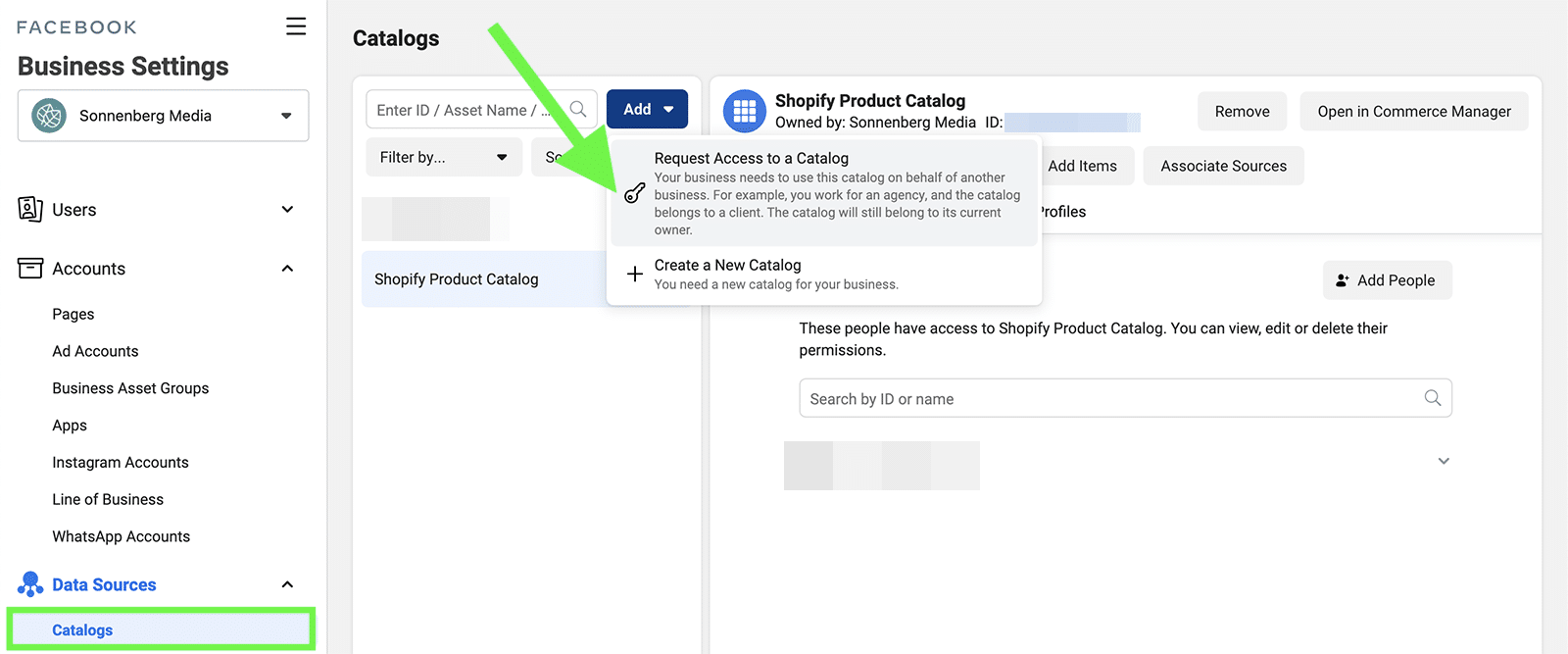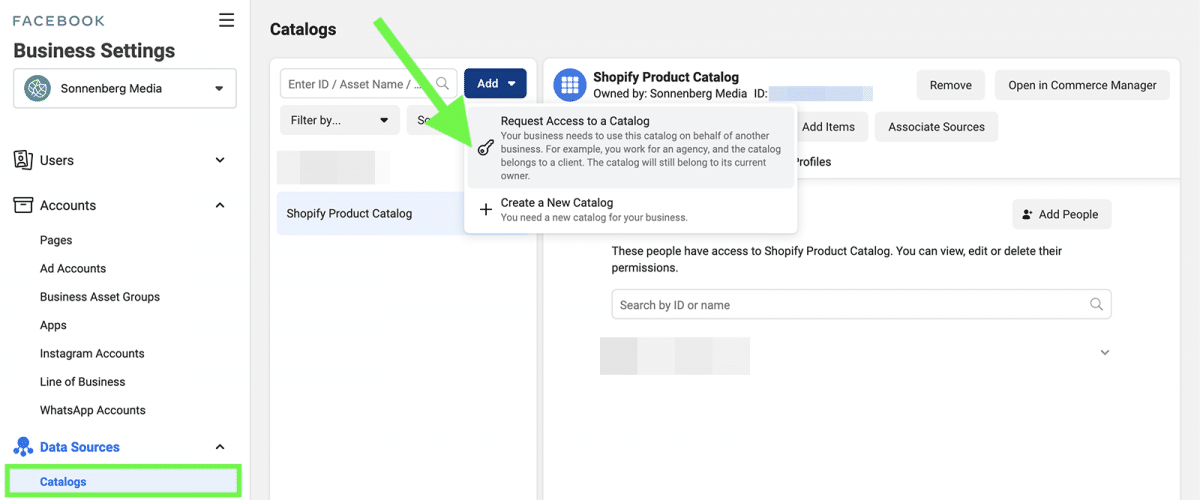 Are you ready to market your clients' products on Facebook? With Business Manager, you can link existing catalogs from platforms like Shopify or build new ones with Facebook Pixel data or via manual input. Then you can tag products in Facebook posts so your clients' followers can learn more or purchase instantly.
8. Input store locations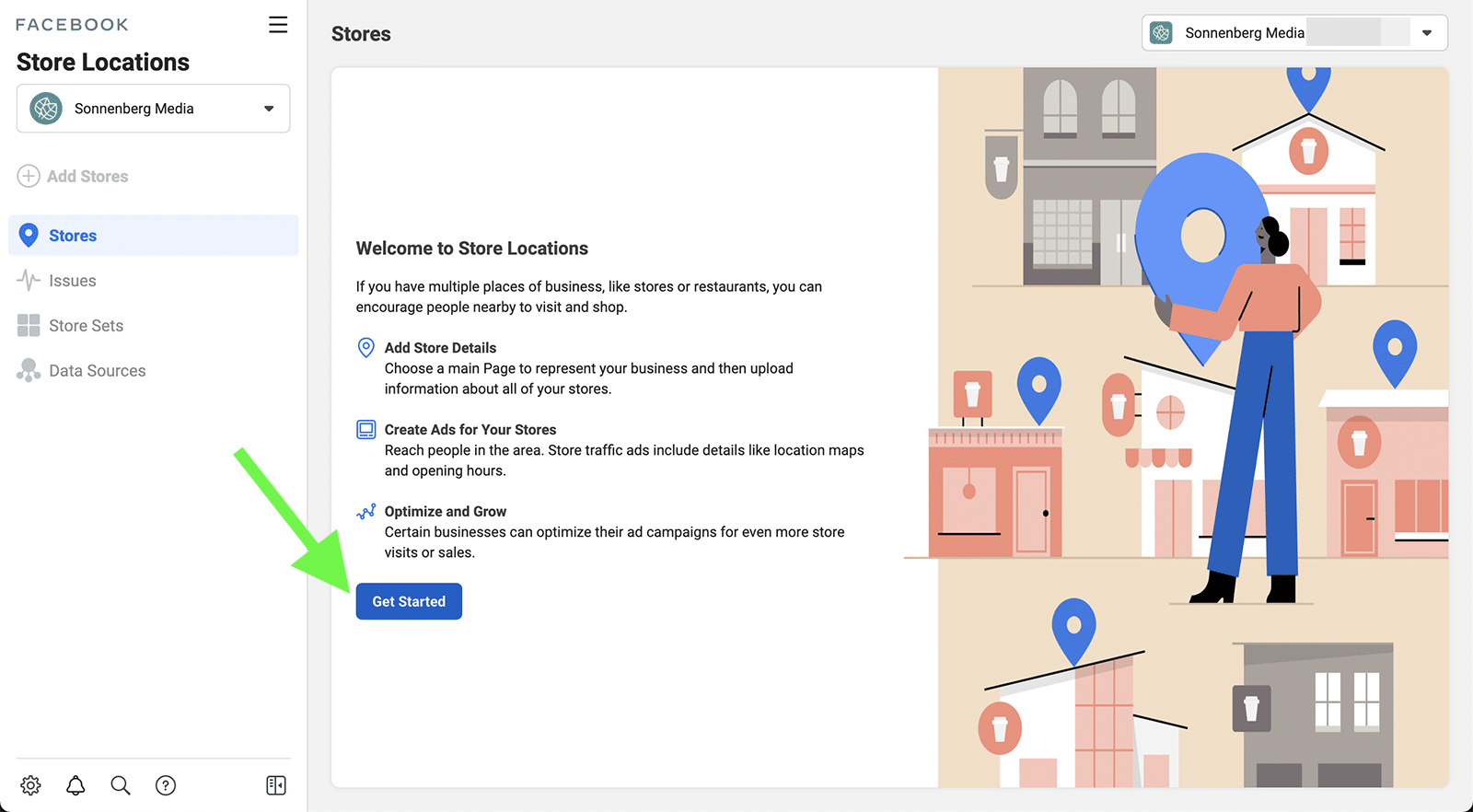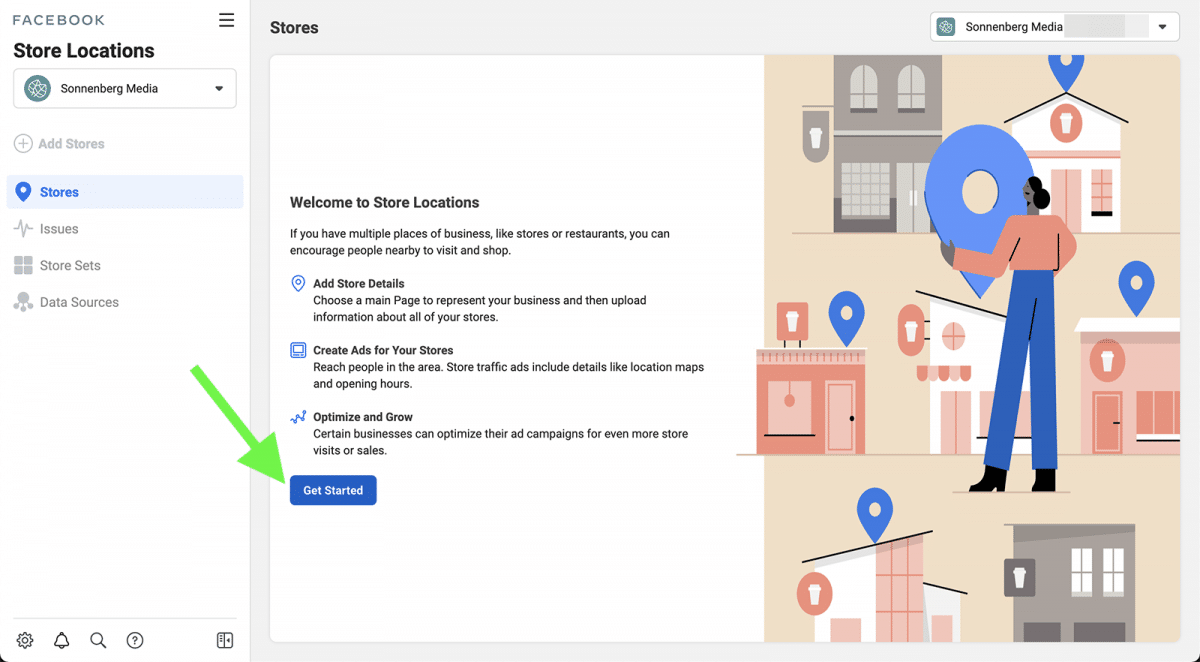 Do you want to help clients attract customers to their physical locations? You can input addresses and contact details for each store or restaurant in Facebook Business Manager. Alternatively, you can establish the main Facebook Page for your business and then connect multiple store pages.
9. Add or invite team members
Finally, it's time to get your team on board. Add team members or contractors to your Business Manager. Give them employee or admin access, and then grant them the permissions they need to manage Facebook Pages, ad accounts, and other assets. You can always add or reduce access levels after adding people to your Business Manager team.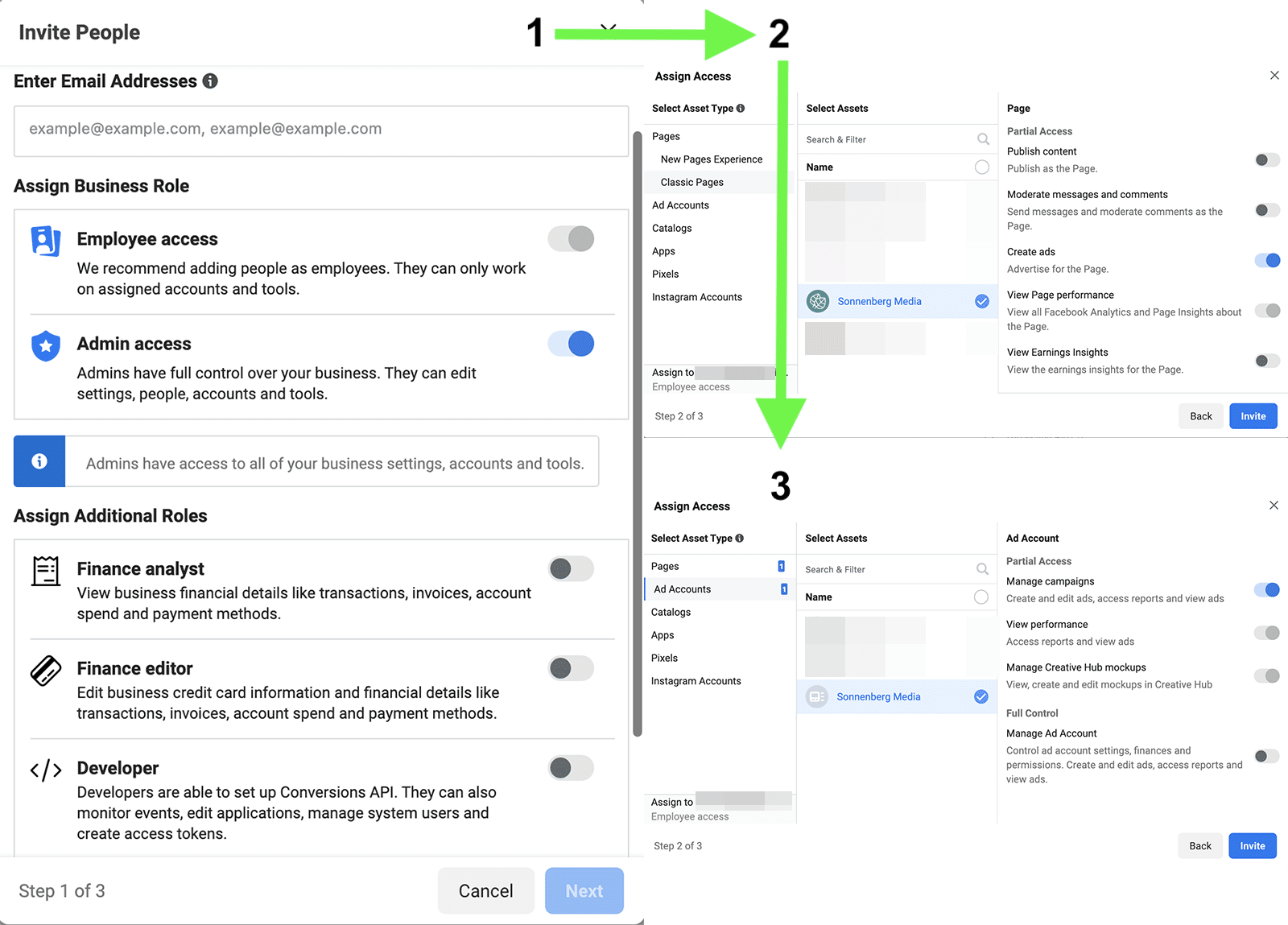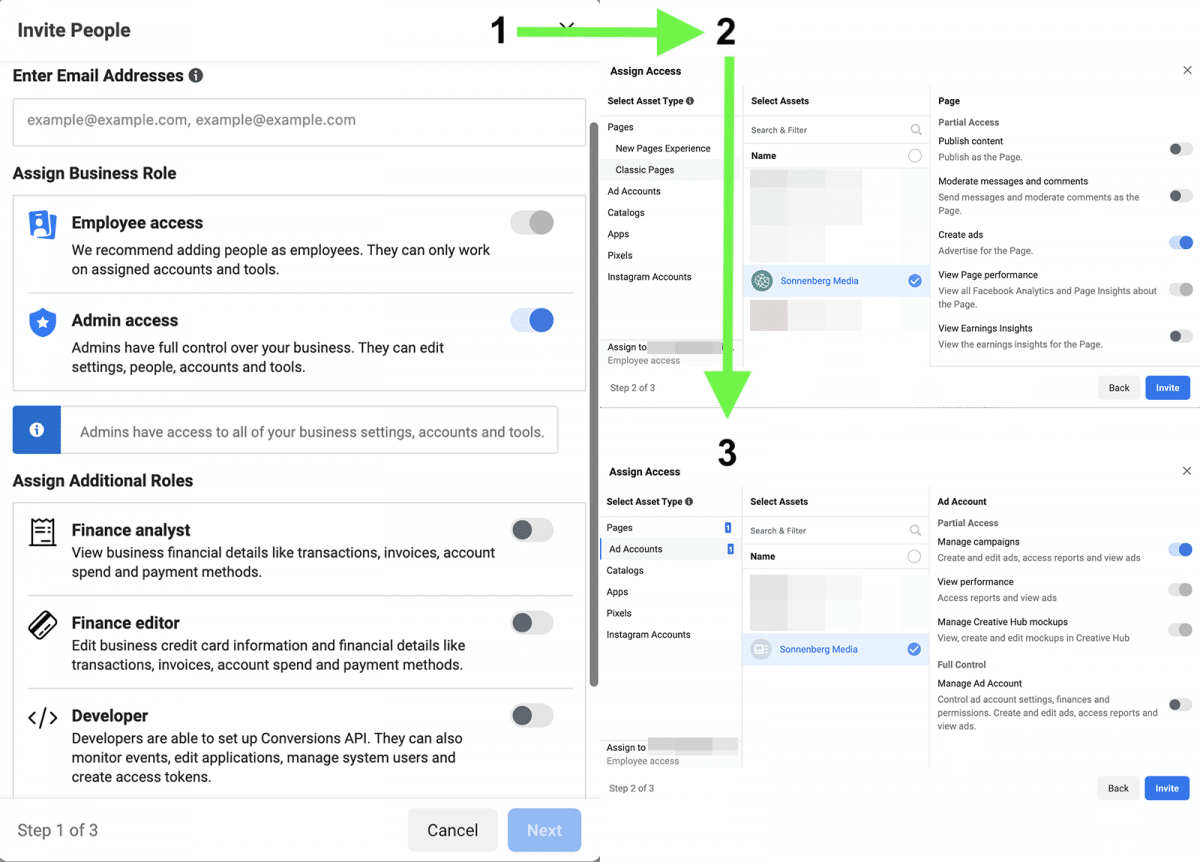 If you've collaborated with another agency to handle specialized Facebook marketing or advertising tasks, add them as a partner instead. With Business Manager, you can set the permissions, and the agency can assign people to manage your agency's social media or ad accounts.

10. Connect with Agorapulse
Once you've added your agency and clients to Business Manager, it's easy to connect them to Agorapulse. Click the plus sign in the lower-left corner to add a new social profile, and choose Facebook Page.
If you haven't already, Agorapulse will prompt you to log in to your Facebook account. The platform then automatically populates the list with Facebook Pages that you have permission to access.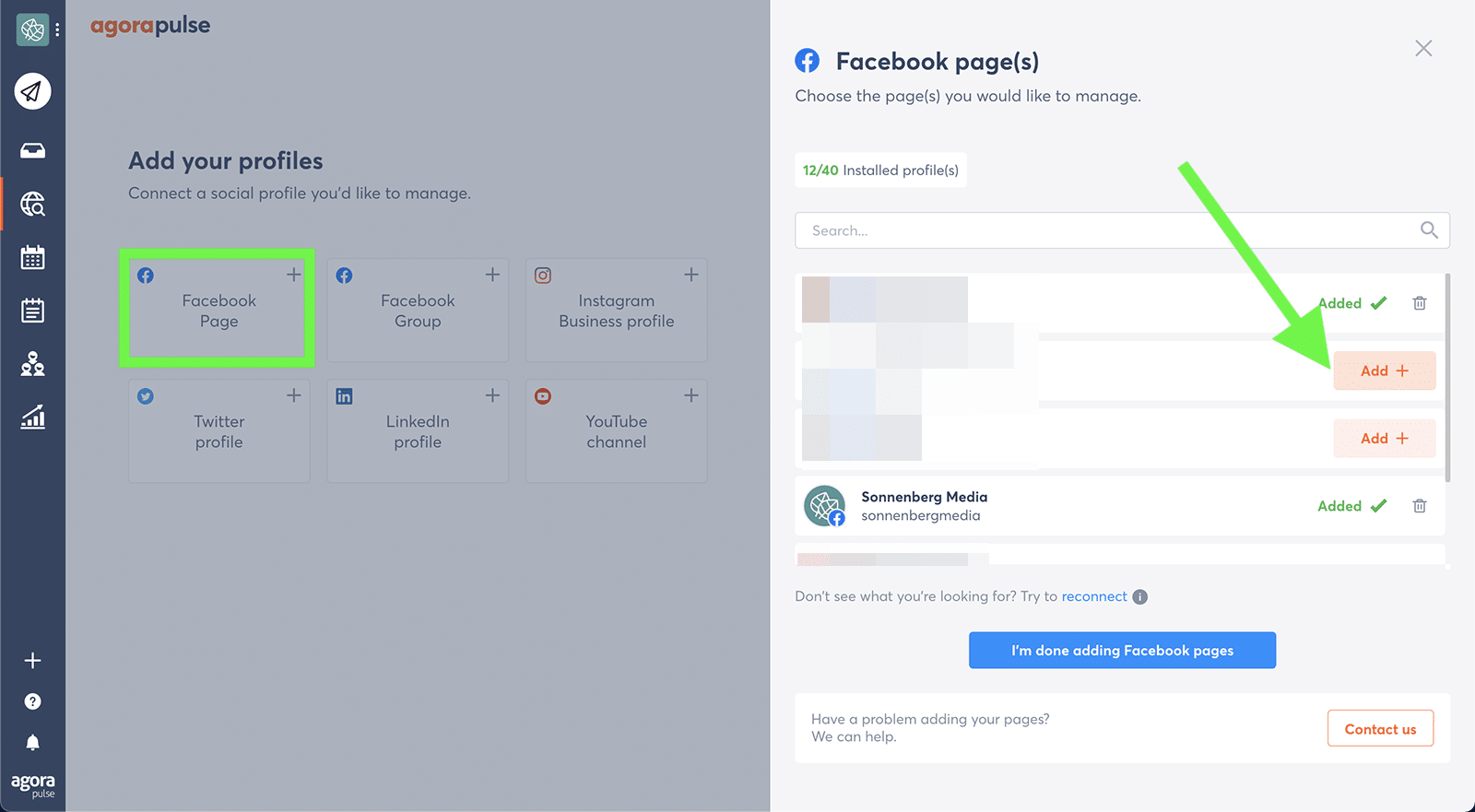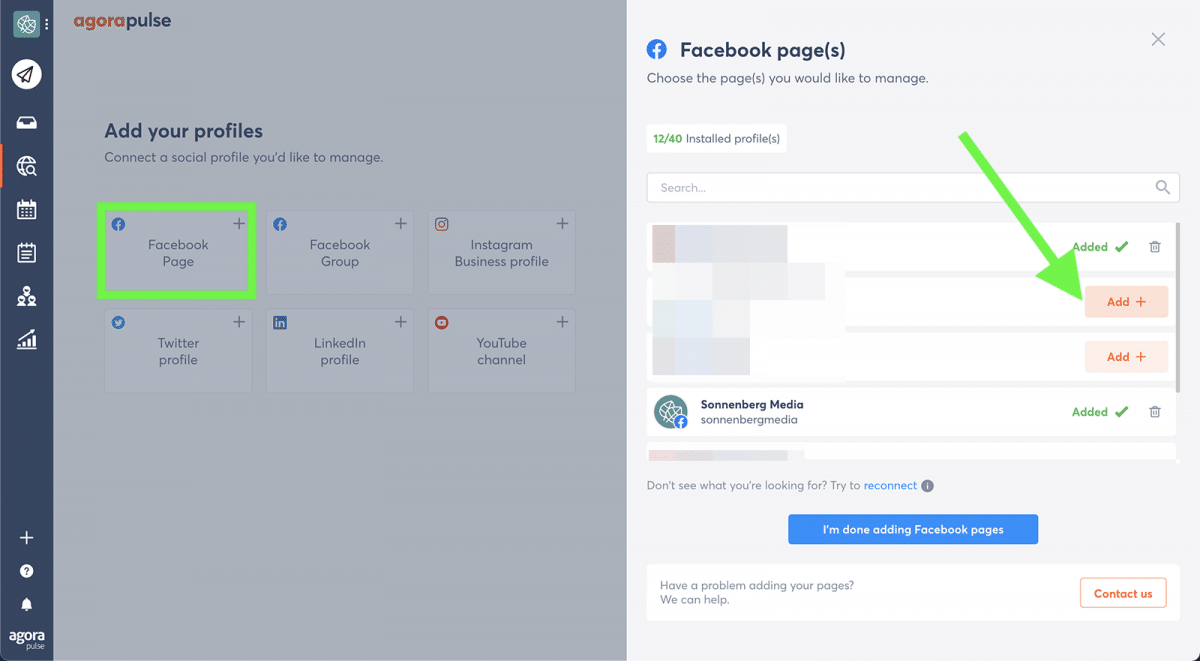 Choose the Page(s) you want to add. Then do the same for any Instagram profile(s) you want to add.
To streamline your workflow, go to Agorapulse's Menu/groups tab. Drag and drop your Facebook Pages and Instagram profiles into groups. Now you can separate agency profiles from client profiles and easily find the right ones to manage.


How to Use Facebook Business Manager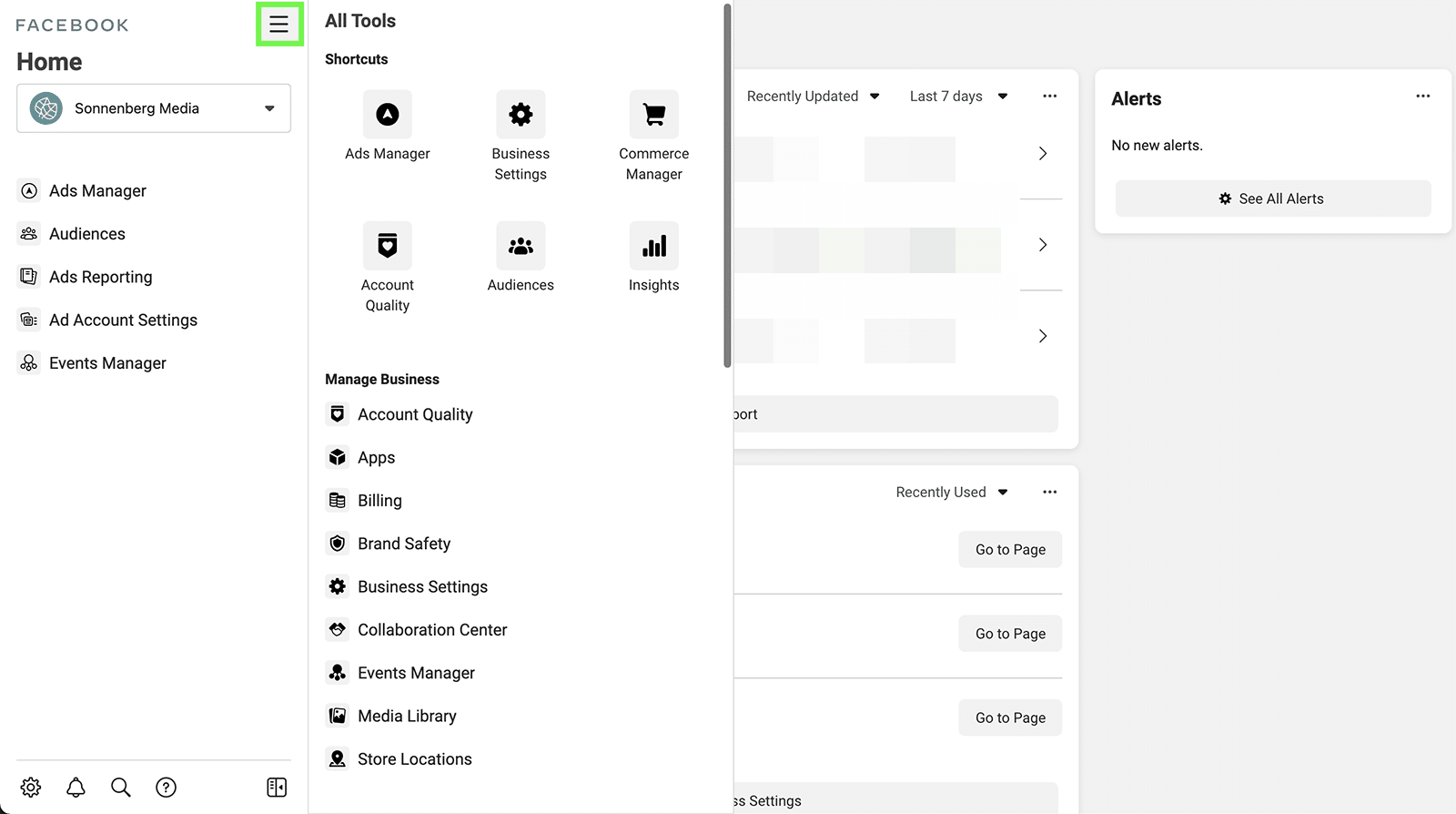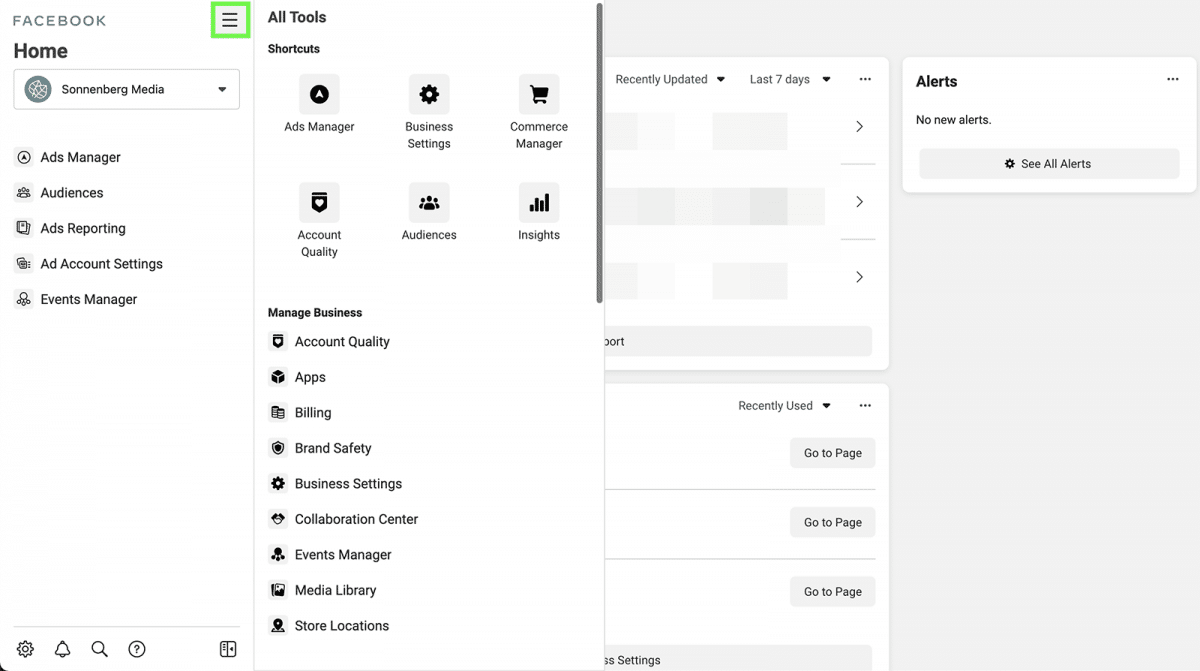 Now that you've set up Facebook Business Manager, let's explore how you can get the most out of it. Use the menu in the upper left to access all the tools at your disposal.
Publish and schedule content.

Check notifications.

Respond to Facebook and Instagram messages.

Review Facebook Insights.

Build saved and custom audiences.

Create and monitor ads.
Publish and schedule content
Do you want to share a link or post a video for a client? To publish content from Business Manager, navigate to the right Facebook Page and create a post. If you want to publish immediately, click the blue Share Now button.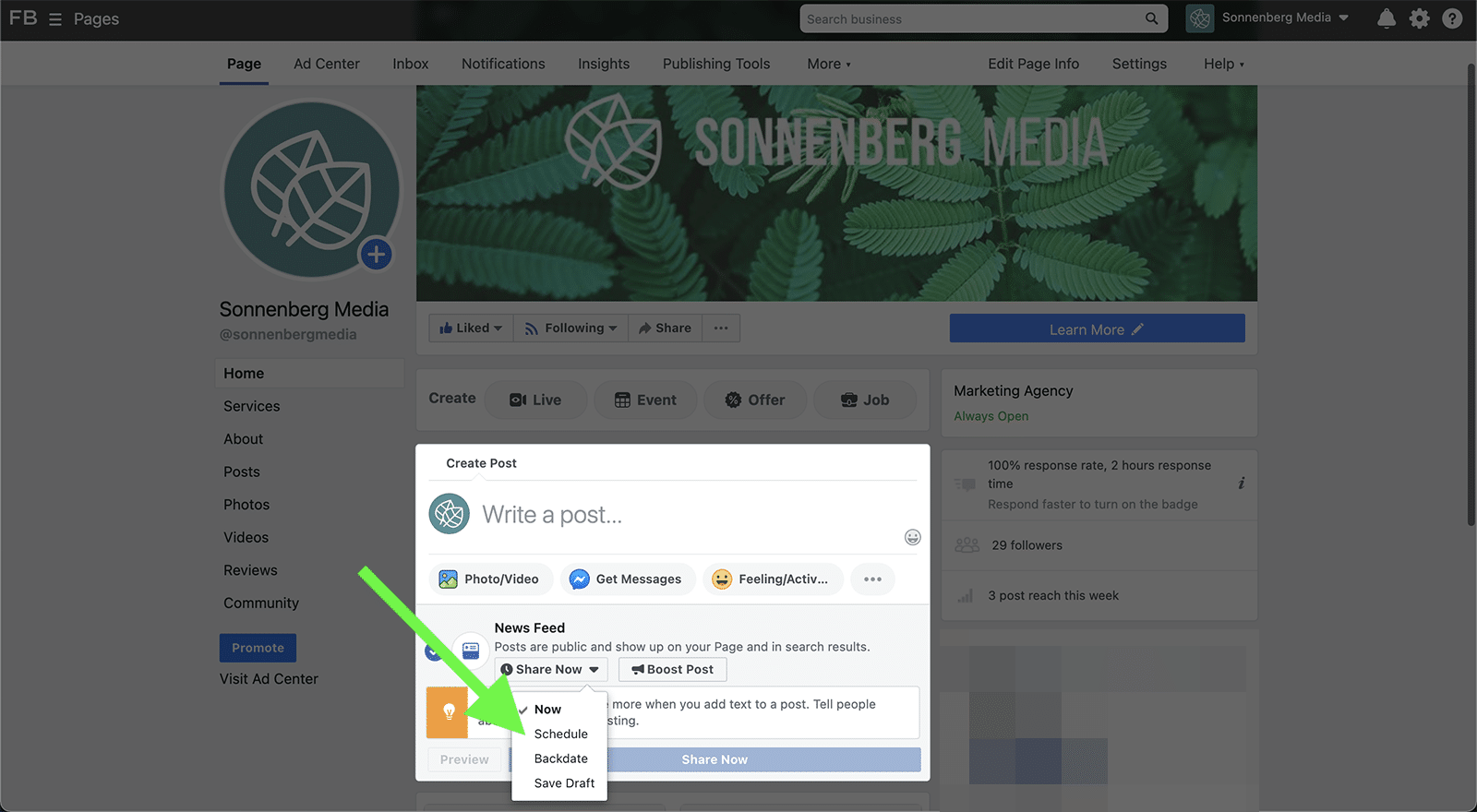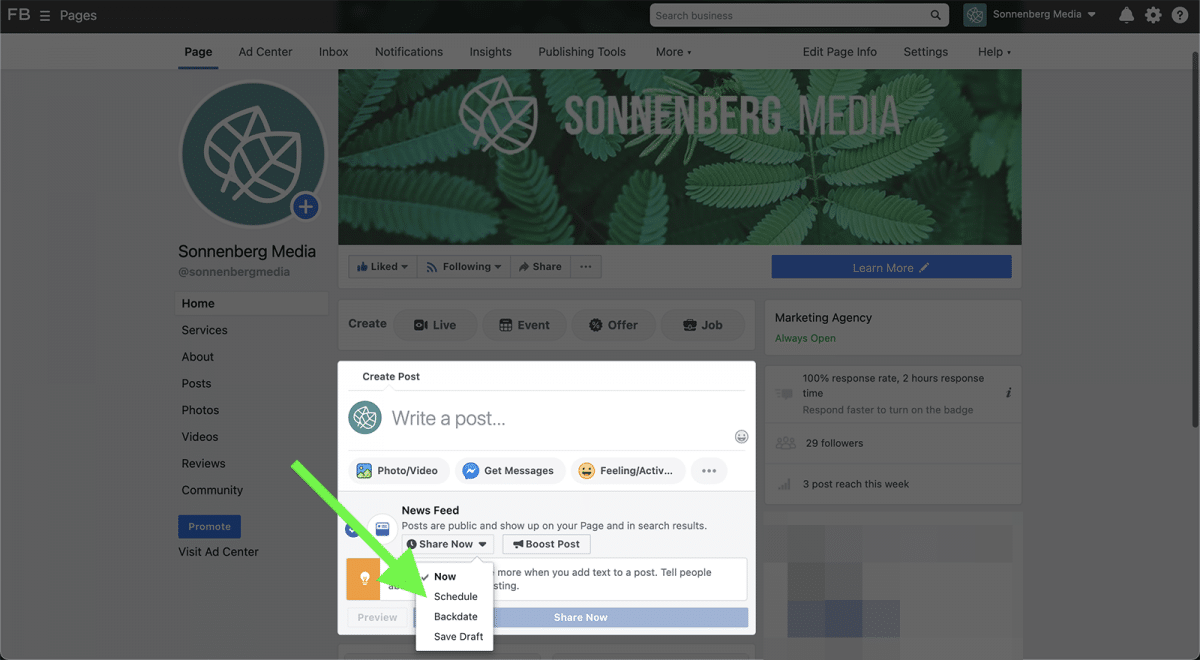 Otherwise, click the gray Share Now dropdown and choose Schedule. Choose the date and time you want the post to go live. Note that you can only schedule posts about 60 days ahead of time using Business Manager, so this isn't the best tool for advance planning.
If you want to plan months in advance or if you want a more intuitive calendar-focused interface, use Agorapulse instead. Navigate to Agorapulse's publishing calendar, select the correct client Facebook Page, and click on the day you want to schedule a post.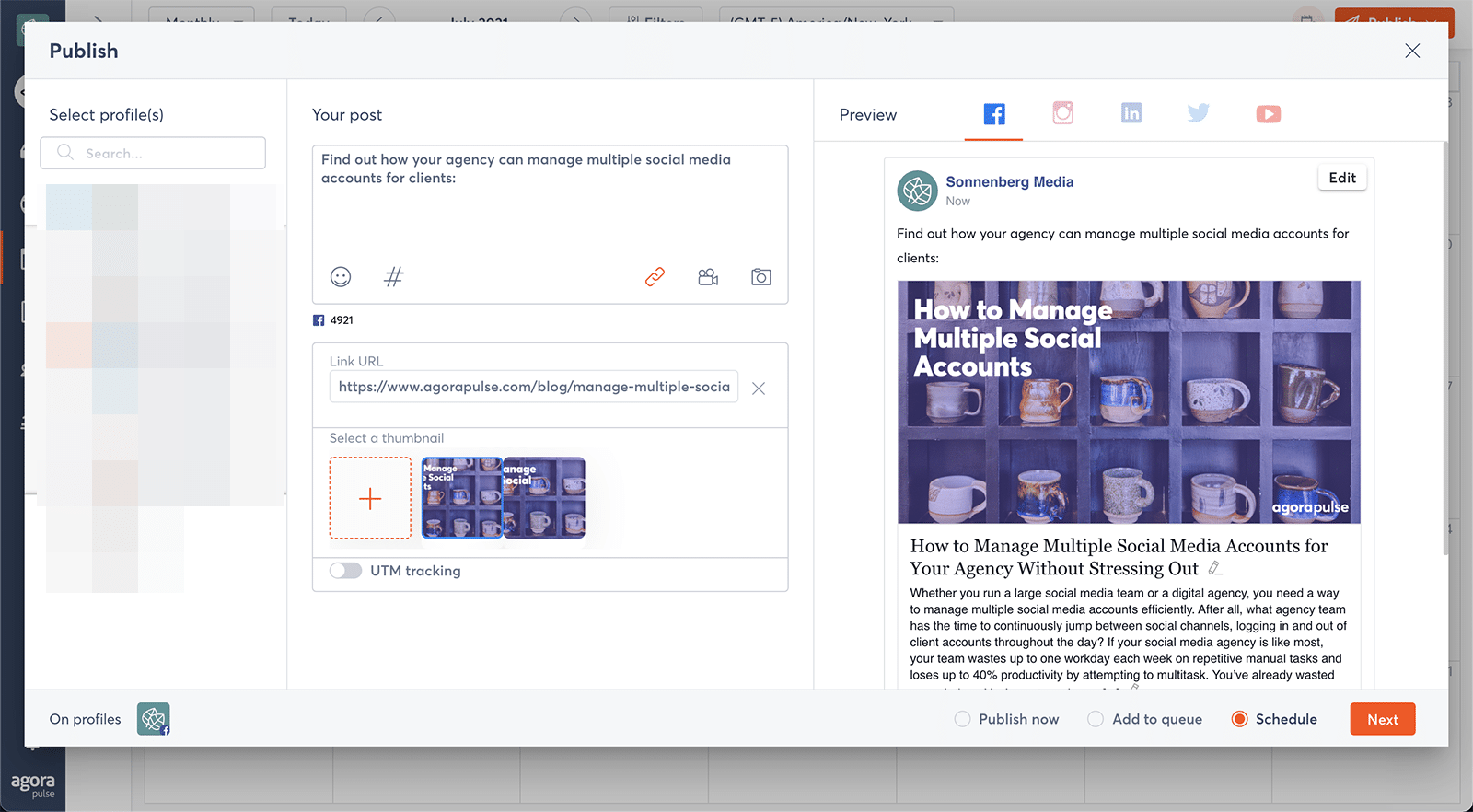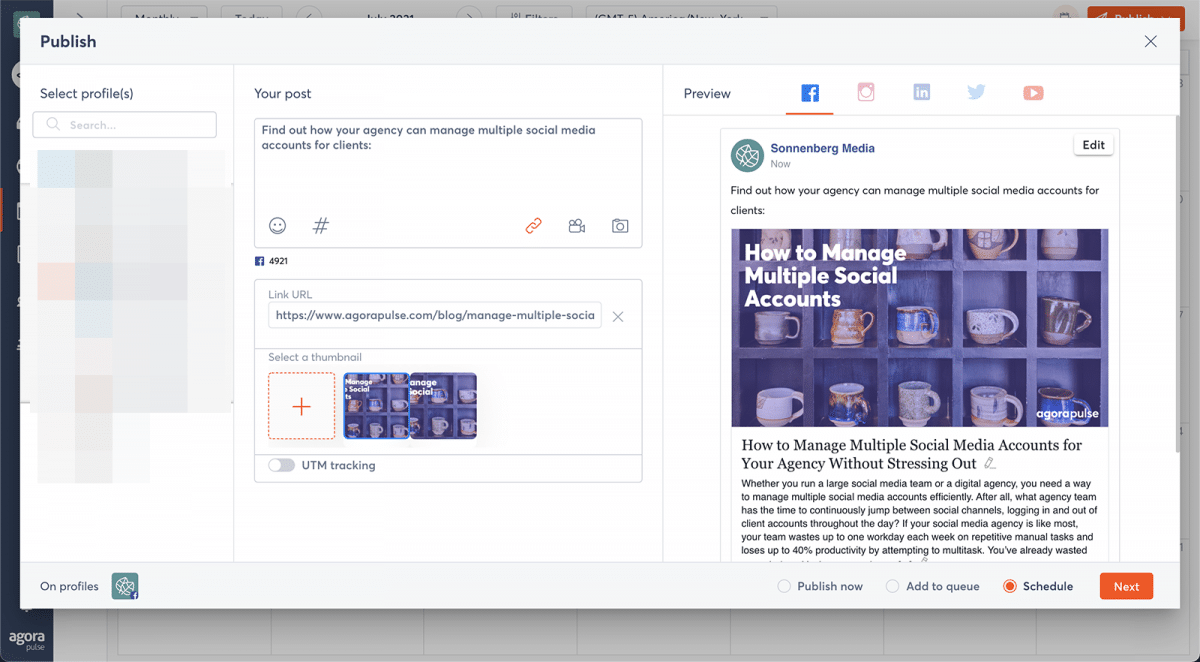 Type a caption, add a link, or upload a photo or video. Then select the date and time to schedule the content. Note that Agorapulse lets you schedule content 30 years out, so you can really get a head start on Facebook campaigns.
Check notifications
Do you need to stay on top of engagement? After selecting your Facebook Page in Business Manager, click on Notifications.


You can filter by likes, comments, shares, and other actions so you can hone in on what's important. On this screen, you can also read reviews and recommendations, check mentions, and view requests from Facebook users.
But you can't respond directly to comments or reviews on this screen, and you won't find private messages here at all. Instead, click on Inbox to read and reply to comments, private messages, and reviews.
Respond to Facebook and Instagram messages
Do you want to engage with followers? Business Manager collects all Facebook and Instagram comments and messages from linked accounts in the Inbox tab.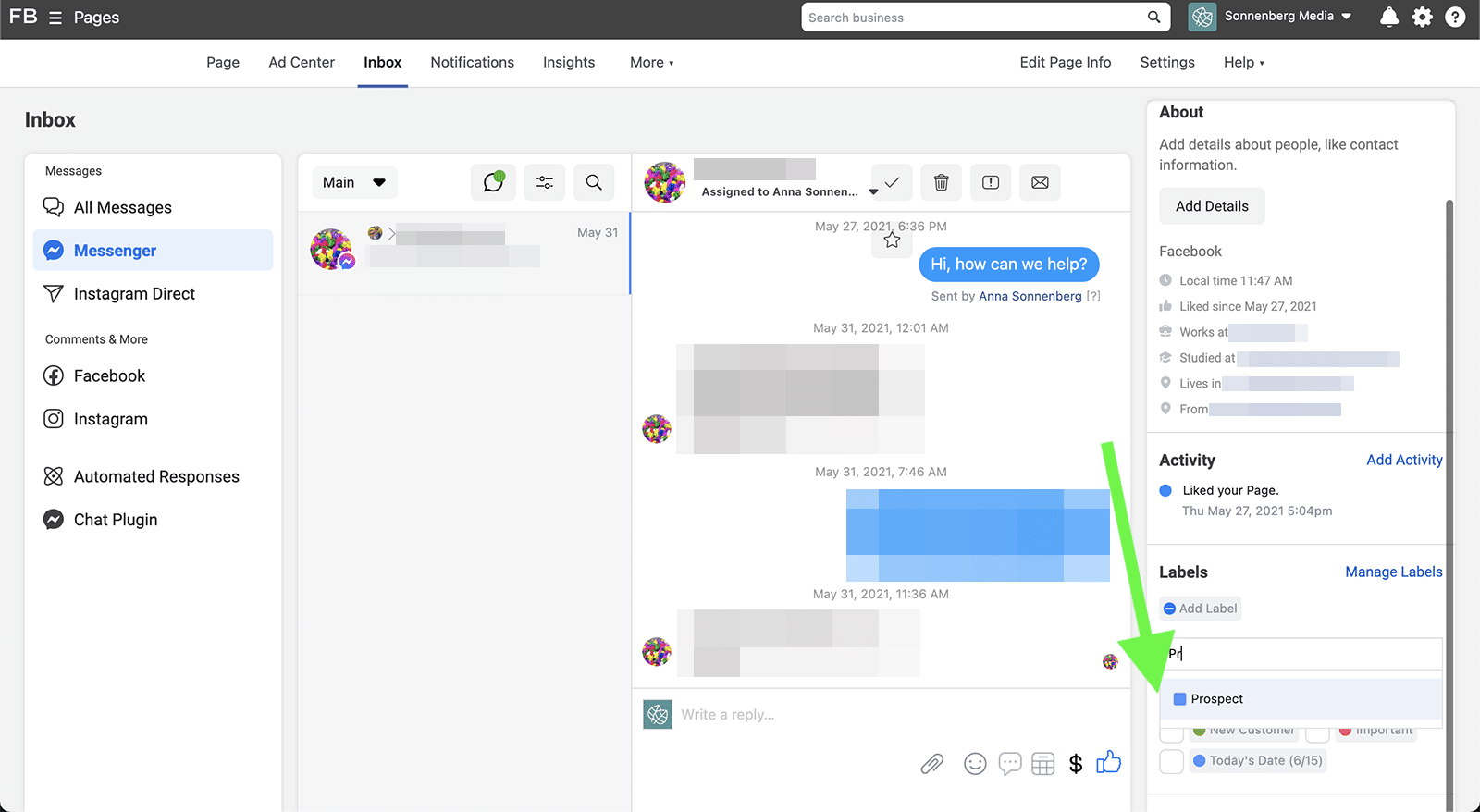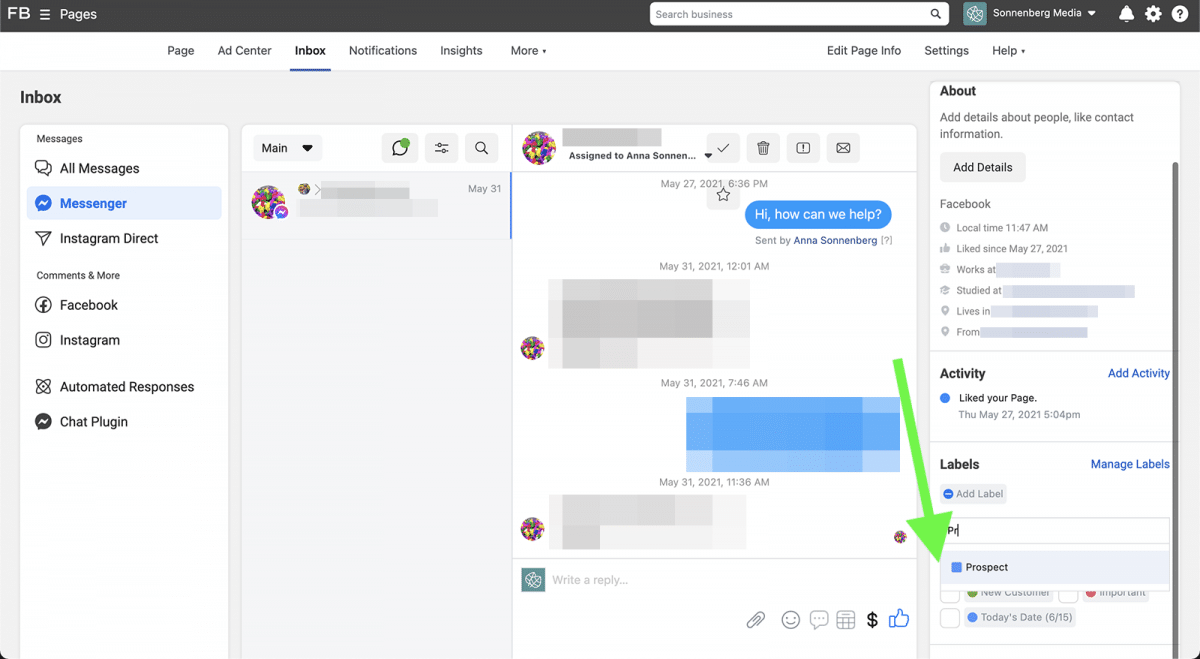 You can reply from Business Manager or mark messages for future follow-up. You can also add labels, contact details, and notes to each Facebook user who interacts with your agency or your clients' brands.
If your clients get a ton of similar comments or messages, you don't necessarily have to rewrite the same response every time. Create saved replies in Facebook Business Manager and then insert them into your responses as appropriate.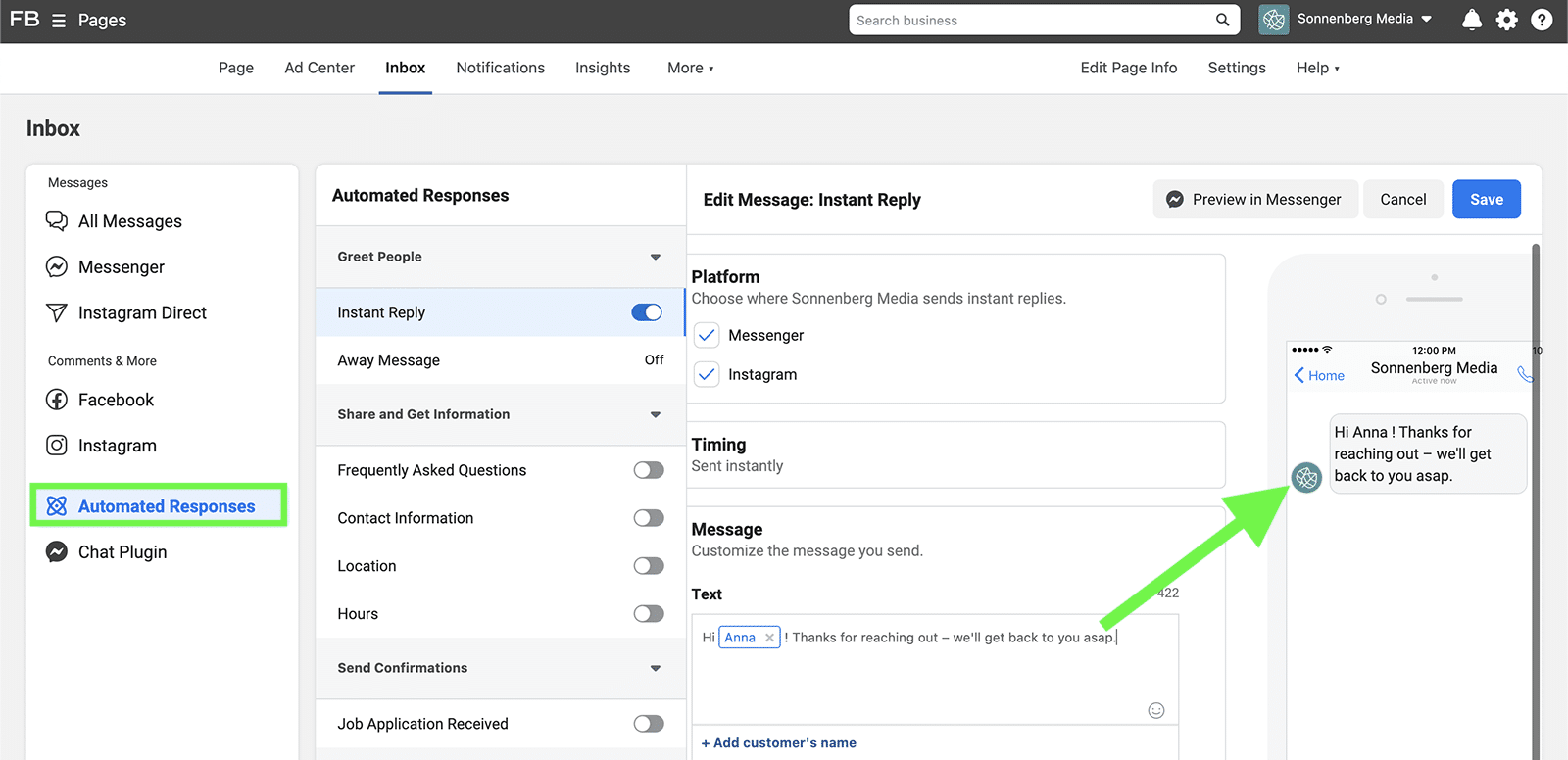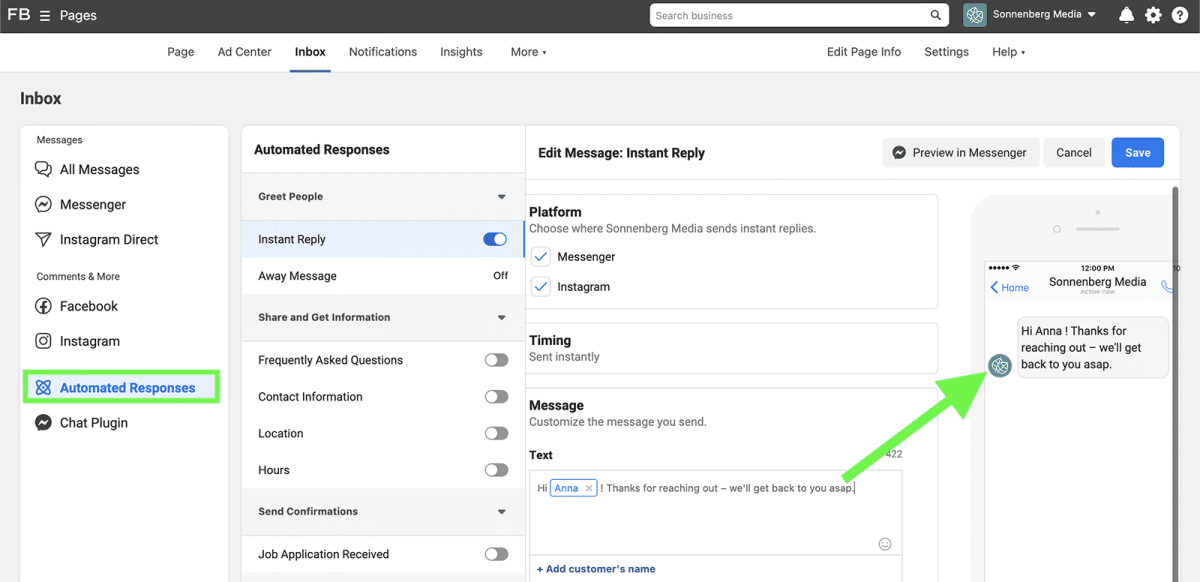 Business Manager also allows you to set up automated responses for clients. This feature gives you the power to reply to messages instantly, but it doesn't let you customize replies based on message content.
To take your team's engagement moderation up a notch, use Agorapulse's social inbox instead. Agorapulse automatically delivers all your clients' comments and private messages to your social inbox for easy access.
You can reply to engagement directly from the social inbox or click to view and respond to the post on Facebook. If you've set up saved replies in Agorapulse, you can use these to respond with a single click.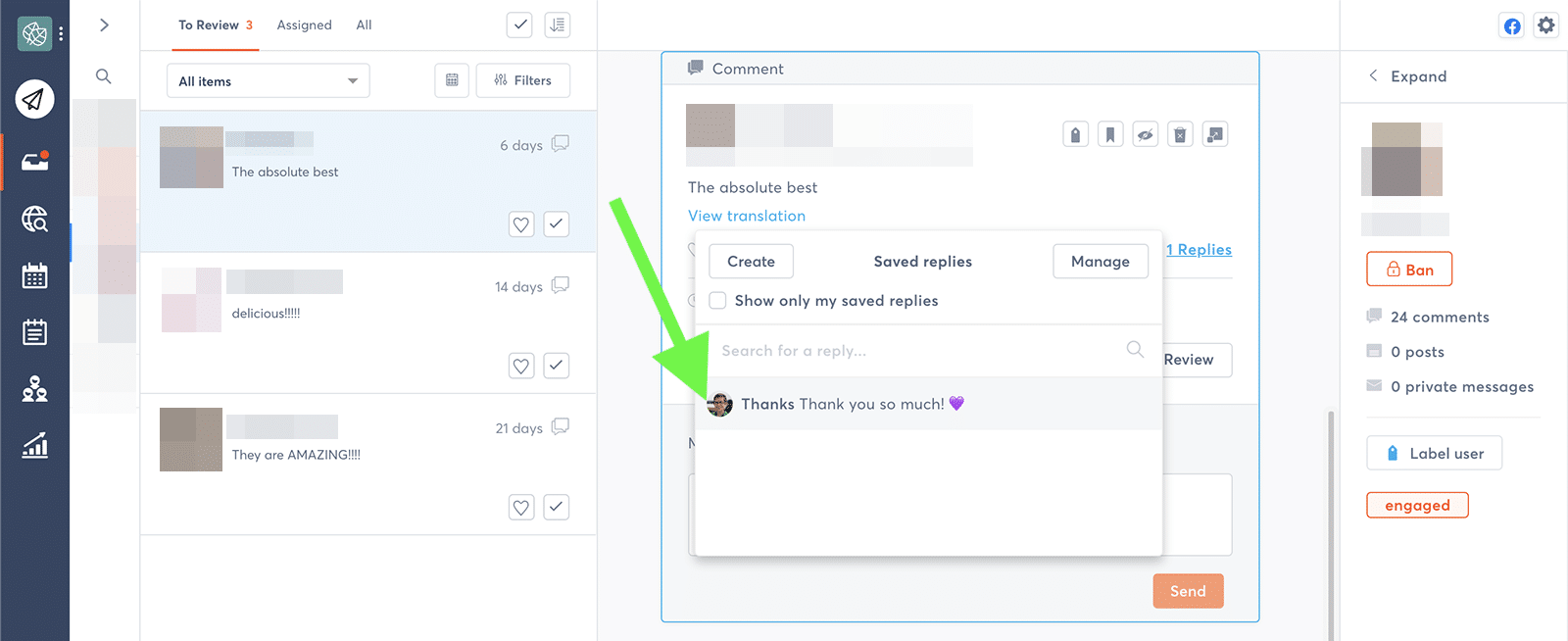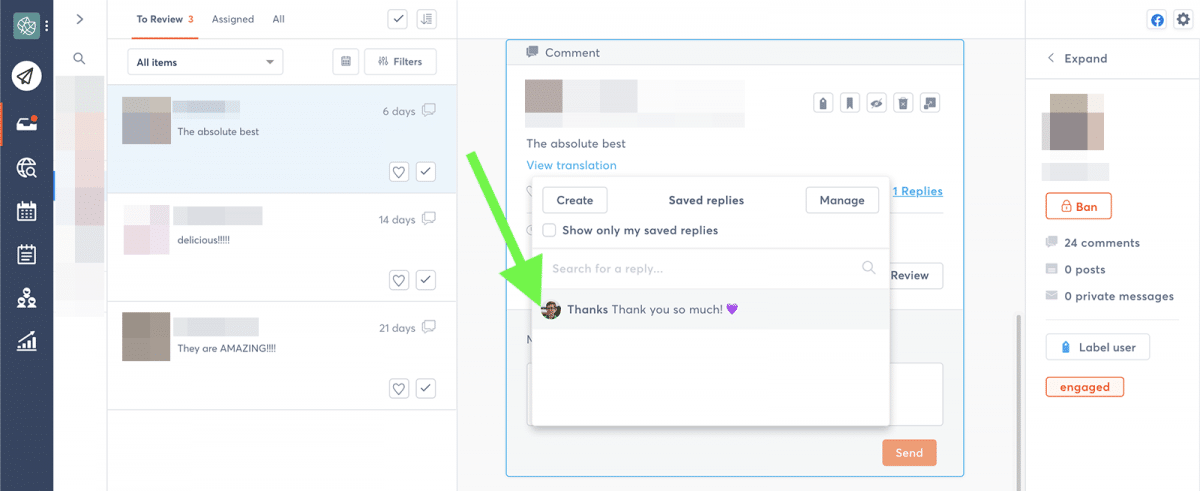 If you're concerned about letting important messages slip through the cracks, use Agorapulse's Inbox Assistant moderation tools. For example, you can set up a rule to automatically monitor your clients' inboxes for keywords – and then assign the item to a team member for follow-up.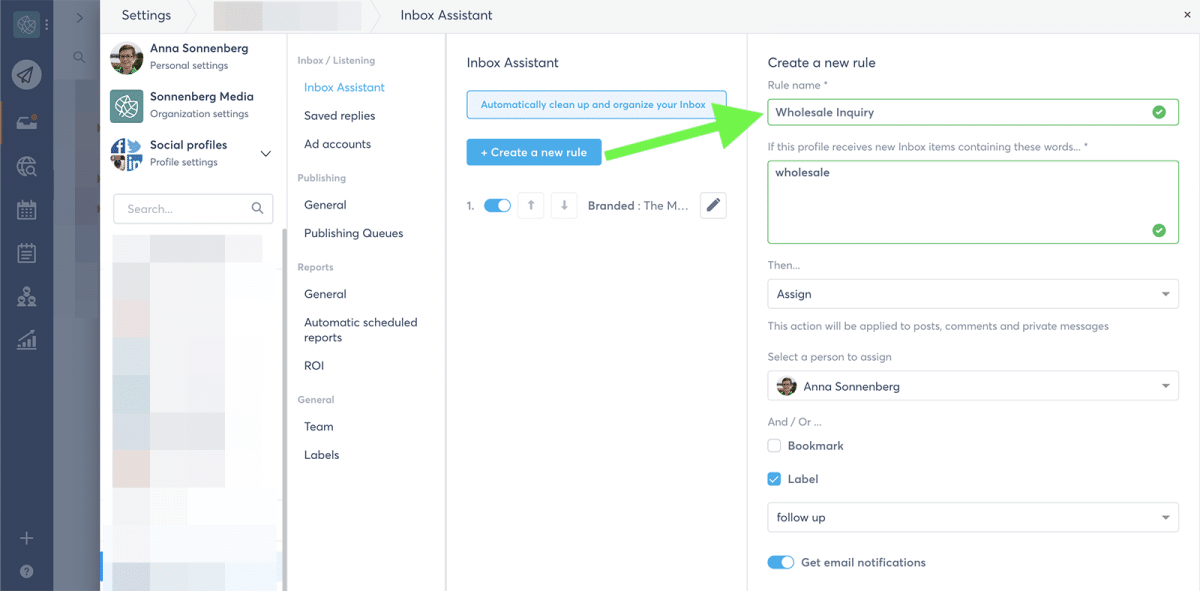 Agorapulse's social inbox can also help you build relationships with your clients' followers. Click to expand the user panel and see the entire engagement history as well as any labels your team has applied or any internal notes they've left.


Review Facebook Insights
Need to monitor your clients' results on Facebook? You can access Facebook Page Insights from Business Manager.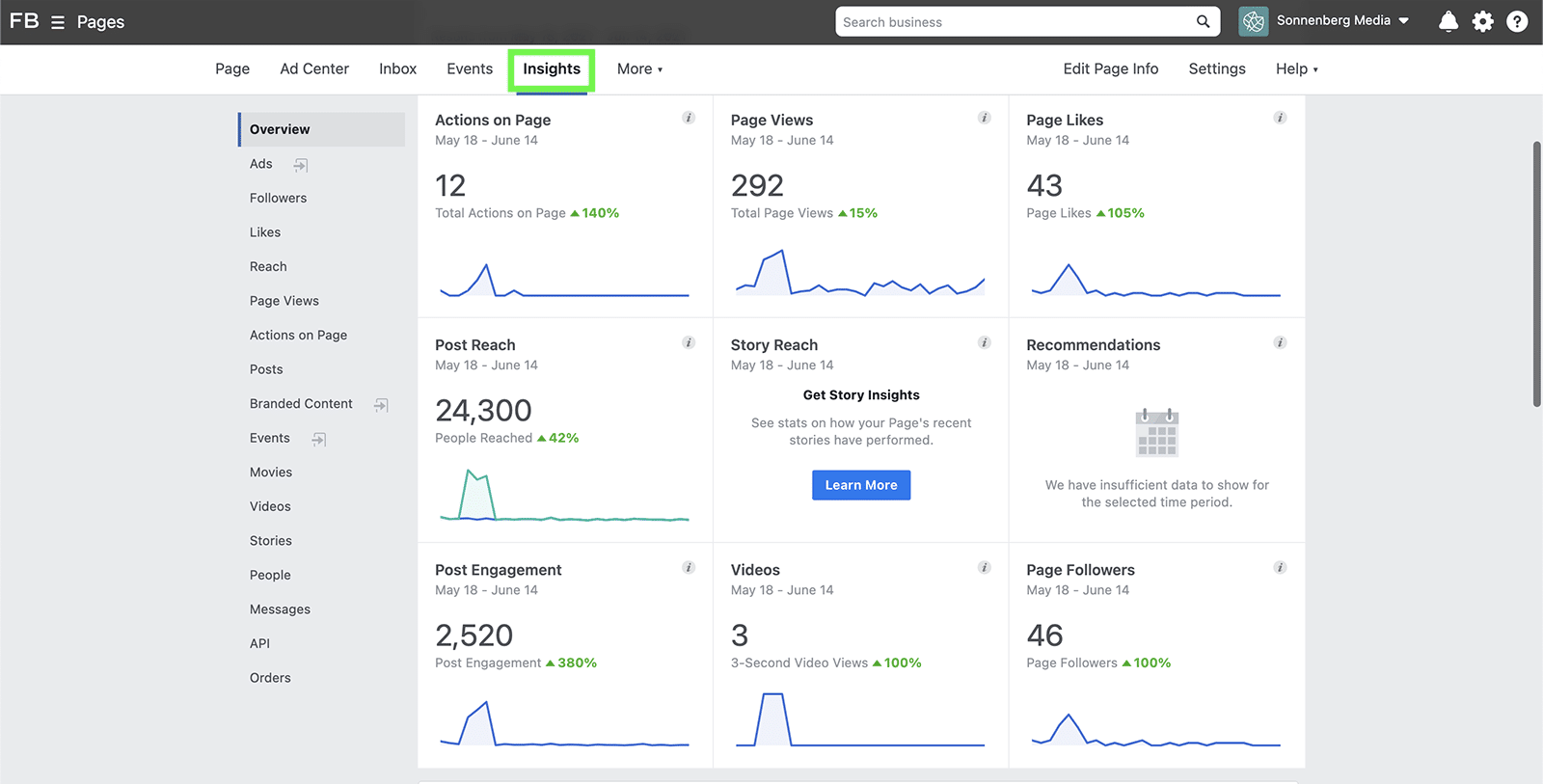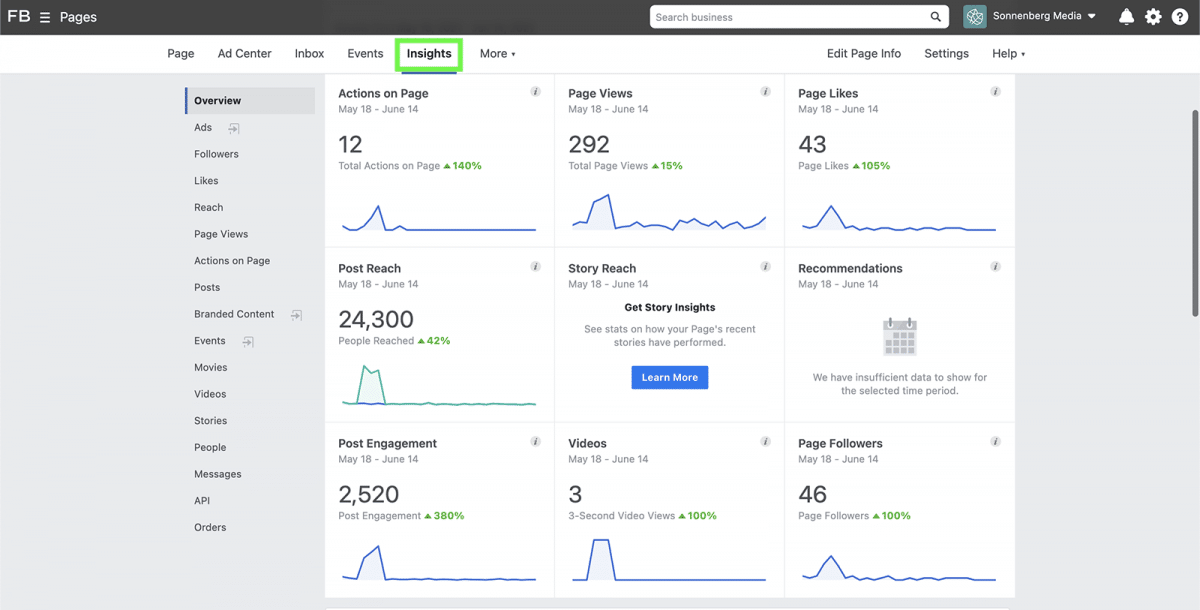 Use the page summary dashboard to get an overview of the page's weekly or monthly performance. Scroll down to view metrics for individual posts.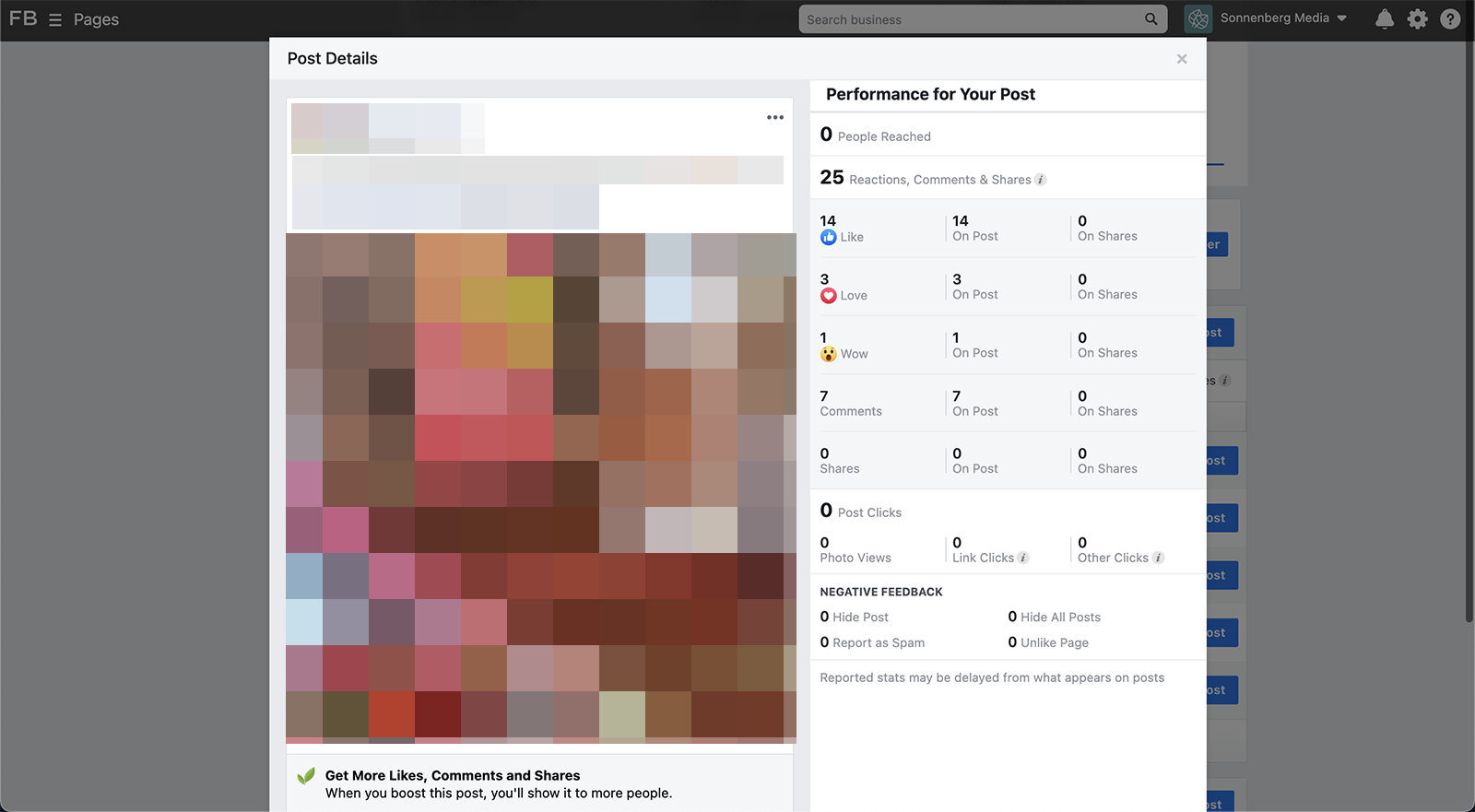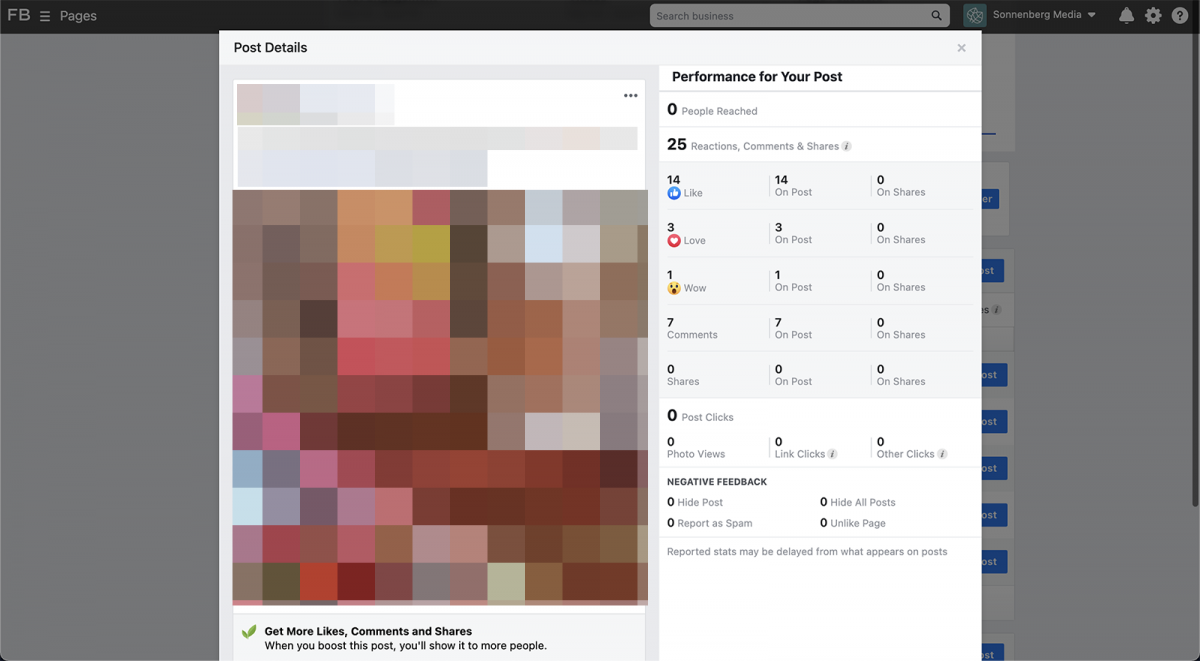 You can also export Facebook Insights so your team can dig into data like audience growth, reach and impressions, and engagement statistics. But Business Manager doesn't give you many options for creating reports, so you're stuck downloading a CSV file.
When you use Agorapulse, you get far more useful analytics. The profile overview offers a snapshot of key metrics like followers, engagement, and impressions.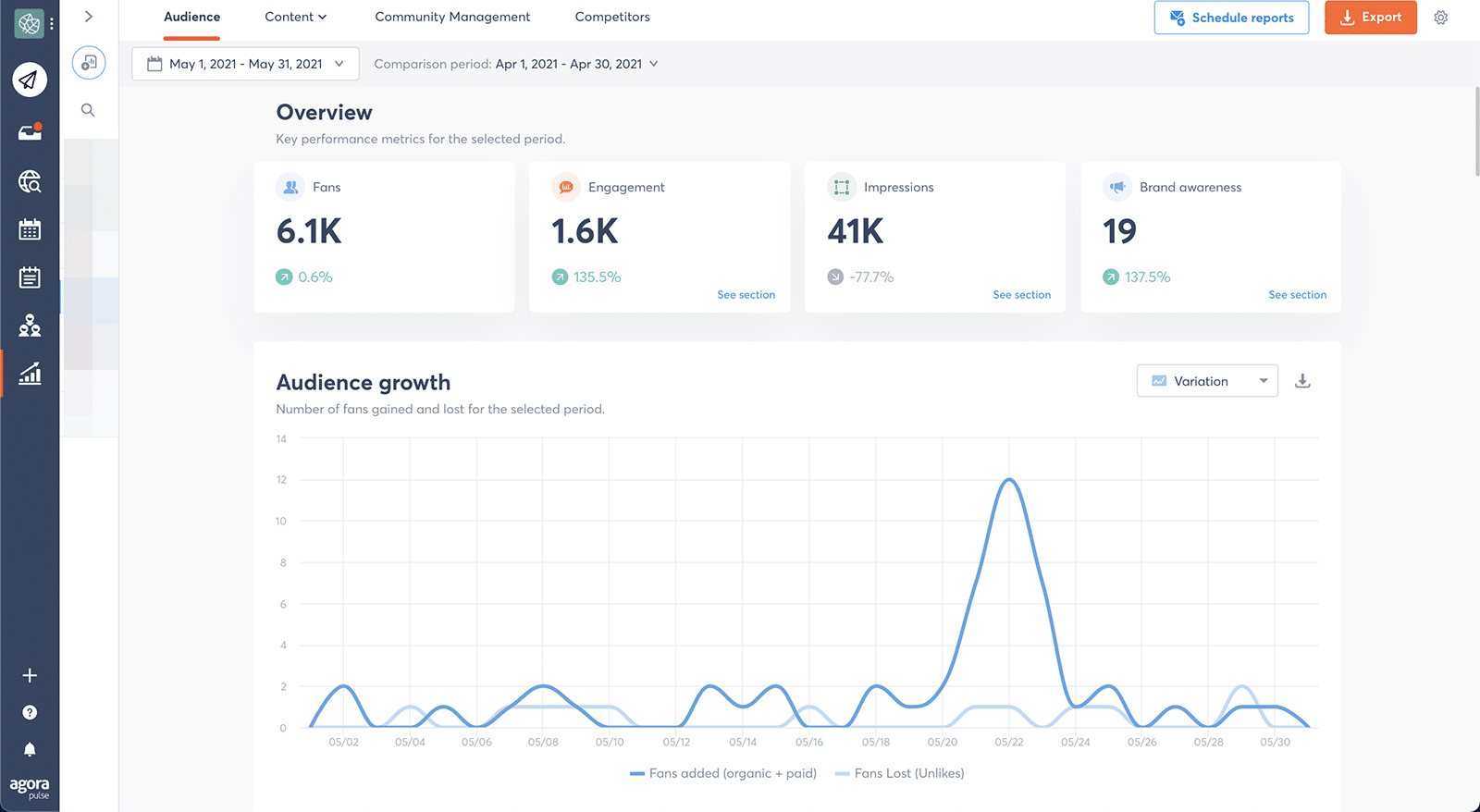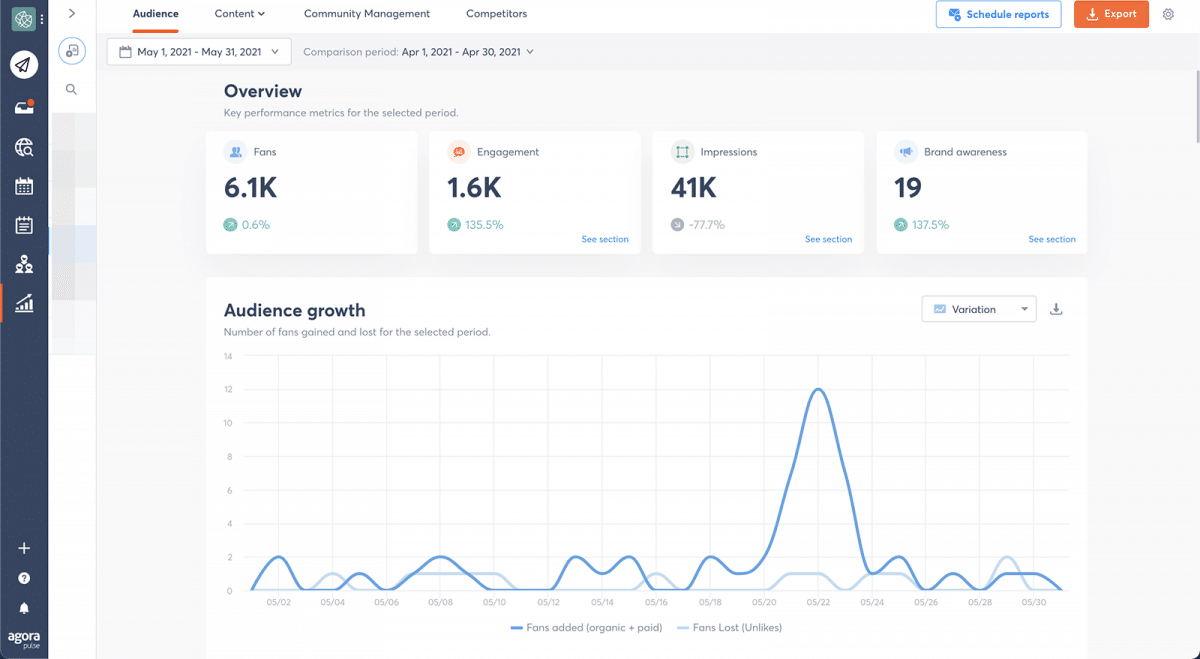 Agorapulse reports also include charts for engagement, impressions, and audience growth. To see metrics for individual posts, click on the content for a breakdown.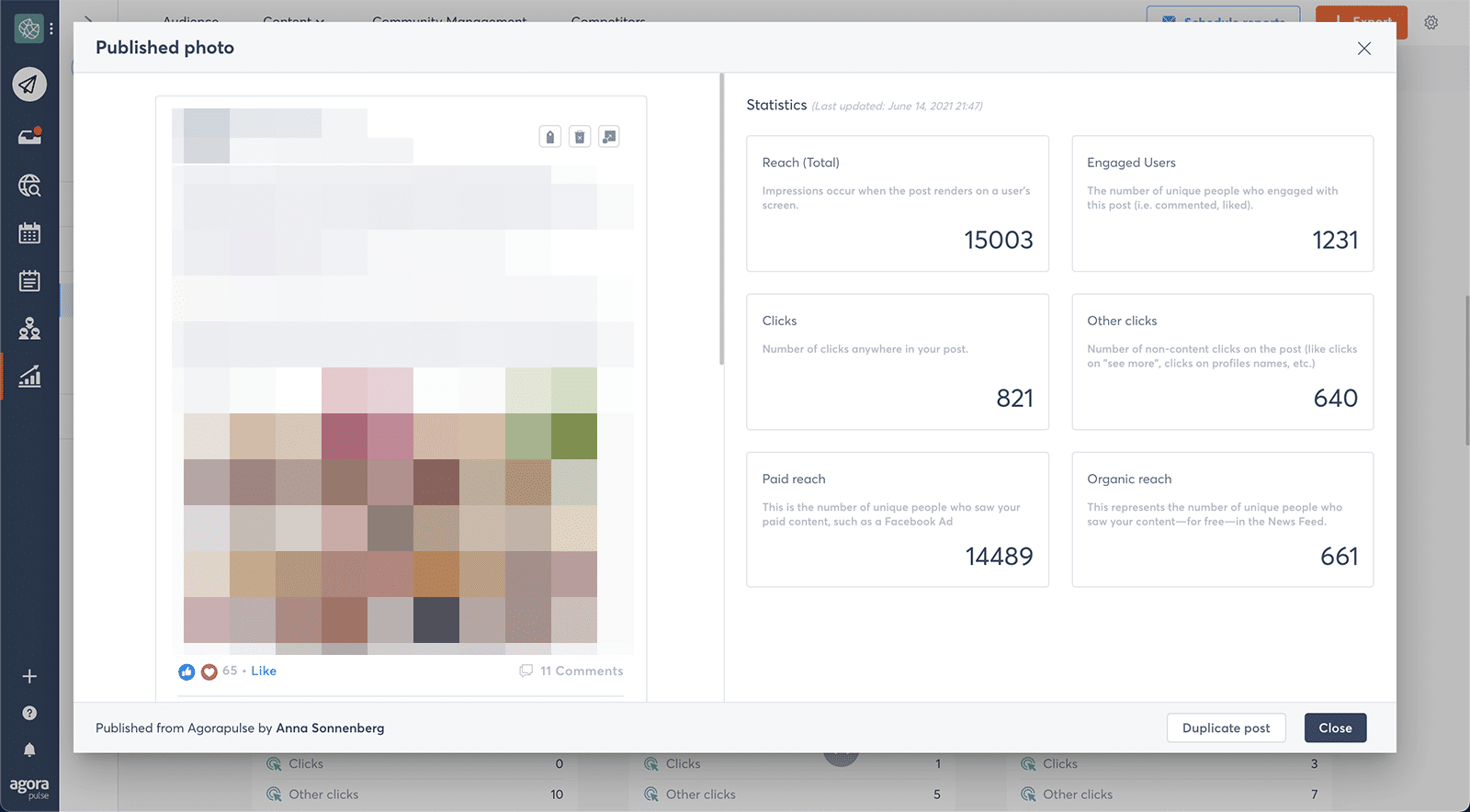 If you want to share an Agorapulse report with a team member or client, you can download the raw data as a CSV or export the charts to PDF or PowerPoint.
Create and monitor ads
Do you want to advertise your clients' brand on Facebook? Business Manager connects to Ads Manager, so you can launch or test ad campaigns of any size. Then you can monitor the results using native analytics.


If you find Facebook Ads analytics a little too cluttered and hard to read, try out Agorapulse's free AdsReport tool instead. Once you connect it to your clients' ad accounts, you can monitor results with an easy-to-read dashboard.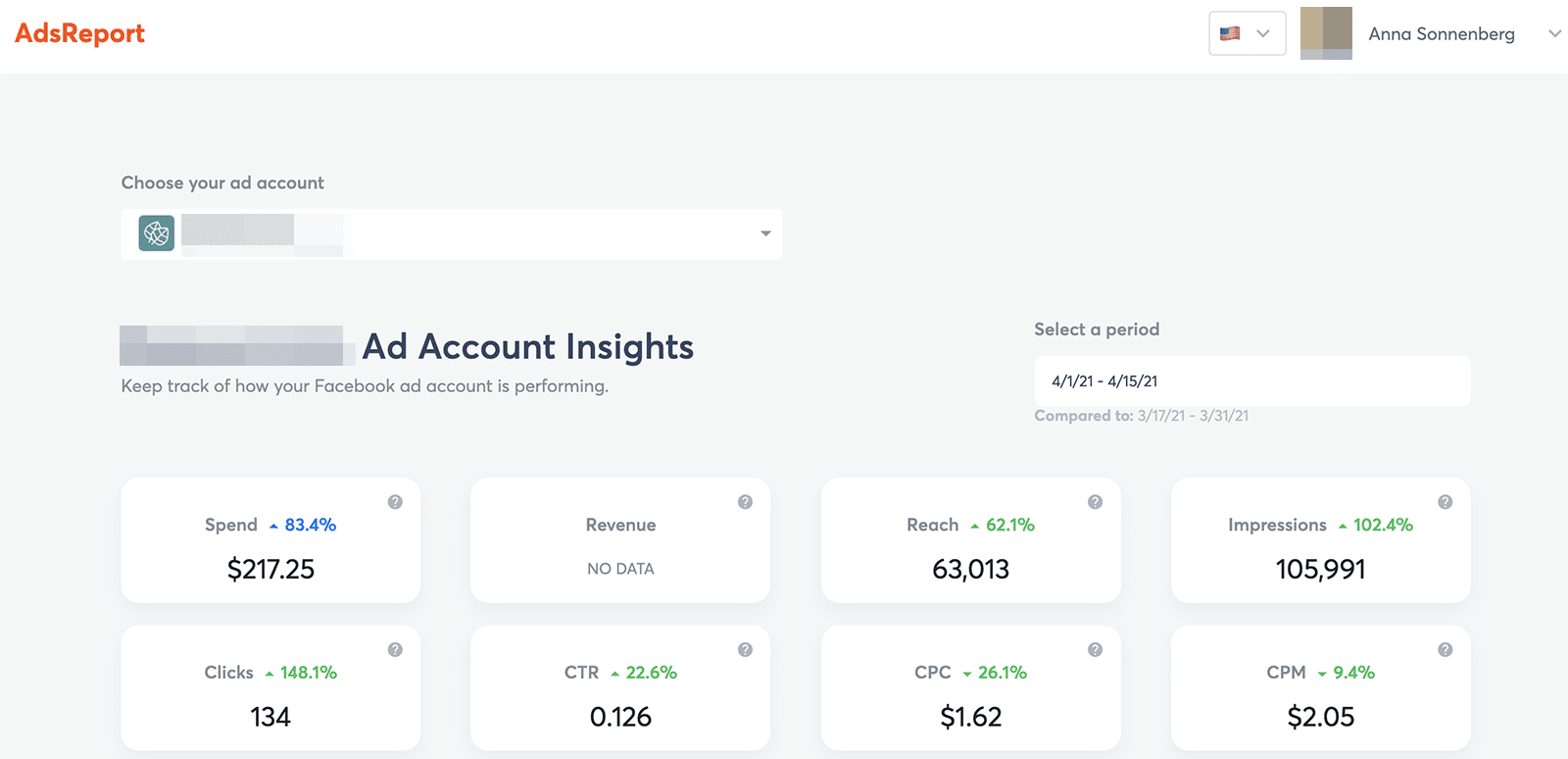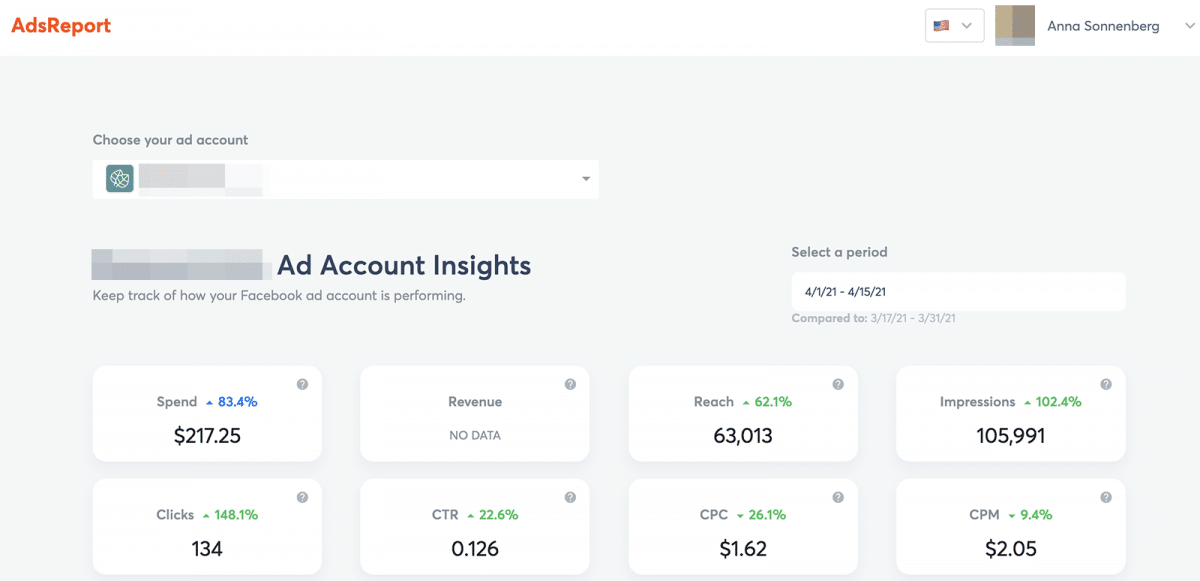 With AdsReport, you can track all the essential Facebook Ads metrics, including:
Impressions

Reach

Clicks

Click-through-rate (CTR)

Cost per click (CPC)

Cost per 1,000 impressions (CPM)

E-commerce metrics like purchases and adds to cart
How to Manage Facebook Pages Better With Agorapulse
As you can see, Facebook Business Manager can handle a lot of Facebook management tasks. But it's rarely the most powerful or efficient option, and it's missing several key features. Here are some time-saving, high-value features that Facebook Business Manager doesn't offer–but Agorapulse does:
Real-time collaboration with your team

Bulk content publishing

UTM parameters

Post rescheduling

Content approval workflows

Shared Calendars for clients

Publishing recommendations

Brand awareness scores

ROI tracking

Automated custom reports
Real-time collaboration with your team
Assigning multiple team members to manage client engagement can ensure that their followers receive responses quickly. Yet collaboration can be tricky if you can't see what team members are working on.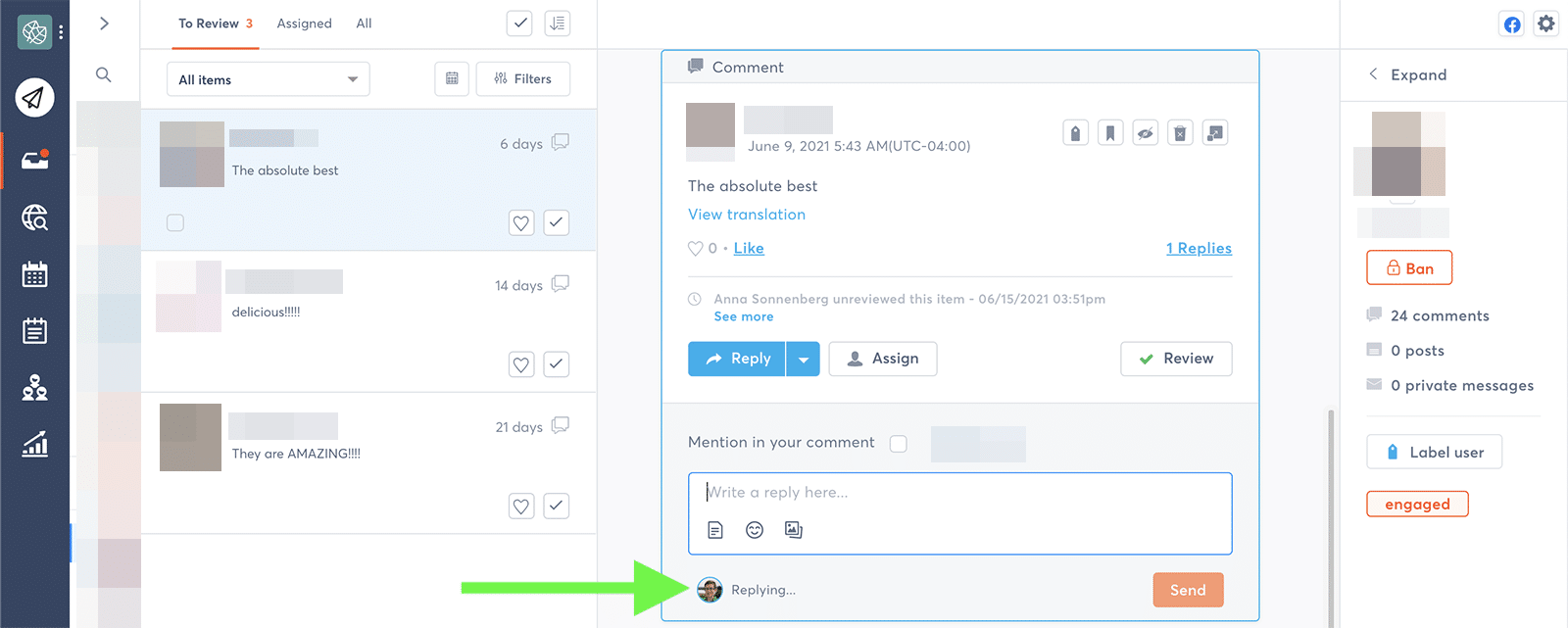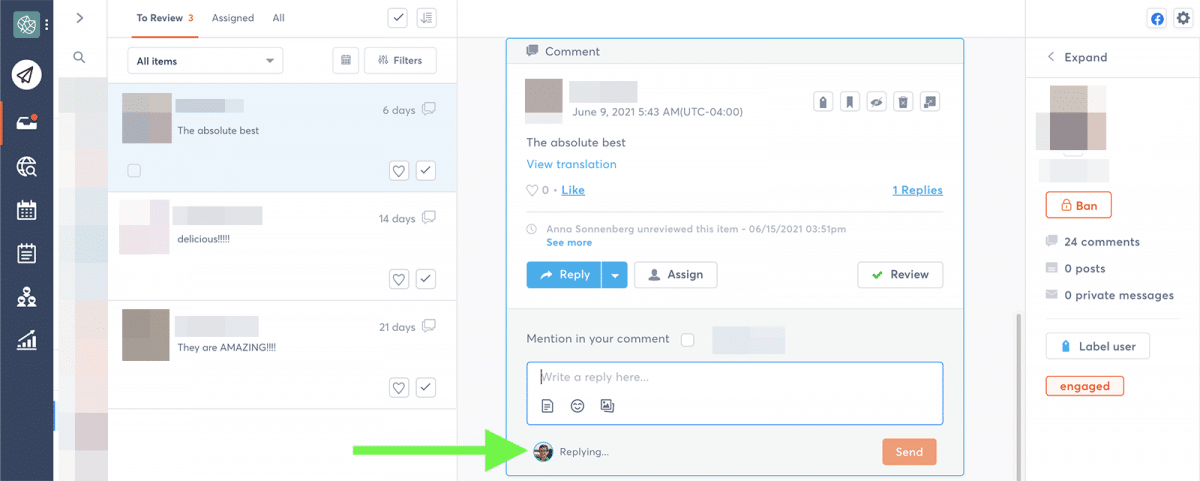 Agorapulse makes it easy to see when team members are online and what they're doing in the app. You can see who's viewing inbox items or mentions at any time. If they're in the midst of typing a response, you can see that they're replying – so you can avoid duplicating their work.
Bulk content publishing
Managing a big campaign or creating a month of content can take a lot of time to schedule. With Agorapulse's bulk publishing tool, you can speed up the process significantly.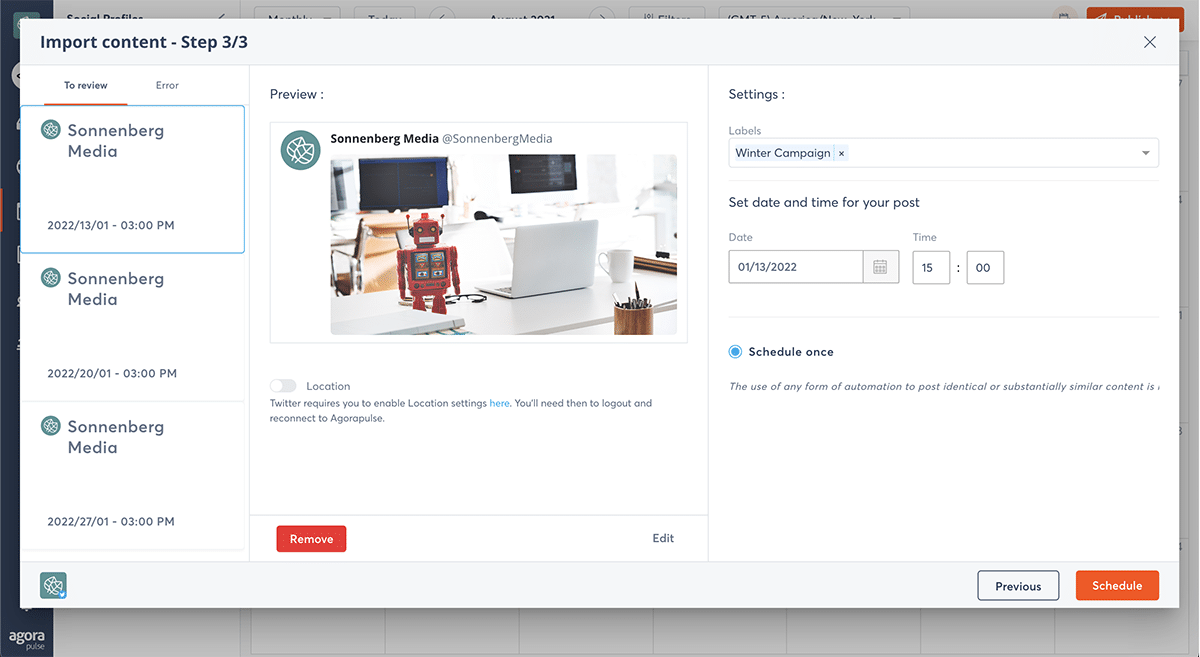 If you're planning to publish a lot of images, you can upload an entire folder and then paste the captions into the posts. If you're planning to publish a lot of links, you can upload a CSV file with your content with dates and times included. Then just review the post previews and times and click to schedule everything.
Post rescheduling
Publishing a link, image, or video on Facebook once isn't always enough. When sharing evergreen content, it's often best to post several times over weeks, months, or years. You can always rework the caption for more variety or to incorporate new messaging.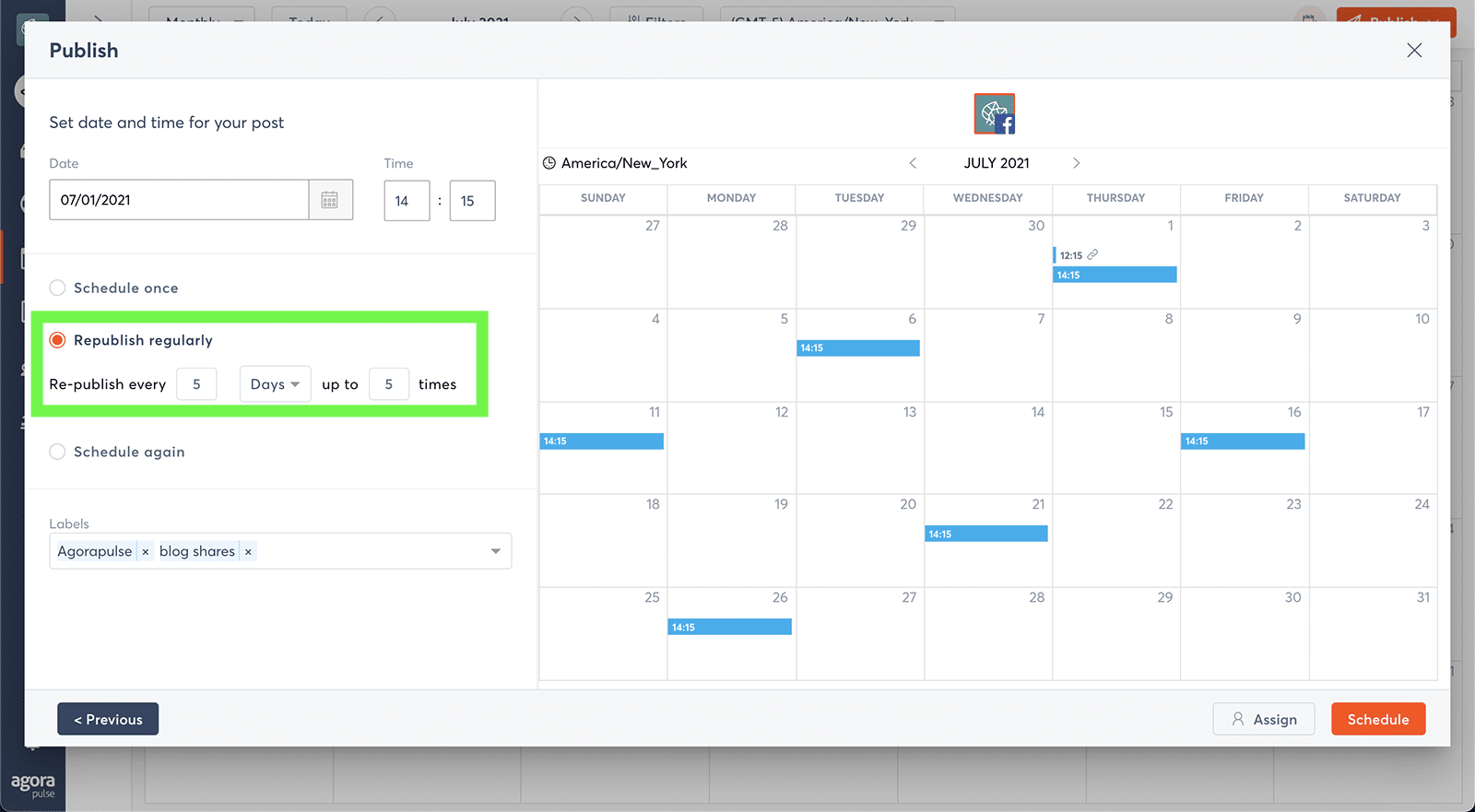 With Agorapulse, you can easily reschedule content once or multiple times. Select Republish regularly to repost at regular intervals, such as every 5 or 10 days. Alternatively, choose Schedule again to choose the exact dates and times you want to republish. Once you schedule the new posts, you can edit the captions as necessary.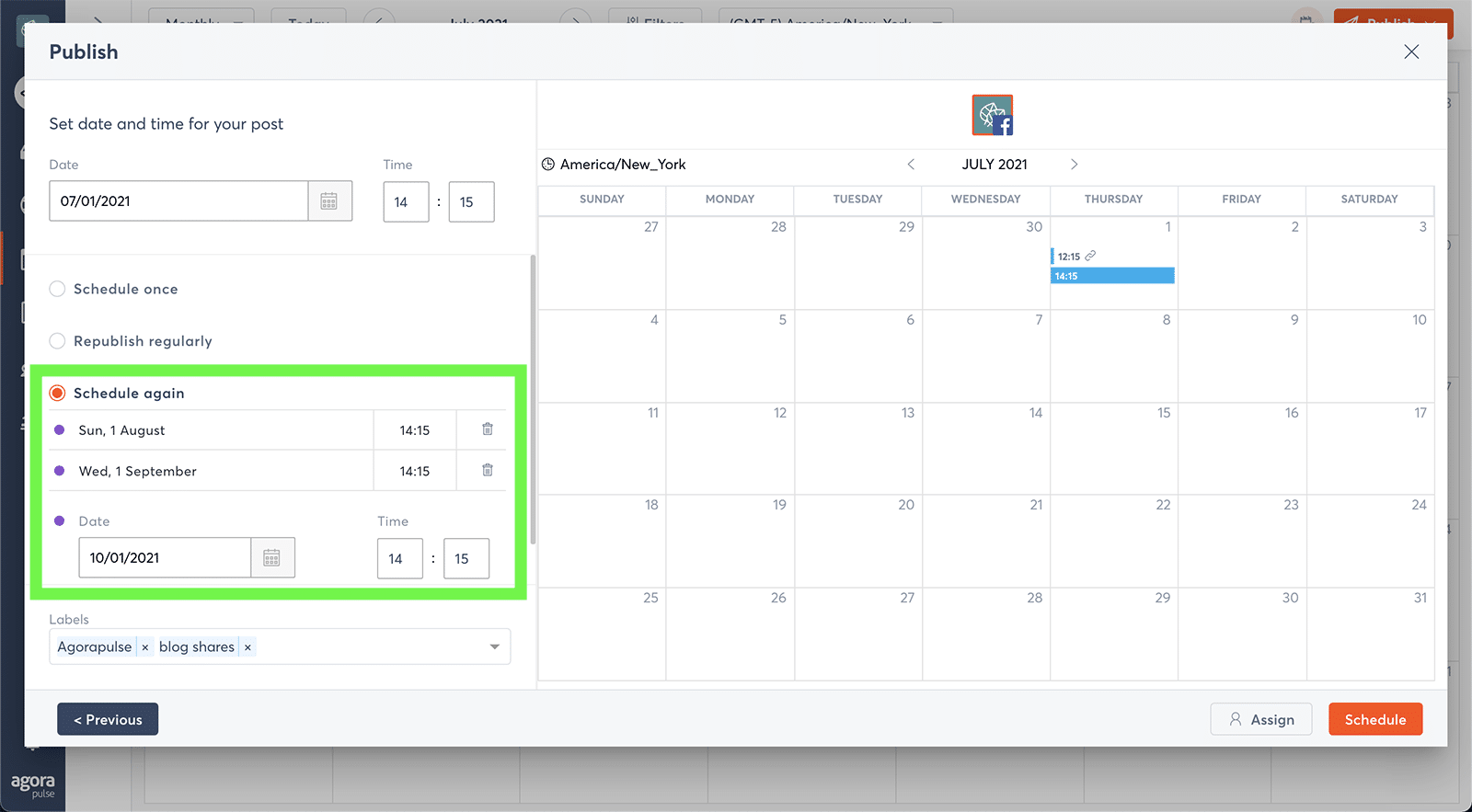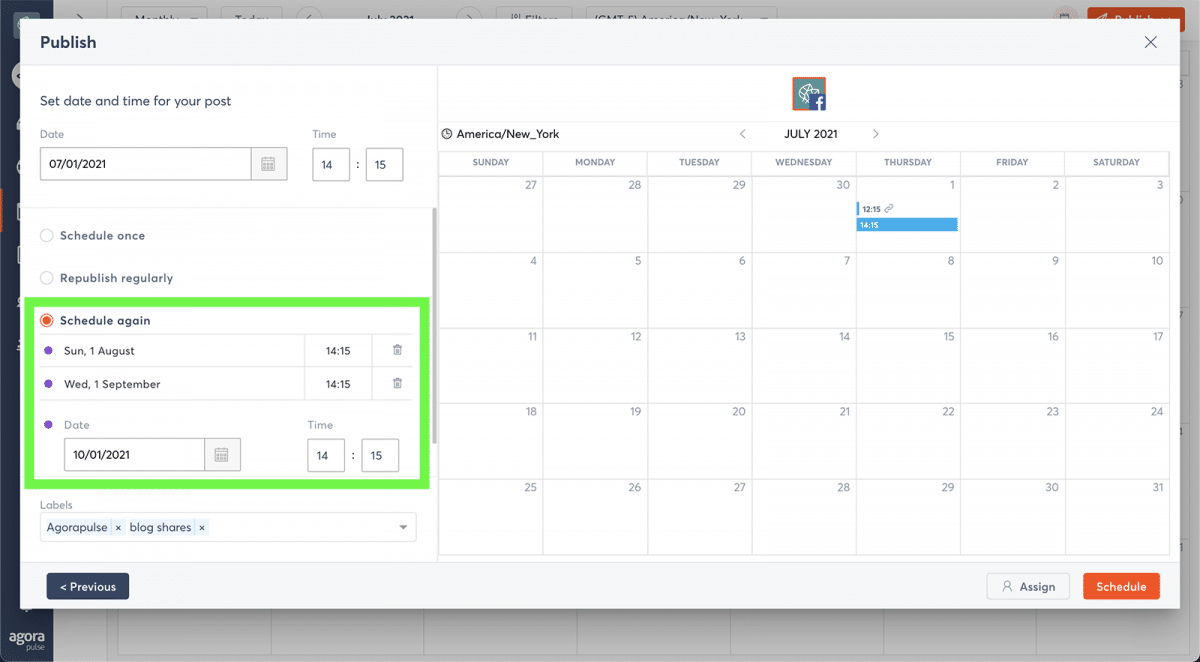 UTM parameters
If you want to track website traffic or conversions from your Facebook posts, add UTM parameters. These tags tack on to the end of the URLs you post on Facebook. They don't change the destination, but they do allow you to attribute website activity to Facebook campaigns.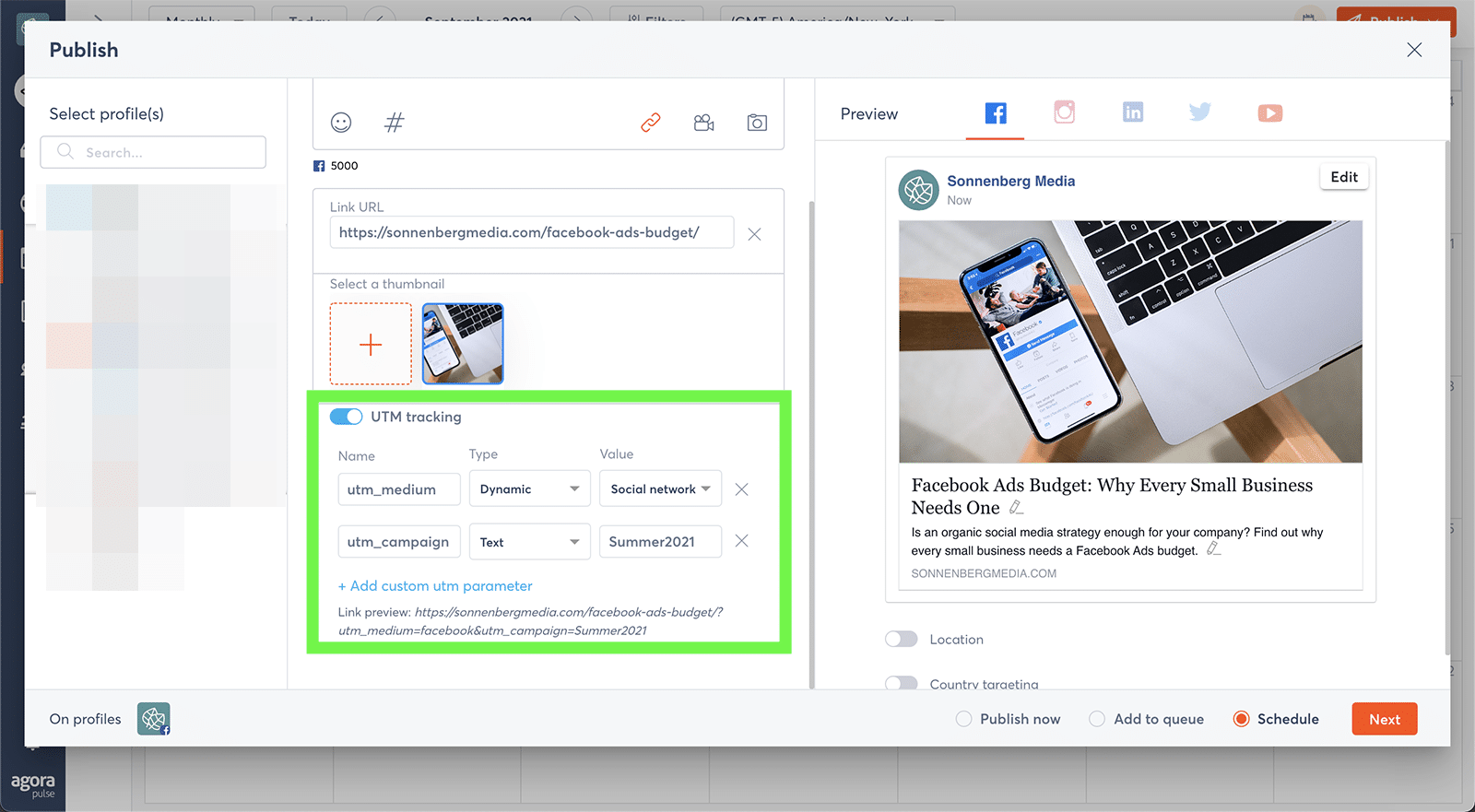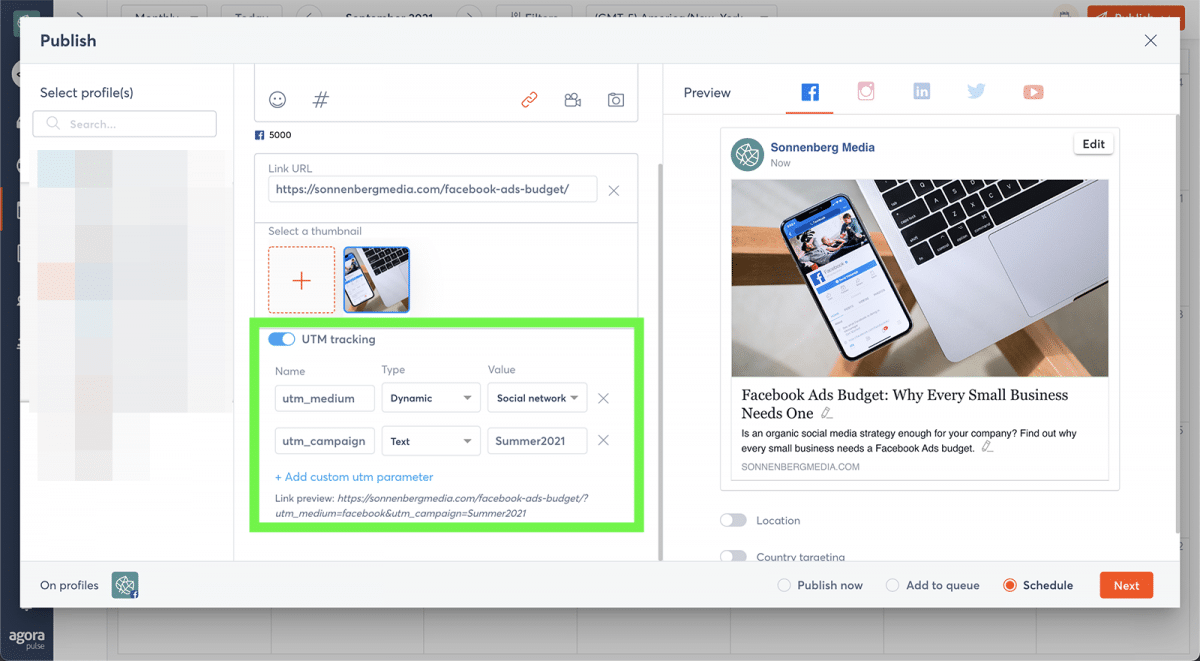 You can add UTM parameters to any Facebook post you schedule in Agorapulse. Toggle the UTM switch on, and then add info like the social channel or the campaign name to the URL.
Content approval workflows
Approval workflows can be tricky to manage, especially if you try to use email or chat programs. Keeping track of approved and outstanding content can be time-consuming, and accidentally publishing unapproved content is a real risk.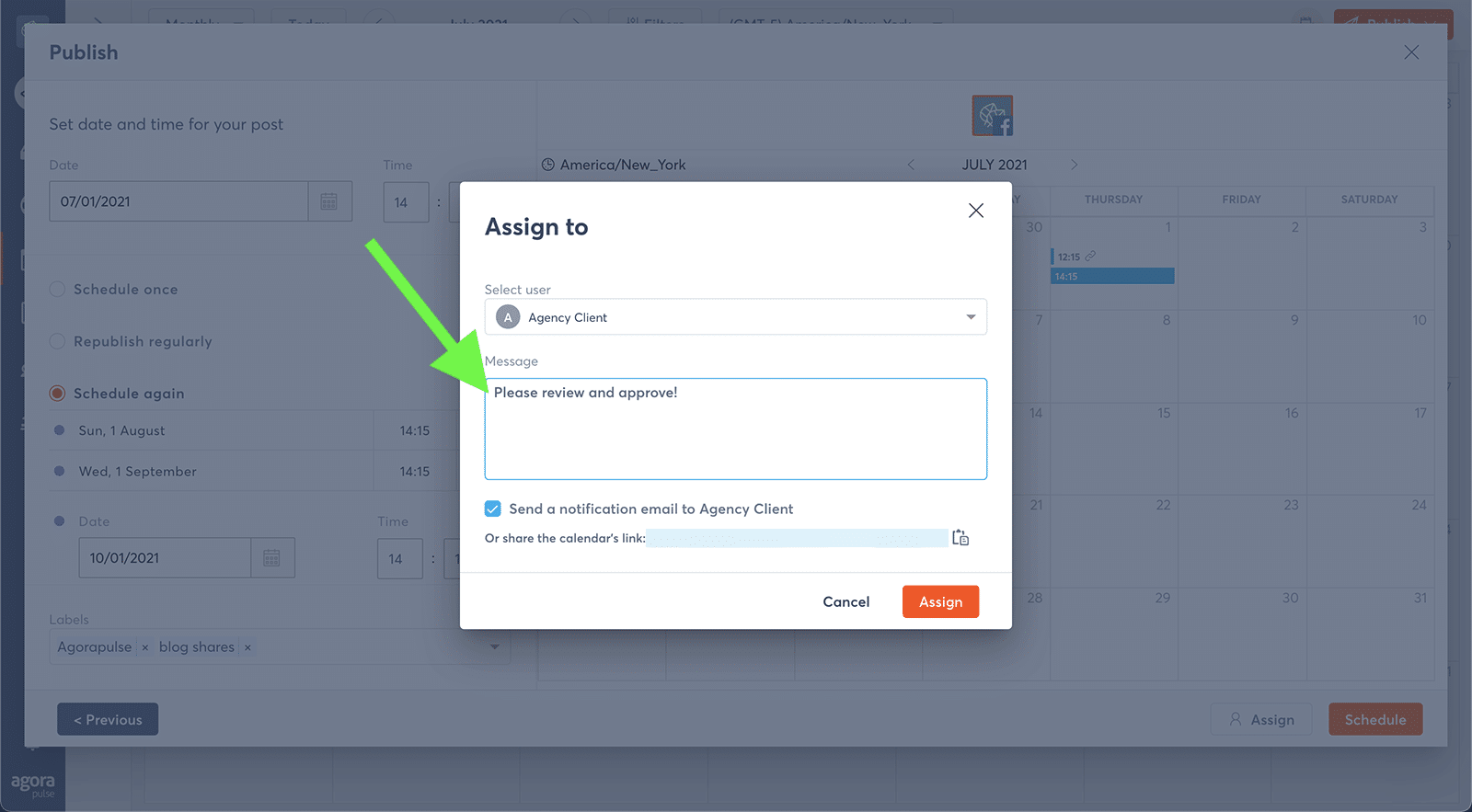 When you schedule content in Agorapulse, you can request approval from team members or clients. Click the gray Assign button and select the person you want to approve the post. You can add a message to provide additional context.
Shared Calendars for clients
Giving clients access to your marketing tools can be more hassle than it's worth, especially if you have dozens of clients and limited user spots. With Agorapulse, you have the option of adding clients, but you certainly don't have to.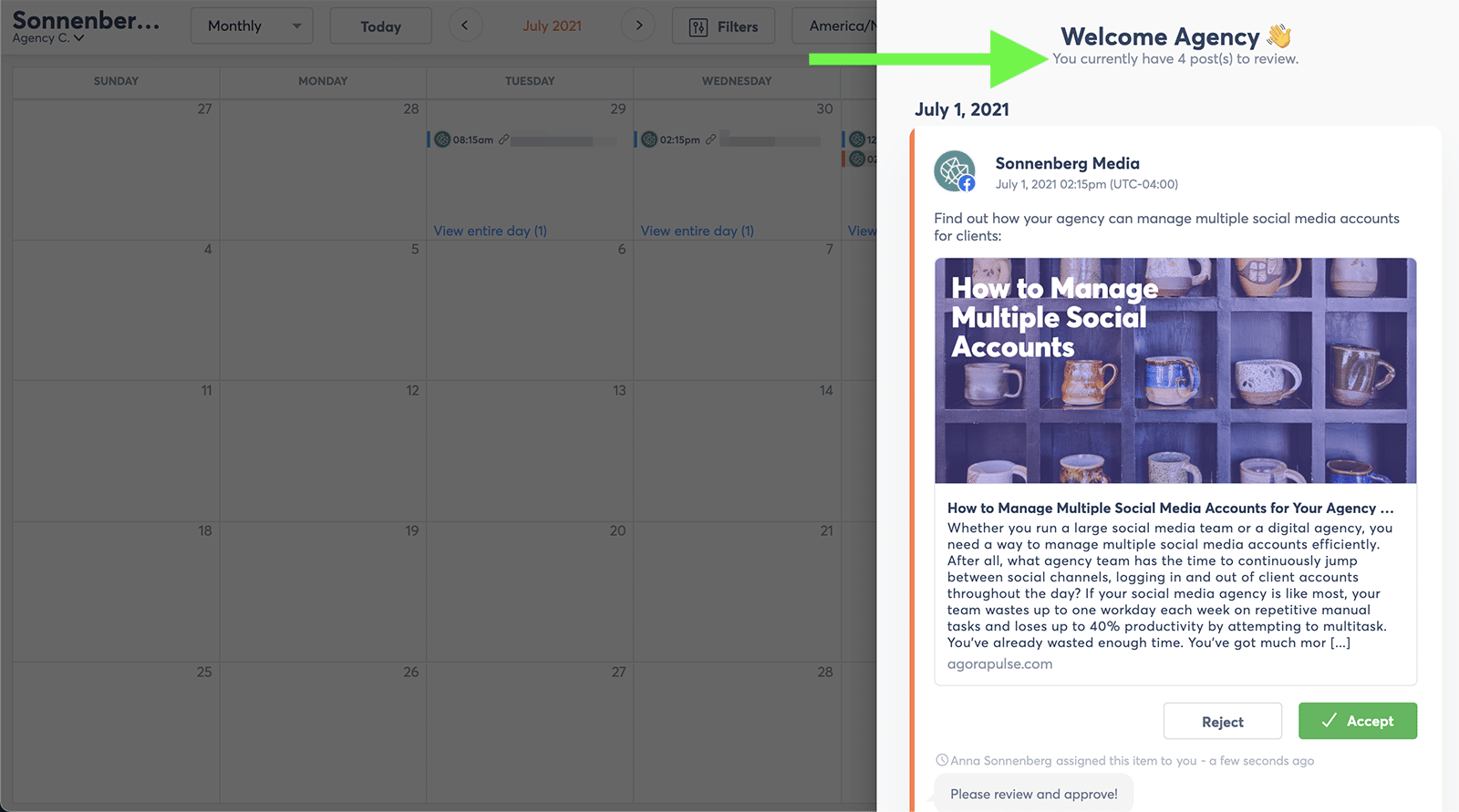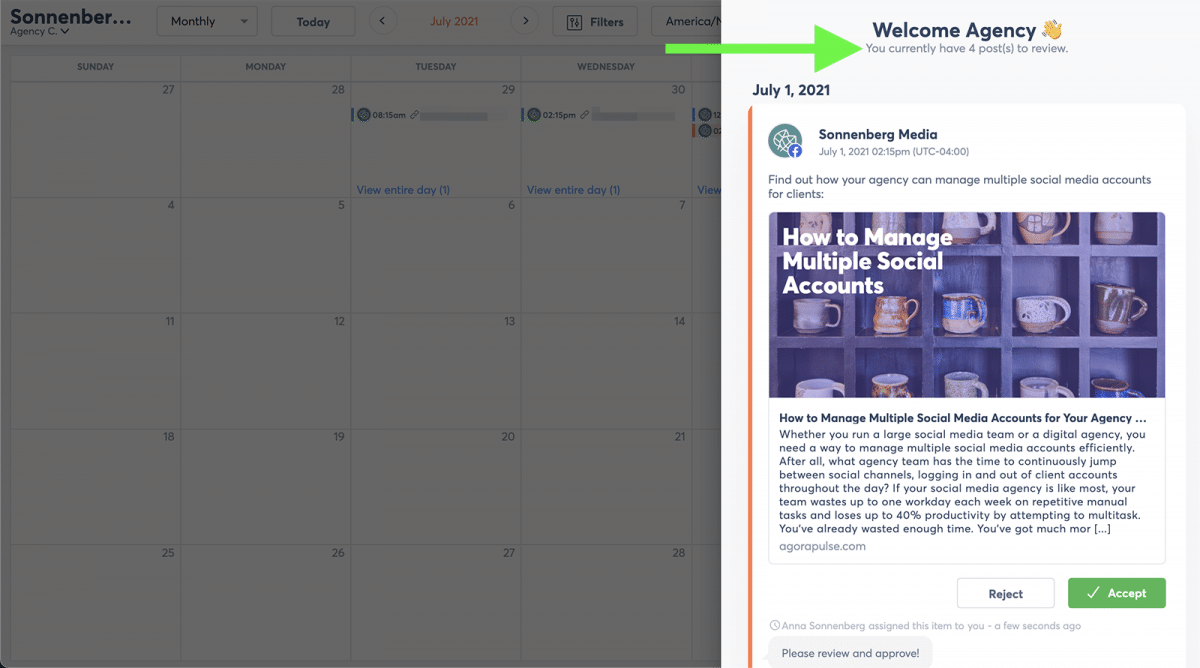 Instead, you can create Shared Calendars that show each client's Facebook, Instagram, and other profiles. Once you share the calendar link, clients can view scheduled content at any time and approve content assigned to them.
Publishing recommendations
When you manage Facebook Pages for clients, you want to deliver the best possible results. But analyzing results, generating insights, and proposing recommendations can take a lot of your team's valuable time.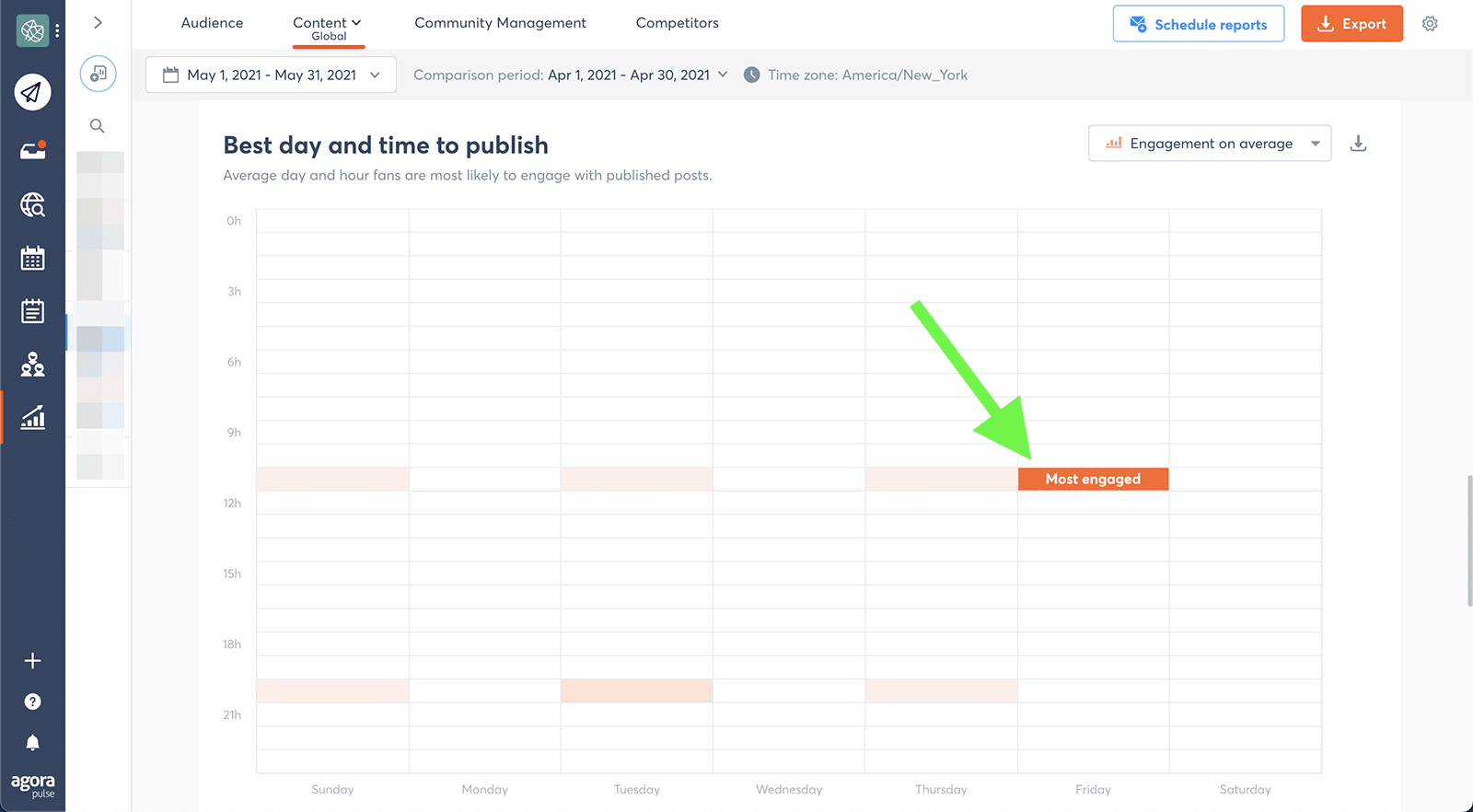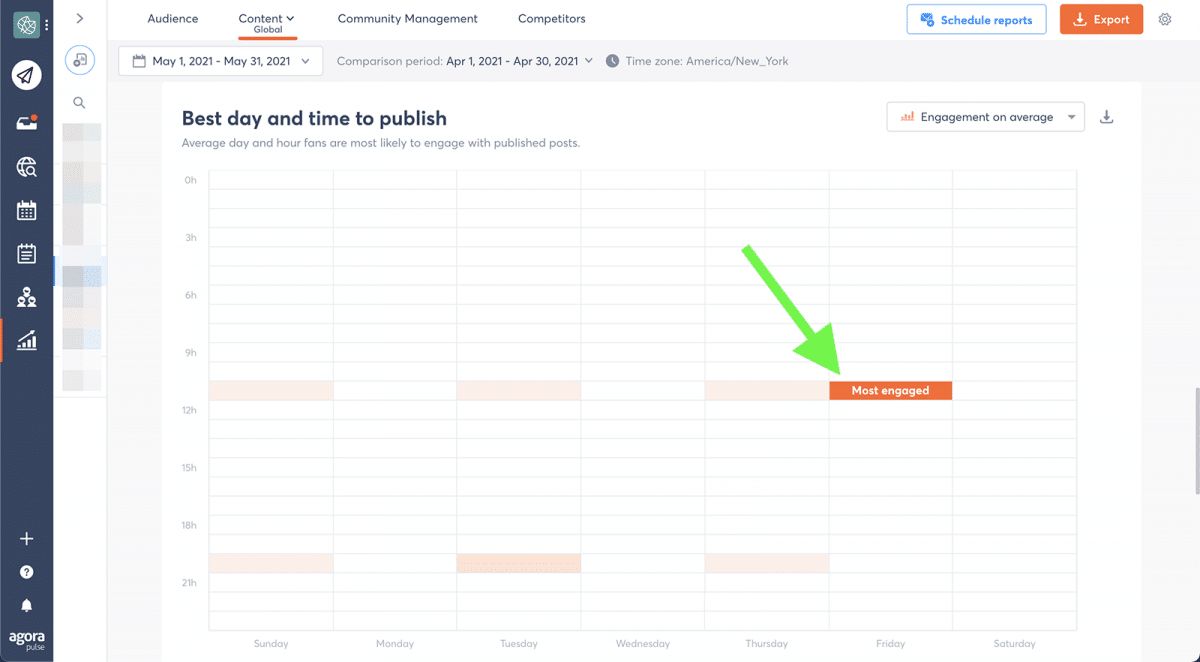 Agorapulse reports include recommendations to help you get the best results from your efforts. You can quickly find the best time to post, based on engagement or reach.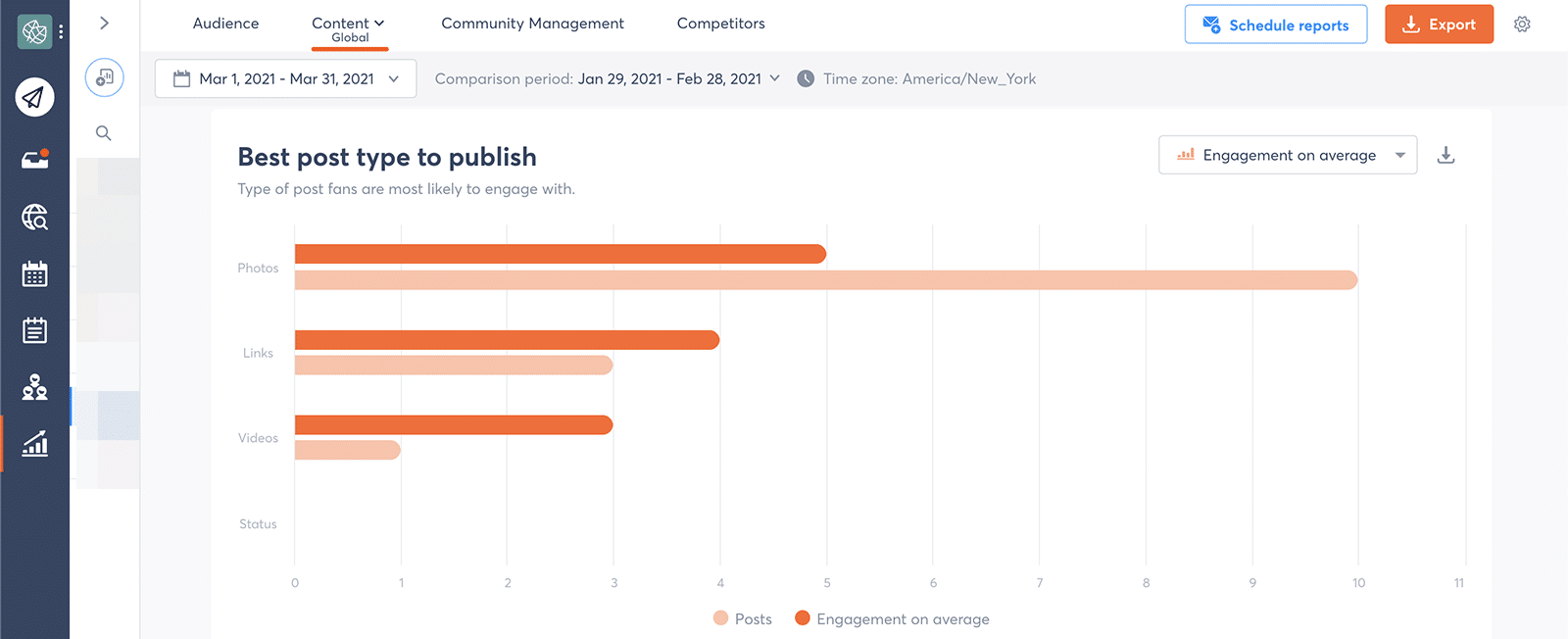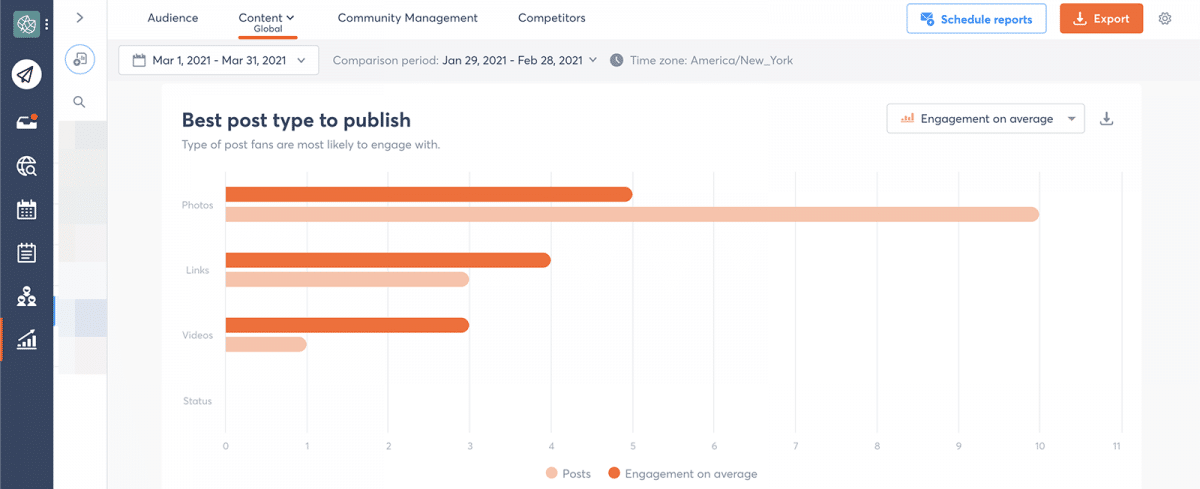 You can also see what type of content performed best so you can produce more of it. If you added labels to your content to identify different categories, sources, or campaigns, you can see Agorapulse's most recommended labels, too.
Brand awareness scores
Most clients want to track basic metrics like follower numbers and engagement. Some agencies also provide more valuable insights like brand awareness.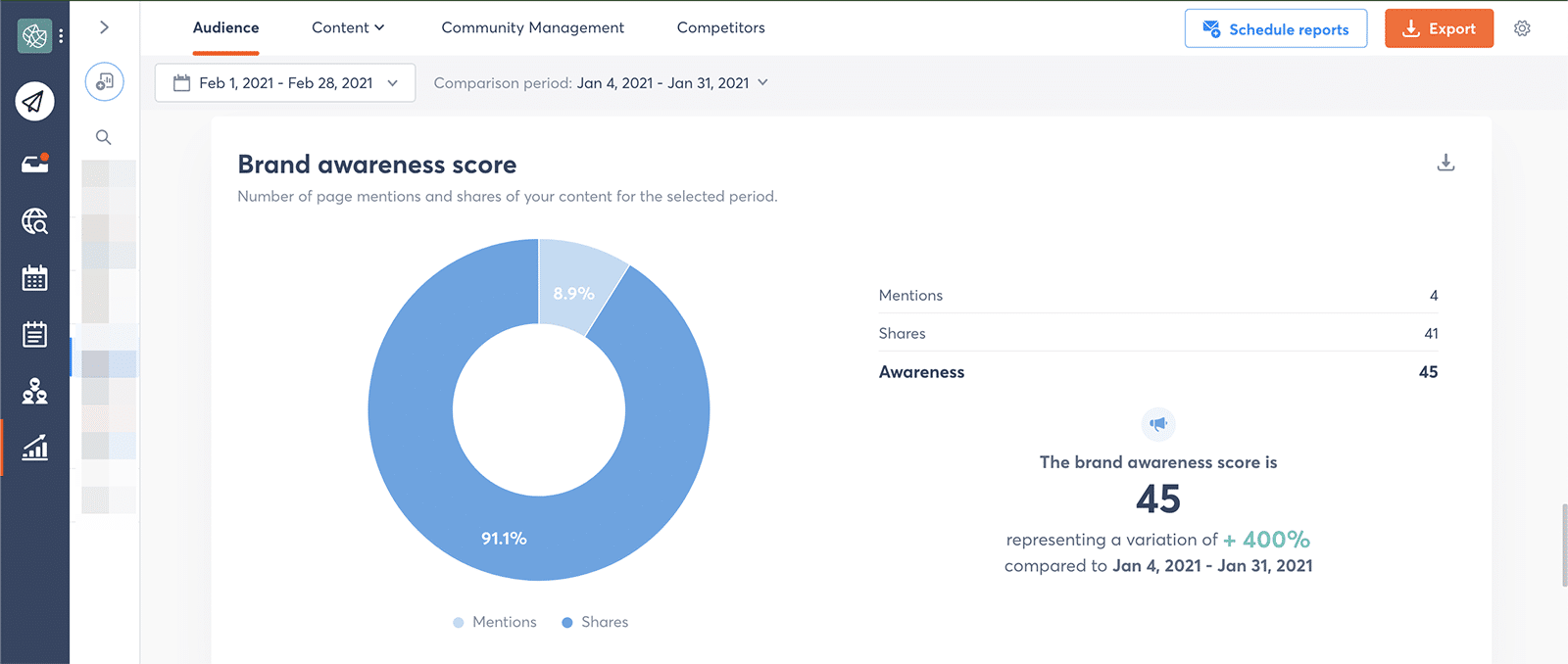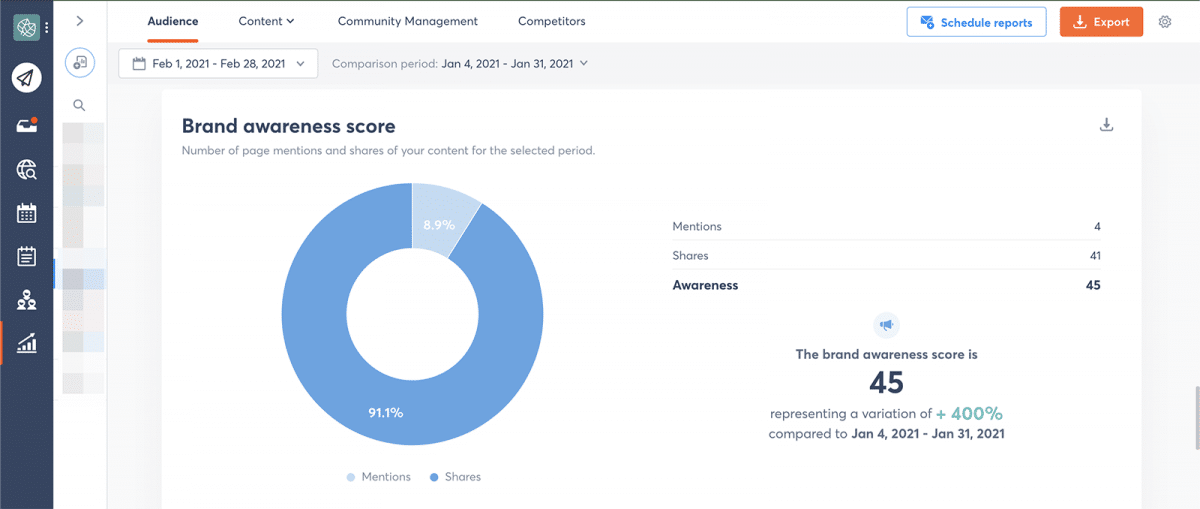 Agorapulse automatically tracks brand awareness for Facebook Pages so you don't have to. Every Facebook brand awareness report includes mentions and shares as well as a comparison to the previous time period so you can monitor this metric over time.
ROI tracking
Clients often want to know how much value your efforts provide. Although you can calculate ROI with leads or e-commerce revenue, these metrics don't apply to every client.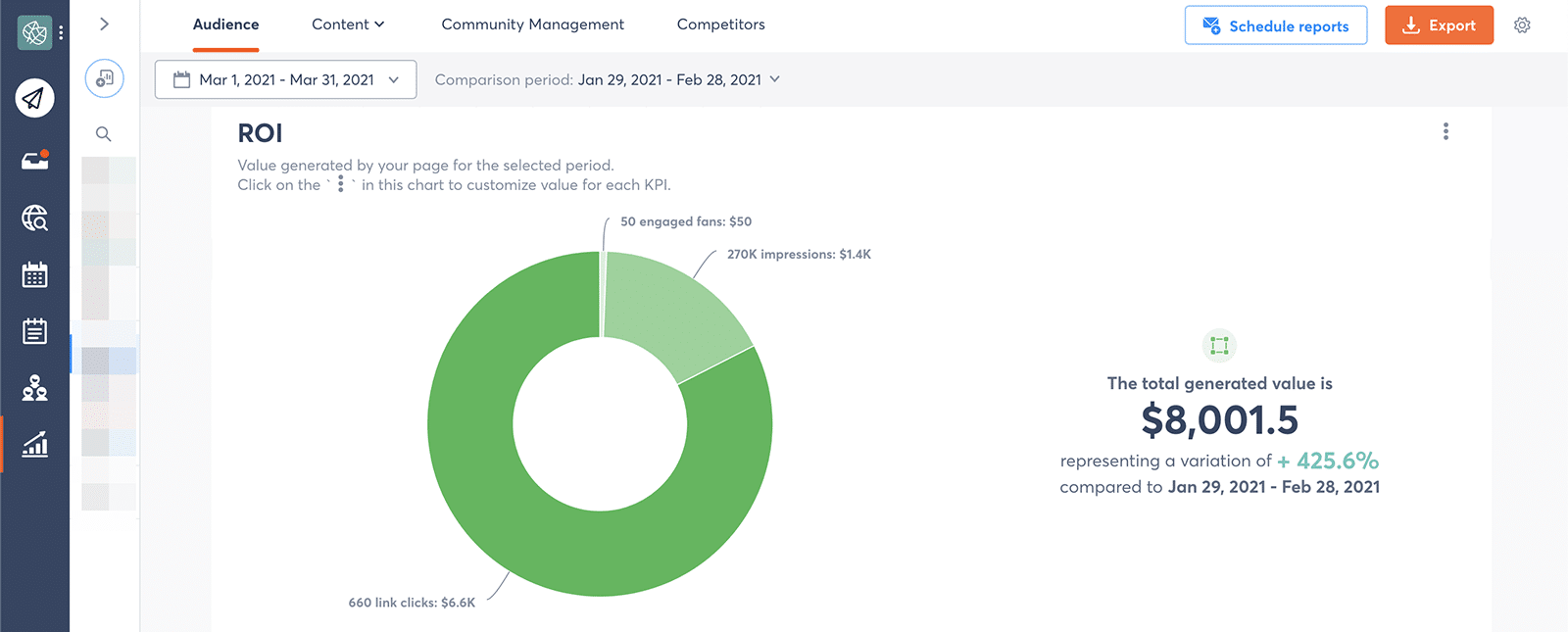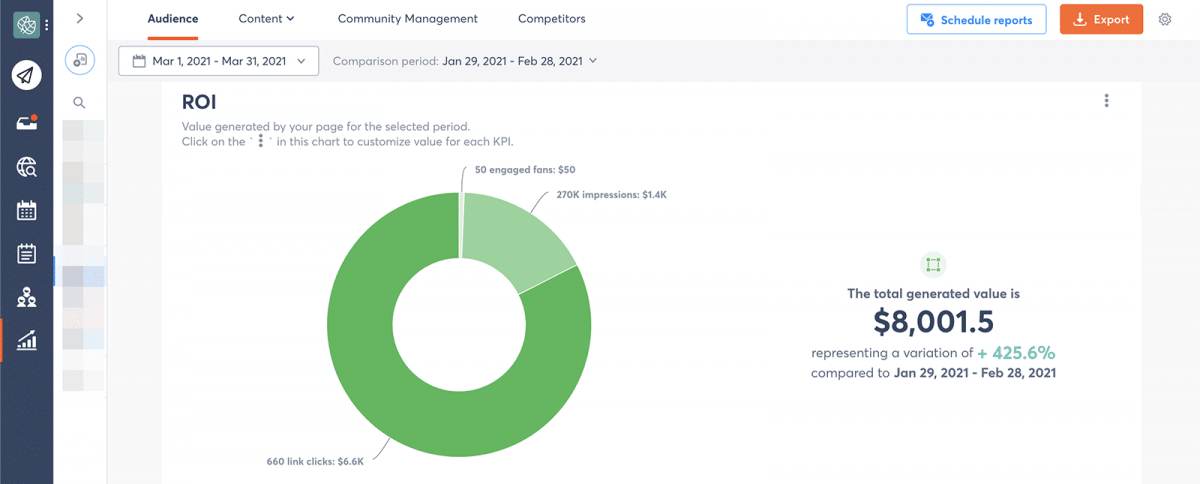 Agorapulse's ROI calculator lets you put a value on metrics like link clicks, impressions, and engaged fans. Since it's customizable, you can input unique values for each client and calculate ROI accurately.
Automated custom reports
Most agency clients have relatively simple reporting needs. They just want timely reports that they can understand.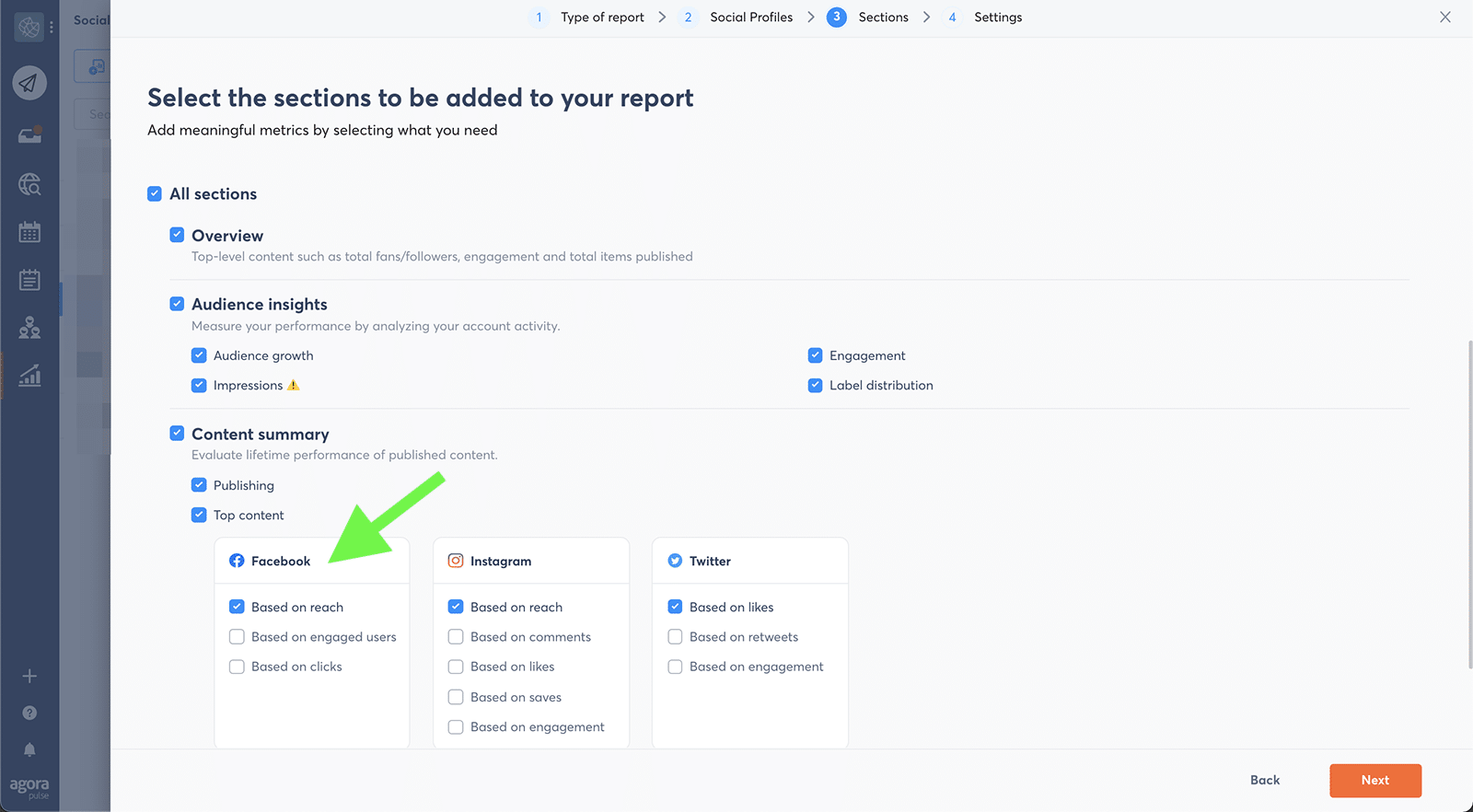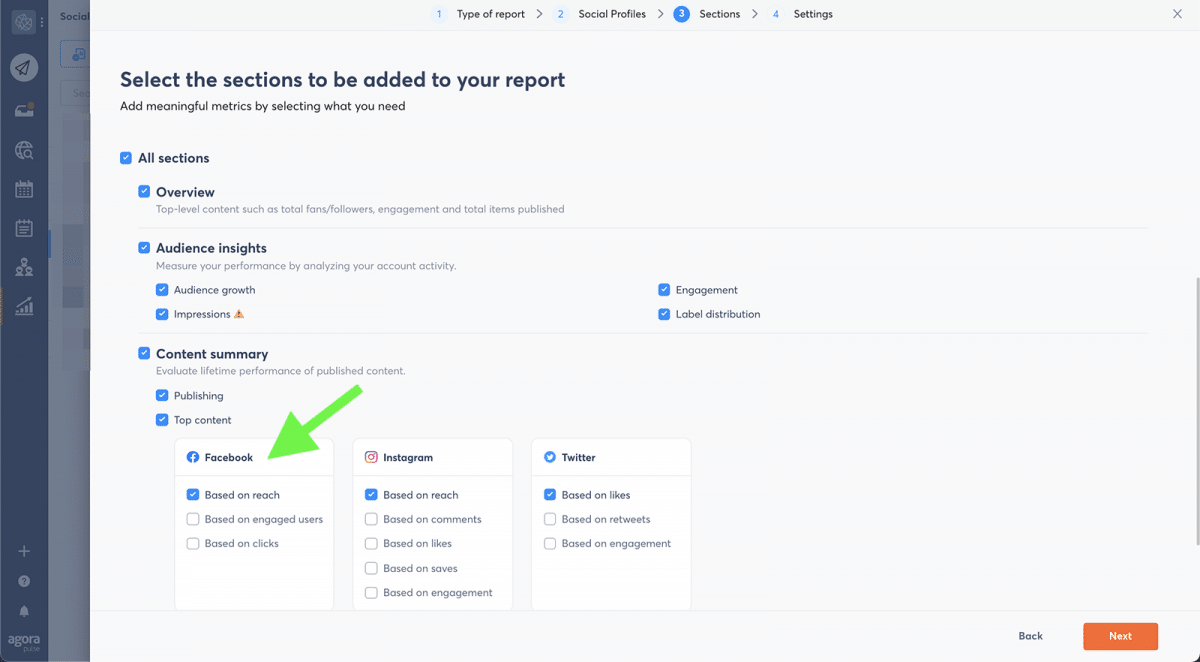 With Agorapulse, you can schedule reports to land in clients' inboxes every Monday or at the beginning of every month. You can also create custom reports that include select sections or multiple social channels to meet any client's needs.
In Conclusion
If your agency is serious about Facebook marketing and advertising, Facebook Business Manager is an essential tool in your arsenal. But it's certainly not the only tool your team should use to manage client Pages.
Instead, consider setting up Facebook Business Manager to grant basic account access and manage native tools. Then use a social media solution like Agorapulse to manage Pages, handle engagement, track brand mentions, and produce reports. By leaving a lot of the hard work to Agorapulse, your team can collaborate more effectively, accomplish more in less time, and share results with clients more efficiently.
Get started on your Facebook marketing today by signing up for a free Agorapulse trial.