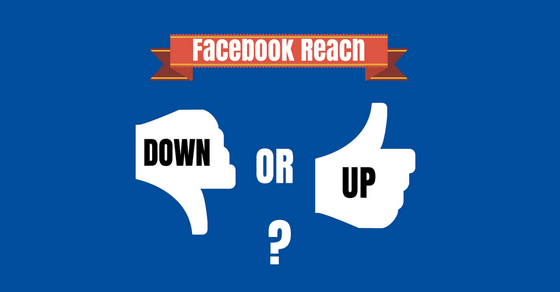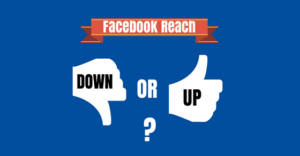 Here we go again! "My Facebook reach is down," is making the buzz again in the social media blogosphere. The last time everyone and their sister was complaining about this was Autumn of last year.
At that time, a little tug of war was going on between Robin Grant, the Managing Director of We are Social, a UK based Social Media agency, and Josh Constine, a writer at Techcrunch (and a former Inside Facebook writer). Josh's firm stance was that reach had not dropped stood in defiance against Robin's accusations that reach was down.
Here's the funny part- they were both right. We later discovered that organic reach had remained equal but, because of a bug, viral reach seemed to be down even though it was not.
This year's buzz is a little different. Facebook itself started the buzz on December 5th in a post published on their Facebook for business blog on December 5,  stating that there is more and more content competing for views in users' news feeds and, as a consequence, it is becoming harder and harder for brands to get their content delivered organically to their fans.
There's no big news here. Facebook grows. Increased competition is already the main reason behind every noticeable evolution of organic reach for brand pages in the past 2 years. The only difference this time is that Facebook is not denying a decrease in organic reach for brand pages, as it did last year, but rather embracing it as a good reason for brands to pay for ads to boost their content visibility!
#1 Is this buzz really justified?
On one hand, there's the blogosphere. Business media loves to spread "bad news" regarding abuse with scary headlines such as "Facebook admits Organic reach is falling short". On the other hand, there's still a hoard of spoiled, entitled, and disgruntled Facebook page owners out there who just can't accept the fact that they cannot reach 100% of their fans every time they post a sales pitch on their page.  Getting a reasonable word in edged in between the two can be like trying to talk sense to a crazy group of relatives who yell about politics at the holiday dinner table.
Last year's buzz wasn't really justified, and died soon after it has started. Is this new onslaught any different?
I don't think so. Actually, the statements made by Facebook in their December 5 article follow pure logic: Every day there are more and more people and businesses sharing more content on Facebook, and there's still only 24 hours in the day. By definition, any given piece of content, whether from a Facebook page or a user, will be displayed to less and less users.
The exact same thing happened with organic search results between 1999 and today. It was easy to appear as the first page in a Google search for your chosen keywords 14 years ago. Today, with billions more websites competing for attention, it's beyond hard. Same logic applies.
Now, when I saw our friends from Ignite Social saying that "Facebook Brand Pages Suffer 44% Decline in Reach Since December 1" based on a sample of 21 Facebook pages, I thought it would be helpful to use a bigger sample.
Luckily, thanks to our Facebook Page Barometer, we have access to a sample of almost 5,300 Facebook pages. The results are described below, and if you want to help build an even more accurate benchmark, you can add your own page here.
#2 Is Facebook reach really down for the average brand page?
We used the average performance of 5,300 Facebook Pages in our Barometer. These are only averages. The data we retrieve remains anonymous.
2.1 The Evolution of Facebook Organic page reach during the last 30 days
Based on the graph below, the last 30 days have shown a decrease of around 10%, the average page reaching organically around 55% in mid-December versus 61% in mid-November. We are far from the 44% decline claimed by Ignite Social based on their 21 page sample, but the decrease is still significant.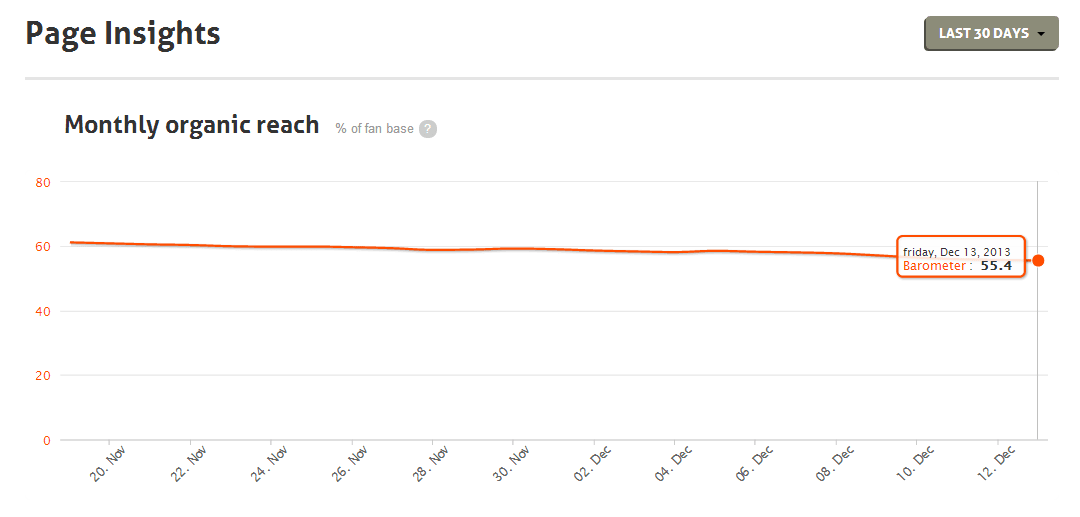 2.2 Evolution of Facebook Organic page reach during the last 180 days
Based on the graph below, the last 6 months have seen a noticeable decrease- the average page reaching organically around 90% of its fans 6 months ago and 55% today. That's a 39% decline. That is significant.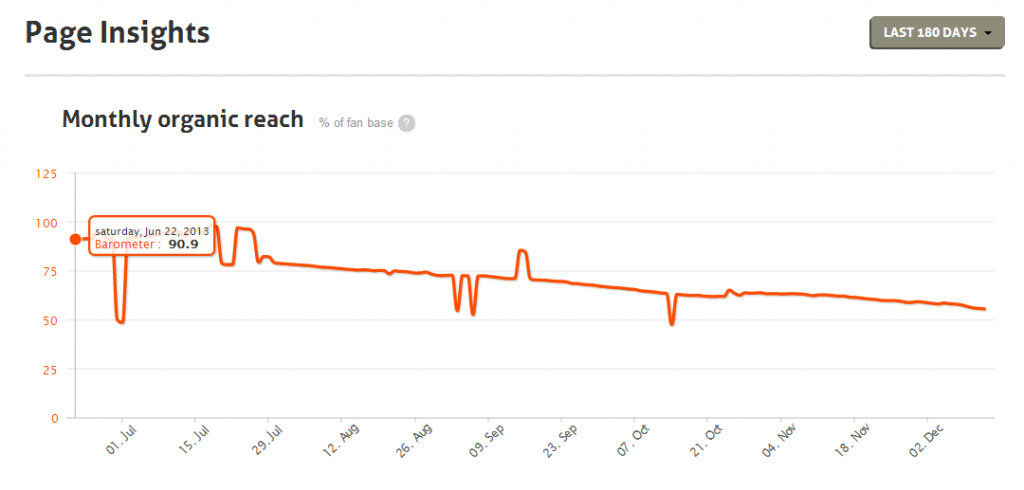 #3 Is Facebook reach down for everyone?
This is actually the question that matters the most! The 'average' page reach may have decreased, but does that affect everyone? I compared the data from December 2012 for a page I manage with the numbers we have today. The results (average performance for the 50 latest posts at any given date) are below, 2012 on top, 2013 below: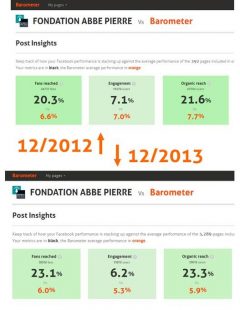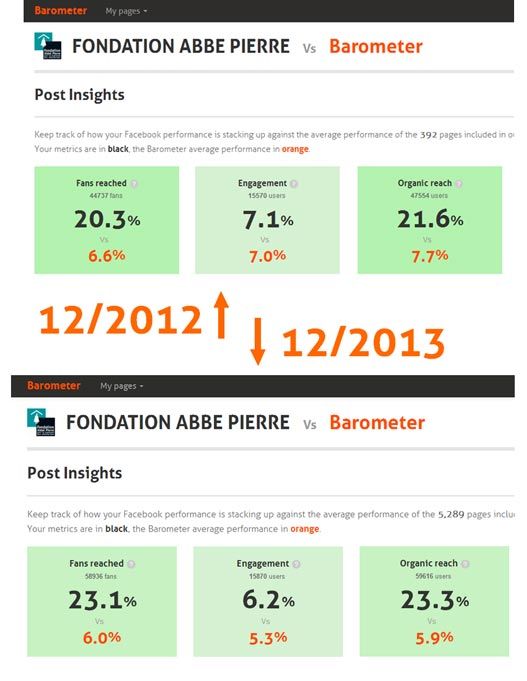 As you can see, neither the average organic or fan post reach have decreased. Those numbers are actually slightly higher. And remember, this is the average reach per post, so this cannot be gamed, it's the real thing!
Engagement has decreased from 7.1 to 6.2%. So, there's no significant decrease on that side either.
Facebook edgerank, the December 2012 or the December 2013 version, is not impacting all pages in a negative way. If you want to see how your page has been impacted, the Facebook Page Barometer will give you a quick answer 🙂
#4 What about engagement? Is it down too?
As Jon Loomer would tell you, reach is overrated, there are many other Facebook metrics you should obsess about, one of them being engagement.
To give credit to Jon, I also decided to look at the evolution of the average PTAT metric. This metric represents the number of people who have liked, commented or shared a page's post during a 30 day period. The name of the metric has changed, but it's still the same recipe (and the same metric).
The following graph presents this metric as a percentage of the people being reached, and shows its evolution for the last 180 days:

As you can see, this metric has not decreased during the last 180 days, it has remained pretty steady. Looks like a good news! If you are reaching less fans, you are probably still getting the same engagement level.
Your turn! What is your experience with reach and other metrics on your page? Any changes lately? Let us know and share your experience by filling in this study: http://bit.ly/FacebookReach2013