Social media is a vital part of digital marketing. It's a great way to connect with your audience and get the word out there about your brand. Having a following is the first step. But how do you do that?
Through hashtag research!
Importance of Hashtags
First let's review what a hashtag does. Essentially, it categorizes a post so that it is searchable. It's a part of SEO. You're finding the right keywords for your brand to make you searchable. It's a simple concept and easy to implement and does so much for your social media presence. Here are the benefits:
First of all, it helps you find the right audience. If people are searching for #DigitalMarketing and they find your post and follow your brand, they are clearly the right audience because your content is what they are looking for.
Having the right audience means they are more likely to engage with your posts. This leads to better brand recognition among your audience and more interactions.
Hashtags help build your company brands. They show exactly who you are and what you do.
Lastly, hashtags boost your marketing campaign.
Hashtag Strategy
There are three steps to a strong hashtag strategy: research, implement, and review. Sounds pretty simple and the truth is, it is! The first step, research, is the hardest but this post will give a step by step guide and you all the tools you need to find the best hashtags for your brand.
After you find the perfect hashtags, implementing them into your social media posts i'd pretty simple. The last step, review, is seeing how your hashtags are performing and updating them every year or so to fit the current trends. With that, let's look at the step by step guide to hashtag research.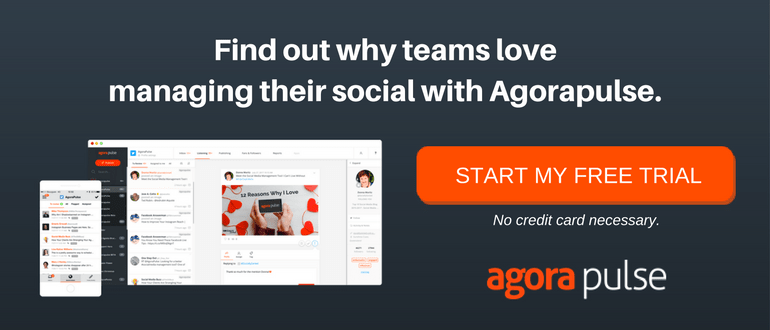 Hashtag Research Guide
Step 1: Choose Hashtag Categories
Before you can begin choosing hashtags, you need to know what you are looking for. The best way to do this is by creating categories for the types of hashtags you will be looking for. For example, if you are a company like Tailor Brands, striving to help people start small businesses and build their online presence, you should aim for hashtags related to your field like #smallbusiness #businessowner #businessquotes #businessideas #tailorbrands #smallbusinessowner #smallbusinesssupport
Lots of companies have different post categories they do each week, similar to throwback Thursday but unique to the brand. For this type of post you will want to find a unique hashtag and include that category in your hashtag research.
Homework: Choose your categories and create a spreadsheet with these categories that you will later fill in with hashtags options.
Step 2: Research Niche Hashtags
By finding the hashtags most commonly used in your field, you will get a sense of what keywords you should be using to be on the same playing field with your competitors. Don't worry, this strategy will help you outperform your competitors. Look at how many posts have been shared with those hashtags to get a feel for how relevant and important it is.
After you find the niche hashtags, you will want to follow them to see how people use them and stay up to date with trending topics. But on top of finding niche hashtags you will want to look for audience descriptive hashtags, product related hashtags, and location hashtags.
Text Optimizer is a great way to discover niche hashtags that create important topic associations: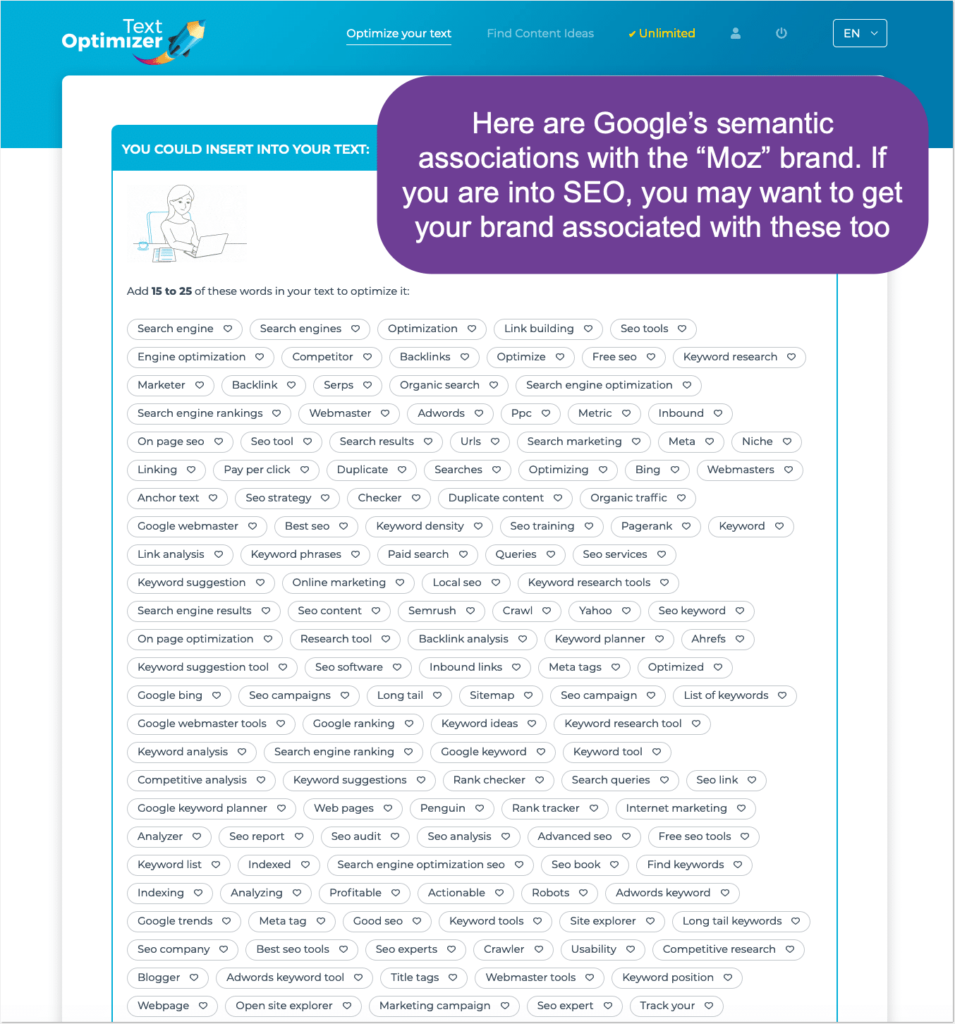 Homework: Look on all your social media platforms at what hashtags similar brands use. Search for those hashtags and see what other options come up. Look at the amount of posts for each hashtag. Track of the hashtags and their value in your spreadsheet under the appropriate categories.
Step 3: Google Hashtags
Google is your best friend for anything research related. There are lots of options for how you can go about your hashtag research on google. The first step would be to simply type in "top used hashtags" followed by your topic. There should be lots of options that come up and don't be afraid to dive into each one.
When conducting hashtags research, it's best to go all out and find as much info as you can and later on, narrow it in, This will ensure that you are finding the best hashtags for your field.
Homework: Type your query into Google, we suggest "top used hashtags" followed by your field. Document all the results into your spreadsheet.
Step 4: Monitor your competitor's hashtags
Which hashtags are your competitors using? How are their followers engaging with those updates? You can answer those questions by monitoring their Twitter profiles for changes:
Step 5: Use Keyword Research Software
Because you are looking for a form of keywords, utilizing a keyword tool will help you come up with more relevant terms to use in your hashtag strategy. Hashtags are social media keywords. If you already have a keyword strategy, you can look at that to find more relevant keywords. If not, there are lots of different options for keyword tools. There are a range of paid and free tools, we recommend SE Ranking's keyword suggestion tool.
The purpose of looking for hashtags in a keyword research tool is to have more options to choose from. So similar to searching in google, don't be afraid to go in depth. Plus you can use this to develop your own keyword plan.
Homework: Choose a keyword research tool. Type in relevant keywords and choose more from the suggested keywords. Document them in your spreadsheet.
Step 6: Find the Right Hashtag Research and Monitoring Platform
Now that you have lots of ideas for keywords, it's time to learn more about how they perform as hashtags. Using a hashtag research tool will let you know individual hashtags perform.
Here are some of the best hashtag research tools:
Hashtagify. This tool gives you lots of information about the hashtag you search including popularity, which languages it is most popular in and how it is trending. It gives you information for the hashtag on twitter for free and if you pay, you can see how the hashtags perform on instagram. It has a free plan as well as paid options.
IQ Hashtags. This tool is meant for Instagram hashtags. It has a large database and a unique feature where it does not show any banned hashtags in results and warns you if you try to research one. It has a free plan as well as paid options.
Keyhole. This tool does hashtag research for Instagram as well as Twitter. What makes it stand out is its excellent tracking tools. It offers unique plans to fit different needs whether that is monitoring a campaign or monitoring influencer marketing.
All-Hashtag. This tool is great for finding top and trending hashtags based on one keyword and it is free.
SeekMetrics. This tool is similar to All-Hashtag because it gives you the top trending hashtags based on the keyword you search. The hashtags it gives you are based on Twitter and Instagram trends.
To choose which tool is right for you, you need to know what your priorities are. Are you looking for a list of trending Instagram hashtags surrounding a keyword, or are you looking for more in depth data about each hashtag?
Once you know that it will be easy to use the right tool. You may even want to use more than one.
Homework: Decide on a tool based on your priorities.
Step 7: Research Your Hashtags in Your Chosen Tool
Using whichever tools you choose, find out important data about the hashtags in your spreadsheet. You want to know about the volume of the hashtag.
Homework: Plug your hashtags into one of the tools which give you information about the hashtags volume and use and update your spreadsheet to reflect that.
Step 8: Select Which Hashtags to Use
Once you have all the information you need, it's time to choose which hashtags you actually want to use that will perform best. We recommend using both high density hashtags (over 500,000 posts) and low density hashtags (under 500,0000 posts). If you use a few high density hashtags and more lower density hashtags you will be able to reach a bigger audience through search.
Another thing to keep in mind is branded hashtags (i.e. hashtags that include your brand name). This will help your brand stand out and create more of a community among your followers. If they post a post related to your brand, about your brand or in response to one of your posts, using a branded hashtag will create a sense of community and group all those kinds of posts together.
The last thing to keep in mind when choosing your hashtags, is that you include a wide range. You want to have branded hashtags, audience descriptive hashtags, product related hashtags, niche hashtags, and location hashtags. For example, one of the most popular user-created branded hashtags is #TwitchFails which is in no way controlled by the brand it refers to.
Homework: Generate a list of hashtags that you will try to include in every post. Make sure to include both high and low density hashtags as well as branded hashtags.
Step 9: Research Individual Hashtags for Each Post
Each post on social media is different. If you are posting about a recent event you attended or are hosting, including a hashtag specific to that event would be a good idea.
But if you are posting about a person who inspires you, adding a hashtag about an event will not make sense. Instead you will want to choose something related to inspiration. For example, if you are promoting a lead magnet, make sure you diversify your hashtags for maximum exposure.
Homework: As you plan new posts, research unique hashtags for each one. You can even use hashtags when autoposting articles from your site.
Step 10: Implement
This step is pretty straight forward. Now that you have finished your research, it's finally time to implement your hashtags strategies by including them in posts.
Homework: As you are scheduling your next social media post, include your new hashtags so that they are included in your posts when they are published.
Tips and Tricks
Knowing how many hashtags to use and how to implement them in an organic way in your posts will impact your success. For different social media platforms, you will want to use different amounts of hashtags.
For LinkedIn, you will want to use between four and seven hashtags, two or three hashtags on Facebook and Twitter is the most effective, whereas on Instagram you can use up to thirty but the recommended amount is anywhere from five to fifteen.
Choosing where to place your hashtags in your posts is very important. For Twitter, Facebook and Linkedin, you want to use your hashtags to replace the words they stand for instead of including them as a list at the end. Hashtags on these platforms will be more unique to the post as opposed to Instagram where it is easier to use more niche and brand related hashtags.
For Instagram you can do this, but you also want to add a list of hashtags in the first comment. These hashtags should be you branded hashtags and the ones that reflect your brand. In the caption is where you will want to organically include the hashtags that are unique to the post.
The last tip is to make sure your hashtags are related to your post and brand. Don't use a hashtag just because it is trending if it does not relate to your brand. This will not help you find the correct audience.
You can also create custom Instagram feeds on your blog by utlizing your branded hashtags.
Keep in mind that hashtags represent conversational trends your audience is influenced by. So extending your research to other conversational marketing channels, like AI-powered chatbots and IVR.
Takeaways
Social media is a great tool for any brand. It helps increase audience as well as create brand recognition. Using hashtags in your social media posts will help your brand become searchable which will lead to a larger following. By having a hashtag strategy, the hashtags you use will be effective and you will start seeing results.
The most important thing to remember is that your hashtags need to be unique to each post and fit organically well still representing your brand so you reach the right audience. It's a hard balance to find but doable. Now get to researching!