Whether you're planning a social media marketing campaign for your client or wanting to grow your company's online audience, hashtags can help you reach your goals. And these hashtag tools can make that process easier.
From free apps to premium platforms, these tools fit a range of budgets. Find out which hashtag tracking tools are best for your team and learn how they can streamline social media management tasks.
How to Use Hashtag Research Tools
With the right hashtags, you can grow your business, build relationships, and keep an eye on competitors. But searching hashtags manually tends to take a ton of time—and may not even give you the data you need.
Here are a few ways you can use hashtag tools to enhance your marketing efforts while working more efficiently.
Increase reach and visibility
Adding trending hashtags to your Twitter and Instagram posts can be a great way to make your content more visible. Since users can search and follow hashtags on these and other platforms, using the right key phrases helps potential customers find your business more easily.
Yet finding hashtags that are both relevant and popular can be challenging—and using the wrong ones can lead to missed opportunities.
Hashtag research tools are designed to help you find the right key phrases for your posts, and they can also recommend related terms to increase your reach further.
Check trending topics
If your target audience can follow hashtags, so can your professional account. But if a key phrase is important to your business or your clients, then seeing it appear occasionally in your social media feeds isn't enough.
With a hashtag tracking tool, you can create feeds for trending key phrases, so you can get a big-picture view of the conversation.
You can also identify the most influential accounts tweeting about the topic to add context to the conversation and find thought leaders in the space.
Locate user-generated content
Sharing user-generated content (UGC) can be great for improving authenticity and building trust, which can win over customers and increase sales.
Yet finding great UGC isn't exactly easy, which means you could miss out on some great content.
When you use a dedicated tool to track branded hashtags, finding UGC becomes much simpler. Rather than having to do manual searches, you can reliably get UGC in your inbox, so you can thank the original creator and get permission to repost efficiently.
Track campaigns
Is your latest social media marketing campaign generating the results your team wanted? Manually measuring the results of a hashtag-based campaign can be almost impossible, but you can assess the outcomes much more easily when you use a tool to track social media metrics.
With a hashtag tracking app, you can find out how many people are talking about your campaign and track performance over time. You can also collect UGC and contest submissions without worrying about missing a great post.
Monitor brand reputation
You may hope that all social media mentions of your brand are positive. But in reality, you'll probably encounter at least a few negative reviews or angry customer posts. It's essential to monitor both types of content, especially when your brand reputation is at stake.
If you use a hashtag tool to track branded key phrases, then you can find positive and negative content much more easily. That way you can address negative content before it escalates and take the opportunity to resolve a real concern with great customer service.
Research competitors
If your business is serious about staying ahead of the competition, then it's also important to monitor other brands in the same space. Checking competitors' social feeds is a good place to start, but it won't tell you the whole story.
Hashtag tools let you track multiple types of key phrases and so you always know what's happening with your competitors.
When you know how people talk about the competition or typical issues with competing products, you'll gain a better idea of how to position yours more effectively.
10 Top Paid and Free Hashtag Tools
Which hashtag search app should you add to your team's workflow? Take a look at the best tools to use for hashtag tracking, some of which have free versions or features.
1. Agorapulse
As a social media solution that handles publishing, engagement, monitoring, and reporting, Agorapulse offers a full suite of hashtag tools. If you're seeking a platform for all your social media management tasks, Agorapulse may  be ideal choice.
Hashtag publishing groups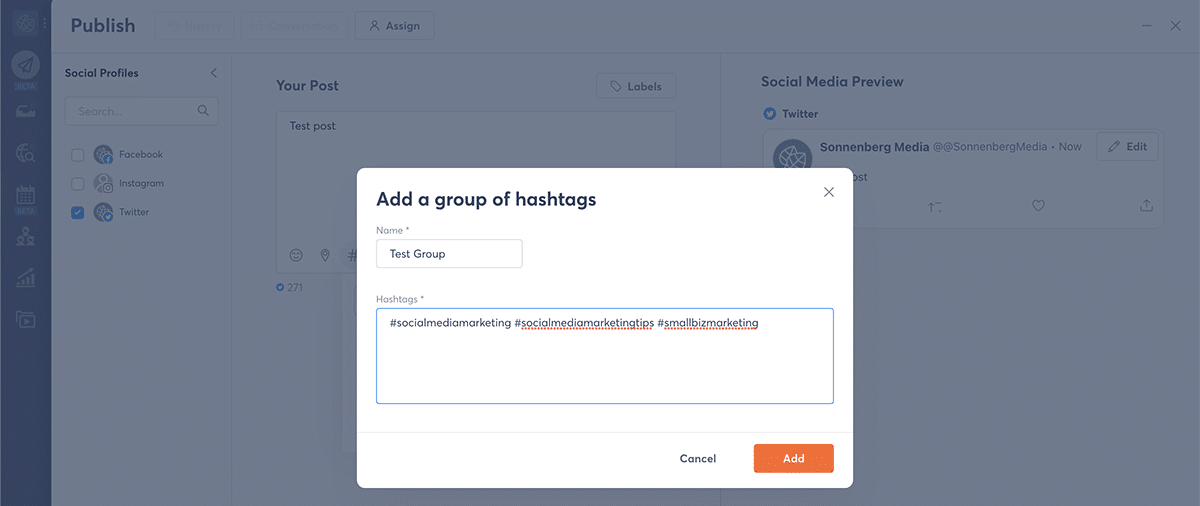 Copying and pasting hashtags from notes apps or external sites can slow down your social media scheduling process. With Agorapulse's hashtag groups, you can store all the key phrases you typically add to your content.
You can also separate them into various themed groups for extra efficiency. When you're ready to add hashtags to a social media post, you can select the entire group to insert them with one click.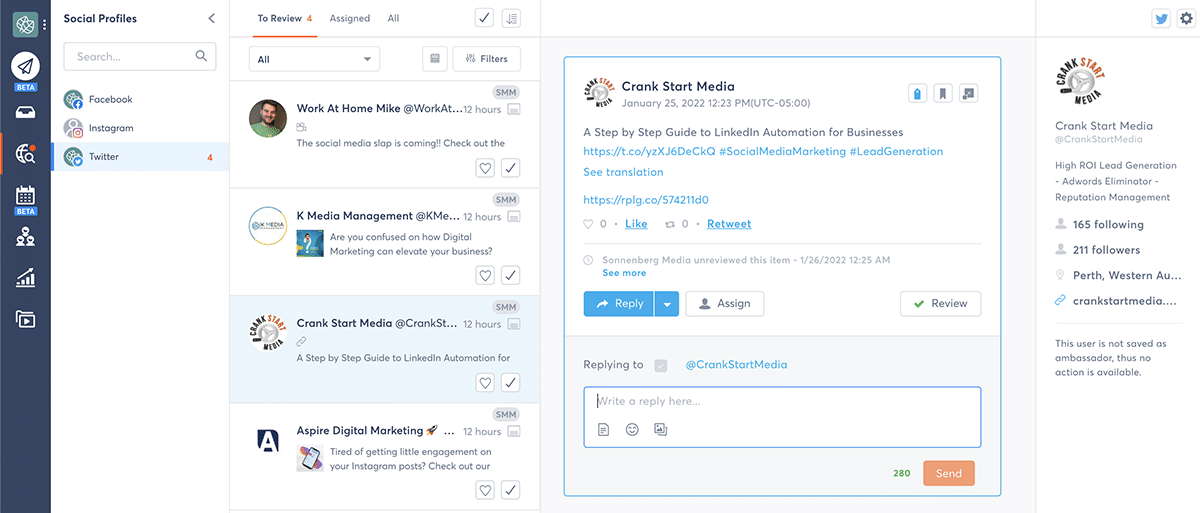 Social listening tool
Whether you want to track hashtags for your brand, your competitors, your industry, or your campaign, you can monitor them in Agorapulse's social listening dashboard. Set up hashtag searches for any term or phrase on Instagram, Twitter, and YouTube—and then reply to or interact with related content right from your dashboard.
Hashtag reporting dashboard
Agorapulse tracks your accounts' hashtag usage and social listening metrics automatically.
The platform's hashtag reports list all the key phrases you've used in a given time period, along with the number of interactions for each. You can use the data to figure out which hashtags are best for boosting engagement, so you can use the right terms to reach your audience.
The dashboard also produces listening reports that create a daily tally for your hashtag searches. You can use this data to understand hashtag popularity over time, measure campaign success, and identify the best trending terms for your accounts.
2. All Hashtag
Are you wondering which hashtags to add to your Instagram content? All Hashtag has a set of tools designed to help you find and analyze key phrases quickly. As one of the few completely free hashtag tools, it's a great option for getting started with research.
Hashtag generator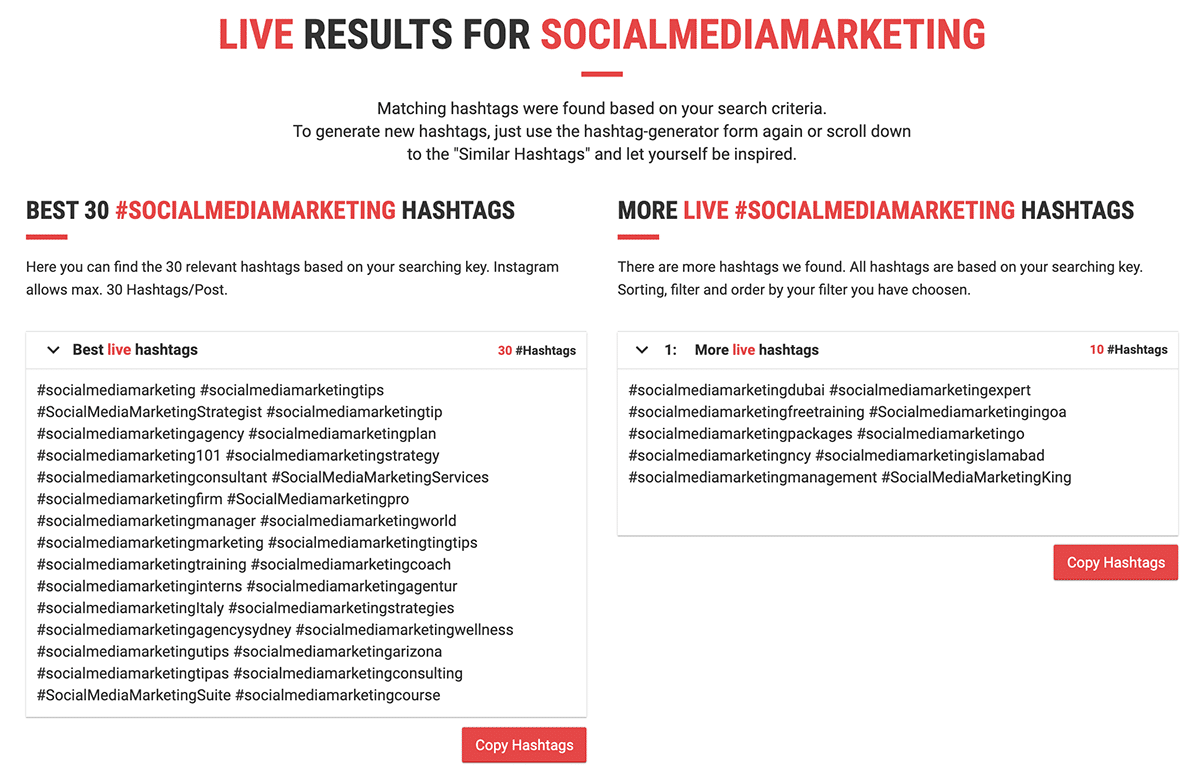 When you want to expand your hashtag vocabulary or get a list of related terms, All Hashtag's generator can help. If you type a term into the generator, it automatically produces a list of 30 of the top related hashtags. Select Live to get 30 of the most popular terms right now.
To use any or all of the terms in your Instagram content, click the Copy Hashtags button and paste them right into your post.
Alternatively, you can generate hashtag ideas for multiple terms related to your content and use the top several recommendations for each.
Hashtag analysis tool

To find out how popular a hashtag is, type it into the platform's analytics tool. In seconds, you can see its rank compared to all hashtags, the number of times it's been used, and the number of similar terms.
3. Brand24
As a monitoring tool, Brand24 tracks hashtags to help you identify trends and monitor brand reputation. Since this tool finds hashtags on social media, in forums, in videos, and on news sites, it's a good pick for multi-channel monitoring.
Hashtag monitoring tool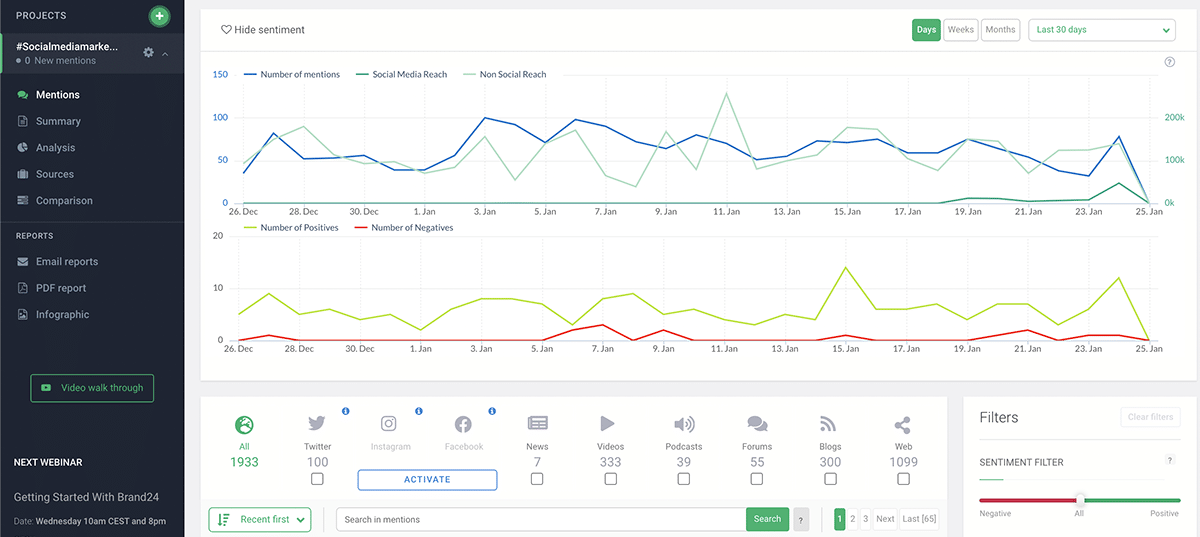 Type any hashtag or group of key phrases into the tool, and you can instantly gauge popularity. Brand24 automatically generates trend charts to show usage over time as well as a tally of how many times each hashtag has appeared on every channel.
Brand24 also has several filters to help you gain deeper insights from the data. You can filter by positive or negative sentiment, importance, or influencer score. You can also add tags for custom tracking or click to engage with relevant posts on social media.
4. BrandMentions
To help you track hashtags across the web, BrandMentions monitors multiple channels ranging from Twitter and Instagram to Reddit and Quora. That means you can easily find where people are talking about key topics and get a sense of what they're saying.
Hashtag tracking tool

To get started with social listening, you can search for any individual or group of hashtags. BrandMentions automatically generates a bar graph that shows how popular the hashtags are over any time period.
This tool also lists social media posts and other relevant content where the hashtags appear. You can quickly gauge the sentiment for each post and engage with the content or the creator without leaving the
BrandMentions dashboard.
Influencer search platform
In addition, BrandMentions can find the top influencers on Instagram and Twitter for the topics you care about. The dashboard displays each user's reach and the number of times they've used the hashtags you're tracking so you can quickly identify the best accounts to engage with and follow.
5. BuzzSumo
When you want to find trending content on a certain topic or top influencers for a specific industry, BuzzSumo can help. This content marketing platform has several hashtag search tools designed to help you build better relationships and share better content.
Trending content tool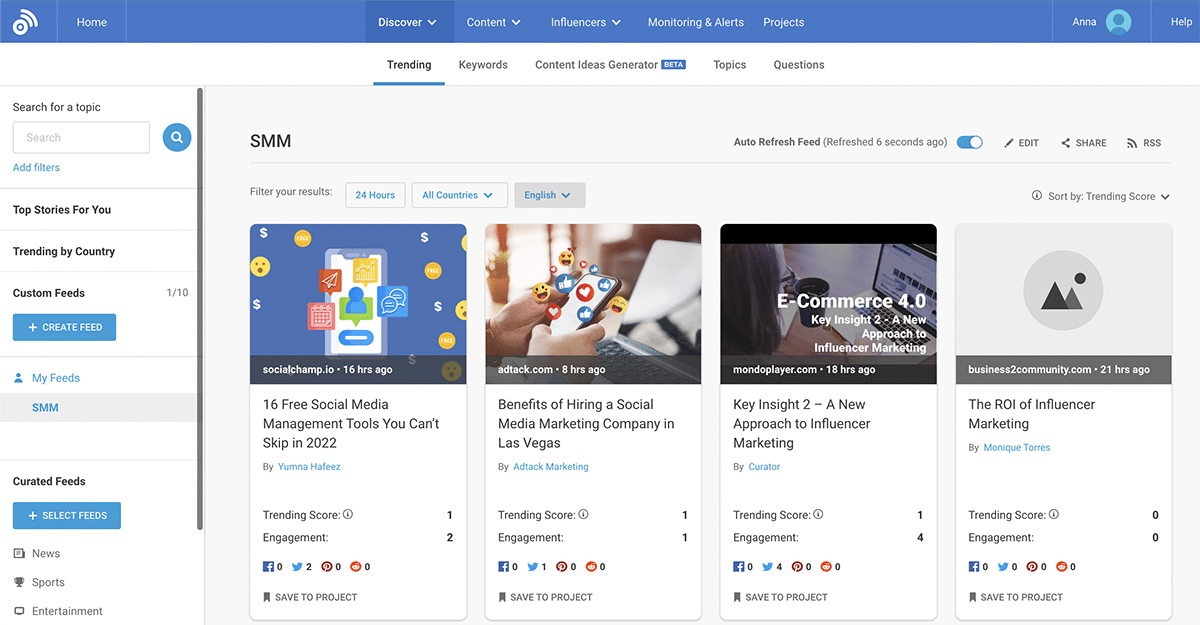 To curate content on topics that matter to your business or your audience—such as UGC—search for a hashtag.
Relevant posts from Facebook, Twitter, and Pinterest automatically display along with a total engagement count and a trending score to help assess popularity. You can click any post to share it to your social media feeds or copy the link to schedule it for later.
Influencer search tool
In addition, BuzzSumo can help you find influencers on Twitter, Facebook, and YouTube. Enter any hashtag to locate relevant influencers, and the platform produces a list of options. The dashboard reveals the total number of followers and the average retweet and reply ratios for each influencer so you can easily see whether they'd be a good partner for your business.
6. Hashtagify
Whether you want a brief overview or a complete report, Hashtagify has the hashtag data you need. This tool also suggests key phrases for your social media content so you don't miss opportunities to connect with your audience.
Trending hashtag tool
With Hashtagify, you can maximize the value you get from hashtags and avoid using outdated or underused hashtags terms. You can search any hashtag and get a free overview of its popularity overall and over the past week and month. The tool's free analysis also includes related hashtags to add to your content and top influencers tweeting about the topic.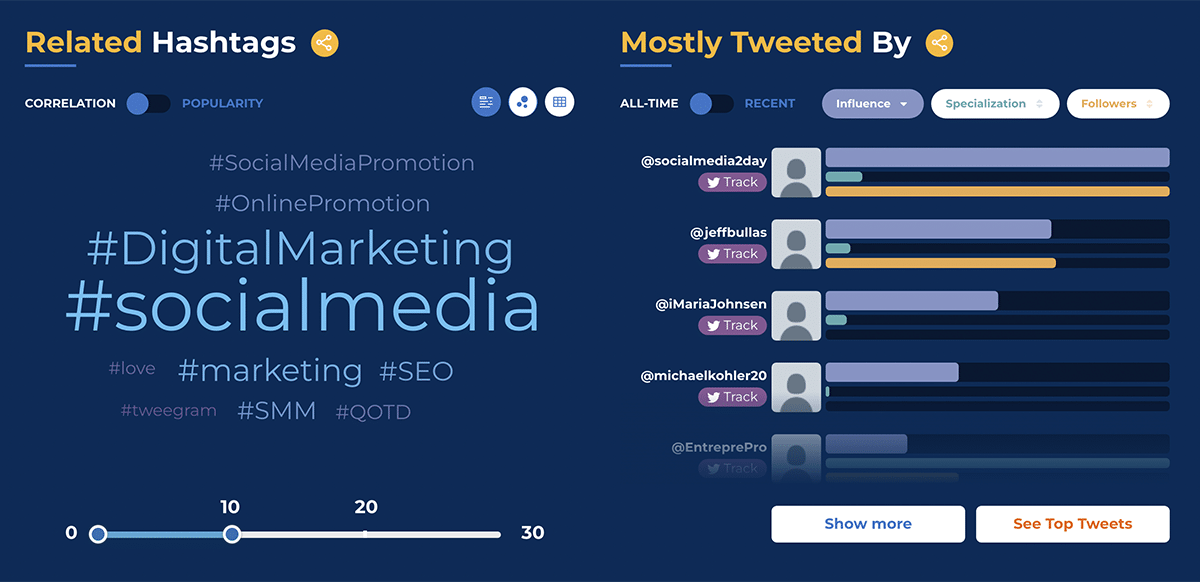 The paid version of Hashtagify includes much more in-depth analytics for Twitter and Instagram. You can get full reports on hashtags, lists of related hashtags that can increase visibility, and engagement stats to help you choose the most valuable key phrases. The tool also helps you identify and analyze influencers so you can find ideal partners for your business.
7. Keyhole
From brand monitoring to campaign tracking to influencer analysis, Keyhole can streamline a lot of your research and tracking efforts. This tool provides real-time data for most social media platforms, ranging from Twitter and Instagram to TikTok and YouTube.
Campaign tracking tool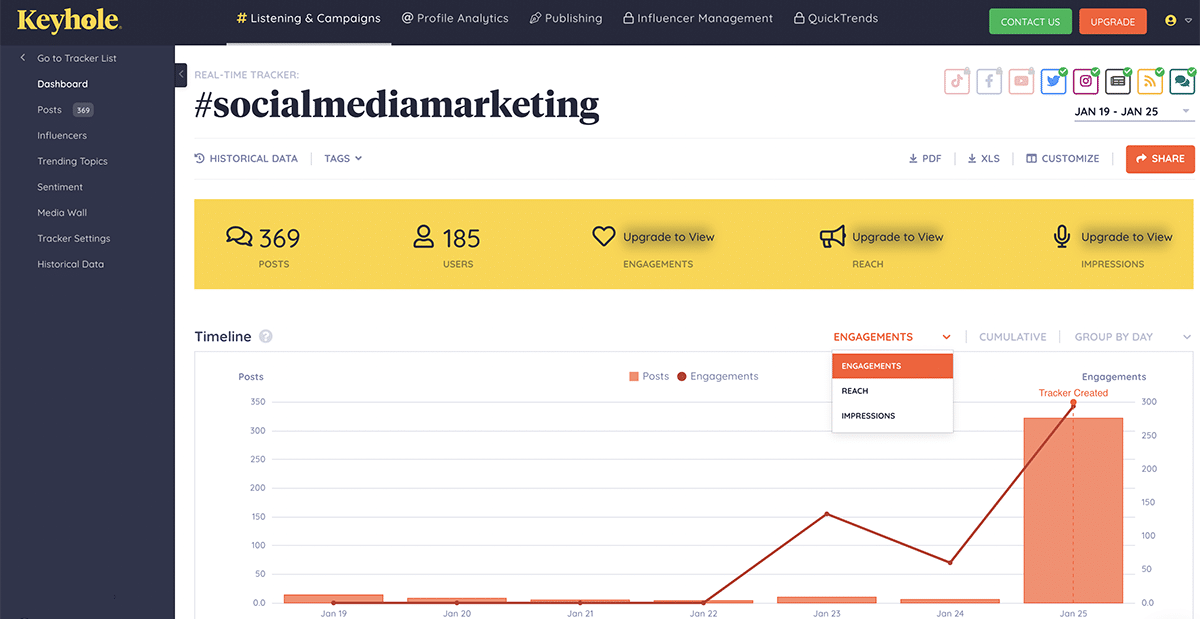 To monitor social media campaign performance, create a tracker for relevant hashtags. Keyhole can show the number of posts, impressions, engagements, and users talking about the hashtag.
The dashboard also identifies the top posts and most influential users to help you locate the best UGC and find what's generating the most traction on social media. Keyhole can even gauge sentiment to give you a better idea of how customers are reacting to your campaign.
Hashtag comparison tool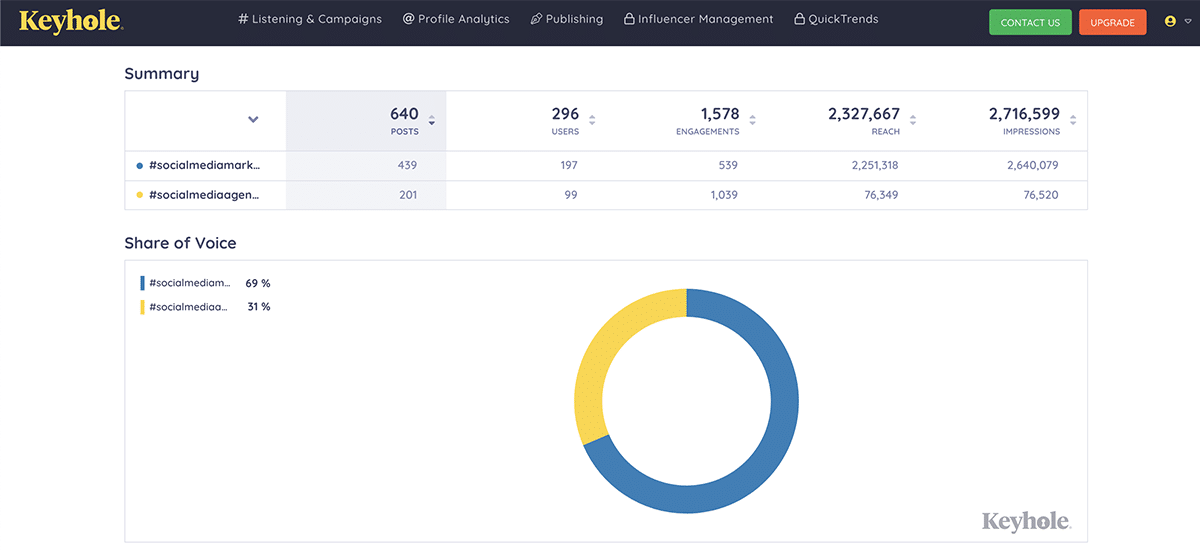 In addition to monitoring performance for individual hashtags, Keyhole can also compare two or more key phrases. With this tool, you can see how your branded hashtags measure up to the competition or guide your social media strategy by comparing multiple campaigns against one another.
8. Keyword Tool
If you want to add variety to your standard hashtag lists, Keyword Tool can help with brainstorming. Although this tool is relatively simple, its Twitter and Instagram hashtag searches offer a decent starting point.
Hashtag search tool
Select a social media platform, choose a language, and type any word or phrase into the search engine. Keyphrase Tool lists related hashtags in order of usage so you can quickly find the most common terms. To simplify social media publishing, you can select the hashtags you want to use and click to copy them into your post.
9. RiteTag
If you want to improve your Instagram marketing strategy, RiteTag has a range of suggestion and comparison tools that can help. This platform also offers custom reports to help you find the exact number, type, and placement for your hashtags.
Hashtag suggestion tool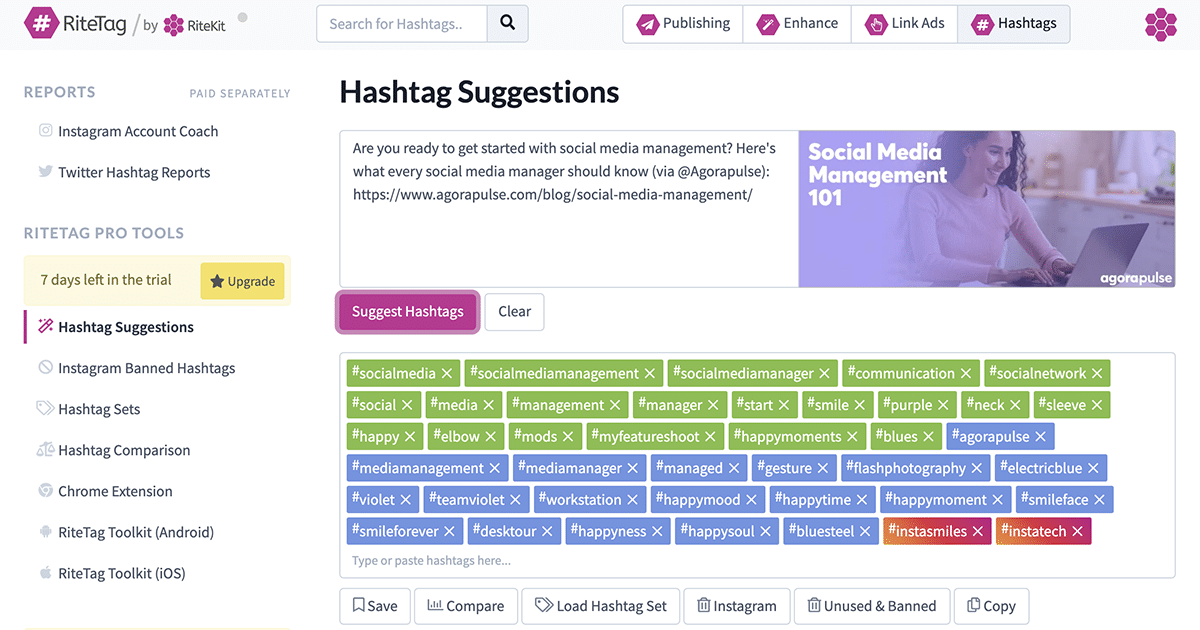 The RiteTag suggestion tool makes it easy to find hashtags, even if you aren't sure where to start. Input the caption and image for your Instagram post, and the tool automatically generates a list of key phrases to add. It also highlights overused and banned hashtags so you can avoid adding key phrases that could decrease visibility.
Hashtag comparison app
RiteTag's comparison tool can help ensure that you include the ideal hashtags in your social media posts. You can compare multiple hashtags to find out which are most popular now and which are better for visibility over time. This tool also reveals hashtag exposure for any term you select, allowing you to gauge how often the topic appears on users' timelines.
10. Walls
Whether you're running a social media campaign, monitoring brand reputation, or keeping an eye on competitors, you can create custom hashtag feeds with Walls. If you want a visual display that shows relevant social media content in real time, this tool is a good choice.
Hashtag monitoring dashboard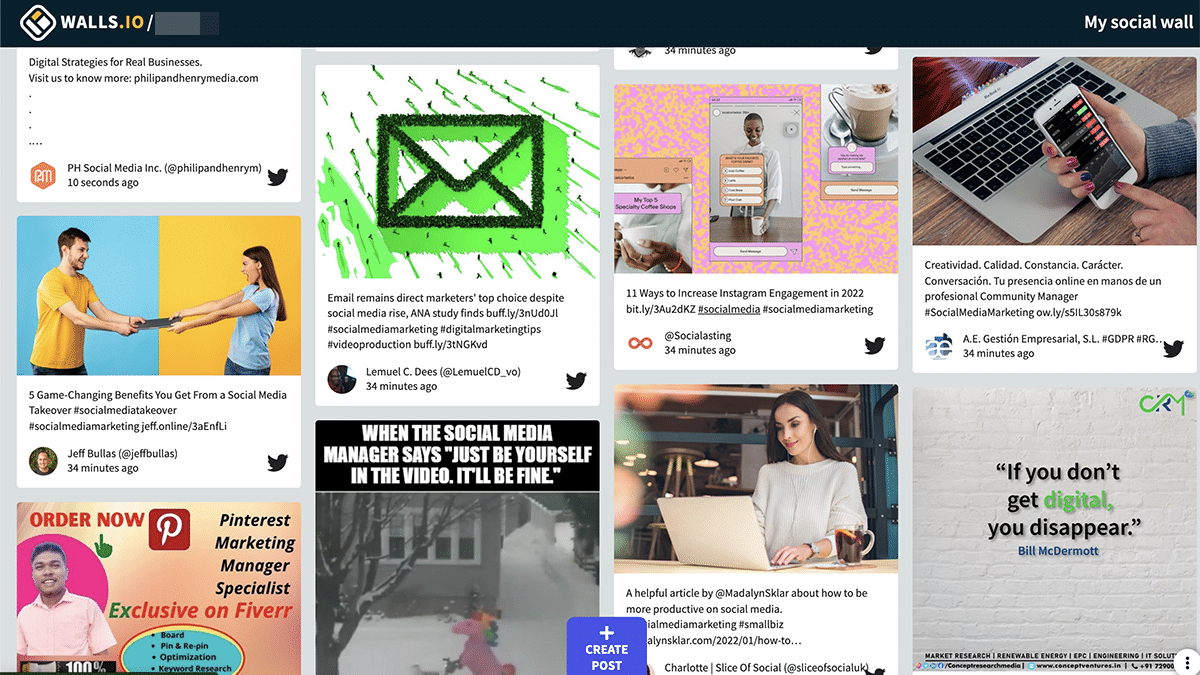 To set up a feed, add the hashtags and select the channels you want to include. Walls supports channels ranging from Instagram and Twitter to LinkedIn and YouTube to Reddit and Tumblr. You can moderate your hashtag wall by highlighting top content and removing spam, and you can easily share it thanks to the custom link.
Key phrase analytics tool
Walls also provides basic analytics for all the hashtags you follow. To help you identify trends, this tool tracks the number of times each key phrase appears as well as the number of unique users talking about the topic.
What We Learned About Hashtag Tools
Hashtags are critical for finding your audience and promoting your brand on social media channels like Instagram and Twitter. With the right hashtag tools, you can grow your business by improving visibility, tracking campaigns, finding influencers, and monitoring competitors.
Get started on saving time and energy on your own social media management! Check out our free trial of Agorapulse to help you schedule, track, and measure all your social media efforts.