Hashtags help businesses expand their reach, build their brand, and establish a community when used properly. Use these hashtag tips to start putting your content in front of people searching for keywords associated with your brand or industry.
To use hashtags to the best of their ability, you need to be mindful of how you use them, how many to use, and the basic do's and don'ts.
Here's a detailed look at how to wield the power of the hashtag more competitively for social media marketing.
Instagram Hashtag Tips
Hashtags for searches
The first way that hashtags make an impact is by giving people a way to find related searches. The hashtags on Instagram, for example, are tappable (or clickable) hyperlinks that take you to all the other posts with that same hashtag.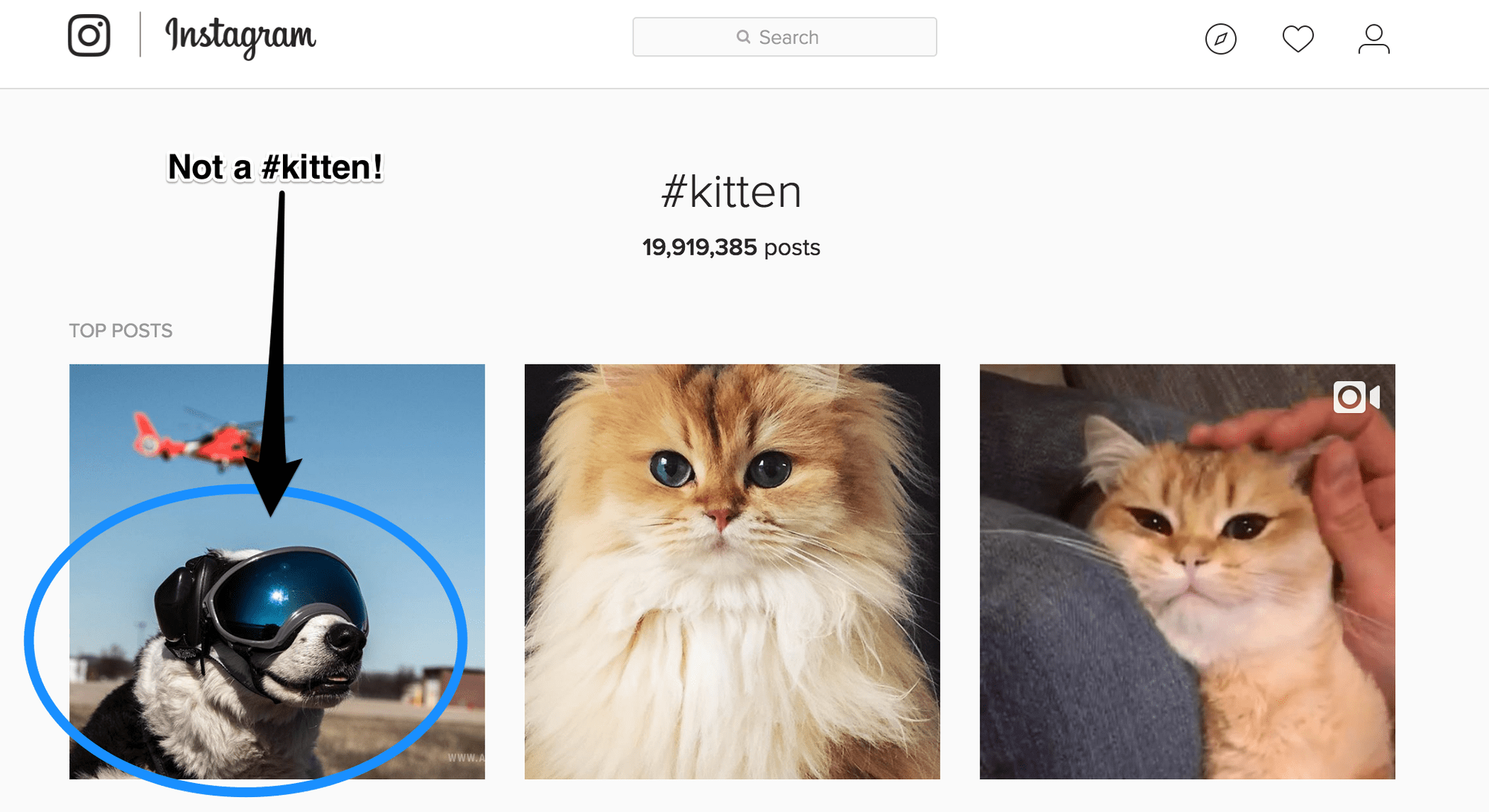 Need help figuring out which searches people are looking for? When you start to type a hashtag, you can see all the common searches that use that term and the number of posts. More posts mean more people searching and using that hashtag but also more competition for space.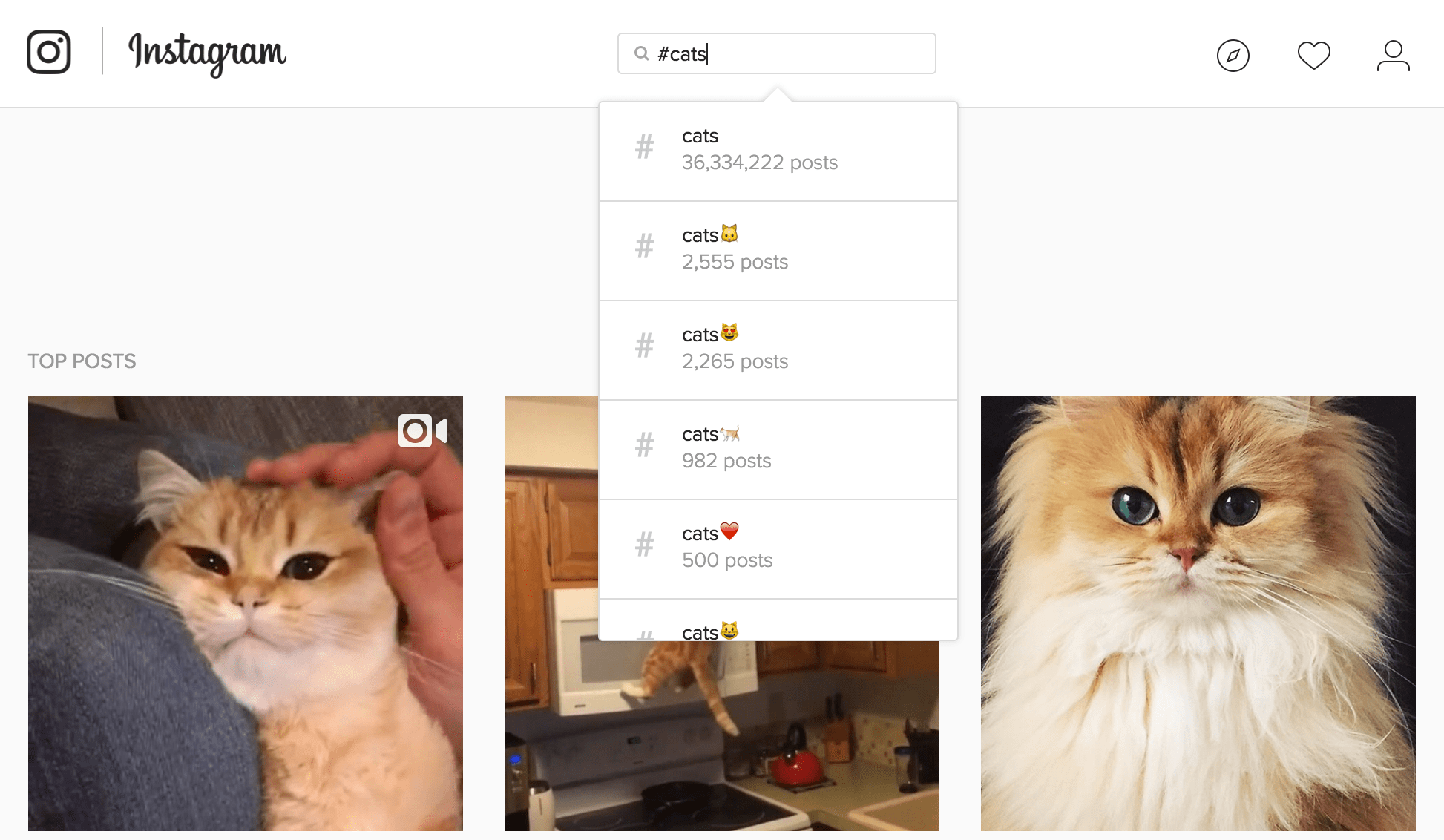 Also, make sure to avoid hijacking a hashtag. People are more likely to be frustrated that their search did not return something relevant than they are to like your photo or follow your account. And businesses need to be especially sensitive in how they use hashtags related to tragedies or natural disasters.
How many hashtags should you use?
Unlike Twitter with its 280-ish character limit, hashtags or not, Instagram has a highly permissive limit of up to 2,200 characters. But don't stuff the whole thing with hashtags! The limit is up to 30 total.
There's no set ideal number for hashtags on Instagram, though eight hashtags seem to be a good amount for engagement.
Smaller brands, in particular, can take advantage of the power of the hashtag to reach more of their audience. Here are three smaller brands doing just that!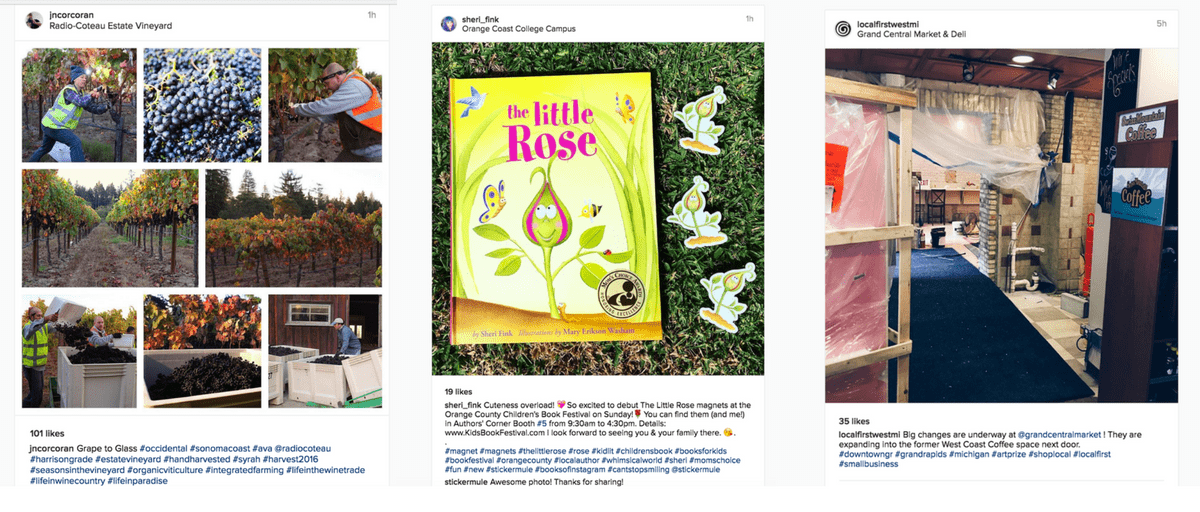 Format hashtags correctly
To get any of these benefits, you need to format your hashtags correctly.
According to Instagram, numbers are fine, but special characters and spaces are not.
So if you want to create a hashtag for your daily deal, you will want to write #dailydeal and not #daily-deal or #daily deal.
Make your hashtags fun and easy
#Noonelikestotrytoreadhashtagsthatrunonforever …
You will have the best results with your hashtags if they are not only search-friendly but also reader-friendly. Pay attention to how easy (or not) it is to read them in a glance. (Remember that people are reading these on mobile phones.)
Also, read your posts to see whether the words were separated in different places than you intended if the phrase would have a completely different meaning. For example, #hatebook could be read as "hat ebook" or "hate book" depending on how you read it.
The shorter and easier your hashtag is to remember, the more likely that other users will use it.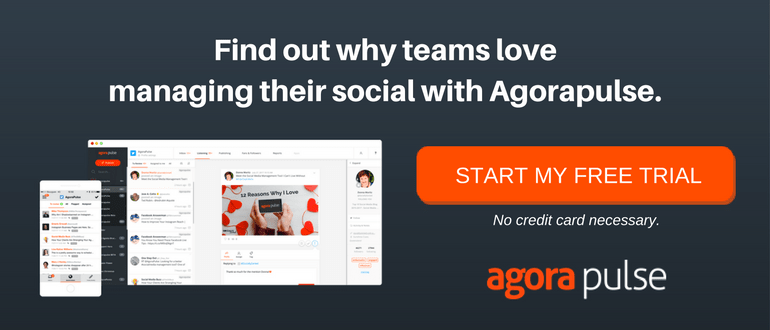 Now that you understand the formatting of hashtags, you'll want to optimize your Instagram hashtags. You can do so by:
Categories. Hashtag categories relevant to your post or business (i.e., #smallbiz #entrepreneur #socialstrategy)

Location. Geotag or add locations relevant to your post or business (i.e., where you are posting from or the town/city in which your business is based)
Emotions. Hashtag how what you do makes you feel, how you are feeling that day, or what feeling your topic evokes. (i.e., #independent #successful)
Events. Hashtag the event you are attending/posting from or create a hashtag for an event you have created and are promoting.
Products. Hashtag your product's name, type of product it is and/or what it is used for.
Hashtag Tips for Instagram: Do's and Don'ts
Implementing an Instagram hashtag strategy with the proper do's and don'ts can build your visibility and business exponentially.
Do:
Create your own hashtag.
Hashtags are a great way to generate buzz around what you are doing and your specific brand.
Be relevant.
Once you've researched some of your ideas, choose those that are memorable and important to create staying power with your followers.
Refresh.
Get more use out of older posts that are still relevant by reposting using fresh hashtags or reusing the best ones you posted originally.
Don't:
Hijack other hashtags.
Do not just use a hashtag because it has a huge amount of traffic unless it is relevant to your content.
Overuse.
Don't weigh your posts down with too many hashtags. This reads like desperate marketing.
Create a long, complex hashtag.
Overly complicated hashtags are not search-friendly or commonly used. Overly laden posts will get buried quickly rather than garnering attention.
So, let's find the conversations where our target audience shows up and add value to those conversations. Finally, start to build up a relationship that leads to awareness and ultimately a business transaction—all through using that little # symbol!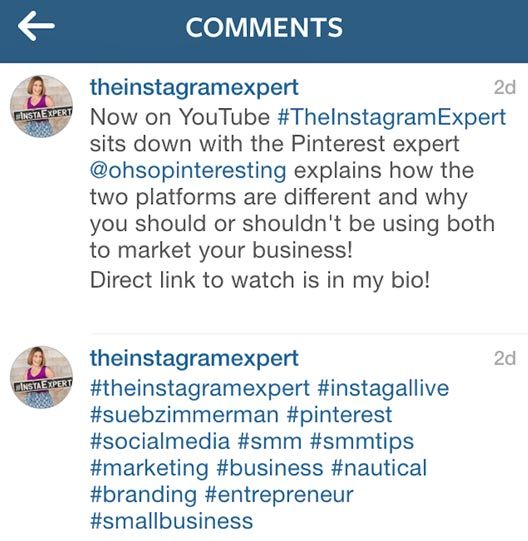 Now, that you're squared away with hashtags on Instagram, let's look at another popular social media platform that uses hashtags.
Twitter Hashtag Tips
Using hashtags on Twitter the right way can give you better results than plain text alone.
Here's how to get the most out of Twitter hashtags.
Why use hashtags on Twitter
Hashtags serve many purposes on Twitter. They can add humor to a post, put more information into the tweet in fewer characters, and create an emotional connection.
Hashtags on Twitter are not just there to add humor or inspire comedians, however. They also serve a purpose by connecting threads of conversation.
Every hashtag on Twitter is a clickable link that allows you to see the posts of other people using that tag. It can help you be found in Twitter searches.
The hashtag can also work collectively to help certain topics trend on Twitter. Trending hashtags bring even more attention to the topic (great for groups, conference organizers, and thought leaders).
If you are hosting an event, doing a fundraiser, or coordinating any other effort, talking about your hashtag strategy should definitely be a part of your overall planning.
Hashtag tips
Hashtags should also be a part of your social media policy for your agency. Decide which hashtags to use, how to include them, and when to add your voice to a trending hashtag.
The "how many" question about Twitter hashtags
Unlike on Instagram, where more hashtags are usually better, there is a sweet spot on Twitter.
Research shows that tweets with hashtags get twice as much engagement, but tweets with three or more hashtags get 21% less engagement. Part of this is due to Twitter's 280 character limit on tweets. Reading a whole string of nothing but hashtags is hard to read at best.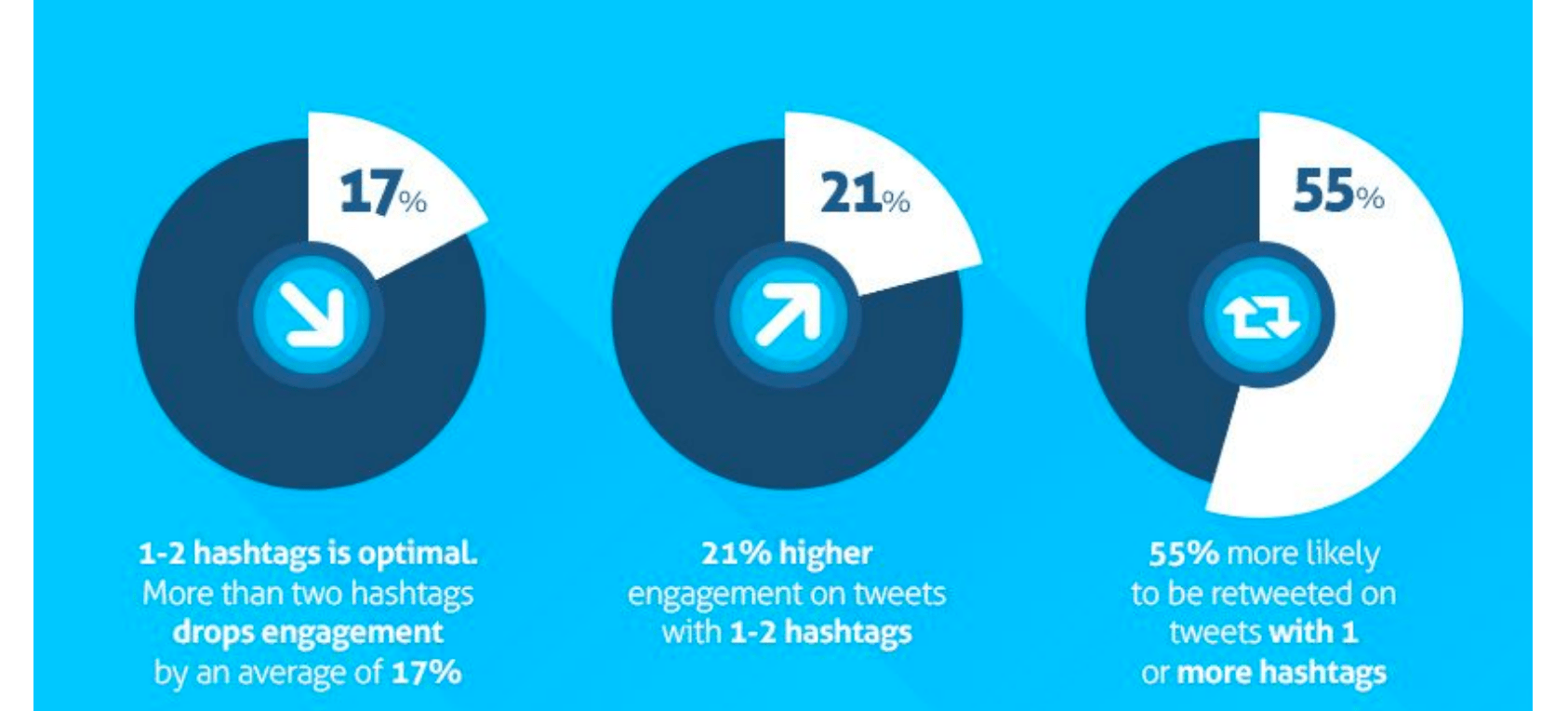 Image Source: Quicksprout
Twitter hashtags as trending topics
Another way that hashtags are important on Twitter is that they highlight trending topics that lots of people are talking about.
As a result, Twitter is known as an important news source that can spread the word about things sometimes before anyone else.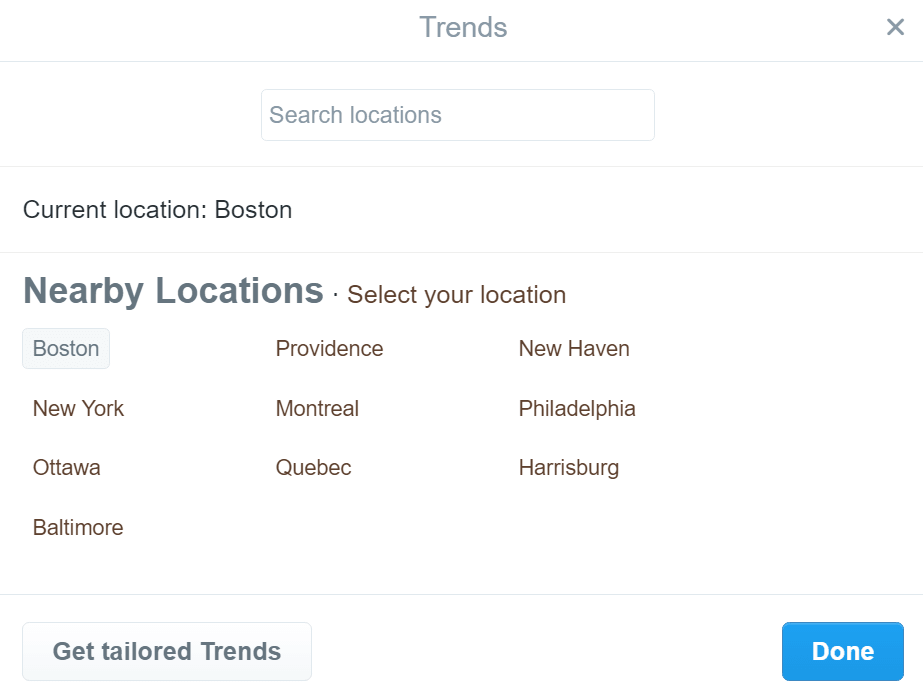 The default is that trends show up based on an algorithm by Twitter based on your location and who you follow. Any user can manually change this to what is trending in a particular location instead.
Trends are determined by the number of tweets within a short period of time, so coordinating efforts is very important if you want to get one of your hashtags to trend on Twitter.
How many tweets you need to get a topic to trend depends on how active Twitter is and what the competition is.
Hashtag tips
Remember that Twitter has specific rules about the use of trending hashtags. Specifically, you can't "hijack" hashtags by using them in an unrelated tweet, repeatedly use a hashtag without adding value to the conversation, or use it for unrelated advertising purposes.
If you do not follow these rules, your account may be suspended or deleted.
Where to use Twitter hashtags to be effective
Once you have picked the hashtags you want to use, where in your tweet should you place them? The most important thing is readability. You want to make sure that people can read and understand the tweet without making their eyes hurt.
Hashtag tips
Put these at the beginning of the tweet. For example, "#MotivationMonday: it is a new week full of new possibility!"
Sometimes, they make the most sense within the tweet itself.
In a Twitter chat, the hashtag should always go at the end as it is there primarily as a search tool, not a part of the content of the tweet. This also holds true if you are using a hashtag as part of a live event or conference.
If the purpose is humor or to make a point, then use it wherever it gives the most effect.
If the Twitter hashtag is one of a couple to help people find the content, then put them at the end of the tweet.
There is a lot of flexibility on where in the tweet you place the hashtags. Read it out loud to see if it makes sense.
Now that you've gotten a firm handle on using searching, using, and monitoring hashtags on Instagram or Twitter, make sure to stay the course and not veer away from your objective.
Avoid Making These Hashtag Mistakes
Hashtags must be carefully thought out, well researched, and exceptionally engaging if your followers are going to use them.
Unfortunately, most businesses make the same five hashtag mistakes on Instagram.
In this post, we're going to look at each of the common Instagram hashtag mistakes and how to avoid them.
1. Ignoring a local or community hashtag
Local businesses that have brick-and-mortar locations (and even those who don't) who neglect to attach their general location in a hashtag every so often are missing out on a big opportunity.
Because many users like to see what their community is up to, attaching a #Seattle or a #WeLoveNY to your post can connect you with new local traffic. With Instagram's business update, users can now get directions to your business right from your profile's home page, so this isn't an opportunity you want to waste.
Not using hashtags to build community relations and increase local traffic is a wasted opportunity.
Showing support to your local community often looks good for businesses, and it can ramp up a ton of engagement. Highlight this with hashtags relevant to your city's local audience, including adding in a shout out to other local events you support or attend (like high school plays, community art festivals, or farmer's markets), and you could see a big boost in local traffic and engagement.
2. Forgetting about good captions
Having hashtags that just aren't creative enough is a common misstep that often happens when brands are creating their unique tags for their business. A number of businesses slap a #[insert brand name here] onto their posts and hope it's enough to get people talking and the user-generated content (UGC) rolling in. It almost never is.
Your brand's name alone is typically not enough to create a strong, branded hashtag that will generate a lot of engagement. Ideally, it should be interesting and encourage action that will make users want to participate.
The Bar Method's #wheredoyoubar encourages followers to create and submit UGC; it's fun, engaging, and prompts them to be creative, too.
If you're stumped about what phrases to add in, hashtag research tools like Hashtagify and Keyhole can give you some ideas. You can also consider popular SEO keywords you use on your site and see whether you can incorporate them into your hashtags organically.
3. Refusing to do research
Coming up with a long list of hashtags to use can be a little exhausting, but trust me—not properly researching them is a big mistake.
If you don't do your research, you'll be using inactive hashtags at best. These won't get you any traction or any new reach. There's no benefit to using them, and you'd be better off choosing another one instead.
The worst-case scenario is a little more intimidating. The English language is particularly complex, and hashtags can have overlapping meanings.
A great example is the phrase "big brother." What would you mean with #bigbrother?
An older male sibling
A reality TV show or
A surveillance-friendly Orwellian government
Hashtag tips
You want to appeal to the right audience, and you also want to avoid using hashtags with any offensive, scandalous, or controversial associations. Checking for double meanings in your hashtag—even ones you've created—is important.
Before you use a hashtag, search for it in Instagram's feed and see what posts pop up and how the hashtag is being used. If it's not active or relevant, skip it and move on to the next. Research can also clue you into popular hashtags to gain new followers, for example, or spark new ideas.
4. Skimping on hashtags
If you had to guess, how many hashtags do you think is the right number for an Instagram post? One? Two? Fourteen?
According to research, posts will eleven hashtags or more can get higher engagement.
Since there's a direct correlation between the number of hashtags and engagement, you don't want to rely on just one or two.
Several studies have actually shown a direct correlation between the number of hashtags and the amount of engagement. Agorapulse's own study found this correlation to be distinct. Another study found that brand images with 11 or more hashtags get nearly 80% interaction, while posts with two receive 41% engagement.
Hashtag tips
While you want to use enough hashtags, you don't need to use all 30 available, and you probably shouldn't. You also don't want your entire caption to be made up of a ton of hashtags; this can become too overwhelming for users to read.
5. Constantly using the same hashtags
This is easily the most common Instagram hashtag mistake I see. Tons of brands use the exact same hashtags time and time again.
This can hinder your results for several reasons. The first is by limiting your reach. Since hashtags are searchable and help potential followers find content that's relevant to them, using the same ones over and over won't introduce you to any new users. By changing it up and using multiple popular hashtags, you could reach a larger audience.
Mixing up your hashtags expands your reach and connects you to more users. Using the same hashtags over and over again can also fall a little flat with your audience.
Hashtags should be engaging, interesting, and relevant. Users will stop reading them if you use the same three again and again.
* * *
Authors Ana Gotter and Rivka Hodgkinson contributed to this article.
Get started on saving time and energy on your social media management! Check out our free trial of Agorapulse to help you schedule, track, and measure all your social media efforts.