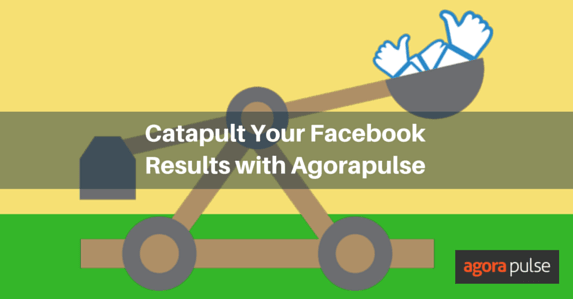 All fan page admins want to improve their Facebook results. But few find an easy-to-use, affordable solution to raise their fan page reach and engagement.
And those few are our happy, loyal customers.
Our social media management tool was originally built for social media managers and business owners looking for a simple solution for effective Facebook marketing. We've since grown to include many more social channels, but we're still BIG Facebook fans. (We're even an official Facebook Marketing Partner!)
Here are just some of the ways we solve your biggest Facebook marketing problems.
Problem: My reach numbers are pitiful.
Solution: Use Agorapulse to get your posts in front of the right people at the right time.
Our Web and PowerPoint reports show you best day of the week and best time of day to post. In this example, it looks like I should certainly plan content for Tuesday.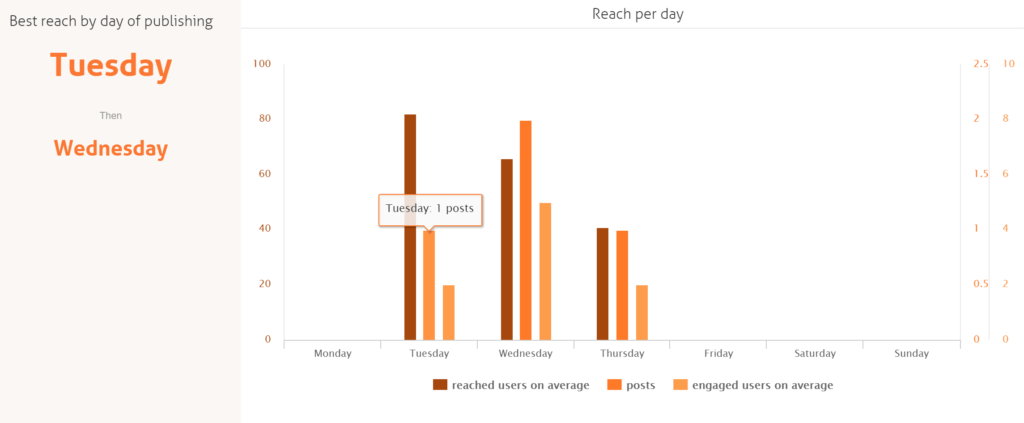 If you use the Web analytics to see this, simply click the "publishing" tab to start scheduling great content to post on those "reachable" Tuesdays.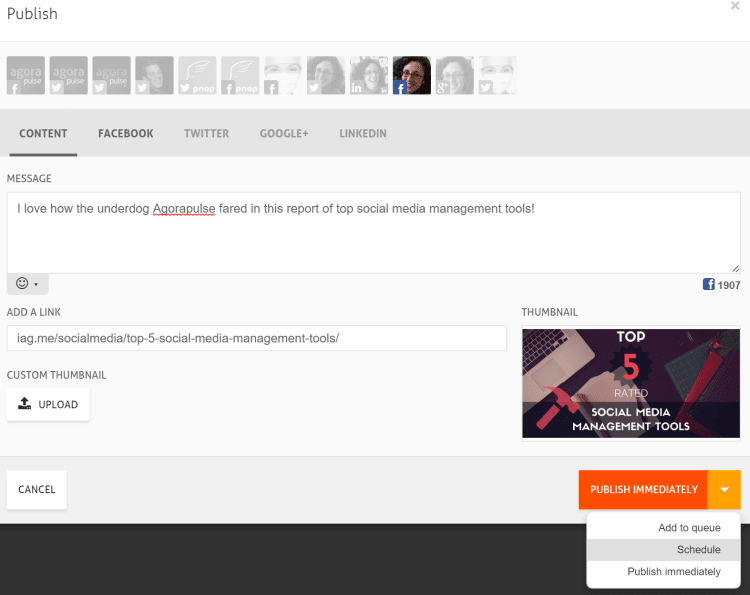 Problem: No one is engaging with my content.
Solution: Use Agorapulse to determine your best content and preview your posts before you send them.
Again, this is when a social media dashboard with built-in analytics is so helpful. By sorting my "engaged users," I can see which posts are gathering the most likes and comments. From this information, I can strategize on how to create similar content in the future.

I can also find out which posts are getting negative feedback from users. Those will be the kind of posts I'll try to steer clear of if at all possible. (Sometimes your most engaged posts get both tons of positive and negative feedback.)


You know what tends to get poor engagement? Crappy looking posts. (Sorry for the bad language, Ma.)
What's neat about Agorapulse's publishing feature — and sets it apart from other social media scheduling tools — is that it gives you a preview of what your post will look like before you send it out.
If your post looks pitiful in preview mode, simply click the "switch to edit mode" and make some improvements. Repeat and rinse until you have a good looking post. Then set it to publish now or at a later time.
Problem: I can't keep up with all my Facebook notifications.
Solution: Use Inbox Zero on Agorapulse to keep your page notifications under control.
Well, if you're getting a flood of notifications about your page activity, nice! That most likely means your Barometer engagement score is relatively healthy!
The troubling news is that if you've set your native Facebook notifications to "on," you're constantly getting pinged with messages. And if you've been annoyed by those push notifications and you've switched it to "off," you're most likely missing key opportunities to respond to people who have taken the time to write to you (or your page). Tough call, huh?
But the sad fact is if you're not great about replying, you'll discourage people from writing to you in the first place.
Don't let your engagement suffer as a result!
We've built your Facebook Inbox to include the comments, direct messages, and posts that others have left on your page in one place.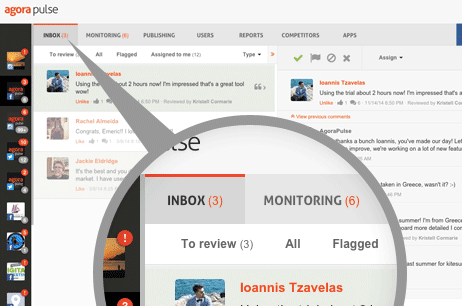 We've even included the comments to your Facebook ads in this inbox. If you run multiple news feed ads, you know that collecting ad comments is a real bear. Not any longer. Filter these and see what people have been saying about your promoted posts.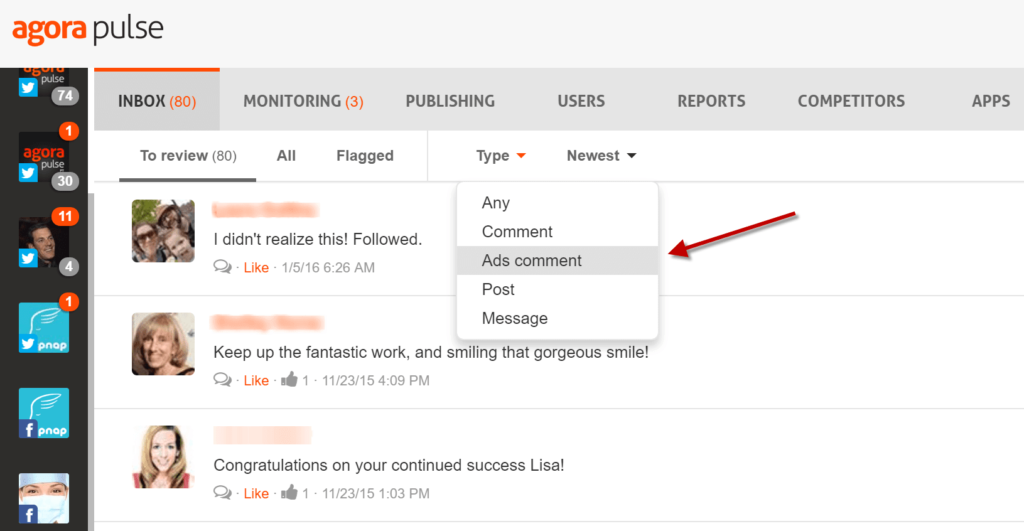 With our "moderation rules" function, you can make sure you never have to deal with irrelevant comments. Most marketers have better things to do than individually tend to spam, posts to your wall with foul language, etc.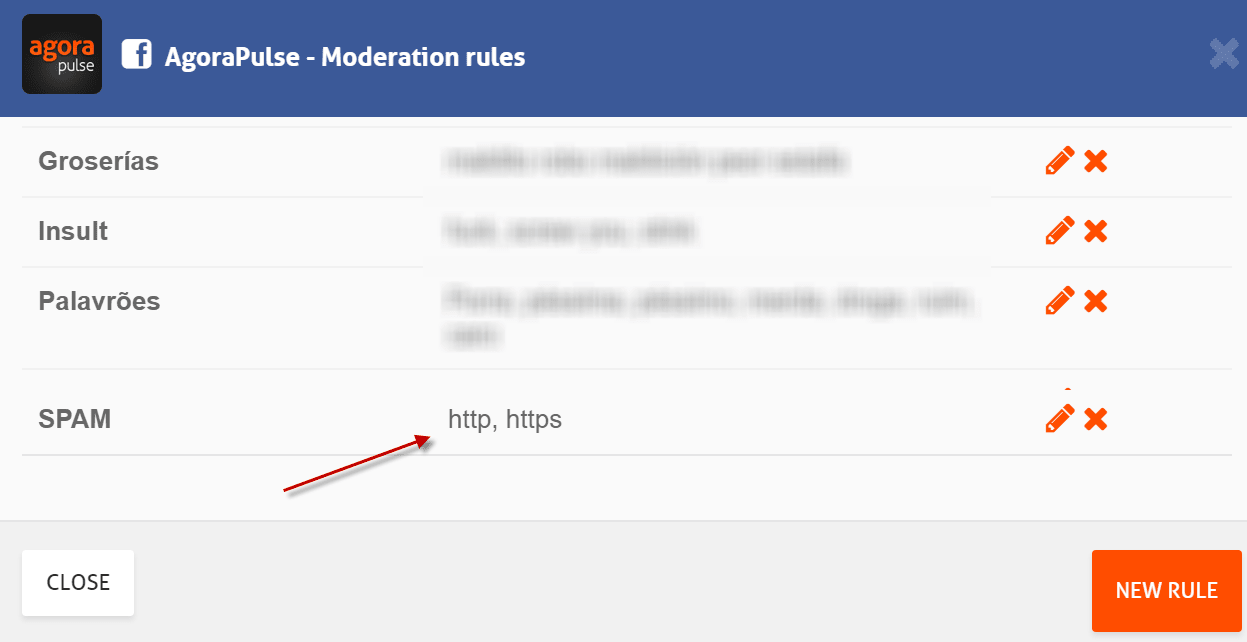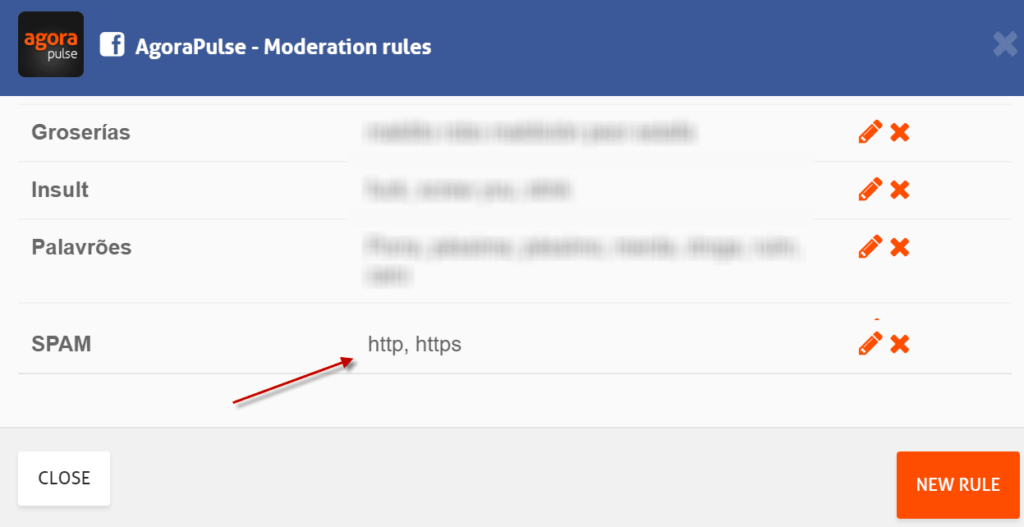 The next time someone tries to put a URL on your page, your customized notification rules can send them to a happy place — far away from your busy eyes.
Problem: My posts have never gone viral.
Solution: Tap into your biggest influencers on your Agorapulse "Users" tab.
First, a disclaimer: I never guarantee ANY particular method to make your Facebook post go viral.
But I am going to show you how to tap into your influencer base to spread the word about your fan page posts.
Agorapulse has a social CRM under its "Users" tab. We automatically add icons to users who comment a bunch, regularly like your posts, and who spread the word about your fan page. If they have a sizable fan base, don't be shy about politely asking them to share a post that you think their audience would love.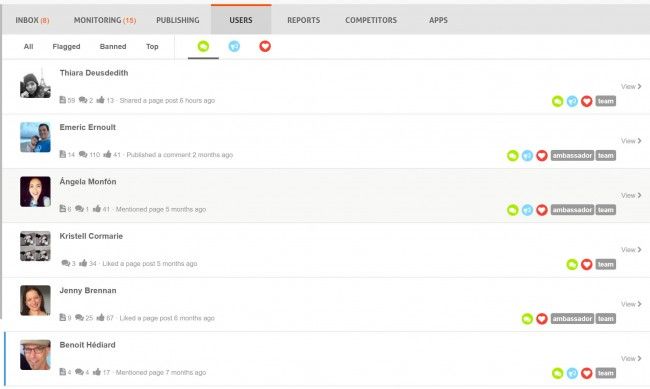 You can add custom tags to your top users to indicate that they have nice sized audiences. So at a glance, you can see who might be willing Facebook friends to let your post go wild (but again, possibly not viral).
Problem: I don't like brands saying how good their social media tool is.
Solution: Let real Agorapulse users tell you how good it is for Facebook and social media management.
If you think I'm biased because I work for the company, why not take the words of users who left reviews for us on G2Crowd? You'll see that they are pretty happy with our social media management tool.
Or give Agorapulse a free two week trial to see if your Facebook marketing gets easier!