The best way to understand Facebook video ads is to understand why video has taken over the Internet and continues to take up more and more space within the marketing and social media space. Once you understand the importance of online video, the leap to discussing Facebook video ads and their importance is a small one!
Let's start with a basic understanding of how video beats images and text on social media.
People Do Business With People They Know
Hearing someone speak about business is great.
Reading words someone wrote about business is wonderful.
Being able to see and hear someone in person talking about his or her business is best. In fact, it's gold!
In the digital world, video is the best way to get to know someone and something.
If you are a business owner or manager, and you want your current, past and potential customers to get to know you, try using one (or more) of these ideas for your next video.
My Glorious Desk
Our Office Space
My Terrible, Horrible, No Good, Very Bad Day Parody
'Q & A' Facebook Live Segments With Specific Departments
Staff Interviews
Our Brand Story
Why We Do What We Do
Charities We Love and Support
Local Networking
People Do Business With People They Like
People are attracted to other people through language. This includes both verbal language and body language and only video can show you both simultaneously when creating online content.
In the digital world, video is the best way to show off your personality and to get people to like you for who you are.
Think potential customers won't like you? Try one of these "like-me" video ideas first.
Fun Facts About Our Brand
Birthday Celebrations
Unboxing of Deliveries
After-Hours Staff Fun
Events We Attend
Tradeshow Conundrums
Exciting Tools We Use
Contests
How Other Businesses Use Our Products
Fun With Customers
'Ask Us Anything' Facebook Live Segments With CEO or CFO
People Do Business With People They Trust
People will shell out money for products and services they need, or might not need but want, if they have complete trust in that brand or business owner.
Trust is built over time; it cannot be achieved with a single video. However, using video strategically can enhance everything else the brand or business owner is doing to develop and keep trust among newer followers and fans.
In the digital world, video is the best way to gain trust by delivering awesome actionable content free of charge to those who are new to your product or service.
Begin to develop trust with one of these video suggestions:
5 Tips To Do XYZ
The BEST way to do XYZ
3 Tools We Use and Love and You Will Too
The ONE Thing You Should Know About Us
Expert Tips From Our CEO
Show & Tell Facebook Live Segment
Testimonials
Create Facebook Video Ads So People Will Know, Like and Trust You
Once you have created a video, you want to get the most out of it. This means the ROI of your video – return on investment – needs to be somewhat measurable.
Luckily, Facebook's ad platform gives you tons of relevant statistics for your video ads.
Start your Facebook video ads with a small Facebook advertising budget with a very specific target audience in mind.
(Here are a bunch of resources on creating great Facebook ads.)
Don't Stop There!
Going back to the 'know-like-trust' factor, it is important not to post-and-forget-it.
For maximum ROI you also need to interact with your video audience as they react to your content. Remember, it's social media!
Agorapulse will let you do just that! You can monitor and respond to your Facebook ads comments right in its dashboard. You will get notifications as you are tagged and mentioned and you can respond to questions, comments or inquiries right in Agorapulse.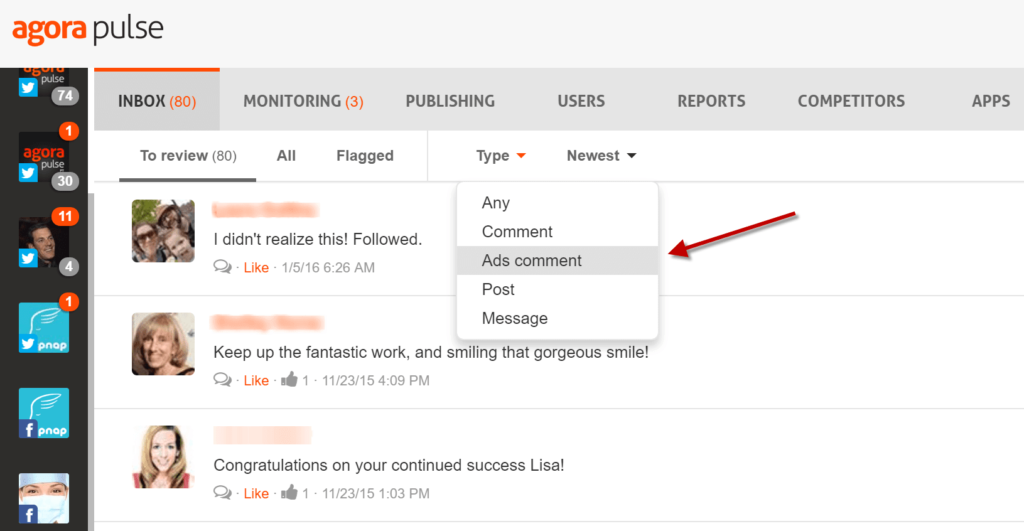 Community management piece is just as important as choosing the right video editor, the right platform, the right target audience, and setting your ad budget. Without genuine, authentic conversations, your Facebook video ads will fall on barren ground or will disappoint your online audience.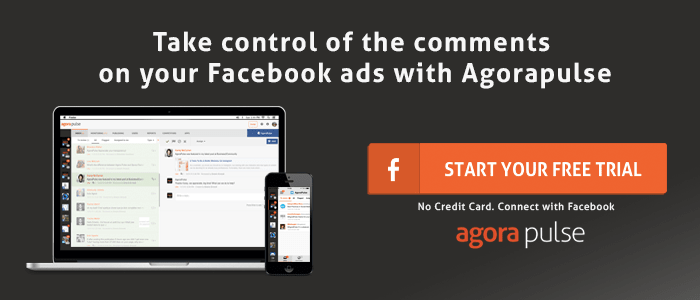 Drive Traffic To Something
Creating videos because people will get to know, like, and trust your brand is great.
But let's do more!
Using Facebook video ads to drive traffic to a landing page – webinar sign up, sales page, blog article, free e-book – is just brilliant – and measurable!
This should be your ultimate goal when you create a video ad: drive traffic with a video and a call-to-action so that you can
get more sales
get email sign ups
get webinar sign ups
grow your audience
and more!
So Why Do People Think Facebook Video Ads Are a Good Idea?
Facebook video ads are a great idea for anyone looking to grow their business. They tap into readers' love of video and the results can easily be measured.
Videos are popular on many platforms and watched by millions of users of all ages. Get a slice of the pie with Facebook video ads!
How do you plan to use Facebook video ads for your business (or client)? Let us know in the comments!