What are people saying about you on Instagram? If you're not looking at your Instagram ad comments you'll have no idea. Here's an easy way to monitor them.
The beauty of Instagram ads is that they are a great way to get leads and generate traffic to your website, your landing page, or your mobile app from Instagram.
For some industries or products, like mobile apps, Instagram ads perform better by giving a cheaper cost per download.
They're actually the easiest native way to get leads as you can't have any clickable URLs on organic Instagram posts.
(And if you've tried the #linkinbio workaround, you know it's not easy to organically get users to your Website.)
Like ads on Facebook, your Instagram Ads receive comments. How have you been monitoring them?
Instagram ads get tons of engagement. Believe it or not, that can be a problem.
The real strength of Instagram is the level of engagement it provides to brands. It is, by far, the social network that provides the highest level of engagement compared to Facebook or Twitter.
Engagement on Instagram means likes and comments, if a higher number of likes on your Instagram ads is not something you have to worry about, a higher number of Instagram ad comments can be a concern.
Why?
Because you have no way whatsoever to natively see what these comments are and manage them.
[Tweet "If you're running Instagram ads, you're probably getting comments on them that you can't see!"]
We recently wrote an entire article about the importance of managing comments on your Facebook ads with several examples of newsfeed ads with a lot of comments left unmanaged by the advertiser. The piles of comments left unattended overshadowed anything decent that was in those ads!
To be perfectly honest with you, I have run an Instagram ad that turned out to be a disaster because of the negative comments I got on it. I wrote a blog post on that sad story. It's definitely worth a read if you want to learn from my failures!
In a nutshell, the ad was giving me good "marketing results" (CTR, CPC, conversions were all in the green), but the comments on them were HORRIBLE. Users were seeing my brand as an evil business bashing the competition as its only way to promote itself — the exact opposite I want my brand to be known for.
If I only had the marketing data to gauge the success of that campaign, I would have let it run for month, hurting my reputation big time.
[Tweet "If you run Instagram ads & don't monitor the comments, you may be ruining their performance"]
The problem is that Instagram does not provide any way to view these Instagram "unpublished posts."
And to my knowledge, there's no third party solution to fix that.
Until today…
Meet the first (and only) solution to monitor and manage Instagram ad comments
I'm thrilled to introduce Agorapulse's unique solution to capture and manage comments on Instagram ads!
You may have heard (or are even using!) Agorapulses's efficient "Inbox Zero focused" social media Inbox for Facebook, Twitter and Instagram. You may also have set it up to monitor comments on your Facebook ads. The good news is that you can now also get your Instagram ad comments in your Inbox too!
It took us two months to build that new feature based on the hard work we've been doing on the Facebook ads API.
So how does it work?
Head over to your Instagram inbox and click on the settings: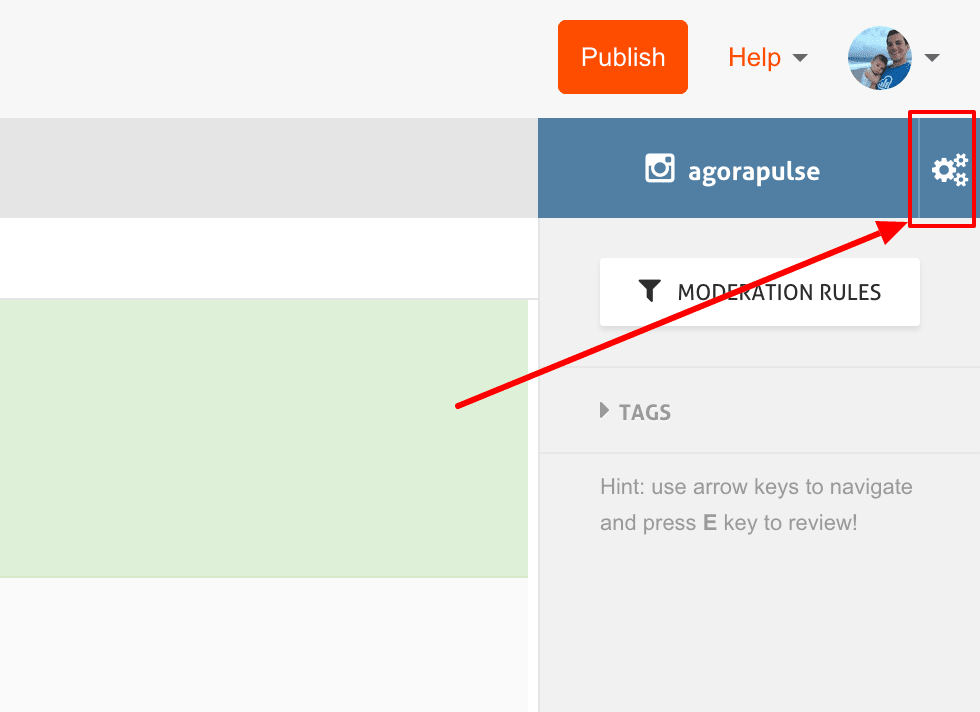 Then click on "Ad Account." Authorize access to your ad account by clicking on the "refresh ad token" button and select the ad account you're using to advertise on that Instagram account: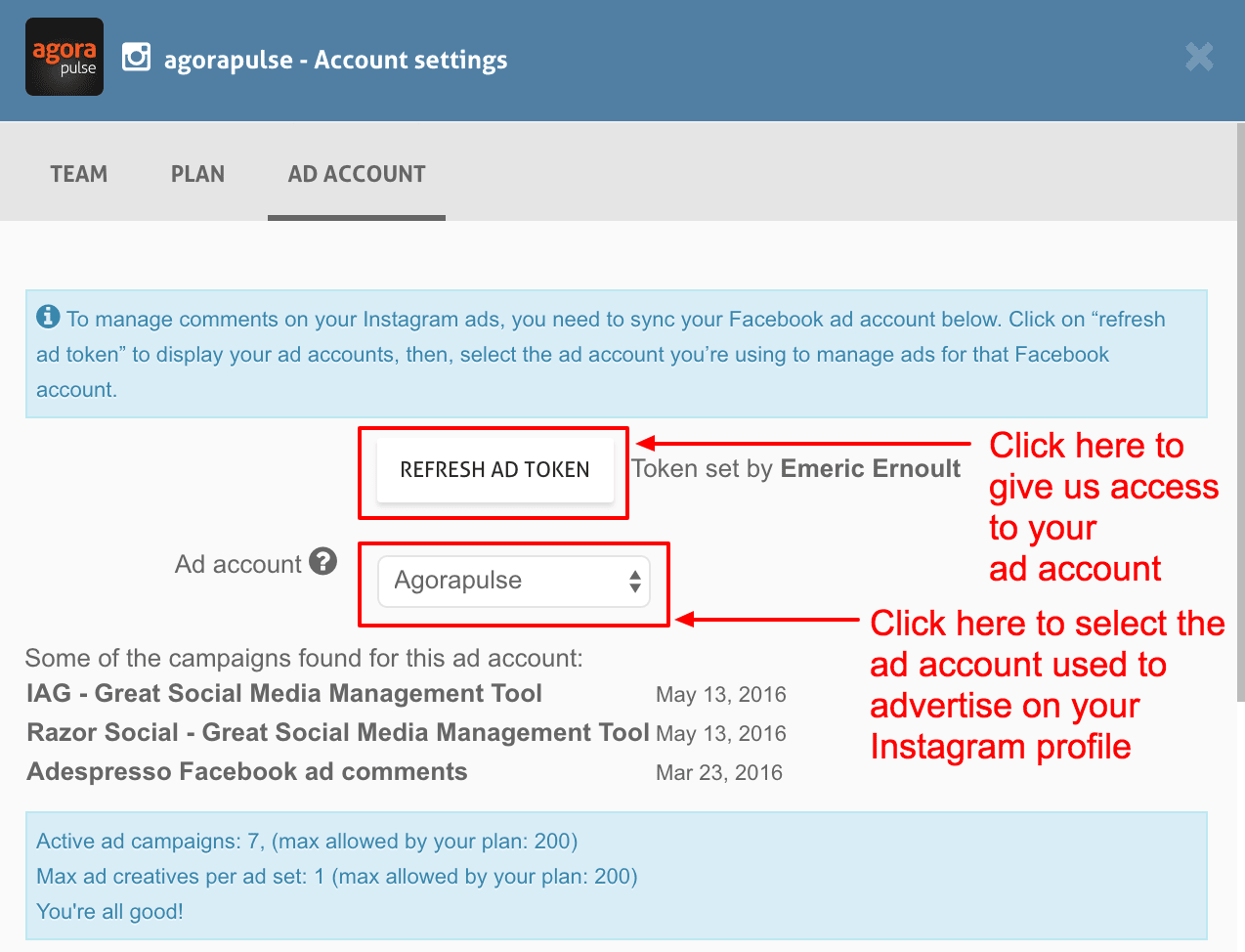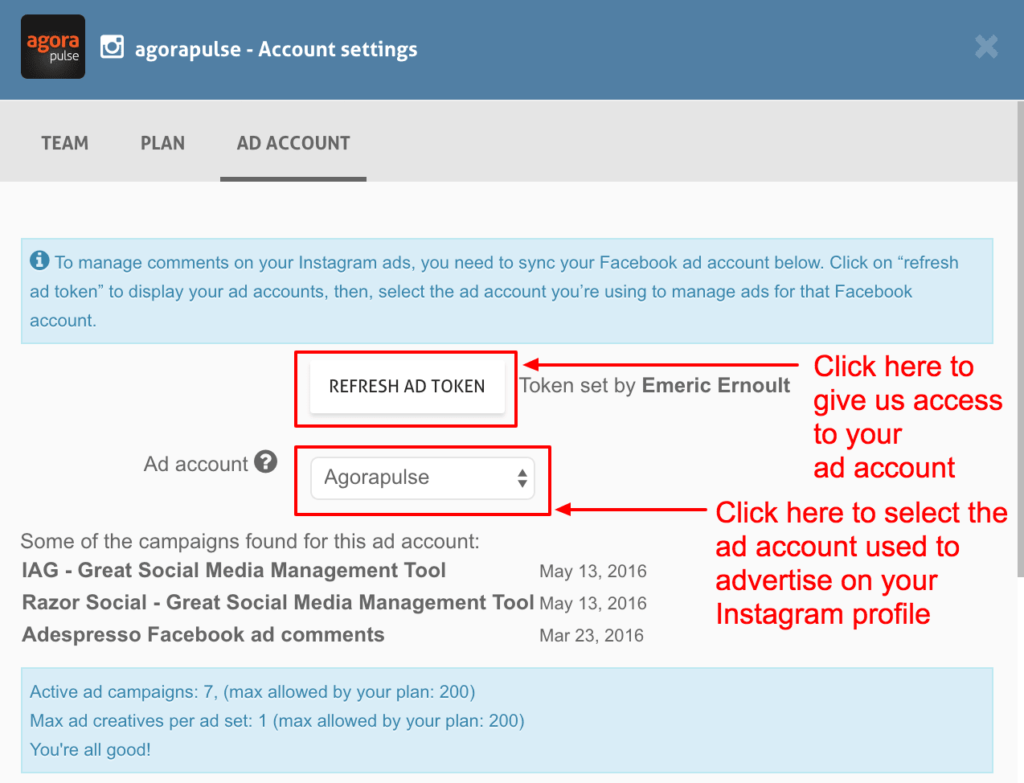 and, finally, select the right Instagram account.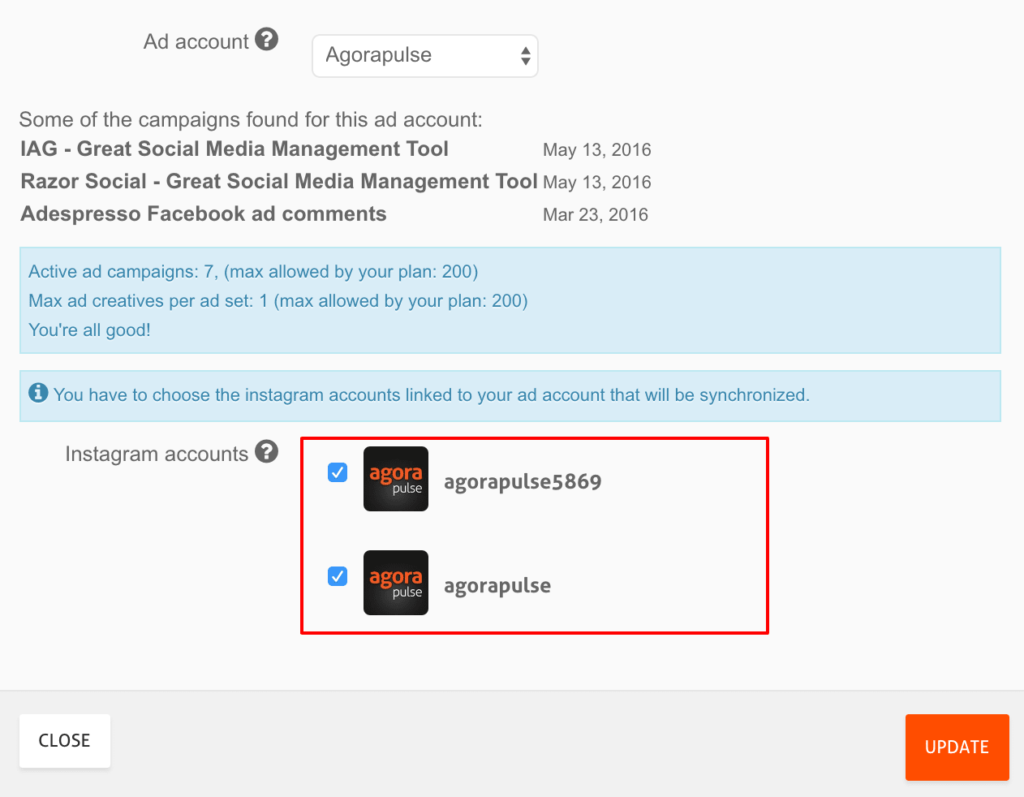 You may see an Instagram account with a weird name in here (in our case, it's Agorapulse5869). This is because Facebook creates a "ghost" Instagram account to let you advertise there. If you're technically inclined, you can learn more about this process directly from Facebook.
That whole process should take about a minute. Then you'll start seeing comments on your Instagram ads.
Get ready for some surprising discoveries!
You can even filter your Instagram comments to only see those only published on your ads.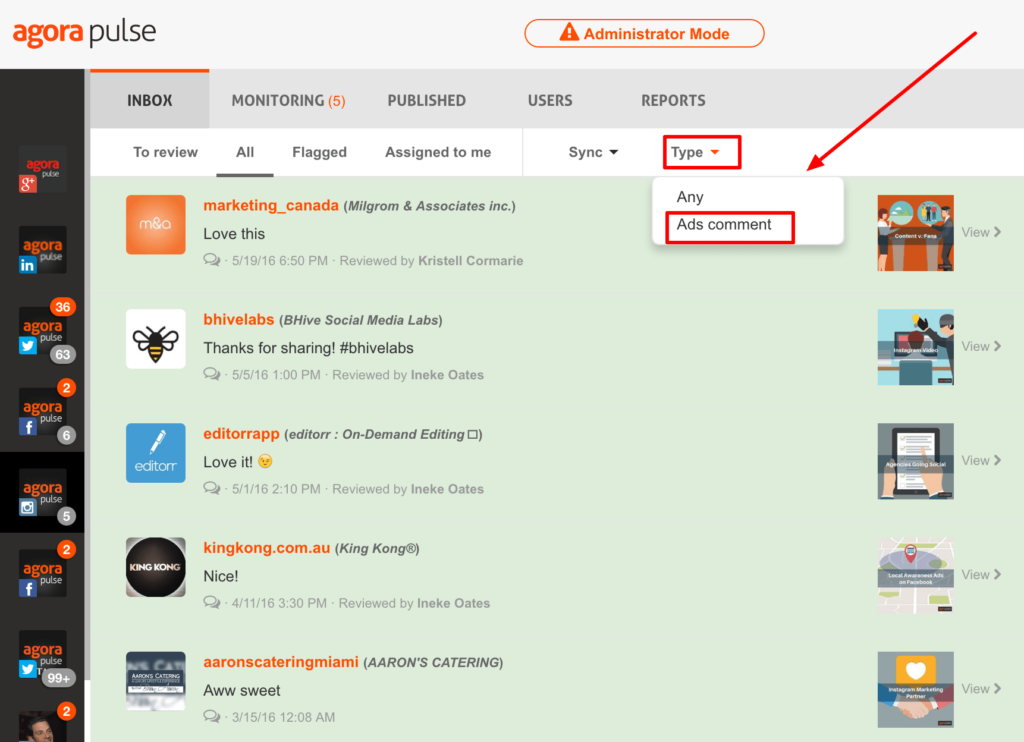 Once you see those comments, you'll be able to access all of Agorapulse's available actions on comments (review, flag, assign and of course, delete).
At the moment, you won't be able to reply from Agorapulse. (It's a limitation of the Instagram API). You can still reply to the comments by clicking on "View on Instagram." That click will take you to your native Instagram account where you can comment away (just make sure you're connected on the right Instagram account, of course).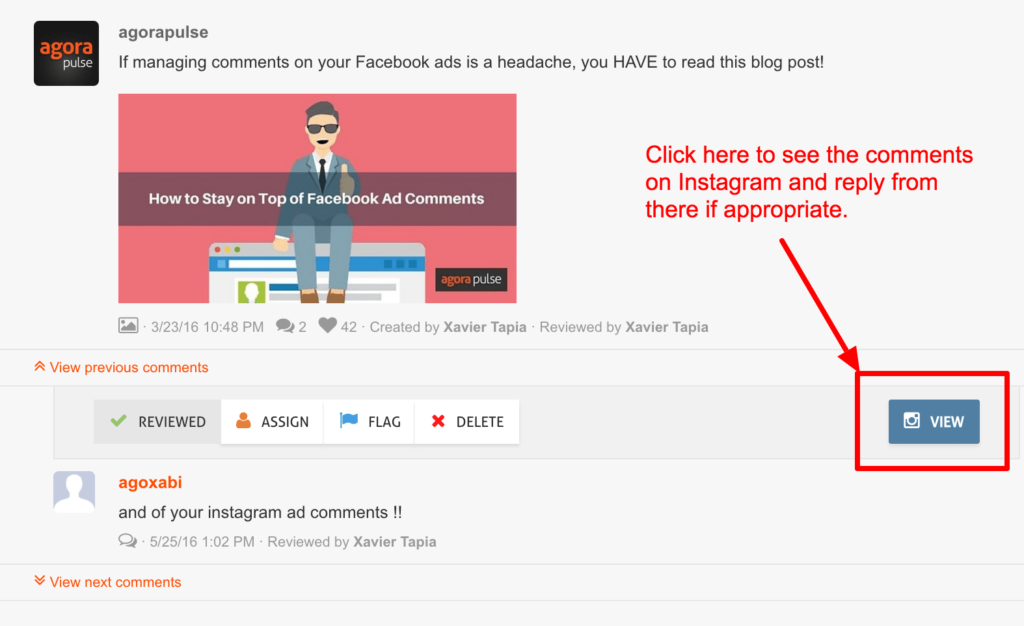 I hope this will help you fine-tune your Instagram ads and get the most out of them!
* * *
Get started on monitoring your Instagram ads comments right now! Check out our free trial of Agorapulse to help you schedule, track, and measure all your social media efforts.