If you run a social media marketing agency, your Instagram content creation needs to be on point for you to attract businesses and business owners to your agency.
The pressure is on to demonstrate creativity, photography, video marketing skills, and the ability to use Instagram's built-in features. You are your own case study.
So, what should agencies be doing to up their Instagram content creation game? In this article, I'm going to share some content tips for social media agencies on Instagram along with some shining agency examples.
Why Should Social Media Agencies Care About Instagram Content Creation?
With an advertising reach of over 1.16 billion people, Instagram is one of the leading platforms for brands. And that's not all:
Instagram's median engagement rate is 1.22%. That's 5x higher than Facebook posts and 27x higher than a Tweet.
More than 36% of B2B decision-makers use Instagram when researching new products or services.
33% of the most viewed stories on Instagram are created by businesses. This is your target market.
There are over 25 million business profiles on Instagram, we will talk later about how social media agencies can utilize this.
73% of marketers are actively using Instagram. This matters because marketers for big brands will often utilize agencies to help launch campaigns or to support their internal teams. If a marketer is impressed with an agency, they will remember it for future business.
67% of marketers plan on increasing organic activity on Instagram over the next 12 months and your agency could be instrumental in helping them to do it.
As Director of Contentworks Agency, I'm keen to utilize the platform in the best way to attract future business. We don't use paid ads on IG though as our strategy is predominantly organic.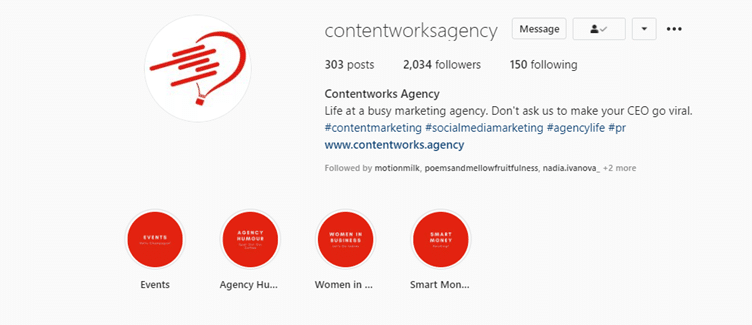 The first thing to point out is that you should have a strategy for each of your social media channels.
What do you want to do?
Establish yourself as an industry expert.
Increase brand awareness.
Showcase client projects by your agency.
Get more leads for your social media agency.
Build an engaged community of fans.
I know that many agencies do this for their clients but not for themselves!
If you haven't made a strategy yet, take a moment to read How to Create an Instagram Strategy. This will go over branding, targeting, resources, and other essentials.
Instagram Content Creation Tips
Let's go over some tips to guide your Instagram content creation.
1. Interact With Other Social Media Agencies
Aren't they your competitors? Not really.
Firstly, following other marketing agencies can be inspiring. You can gain insights into the kind of content that performs well and what doesn't. You can learn about events, seminars and follow their case studies.
One brand I love on IG is Don't Cry Wolf. Their innovative designs, witty messaging, and great use of employee advocacy have me hooked. I also know that they would be a great match if I wanted to team up with a UK-based agency.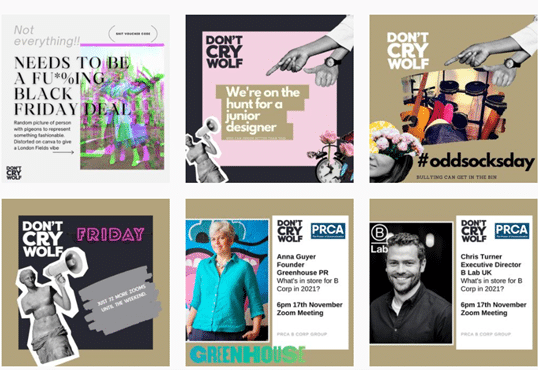 Another reason to follow other agencies is to establish a partnership. Most good agencies specialize in key areas.
For us, it's content marketing, while for another agency, it might be PPC, Google Ads, or design.
motionmilk is an expert pick for video production and editing. That means collaboration between us as script writers and motionmilk as video production is ideal.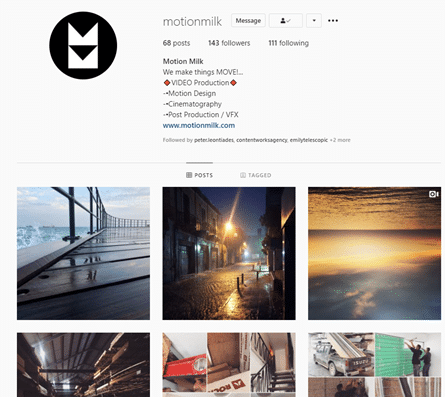 You can really broaden your reach by partnering up with other agencies. Consider adding agencies in non-English speaking regions where their local knowledge, language, and ability to reach the target audience may come in handy later. Add agencies that specialize in influencer marketing, video, PPC, SEO, and content.
Tip for agencies
Interact with other agencies by liking and engaging with their posts. You can even go as far as featuring them on your channel. Here's Contentworks Agency Niki with Andreas from Convertico Media.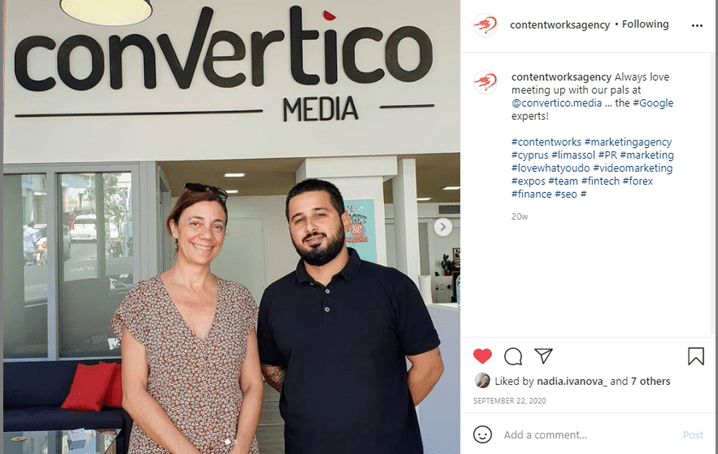 2. Make Use of Every Instagram Feature
As a social media marketing agency, your use of Instagram needs to be strategic. Big brands need to notice you and understand that you're nailing Instagram's best features for your work. This shows you have the in-house creativity and expertise they want to tap into for themselves.
Some examples include the following:
Instagram Stories
Instagram stories are super popular and 70% of Gen Zers and 59% of Millennials watch them. Stories on Instagram are viewable for 24 hours and can then be highlighted to remain on the top of your profile in the small circles. They are awesome for agencies to share live coverage of events, awards, special offers, or meet the team.
Our agency friends at Ultimate Fintech use Stories to highlight upcoming events.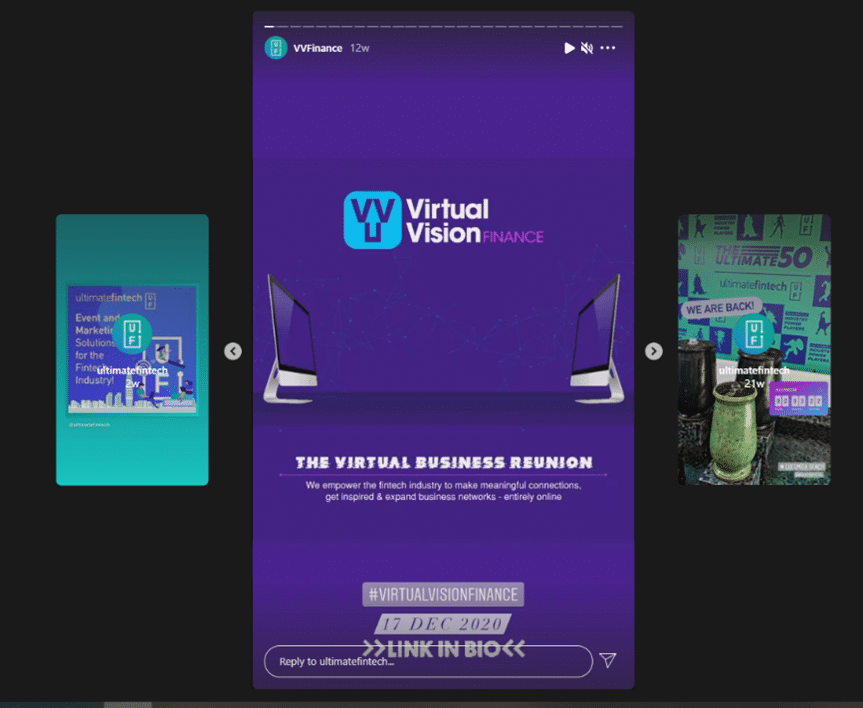 Highlight client collaboration
If you've worked with a retail brand that uses shoppable tags then share it to your Stories and create a highlight for it.
If you've organized a great event, a video shoot or a magazine cover then highlight that too. This could be named "portfolio", "social media examples", "clients" or you could divide up your highlights to show specific examples of your work.
dentsu international have a client management highlight for this exact thing.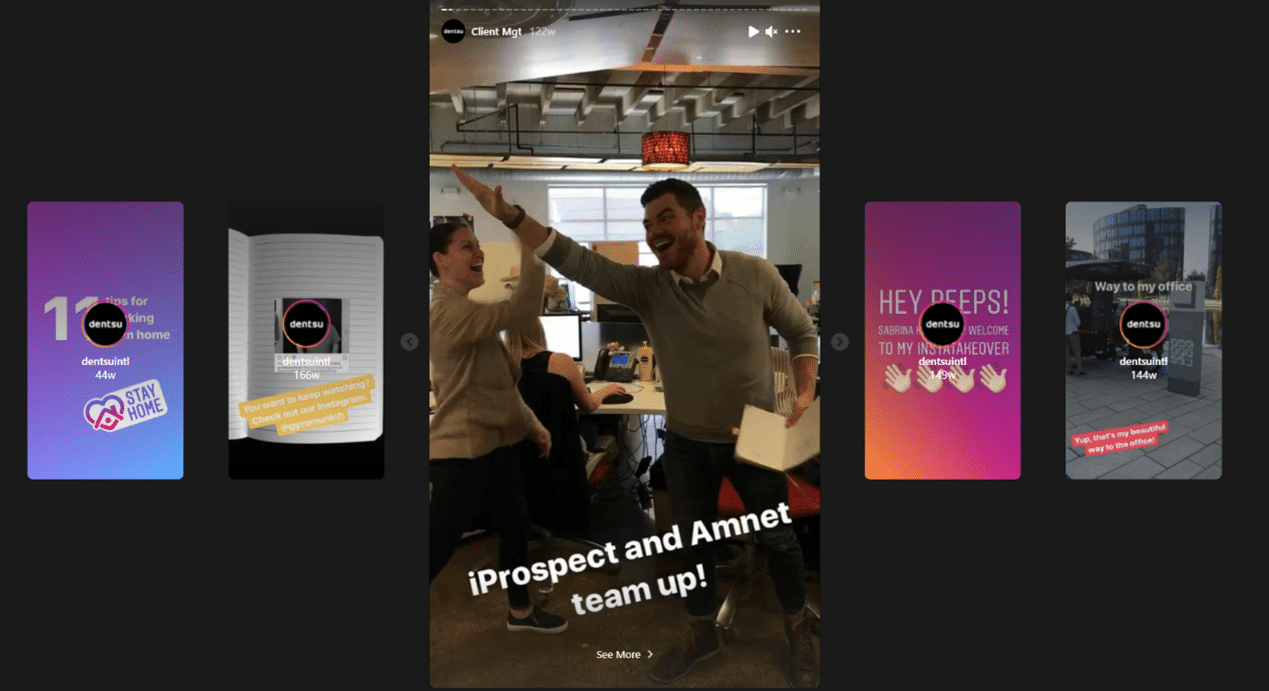 An important note: Always obtain client permission before publicly taking credit for the work. If you have an NDA in place, a client might not want to see an agency named.
IGTV
Instagram TV gives users the ability to share videos that are up to an hour long – like a TV episode. This is a great chance for social media agencies to showcase their work, especially if they are into video content.
Later Media launched an IGTV series called Screen Time where they recap the top trends, cultural moments, and social media news of the week. This is such a great idea for social media agencies. Providing value to viewers, demonstrating that you are on top of trends, whilst also showing how you can utilize IGTV. Kudos guys and girls.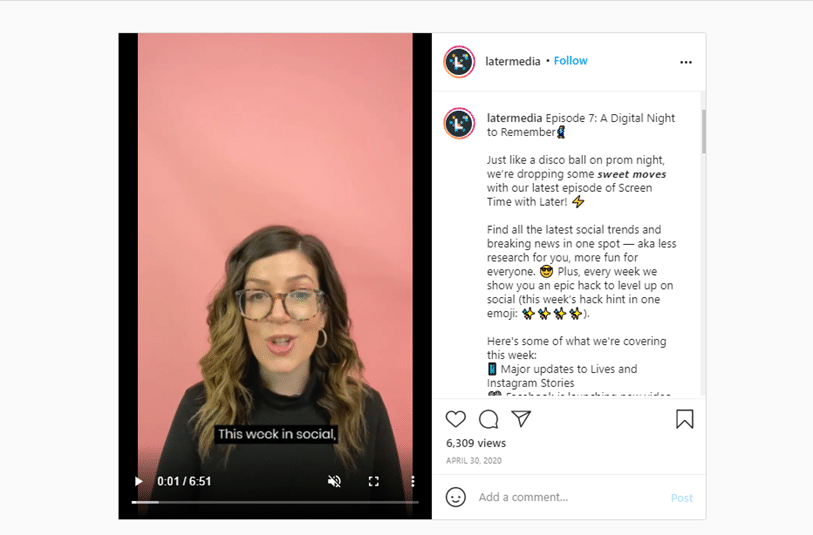 Geotags
Utilize geotags if you want to get local clients for your agency. This makes you more discoverable and likely to get noticed by your ideal customer. If there is no geotag for your agency, then create one on Facebook by trying to check in then adding a location. Now your agency will show up on local searches on IG and you can tag your location in posts.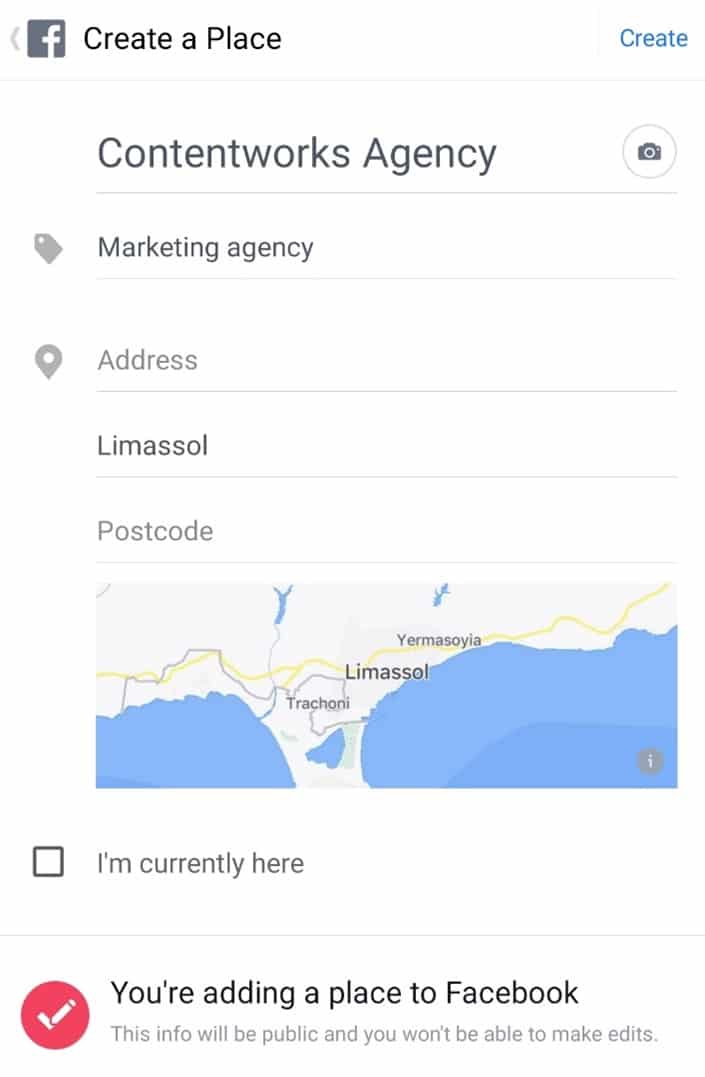 Instagram Live video
This is great for grabbing attention because followers get a push notification telling them you're going live. They can also comment in real time making it a great tool for building engagement and showcasing transparency. Freeman company goes live on IG to discuss key issues like Zoom fatigue. They also promote live sessions in advance to ensure maximum engagement.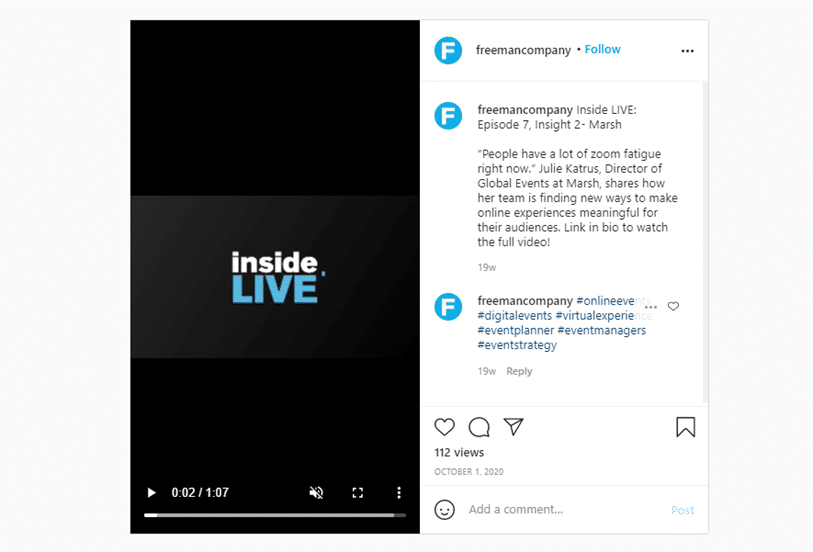 Stories Stickers and filters
They are so popular that it's a great chance for agencies to have some fun. Social media agencies can utilize AR filters, quiz stickers, funny effects, and even cat filters. We all want to be cat lawyer right now, don't we?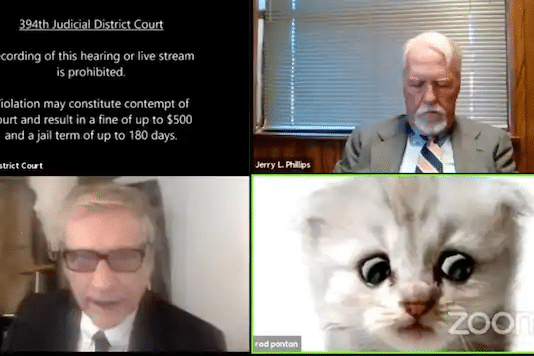 Tip for agencies
Use the features that best suit your content and agency and don't try to be something you're not. If you're a more serious agency, drop the filters and use Stories, for example.


3. Be Human And Sense the Tone
People buy from people even when it's B2B. Showcasing the people behind your brand, relating to other users and engaging with discussions is key. This shows that you're authentic, human-focused, and of course, capable of managing good engagement. In the age of fake news, consumers (and yes businesses too) are seeking more transparency in their business dealings. 70% of employers use social networking sites to research job candidates and the same is true for agencies. Most first-time clients have already checked out our Instagram, LinkedIn, and blog prior to the first Zoom call.
This post from createsuk hits the mark with good photography, tagging of other accounts and an engaging question.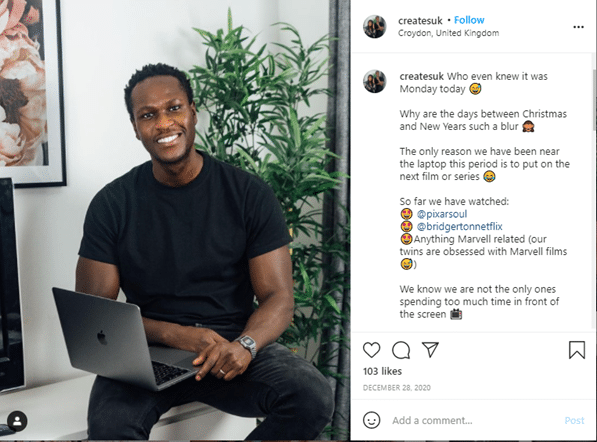 I love the human focus at skirt pr too. With great women-focused Stories like the ones below, the agency focuses on women-run businesses, challenges and successes. The great thing about this is that it's so inclusive. The agency does not set itself apart as too exclusive or elite to engage with real people and their stories. Love that!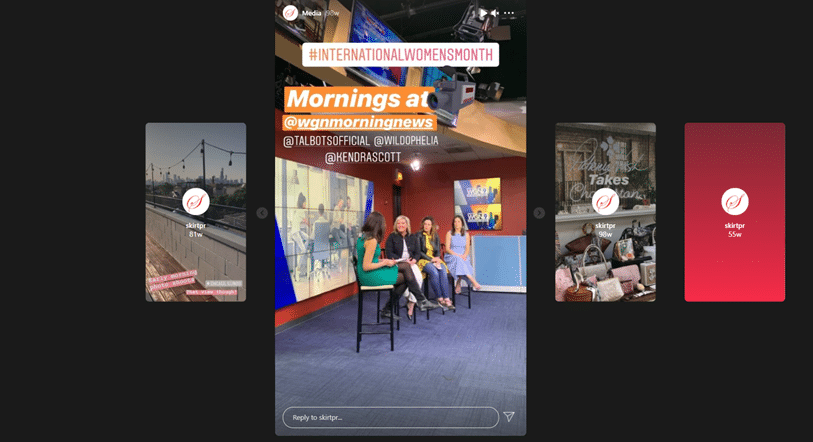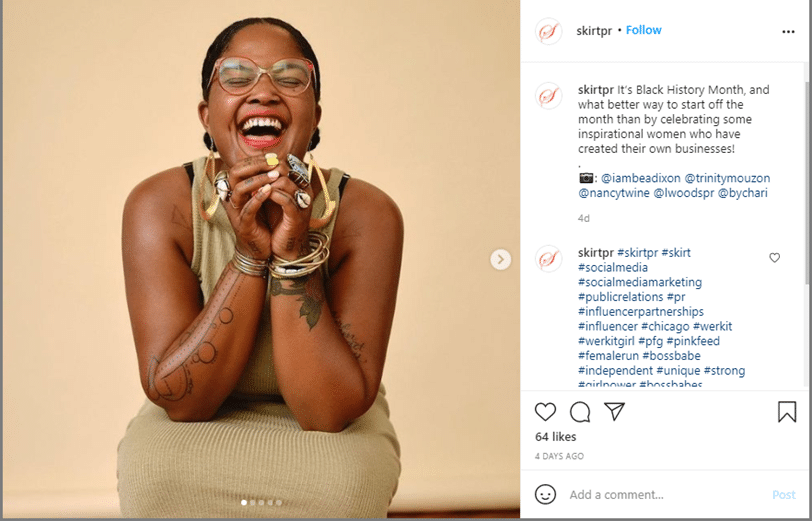 Being human and authentic doesn't stop at the post. You should also:
Read the room and understand your audience
Tag, mention, and thank collaborators or anyone featured in your photos
Reply to comments, questions, or suggestions in the comments
Take up good suggestions or fan feedback for future content
Provide real value by linking to helpful articles or resources
Avoid being too salesy, fans don't follow you for the hard sell
4. Nail Those Hashtags
Hashtags really do matter for Instagram content creation, especially if you are a marketing agency. A quick search on #marketingagency shows us 1,844,674 posts. That's huge. Of course, it's important to use these core hashtags in your posts to show up in common searches.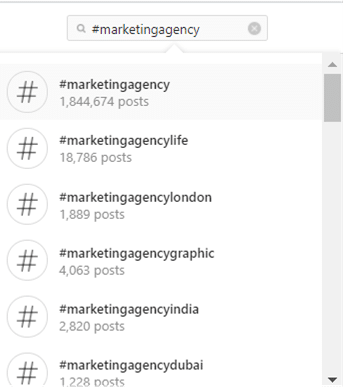 Top Instagram hashtags to use for marketing by volume include:
#marketing
#marketingtips
#b2cmarketing
#b2bmarketing
#strategy
#mktg
#digitalmarketing
#marketingstrategy
#mobilemarketing
#socialmediamarketing
However, it's also a good idea to have some core hashtags that are unique to you or fit with your agency, for example #Contentworks #literacyforall #lovewhatyoudo #limassol #cyprus
And then those that are specific to events, like this one in Athens. Here we used the event hashtags, location hashtags, and of course the agency name.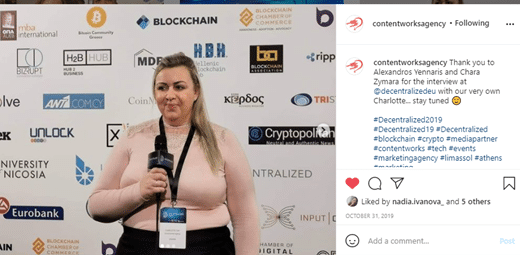 #Decentralized2019 #Decentralized19 #Decentralized #blockchain #crypto #mediapartner #contentworks #tech #events #marketingagency #limassol #athens #marketing
Research popular hashtags in your niche and document them for easy access. You should also follow IG trending hashtags as you would on other channels and incorporate them if they fit.
Tip for agencies
With Agorapulse you can listen for hashtags that interest you by creating a keyword/listening search for each IG account. Of course, the keywords will be different for you and each of your clients.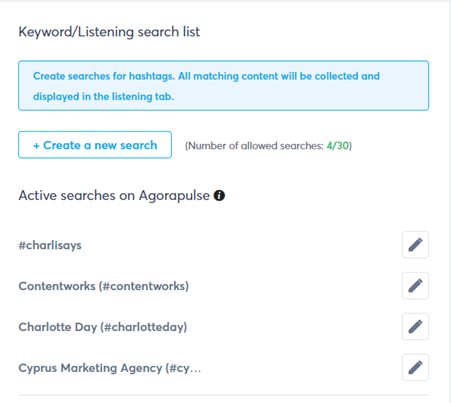 You can also save your favorite hashtags for each client making them easily accessible.

5. Nail Your Content
It doesn't matter how beautiful your photos or how impressive your client list. If your captions are poorly written, your audience respect will plummet. Badly written captions will, at best lose engagement and at worst, outright stop a client from approaching your agency.
Caption basics
Spelling and grammar. Though grammar rules are looser on social media, they still exist. All social media posts should be carefully checked for spelling and grammar.
Write like a human. This is especially true for social media agencies who should be at the forefront of connecting with fans. Write in first person, avoid using overly complicated terms and keep your comments or questions simple.
Add links to further resources. Sharing some great client work? Add an intriguing summary to your photo then link to your online portfolio or blog for more details.
Ask questions. If you want to get engagement on your posts then you need to ask for it. A simple question in your captions invites fan interaction.
Include tags. Always tag featured team members or clients you worked with. If you're sharing client work, tag them and thank them in your captions.
Include keywords. Keywords in your text will show up on Instagram searches which is helpful if a potential client is searching for "marketing agency" or "social media marketing agency" and you've been using it a lot in captions.
Quick Tips
Be friendly
Being friendly in your captions will endear you to potential clients and this is key for social media agencies on Instagram. I love this post from Kairos Media. It says "we're fun, friendly, and treat our team well. Oh, and we also have a very skilled team!"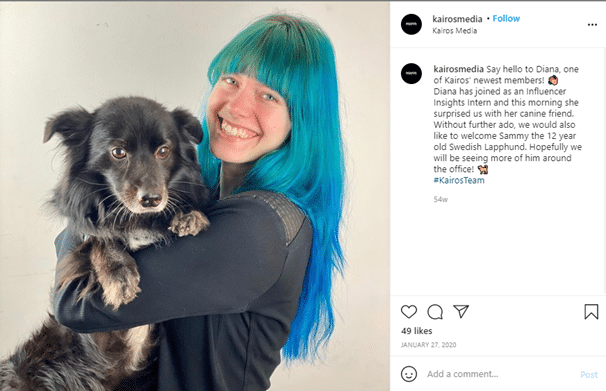 Promote your work while also you spotlight clients
I love this post from Firebelly Design that showcases their work and promotes the beer event. As a social media marketing agency, it's essential to be onboard with client launches, promos and events,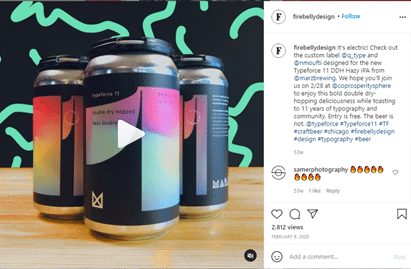 Write a concise summary
I love this caption from @y.media.labs. It summarizes the award, tags the right people and ends with a feel-good statement. It's not overly promotional because it doesn't need to be.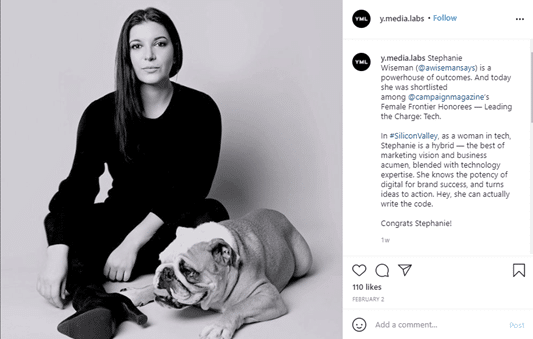 Use trending hashtags to highlight a good cause
We support Room To Read at Contentworks Agency and love to share their stories and campaigns. The link goes to our CSR page which explains our collab with the charity and encourages donations. We utilized trending hashtags #literacyforall and #charitytuesday.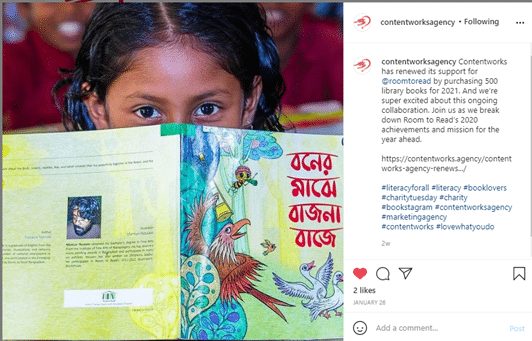 There's no question that Instagram content creation has become an indispensable way for social media marketing agencies to demonstrate their expertise, creativity, and the value they can bring to brands. As agencies themselves become case studies, they have a unique opportunity to showcase their skills and create Instagram content that will attract potential B2B clients. And by following the tips from this post for Instagram content creation, your agency will be able to establish itself as an influential player in the industry.
Get started on saving time and energy on your own social media management! Check out our free demo of Agorapulse to help you schedule, track, and measure all your social media efforts.