Once a dedicated photo sharing platform, Instagram has evolved to become a top destination for publishing images, short-form video, and ephemeral content. For social media managers, however, deciding which type of content to create isn't always easy. You're likely wondering:
Should I focus completely on Instagram reels, and are they worth the investment?
Is it still worth publishing image posts, and do they have to be carousels?
Where should stories fit into my Instagram content plan anyway?
Here's the good news: choosing between Instagram reels vs. posts (or even vs. stories) doesn't have to be a guessing game. When you understand the advantages of each content type and how each one can help you reach key marketing goals, you can make the right choice every time you press publish.
In this article, we'll break down the differences between Instagram posts and reels, from creative elements to algorithmic advantages to ROI potential. That way you'll be able to create more top-performing content for your company or clients.
What's an IG Reel?
An Instagram reel is a vertical short-form video (1080 x 1920 pixels) that can display in the main feed and in the reels feed. It can also display on your main Instagram grid and on your account's reels tab.
Check out the example from the @agorapulse Instagram account below. The reel (left) displays on both the main grid (center) and the reels tab (right).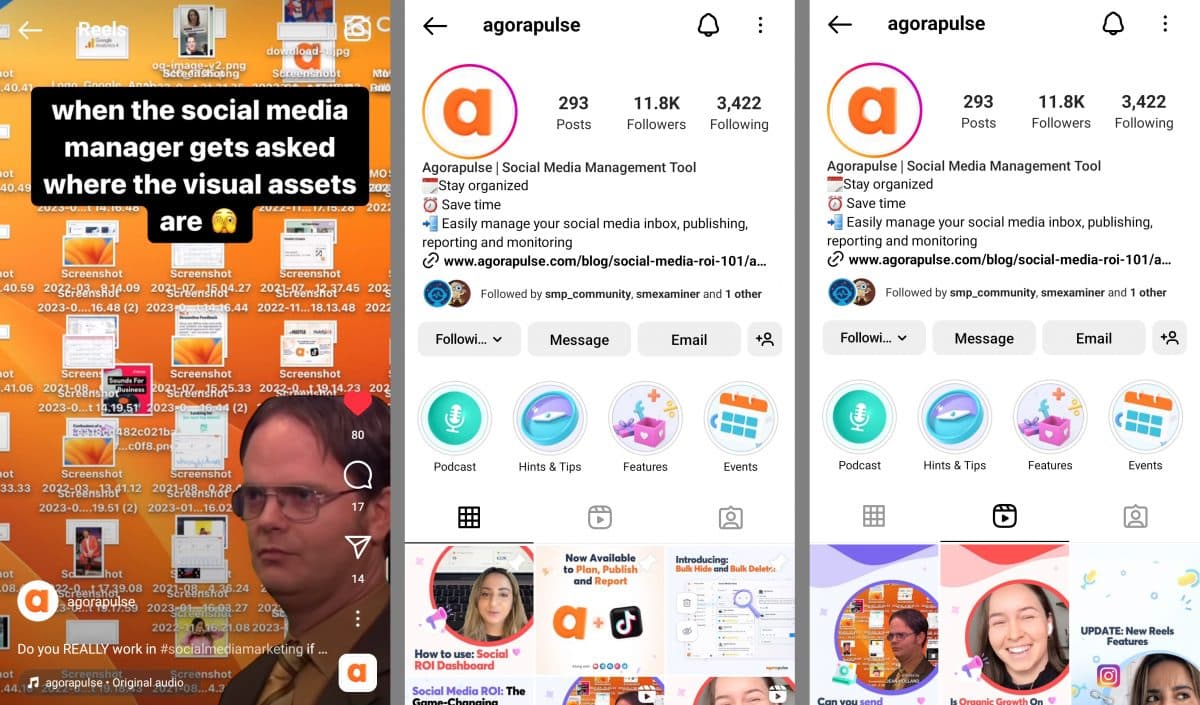 When Instagram first launched reels in 2020, these short-form videos could be up to 15 seconds long. As of April 2023, they can last up to 90 seconds or as little as 3 seconds.
Whether you aim for super short or really long reels, you can film them in one take. But you also have the option to cut multiple video clips together to create a more dynamic, fast-paced feel.
One of the biggest perks of reels is that they give social media managers a ton of creative freedom. Using the Instagram app, you can add a long list of creative elements to your short-form videos:
Filters and effects that make your content look more vibrant and stand out in the feed
Transitions that create a seamless shift between video clips
Text overlays that span the entire video or display for a set time period
Stickers that add design flair and interactive options for followers
Audio from Instagram's music library, including royalty-free options
Voiceovers and original audio to highlight your brand's unique personality

Captions, including up to 2,200 characters of text, emojis, and hashtags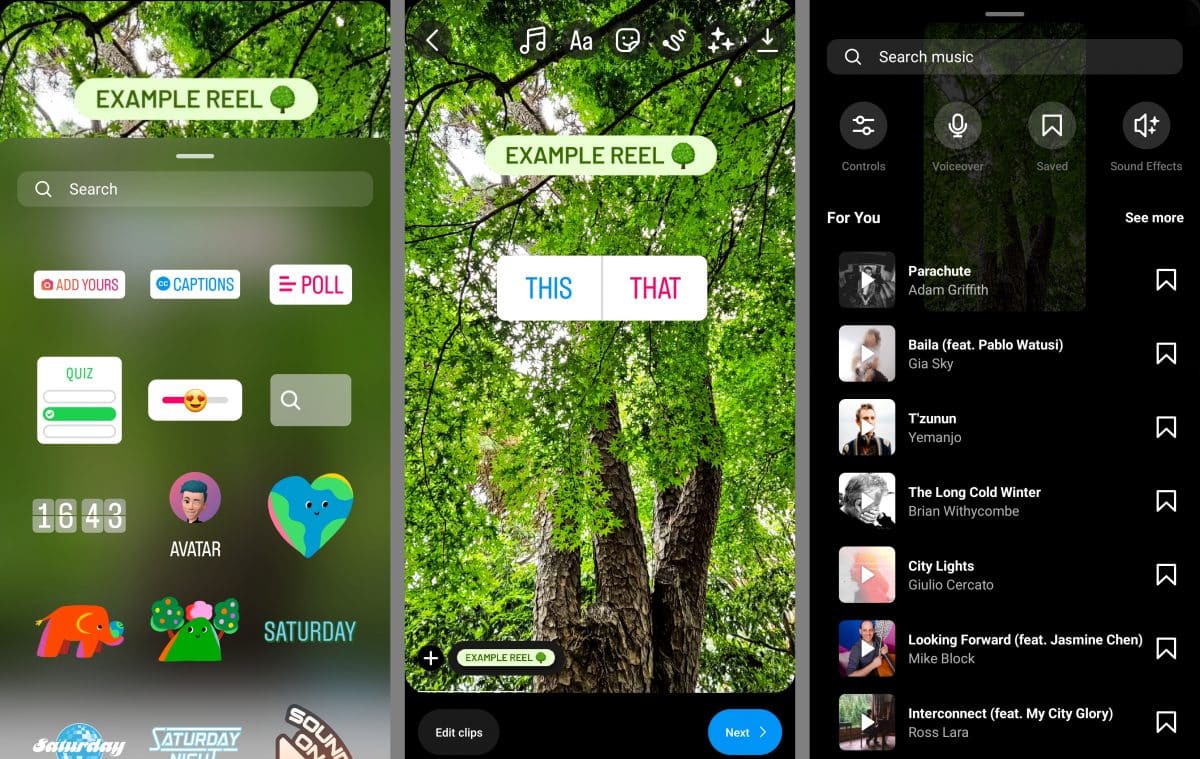 Apps for Instagram reels
Technically, you can do everything from filming footage to adding the above elements directly in the Instagram app. But you can achieve even more if you include third-party apps in your workflow.
For example, I use Adobe Express to make technical edits like adjusting aspect ratios, changing playback speed, and removing audio. Since it's a free app, it can fit into any social media manager's workflow.
For creative edits, I use Canva, another free social media marketing app (with paid subscription options). It's ideal for designing text overlays, cutting clips together, and adding royalty-free music.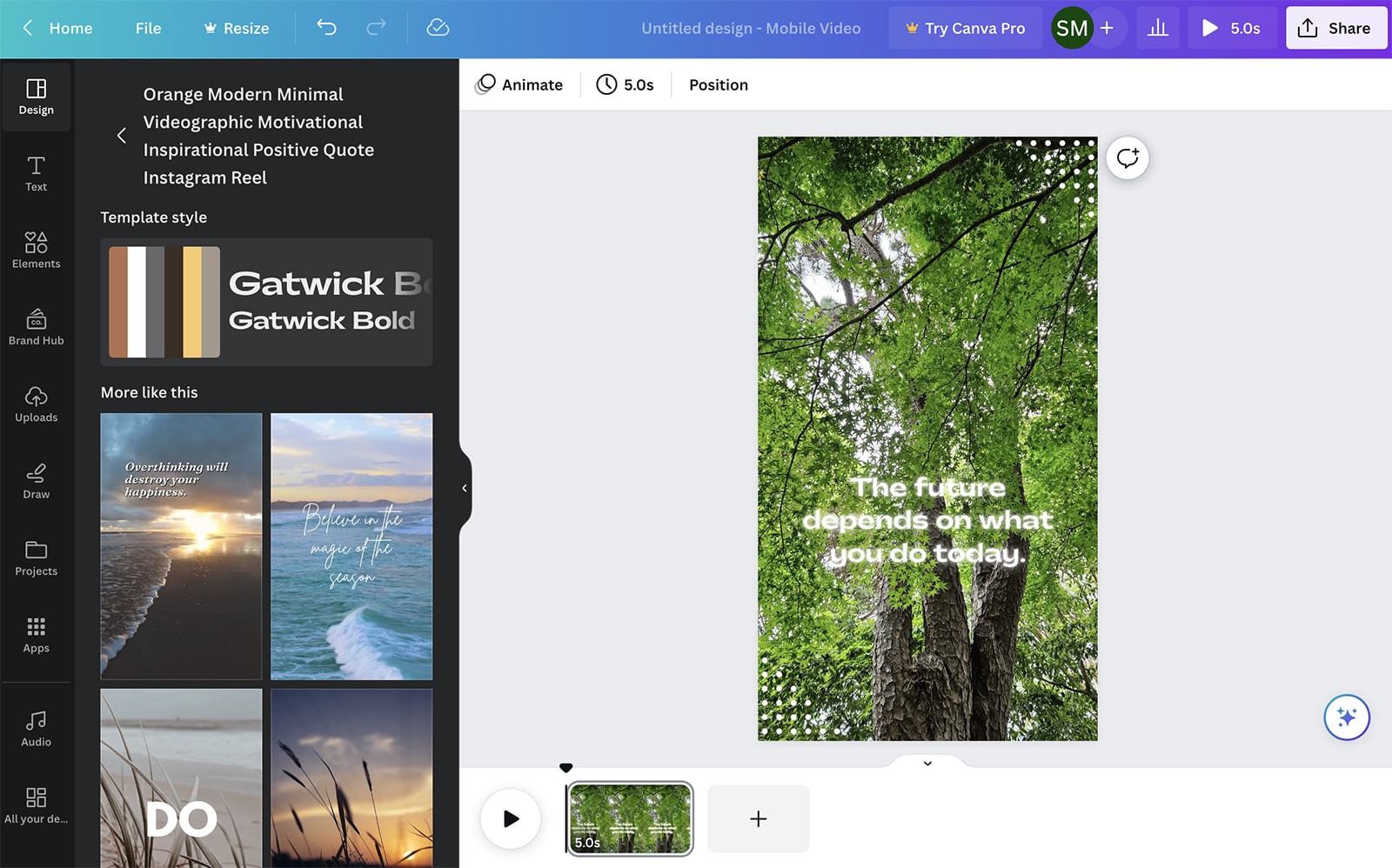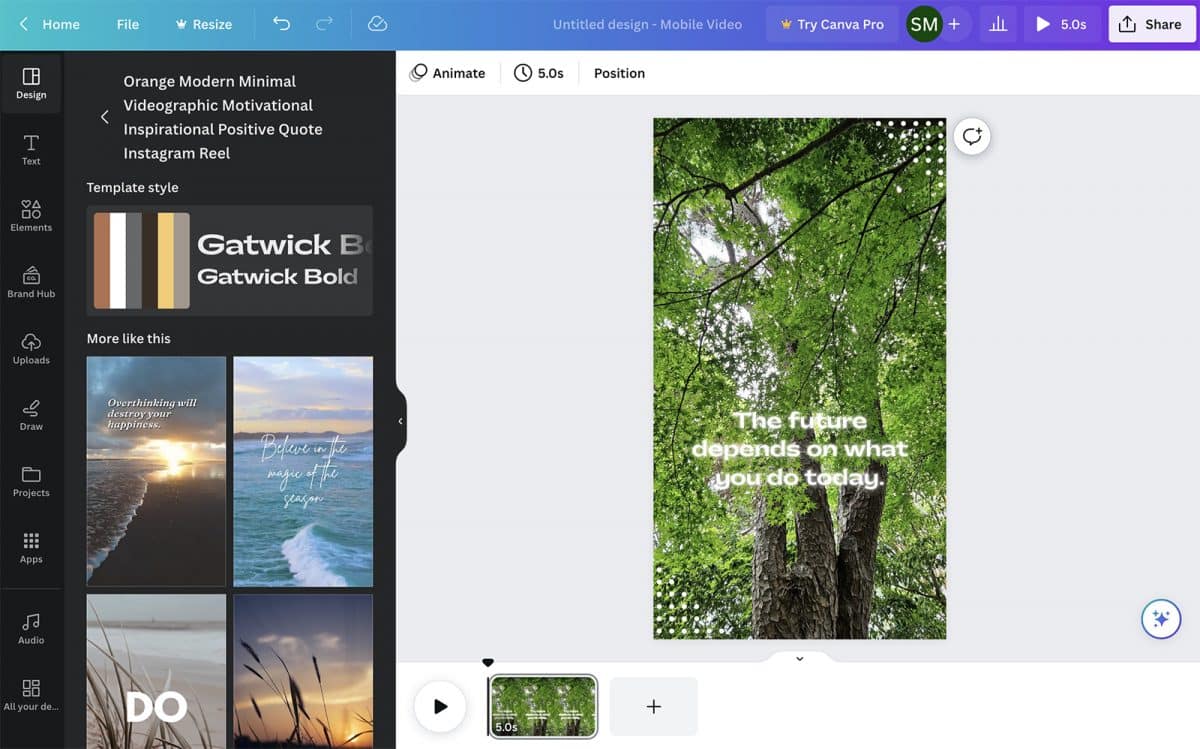 If your team creates short-form video content for both Instagram and TikTok, then Capcut is another good pick for editing reels. With Capcut, you can add green screens, generate voiceovers, and work collaboratively.
Agorapulse is a smart choice for scheduling reels, as it's just as helpful whether you're a social media team of one or if you're working with a large team. With Agorapulse, you can publish reels directly or get a push notification to complete the process on a mobile device.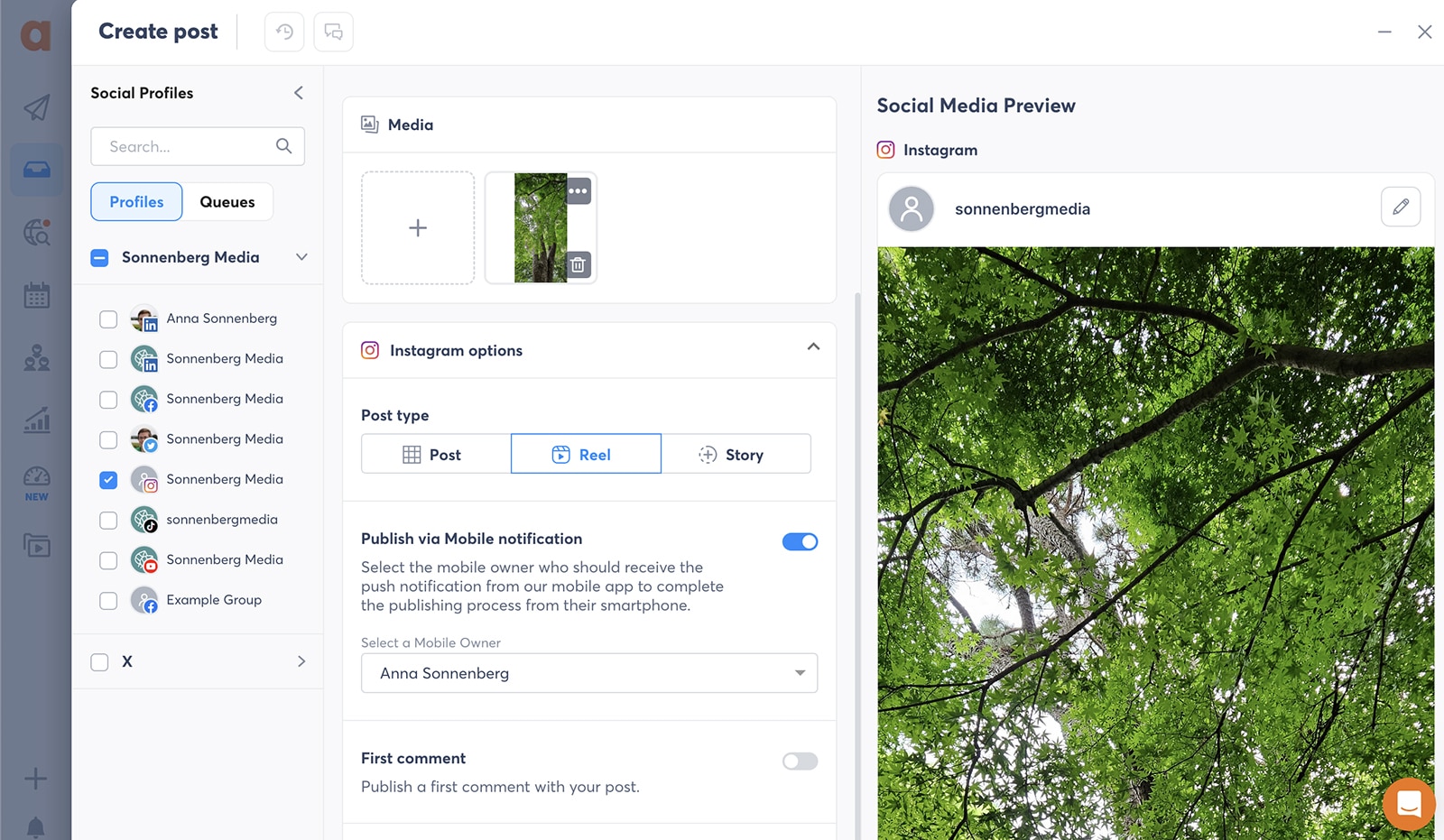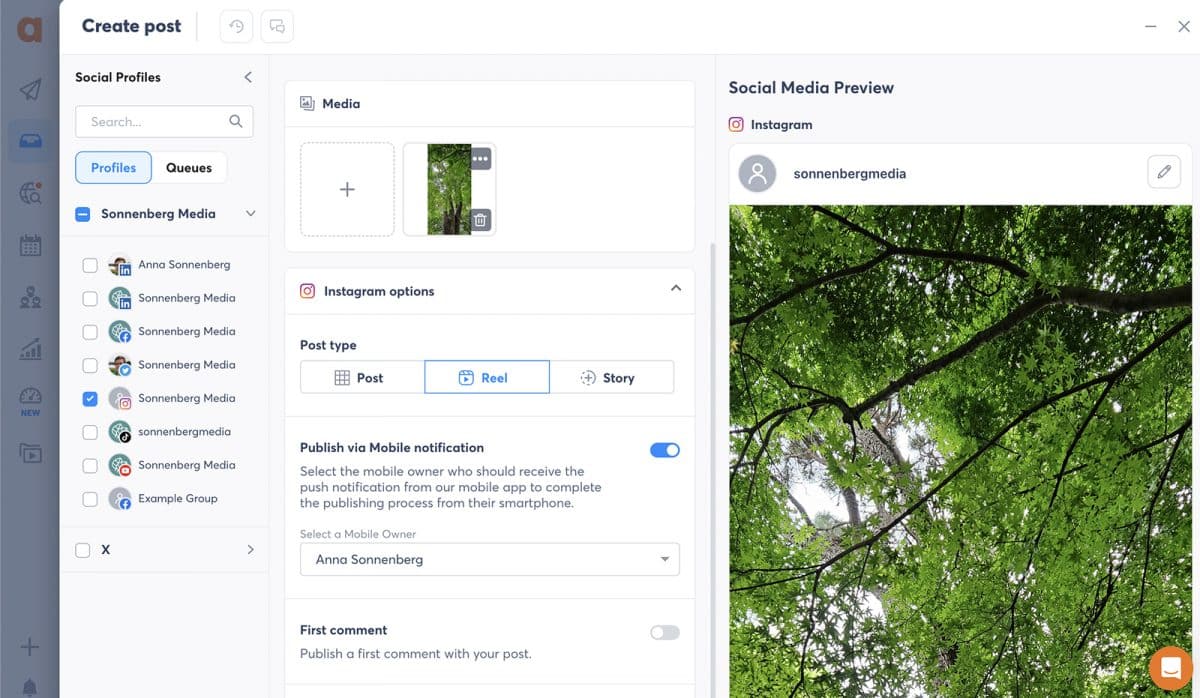 Whether or not you publish content from Agorapulse, you can rely on this social media dashboard for moderating comments, responding to DMs, and analyzing results. You can even share reels reports with stakeholders directly from Agorapulse.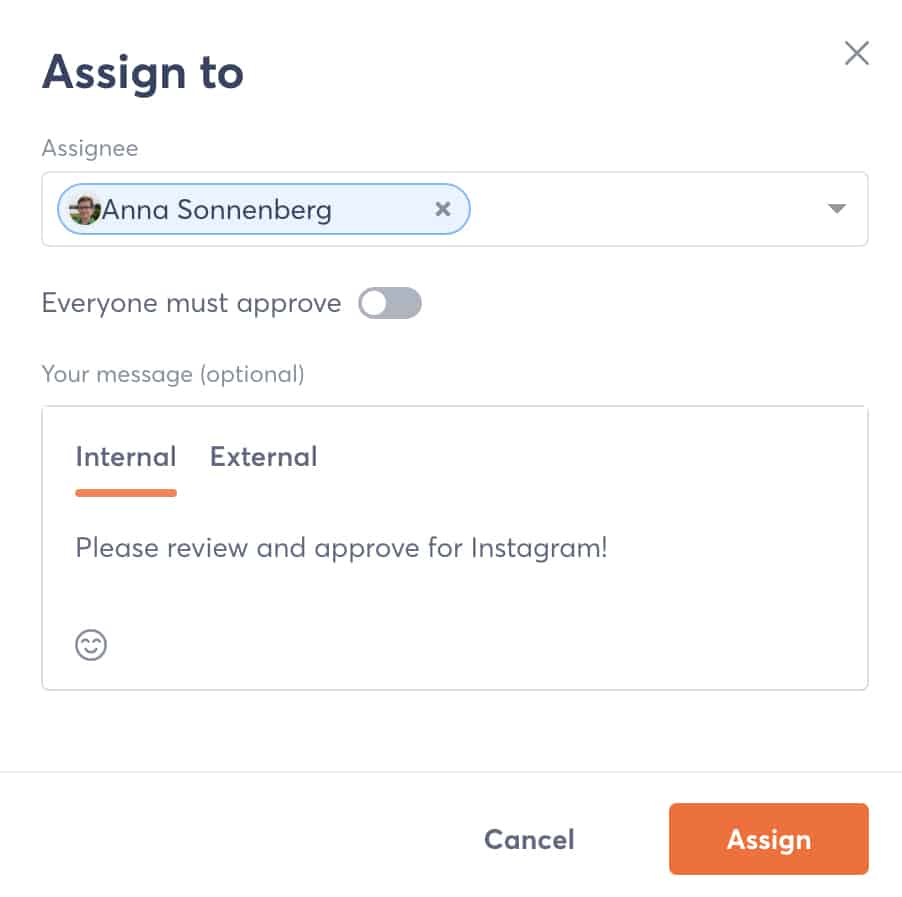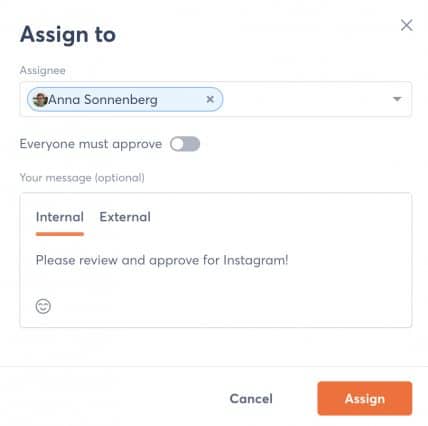 Need your boss or clients to approve your Instagram reels before they go live? With Agorapulse, you can set up approval workflows that include both internal and external stakeholders—so you can work efficiently without compromising the brand.
What's an IG Post?
An Instagram post is a static image (1080 x 1080 pixels or 1080 x 1350 pixels) that appears in the feed and on your account's grid. Feed posts can include photos or graphics, but they have to be still images. Instagram phased out video posts in July 2022, so all individual videos are now reels.
Posts have to include at least one static image. But they can feature up to 10 creatives total, which can include a mix of photos and videos. If you add more than one creative to a post, it automatically displays in an interactive carousel format—like the example below from the @agorapulse IG account.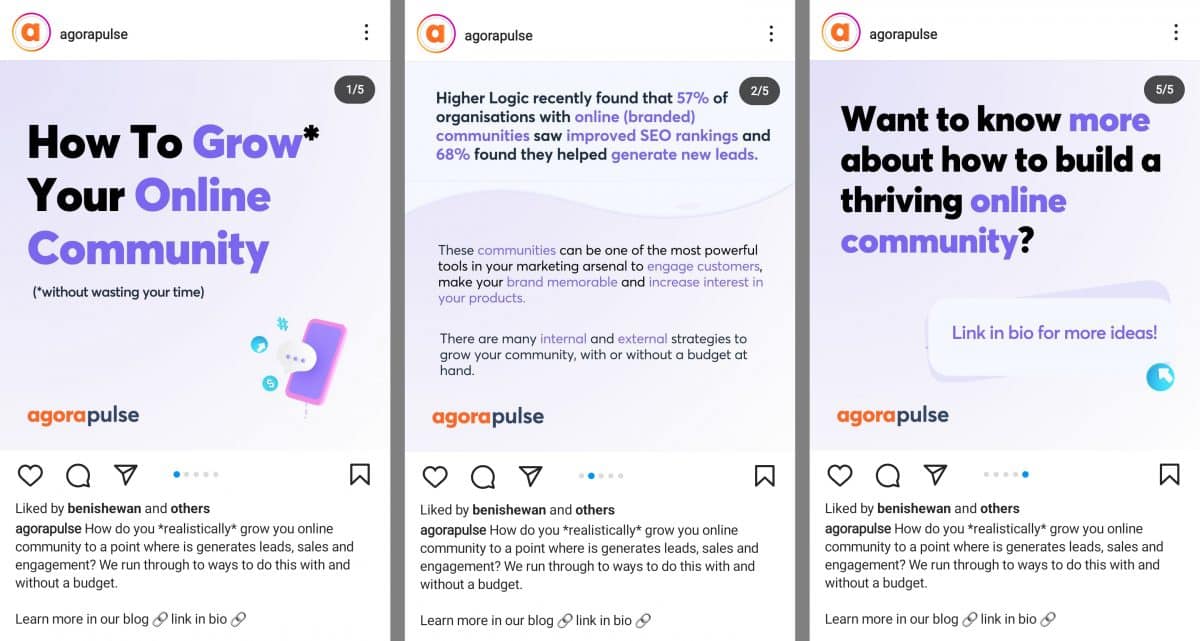 Instagram has far fewer built-in tools for editing posts than it does for reels. However, the mobile app gives you access to:
Filters that add color and vibrance to your posts
Editing tools that let you adjust brightness, contrast, saturation, and sharpness
Magic wand tool that adjusts lux to help your post stand out in the Instagram feed
Music and audio that makes feed posts more engaging
Captions that support up to 2,200 characters' worth of text, emojis, and hashtags
Apps for Instagram posts
Because Instagram doesn't have many options for editing posts, third-party apps are especially helpful for creating this kind of content. I recommend adding free photo editing and design apps to your workflow.
For quick photo edits on mobile, Snapseed is a great choice. In addition to basic tools like adjusting brightness, contrast, and color, this app has an HDR feature that can really make images pop.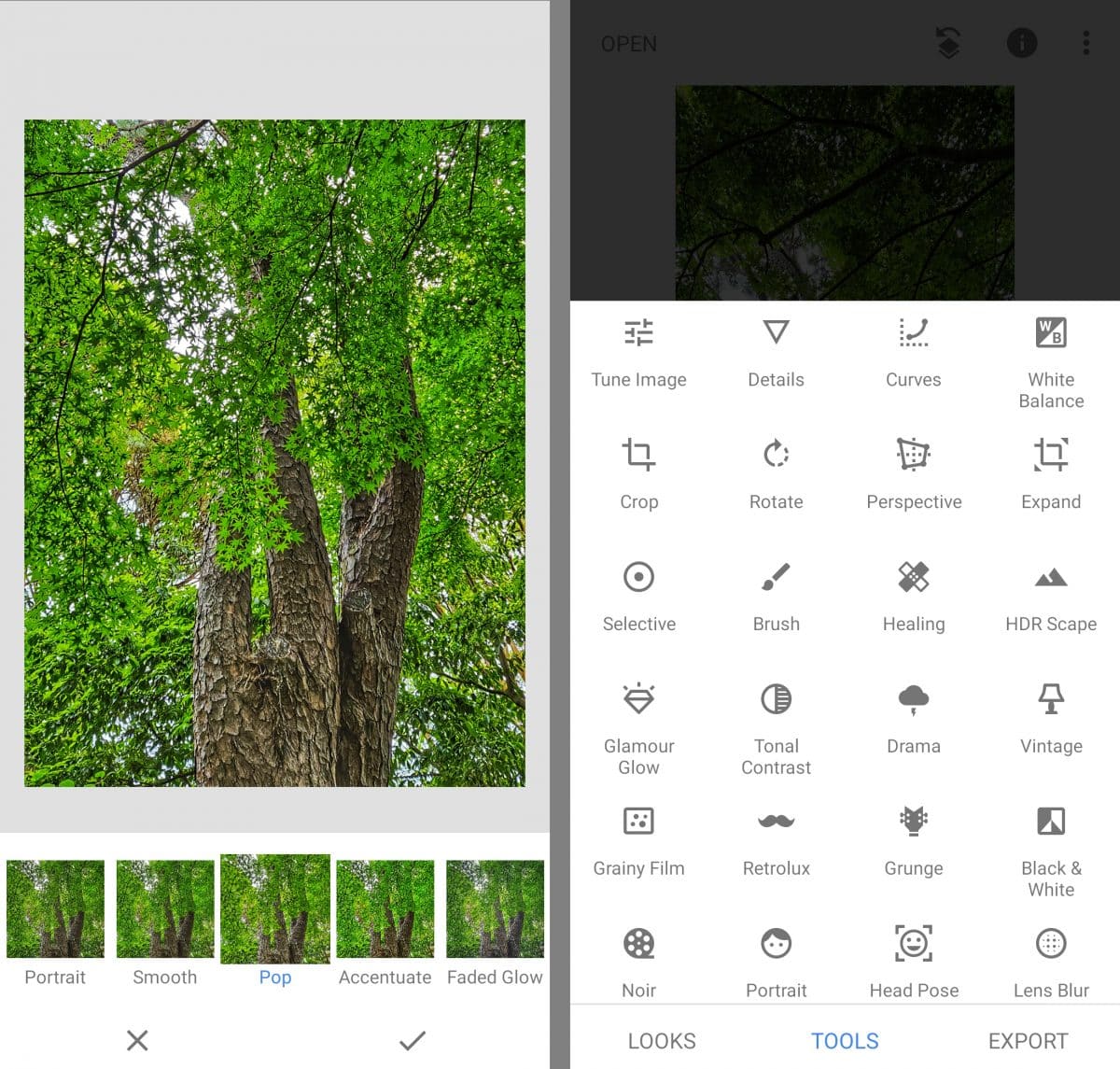 For more complex designs and overlays, Canva is an excellent resource. Its templates are great starting points for Instagram graphics, and the app integrates with Agorapulse—which means you can import designs directly into your scheduling app.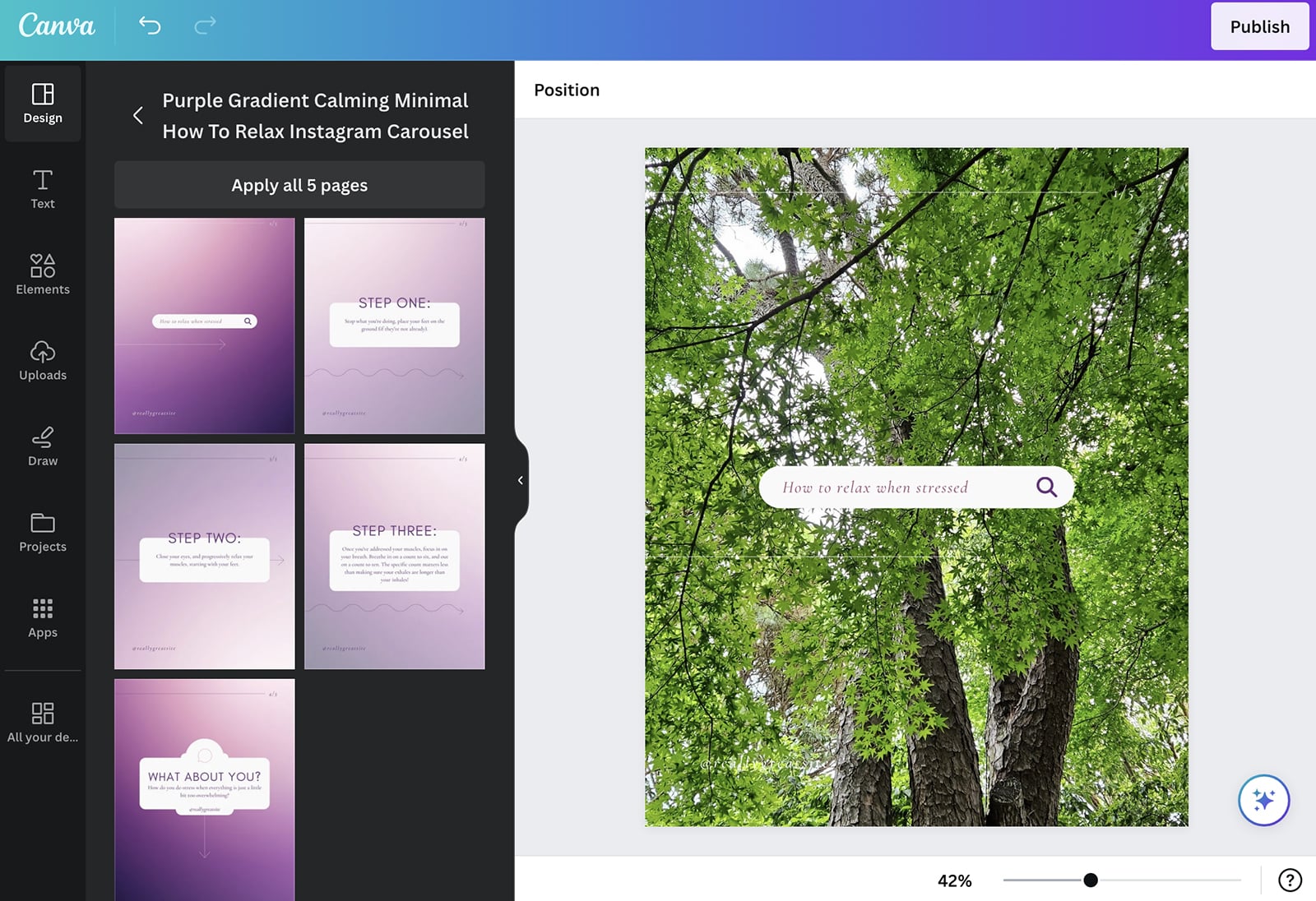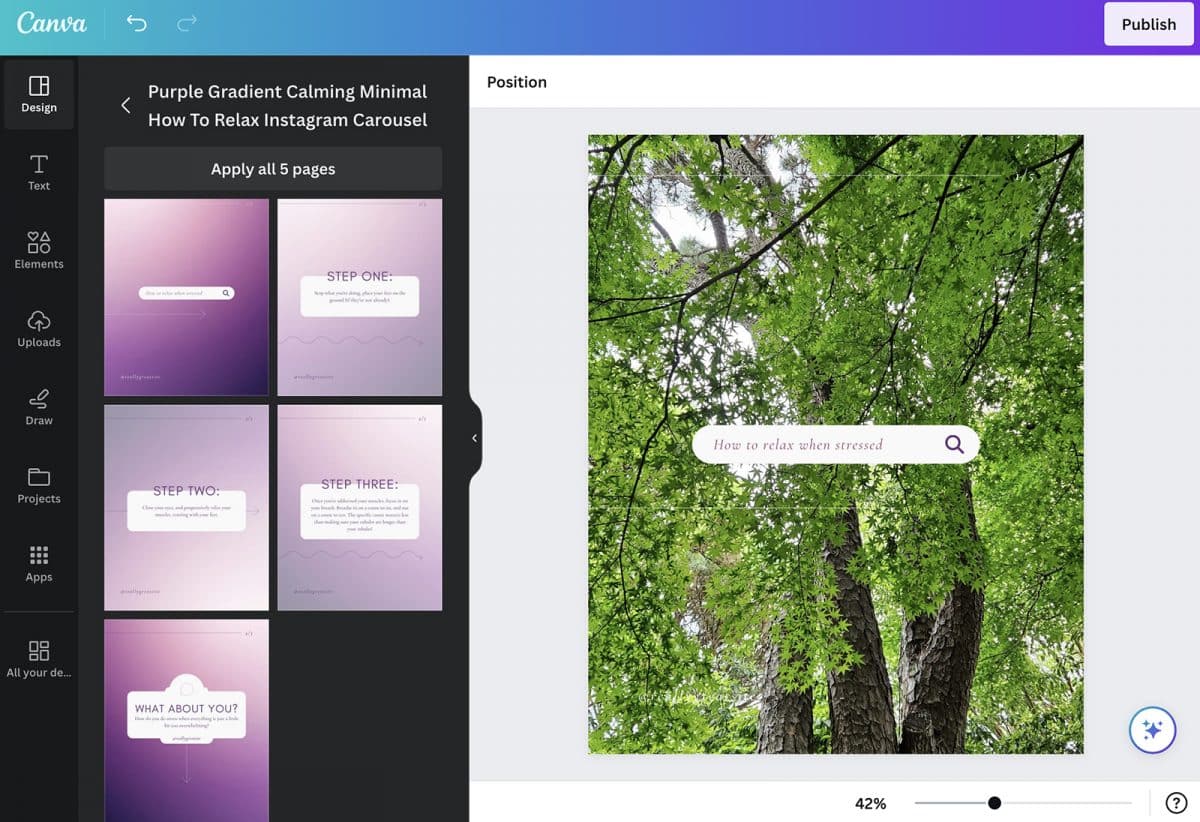 In addition to scheduling and publishing posts, Agorapulse also simplifies Instagram engagement, listening, and reporting. From a single dashboard, you can manage multiple Instagram accounts without having to jump from tab to tab.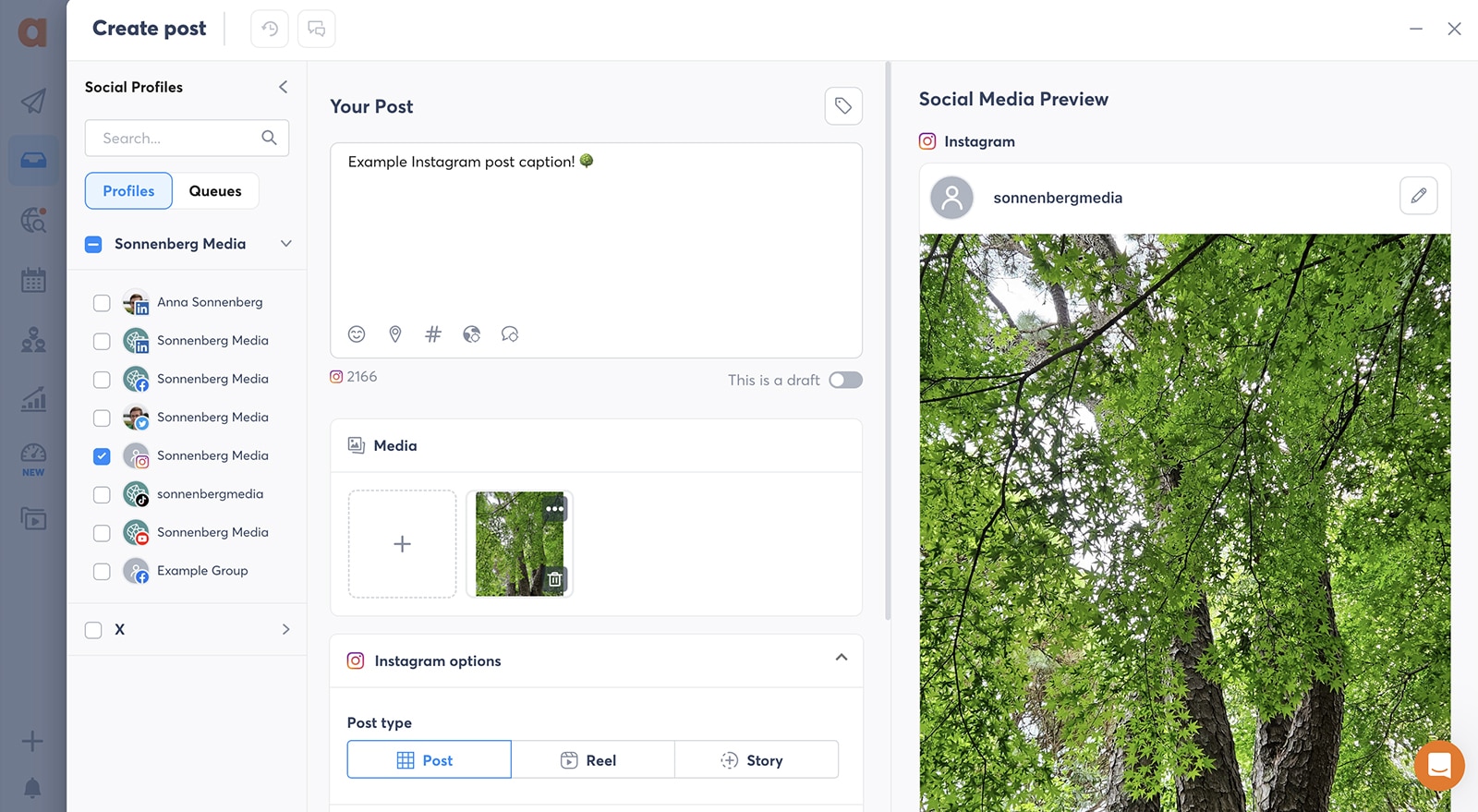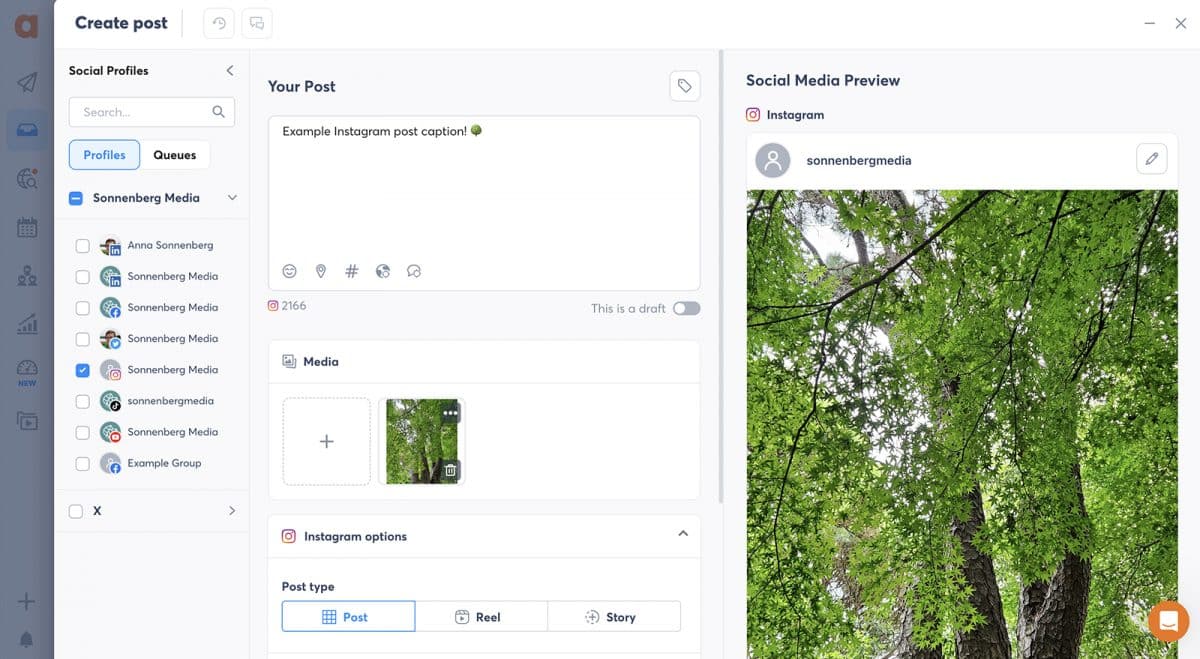 Agorapulse's approval options also work with feed posts. You can send any image or carousel post to internal or external users and get their sign-off before the content auto-publishes.
What Is a Reel vs. Post on Instagram? 6 Key Differences
On the surface, the format is the biggest difference between reels and posts. But choosing the right Instagram content type is more than just a design-related decision. Let's take a closer look at what sets posts and reels apart.
| | | |
| --- | --- | --- |
| | Instagram reel | Instagram post |
| Format options | Short-form video | Single images and carousels |
| Interactive tools | Stickers, tags, message & reminder buttons | Tags and message & reminder buttons |
| Algorithm factors | User activity data | Post and author data |
| Average reach | Potentially higher | Often lower |
| Average engagement | Typically lower | Usually higher |
| Return on investment | Your mileage may vary | Your mileage may vary |
1. Format options
Technically, Instagram reels and posts have completely different formats. The former is a short-form video, while the latter is a still image.
Seems like pretty clear differentiation, right? But there's more crossover between the two content types than you might think.
For example, it's possible to use videos in Instagram posts. However, they have to be part of a carousel. They also need to be in square (1080 x 1080 pixels) or portrait (1080 x 1350 pixels) format instead of short-form video (1080 x 1920 pixels) format.
In addition, you can use reels to publish photos and graphics—either on their own or alongside video clips. When you add a still image to a reel, Instagram automatically displays it for 5 seconds, essentially creating a photo montage.
2. Interactive tools
Now you know that the source material doesn't necessarily have to determine the kind of content you publish to Instagram. So how else can you make a decision?
For many social media managers, interactive capabilities are crucial—especially if you want followers to respond to your content directly in the Instagram app.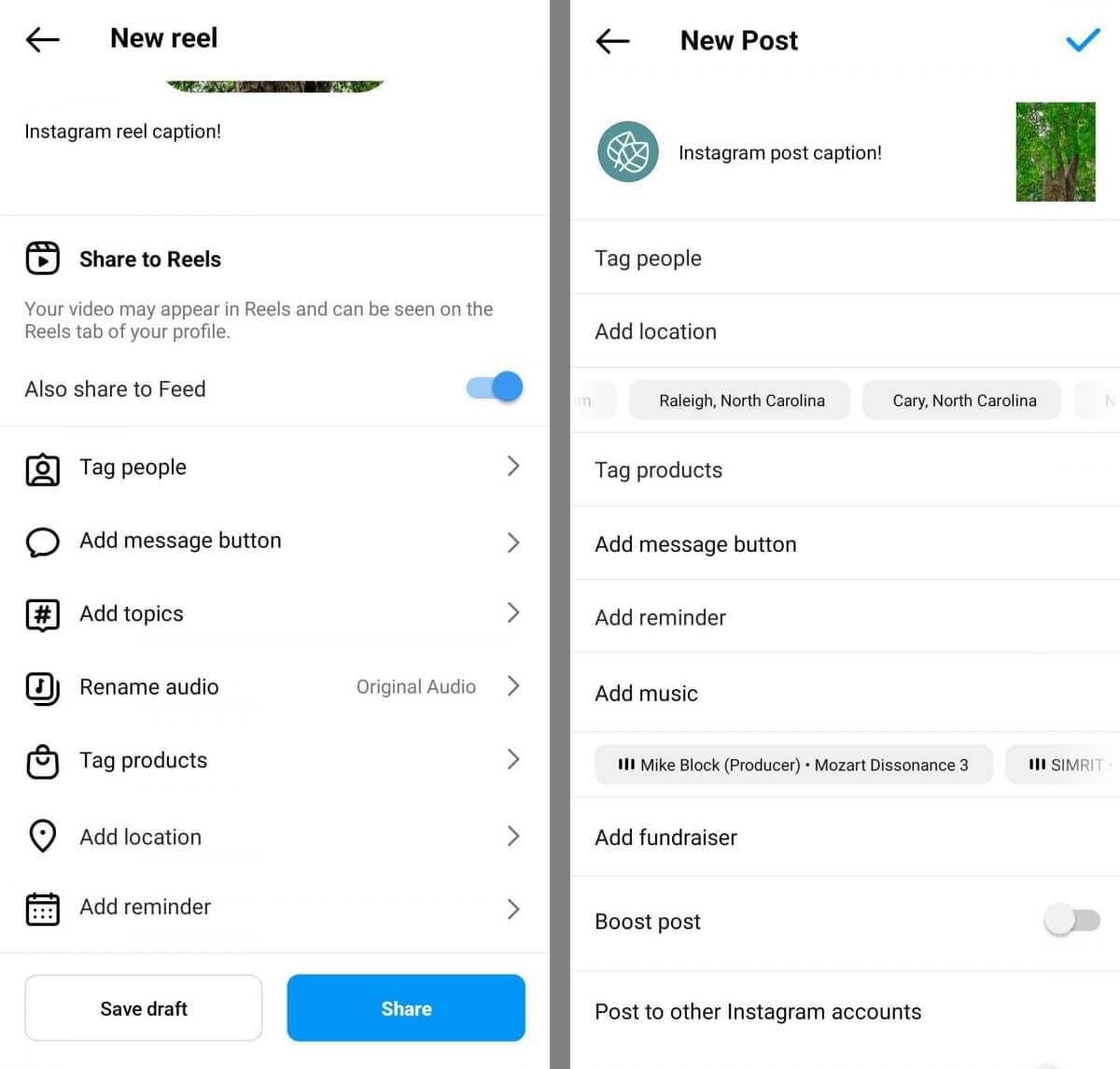 Both reels and posts support in-app tags for products and locations. If you have an Instagram shop, you can tag products to encourage customers to browse and buy items directly from your content. And if you have a physical storefront or venue, you can use location tags to get more foot traffic.
Both content types also allow message buttons. If you want to get more DMs from customers, you can add a message button to a post or reel, inviting users to start a conversation right in the Instagram app.
If you want followers to opt into reminders, you can use either Instagram posts or reels as well. Both content types support reminders, which send in-app notifications about in-person or virtual events like content uploads or product drops.
However, posts don't allow interactive stickers. As a result, reels are a better choice for getting engagement via hosting polls, running quizzes, and inviting followers to respond with their own content.
3. Algorithm factors
The Instagram algorithm is slightly different for posts versus reels.
For posts, the two most important ranking factors are information about the post and information about the account. In other words, posts are a better choice for connecting with followers who regularly engage with your content.
For reels, the two most important ranking factors are the user's activity and interaction history. In other words, reels are more optimal for connecting with non-followers who may be interested in your content.
Instagram's built-in insights break down the ratio of followers to non-followers who see each post or reel. These analytics are helpful for making sure your content reaches the right mix of engaged customers to new followers.
4. Average reach
Because the reels algorithm and the reels feed work together to get your content in front of more new-to-you users, short-form video typically generates much higher reach. In fact, Instagram encourages users to create engaging reels in order to qualify for recommendations.
So if your top goals center on Instagram metrics like reach and brand awareness, posting reels is probably your best bet. In fact, if you open your Agorapulse dashboard and sort your top content report by reach, you'll probably see mostly reels.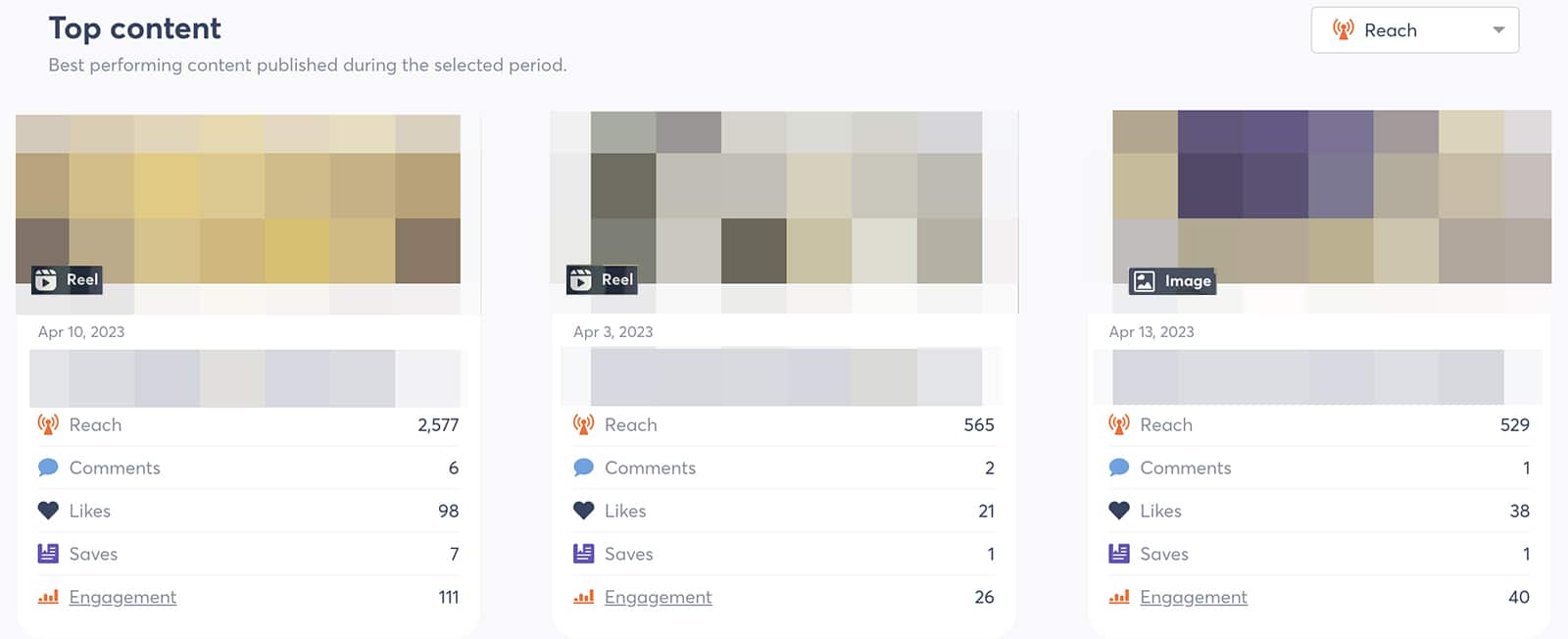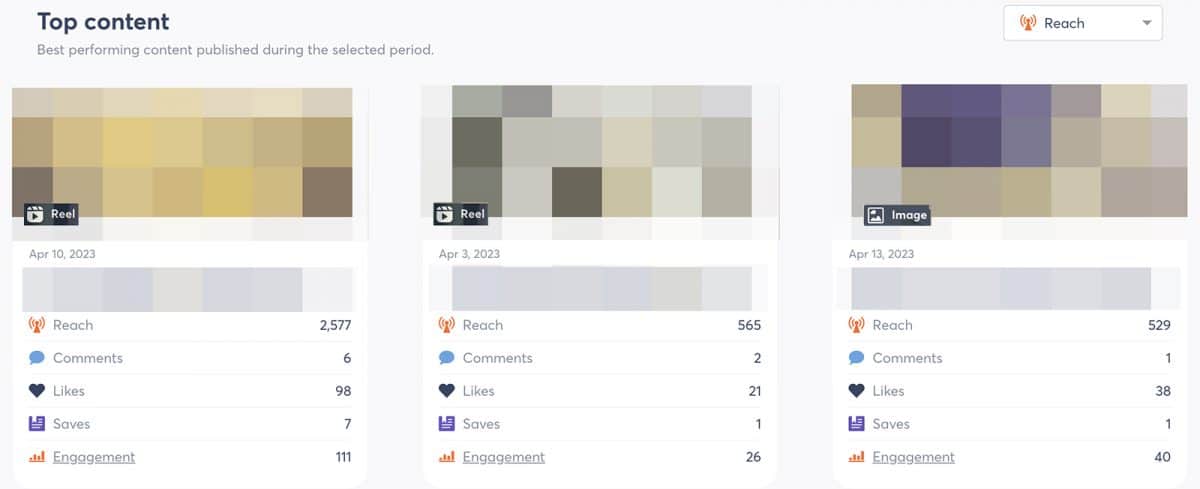 So does that mean posts will never outperform reels in terms of reach? Not at all. In the example report above, an image post and a carousel post appear on the account's top content report—which suggests it's still worth publishing high-quality images.


One way to drive discovery for any type of content is to use high-performing hashtags. Agorapulse's hashtag report can help you identify which ones get the most interactions so you can prioritize adding them to new content.
5. Average engagement
However, engagement analytics tell a different story. Across industries, carousels have the highest engagement. The example below confirms this data, as carousels feature prominently in the top content report.


Publishing engaging carousels is probably your best bet when you want to boost engagement. But that doesn't mean you should write off reels for engagement.
When you storyboard reels, think about how you can connect with followers. For example, you might ask questions that prompt followers to respond or show entertaining, educational, or relatable situations that elicit reactions.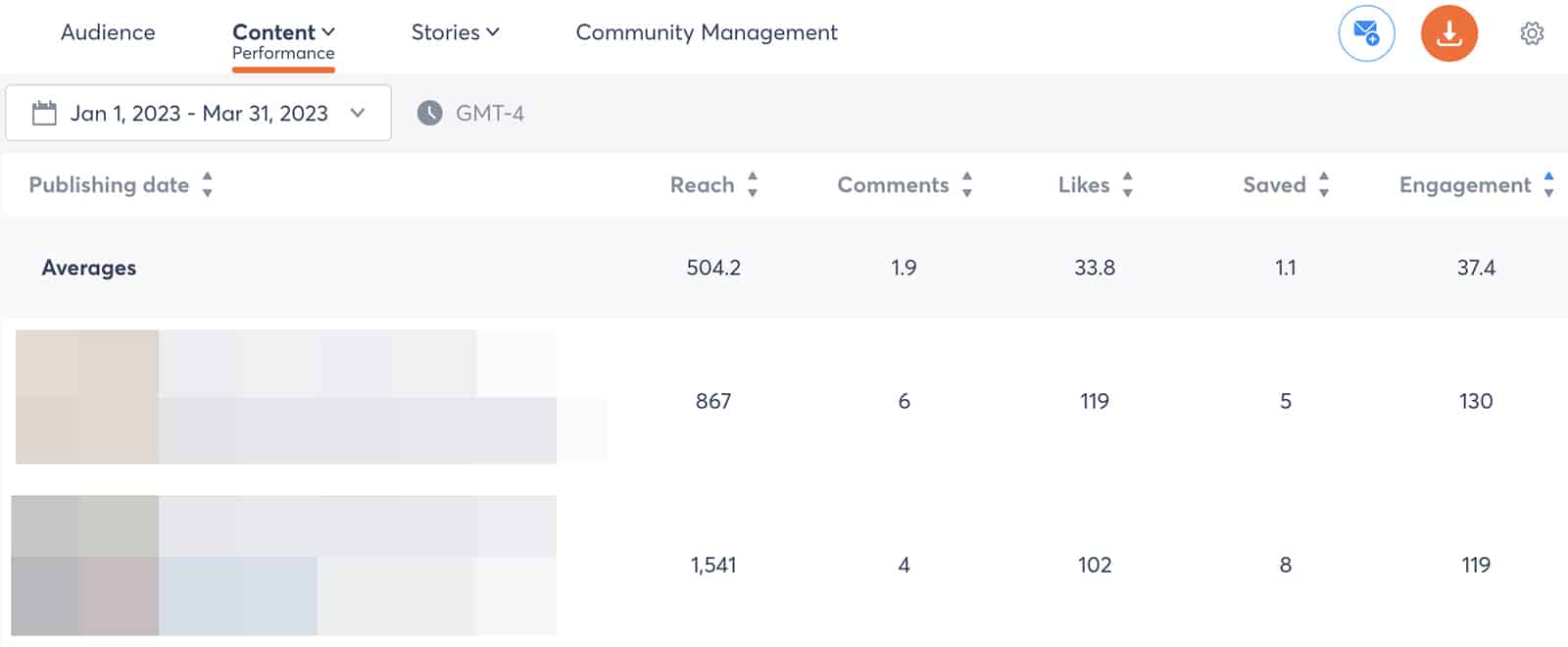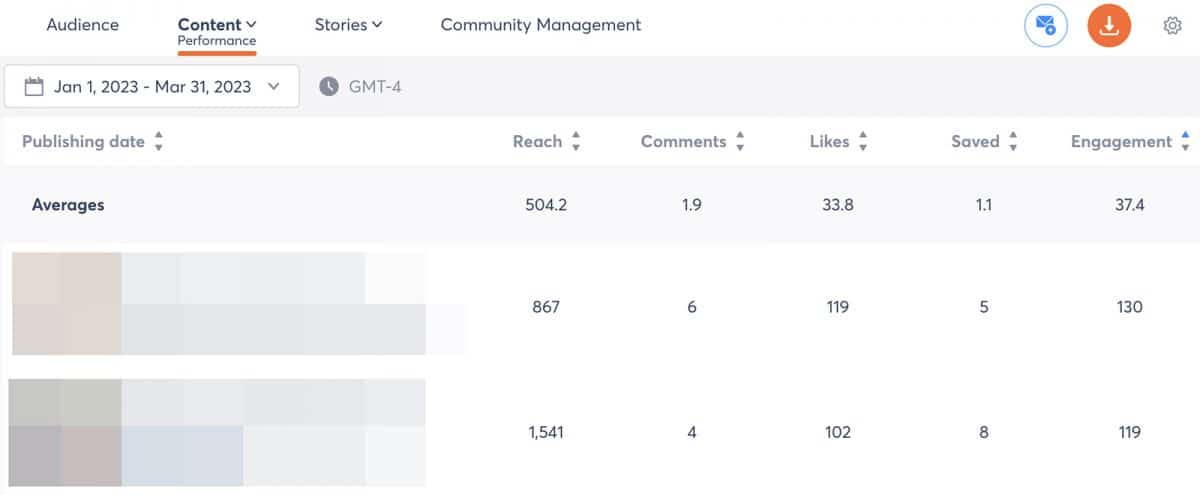 To get a better idea of what works for your audience, sort your Agorapulse content report by engagement. Then open and review your top-performing reels and look for patterns or elements that you can repeat.
6. Return on investment
Reach and engagement are useful for growing your audience and boosting brand awareness. But if your marketing goals include generating leads or driving sales, you really need to know the content type that leads to the highest ROI.
There's no one-size-fits-all answer to the ROI question, so review your account analytics to find the right answer for your business. With Agorapulse's ROI report, you can pinpoint exactly which campaigns drive website traffic, transactions, and revenue.


To keep track of ROI from the link in your bio, add a UTM code to the URL. The Google Analytics Campaign URL Builder is a good resource for creating UTM codes.
Although you can't add tappable URLs to content on Instagram, you can include trackable URLs in DMs. Agorapulse has built-in campaign tracking, so you can create and add tracking codes directly from your dashboard. If you create separate tracking templates for DMs that result from Instagram reels vs. posts, you can more easily calculate ROI for each content type.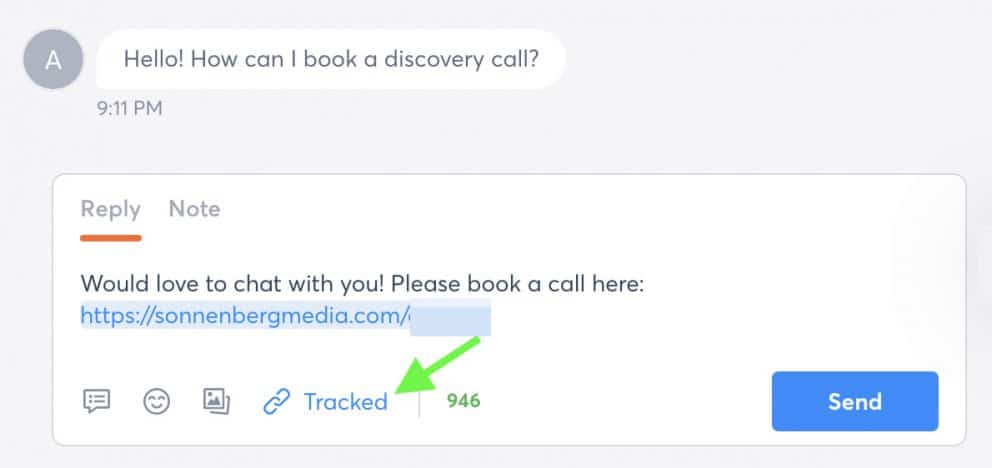 Any time you include a link in a DM response, click the Untracked icon on your Agorapulse dashboard. Then select a tracking template or create a new one. Keep an eye on your ROI report to see your most lucrative content, and use those insights to drive your Instagram strategy.


IG Story vs. Reel: When to Use Each
When you want to create short-form video content for your feed, posting Instagram reels is a smart choice. But when should you publish Instagram stories instead?
Like reels, Instagram stories use a full-screen vertical format (1080 x 1920 pixels) and can support both videos and photos. Stories also have a long list of built-in editing tools for adding text overlays, drawings, and stickers.
Since stories support interactive stickers, you can use this content type to ask questions, poll followers, and run countdowns. Stories also support links, making them ideal for sending customers to external landing pages.
Unlike reels, Instagram stories disappear after 24 hours. As a result, they're best for content that isn't evergreen. In other words, stories are great for:
Teasing product launches
Announcing limited-time offers
Highlighting time-sensitive events
Sharing behind-the-scenes content that doesn't fit your grid aesthetic
Linking out to external resources (like in the Agorapulse story below)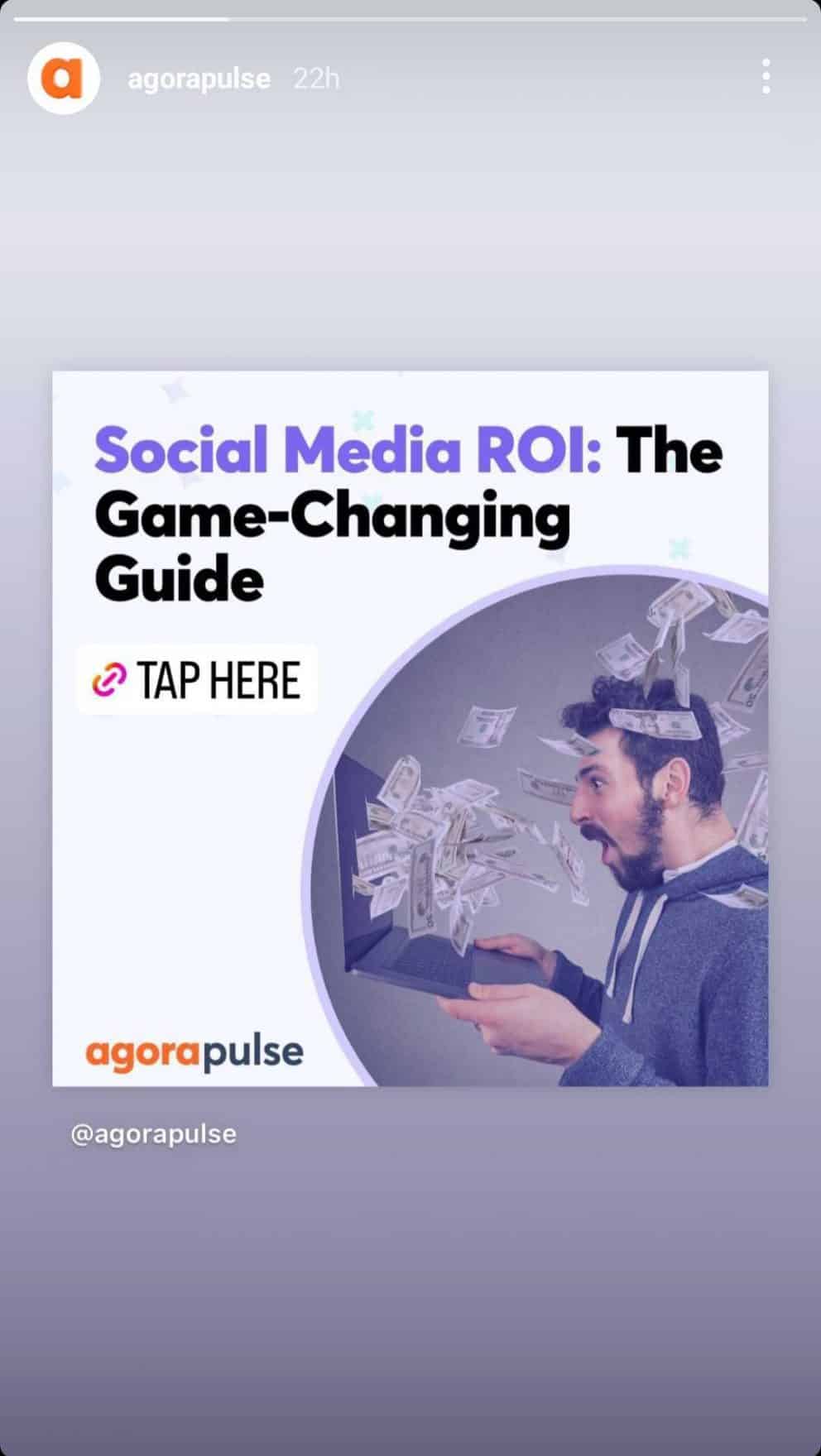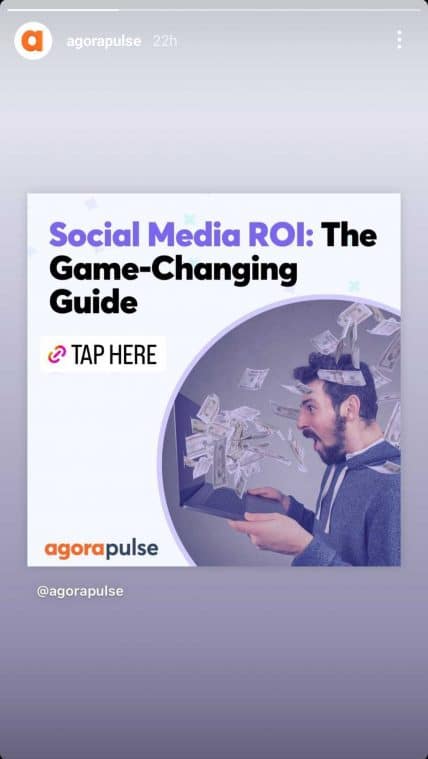 Because stories work so well for driving website traffic, they have the potential to create the highest ROI of any Instagram content. How can you confirm whether stories are driving your leads and sales?
You can always create a separate landing page to link to from Instagram stories. Then you'll know that any transactions that come from that landing page originated in a story.
But there's an easier way include data from Instagram stories in your ROI report. When you schedule a story from your Agorapulse dashboard, add the link to to the caption box. Then click the Untracked icon to add a tracking template and finish scheduling.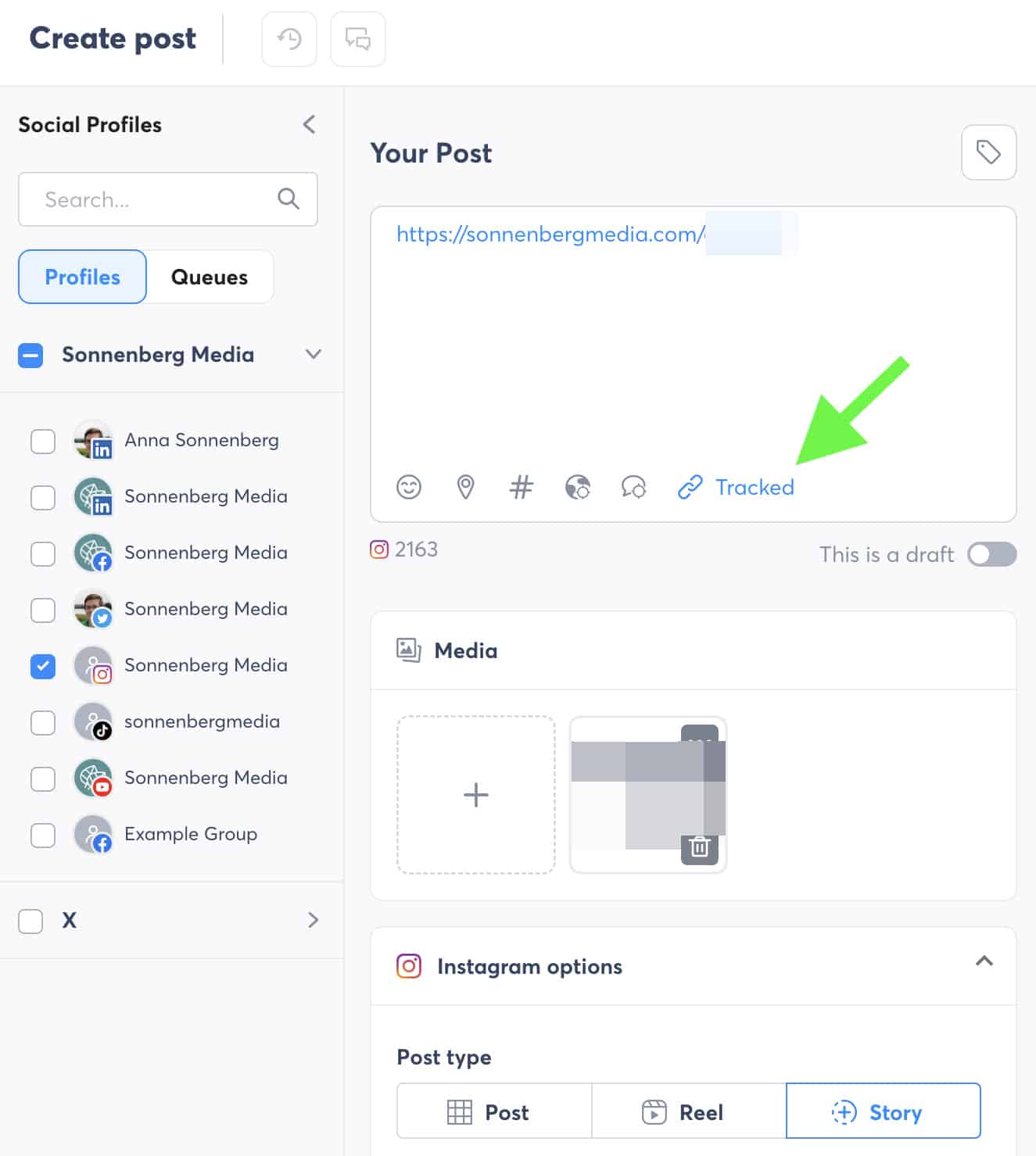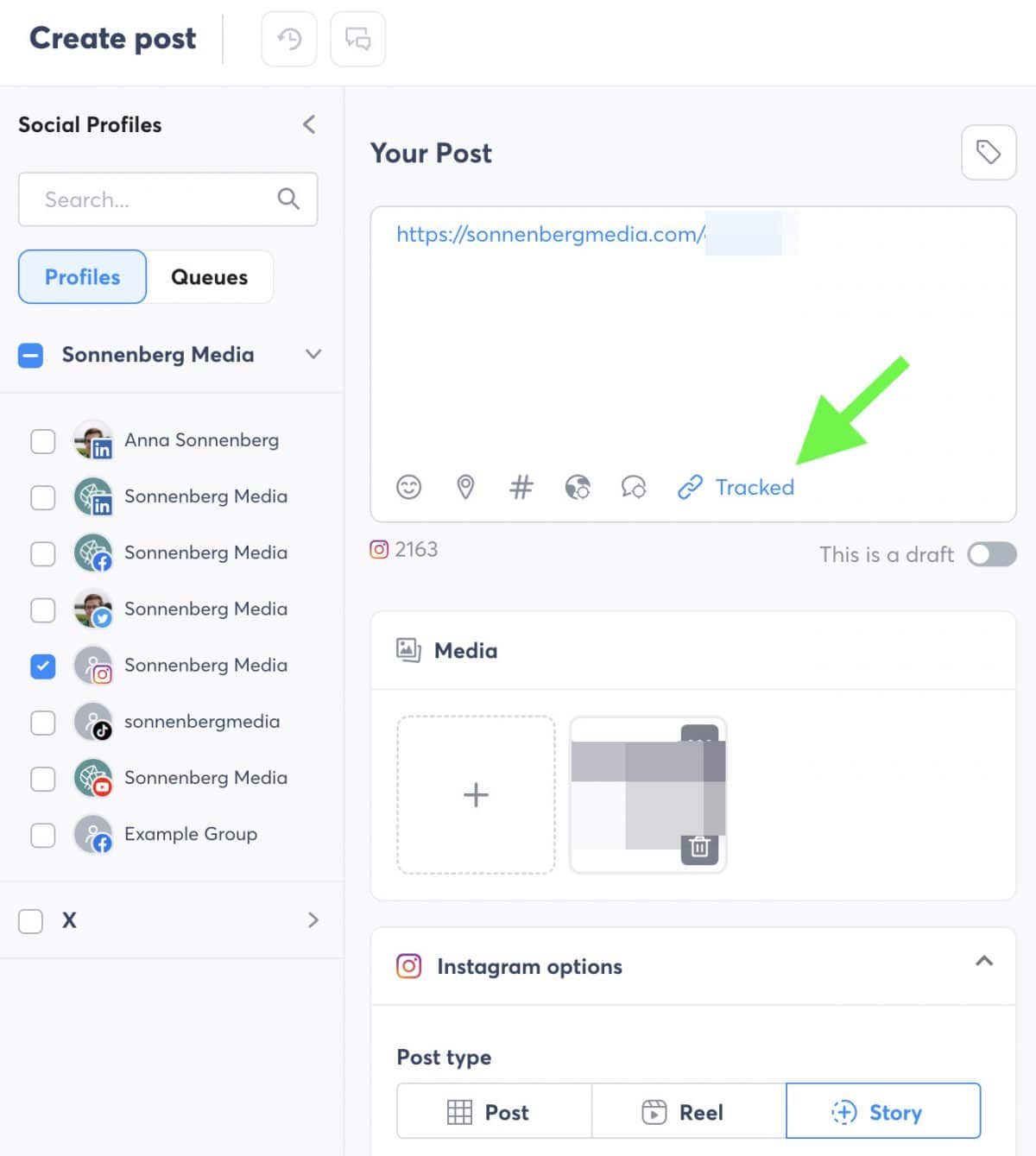 When it's time to publish the story, you'll receive a notification on your mobile device. The Agorapulse mobile app automatically copies the tracked link so you can add it to a link sticker in the Instagram app.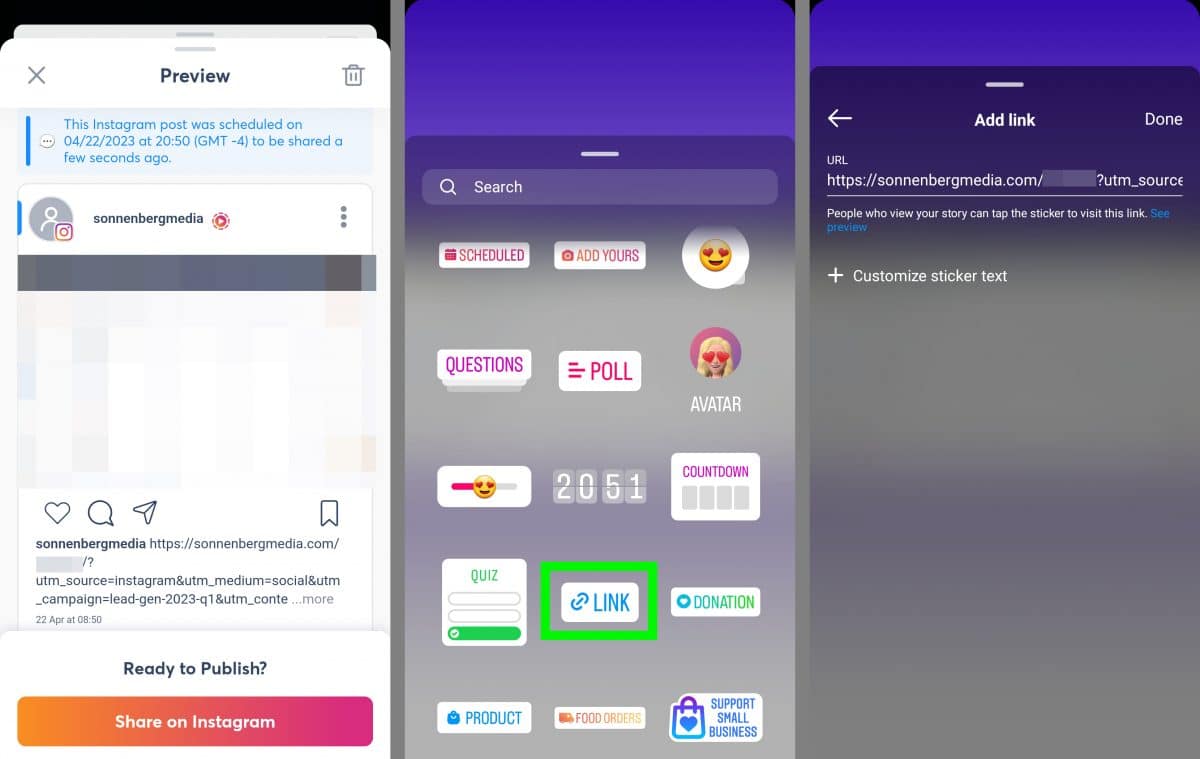 After publishing the story, you can check your ROI report in Agorapulse to get a complete look at which Instagram activities led to the most website visitors, transactions, revenue—and ultimately the highest ROI.
Wrapping Up What We've Learned About Instagram Reels vs. Posts
As Instagram increasingly shifts toward short-form video, it's easy to assume that reels should be a priority for social media marketers. But posts, stories, and reels all serve distinct purposes on Instagram.
To publish the right format, use the guidelines above to align your Instagram content with your marketing goals. By tracking links and checking reports regularly, you can ensure your content helps you achieve key goals and maximize ROI.
Book a free demo and take control of all your Instagram content management!