Work-related New Year's resolutions can be stressful. But they don't have to be. Check out these fun and achievable New Year's resolutions.
The New Year is the perfect chance for a fresh start. That might mean cutting down on coffee or saying no to office treats or taking a fresh look at your marketing strategies.
As director of Contentworks Agency, I'm using December to plan for 2020 and make a commitment to improving and evolving my social media strategies.
So, let's look at some New Year's resolutions that social media managers should consider.
1. Embrace Facebook's Demographic Shift
As the Frozen song says, "Let it go …" Facebook is now 16 years old, and its user demographic has shifted. I'm not suggesting you drop Facebook—but embrace Facebook's demographic shift.
College students were the target audience for Facebook when it went live in 2004. Those college students of 2004 are the older millennials of today.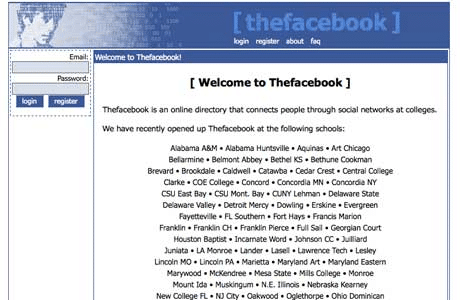 Now, many Gen Z members born 1996-2010 don't even have a Facebook account.
Millennials born 1980-1996 often stick with the familiar.
Meanwhile, the "Boomer" generation born 1946–1964, are joining Facebook at an increased rate.
This isn't bad news for marketers. The older millennials through to the boomer generation have a higher disposable income, have less financial burdens, and are more open to advertising than younger (perhaps more jaded) users.
62% of online seniors aged 65+ are on Facebook, and 72% are between age 50-64.
72% of online users of income more than $75K are on Facebook.
Boomers of all ages are more likely than any other age group to spend an hour or more a day online.
I've heard marketers be very dismissive of the boomer generation with regards to their usage of social media. However, it would be a mistake to dismiss a generation that gave us Bill Gates (born in 1955), Paul Allen (1953) who co-founded Microsoft MSFT, and Steve Jobs (1955) who co-founded Apple.
Tips for Marketers: Evaluate your target audience and the platforms you use to reach them. If your target market is Gen Z and you're relying on Facebook, you might be missing a significant chunk of business. Similarly, if you've already written Facebook off but your demographic is older millennials through to boomers, you may have been too hasty. Brands with multiple demographics should embrace multichannel marketing to reach the right people, with the right message, in the right network.
2. Explore TikTok
And speaking of evolving and embracing new demographics, my second resolution is to explore the marketing possibilities of TikTok.
TikTok, a video app launched in 2017, was the most downloaded app in Apple's App Store for five consecutive quarters. The video platform hit one billion downloads worldwide in February 2019 of which nearly 100 million came from the United States and 250 million from India.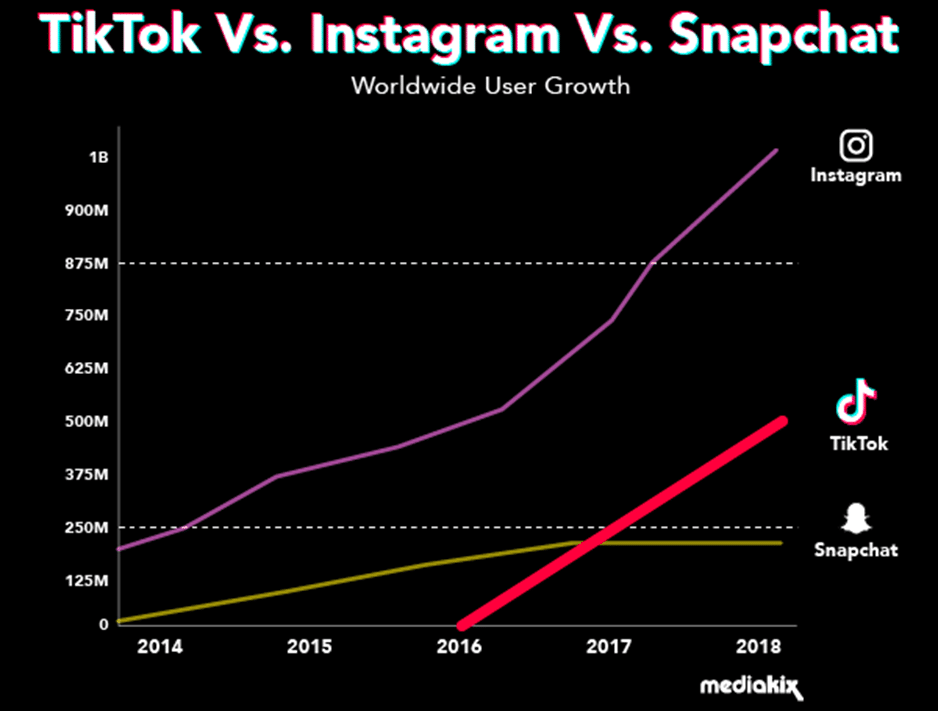 TikTok Stats
The TikTok app is available in 75 different languages.
TikTok is growing faster than similar social video sharing apps like Snapchat and Vine.
Statistics show that 66% of all TikTok users are under the age of 30.
TikTok is being used by 2 million more women than men.
TikTok "Challenges," like Jimmy Fallon's #SharpieChallenge, and the #TumbleweedChallenge, are super-popular on the platform. Marketers are now using TikTok to amplify Instagram campaigns and vice versa.
TikTok Example
John Kanell, AKA Preppy Kitchen, is a food blogging dad in LA with 781,000 followers on Instagram and 4,600 fans on TikTok. John's video of a mouthwatering chocolate cupcake being topped off with buttercream was shot on the TikTok app. And his caption promoted both TikTok and its "Savor The Flavor" contest. Kanell's post, which used Instagram's "paid promotion" tag, garnered 439,628 views, 15,937 likes, and 198 comments, resulting in an engagement rate of 2.07%.
It's also made me want chocolate cupcakes. (Like, NOW.)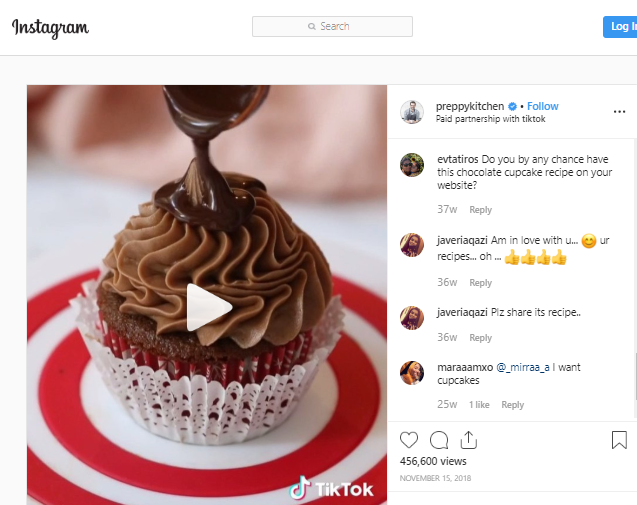 Tips for marketers: TikTok videos are around 15-seconds long, but users can string clips together to make stories of up to 60 seconds long. Accounts with 1,000+ followers will be given access to publish longer videos. Food preparation (and other types of time-cut video) work well with TikTok's short-form, musical format, so it's about getting creative. There's no space on this platform for a 10-minute video of your CEO listing your features and benefits. (Thankfully.)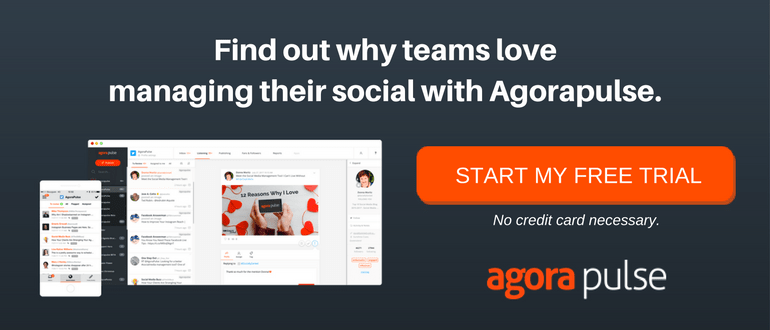 3. Get Authentic
Phony social media adverts and insincere video messaging leaves most Internet users cold and searching for authenticity. Today's social savvy users are no longer willing to accept inconsistencies between the image that a brand projects and the reality of what it represents. According to recent research, 89% of customers expect companies to act with integrity at all times. Additionally, 63% of customers choose authentic brands over those that aren't as transparent. In fact, integrity is rated more highly as a purchasing factor than even product quality and innovation.
Does your brand look inauthentic on social media?
If you're currently into any of the following, your brand could be perceived as inauthentic or insincere:
Ignoring or deleting user complaints or comments on posts
Overusing stock photography in your posts or blog
Paying influencers not aligned with your products or ethos to promote on your behalf
Not owning up to mistakes, lying to cover them, or spinning insincere responses
Only featuring your CEO and management team and forgetting everyone else
Aligning yourself with a charity but not really meaning it
Only writing in 3rd person or in a formal, non-human way
Being overly promotional and preaching constantly to your followers
Failing to put faces to your brand
Modern brands now understand the need to show transparency and authenticity in their social media marketing.
Digital banking service provider Revolut does this very well with its #RevInsider feature, which introduces key members of the company and teams.

Creating company thought leaders and putting professional names to opinions is a great way to build trust and industry credibility. And if traditional brands like Morgan Stanley can feature podcasts and live thought, your brand can, too.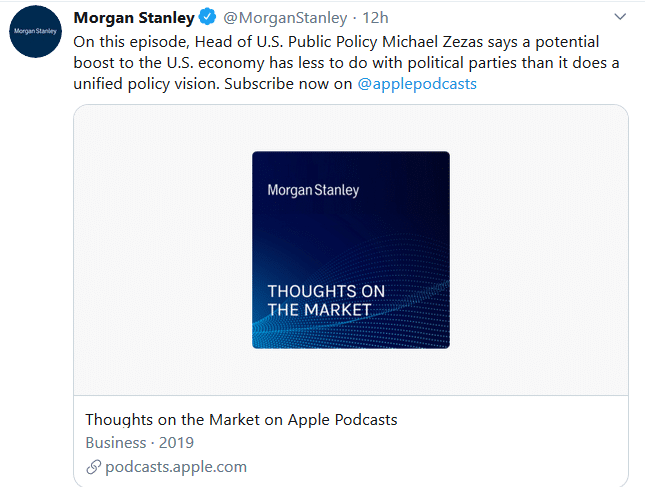 Bonus Social Media New Year's Resolutions
In addition to the above resolutions, check out these ideas:
Learn how to utilize uptrends in voice search
The stats speak for themselves. ComScore predicts that in 2020, half of all online searches will be performed with voice search technology. A Gartner study also predicts that 30% of all browsing sessions will include voice search. 58% of consumers use voice search to find local business information.
So, be sure to optimize your content. Use location-specific keywords, think about answering questions such as who, what, why, when and how? Use short videos to rank in voice search queries. (Short like 30 seconds, though.)
A good New Year's resolution for marketers is to start paying attention to the type of content appearing when asking Siri or Alexa a question.
Create content for communities
Peer-based communities on Slack, LinkedIn, Reddit, Quora, and Telegram require a different kind of content marketing approach. Speeding up your responses with non-branded, fast answers is the way forward here. Employing brand neutral response teams is especially important if you're launching a new brand or product in 2020.
Make your posts shoppable
Instagram has over a billion monthly active users. And in the USA, 70% of Instagram users search for products on the platform.
In March, Instagram-operator Facebook announced plans to implement a checkout function on Instagram, making it easy to complete purchases without leaving the platform. This trend has been mirrored across all the networks with YouTube and Pinterest ramping up their buyable "in platform" options.
Marketers selling tangible goods as opposed to services should be savvy on the latest ecommerce options. In fact, by the end of 2020, consumers should be able to make purchases in at least one of your social media networks. Your New Year's resolution should include making shopping more accessible.
Plan in advance
Does that seem obvious? It is! But many marketers I know actually don't plan their content in advance.
Using your Agorapulse calendar, look to the month ahead. Are there relevant days or hashtags to incorporate? Will your content have a theme? Is there any company news or announcements you should feature? Have you requested your articles and the graphics you need to accompany them?
If you fail to plan, you plan to fail. And the reverse is true as well. Succeed to plan your social media resolutions, and you're planning to succeed!
* * *
Get started on saving time and energy on your social media management! Check out our free trial of Agorapulse to help you schedule, track, and measure all your social media efforts.
Pin This Post