We asked some of our favorite social media experts to share what they look forward to seeing in social media for 2020.
Here's what got them bright-eyed and excited …
Jay Baer:
"2020 is going to be the year that brands stop random acts of social.
Audience attention is tough to come by, and algorithmic love even more so. Unless you catch lightning in a bottle with some sort of meme-worthy one-off, it is very, very difficult to sustain social media reach and engagement with a content approach that is non-episodic.
Regardless of channel or platform, the best content strategy in social in 2020 is to create 'shows'—consistent thematic executions where you post similar information and insights at the same time, on the same day, on a routine basis.
Imagine if the overwhelming majority of your social media editorial calendar was based on 'shows' by day, and by platform. The 'show' for Monday on Instagram is X. The show for Tuesday on Linkedin is Y. And so on. It's like #tbt taken to its logical extreme.
Smart brands will give their audiences and the algorithms cues and clues by providing consistent, episodic social media content that provides real tune-in potential and staying power.
2020 also will be the year that social goes private again. Between groups and 'dark social' opportunities like Messenger and WhatsApp, more and more of our social interactions with brands and one another will take place out of the public eye. This will require every organization to fundamentally reexamine their social strategy and will usher in a rebirth of the community manager role.
The pendulum will swing back from public to private; from many to few; from broadcasting to narrowcasting. And except for 'reach,' it's probably for the best. Back to social, and a retreat from media."

Jeff Bullas:
"The rise of a global business for everyone driven by smartphones, social media, technology, and apps is what I will continue to be excited about in 2020.
It is the perfect storm.
We are witnessing the biggest to change to how we live, work and create and conduct business in centuries.
And we have only just started this revolution.
It is providing huge opportunities for people that are open to change and willing to imagine and dream.
You are now able to design the life that works for you rather than be chained to the 9 to 5 and the old paradigm of the corporate command and control."

Heidi Cohen:
"As the granddaddy of ratings and reviews, Amazon not only qualifies as social media but also has established a level of customer trust and a massive addressable audience.
Unlike many of its social media peers, Amazon has a diversified, profitable business model.
But this trust carries a very high price tag as Amazon continues to gobble up both the B2C and B2B business ecosystem in 2020 and beyond.
Yet, without realizing the long term impact, both consumers and businesses allow Amazon to collect, aggregate and utilize their detailed information including customer details, shopping intent, financial information, and intellectual property.
In the process, Amazon continues to disrupt category after category of business. This requires existing and new entrants to play catch up as they transform their business models."

Joel Comm:

"The majority of social media users aren't aware of the alternative channels currently on the market, or soon-to-be-released.
These next-generation social platforms intend to fix the major problems around privacy and user data.
Watch for major disruption to start shaking the foundations in 2020."

Kim Garst:
"I can't believe I am saying this, but I am excited about LinkedIn! Specifically, LinkedIn Live.
LinkedIn has always been my least favorite social platform but I have grown a whole new appreciation around it lately.
What I find fascinating is that LinkedIn users are 20x more likely to share video content than other types of content, and they spend 3x more time watching video ads over engaging with static content. Golden opportunity knocking for us as marketers!
I think that LinkedIn will focus on building better content discovery tools, and I look for them to place much more emphasis on video content overall in 2020."

Mike Gingerich:
"It's a relationship world! The shift to video and Live has enabled people to connect across geographic areas via social media in ways we never could before! This opens up new avenues for sales and partnerships, as well as being a key way to differentiate in a crowded online marketplace because video and Live help build the "know/like/trust" relationship that sets your business apart from another business.
We'll continue to see older mainstays work such as blogging and content marketing. Great SEO-rich content will continue to perform on the web. And having valuable content resources on your site helps interested people/companies find you. Video and social are then ways to help you further build the know/like/trust rapport.
We'll continue to see Instagram marketing grow and mature."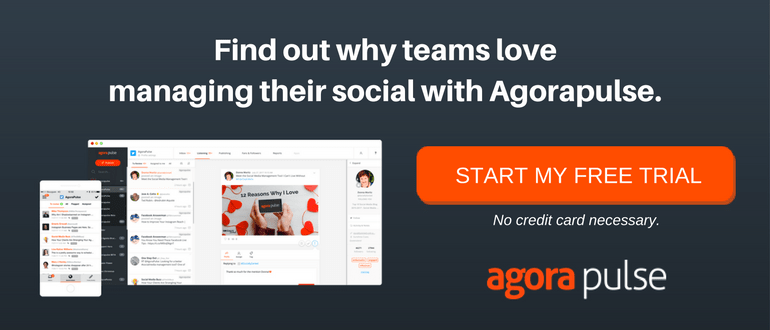 Marketers will need to further consider paid ads on that platform to really make it work, while things like Stories are going to continue to be important to use more and more, again with personalization and with video!
I'll leave you with a 'one to watch.' If you haven't yet, download TikTok and be sure to at least follow a few brands on the platform to see what they are doing on it. It's changing "how" we do video and while not a marketing destination yet for most businesses, the platform has major steam with the young and early-adopting segments.
The videos being created are going to be the video methods of tomorrow that will be working on other platforms as well! So watch and learn from that one!"

Christine Gritmon:
"It's become clear that we're firmly in the era of online video, and the platforms that don't make that a valuable experience for creators are going to have to work extra hard to catch up.
LinkedIn and Instagram, in particular, are still working out how to become a reliable place for video, but I have faith they'll crack it in the new year, with improved playlist functionality, repurposable live streams, and subscriber notifications, among other features.
I also think YouTube and Facebook are definitely going to get live captioning going soon (though I'm expecting some amusing mistakes, as I'd imagine the feature to be released before the AI is truly 'there' yet)."

Yvonne Heimann:
"I am really excited to see more and more accounts moving away from simply bombarding people with content but rather trying to build personal relationships.
It seems we are passed the 'all about numbers' age, we are at the end of 'let's automate everything' and finally balancing out into an age of the sweet middle. Using automation to enhance user experience while staying personal and connecting with followers.
With all that in mind, I am excited to put Bonjoro much more to work as my tribe has loved my little videos, really focus on YouTube to educate others on how to do all this, and deepen personal connections by video calls and through conferences."
Douglas Karr:
"As each of the social media platforms continues to obfuscate and build an advertising bridge between brands and their own communities, I'm eagerly looking forward to continued social platform enhancements that assist brands in driving engagement and conversions directly to their brands organically with tools, such as Agorapulse.
Omni-channel experiences drive much more activity, so it's essential that third-party platforms build the gap between content, email, mobile, advertising, and other channels—since the platforms themselves are retreating from playing nice with others."

Dustin W. Stout:
"The future looks bright for 2020. I mean that literally as I've been quietly watching a brighter visual marketing trend emerge with all the social networks.
Facebook, Twitter, Pinterest, YouTube, and even LinkedIn have all updated their brand color palettes to be brighter. I believe this is because they're trying to reach a younger audience. Younger people gravitate towards brighter (more youthful) colors—and I'm seeing that trend spread more and more to social content.
In the early-mid 2010s, there was a huge trend towards flat design and slightly desaturated color tones. And now as we roll into 2020, the most 'stand-out' content I'm seeing is utilizing more vibrant tones and bright palettes to grab attention.
So if you're planning your visual marketing strategy for 2020, make sure you're thinking through the colors you'll be using as they can have a significant psychological effect on people and how they perceive your brand's content."
Jamie Turner:
"The biggest change in 2020 will be that Tik Tok will begin to dominate social media. That's a mixed blessing.
While Tik Tok is a generally upbeat platform (the good news), there are some questions relating to Tik Tok's ability to track those who use the platform (the not-so-good news).
The bottom line is that Tik Tok will continue to swallow up more and more of our time at the expense of Facebook and, possibly, Instagram."

Owen Video:
"YouTube provides the biggest opportunity for content creators and business personalities to achieve market dominance.
The skills needed to excel on YouTube are rare and most people won't invest in them so once learned you learn them you have a Blue Ocean advantage over your competitors.
As a YouTube coach for executives, I'm excited to see the next generation of business-tubers."

Viveka von Rosen:
"This November I took two weeks off to go to Fiji, and it was bliss. I mean, Fiji was great, but not having Internet access was—after a brief adjustment—WONDERFUL. There is A LOT of noise on social, and I know I am a culprit as an avid 'poster.' But I see more and more people dropping off certain platforms (Facebook) because of the crap that resides there (and I'm not just talking bad ads).
I think marketers, business owners, and salespeople need to rethink their sharing strategies and FOR SURE send out better content.
But curation is also key.
Using platforms to help not only share but consume content more intelligently is crucial. I think if some of the social platforms (LinkedIn!) had better sharing analytics, the users could be more strategic in their sharing which means consumers would get more quality content.
At Vengreso, we try to teach salespeople the right way to share content—thoughtful and focused posts, not just 'spray and pray' links to their blog or latest webinar.
Intuitive sharing tools, informed and educated users and quality content are going to be a necessity for success in 2020."
* * *
Get started on saving time and energy on your social media management! Check out our free trial of Agorapulse to help you schedule, track, and measure all your social media efforts.
Pin This Post