Instagram and Pinterest are in reality very different. Knowing these intricacies will help build your business through social media more effectively.
Let's start with similarities…
Visual social platforms like Pinterest and Instagram, are hot with brands and consumers. The human brain likes visuals. People process images 60,000 times faster than text and 90 percent of information transmitted to the brain is visually based.
But in order to make this work for your business, you need to understand how to use the visual tools available, including their differences.
Pinterest and Instagram are visual-sharing social networking sites where you can upload photos and images for other people to see. The main difference lies in the fact that people use them differently.
[Tweet "Instagram is about sharing your own photos, Pinterest is about curation. What side are you on?"]
Instagram is about sharing your own photos while Pinterest is more about curating visual content that you've found on the internet.
It is important to understand what messages and images resonate with users on each of these social platforms in order to maximize your chances of user engagement, brand awareness and market feedback which will propel your business and presence forward.
Related Post: Social Media Marketing 101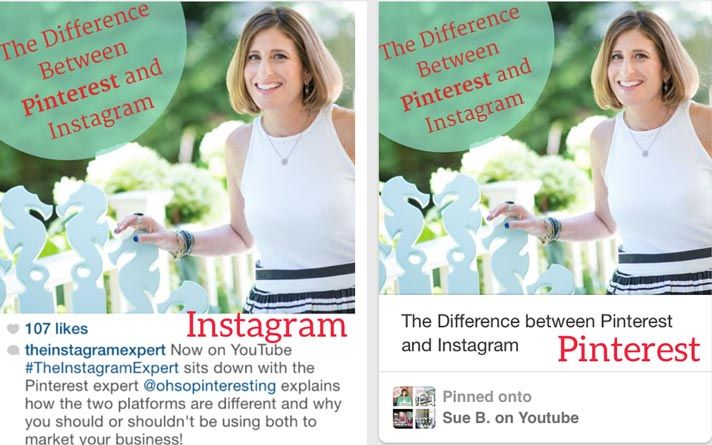 1. Usage.
Instagram allows users to take pictures and videos from a mobile device, apply filters and a caption, and then share the image on a variety of social networks. Instagram users are looking for a much more personal experience with the brands they follow and engage with. The content shared on Instagram should give your audience an authentic view into your business.
With Pinterest, a user's intent tends to be focused on the discovery and curation of other users' content. Similar to search engines, consumers can utilize Pinterest to search for specific content, products, tips or inspiration. They can then create visually appealing boards by pinning and grouping the content they discover.
2. Links.
On Pinterest, every pin is a link to the source of the image, usually an external site. Therefore, one of the common goals for businesses on this platform is generating website traffic and using Pinterest for SEO purposes. Instagram only has one place you can direct people to a link and that is in the bio so not a major factor here.
3. Target audience.
Pinterest users are predominantly female. In fact, women account for about 70 percent of Pinterest users and are about five times as likely to use the virtual scrapbooking tool as men, the largest gender difference of any social network. Pinterest users also tend to skew a little bit older, although the core demographic is still 18-34 year olds, representing 56 percent of users.
Compared with Pinterest, men and women are more evenly represented on Instagram. Fifty percent of the Instagram users are outside of the United States, making for a more global demographic. This network is also more popular with the younger crowd—two-thirds are between the ages of 18 and 34 and popularity drops a bit with the older part of this demographic.
4. Photos.
Instagram makes it simple to create stunning photos that make your business look professional and creative. Instagram is able to apply digital filters to photos while Pinterest cannot within the application. Pinterest users pin existing photos or alter their own before pinning in programs like, Canva.
5. Engagement.
Instagram is currently much more conversational than Pinterest. So, encourage comments when sharing and get market feedback silmultaneously. In the description field of your post, ask your followers for comments and questions about the content you are providing to encourage them to get a little closer to your business and what you are representing.
6. Hashtags.
Optimize your chances of being found by users with the inclusion of key hashtags. Hashtags are encouraged on both Pinterest and Instagram, but the quantity used on each platform varies. Don't clutter the beauty of a pic on Pinterest with more than one or two hashtags. Instagram allows up to 30, however a thoughtful 8-10 will work best.
7. Storytelling.
On Pinterest you can do this through the strategic use of themed boards. This is a great way to cultivate an engaged audience. Telling stories visually equates to even more engagement. Using promotions and contests on Pinterest can be very effective when integrated with your storytelling.
Instagram enthusiasts want a personal experience with a brand that is engaging, informative and accessible through quick messages, photos and short videos. Instagram pictures can give your clients a creative connection with your company and you, while providing unique ways to communicate about products and services customers care about.
Case Studies
Pinterest Perfection:
Melanie Duncan is an online business entrepreneur that teaches how to build a business that creates more money, more impact and more freedom than you ever dreamed was possible. Her Pinterest account is the perfect example of someone that has embraced Pinterest and made it her primary social platform. She creates content and curates that content in a way that encourages others to pin and share her information and visuals. Her strategic boards are done in a way that makes this easy and intuitive for a follower or browser.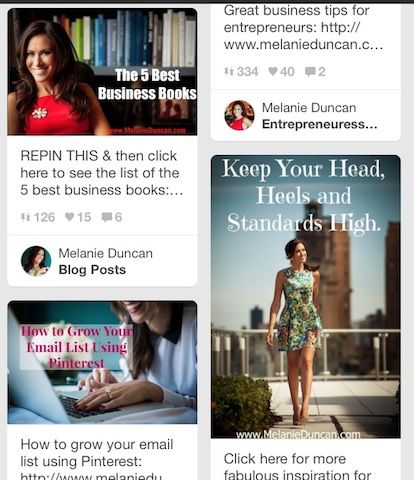 Imaginitive Instagram:
Check out Paul Salmas of @Awesomely_Humble for an adventurer and traveler that has embraced Instagram as his communication platform of choice. He has accrued more than 1400 followers over only a few months by posting personal photos that are all his own combined with his travel words of wisdom and insight into the photo posted. This conversation is capitalizing on exactly what Instagram is all about.
Paul's posts encourage engagement while Melanie's posts encourage repinning. Hence their platform choices. Their posts on the alternate platform can be executed but they would look very different. We like it when someone owns it in a particular space and does not try to be everything to everyone. Think about what your goals are with your posts and make sure you choose to have a story on the one or ones that make sense to your audience and will maximize your reach to help create growth.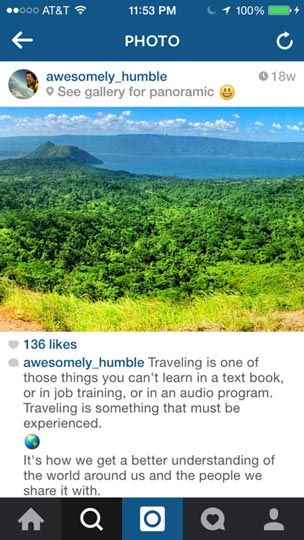 Pinterest versus Instagram: The Bottom Line
If your business needs to choose between, or balance, the two platforms, the bottom line is a focus on your goals, your audience and the content you plan to share.
[Tweet "Chosing Pinterest or Instagram for your business will depend on your goal, audience and content."]
1 – Goal
If your goal is to generate website traffic, go with Pinterest. Instagam will not help much with that. If your goal is to increase engagement with your audience au grow awareness, Instagram is probably a better fit. Instagram is also probably better suited to share "moments" like conferences, behind the scenes of your business than Pinterest that is more geared toward content discovery.
2 – Audience
Instagram will help reaching an international audience made of men and women, Pinterest will be the network of choice for women in Northern America. You can still reach men outside this US, but there will be more of them on Instagram.
3 – Content
The main difference between the two platforms is definitely on the content side. On Instagram, followers expect to see visual content about you, your events, your personality as a business and your "human" side. On Pinterest, they are looking to discover content, in all forms, to be inspired, learn and share. Not only the motivation of the audience is different, but the type of content is different too. If you are mainly creating useful content on your blog, and curate useful content from others, Pinterest is the right match. That type of content will have to be modified to be shared on Instagram and that's a lot of work.
On the other hand, if you're already sharing a lot of your business life, but don't necessary have a lot of "useful" content to share, Instagram will be the right fit.
Ideally, creating and sharing both types of content is best (what I know and can help you with, and who I am). But let's face it, creating content takes time, and most businesses will only have one type of content to share. That should help you choose the visual platform you want to focus on first.
Pinterest and Instagram are not just social media platforms to lump together as one streaming entity. If proper attention is paid to the unique attributes of each social outpost while you are strategizing, you will see better results in your marketing that will lead to the increased growth of your business through the right social choices and efforts.