The following is a guest post by Max Greene of Muffin Marketing.
We don't need to tell you just how powerful social media can be for your small business, but sometimes it can feel as though you're only talking to robots. Social media spam can damage your brand's reputation, so we've delved deeper into how you can avoid it.
1. Don't automatically follow people
Automatic following on Twitter and Instagram is one of the most common social media growth technique, but that doesn't mean it's effective.
Using free tools or Google Chrome extensions, you can follow in bulk users who follow your competitors, which should, in turn, encourage them to follow you back.
It does work in some cases but usually, makes your business look desperate. Unless you're prepared to risk it, we recommend steering clear of automated techniques, as they're against the social media giant's rules. Instagram has been especially diligent in sending cease and desist notices, most recently to the following tool Instagress.
2. Turn off commenting
If your business has fallen victim to mass spam, then a quick-fix solution is to turn off commenting temporarily. This option can be applied to your whole page or to specific posts.
Say you're running a social media giveaway and want to ensure only genuine followers enter. In this case, you could turn off comments at peak times when you know spammers are going to be active. Failing to manage spam on competitions and giveaways can reduce trust and engagement levels, and cause users to abandon your page entirely.
If your social media management tool has moderation rules like Agorapulse, you can prevent comments with particular words from ever appearing on your Facebook and Instagram organic or paid posts.
3. Block spam accounts
See a spam account? Block it. Of course, you'll lose a follower and it'll take longer for you to reach your 10,000 page likes goal, but a spam account will provide no value to your business, and so there's no need to have them on your account. Plus, if you block spam ac-counts, you'll be less likely to miss comments and tweets from potential customers.
4. Cut down on the #hashtags
If you manage an Instagram account for your brand, then there's no doubt you've used hashtags to increase your reach and gain new followers. And that's fine. It works. But how many of those new likes and followers are real, engaged customers? A study by security researchers suggests that 8% of all Instagram accounts are fake, with robots automatically commenting, liking and following in exchange for a follow back.
So cut down your Instagram tags to reduce the amount of attention you'll receive from these pesky bots – instead of using twenty tags, stick to two or three that accurately label the image you've uploaded.
5. Avoid bulk messaging
Auto direct messaging has played a role on Twitter since its inception, but blasting out hundreds of messages could harm your business. Not only are automated direct messages an annoyance, but they fill your inbox with sent messages.
Because of this, comments and questions from your active and engaged followers could be overlooked. With HubSpot reporting that 72% consumers expect a response within an hour after complaining on Twitter, you cannot afford to sit back and automate direct messages.
If you don't want to be on the receiving end of these DMs, you can set up moderation rules in a social media management tool like Agorapulse. It makes looking in your inbox a lot less anxiety producing.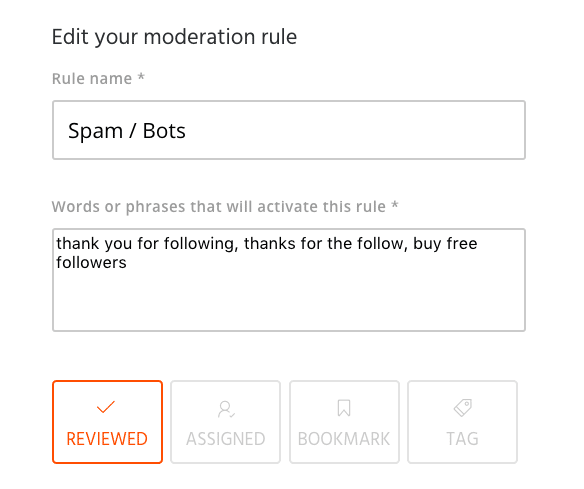 6. Report fake reviews
Ratings and reviews are the new "currency" on the Internet, according to Lynelle Schmidt, whose company was targeted by a wave of 200 fake reviews. These damaging competitor tactics, which are easy to pull off thanks to websites such as Fiverr, can literally make or break your business overnight, so it's important that you know how to respond to negative and fake reviews.
Of course, if you receive one or two fake reviews from a disgruntled customer or competitor then there's probably not much that you can do, but websites like TripAdvisor allow you to report reviews that you think are suspicious or factually incorrect. Always be vigilant when it comes to reviews, and if you think you've received a fake rating, report it.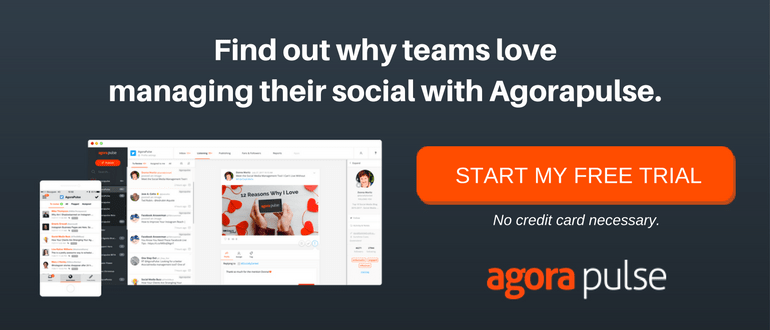 Wrapping up
Social media automation can have its benefits, but you should avoid practices that appear spammy or disingenuous. And when it comes to managing other users and spam accounts, take responsibility and monitor your channels on a regular basis. Leaving them to collect dust could make you susceptible to spammers, so act fast and remain vigilant. Good luck.
Max Greene is the Managing Director of Muffin Marketing, a marketing agency specializing in content marketing, social media marketing, and search engine optimization.