Productivity isn't about how many hours you put in but how well you use your time. Follow these productivity tips to make sure that your time as a social media manager really is well-spent.
If you have too much to do but can't create a system to organize yourself, the chances of you burning out are high.
Below, we share 10 productivity tips that will help you improve the quality of your work at your social media agency without having to put in extra hours.
1. Plan Your Tasks as a Social Media Manager or Digital Marketer
Task management can be a challenge for digital marketers and social media managers. So many channels to monitor and create content for, usually at the same time! It can be overwhelming.
However, there are a few ways to manage all the tasks you have to handle. And it doesn't require multitasking.
Multitasking should be avoided at all costs. It brings down productivity. You end up spending so much time swiveling through tasks that you fail to complete anything on time.
Instead of trying to do multiple things simultaneously, plan out the tasks in front of you every day. Divide up the tasks according to urgency and importance.
If a campaign needs to be sent out the next day, it should be prioritized over organizing an important task that could be completed in a day or two.
A four-grid task list can make it easier to prioritize and improve your productivity. You can also explore using task management software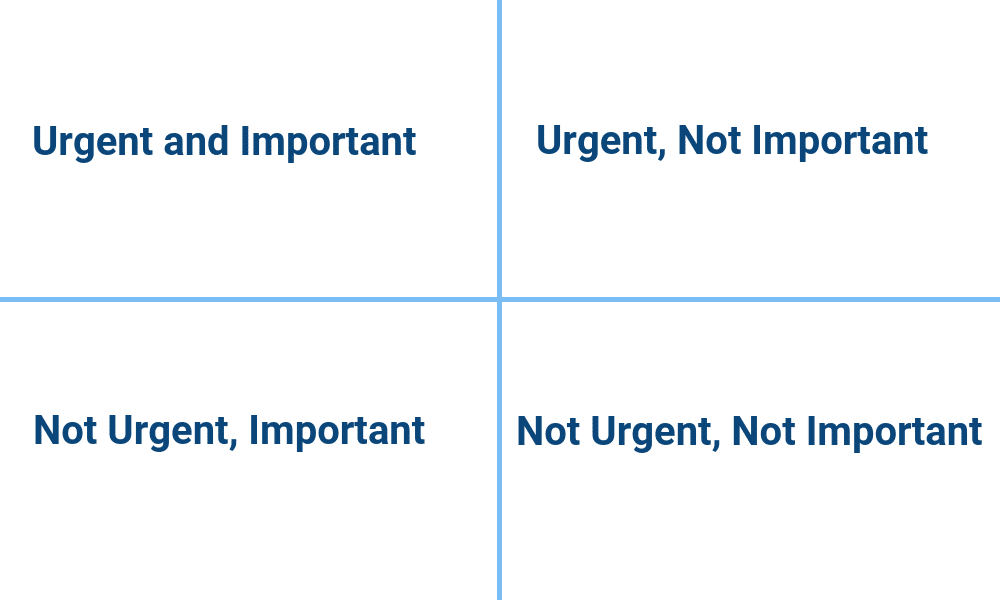 Source: Venngage
2. Manage Your Time in Reasonable Intervals
We have mentioned task management, but another area that impacts productivity is time management.
Determining what tasks to do is only one part of the job … If you then spend the entire day working on it, that isn't a sign of productivity.
Plus, some tasks take longer than others. An email can take seconds to write but may need to be completed first thing in the morning, so you can organize things around it.
To ensure that you complete your tasks within set timeframes, you can use one of the numerous online time management apps that will help keep you on track.
For example, you can use the Pomodoro Technique to help you break down big tasks into doable, short intervals. Or use an online or offline Kanban board to help track the progress of what you are working on for the day (three big tasks at a time) and what stage all your projects are in.
Limiting how many projects you tackle at a time helps you make better use of your time and really dig deep into the focused work.
3. Use Automation Tools When Possible
A great way to save time and increase your productivity is to use automation tools.
Nobody wants to set daily reminders to share posts manually on social media—so tools that allow you to schedule in your content months in advance. (Like Agorapulse, of course!) Don't forget to use these best practices for your social media automation.
The same goes for email marketing. Why create content and send it out manually to your email list when you can use a tool to build templates and automate responses?
Another tool that makes your digital marketing more efficient is chatbots. New technology has made chatbots more sophisticated, which will save time when responding to customers.
And a number of these automation tools have free plans, so they won't hurt the budget as much.
4. Repurpose Existing Content
Creating content is essential to a successful digital marketing strategy. But it's also one of the most time-consuming tasks marketers have on their plates.
But there is an alternative to creating content every time you want to improve traffic—repurposing content.
There are numerous ways to repurpose content—updating an old blog or chart to make it relevant to contemporary audiences is always a good idea.
Written content can be transformed into other forms of content. Turn a blog post into an infographic, a podcast, or a video. Use the charts from a blog as social media posts.
Presentations can be turned into videos, white papers, or e-books, or broken down into various types of infographics.
There are several permutations for repurposing content, but the most important thing is ensuring that you can keep your productivity up without having to do too much.
5. Curate Content
Another way to save time on content creation is to curate content. Of course, you need something to share, but you don't need to create it in-house all the time.
A small percentage of your blog posts or social media posts should be curated from reputable sources—such as leaders in the industry, influencers, or news platforms.
If you syndicate content, ensure that it is properly credited. On social media, avoid sharing articles without a comment. It looks lazy and fails to showcase you as an industry expert.
And don't curate too much content. Only about 10%-20% of your content should be limited to curation, no more than that, or it looks like you have no original ideas. You need to have a balance between curated and created content.
6. Create a Bank of Visuals
Visual content is massively important in digital marketing. It can improve the number of views you achieve on your content, and boost SEO.
But looking for visuals every time you need to create content is time-consuming—and there's always the possibility of falling into the image search rabbit hole, which sucks away productivity.
Instead, spend a few hours every month collecting a bank of visuals. Look through stock photo websites and save relevant images for your topics.
When you come across graphs that could possibly be used to illustrate content later, keep a copy and note the source.
Keeping a bank of visuals that you can dip into every so often will save you so much time and make you more productive.
You can also use Agorapulse's asset library to keep track of, well, your assets.
7. Improve Reach Through Comments
Improving reach and brand awareness is at the core of digital marketing. After all, people can't buy your products if they don't know you exist.
Marketers can use several techniques to improve reach—creating content, sharing on social media, guest blogging, link building, and more.
One way to improve reach without losing out on productivity is by commenting on social media posts. Ask people to share their comments to your posts and then reply to them.
While you may think liking a whole bunch of relevant posts will help with awareness, but commenting is much more effective.
Comment on a few select posts and engage in those conversations. They will take time but will be far more efficient for improving reach. You will be more productive in spending some focused time on commenting and improving reach than in letting comments build up and get ignored.
8. Don't Stretch Yourself Too Thin
Digital marketers have a terrible habit of taking on too much. Though that seems to be par for the course in this job, doing so makes you unproductive. Worse, it also leads to burnout.
Within a marketing team, members have different skills. Make use of that when building your campaigns and content.
If you can't take something on, don't. Delegate it to someone else who may have the time—always ask first—or to people who have the skills to do it.
Delegation is difficult when you have a task you favor, but if you have too much on your plate, you won't do it well, no matter how much you love it.
Be objective about your bandwidth and delegate accordingly for better productivity.
9. Switch Off Notifications Now and Then for Deep Work
The digital world is constantly being updated. It wants you to know about all the latest events—which usually translates into non-stop notifications.
While you do want to get notifications on social media so you can start conversations, constant notifications are distracting and will absolutely destroy productivity.
One way to keep customers engaged without giving up precious time is to use instant replies on social media messaging apps. (These 25 saved replies can help you be more productive in your workday.)
The same goes for emails—go through them first thing in the morning and later in the day—but don't spend all day checking your emails the moment you get one.
Turn off notifications on your phone and add browser extensions that limit notifications, so you can work without distraction.
10. Decide What Requires a Meeting and What Can Be Said in an Email
Face it, businesses organize far too many meetings. Most of them can be discussed via email or sorted out via team communication tools.
Meetings can suck the productivity out of a workday. They can stop everyone in their tracks and ruin the workflow. Plus, they almost always meander from the main purpose of getting together, and not everyone involved has something to contribute.
If you have the power to organize meetings, use that to not hold them unless absolutely necessary.
And when you do have to hold meetings, use this one-on-one meeting tips guide to make them efficient.
In Conclusion
Productivity can be a challenge for digital marketers and social media managers who have multiple roles to encompass and tasks to complete in a limited amount of time.
Additionally, the digital sphere is one that is always growing, which can lead to marketers taking on far more than they are capable of dealing with.
The above productivity hacks are designed specifically to ease the burdens on digital marketers and social media managers.
Some of these hacks will take time and practice to implement, but once you get used to these processes, your productivity will improve immensely, as will your work ethic.
Sign up now for a FREE demo.