Finding yourself in the position of managing a remote sales team? If you're in need of an expert's advice and inspiration, we've got both. Read on for tips from Agorapulse's director of Inside Sales, Jenny Brennan.
Whether you are a seasoned sales manager or one just getting started, you know that managing a talent pool of high-achieving sales reps is one of the most fulfilling and exciting challenges in your sales career.
Managing a sales team in a physical setting has its ups and downs—but how do you manage your team if you've recently found yourself working remotely?
At Agorapulse, we have been managing a remote and internationally dispersed team for over four years. We've learned a lot about supporting our team from afar and making sure to consistently reach our company goals.
Having a structure that supports the fundamentals of your remote sales organization is going to be the key to your success.
I am going to share some of ours to help support your team that may now be working remotely.
PPR for Your Remote Sales Team
PPR stands for Product, Process, and Reporting. This acronym has been instrumental to our team in focusing on making sure we bring the best value in supporting the growth of our business here at Agorapulse.
Product
When you lead a team with a successful and desirable product, you are already halfway to attaining your sales goals.
At Agorapulse, we refer to the sales organization as the inside sales team.
"Our sole purpose is to provide a white glove service to sales qualified leads and make sure that we are not only the right fit for the customer but also that they are the right fit for us." (Jenny Brennan)
Knowing (and feeling in your core) that you're selling a product that delivers outstanding results is crucial. Our sales team is extremely proud of the product that our developers and engineers have built.
The sales team also has daily intel live from the market.
We use a specific process in partnership with our product team to make sure that feedback is fed into the future development of our tool.
We also pass this intel to our Marketing team. After we do so, they can develop sales-enablement tools and resources that help throughout the entire sales process. They also create assets on the website that we know our organic visitors are craving and better invest our marketing dollars in the initiatives that we know our most qualified leads are coming from.
Unlike many organizations, Sales and Marketing are very much aligned at Agorapulse.
Although not a directly quantifiable KPI, this is a strong value that your sales team members can add. Their feedback becomes part of the future development of your product.
If you want to make sure that your product and marketing team are synthesizing with the sales team, I highly recommend the book "They Ask You Answer" by Marcus Sheridan. (He recently shared additional insights into remote sales during a crisis in our new Lunch & Learn series.)
Process
Creating a clear process for your leads and your sales team is the second most important element of managing people remotely.
If the process is clear and your team is aligned with what is expected of them, you're all going to reach your goals. As a manager, you'll find your work life simpler.
We used a combination of tools and thought leadership to build out a smooth-running sales process for our team. We collaborate closely with Marketing because, in our organization, they are the team that provides us with those precious sales qualified leads.
In addition, we introduced ways to scale for a small remote sales team to include regular VIP group demos that helped answer questions, built a comprehensive but simple tagging process to automate follow-up, and invested in tools that make our daily lives simpler.
Some of our favorite tools include:
To start building out your sales process, we recommend Miro boards to map out the prospects' journey with your team based on all eventualities.
A solid sales process will help you plug any holes in sales opportunities that you may be missing, and it allows you to set strategic and achievable sales goals for your team.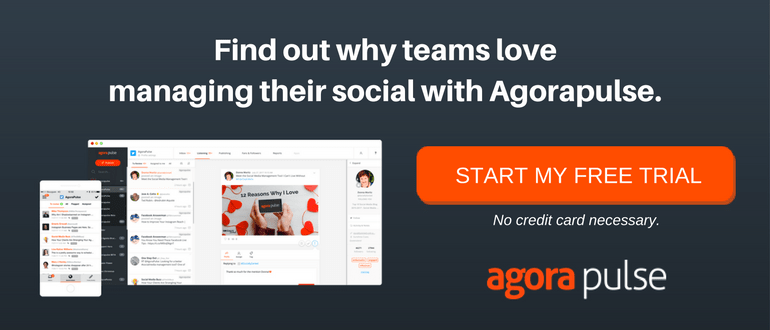 Reporting
As sales professionals, we never underestimate the power of reporting and what weekly, monthly, and quarterly reports can tell us about the progress of your sales organization.
"Having a clear reporting structure will help your team stay on track and focused on what their goals are and show you opportunities for improvement or alert you to possible gaps in your process."
When we introduced clear and solid KPIs in the early days, they provided us with focus and something solid to aim for.
The KPIs that you choose will be specific to your company goals. Everything that we do on our team at Agorapulse is intrinsically linked to big company goals.
How frequently you report is up to you. For example, to support our team and stay on track, we reply on weekly, monthly, and quarterly goals to set and achieve sales targets.
How you deliver this reporting is just as important.
Lastly, always remember your reports will transform as your business grows (and pivots). We add reports (and remove some from time to time) almost monthly. Your reports will transform and be better taken advantage of (and worth a lot more) if communication is open.
For example, at Agorapulse, we know our PQLs (product qualified leads) that are coming from trial converts at a higher rate than other lead sources. When we noticed this in our reports month after month, we went back to our sources that bring in the most SQLs and made it a point to make sure we're getting these leads onto trial as soon as possible in the form of adding messaging on landing pages, emails, and clear calls-to-action from our reps during demos.
Reports are only worth the effort that they take to build if they're actionable and if you pay attention to them consistently.
I am going to walk you through how we communicate with our team to provide them with accountability and support …
Download Now: FREE "Your Essential Guide to Remote Work" ebook
Communication and Soft Skills
The power of your soft skills can be leveraged across all aspects of managing a team and communicating with your leadership team.
Some of the best sales managers are those who possess a truly human and empathetic side. This is very true for remote sales teams.
In an office environment, your team is more likely to get to know you faster, pick up on the day to day progress of business overall, and have time to form relationships and bonds faster.
Remote teams can take a little longer to develop all that … but there are ways to make it happen.
We use Slack at Agorapulse for fast, interactive, and efficient team communication. Our sales team has a general sales channel where they celebrate the wins, share the learnings of losses, and support each other every day.
The team also has its own locked channel for sharing fun stuff, asking questions, and connecting on topics important to them.
Another way we connect is through attending our company retreat. Each year, we all gather for a week at our Paris headquarters. This is time to connect with each other and our leadership team as well as to collaborate with Product and Marketing. This work retreat proves to be a great investment for the whole team as it strengthens our camaraderie and opens doors for more collaboration.
Weekly one-to-one calls with each one of your team members are critical to success as well. (In the early days of management, I read a book called "Radical Candor" and it transformed how I ran effective one-to-one meetings.)
Hint: Don't always focus on just the KPIs and hard facts. You are supporting people.
Company Culture and Values
When working in an organization that takes company values seriously, you are in a strong position to succeed in remote sales management.
If you have not yet documented your own company culture, here are some values to inspire you :
Honesty and candor
Reliable, autonomous, and accountable
Collaborate without ego
Helpful and caring
Personal growth and learning
Passion and ambition
In Conclusion
The success of your remote sales team is going to come down to selling a winning product with a positive adoption of your processes, clear and achievable goals with supporting reporting, and an environment that allows your team to flourish.
Sign up now for a FREE demo.