Learn how to manage your global social media accounts without offending the rest of the world. Check out these tips!
If like many marketers you are posting content in English, aimed at English speakers from English-speaking countries then it's time to get a wakeup call.
In 1996, more than 80 percent of Internet users were native English speakers but by 2010, that percentage had dropped to 27.3%.
The top five languages online are now as follows:
English
Chinese
Spanish
Arabic
Portuguese
"When it comes to multicultural marketing, some of the basics are truly understanding what cultural segments you are talking with and having really deep cultural insights to finding out what opportunities those segments can create for your business." — Lia Silkworth of Tapestry, a division of SMG Multicultural.
Let me tell you how you can rock global social media marketing.
1. Don't Stereotype
Stereotypes suck and so will your social media marketing campaigns if you engage in them.
Knowing this well, Honda's bilingual "Un Buen Fit" ("A Good Fit") campaign targeted Hispanic Millennials in a smart way by poking fun at Hispanic marketing clichés.
Social media takeaway:
Avoid using clichés and stereotypes just because they fit with your campaign idea. Do your research—even if it's time-consuming.
2. Always Localize Images & Videos
If you are serious about rocking global social media marketing, then posting an Arabic update with an English image is not okay. It shows that you didn't really care enough to do it properly and if you're aiming your post at Arabic speakers, you won't be too successful.
Of course, you need to get professional translators and not go for a direct translation from Google. The popular "Got Milk?" campaign launched in Mexico with the direct translation "¿Tiene(s) leche?" which actually translated to "Are you lactating?"
Social media takeaway:
If you're creating videos, then create a non-speaking script with a voice-over. This makes it much easier to localize without the need for cringe-worthy dubbing as seen in this Renault ad.
3. Experiment With Alternative Networks
You know that Facebook isn't the only social media site out there.
And many of them are hugely popular with multicultural and global audiences.
Check out sites like TheGrio (African-American news) or check out top listings on Alexa like these aimed at the Latino community. By doing this, you will gain a sense of understanding as to communication styles, trending topics, and interests.
"Cultural relevancy goes beyond language. To be effective in reaching your target, you need to first understand who you are trying to reach, their wants and needs, their social environment, and their consumption patterns. Understanding the cultural landscape will allow you to better define what your brand or product needs to look like to appeal to your target." (Saskia Sorrosa, Senior Director of Marketing at the NBA)
Social media takeaway:
Alternative social sites and forums can provide you with an excellent starting point for your next big multicultural campaign, even if you then execute it via one of the big five sites.
4. Create One Multicultural Message
Instead of creating hundreds of mini localized campaigns, why not think about one multicultural message which unites us all? What are the things that we all love regardless of culture, gender, sexuality, and ethnicity?
Take a leaf out of Shangri-La's famous "In Our Nature" ad, which is localized for all target languages with a voice-over (non-speaking actor). This advert conveys one simple point: You Are Welcome.
Its powerful imagery, simple meaning, and universal appeal made this a hit on YouTube, where the brand has its channels localized for languages.

Social media takeaway:
Keep your message simple and reflective of the values of your brand.
5. Localize Posts
The age-old question on social media has always been: "Do I need a different page for each language?"
Though the big brands often use Global Pages by Facebook and multiple Twitter accounts, this is not usually possible for the average business due to resources and budget. (Global pages usually requires a $10K per month spend).
It is not necessary to create separate pages as long as you are localizing language posts on your main page. On my page easyMarkets, I use this technique to post in English, Arabic, and Polish: Simply write your post.
Before posting, enter your target region or language to ensure that the message is only seen by this group. This enables you to offer region-specific promotions, messages, and images.
Social media takeaway:
You don't need to have hundreds of social accounts to be successful in global social media marketing.
Related: Download your FREE social media calendar for content ideas.
You'll also want to remember when you want to rock global social media marketing:
Local holidays, festivals & cultural observations
Run ads aimed at different language groups that lead to relevant landing pages on your site
Access. Some countries such as China cannot access Facebook.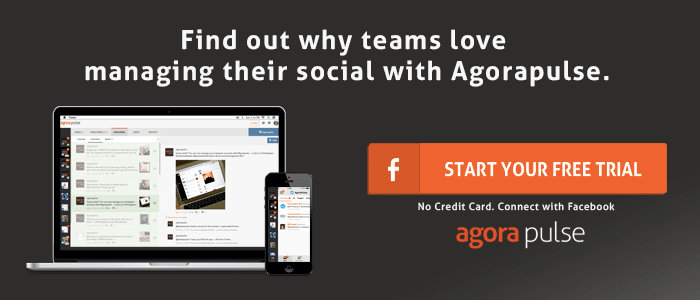 Now you're ready to rock your global social media strategy. Celebrate diversity and have fun!