Want to save time and improve customer experience? Using saved replies from your social media management tool can help you do just that.
A lot of social media managers worry that using saved replies will make them sound unnatural and robotic. Or even worse, that savied replies will make them sound spammy. But saved replies don't need to sound fake.
If you use saved replies well and make them a part of your communication strategy, they can speed things up without sacrificing post quality.
Saved Replies: When to Use Them on Social Media
Unlike autoresponders, saved replies don't get sent because of a trigger. They are simply pre-written templates you can use to respond faster like Gmail's canned replies.
That fact makes saved replies great for busy teams who answer a lot of customer queries daily.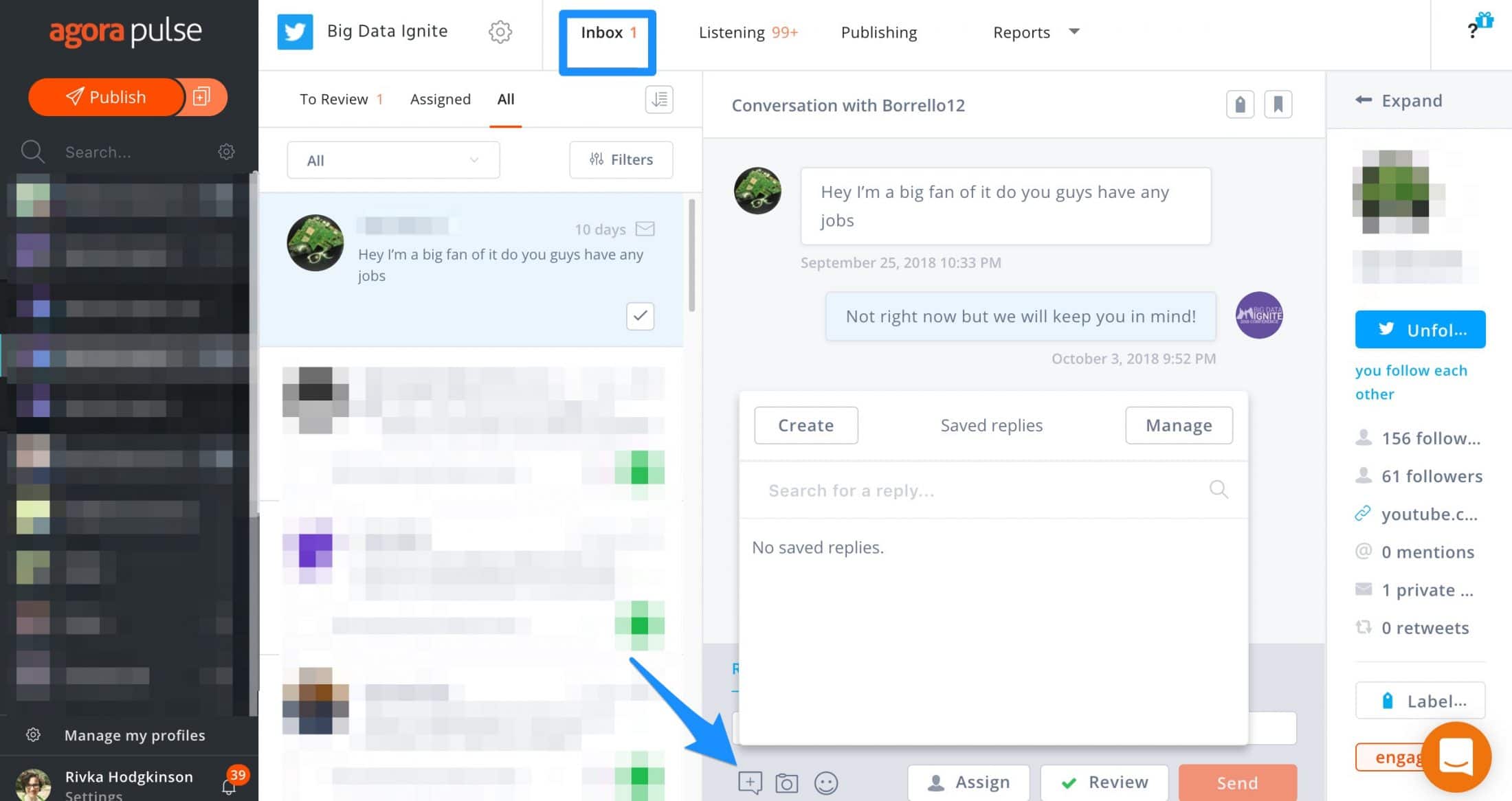 How to use Agorapulse for saved replies
You can create saved replies natively on Facebook, but if you use a tool like Agorapulse, you can create and use saved replies in Facebook, LinkedIn, Twitter, and Instagram!
You will find this option in your inbox, right below your messaging area.
Here's a quick hack to personalize your replies. When you create your saved replies in Agorapulse, you can use %name%, and it will be replaced by the name of the person you are replying to automatically.
What saved replies work best for you will depend on what type of business you have.
To help you get started, I've put together a list of 25 commonly used saved replies to add to your collection right now.
Saved Replies for Brick-and-Mortar Businesses
Your business probably gets lots of routine questions that saved replies can help answer.
Here are some saved replies you can try out in different situations.
1. Hours of operation
Every brick-and-mortar business is bound to get this question sometime. Save yourself the time of having to type it over and over again by keeping a reply like this handy:
"Thank you for asking! Our hours are Monday – Friday from 9 am to 5 pm. We look forward to seeing you in soon!"
2. Holiday hours
If you have specific hours that you are usually open for specific holidays, add a reply like this to your roster:
"Yes! We will be closed on Christmas day but will be open until 4 pm on Christmas Eve. Do you have any items that you are shopping for specifically?"
3. Hours for specific things
Are you a restaurant that only serves lunch during certain times? Then a reply like this is a chance to showcase something that you are known for at the same time.
"Our lunch hours are from 11 am to 2 pm, but we serve breakfast all day – including our famous blueberry pancakes!"
4. Details about specials and deals
If you are running a promotion, include the most commonly asked questions about that promotion in a saved reply.
That way, you can get back to more people faster and take full advantage of the promotion.
"Yes! We are running our Black Friday sale starting at 9 pm on Thanksgiving Day. First come first served on all our specials, and you can get early access to what we will have available if you sign up for our email updates here: (add your CTA)"

5. Your address
Even if you have it listed on your social media profiles or website, some people will find it easier to just ask.
Again, don't only list the address itself, make the message friendly and welcoming. Likewise for details like your phone number, website, or email addresses of key personal.
"We are located at 123 Any Street, Anywhere, ST 49505. We are right between Cliff and Garrett St. with the blue door. Come in any time we are open!"
6. Questions about events
You might get a question like:
"Do you host events?"
This is a perfect opportunity to really sell and let people know what makes you special.
"Yes, we love to host events! We are able to accommodate guest lists between 12 and 40 people, and we can also provide catering. Do you have dates in mind?"
7. Questions about accommodations
In some cases, people may want to know if your place of business is a good fit for them. For example, if it's accessible, if you serve gluten-free or allergen-friendly meals, or if you have reservations available.
Think through the types of needs your guests have that you can provide a solution for and create saved replies for each one.
Another type of accommodation you are likely to get asked about often is parking.
A reply like this one can go a long way.
"We do carry gluten-free items, but they are not prepared in a dedicated gluten-free kitchen. Would that work for you?"
Saved Replies for Events7
Recently, I was on the planning team for a large technology conference. The team received many of the same questions over and over.
Using saved replies was a helpful way to save time.
Whether your whole business is event-related, or if you do events as part of your other activities, these saved replies will be huge time savers.
8. Time and date details
This is the most common question you will be likely to get. This will be especially important when you are still early in the planning process and may not have a well-publicized event date.
To save time, create a reply like:
"Our conference dates for 2019 are October 23-25. We will be at the same venue this year, and look forward to sharing more details soon! Are you on our email list for updates?"
9. Sponsorship and promotion information
If your event is starting to get some attention, you may have businesses who want to get involved in sponsorship, or advertising and marketing agencies who want to offer their services.
Know who the contact person is for these requests, so you can use social media to make the process smooth.
"Yes, we do work with local community businesses for sponsorships and have several options that provide different types of promotion at our event. Our sponsorship coordinator is Suzy Sponsor and can be reached at suzy@ourevent.com. Let me know if there is anything else I can help with!"
10. Participant-related questions
You may also get questions about if students can come to the event, when certain ticket types will go on sale, or accommodations.
You also might get questions about group sale availability.
Take some time to look at your messages from your last event. What did you need to answer most often?
Then create a saved reply around them.
"Yes, we do have student tickets available on a limited basis. You will need your student ID when you present your ticket at the entrance. Thank you for your interest in our event!"
11. Location/Venue information
Like brick-and-mortar businesses, people will want to know information about where your event is being held. This is equally true whether the event is online (like a webinar) or offline (like a conference).
You want to make it easy for them to attend, so give all the details that are helpful.
"Our event is taking place online at ourwebsite.com, you don't need anything special installed to join us. However, the presentation will work best if you are using a Chrome Internet browser. Have you registered yet?"
12. Activity information
Another thing that event attendees are likely to ask about is what is actually happening at the event. This is especially the case for multiple-day events.
"We have a variety of networking mixers going on at the end of the day, in addition to the scheduled programming. You can get all the details on our website here"
13. Tips for getting around
If you are hosting a large event, you probably have maps of the location, parking information, etc.
The links to that detailed information are perfect for a saved reply. Not only do you not have to type it out, but you also don't have to look up the link!
"You can find all the parking information that you need here (website address). Is there anything else that you need help with?"
14. How to get tickets
Last but definitely not least, you want people to get tickets to your event!
You will have a lot of people ask about this one.
"Great question! All you have to do is visit our website (link) and purchase the number of tickets you want. Make sure to choose your seats too. We look forward to having you with us!"
Saved Replies for Service-Based Businesses
If you are a service-based business, you will get different types of questions. That doesn't mean that you can't use saved replies!
One of the nice things is that saved replies are a jumping-off point. You can still edit your answer before you send it.
15. New client inquiries
These types of questions can take a lot of different forms. The key is to transition them smoothly to where they need to go next.
If you have a pre-screening call, send them to the scheduling for that.
If you are not accepting new clients, offer to make a referral.
If you want them to fill out a list of questions first, you can send them to that form.
"Yes, we are accepting new clients. To get started, can I schedule a quick 5-minute phone call with you to ask a few more questions about what you need? Thank you!"
16. Specific person requests
In a larger organization, the client may be trying to reach a specific person. For example, they may want to get ahold of their favorite hairstylist. Having the information of how to best reach each service provider may help with this.
"Amber is here on Tuesdays and Thursdays. Would you like me to help you book an appointment with her?"
17. Rates for service
Another common question for service providers is about rates.
You may have specific rates set up, or a list of services and prices on your website, or maybe you require the creation of a quote. This is an opportunity to make the process easy for your lead or client.
"We would be happy to give you a custom quote for that type of project. Can we add you to the schedule for one of our service providers to visit your location and get a better idea of what you need?"
18. Types of service
Do you have a list of services? If clients can't find this, they may ask where it is. Keep a saved reply handy:
"Yes, we do provide manicures! You can go here [add link] to see all our packages, or here [add link] to schedule. Thanks!"
19. Set an appointment
Many service-based requests ultimately need to be scheduled with you.
Connect your saved reply with a calendar or planning app or website plugin and then you can direct people there to make their appointment.
"We would love to set up an appointment for you! You can go to (link) to easily find a time that works well for you. Talk to you soon!"
20. Updates on progress
If you are a graphic designer, marketing planner, writer, or another service provider that doesn't do the service with your client present, they may want to know what is happening with their project.
You should definitely have a saved reply that is simply: "Let me check on that for you!"
It also helps to know your process and be able to direct them accordingly.
"Thank you for reaching out! Wedding photos are typically edited about 2 weeks after the wedding date. I will be sure to let you know if your project is going to be different than that!"
21. Reviews of service
At the end of the service, your client has had a great experience and shares it on social media!
Now you can use saved replies to capture that positive sentiment and put it where other people can find it.
"Thank you so much! I am so glad you enjoyed your service. Would you mind also writing this as a review here (link) so that people can see it when they are considering our service? Thank you for your time!"
General Replies
The last type of saved replies that you should include are general replies that you use in almost every conversation.
These are all the quick little things that add up over time, and really don't need any explanation!
22. Thank you!
23. Have a great day!
24. Is there anything else I can help you with?
25. Does that answer all your questions?
Take control of your social media right now! Check out our free trial of Agorapulse to help you schedule, track, and measure all your social media efforts.