It's not enough to just create a Facebook event and hope for the best. You need to use strategies and campaigns to increase your Facebook event attendance.
Many businesses fall flat in their attempts to get more Facebook event attendance. Unfortunately, they think that just creating the event on Facebook will send event registration and attendance skyrocketing on its own. They don't really promote the event outside of one initial post, and then they leave it and wait.
This is a mistake. Facebook events can do incredible things for your business, but only if you leverage them correctly.
In this post, we're going to take a look at six of the most effective and foolproof strategies to drive up your Facebook event attendance with plenty of time to spare.
How to Increase Your Facebook Event Attendance
1. Optimize for Facebook Event Attendance
When you create your Facebook event, you should optimize it to ensure maximized visibility.
This means considering keywords that users may type into a search bar—just as you'd optimize any page on your website—and placing keywords in your description.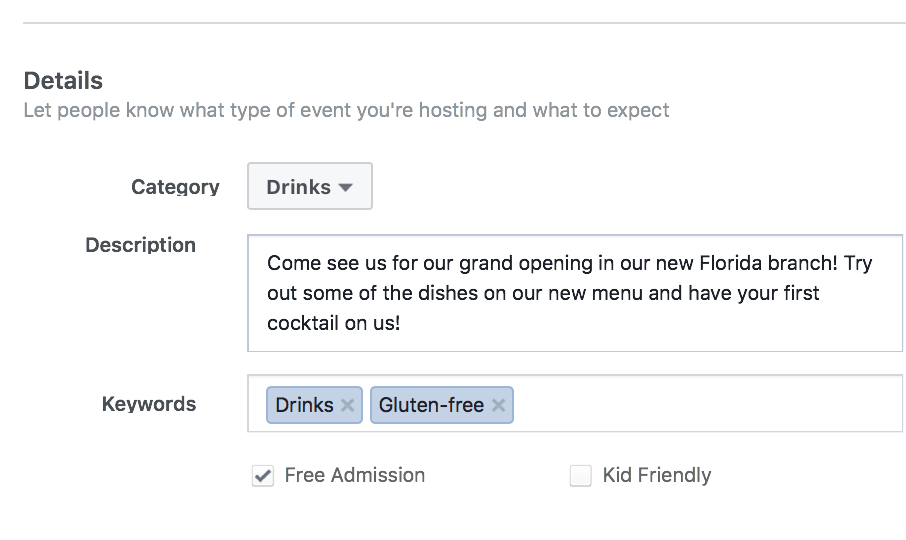 Also, choose the relevant category and Facebook-selected keywords to increase the likelihood that your event will be shown to the right audience.
Make sure you check "kid-friendly" or "free admission" if either applies. (Either of these can drive up attendance significantly in certain audiences.)
2. Post Updates Regularly
You should post about your event regularly, sharing updates of the event to your main Page while linking back to it and posting new updates to the actual event page, too.
The former helps send your followers to the event so they don't miss it. The latter will help increase engagement on the event, keeping people invested in it.
As people engage with content on your event's page, this may also show up in newsfeeds of their friends, increasing the visibility of your event even further.
Update regularly with content like:
Reminders
Behind-the-scenes info on preparation
Crucial information like where to park
Exciting updates about new things
3. Use Event Hashtags on Instagram and Twitter
Cross-promoting your event on other platforms is always a good move; some brands' audiences will be more active on Twitter or Instagram instead of Facebook, for example. And for Twitter and Instagram, hashtags are key.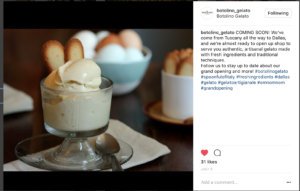 A lot of people underestimate how effective hashtags can be when you want to increase attendance, especially for local events.
Every time one of my local clients has a grand opening, I make sure to use a combination of #grandopening #localevent and a location-specific hashtag (like #Dallas or #iloveAtlanta).
Business conferences and webinars could use hashtags like #businessnetworking to help land themselves in front of the right target audience.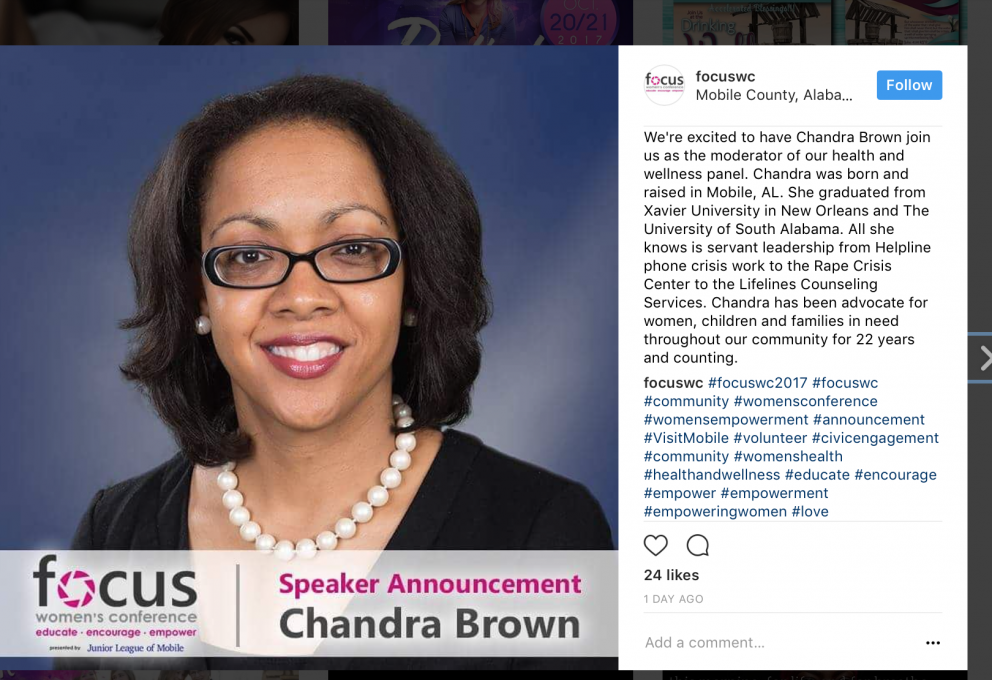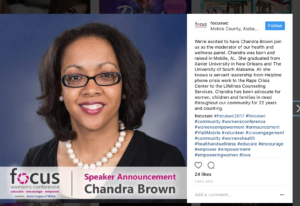 Whichever hashtags you use (and don't forget, you can now use hashtag stickers!), make sure that you direct users straight to your Facebook event page for more information. Tell them where to find out and how to get there, if you can't link it outright.
4. Invite Friends Before Promoting It Outright
There's an enormous amount of irony in social media: Users crave authentic and transparent content from brands but are also only likely to pay attention (or even see it) if other users are already paying attention. So, this sometimes requires brands to focus more on the advertising side, making transparency more of an illusion.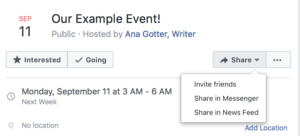 Social proof is a big example of this: People care more about your content if other users interacted with it because it signals that this is something worth engaging with.
So, you don't want your Facebook event to look dead when you start promoting it. Invite friends, family, and colleagues to say they're attending the event before you dive headfirst into advertising it. This will help the event gain traction a little quicker by inspiring that FOMO, boosting event attendance in the long run.
5. Promote the Event with Facebook Ads
Facebook Ads has some new event promotion features that I was really excited to see. When you want to increase event attendance, one of the best ways to do so quickly is to boost the event through Facebook's Ad system.
Boosting the event is quick and easy, even for businesses that have zero experience with Facebook Ads.
Once your event is created, just find and click "Boost post" near the top of the event page.

A pop-up will immediately give you a quick, rundown version of Facebook Ads.
You'll first modify the creative, including a description for your ad. If you're targeting a cold audience, tweak the description appropriately to help them see the appeal and value quickly. You'll also be able to set your targeting criteria and a budget.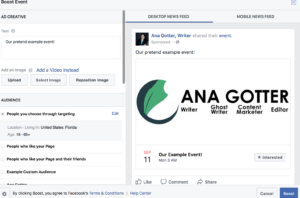 For many small businesses, choosing even a relatively small budget that amounts to $6 per day can boost visibility significantly. I ran a boosted event campaign on $8 per day for two weeks and got several thousand impressions and an enormous chunk of event sign-ups.
6. Run Retargeting Campaigns with New Event Custom Audiences
Facebook has a ton of great custom audience features that I like to call the "hidden custom audiences" because many businesses—and even highbrow marketers—don't know that they exist.
One of these audiences is created off those who engaged with your Facebook event.
You can create a custom audience for users who responded "Going," "Interested," or both to your event. I recently needed it to promote one of my clients' events. I created a custom audience off users who had only responded "interested" and ran a retargeting campaign designed to encourage them to register for the event. We started seeing big jumps in registrations almost immediately.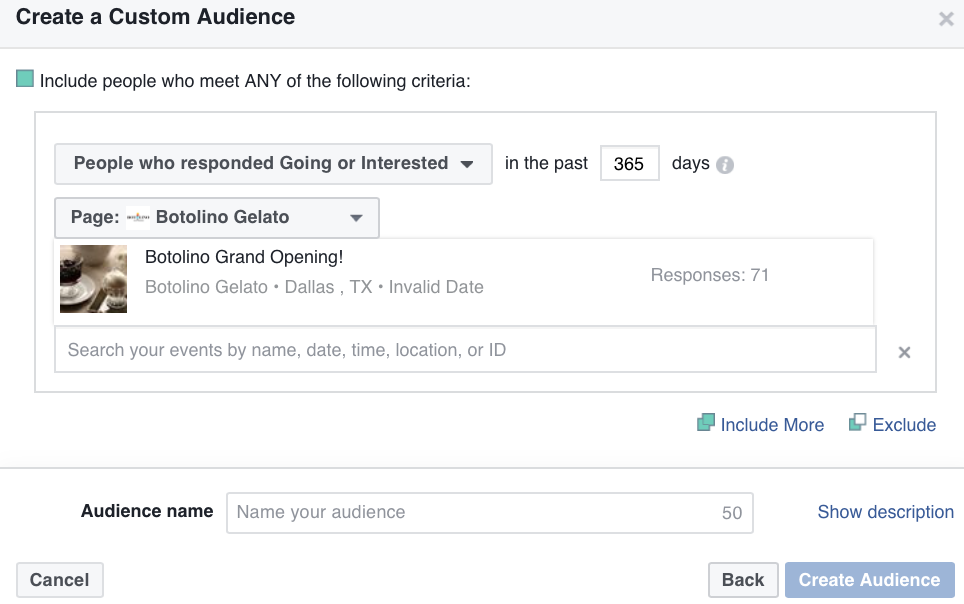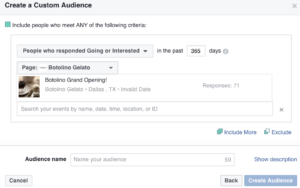 To create this type of custom audience, choose the "Engagement" section.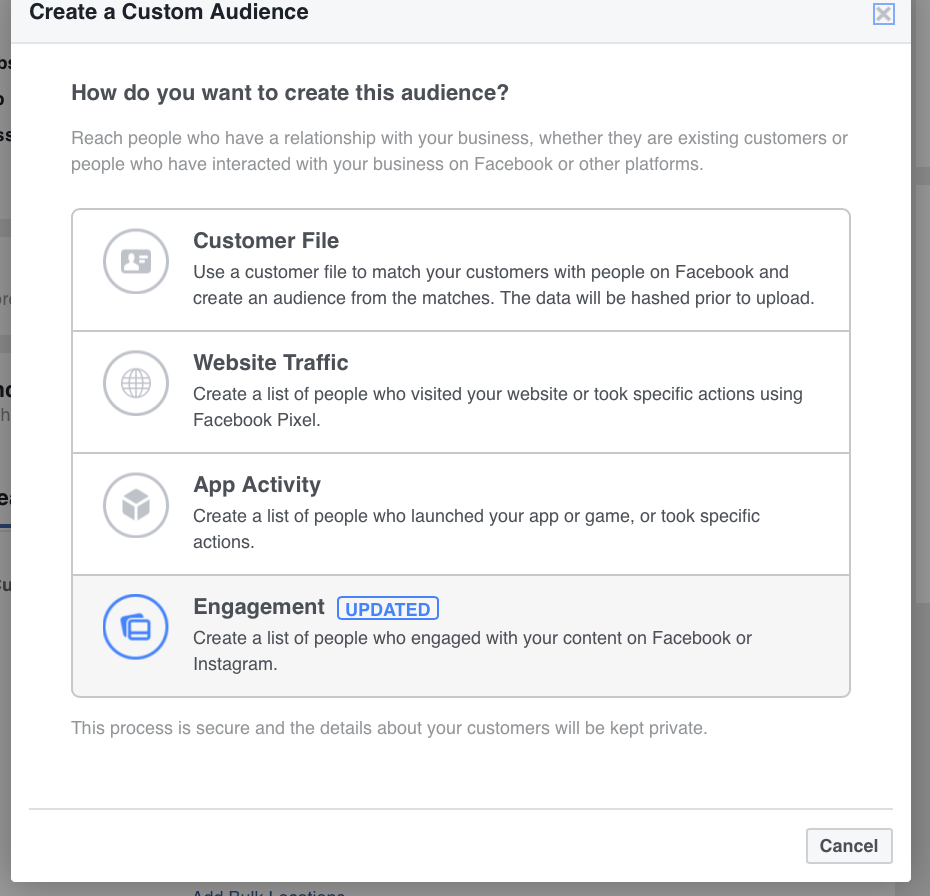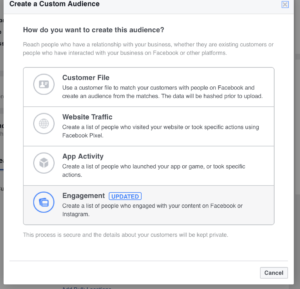 Next, select "Facebook Event."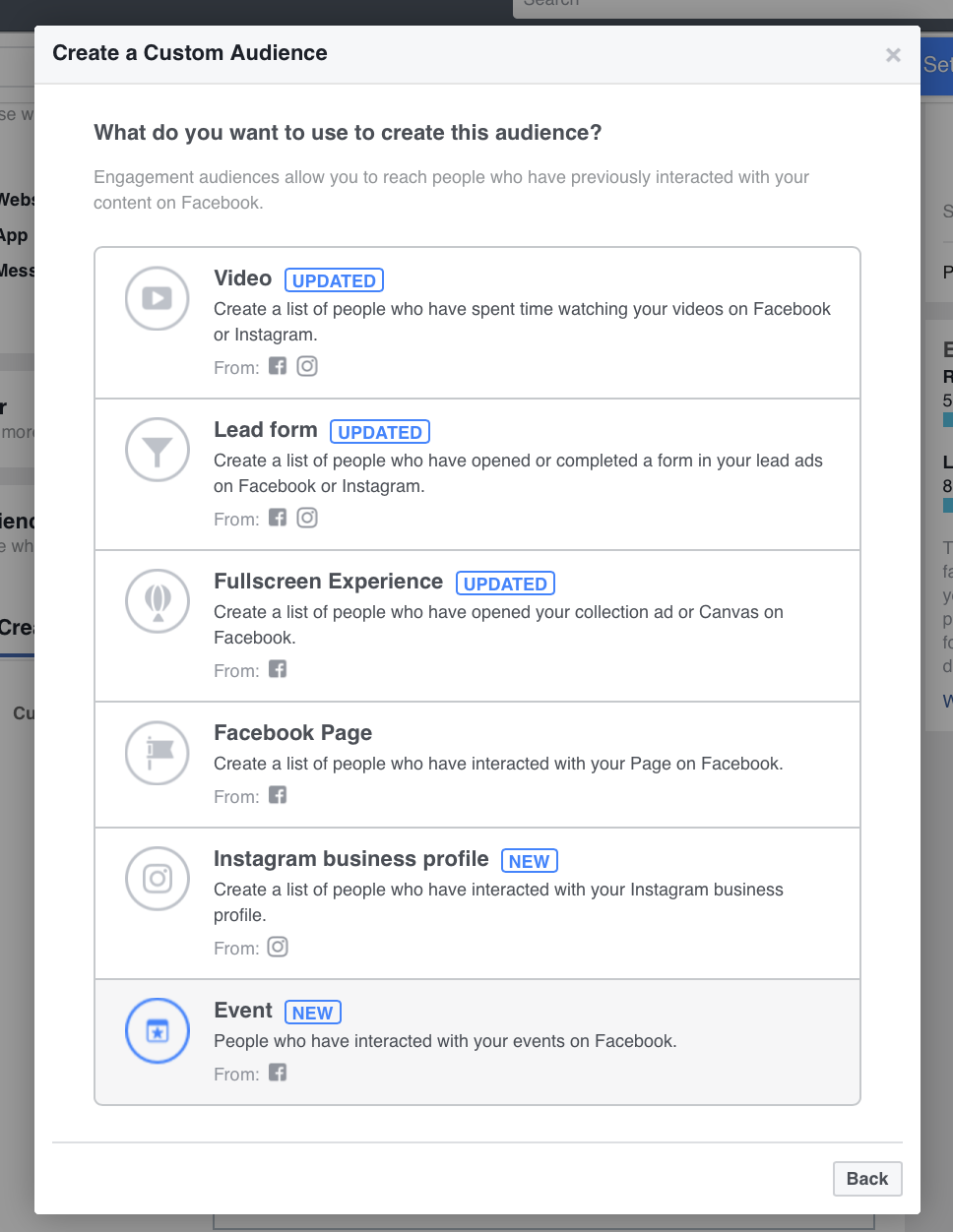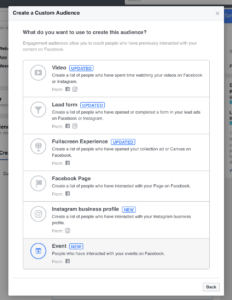 On the next screen, choose "People who have responded Interested" and select the specific event.
Remember: This is now officially a warm audience when you're creating the campaign. They're already interested, so you just have to get them to convert.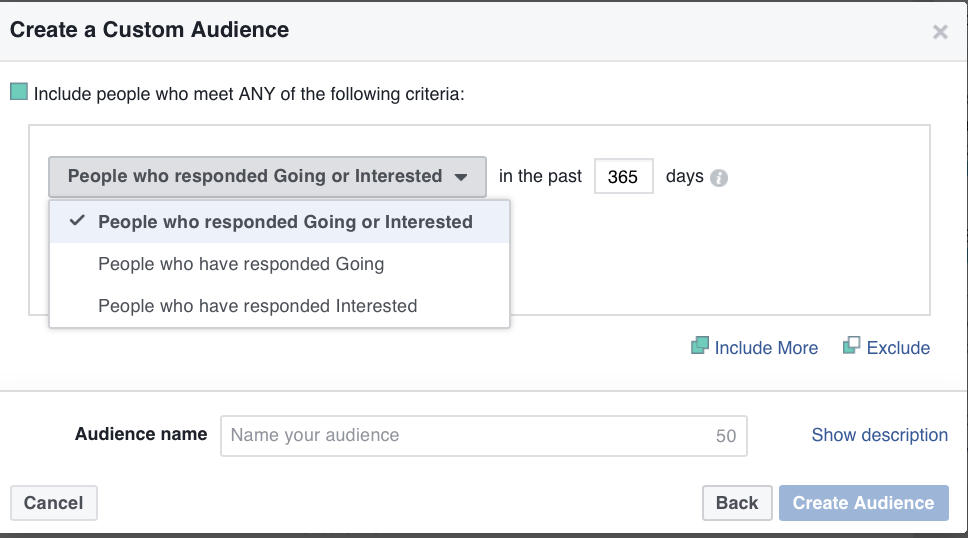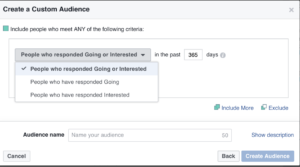 When you're running Facebook Ads, don't forget to use Agorapulse to monitor every single comment made on the ads themselves (which you can't do through Facebook's Ads Manager). This will allow you to more accurately assess the overall sentiment, excitement, and any potential objections your target audience is having regarding the event.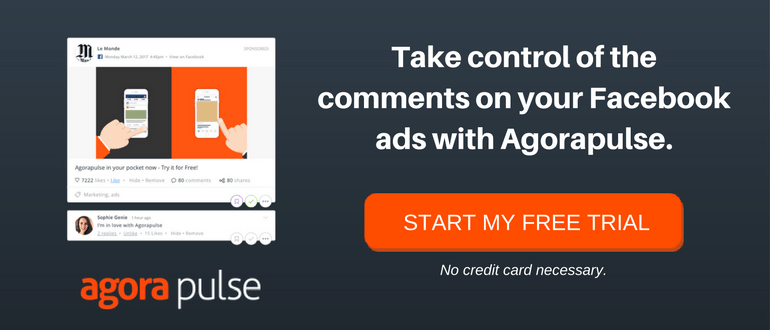 In Conclusion
Facebook events have the potential to increase your event attendance significantly, making it a huge success. They'll only fulfill that potential, however, if you use several marketing strategies to sufficiently promote it.
I've used each of these six strategies consistently, and can happily recommend them thanks to their simplicity and effectiveness.
* * *
Sign up now for a FREE demo.