Whether you're launching a new digital agency or you're growing your social business, a solid client roster should be at the top of your to-do list.
When launching a new social media marketing agency or growing your social media business, you need a few essentials.
Social media management experience, high-level strategic knowledge, and business savvy are all critical. But if you really want to set your social media marketing agency up for success, you need a client roster.
Have one client or a hundred? Either way, you need to start building your social media agency's client roster by leveraging your relationship with your current customers and connecting with new prospects.
1. Ask for a Testimonial for Your Social Media Agency
Has your team helped clients grow their brands and achieve great results with social media? Your social media agency probably has tons of happy clients. Satisfied customers tend to be happy to provide a positive statement or two about your social media agency's services.
Besides, testimonials can be hugely persuasive. Almost 90% of B2B companies trust online testimonials as much as they follow recommendations from friends and family they know well.
Ask a specific question or give them a testimonial template to make the process super-easy.
For example, you could ask:
What did you like best about working with our team?
What would you say is our team's strongest skill?
Did our team achieve any surprising results for your brand?
Confirm permission to use the testimonial (and your client's name or company) publicly. Then post the testimonial on your website or share it on social media.
Consider giving client testimonials a prominent spot on your homepage, where new prospects are likely to see them.
You can also publish them on their own dedicated page, which would serve as a sort of showcase of all the great client reviews you've received.
Related reading: What to Post On LinkedIn as an Agency
2. Create a Case Study
Before signing on with a new social media agency, prospects often need to understand exactly what you can do for them. It's a great idea to share specific stats like We boosted X Client's Instagram engagement by 200% and drove 100 weekly clicks to their website.
But in many cases, extra details can be even more convincing. If you've achieved amazing results for a client, map out the entire process to reveal an inside look at what you accomplished and how you did it.
Then build the case study into a blog post or share it directly with prospects. Explain the research you did and how you decided on the optimal approach. Detail any challenges you encountered, such as algorithm updates or budget constraints.
Related reading: How ClickMedia Cut Annual Costs by 25% by Switching to Agorapulse
Then discuss the impact of your results. For example, growing an audience or generating engagement may translate to increased brand awareness or more conversions.
3. Offer a Referral Fee as an Incentive
Happy clients might endorse your social media agency through word of mouth, but you can't expect them to promote your business automatically. Tell your best clients that you plan to expand your client roster.
Then ask them to refer your agency to other businesses in the industry.
Even if you've done great work for clients, you can't necessarily expect them to refer your agency. However, you can offer a referral fee as an incentive to recommend your agency to other business owners.
How much should you offer as a referral fee?
There are a couple of common ways to structure referral fees:
Take 5% or 10% off existing clients' monthly invoices.
Pay referrers 5% to 10% of the revenue you earn from the new client they recommended.
No matter how you structure your referral system, be transparent about what you offer–including the time frame. Most agencies take a percentage off or offer a cut of the revenue for a set period of time only, such as one to three months.
4. Build an Engaging Social Media Presence

You run a successful social media agency. That means you know a little something about social media marketing, right? One of the best ways to attract clients is to demonstrate what you can accomplish with your agency's own social media accounts.
To set your agency up as a great example, take the time to develop and execute a social media strategy, just like you would for your clients.
You know the drill:
Set SMART goals that are specific, measurable, actionable, relevant, and time-based.
Develop the copy and creatives you need to publish excellent social media posts.
Curate high-quality content from partner agencies and industry figures to share with your audience.
Build an audience and engage with your agency's followers.
Add paid social promotions to the mix to amplify your organic efforts.
Analyze your results with Agorapulse reports and optimize as necessary so you can continue to meet or exceed your goals.

When prospects seek out proof that your agency can succeed with social media, they can easily find it by visiting your LinkedIn, Facebook, or other profile.
If you're particularly pleased with your agency's social media results, you can even turn your work into a case study that showcases your capabilities.
5. Use Social Listening Tools
If you already use social listening and brand monitoring tools for your clients, then you know how helpful these processes can be. Fortunately, it's just as easy to perform social listening for your own agency as it is to offer the service to your clients.
Here's what you can accomplish with social listening:
Identify conversations about your agency (even if your username isn't directly mentioned!) so you can see what people are saying when they don't know you're listening.
Gauging customer sentiment about your agency or the services your team offers. Are clients thrilled with your service, or are they frustrated?
Measuring brand awareness. Are you getting the word out effectively, or do you need to do more to get on prospects' radar?
Maintaining a strong brand reputation to ensure that your agency continues to thrive.
Keeping an eye on competitors. What are other agencies in your space doing to grow?
Staying on top of trends and developments in your industry. What's new, and how will it affect your clients or your agency?
Use Agorapulse for your listening needs
When you use Agorapulse, you can easily incorporate social listening into your workflow. Agorapulse automatically tracks brand mentions, and you can create as many custom social listening searches as you need. For example, you can monitor industry hashtags, competitor usernames, and branded terms.
Then put your insights to work:
Are your competitors launching a new service? You might be able to attract more clients by offering your own version of the service or partnering with another agency that already does.
Is a major shakeup happening in your industry? You might be able to land new clients by posting about the issue and presenting a smart solution.
6. Put Your Social Advertising Experience to Work
If you collect leads on your social media marketing agency website, you can implement a great strategy for nurturing prospects.
But if low traffic to your site means you aren't generating many leads, try this simple solution: Use your experience with paid social to create ads for your social media marketing agency.
Whether you advertise on Facebook, Instagram, Twitter, or LinkedIn, you can target your ideal customers and drive prospects to your site.
With a strong remarketing strategy, you can even guide potential customers through your sales funnel and toward your client roster.
7. Offer High-Value Content from Your Digital Agency at No Cost
Your social media marketing agency shouldn't give away its services, but you can offer downloads for free. It can be an effective way to build your client roster.
To attract prospects, consider:
Sharing a compelling case study
Publishing a how-to ebook
Creating a quick-start social media guide
The more support you offer potential clients, the more they value your expertise. For example, use Agorapulse's shared calendar to make collaboration with your clients about social media content much easier, more visible, and less of a hassle.
When ready to invest in social media services, they'll be more likely to remember and trust your agency.
Related reading: 10 ideas for social media content
8. Demonstrate Your Value With a Savvy Sales Pitch
An effective sales pitch can turn curious prospects into retainer clients instantly.
To make your pitch as appealing as possible, create a script that targets your prospects' pain points, needs, and goals.
Back up your digital agency's expertise by using Agorapulse reports to demonstrate return on investment (ROI) and show examples of results you've generated for current clients.
By having these details handy, you can respond persuasively to any objections and deliver an offer your prospects can't resist.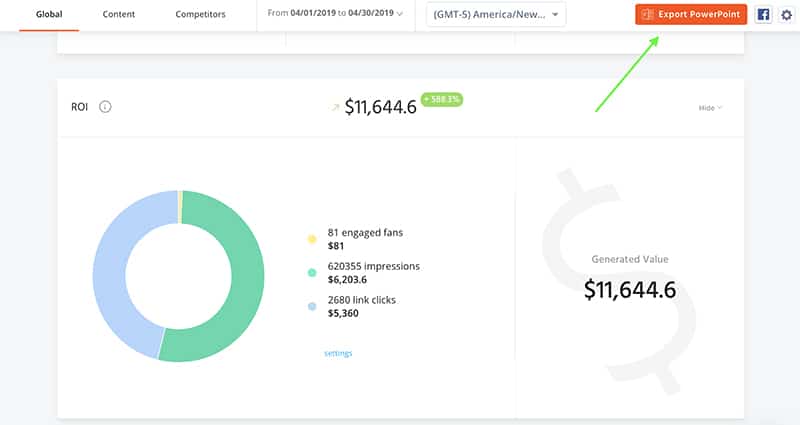 9. Network in Relevant Social Media Groups
As a social media agency head, you most likely participate in countless Facebook, LinkedIn, and Slack groups focused on social media management or paid social strategy.
You might acquire a few leads in these spaces, especially if the groups focus on sharing content opportunities.
However, you're much more likely to find prospects in groups that cater to business owners in your agency's niche.
For example, if you provide social media services for landscaping companies, join groups for those business owners.
Rather than pitching your agency at every opportunity, brainstorm ways to showcase your capabilities and add value in more subtle ways.
You could:
Answer social media questions and advise business owners about getting started with marketing.
Offer insights about digital marketing trends or industry developments.
Recommend your partner agency as appropriate.
10. Establish Your Social Media Marketing Agency as an Industry Leader
Your social media agency could easily be the best in the business. But if your prospects don't know that you're paving the way, they might never become your clients.
To elevate your business, take steps to position your social media agency as an industry leader.
Make a plan to appear on relevant podcasts, speak at industry conferences.
As you share your expertise and promote your business, you can generate greater brand awareness and more leads for your social media agency.
11. Guest Post on Prominent Industry Blogs
Speaking at events or on podcasts can generate tons of exposure for your agency. But speaking is far from the only way to establish your authority in the industry.
If you have a knack for producing written content, consider developing a guest posting strategy to get the word out. Writing guest blog posts lets you tap into other outlets' audiences, which can boost brand awareness and drive clicks to your agency's website.
From there, you can generate nurture leads.
Sample of guest posting process
Your guest posting process might look something like this:
Decide on your goals. Do you want to reach as many potential clients as possible, or are you looking to connect with prospects at a certain stage of the sales funnel?
Identify your audience. Which industries do you want to reach – or are you looking to connect with a more general audience of small business owners?
Make a list of sites to pitch. Which websites meet your goals, fit your audience, and accept guest posts from experts?
Determine your capacity. How many insightful guest posts could you theoretically write in an average month?
Send your pitches. Write thoughtful proposals for the outlets on your list, and be sure to follow each site's guidelines.
Submit guest posts. Finally, write and submit your guest blogs and follow up to check on the results. Did your posts get as many views, comments, or clicks as you'd hoped?
12. Improve Search Engine Optimization
You might be thinking: Why would I publish all my best content on another organization's website? While guest posting can be a good way to increase exposure, you wouldn't want to post all your best content on other websites.
Instead, save plenty of energy to create great content for your agency's own website.
After all, writing blog posts and planning regular content updates are key components of search engine optimization (SEO). Because the main goal of SEO is increasing search visibility (i.e. getting your site to rank in relevant searches) it's excellent for attracting people who are looking for information about solutions your agency offers.
To develop an SEO-focused content strategy for your website, do some keyword research to find out what kind of information your target audience is looking for. Then plan relevant content for each stage of the sales funnel.
Plan for your content
Your plan might look something like this:
Top of the funnel: Blog posts about problems your target audience typically faces, such as marketing their business or increasing revenue.
Middle of the funnel: Articles discussing the solutions your agency offers or downloadable guides that offer value to your audience.
Bottom of the funnel: Posts explaining how your agency compares to competitors or pages prompting prospects to sign up for a call with your team.
13. Syndicate Your Best Content
When you want to get more mileage out of your agency's digital content, syndication can be a smart choice. With syndication, you essentially republish the content you've already written for your agency's blog.
Because syndication typically involves big sites with extensive reach, this process helps you spread the word about your agency more effectively. That means you have more opportunities to reach potential clients, even if they've never heard of your brand or read your content before.
Where to syndicate content
So where should you syndicate your agency's content?
Some of the most popular free options include:
LinkedIn: You can self-publish articles on your personal LinkedIn profile or via your company page. If you're syndicating content from your blog, simply add a note at the end that says something like "Originally published on [Your Agency's Website.]"
Medium: It's even easier to syndicate content on Medium. All you have to do is copy and paste the URL into the content creation dashboard, and Medium uploads the content for you. The platform also adds a link to the original post automatically.
14. Join Review Sites
Getting client testimonials is a great way to get social proof that resonates with your prospects. Yet testimonials do have some drawbacks, as your ability to share them is somewhat limited.
You can publish them on your website or share them on social media. But that means prospects have to seek out your agency specifically in order to find these testimonials.
If potential clients have never heard of your agency, how do you get on their radar? Review sites can be a great option. After all, when business owners visit review sites, they're already seeking solutions for their social media marketing needs.
By putting your best foot forward with a strong presence and positive reviews, you can stand out from the competition and get prospects' attention.
How to start using review sites
Get started with these simple steps.
Create or claim your profile on relevant review sites. Add current contact information, a website link, and a brief description of your services.
Ask current and past clients to write you a short review and send them a link to your profile.
If possible, respond to any existing reviews, thanking the client and wishing them well.
Continue to monitor reviews so you can maintain a good reputation.
Which review sites should your agency join? Start with these:
Google My Business, which drives the Google reviews that appear on most search engine results pages (SERPs).
Yelp, which is ideal for connecting with local B2B clients.
15. Launch a Public Relations Campaign
If your social media agency could use more exposure, a positive public relations campaign can put you in the spotlight.
Contract an experienced PR professional to craft and promote a compelling story about your social media marketing agency. Your agency has plenty of interesting tales, such as your agency's fascinating origin story to establish connections with the local community.
With an effective PR push, you can transform from an unknown to an in-demand agency quickly.
16. Forge Partnerships With Companies in Your Niche
Leveraging relationships can help you find new prospects for your social media business, especially when you make a point of connecting with other companies.
Consider working with complementary businesses and partnering to promote each other.
For example, you could form a strategic partnership with digital agencies that offer services your agency doesn't, such as email marketing or paid search. With this type of "preferred partner" relationship, you'll gain even more opportunities to sign new clients.
17. Boost Your Team With Social Media Specialists
Recommending partner agencies can expand your client roster at your social media business, but you shouldn't let this strategy impede larger growth goals. Naturally, scaling your agency can be tough if you only offer a single service.
To attract more clients, consider expanding your team or offering more services.
If you focus on Facebook management, consider bringing on team members specializing in related services like Facebook Ads or Instagram strategy.
By adding more social media specialists to your team, you can give your agency a boost and create more opportunities for new client acquisition.
18. Become an Early Tech Adopter
Why offer the same services every other agency has when you could provide something no one else is doing yet? In the social media world, nothing is static, and new features and apps are constantly emerging.
By becoming an early adopter, your agency can be one of the first to support an exciting new offering. Over time, your team can make a name for themselves as early adopters, eventually becoming a go-to agency for the latest tech.
When you focus on newer technology, you also have the added benefit of lower competition. If clients seek out an agency that supports a new social media app, yours is much more likely to appear at the top of their search.
Your agency could focus on:
Newer social media apps like Shortcut or TikTok.
Newer features like Instagram Remix Reels or LinkedIn live video.
Cutting-edge technology like AI-powered analytics tools.
19. Showcase Your Team's Credentials
To build a thriving agency, you need a team with tons of experience and the credentials to back it up. Why not show off what your team has accomplished? Sharing their qualifications on your website or in a series of social media posts is a great way to highlight their skills–and capture potential clients' interest at the same time.
What to showcase
Consider showcasing credentials like these–or encouraging your team to earn the qualifications they don't have yet:
Experience: Have your team members racked up an impressive number of years in social media or digital marketing? Highlight the most impressive numbers or calculate a total for your team.
Degrees: Do your team members have degrees from an impressive range of institutions? Don't hesitate to name-drop the university and the program.
Certifications: Have your team members collected software or technology certifications? List credentials like Social Media Manager School, Facebook Blueprint, or Google digital marketing certifications.
20. Encourage Employee Advocacy
You can promote your agency from company pages or from personal social media accounts. But if you rely on an organic social media strategy, there are limits to what you can accomplish in a short period of time.
Rather than pouring money into PPC or social media ads, try an alternate tactic for promoting your agency.
When you ask employees to advocate for your agency, you tap into a couple of important benefits:
Reach automatically increases since more people are talking about it and sharing links to your site.
Brand awareness expands since your employees are connecting with new audiences.
Credibility improves since employee advocacy posts serve as a sort of personal recommendation of the company and its offerings.
Use Agorapulse's free employee advocacy tool
With a tool like Easy Advocacy, it's easier than you think to organize an employee advocacy initiative.
Here's how:
Gather contact information for your team and upload it to Easy Advocacy.
Decide what to share and create a suggested social media post that team members can use.
Launch the campaign so employees can start sharing the content with a single click.
Track the results and use the leaderboard to reward the top advocates on your team.
In Conclusion
Building a successful social media agency can be incredibly rewarding, especially when you make a solid plan to scale. With an ever-growing client roster, an extraordinary team, and a solid business plan, you can even set your sights on becoming the go-to digital agency in your industry.
Take control of your social media! Check out our free trial of Agorapulse to help you schedule, track, and measure all your social media efforts.