You spend hours researching, writing, designing and publishing that awesome piece of content but are you getting the best results for all your hard work? Social media and content marketing go together like tea and digestive biscuits and one without the other just won't work.
In this article I'm going to tell you why social media is important for content marketing and give you 5 practical ways optimize your content marketing results.
1. Listen and monitor sentiment
Ask yourself this question: Is it better to write about something that interests you or something that interests your target audience?
I think we all know the answer to this one. Let's put it into practice.
Every minute on Facebook alone 510 comments are posted and 293,000 statuses are updated but what are they talking about? Social media listening is key to creating great content because it puts your finger firmly on the pulse of your target market and the public perception of your brand. Once you know what everyone is talking about you can incorporate it into your content marketing efforts.
Take the trending subject of Donald Trump for example. If you're a hair salon you can write about funny hair styles. A financial firm can discuss Trump's financial promises or a real estate agent can discuss Trump's property portfolio. Similarly, if members of your target audience are asking your brand questions on social media then be sure to incorporate these subjects into future articles.

TIP: Media monitoring can be tough so you do need professional software to help you do it properly. Track Facebook brand mentions, tweets and hashtags in one easy place with Agorapulse – learn more here.
2. Push social sharing
So you have the catchy headline, the great content and the social sharing buttons. But there's so much more you can do to encourage users to share your content. Here are three surefire ways to increase your content shares:
Looks matter so include bright visuals, infographics and typography in your content. Research shows that colored visuals increase people's eagerness to read a piece of content by 80%.
Check how your blog looks on mobile. Over 50% of all web traffic is now mobile and 78% of users are using Twitter on their mobile device.. do the math!
Ask people to share your content! Asking people to tweet your content can increase shares by 51%.
[Tweet "Google and Facebook don't just index links — they try to understand them."]
TIP: Try Click To Tweet in your next blog post. This super easy tool allows you to embed a tweet button with key messages, stats or images within your blog post making it enticing for users to tweet it even if they don't want to share the whole article.
3. Create a social or content calendar
Content from your blog and content curated from partners and influencers needs to find the right home on your social media channels. If you're copying and pasting the same content link to all your social channels then you need to stop it now!
Knowing the identity of each channel and understanding how your content fits is a key element of your social and content marketing strategy. For example, with my larger brands I share B2B corporate news to LinkedIn, B2C competitions news and events to Facebook, and curated industry updates to Twitter.
Using a content calendar can really help you to stay on top of your content sharing and ensure that each piece is maximized in terms of value. Use your Agorapulse content calendar to easily schedule content for each of your social media networks. You will be able to see at a glance where each piece has been shared and can schedule the same piece of content several times over the month if it is evergreen.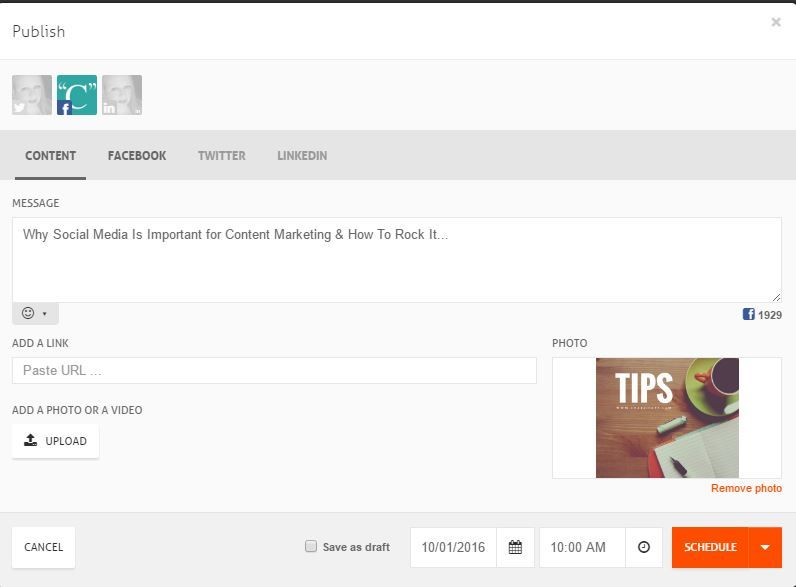 TIP: Don't just throw your content out into social media space and forget about it. Monitor the results so you can see which pieces were most successful on which networks and at which time. This will help you to fine tune your placement in the future.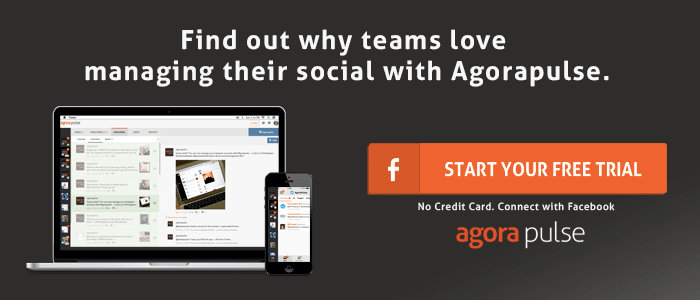 4. Connect with social influencers
Connecting with the right influencers on social media can really make a difference to your content marketing efforts. Influencer endorsements can positively impact your SEO, increase client retention by 37% and yield $6.50 for every $1 you spend… much higher than traditional advertising methods.
Something as small as a retweet by an industry influencer with 100,000 followers can give your content marketing a massive boost as it is then potentially exposed to hundreds of thousands more than usual. Use a tool like Klout to measure influencer scores and connect with the influencers in your industry.

TIP: Remember that building relationships with influencers is a two-way street so take the time to do it right. Read our article How to Skillfully Pan The Goldmine of Influencer Marketing for more information.
5. Put your money where your content is
While there are plenty of free ways to promote your content on social media, a surefire way to increase its effectiveness is through paid promotion. With content sponsorship options available on LinkedIn, Twitter and Facebook you can choose the best audience for your content. Don't be too trigger happy with that boost button though… here are a few things to remember before you reach for your credit card.
Only promote your best pieces of content. This may be once or twice a week and not every day. That's OK.
Take your time to create the perfect headline, meta-description and image in WordPress as these will often show on the social post.
Carefully choose your social targeting including age, gender and location to compliment your content subject.
If you're paying money on social media to sponsor your content then be sure to include a CTA (call to action) in the piece. This may be "sign up" "download" or "shop now."

Be sure to monitor the results of your paid promotion paying particular attention to click through and sign up rates.
TIP: Firstly, remember that money can't buy happiness when it comes to sponsoring your content. If your content isn't awesome then no amount of boosting can help you. If you have paid attention to the above points, then your content sponsorship budget doesn't have to be huge. $5 on the below Facebook post got me 2450 views, 575 likes, 72 website clicks and 2 new inquiries!
So now you know why social media is important for content marketing and how to rock it. What's your favorite strategy? Let me know in the comments!