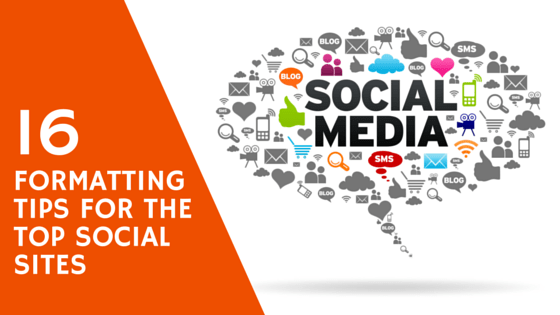 Having a clear content marketing strategy is important. But when your content gets shared on Social Media, the key is to adapt it to the specificities of each Social channel. Formatting hacks can help your posts gain visibility, the data proves it, and we've got the latest and greatest stats on how to format your posts perfectly! Today we're going to share them with you so you can get more views and interactions on your social content.
Facebook
Make it visual: Including a video, photo or link is the best way to get noticed on the king of social.
Keep it short & sweet: Limit your posts to 99 characters max as posts with 50-99 characters get the most engagement.
SimplyMeasured conducted a study covering these first two tips. Their report is definitely worth the read!
Show it with a smiley: Posts with emoticons typically receive 33% more comments, are shared 33% more, and get 57% more "likes" [Source: Amex OpenForum]

ASK!: The key to getting more engagement and conversation? Asking more questions.
Remove links: When you copy and paste a URL into your status box on Facebook, a pretty link window will appear allowing you to remove (delete) the URL from your status box and add any text you'd like.
Don't forget your call-to-action (CTA): Tired of writing "click here" on every post? Check out these 20 CTAs (bonus: here are 20 more examples!).
Use Agorapulse's publishing recommendations to make sure each post gets high visibility. Facebook insights tell you when your fans are online and active, but that's when competition is also the highest for visibility in the newsfeed. Agorapulse's recommendations are based on the performance of your last 50 posts, so with a little experimenting, you'll be increasing your visibility in no time.
[Tweet "With organic reach becoming harder to achieve, be sure to keep testing formats with your audience to post what they want from you."]
Not sure where to find that data? Be sure to comb your Facebook Insights weekly for information on which types of posts and formats are working best.
Twitter
With only 140 characters to play with, Twitter can be considered one of the harder mediums to get your messaging right. And, not to be the bearer of bad news, but you should aim for using even fewer than 140 characters if you're adding any media to your tweet or want it retweeted.
Here's how to get your tweets to stand out:
Less than 140 works best: Tweets with 100 characters or less get 17% more engagement and tweets with links are best served with around 120-130 characters.

#UseAHashtag: Tweets with hashtags have been found to get double the shares and favorites than posts without.
Show off: Tweet photos or videos, and use Twitter Cards – they perform better than text-only tweets.
Keep in mind that Twitter is a fast-paced platform where information rules. Include links to stories, tag your sources, and don't forget to include the all-important CTA!
LinkedIn
Your company should be utilizing LinkedIn to share content and entice users to follow you. While there aren't many formatting choices, there are a few ways to get noticed:
Mix it up: A study by QuickSprout shows that mixing up the type of content you share on LinkedIn can help you get more comments, shares, and engagement.

Keeping your link titles less than 70 characters will ensure they don't get cut off in the LinkedIn preview snippet.
Keep LinkedIn descriptions (meta description) >250 characters: Similar to titles, your meta description for your article needs to be kept under 250 characters to avoid being cut off in the preview window.
[Image from HubSpot]
It's also important to point out that LinkedIn says Pages should share at least once a week M-F to reach 60% of your audience.
Instagram
You're probably wondering how people even format posts on Instagram since very few people can or do.
Whether you want to add spaces, symbols, fancy characters or lines, you can edit your posts so they're more readable, more attractive, and more like the pros!
Here's an example of a pretty, formatted post from our friend Jeff of Manly Pinterest Tips: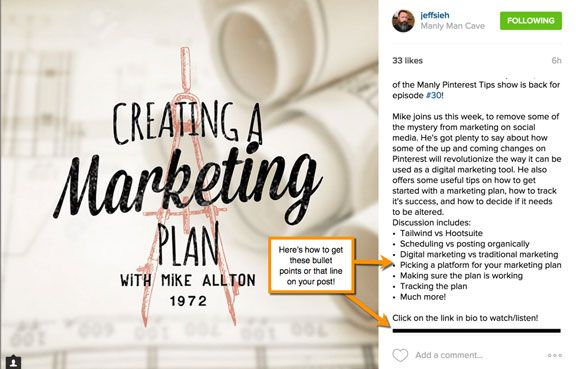 Android users have it easy: By hitting the return key after the last character, Android users can add spaces between text.
iPhone users have their work cut out for them: As the ladies at Social Studio Shop point out, try formatting your post in a Note on your phone first, then copying over. (Want to do it manually? Try 5 spaces or hard returns between text in your Instagram app).
Voila! You're well on your way to higher visibility and more interactions!
Are you already using these formatting hacks with your social media posts? Do you have any hacks you'd like to share with us? Let us know in the comments section below!