Whether you're running a large Instagram account or juggling multiple client profiles, relying on the native Instagram app can make social media management harder than it needs to be. But can a social media tool like Agorapulse really make your job that much easier? (Spoiler alert: Yep!)
Find out how using a third-party tool for Instagram can increase productivity, improve teamwork, and take reporting to the next level.
Increase productivity with straightforward scheduling
No matter how many Instagram accounts you handle, posting in the moment can be distracting and inconvenient.
If your Instagram strategy requires you to publish throughout the day, you might find yourself constantly switching between tasks, ultimately accomplishing much less than you'd like.
If the most active times for your audience tend to fall early in the morning or late in the evening, you might have to post outside of normal work hours or risk reaching only a fraction of your followers.
With a third-party social media tool, you can recapture that lost productivity. Schedule your Instagram posts with Agorapulse, and you can streamline your social media workflow while you take advantage of optimal publishing times. Planning an Instagram campaign for a new product launch or a major holiday? Using a third-party tool helps you get the message out right on schedule. To save even more time, try Agorapulse's bulk publishing feature to schedule dozens of Instagram posts in minutes.
Send posts to mobile for filters and Instagram Stories
Building a successful Instagram profile requires much more than efficiency alone. To make your company's Instagram account stand out from the competition, you need to increase your reach with Stories and create a distinctive look with built-in filters.
A social media management tool might not allow you to schedule posts using these native features, but a third-party tool can simplify the publishing process.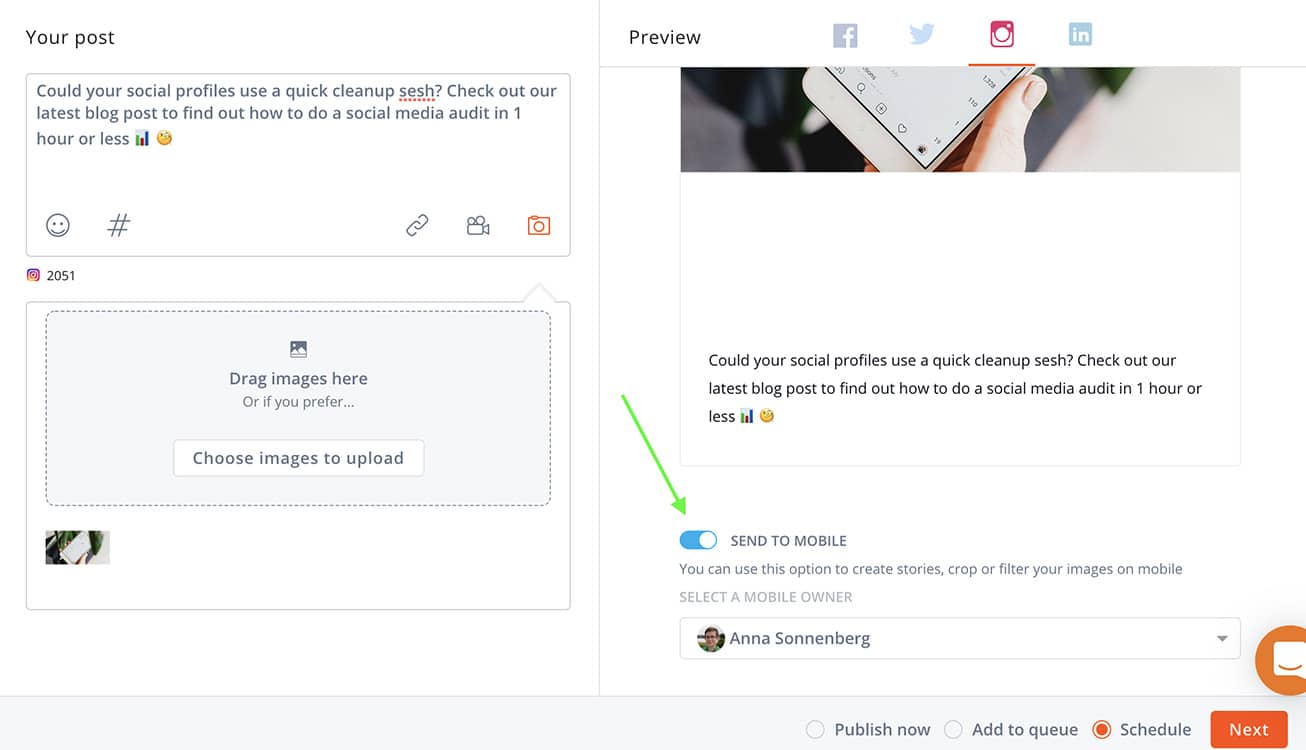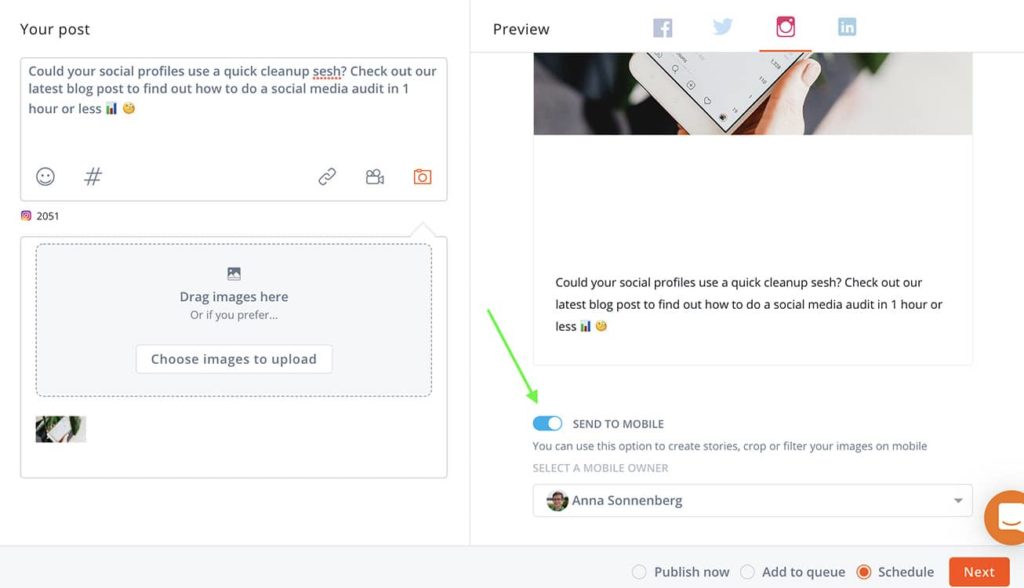 With Agorapulse, you can opt to send key posts to your mobile device rather than publishing directly. When you receive the Agorapulse notification at the scheduled time, you have the option to add filters or create an Instagram Story before pressing "share." Because it helps you avoid that last-minute scramble for the right image or the perfect caption while letting you take advantage of advanced app features, a social media tool gives you the best of both worlds.
Monitor progress using advanced social media tool analytics
Growing an Instagram account means monitoring metrics regularly. But if you've ever relied on native Instagram analytics, you might have already given up on tracking your progress. Instagram Insights are limited in scope, revealing only the basics of content performance and follower activity. Because the native analytics are available only on mobile devices, they're impossible to download or share.
In contrast, monitoring progress with a third-party tool is a breeze. With a third-party social media tool, you can track everything from audience growth and impressions to engagement and community management. (Agorapulse even shows how much each metric has changed over the previous period so you can stay on top of your Instagram goals.)


You can access analytics for standard posts and Instagram Stories at any time. Agorapulse also produces reports that you can save and share. Create a report of your global, posts, or Stories analytics then seamlessly export and share with colleagues.
Keep track of top followers with labels
As you grow an engaged audience on Instagram, you're likely to cultivate top followers who like, comment, and message regularly. If you rely on the Instagram app to keep track of your top followers, you'll quickly get lost in a sea of notifications and DMs. The native app doesn't offer any tools for categorizing your followers, so it's easy to lose sight of your most influential fans.
With a social media management tool like Agorapulse, you automatically get a handful of options for keeping track of your Instagram followers.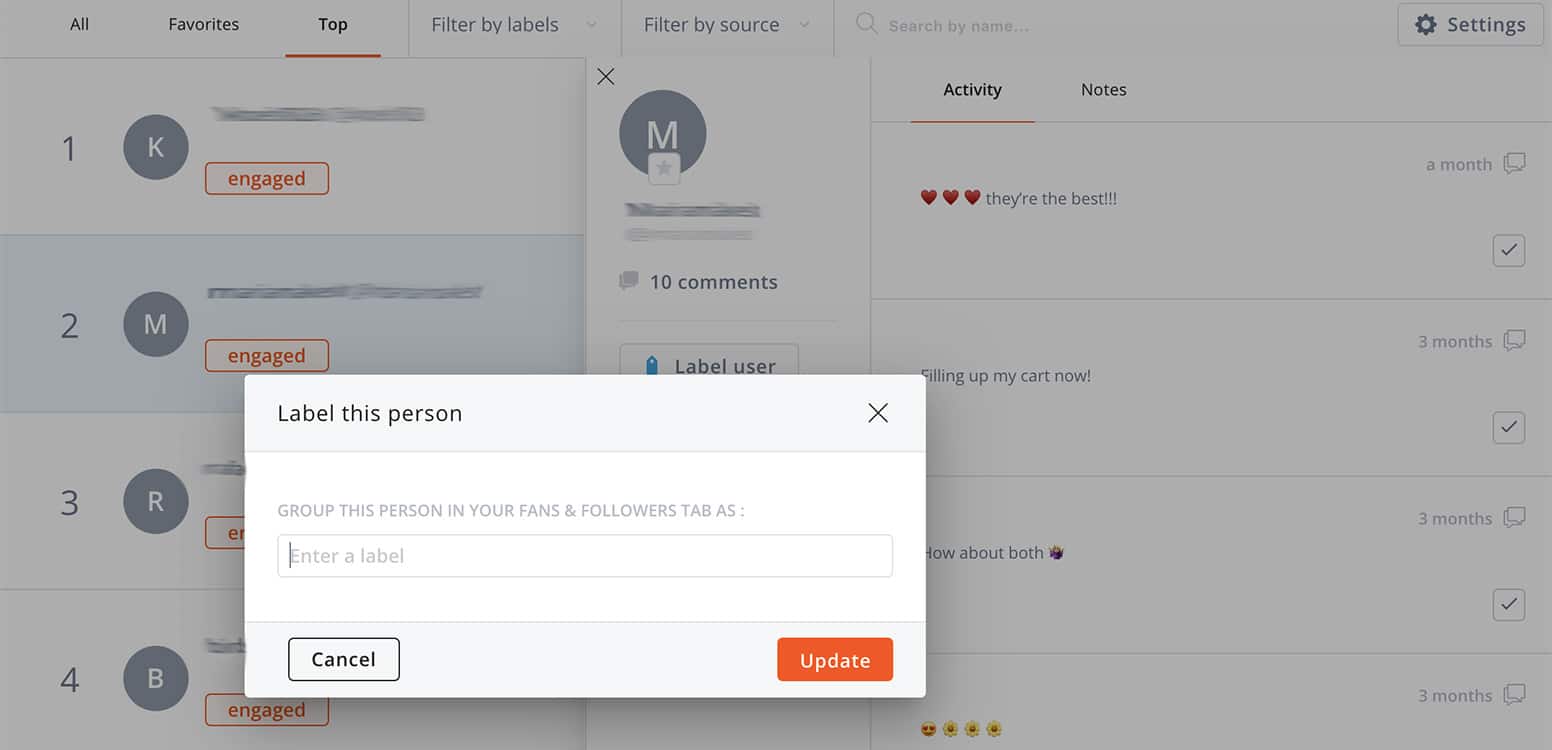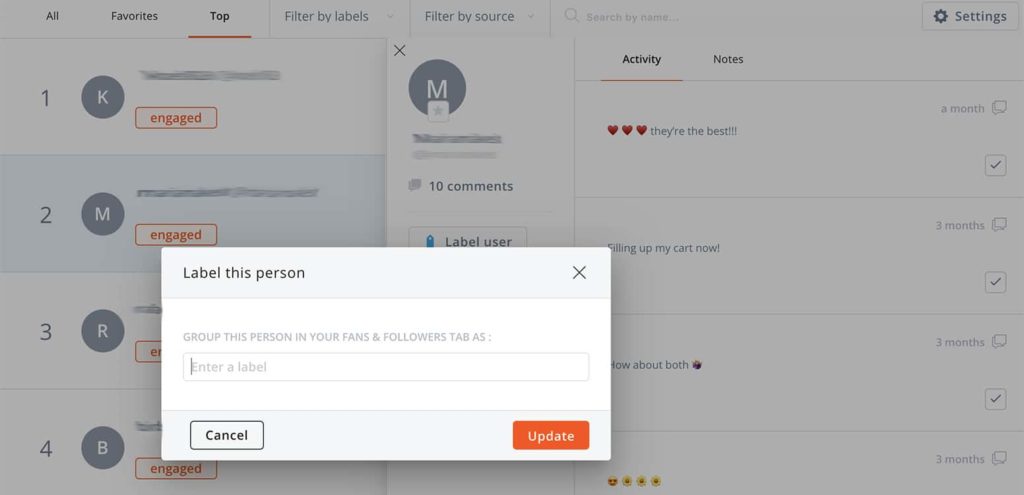 You can group your top followers, designate favorite fans, and even add labels to categorize them further. Whether you want to create a list of brand ambassadors, reach out to influencers, or monitor responses to a key campaign, you can use a third-party Instagram tool to make your job infinitely easier.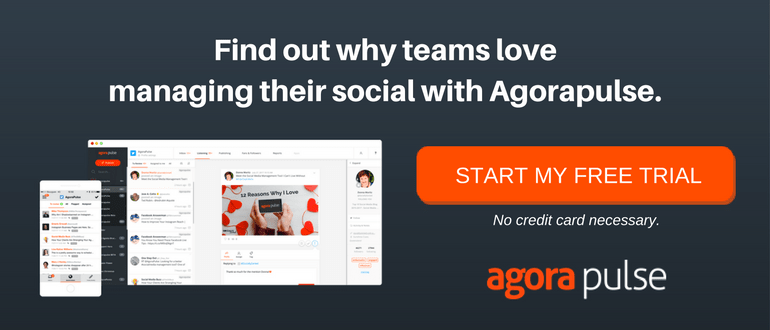 Follow key conversations with social listening features
No matter what industry you're in, you need to participate in important conversations on social media. But when you use the Instagram app, finding key conversations is easier said than done. You can follow hashtags on Instagram and even add them to your feed, but native social listening features are limited.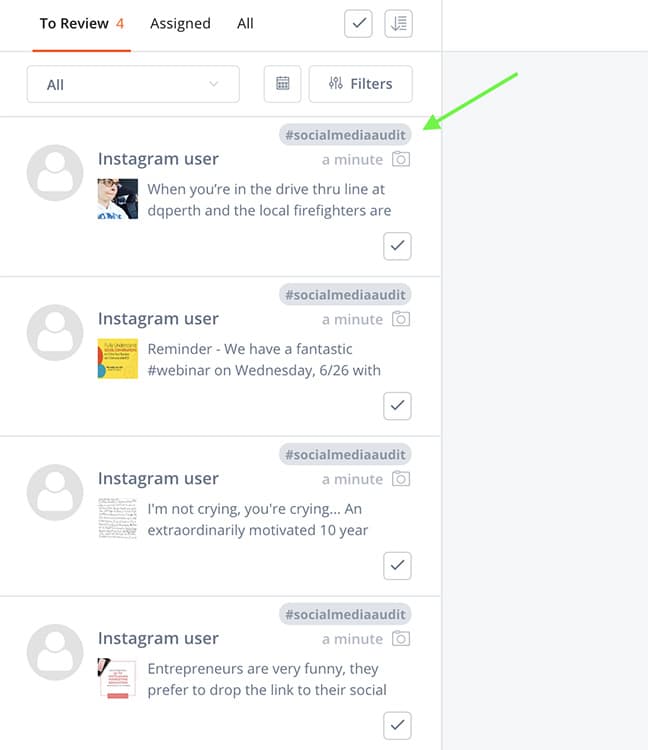 When you use a third-party tool, you won't have to worry about missing important conversations. With Agorapulse's social listening features, you can follow hashtags and phrases on a single screen. There, you can read and respond to posts and monitor hashtag popularity, so you're always on top of industry trends.
Improve teamwork with approval and assignment options
You can grow your Instagram account even faster when you have a team to help. But the Instagram app doesn't exactly encourage teamwork. The native app doesn't allow you to create drafts for colleagues to complete, leave notes about comments and messages, or communicate with your team.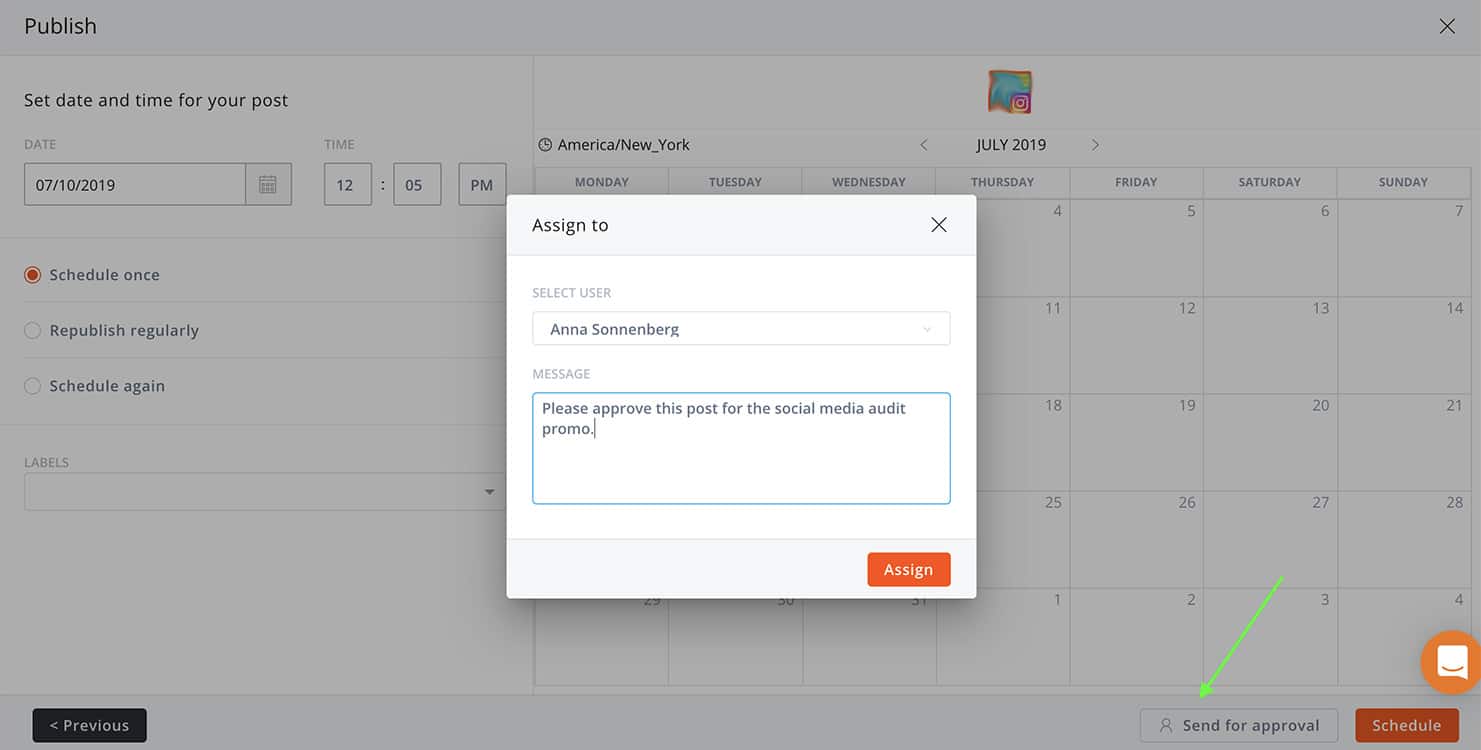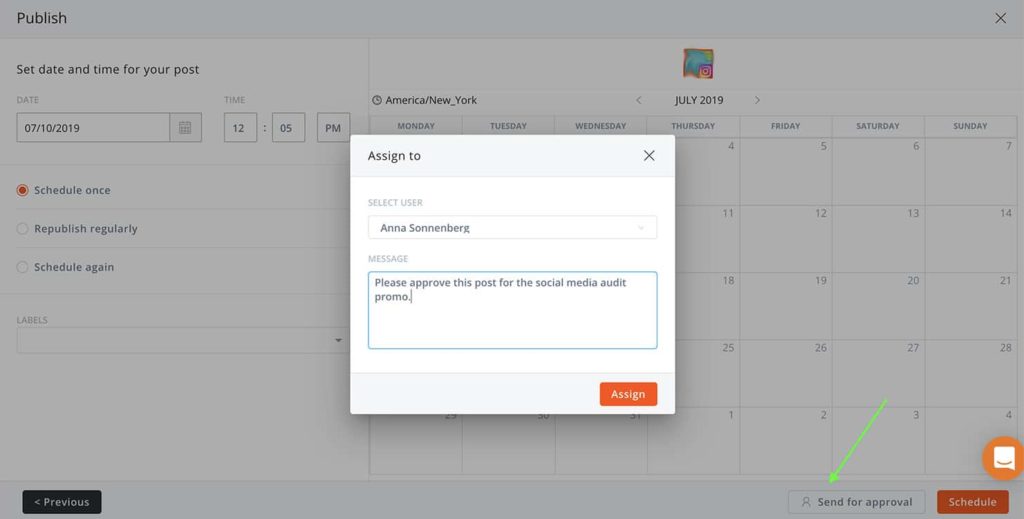 In contrast, using a social media tool can make the teamwork dream work. Need the boss to sign off on an Instagram post before publishing? Create and assign it in Agorapulse, and your supervisor can approve it to complete the scheduling process. Want to make sure your assistant replies to all the comments about your new campaign? Assign them in the Agorapulse Inbox so your team can run like a well-oiled social media machine.
Running an Instagram account involves tons of moving parts, such as planning content and scheduling posts to interacting with followers and tracking metrics. Add Agorapulse to your workflow and find out firsthand how effective a third-party social media tool can be for scheduling, reporting, teamwork, and more.
* * *
Sign up now for a FREE demo.
Pin This Post