Video marketing can seem daunting to many digital agencies. Fortunately, video creation tools for social media managers can make the task easier and—dare we say?—fun.
Adding video to your social media channels produces higher engagement, greater brand loyalty, and more interest in your product or service.
As director of Contentworks Agency, I've tried and tested plenty of video creation tools for social media. In this article, I'll walk you through my top 5 video creation tools and give you tips on how you can incorporate them into your content marketing strategy.
But first, let's take a look at some compelling statistics.
Stats About Video Marketing's Enormous Popularity
Video marketing isn't set to slow down anytime soon. In fact, it's growing in popularity and volume.
Has it replaced content marketing? No. And it's an essential add-on for your overall content marketing strategy.
Let's look at the latest video marketing stats:
But if video marketing is so great, why don't more social media managers use it? From my experience, the top ones are cost and time.
Favorite Video Creation Tools for Social Media Managers
Video creation tools for social media can be expensive, and a social media manager will not always have the budget to purchase the tools they need. Secondly, it can be time-consuming to create videos– and time is something that social media managers rarely have extra of.
To top it off, very few companies have the luxury of an in-house video editor. So, it usually falls to the social media manager to create them.
So, let's look at 5 affordable video creation tools for social media managers that save time.
Related Post: Social Media Marketing 101
1. Biteable
I discovered Biteable last year and after using the free version for a while, I upgraded to premium.
Biteable offers a range of easy drag-and-drop templates to suit different sectors. Whether you're looking for a quirky fun video for Twitter or a more serious corporate SlideShare, Biteable has it all. Plus, with the premium version, you can choose your music, access 85,000+ stock footage clips, or upload your own footage.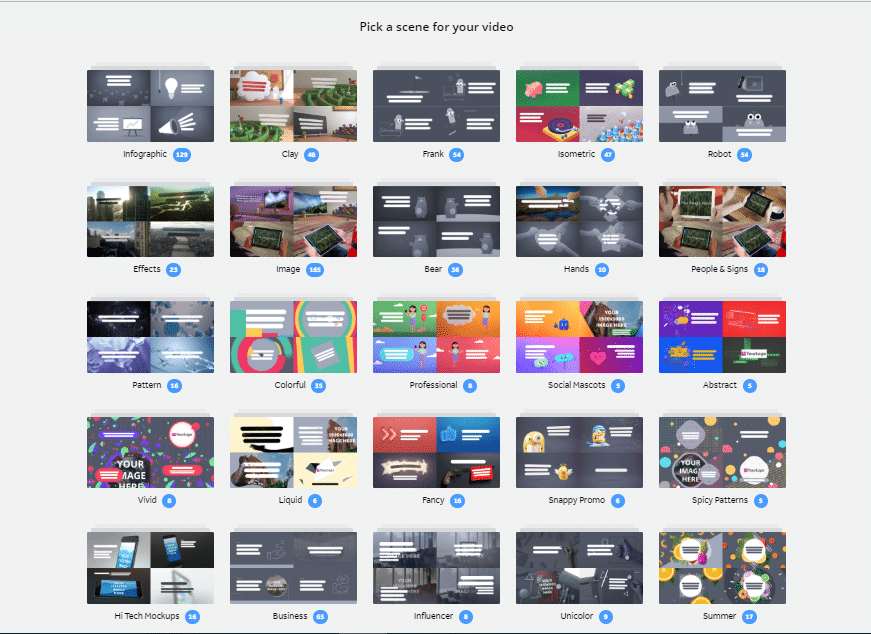 Here's a video we made earlier using Biteable.
Cost: Biteable offers a free version, a starter version for $15/month, a plus plan for $29/month, and an unlimited plan for $49/month.
Verdict: Biteable makes it very easy for social media managers to brand their (and their clients') videos. This can be done by always choosing the right colors and fonts or adding your logo.
Be sure to stay on brand. Don't be tempted by bright and shiny templates if they don't fit your industry or brand offering. (I'm speaking from experience here!)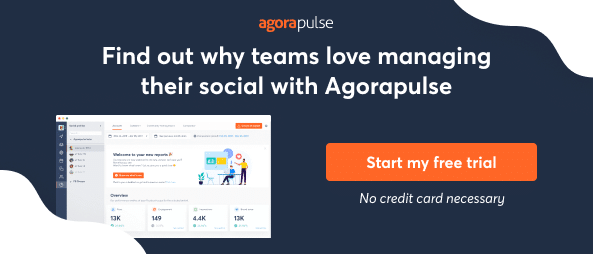 2. Genially
Genially is the Swiss Army knife of video creation tools, thanks to its versatility.
With Genially, social media managers can create presentations, infographics, dossiers, video presentations, e-posters, quizzes, and much more.
If you've used Canva (another of my all-time favorite tools), then you will find Genially super-easy to handle. That's because the user interface is similar, and all the templates are customizable in the same way.
Genially is user-friendly and gives social media managers plenty of ideas. As you can see below, my "Name the Person" game would be ideal for Twitter and took just 5 minutes to create.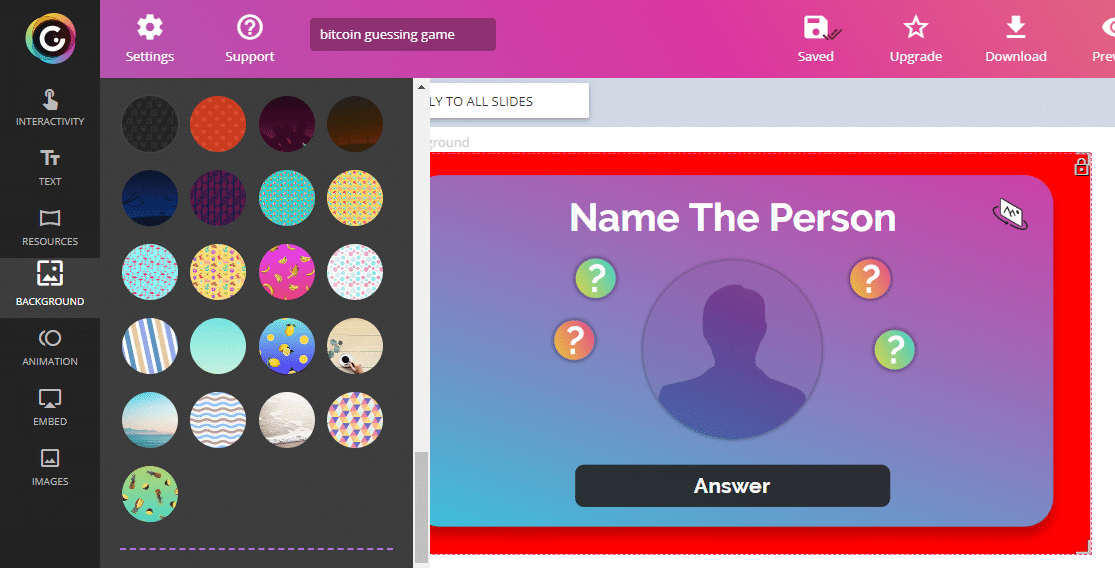 Play the finished Game here.
And there are tons of video templates to try out, too.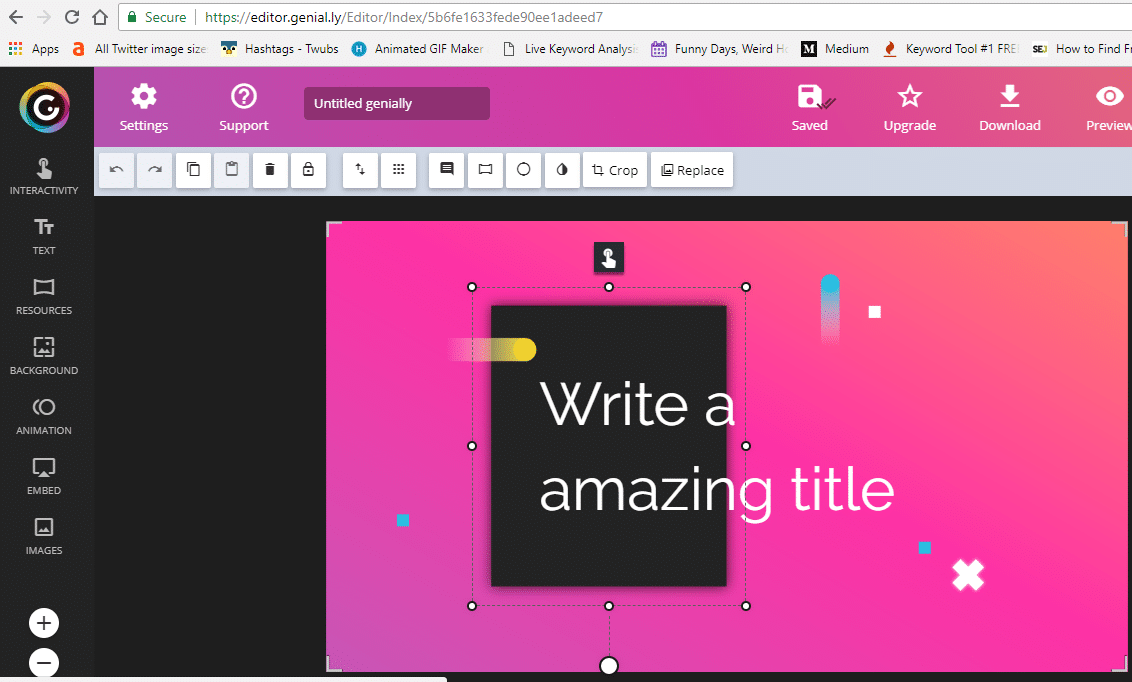 One of the cutest Genially features is the inspiration panel where you can view videos that other people made. Definitely an inspiration for tired social media managers up and down the land!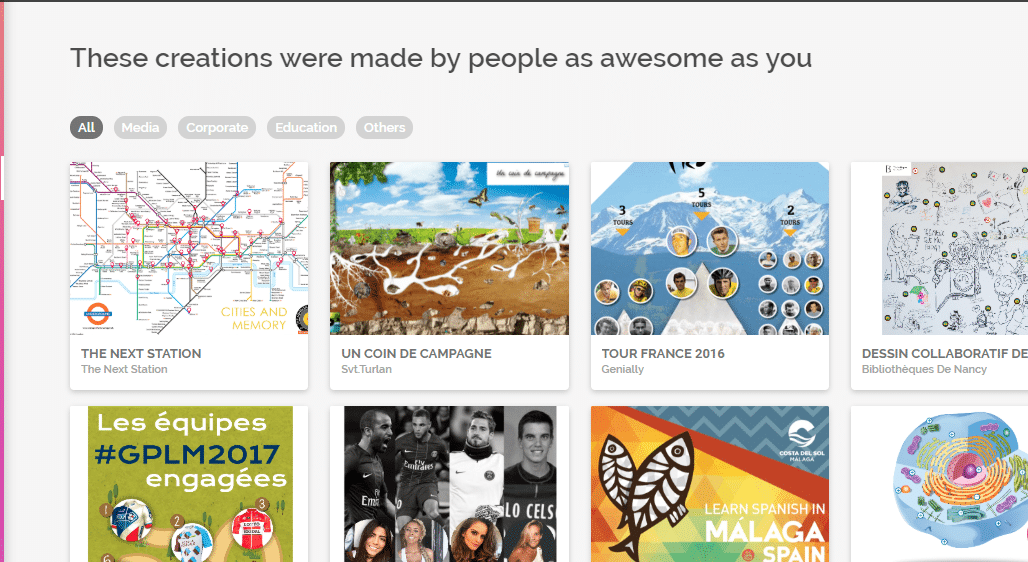 Cost: Genially offers a free basic version and several paid versions under Pro, Master, or Team. These range from $7.49- $79.15 per month. Be aware that you cannot download any designs or videos using the free version.
Verdict: This is an affordable and versatile video creation tool that could certainly pull its weight in your marketing team. It also offers useful infographic templates you can animate. Now, that's a cool social media tool!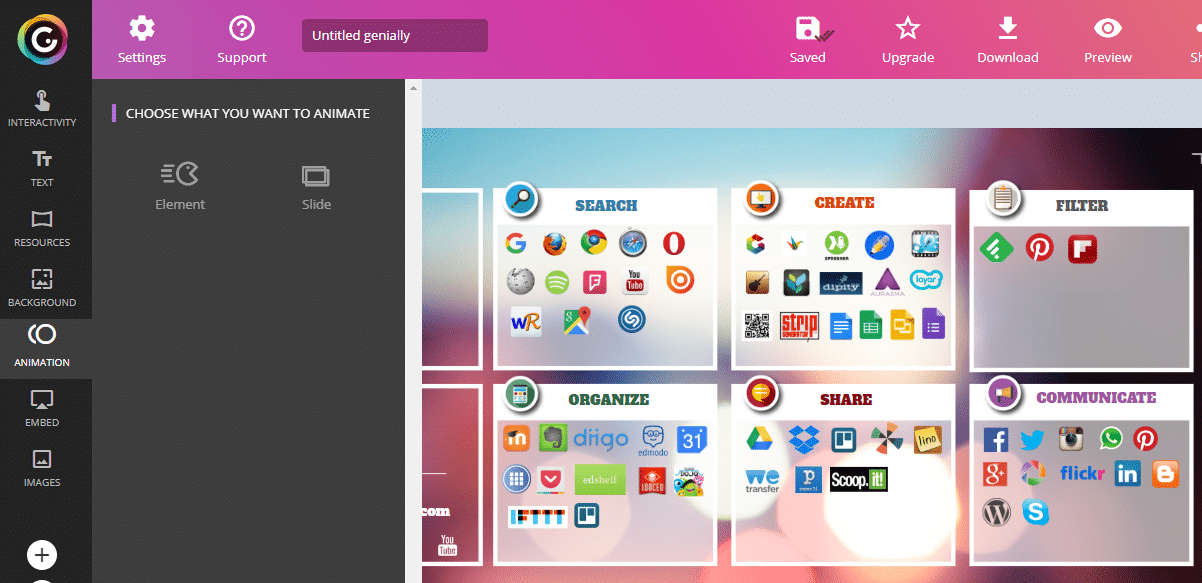 3. PosterMyWall
PosterMyWall is the latest addition to my social media video creation toolkit, and I must say I'm already a huge fan!
PosterMyWall offers graphics, GIFs, and videos on a "Pay as you go" or subscription basis. In other words, you can choose to pay for the video design you want when you download it.
One clear advantage of PosterMyWall is its immense library of high-quality stock videos. It's incredibly easy to search for the one you want in the video library.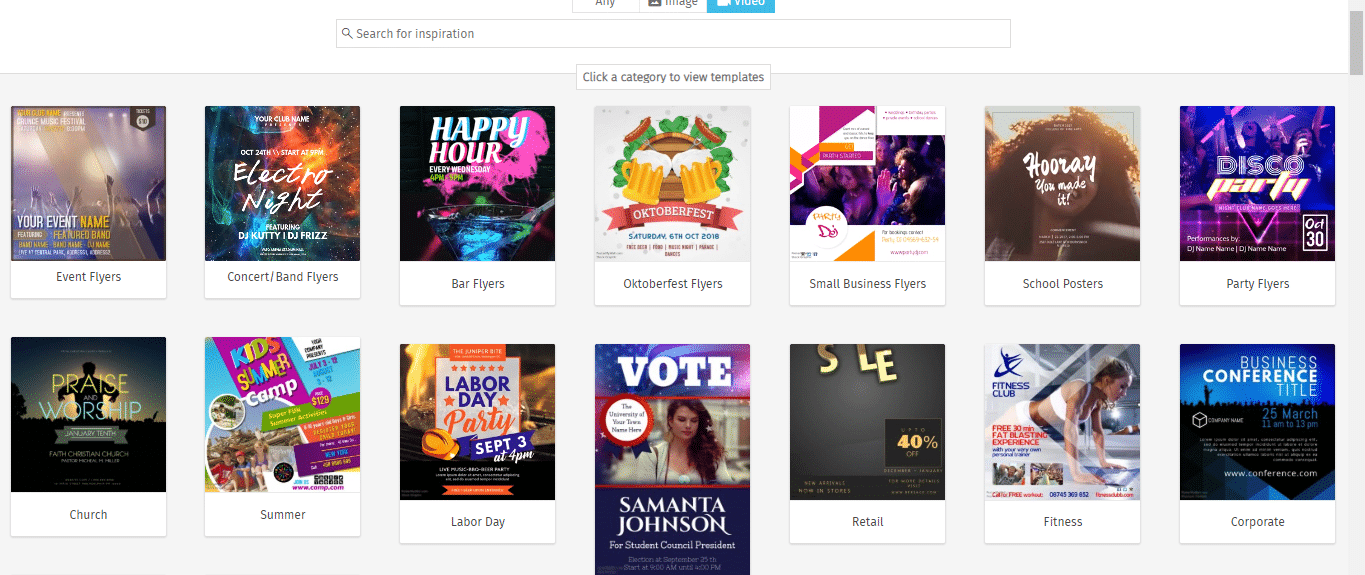 Unlike apps like Biteable where you create a video to tell a stand-alone story, PosterMyWall is a little different. You use it to create a video that's a part of a message or flyer—like the moving portraits in Harry Potter.
This is really cool for businesses that need to promote as opposed to tell a story. For example, a new bar opening, poetry night at the library, or a new restaurant menu.
Cost: You can get custom HD Videos for $14.95 or get a subscription for $99.95 a year. However, subscribers still need to pay $7.39 per video for videos which is a little confusing and can make it difficult if you need to keep asking for more budget.
Verdict: PosterMyWall is a great video-creation tool and one with a modern fresh interface ideal for Instagram or Facebook. The easy drag-and-drop design means social media managers can create something amazing in minutes.
4. Animaker
Animaker is a great whiteboard explainer and infographic video creation tool.
The tool offers highly customizable video frames with the choice of adding characters that fit with your sector or brand.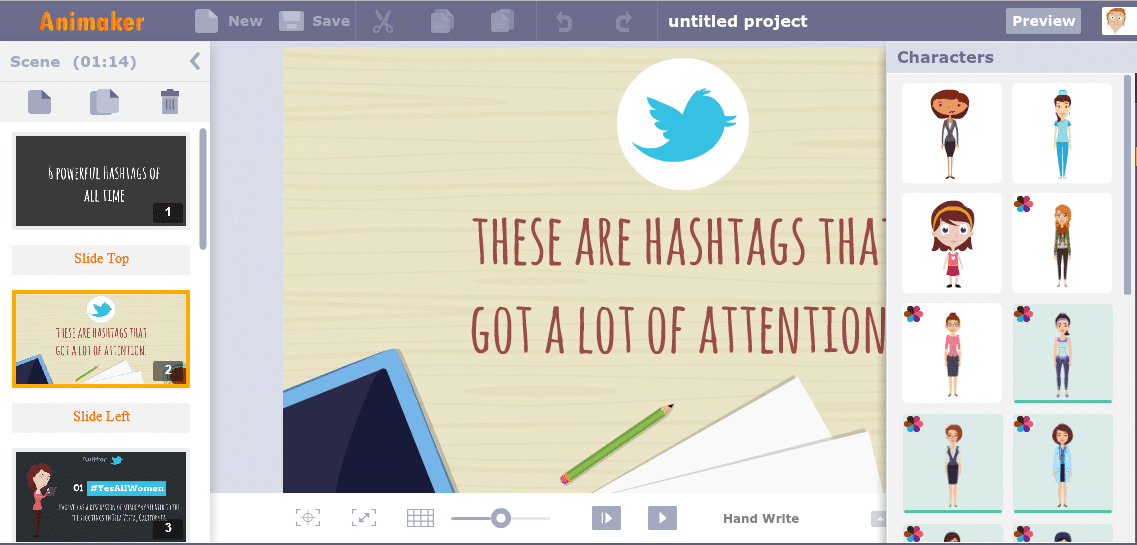 I'm not a huge fan of adding cartoon characters to explainer videos as they can look a bit dated. However, you get plenty more options with Animaker, so you can choose the look you want.
A unique video creation feature offered by Animaker is the Voiceover tool. Animaker voice allows you to easily convert your text or script to high-quality human-like voice overs.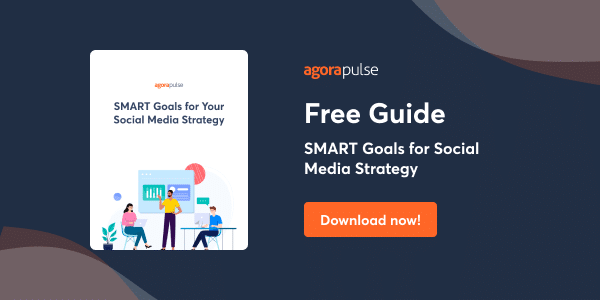 Simply type in any text or paste your voiceover script. Play and review the generated voiceover or download it as an audio file to use in your videos. You can even control pronunciation, volume, pitch, speech rate, etc. using advanced voice controls. Now that is cool!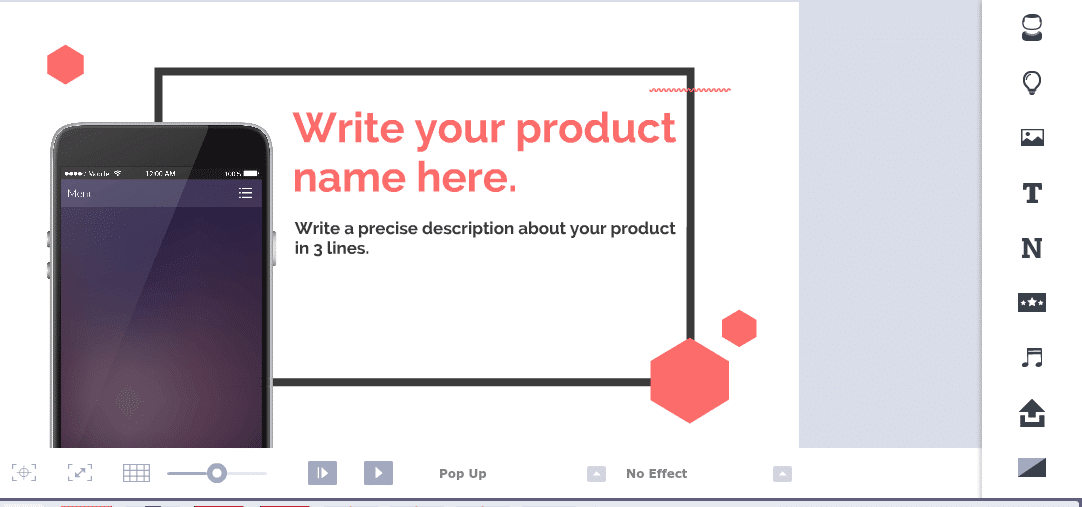 Cost: From $12 per month to $39 per month when paid on an annual subscription basis
Verdict: In my opinion, Animaker has a lot to offer, but it's not as user-friendly as the others on this list. However, Animaker does offer great tutorials to new users so these are highly recommended to get the most out of your experience. Check out the tutorial video to get acquainted with the tools available.
5. Shakr
As the priciest video creation tool on the list, I expected great things from Shakr, and it didn't fail to deliver.
Shakr is the leading video-making platform for Facebook marketers and therefore as you would expect, offers high-performance tools to create ROI-generating video ads. (If you want to see just how well those Facebook ads are performing, our free AdsReport tool can help.)
Marketers can also promote video ads on Facebook and Instagram with Shakr Advertise. This tool also offers an inbuilt analyzer for tracking ad performance and reporting on audience demographics.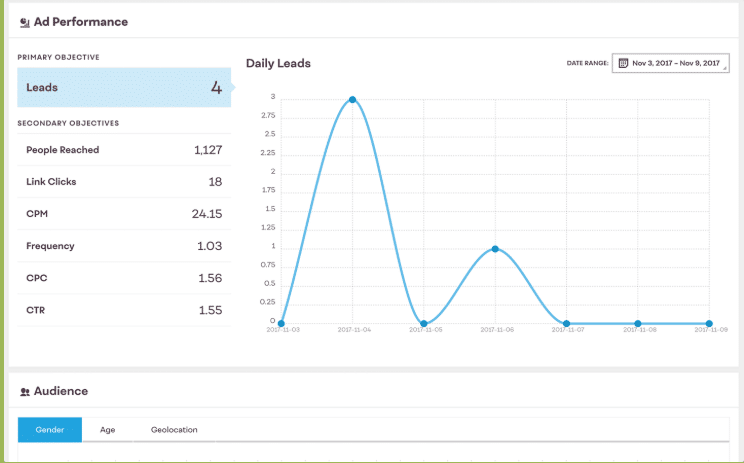 There are tons of ultra-professional video templates on the site including Facebook covers, ad videos, e-commerce videos for apps like Shopify, and even designs for gaming apps. And with Agorapulse you can schedule video content for Facebook with just a few clicks.
The look and feel of the dashboard will make you feel like a movie editor.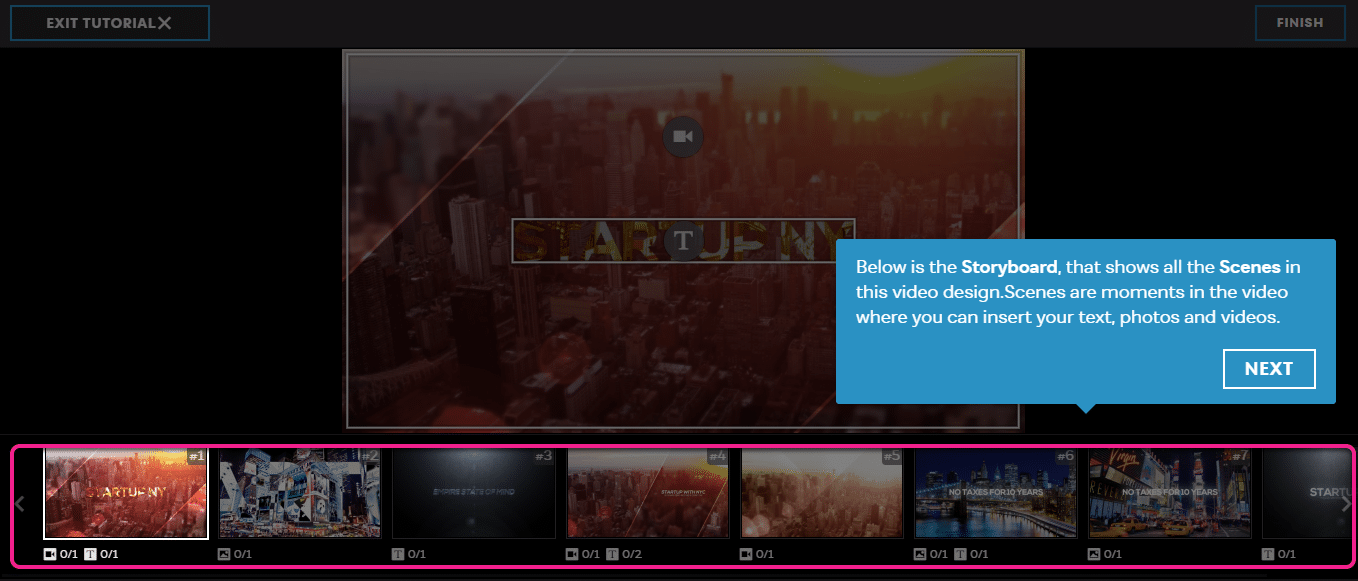 Cost: From $99 to $349 per month when paid on a subscription basis
Verdict: If you're serious about grabbing dollars from social media advertising then invest in this video creation tool. Nothing about Shakr looks cheap and though it will require a bit more of your budget, it's easily justified in my opinion.
In Conclusion
So that's my top five, but remember, whichever video creation tool you go for, use it wisely!
* * *
Sign up now for a FREE demo.