Building and maintaining your brand on social media isn't an easy task. This goes double when your brand is, well, you.
Many authors, performers, public figures, and artists struggle with this daily social grind while juggling the actual doing of the thing they are trying to promote.
Engaging with followers of your personal brand isn't like any other form of advertising or PR– it's an ongoing conversation that you can't politely walk away from.
It's kind of like a giant WhatsApp group chat that you can't mute because everyone is talking about you. The pressure is on to monitor and respond or risk losing control of your own narrative.
Keeping up appearances on social takes a lot of patience, dedication and– most tasking of all– time.
Robb Wolf is oh too familiar with these challenges.
When he's not busy being a dad to his daughters Zoe and Sagan, along with wife and business partner Nicki, he is on a mission. A mission to help his readers, social followers and live seminal audiences integrate health, wellness, and sustainability into their lives.
Robb is the two-time New York Times and The Wall Street Journal bestselling author of The Paleo Solution and Wired To Eat.
Robb chatted with us about the journey he and Nicki have been on. The journey of building influence across social media in order to make an impact in people's lives.
"It's odd when your brand is 'you' but that is the story for robbwolf.com. We've been at this for a looong time. We hit the scene in what I guess you'd call 'Web 1.0' when, if one generated good content, you drove traffic, and if you had a decent monetization process, it worked well. Much of this was driven by my interfacing with folks directly―it was a lot of relationship building."
Biting Off More Than You Can Chew
Things were going great for Robb and Nicki. However, when your product is yourself, life events can quickly see you going out of stock.
"We kind of missed Web 2.0 when folks were crushing it with basic Facebook ads and had an option for 'set it and forget it.' We then had two kids, my wife was the co-founder of a tech start-up. Our online business was on, at best, 'coast mode' for about five years."
"A year ago we circled back into this scene, looking to make a real business out of my online presence. Facebook ads had changed, social media had changed."
Everything had changed.
The rise of countless social influencers meant audiences were expecting much more personalized content from those they follow in order to keep paying attention, and actually care about more sales-focused posts.
While growing his business, conducting media appearances, seminars and being a dad to his kids, brand momentum also meant a growing commitment to combing social notifications and responding to posts.
A great deal of time was being wasted managing multiple platforms through a mixed bag of social tools. Comments, question, and ad engagements were falling through the cracks.
Robb desperately needed to cut the fat on his own social time investment.
"An acquaintance recommended Agorapulse as a solution mainly for better social media engagement. I signed up for the free trial and was immediately hooked!"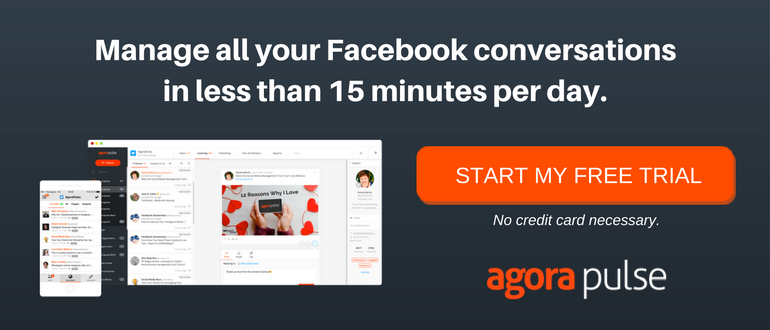 A New Supercharged Personal Brand
"Folks REALLY want a personal connection again and this is where Agorapulse has really helped. What once took hours to slog through now takes minutes. We have seen a direct relationship with my ability to interact with people and our online sales―it's been a virtuous cycle."
Using the Agorapulse all-in-one dashboard Robb was aided to wrangle his social engagement, providing him with a single feed for all notifications and allowing him to hit the ever elusive inbox zero, knowing he had responded to every commenter.
He directly attributes this to a significant jump in sales.
"It's hard to quantify exactly how much time Agorapulse has saved as I KNOW I was missing some comments and posts entirely. Also, it's a bit difficult to provide a legit ROI but our sense tells us with better engagement we have better sales―it might be as much as 20%."
Results like Robb's are completely achievable.
If you find yourself huffing and puffing while building your social presence, Agorapulse could be the personal brand revolution you need for a brand new you. ?