Managing your social media analytics and building your reports may be the most time consuming task you can face as a social media marketers. It's a real pain.
Facebook provides a lot of data while Instagram doesn't provide any.
And Twitter? Well, it provides some statistics but when it's time to build the reports, it becomes harder.
Here's the rub with Twitter analytics.
Twitter analytics provide good metrics about your tweets and followers. The thing is: you need to build a report with your hands. And it takes time… a lot of time. As long as you don't have to build your own report, you're fine. But if your boss or team needs to see a report, you'll want one at no extra cost with no extra time involved.
Sure, there are Twitter reports already on the market. But more often than not, you'll need to pay for them — even just to get one measly report.
If you use Agorapulse, Twitter analytics reports come with your subscription in a Powerpoint format for no extra fee.
And guess what? You can also get your report for free during your free trial.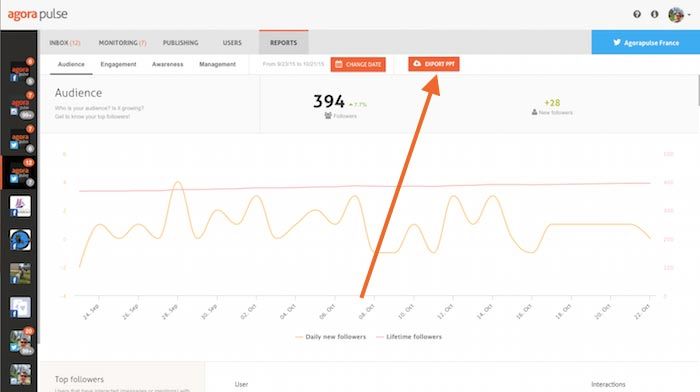 It definitely deserves a try, doesn't it?
What you'll find in your free analytics reports:
We focus on key metrics to make your life easier: audience, engagement, and brand awareness.
These metrics help you determine: Are you performing well? Better than last month or last week? You'll see the evolution in your report. You'll also find rankings on your top users and top tweets.

If you're not the only one person to manage the account, we have something special for you. The reports will tell you which team members did what in the reporting period. A good way to stay on top of your team activity on Twitter!
You can download your own report by starting a free trial. But if you don't have time, here is a PDF example:
Once you've downloaded the report, let us know your feedback!