If you're using Twitter for business, I imagine you've heard of Twitter chats. And, if you're reading this post, you probably want to learn what all the fuss is about. What are the reasons you need to start joining Twitter chats? What's the purpose? How does this help my brand and my business?
In this post, I'll explain why participating in Twitter chats should be a part of your overall Twitter marketing strategy.
But first, for any newer Twitter users or Twitter lurkers, a definition: A Twitter chat is a live conversation focused around one topic that uses a unique hashtag so all participants can follow along. Tweet chats are scheduled in advance and typically hosted by one user or group of users who keep the conversation moving with question prompts to keep the discussion moving.
[Tweet "A Twitter chat is a live conversation focused around one topic that uses a unique hashtag so all users can follow along."]
1. Get Exposure
One of the biggest perks of joining Twitter chats are for the exposure of your Twitter account. Get your name out in the mix as an active Twitter user with a unique voice. The more you participate in Twitter chats, the more your name, profile picture, and content are going to be seen.
I can make a pretty good guess that most of us are using social media to get our message, our brand, our products, or our services in front of people. This is what Twitter chats allow you to do!
2. Build Authority
Now that you're getting exposure for your Twitter account, start building on your voice. What unique information do you have to add to the conversation? Showcase your expertise and build your authority as someone worth listening to and ultimately staying connected with through following. Let people know your thoughts on the topic – that's what the chat is for!
Please note that Twitter chats are not a place for you to promote your own links and articles. Don't hijack the chat!
If you have an article that directly relates to the topic, it wouldn't be out of the question to share it just once. Don't keep linking back to your post and trying to direct people away from the chat. That's an easy way to discredit yourself, be muted, or blocked!
And that will really kill your authority.
3. Connect with Potential Customers
We know that participating in Twitter chats gets you exposure and one of the perks of that exposure is the possibility of connecting with potential customers. While you've built up authority on a topic, you can become a go-to source for people after the chat is over.
Make yourself available to people in the chat and follow-up with anyone you see could benefit from what you offer after the chat concludes. Here are a few ways to make yourself a great person to connect with during the chat:
Answer the questions. (No brainer!)
Favorite tweets from other participants.
Retweet anyone with great insight.
Reply to anyone who you want to make a stronger connection.
Follow other participants.
Put tweeters on a list named after the chat so you can keep them organized.
For more insight on finding potential customers and prospects on Twitter, check out "How to Identify Prospects on Twitter in Just a Few Clicks" right here on Agorapulse's blog.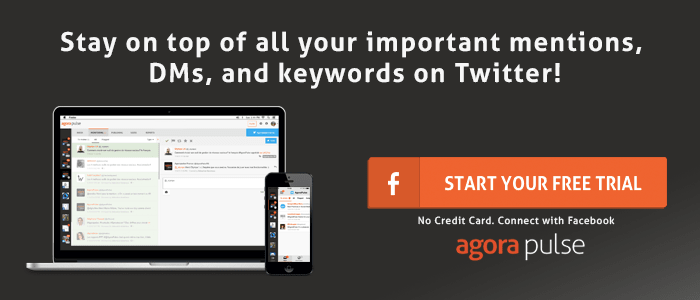 4. Get More Quality Followers
Quality. Quality. Quality. I don't care how many followers you have. I don't care how many followers I have. I care about the people that follow me and the ones that I choose to follow. When you connect with others who participate in Twitter chats, you find the following types of people:
Active
Invested
Interested
Yearning
When you find people in a Twitter chat, we know the above about them instantly. These are people who are active on Twitter. The analytics firm, Twopcharts, reported in 2014 that there are more than 974 million Twitter accounts. But, according to Twitter, only 316 million Twitter users are active each month. So these Twitter chats are helping you filter through people instantly by finding people who are actually using the platform. We also know that they are invested in using the platform to either educate themselves or gain exposure for themselves. We know they're interested and yearning for more from this platform so these are people we want to connect with by following and getting them to follow us back.
[Tweet "According to Twitter, there are 316 million Twitter users active each month."]
5. Educate Yourself
Joining Twitter chats is not all about promoting you and your brand. It's also about educating yourself on a particular topic. There are some incredible Twitter chats that happen everyday that will help you build your knowledge base on an infinite number of topics whether you're in the marketing and social media space, food and nutrition, business management, or any other genre. Use Twitter chats to learn about topics you don't understand and want to learn more about quickly. Be sure to ask your own questions too!
There are a lot of perks to joining Twitter chats and I hope these 5 reasons have helped sway you to participating in your first one.
For a list of Twitter chats you can join in, check out this Twitter Chat Schedule from TweetReports. They've categorized the chats by topics, days of the week, and times to make it easy.
Do you have a favorite Twitter chat? Or did you see one on this list that you are going to participate in? Tell us in the comments!