When was the last time you reviewed your Twitter bio? Those 280 characters that accompany your profile can be a powerful relationship-building tool.
A good Twitter bio introduces you and your business to your audience and shows them what kind of content they can expect from you.
Used well, your Twitter bio will be memorable, help you build relationships, and attract the right followers.
Recently, your bio has become even more important. When you follow someone, your full bio shows up in their notifications feed. Get it right—and you'll get more follow backs.
Get Your Twitter Bio Right
A good Twitter bio grabs attention, shines with personality, introduces your brand, and sets expectations.
And if you think it's not possible to do all of that in limited characters take a look at this from Innocent Drinks. It ticks all the boxes and is just 103 characters.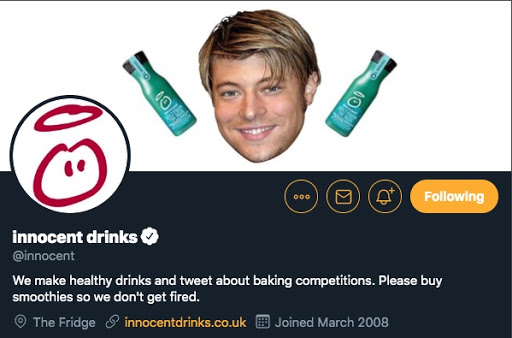 When constructing your Twitter bio, you need to consider:
Will you be easily found in Twitter search?
Will your bio spark conversation and encourage people to follow?
Does it accurately represent your business?
Does it tell people what you do?
When auditing your Twitter bio, ask yourself:
Are there any typos or misspellings?
Does it tell people what I do?
Is it easy to read?
Is there a hook that will help spark conversation?
Does the language in it reflect my brand personality?
Will I be easily found in Twitter search?
Now, you know what you need to change you can start writing a new one.
Related Post: Twitter 101: What Every Smart Social Media Manager Needs to Know
Here are 11 things you can consider adding.
There's not enough space to include them all on your Twitter bio … but pick the right ones for your business. You could see immediate results!
1. Share your interests
For small businesses that have just one person in control of the account, add your interests.
Think about it … When you network offline, you get to know people better. You discover their interests and hear about their family, their hobbies, and what makes them tick.
By building these relationships, you get the confidence to do business and refer business.
We can do the same on Twitter.
By sharing your interests in your Twitter bio, you are hooking people into a conversation. I love it when I find someone new on Twitter that shares their hobbies or interests. It makes it easier for me to chat and find common ground.
It works for me, too.
Here's my bio: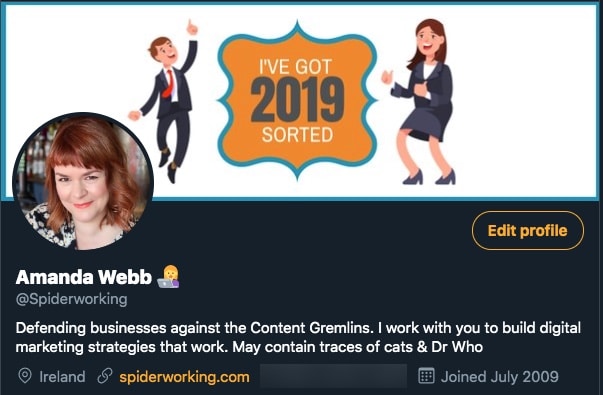 Most of my tweets are about digital marketing, but occasionally my other interests shine through.
Look at some of the tweets I've received in response to my bio: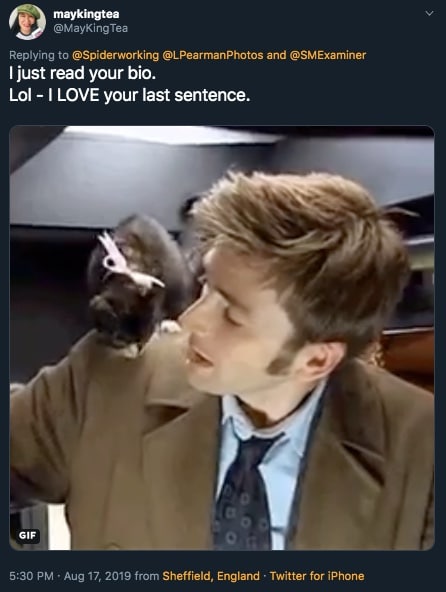 My love of cats has also allowed me to start conversations that have led to business. Never underestimate the power of cats!
It's not just me that adds interests. I love this bio from restauranter Jess Murphy. This is the main account for her restaurant, and it tells me straight away that she's obsessed with food and has good taste in music.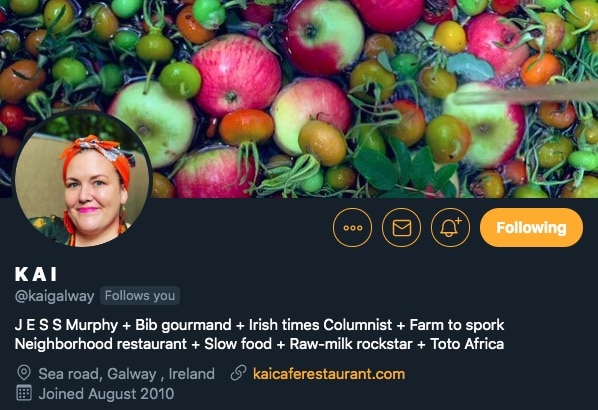 2. Be personal in your Twitter bio
It's easy for your personality to get lost behind your business's name. For small businesses, adding a personal touch to your Twitter bio should be easy, especially if you're the only one tweeting.
Sometimes, the smallest accounts are the best examples. I love Red Rufus Sock Dog's Twitter bio. It's packed with charm. After I read the bio I had to follow, she seemed like someone whose tweets I'd enjoy reading.
If you are a brand, it's still possible to let your personality shine through.
Once you've defined your brand personality, you just need to add it to your bio.
When I read the Penguin Random House bio, I cringe a little at "Bookworms Unite," but it's those words in the bio that define its brand personality.

3. Tell people who you are
The problem with business accounts on Twitter is that it's easy to forget that there is a human being behind the account.
In a way, it de-personalizes the brand. You can get around this is by using your bio to tell people who is tweeting.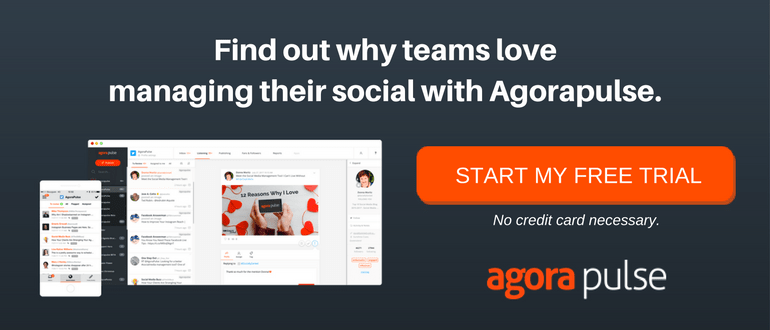 Book Culture doesn't just give you the names… The account also shares the Twitter handles, so you can get to know the tweeters better.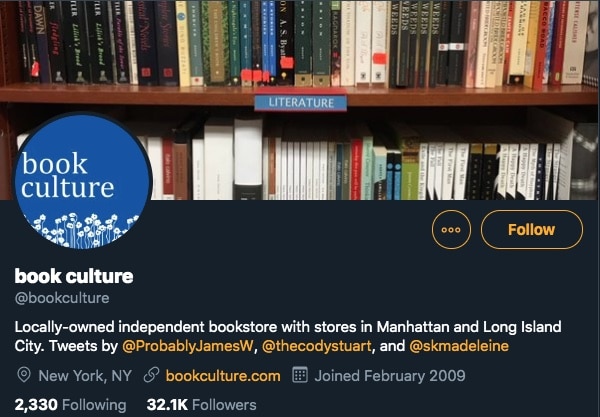 You don't have to include bios though. A name is enough.
And if you sign off your tweets with that same name, people will feel like they are talking to someone.
4. Tell people what you tweet about
Why would someone want to follow your Twitter account? When they view your bio, do they know what they will get if they follow? Will they be bombarded with sales posts or is there something in it for them?
Telling people what you are tweeting about manages expectations and attracts the right followers.
Using keywords in your Twitter bio will also make you more discoverable in Twitter search.
People will be naturally skeptical of business accounts on Twitter. They think they will be bombarded with sales posts if they follow.
Your Twitter bio is an opportunity to reassure them that such a thing will not happen. Tell people what is in it for them if they click the follow button.
Pew Research Fact Bank says in its bio that it'll tweet about (unsurprisingly) research. And its feed is full of graphs and stats.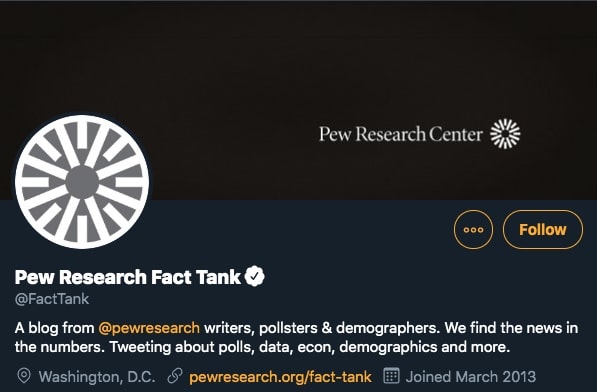 5. Use hashtags (with caution)
Hashtags can make your bio more visible. When people search for a hashtag, they may find your account listed in both the 'top' and 'people' results.
Adding a hashtag doesn't guarantee you'll appear in these results … but it can help.
Another way to use tags in your bio is to use brand hashtags. These encourage others to use them and when clicked will show your followers all the tweets tagged with your hashtag.
Dictionary.com uses brand hashtags effectively in its bio. Click the #WordOfTheDay tag and you'll soon get lost in a sea of bizarreness.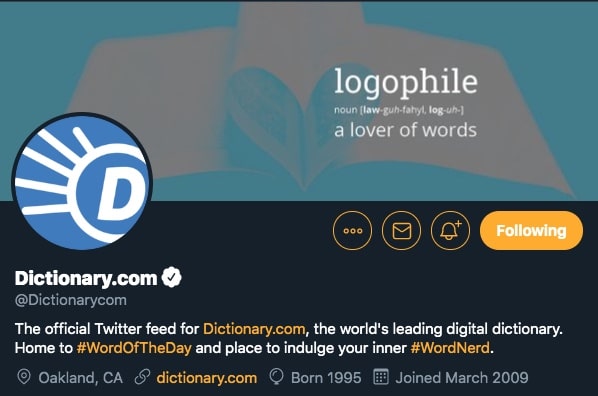 Before you go tag mad, be careful.
Too many hashtags are a turn off for Twitter users. They make your bio almost unreadable. And you are missing out on valuable space to capture the attention of your audience.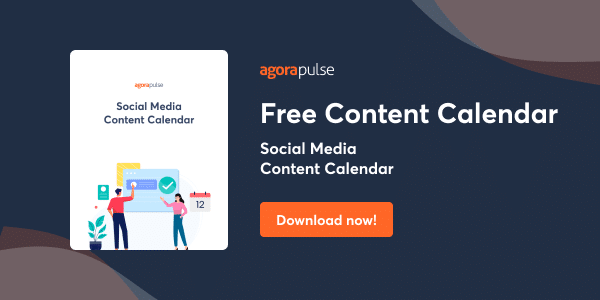 6. Cover the important stuff
Who is your Twitter account for? What do they expect to see from you when they arrive on your profile? Do they want to contact customer service? Do they need to know about your latest event?
You can use your Twitter bio to share information important to your followers.
The Dublin Fire Brigade has a red-hot Twitter account, but they need to ensure that people don't tweet them in case of a fire.
The brigade's bio ensures people know they aren't there to monitor the account all the time and what to do in an emergency.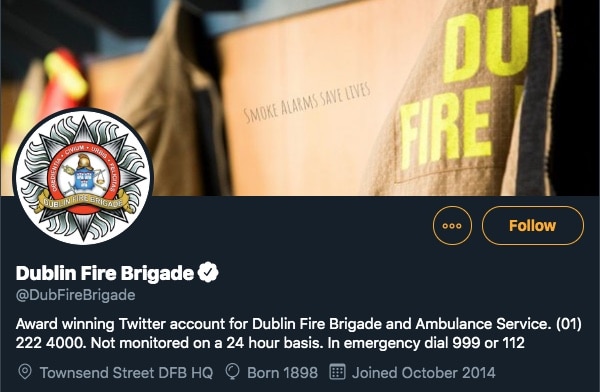 7. Tell people what you do
We can get so carried away with writing an interesting bio that we can forget to tell people what it is that we do.
Big businesses like Ben & Jerry's or Innocent Drinks can get away with being cryptic.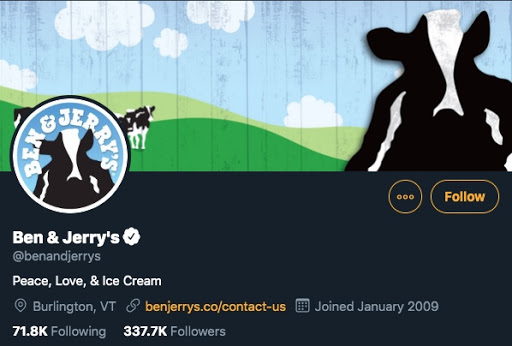 But if you aren't a household brand, you need to find a way to tell people what you do, fast, without boring the pants off them.
Simon Communities are a homeless charity based in Ireland. The bio is informative about their work but also friendly.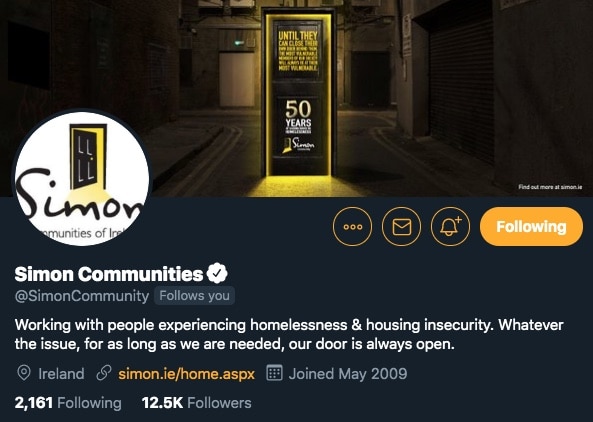 8. Add humor
Every business wants to be remembered, and humor helps people remember.
Even big brands want people to come back to their Twitter account. So you'll often find them adding in-jokes and subtle humor. It doesn't have to be laugh-out-loud funny, just enough to make your reader smile.
Netflix changes up its bio to promote new shows. Most recently, Netflix UK & Ireland teased tweeters with a pun based on the new Dark Crystal series.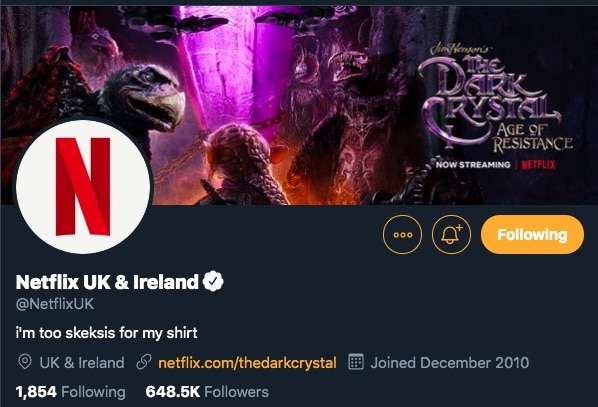 9. Location
Whether your business is local or nationwide, it's important to include this information in your Twitter bio.
The good news is this doesn't have to be part of your 160 characters. There is a specific section that allows you to input this information.
You can customize this to say whatever you want. If you are hyper-local, you can enter the town, county, and country you work in. If you are national, the country will suffice. If you service the whole world, "Global" or "Worldwide" are good descriptive terms.
Adding a location will help you appear in more search results.
10. Links
There are two places you can add a clickable link to your Twitter bio. There's a section specifically designed for it, but you can add a second link as part of your 160 character bio.
Because your bio (without the link section) now shows up in more places on Twitter you can add your main link there as well as the link section. So, it's clickable from the notifications feed, the search feed, and other searches even if people don't visit your Twitter profile.
Or you can add a second link to a sales page, download, or email subscription. That's exactly what the Netball World Cup has done.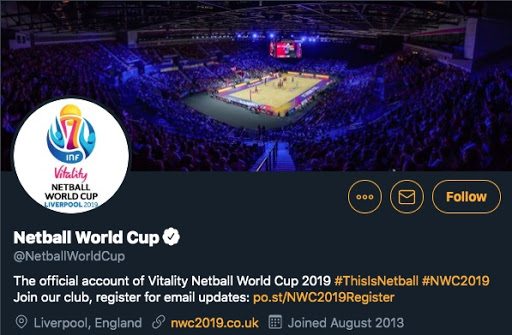 11. Disclaimer
If you work for an organization that requires you to add a disclaimer to your personal Twitter bio retaining a personal touch can be a challenge. I like this approach from correspondent Matt Steinglass.
Remember: These disclaimers don't necessarily have any legal standing.
In conclusion
Personality is everything in a Twitter bio. They are the ones that will grab attention.
Try adding some of these elements to your bio and keep your personality or your brand's personality front and center.
Get started on saving time and energy on your own social media management! Check out our free trial of Agorapulse to help you schedule, track, and measure all your social media efforts.