You might be successful using hashtags on Twitter, but how about when it comes to other social channels? Let's review the basics to better understand how you can use hashtags on Twitter, Facebook, Instagram, and Google Plus.
I'm going to share a popular Quick Sprout infographic with you today. It sums up social media hashtags really well.
1. What is a Hashtag and What Does it Do?

I know this must seem elementary – and it is – but it's important to remember just what hashtags are. Because they're really only meant for one thing, and that's to categorize your content.
They tie conversations together, whether they're about business (#socialbusiness), government (#obamacare), or culture (#todayskidswillneverknow).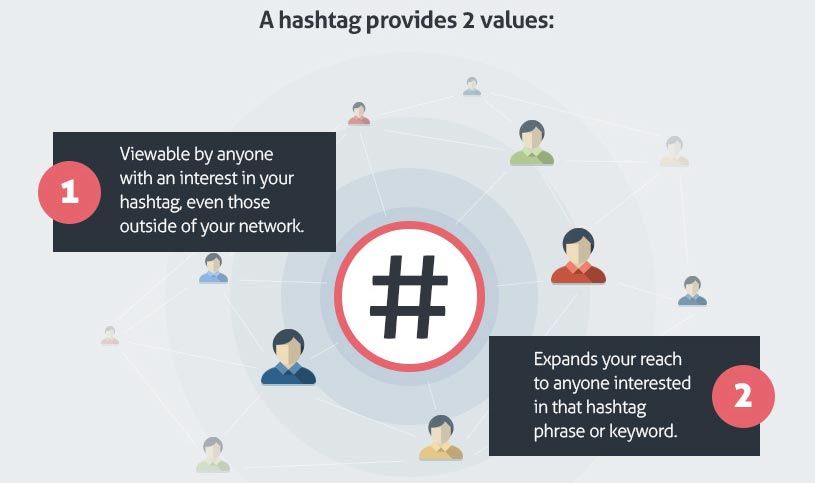 Simply put, hashtags drive reach. That's their true business value. That's why you should be using them.
You naturally want more eyes on your tweets, because those tweets translate – at some point down the line, if not immediately – to sales. But if your audience is limited to your followers, you can only reach a finite group of people.
Related Post: Social Media Marketing 101
However, when you use a popular hashtag, your tweets become viewable to anyone interested in that hashtag. And if that hashtag happens to go viral, as they do from time to time, you'll find out just how big social ROI can really be.
[Tweet "Use hashtags to tweet beyond your follower count."]
2. How Many Hashtags Should I Use on Twitter?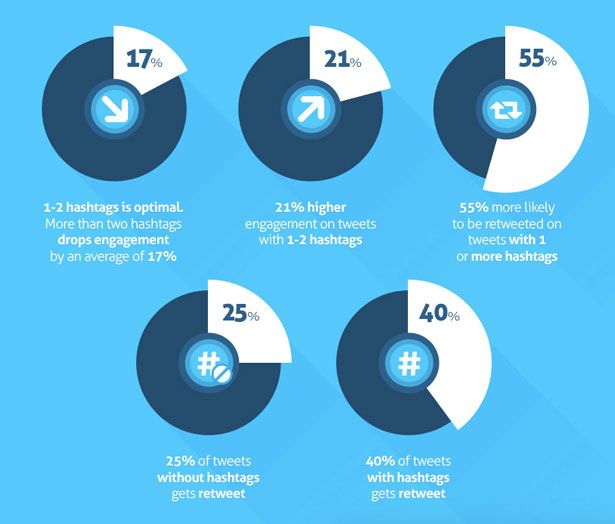 This sounds like a hard-to-answer question, an "it depends" kind of thing. Thankfully, it is.
While I can't tell you the universal best time to post on Facebook – there isn't one – I can tell you that you should include 1 to 2 hashtags in your tweets. That's where you'll get the most benefit. If you overdo it, you'll eventually wish you never included any at all.
But in the 1-2 range, you'll get more retweets and engagement. And you can't complain about either of those.
[Tweet "Add 1-2 hashtags to your tweets for more reach, every time."]
3. How Many Hashtags Should I Use on Instagram?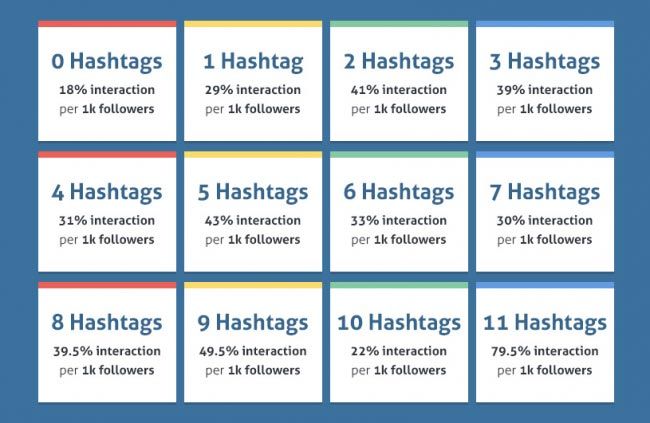 As you might know, hashtags aren't limited to Twitter. You can promote them on other social networks like Instagram too. But the rules there – at least in terms of how many hashtags are just right – aren't quite the same.
Generally speaking, more is better. But it's a little complicated too.
Take a look at the data above for a moment.
You'll notice that adding 11 hashtags to a post brings the most interactions (79.5%), but if you take one away you'll fall to 22%. And if you cut out another? It's back up to 49.5%.
What we do know, however, is that not having any hashtags at all is unequivocally bad – just 18% will have any interactions – so I'd recommend adding as many relevant hashtags as you can, but not worry over the exact number. Your results will probably vary anyway.
[Tweet "On Instagram, the more hashtags the better."]
4. How Many Hashtags Should I Use on Facebook?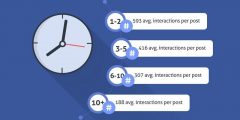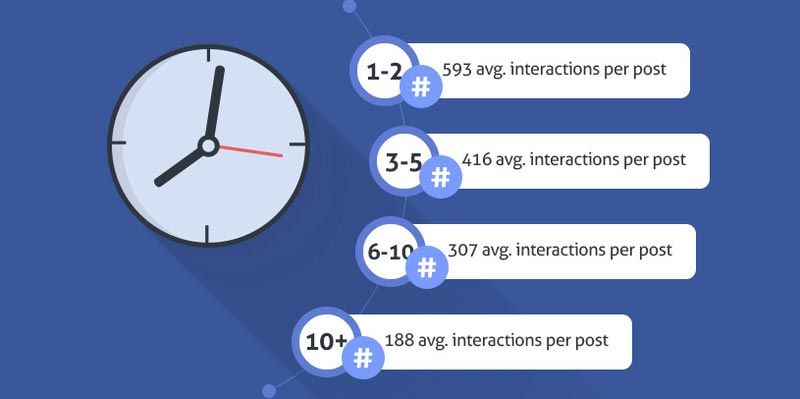 On Facebook, we see a more predictable – and familiar – pattern. It's basically the same one Twitter has.
If you stay conservative with your hashtags – just 1 or 2 – you'll get the most interactions. You'll get nearly 600 interactions per post, even. That's not bad.
But once you get past 10 – once you're in territory that would serve you well on Instagram – you're going to encounter problems. Those interactions, they're going to drop. And you're going to be working more to get less. Don't do that.
Keep it brief.
[Tweet "On Facebook, use 1 or 2 hashtags. Don't overdo it."]
5. What About Google+?
Admittedly, there isn't much data on how many hashtags are optimal for Google+, but we know a few tricks about getting them right on the search giant's social network.

The first? Add hashtags in your posts and comments.
Whatever your hashtags are, you'll fare better if you get them counted twice.

When you run a hashtag search, it doesn't just bring up the regular search results. It also displays any relevant Google+ posts, too.
It's a great way to make search and social work together to become more than the sum of their parts.

Don't forget to check out the "related hashtags" feature, too. If you're ever hard up for content, you should be looking here for ideas.
Good content ideas, after all, aren't always easy to come by. And you should use a variety of them to write posts that really perform.
[Tweet "Put hashtags in your Google+ posts & comments for 2x reach!"]
There are more tactics, of course – I particularly like these 12 – but it's always best to start with the fundamentals. You want to really understand what you're actually doing first, and – well, I'd say you do now.
So, stop by Quick Sprout to review the original infographic, then get back out there and cash in on your social ROI.