Can you export your Facebook fans? Should you export Facebook fans? Here's everything we think you need to know about this topic.
If your boss or client has ever asked you to export your Facebook fans, you know there's a lot of misunderstanding about how you can access data. It's time to set the record straight!
Here's what you need to know if you want to download your Facebook followers.
No Magic Button to Download Facebook Fans
Years ago, there was a way to automatically export Facebook fans for free. With your Web browser's developer tools and basic JavaScript knowledge, you could run a script to export Facebook fans. All you had to do was add the data to a spreadsheet.
However, Facebook shut this loophole a while ago. You can still export your Facebook friends from your personal profile, but there's no longer a magic button to download your brand's Facebook Page fans.
If you want to get follower data directly from Facebook, you have a couple of options.
Option 1 for exporting Facebook fans
First, you can log in to Facebook Business Manager and navigate to Audience Insights. Here, you can find tons of data about your followers, including gender, age, location, and interests. None of the data is tied to individual users, but it gives you valuable information about the types of people who like your page.

Option 2 for exporting Facebook fans
If you're looking for data on individual users, you're going to need a ton of time and patience. In the Settings panel of your Facebook Page, you can access a list of people who like or follow your page. But the list only includes fans' names, their profile pictures, and the date they liked or followed your page. If all you want is a list of names, your work is done.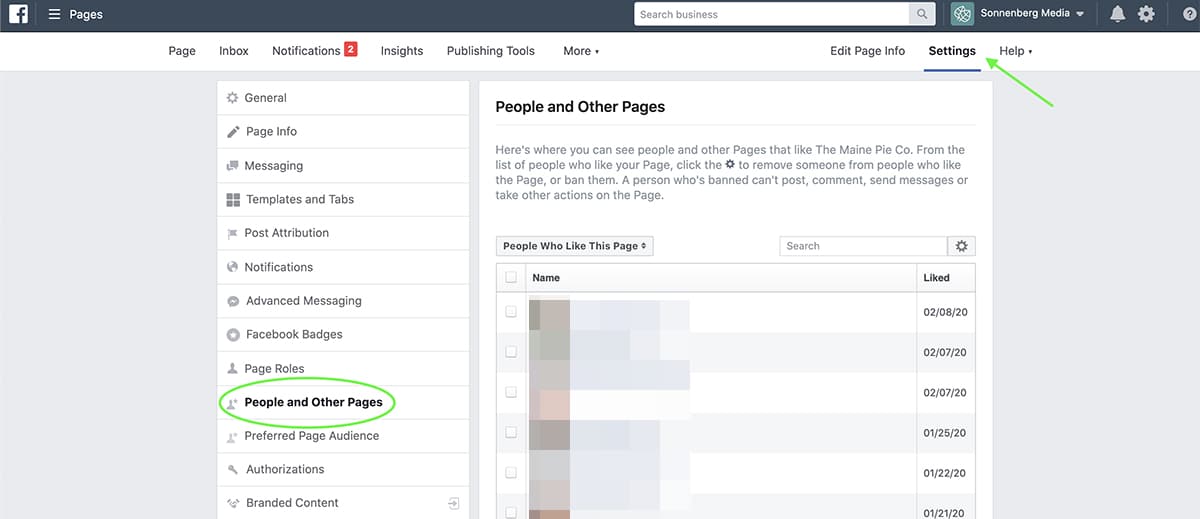 But there's a good chance you want more than just names.
To access more valuable data like locations, email addresses, or phone numbers, you have to click each fan's profile link and open it from your personal Facebook account. Unless you happen to be friends with all of your page's followers, you can only see the information they've shared publicly.
If they've made their contact information or other key data public, you're in luck. But if they keep their profile under wraps, you're back to square one.
So unless you want to spend the next decade clicking, copying, and pasting, you won't be able to get all your thousands of 10,000 fans into a well- organized Excel spreadsheet.
Some Third-Party Tools Can Help You Get Leads—With Limitations
In addition to native options for finding leads, you can also use select third-party tools.
Agorapulse is one of them! Yes, Agorapulse can help you export Facebook fans for those who voluntarily sign up for a promotion from your page. But Facebook's API limits third-party tools from publicly expose your fans' data. And given that we're a Facebook Marketing Partner, we don't want to mess around with that.
Simply put, fans are just lent to you, under certain conditions. And Facebook sets the conditions. That means that you'll never have access to all your fans' data. A third-party tool (including Agorapulse) can only extract data from fans who have interacted with your page at least once, according to Facebook's terms of service.
If you're a user of Facebook, you might better understand the policy. Imagine if each fan page you "liked" suddenly bombarded you with messages and email?
However, you can never expect to be able to download all your Facebook fans using these tools.
Facebook's API explained
According to Facebook's terms of services, third-party tools can only extract data from fans that have interacted with your page in specific ways. That means you need a tool that supports activities like Facebook contests and quizzes.
A fan that has never posted on your page or liked/commented one of your posts will not be "visible" to your software's eyes.
No matter why you want to export your Facebook followers, you're likely to get little value from downloading all the data. Instead of trying to export your fans, focus on learning more about your followers, getting fans to share data voluntarily, and pursuing interested leads.
Data You'd Get About Facebook Fans Would Probably Disappoint
Now that you know that downloading Facebook fans is a labor-intensive process (that disappoints), your next question should be, "Should I really care about exporting Facebook fans?"
Unless you've gathered qualified data about these fans, downloading them doesn't help. The data you'd get from exporting your fans is basically worthless. By default, all you'll have is a first name, last name, and profile picture (sometimes a cat, kid, or muscle car). If you've taken the time to check fans' profiles manually, you might also have some limited demographic data or contact information.
What good would that do for your bottom line?
In most cases, downloading data from a random selection of your Facebook fans isn't likely to help your marketing efforts. Sure, these Facebook users have followed or liked your page. But you have no way of assessing how well they know your brand or where they are in their customer journey. Some fans might be regular customers, and some might be ready to make a big purchase.
But others may never have interacted with your Facebook Page again after that initial like.
Why this disappointment?
How many Facebook pages have you followed and then promptly forgotten about? If they started emailing with a generic message you out of the blue, you'd probably be confused, annoyed, or plain disinterested. Either way, these reactions won't help your brand reach its marketing goals.
Besides, if you really want to connect with your Facebook fans, scraping their profiles isn't the most effective way to do it. Think about your own Facebook profile for a second. How many years ago did you open your account, and which email address or phone number did you use? Have you updated your contact information on Facebook since then?
If you start relying on your Facebook fans' outdated contact information, you're likely to run into a lot of dead ends. So, you'll lose time and also risk spamming obsolete addresses.
Why waste your energy when you could focus on reaching out to interested customers instead?
Related post: Facebook 101: What Every Smart Social Media Manager Needs to Know
Three Steps for Getting Better Qualified Leads on Facebook
Rather than looking for ways to export your Facebook followers, focus on getting qualified leads instead.
When you prioritize leads, you get accurate, up-to-date information that can help you connect with customers, drive sales, and reach other key goals. Since you can easily contact leads outside of Facebook, making leads your priority gives your marketing plan much more flexibility.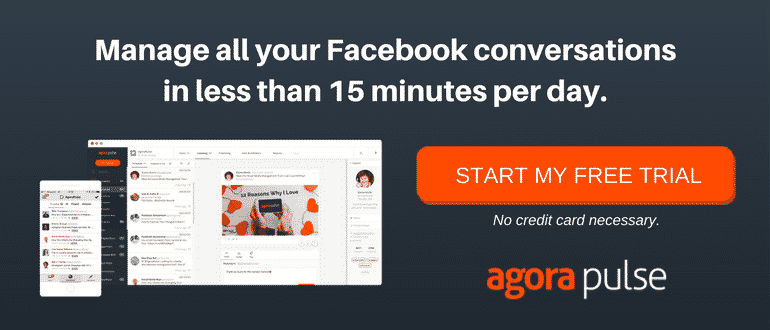 Here are three easy ways to get started.
1. Ask for email addresses
First, add an email signup button to your Facebook Page. Fans will see this button every time they navigate to your page, which can help you get subscribers organically. Make sure your button sends subscribers to a landing page that collects names, email addresses, and other data that helps you know your customers better—such as the products or services they're interested in.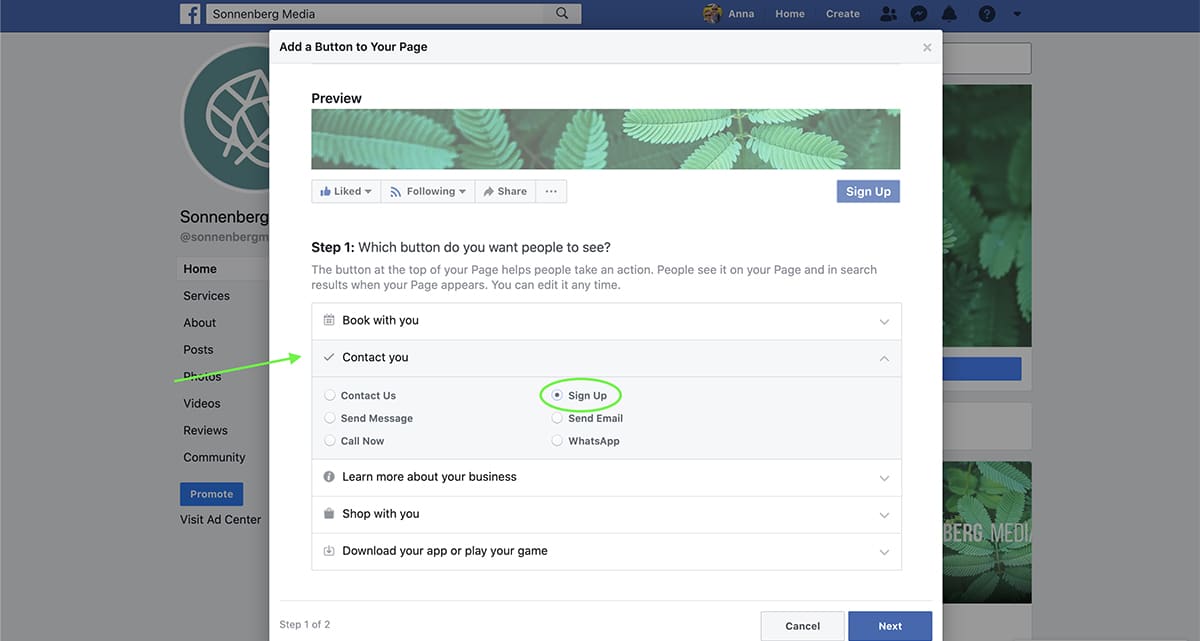 Want to get even more leads from your signup button? Click on the Get Subscribers link, and Facebook will guide you through creating an ad designed to get more email subscribers.
2. Share gated content
The content that you schedule and publish to your Facebook Page can also help you get leads. When you share links to your brand's website, make sure your site is set up to collect signups for your email marketing list.
You can add:
Signup prompts via popups
Inline links
Other automated strategies on virtually every page of your site.
To make signing up worthwhile for users, provide:
Coupons
Limited time offers
Special access
You can take this strategy one step further by linking to gated content on your Facebook Page. When you share this type of link, users have to fill out a form and provide contact information before they can access the content. Make sure your gated content offers extra value to increase the chance of followers sharing their private information.

3. Run a lead-generation ad campaign
When you want to reach out to qualified leads, running a Facebook lead generation ad campaign is one of the most effective tactics. Lead generation ads include customizable forms that you can use to gather everything from names and contact information to demographic details and workplace data. You can even ask short-form or multiple choice questions to get to know your leads better.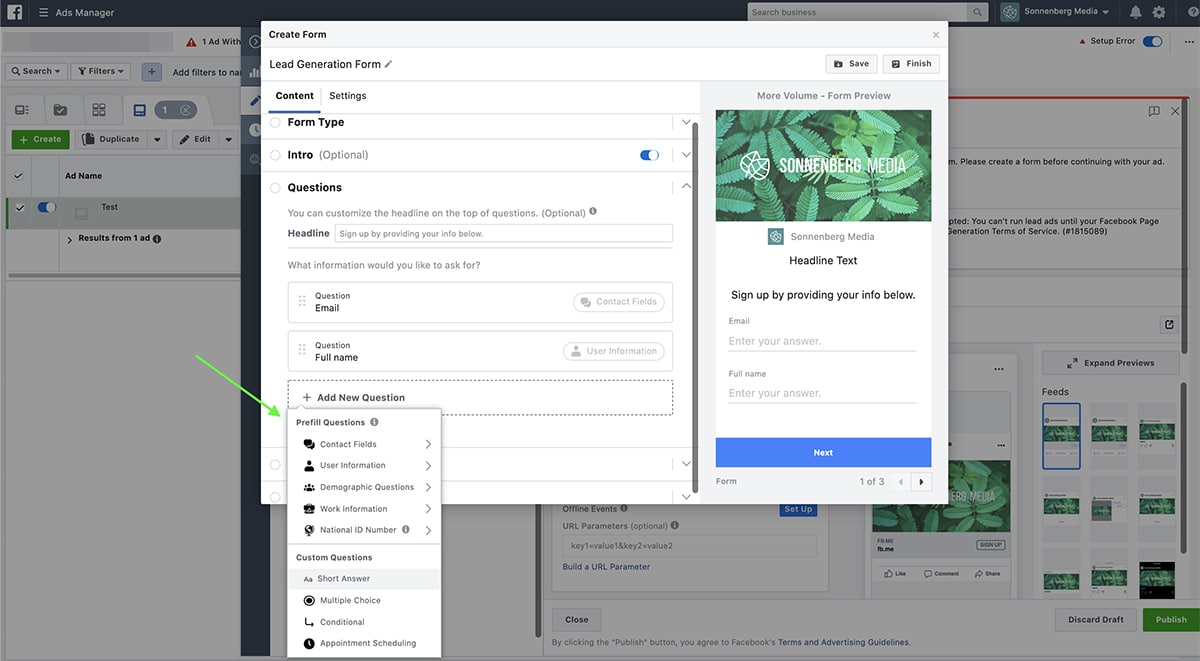 During and after your ad campaign, you can download leads to an Excel spreadsheet or your customer relationship management (CRM) tool. Since your leads have consented to be contacted, you can follow up, pitch your products and services, and turn them into loyal customers. (Some of these free social media marketing tools can help.)
* * *
Sign up now for a FREE demo.