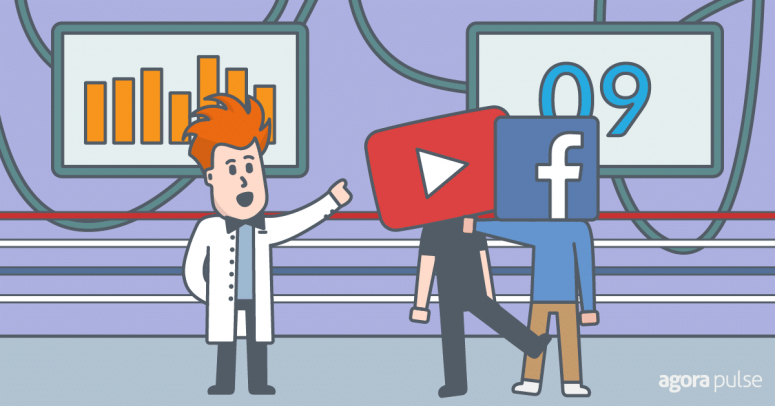 Facebook Native Video or YouTube Links: Which Gets More Engagement?
Facebook has changed alot over the years — and keeps changing daily — as marketers we are constantly trying to figure out what's working and not working on the social giant.
Perhaps the most talked about post type the past 2 years has been video.
Facebook has launched a full on assault at YouTube and seems to be trying to take down the online video giant.
It's like watching Rocky fight the huge Russian boxer Drago!
It's 2018 and Facebook has YouTube against the ropes and is looking for a knockout.
If you recall in the "old days" if you posted a link to a YouTube video it would play on Facebook. After all, that kept you on Facebook — which seemed like a good thing.
But today when you post a link to a YouTube video, you get sent to YouTube to watch it: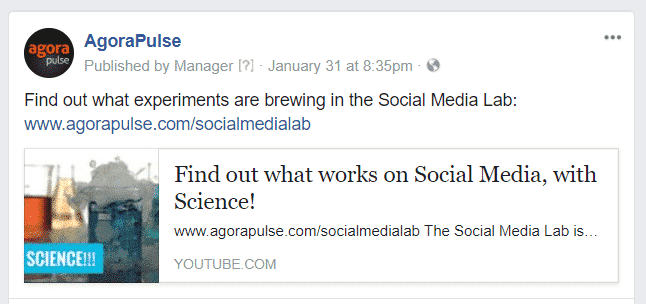 With Facebook handling YouTube videos the same as links to websites/blogs, they are punishing the Reach of them — if that's the case then it would likely cause businesses to post them less due to lower Reach.
But What About Engagement on YouTube Videos vs Facebook Native Video?
So we get it, YouTube videos get less reach. Do they also get less engagement?
That's what a recent Quintly study sought to find out.
Quintly examined 187,000 pages and over 7.5 million posts to try to answer this question.
Here is what they found: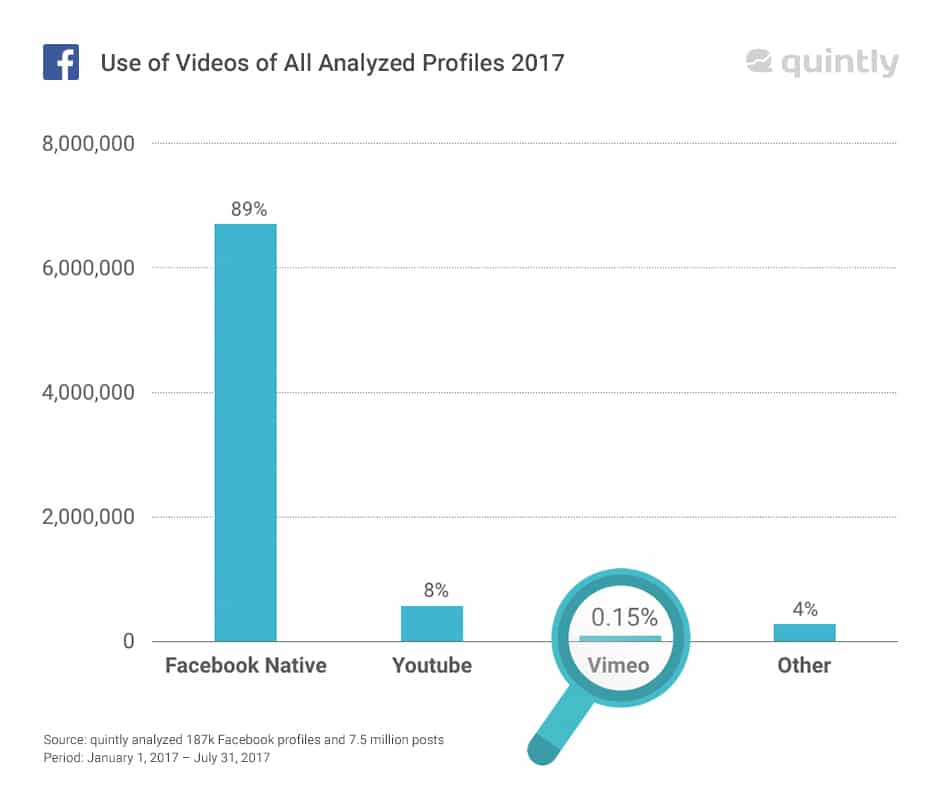 89% of all videos on Facebook are uploaded to the platform, while only 8% are YouTube video links! Wowzza! (and look at poor Vimeo!!)
Quintly also found that Facebook videos get 477% more shares!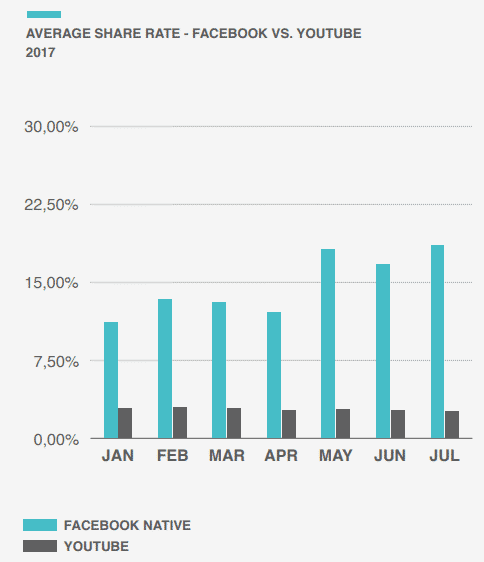 Another great finding in their data was the disparity in comments. Facebook videos received 530% more comments than YouTube videos.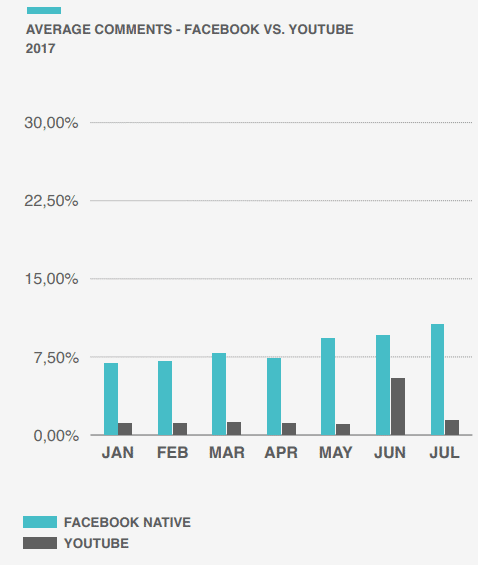 Lastly, let's take a look at the Interaction Rate of both video formats — that's the stat that really matters when it comes to engagement on posts.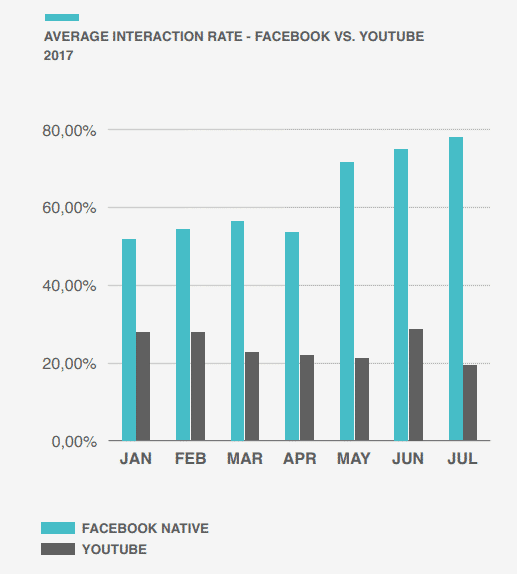 As expected, Facebook videos once again outperformed YouTube videos — racking up a 168% higher Interaction Rate.
We reached out to Quintly and wanted to test their findings on a smaller scale (we also did this on a post about emojis on Instagram you should check out).
And the reason for testing on a smaller scale is we don't know a few things about the pages Quintly studied:
Were these pages active?
Do they have a solid following?
Are they posting marketing videos or just random videos?
How often do they post videos?
What the intent of the videos were.
They were totally up for the challenge!
Hypothesis Regarding Facebook Videos vs YouTube Videos
Honestly this might be the easiest experiment for me to make a prediction on so far in the Lab.
I'm pretty confident Facebook videos will crush YouTube videos, but as mentioned we wanted to test this to be certain using our own data.
Hypothesis: Facebook videos will have a higher Reach and Interaction Rate compared to YouTube videos.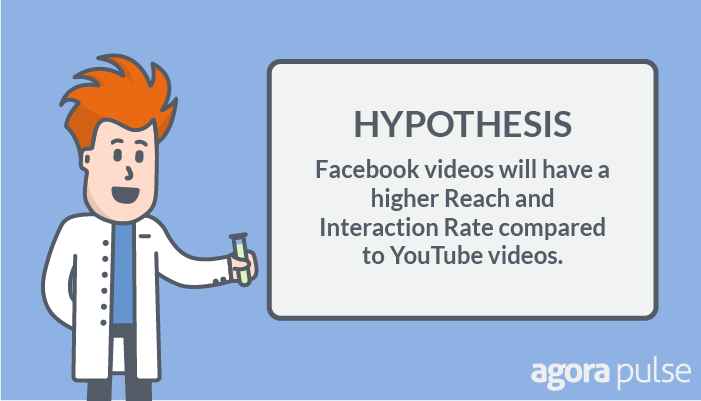 Setting Up the Test
To get real, valid, usable data we ran a test throughout January on the following Facebook pages:
For the 2 pages I had control of (Agorapulse and Space Walk), I created videos using the Wave.Video app.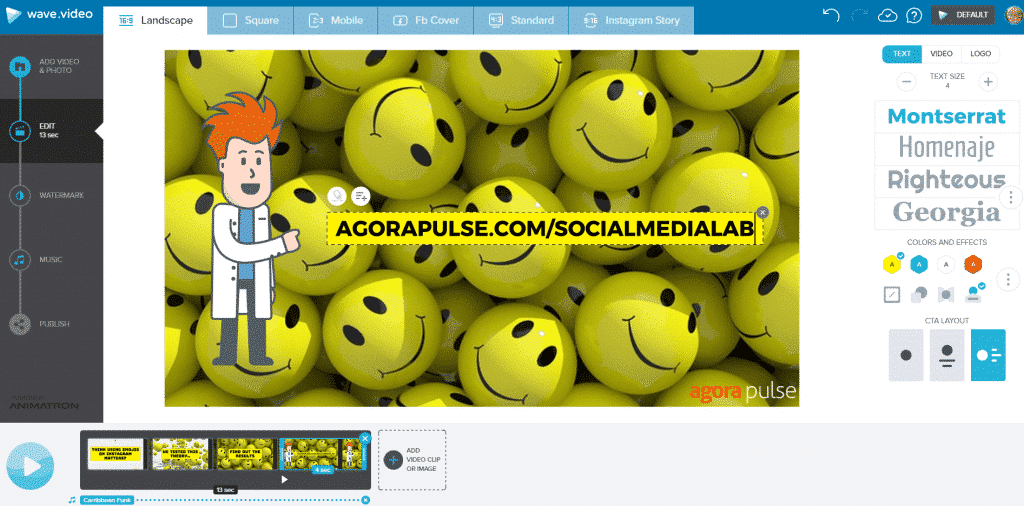 I ended up creating 13 videos for Agorapulse and 12 for Space Walk — the number was fairly random, but would help me post throughout the month.
We also had one video already created by an advertising agency that I uploaded to Facebook for Agorapulse during this study. (I didn't however post the YouTube link by accident. I'll detail the results later.)
The Wavesnbackpack page uploaded 6 videos and posted 4 YouTube links to their page during the study.
Here's a look at Facebook video and YouTube links posted to each account.
For Agorapulse: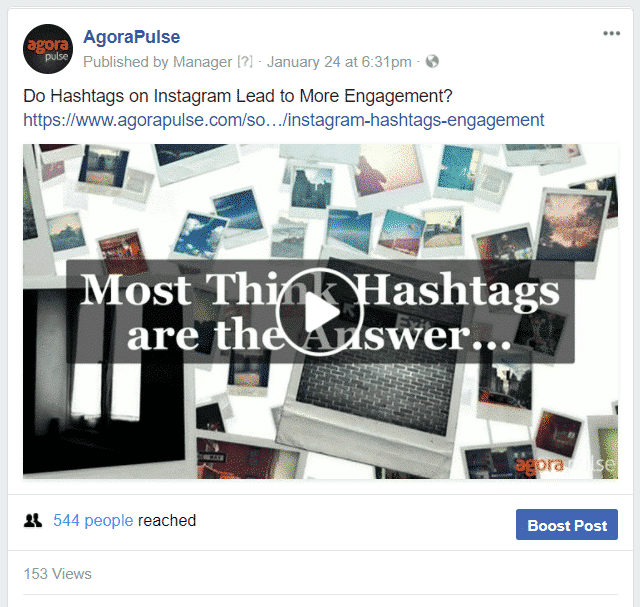 v.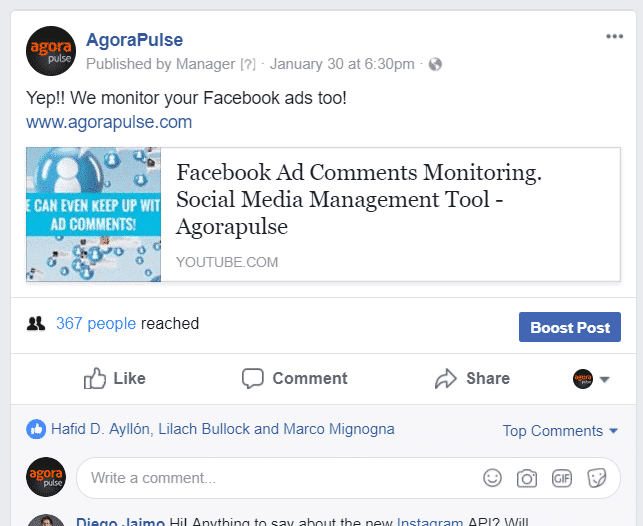 Space Walk: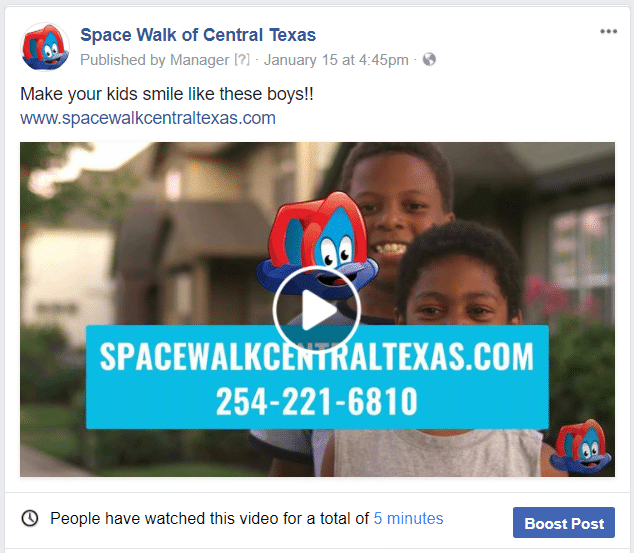 v.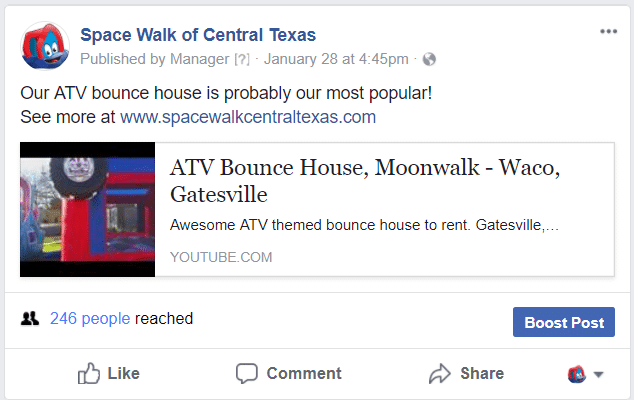 Wavesnbackpack: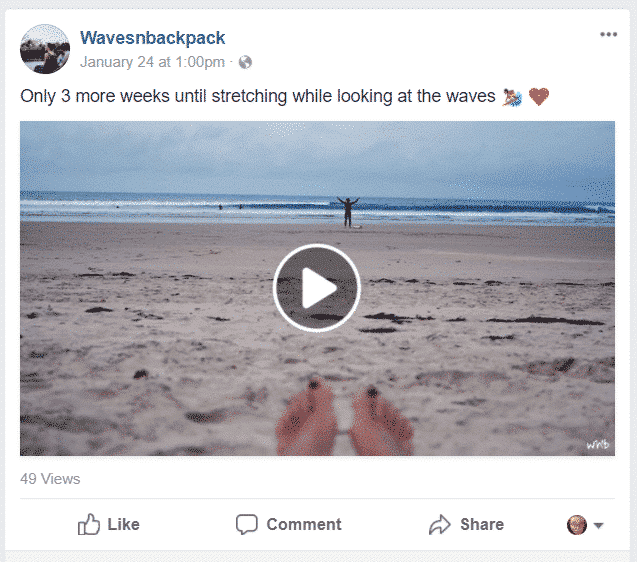 v.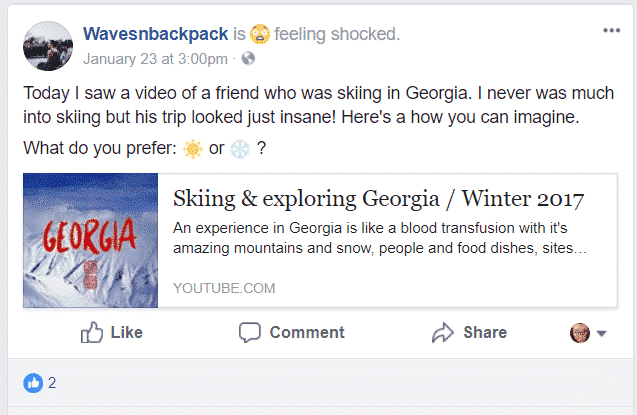 On the Agorapulse and Space Walk pages, I scheduled out posts using the Agorapulse app and ensured that the identical video post from either YouTube or Facebook was 2 weeks apart.
Meaning if I uploaded the video to Facebook on Monday, January 1, the YouTube link wouldn't be posted until Monday, January 15.
I did this to put some gap in between in case people recalled seeing. I also mixed it up so that sometimes the YouTube link was posted first, and sometimes the Facebook video was posted first.
My thought with posting identical videos in this manner was to compare the results for the exact same videos. It could be possible the results could be skewed if one particular video was super popular compared to another that wasn't. I hope this eliminates that anomaly.
Here's how the distribution ended up for each page.
Agorapulse: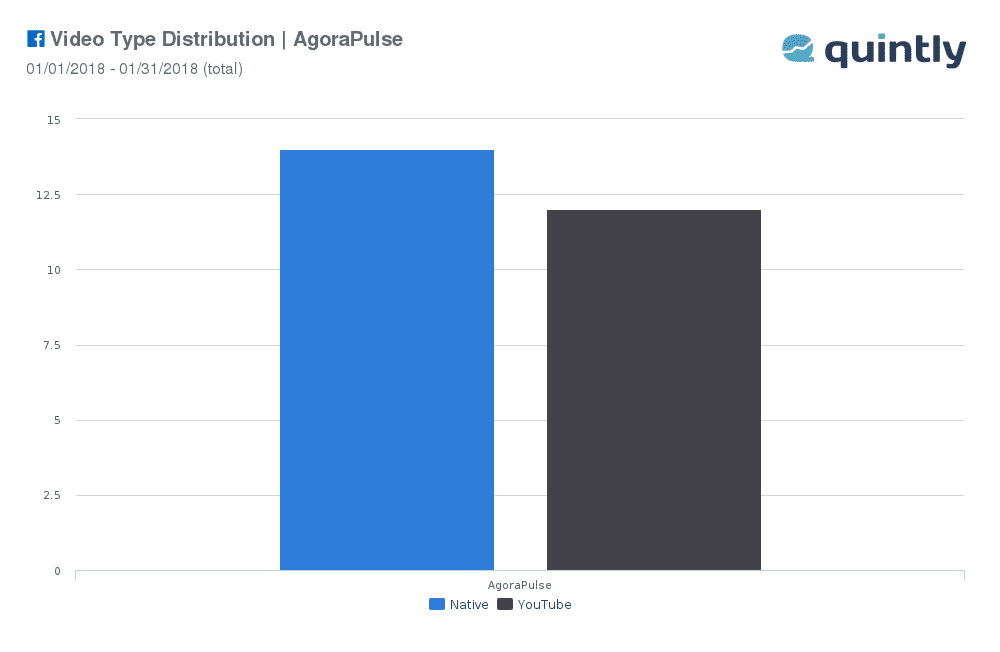 Space Walk: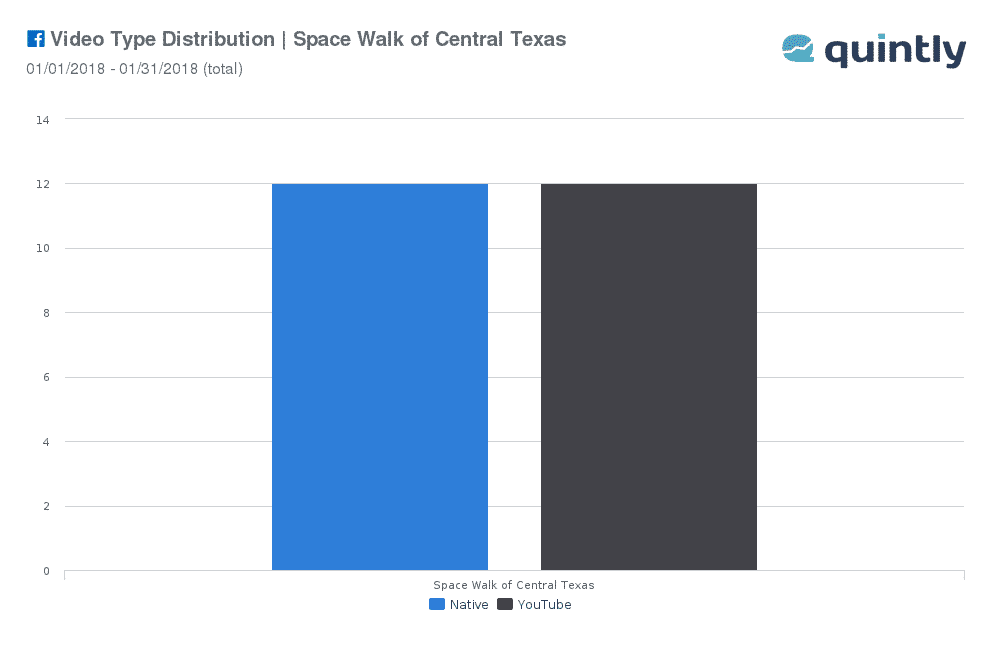 The Wavesnbackpack page did not follow this same strategy, they posted different videos from YouTube than those uploaded to their page.

Let's Get to the Data!
First let's take a look at Reach by post type for each page.
Facebook Reach
Agorapulse:
Facebook Video Average Reach – 883
YouTube Video Average Reach – 473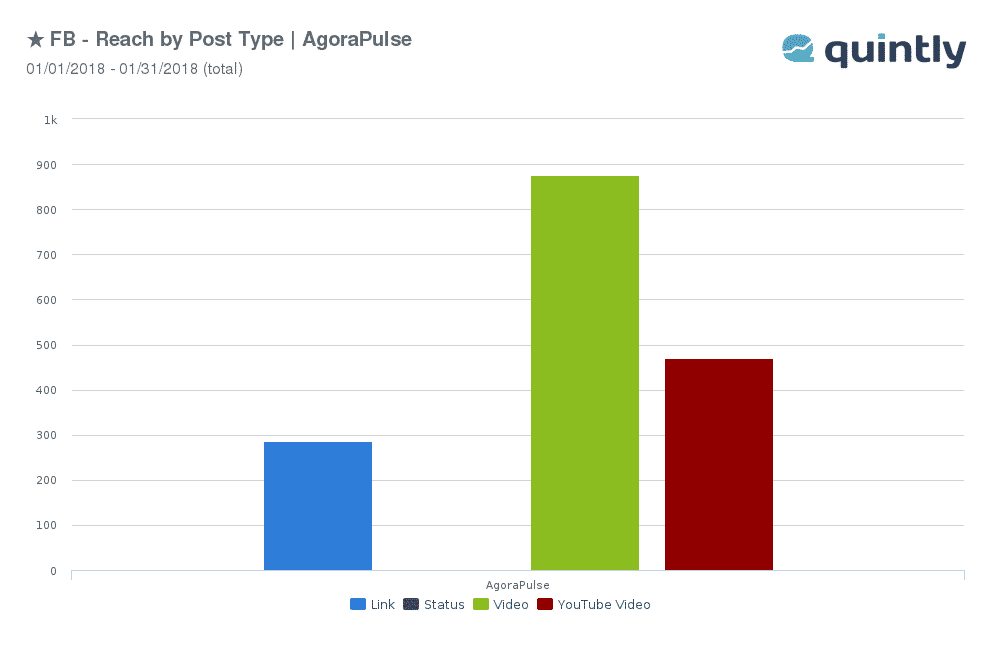 Space Walk of Central Texas:
Facebook Video Average Reach – 223
YouTube Video Average Reach – 190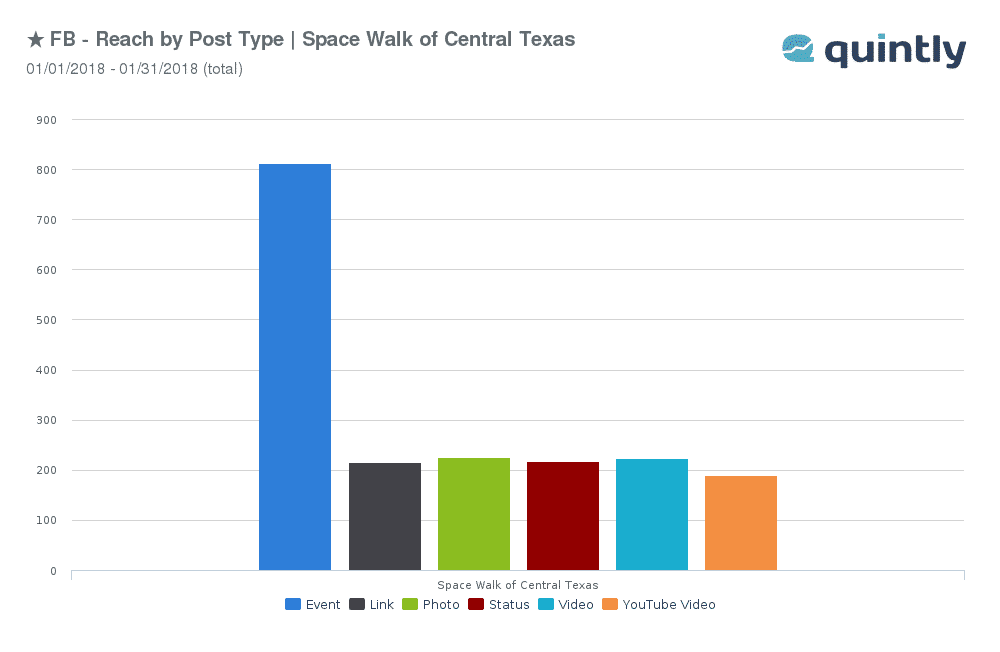 (The Event Reach is a bit crazy on this page. It was a shared post from another page about an event, so I think we're seeing the Reach for the original post, not just the Reach of the post on my page.)
Wavensbackpack:
Facebook Video Average Reach – 139
YouTube Video Average Reach – 119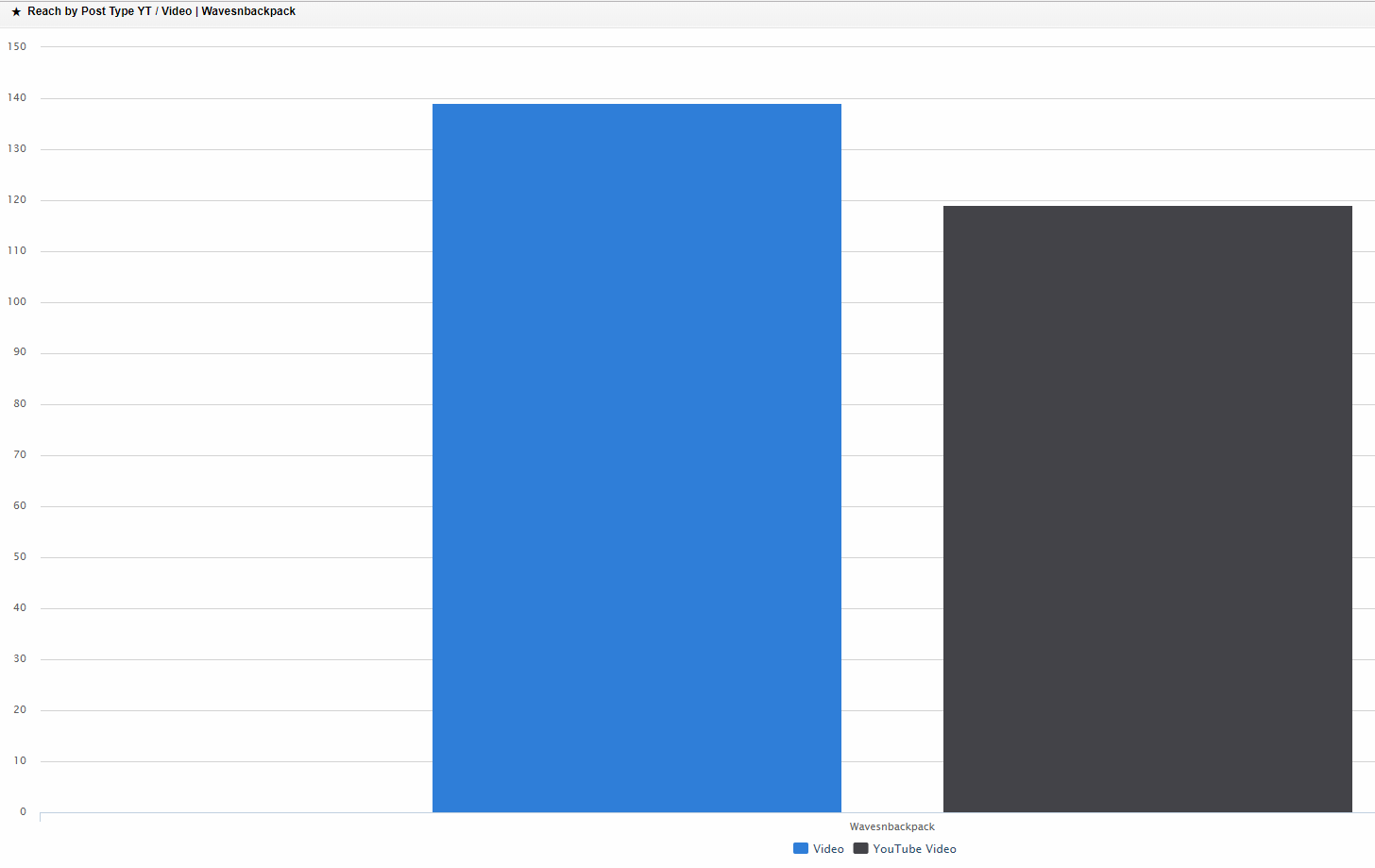 It's easy to see that Facebook native videos had higher Reach — not too shocking here.
Putting this into a percentage perspective shows us just how much better Facebook videos performed when it comes to Reach:
Agorapulse – 86.64% higher
Space Walk of Central Texas – 17.41% higher
Wavesnbackpack – 16.81% higher
When we average the Reach of all 3 pages we find that Facebook video had a 58.92% higher Reach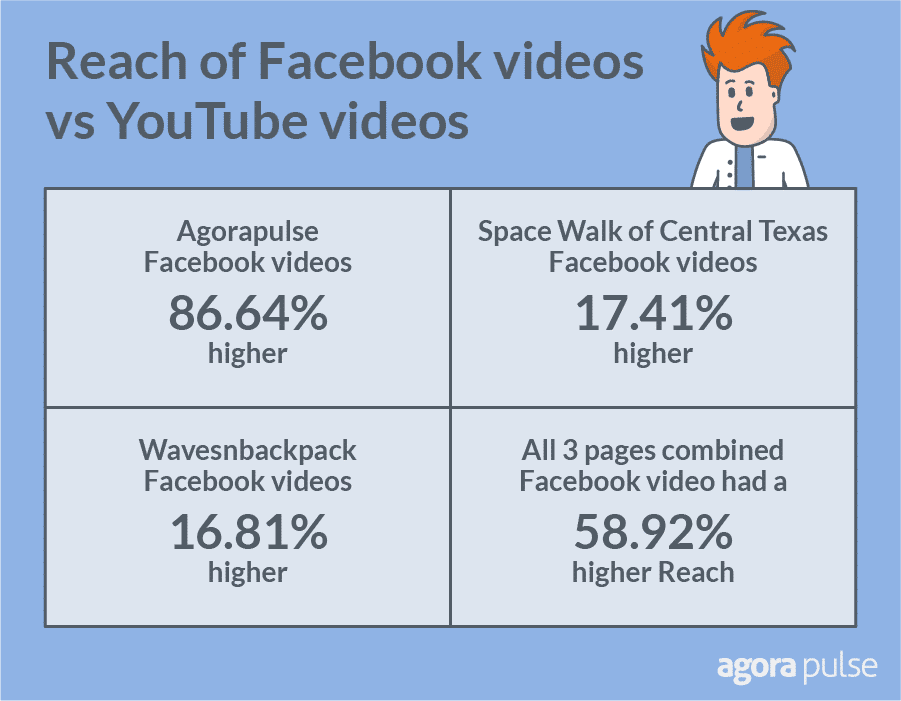 However I mentioned earlier 1 video that I didn't post the YouTube link to the Agorapulse page — purely by accident.
It turns out this video also had an incredibly high Reach (and engagement).
The video is a new marketing video we created that has caught a lot of attention!
Click Play to see why…
During this test it was by far the most viewed and engaging video. I'll remove it from the Reach results and future data in this post.
When we do this, the Reach of Facebook videos on Agorapulse drops from 883 to 665 –making Facebook videos still with a higher Reach by 41.63%.
This makes the overall Reach advantage for all 3 pages 25.28% instead of 40.3% — clear as mud right?
Just know that Facebook video had higher Reach!
Interaction Rate
The other state we're gonna evaluate here is the Interaction Rate, a formula created by Quintly.
Interaction Rate: The sum of Reactions, Comments and Shares per post, standardized by the total amount of Fans.
Interaction Rate Formula =
Basically this is the percentage of followers that interacted with the posts. It's a great way to compare numbers regardless of page size.
After all, bragging about 100 Likes on a post when you have 1 million followers is difficult to compare to a page that gets 10 Likes but only has 100 followers.
Agorapulse Interaction Rate:
Facebook Videos – 0.58% without the "Sexy" video (it was 1.17% with it)
YouTube Videos – 0.45%
Winner – Facebook Videos had a 28.89% higher Interaction Rate
Space Walk of Central Texas Interaction Rate:
Facebook Videos – 1.82%
YouTube Videos – 0.30%
Winner – Facebook Videos had a 506.67% higher Interaction Rate
Wavesnbackpack Interaction Rate:
Facebook Videos – 0.50%
YouTube Videos – 0.26%
Winner – Facebook Videos had a 92.31% higher Interaction Rate
The average Interaction Rate of all 3 pages ended up like so:
Facebook Videos – 0.97%
YouTube Videos – 0.34%
Winner – Facebook Videos had a 185.29% higher Interaction Rate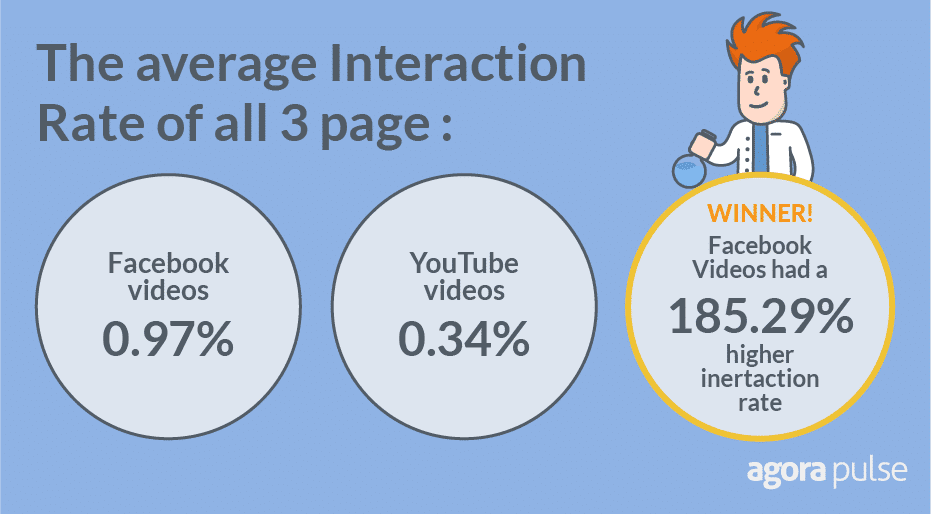 Drawing a Conclusion about Facebook Videos vs YouTube Videos
I think it's clear that Facebook videos outperform YouTube video links on Facebook. (Were we surprised by this?)
With Reach being 25.28% higher for Facebook videos on our 3 pages and the Interaction Rate being 185.29%, this might be the easiest conclusion I've ever had to make on the Lab!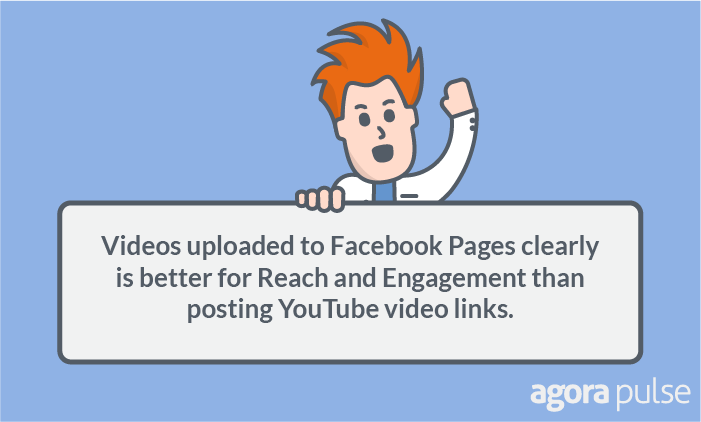 I'm confident that with 185% higher Interaction Rate and 40% higher Reach Facebook videos win this battle.
And should be what you primarily post to your Facebook Page.
It's easy to see that Facebook is favoring their own video platform, and that makes absolute sense.
Big thanks to Quintly for letting us dig into their data and letting us use their tool to do further analysis. Be sure to check them out.

Don't miss an experiment!
New experiments and exclusive content straight to your inbox