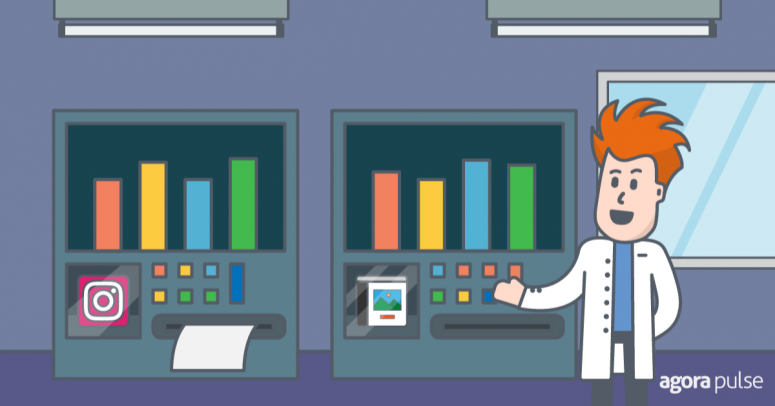 Myth: Instagram Punishes Posts from 3rd Party Publishing Tools!
It seems there is a never-ending debate in the social media marketing ecosystem that publishing content via a third-party tool gets punished.
Facebook groups are full of social media managers and business owners claiming they get less engagement and reach when they post using a 3rd party publishing tool to publish their content.
The Social Media Lab has busted this myth for Twitter and Facebook in previous experiments—finding that our reach was actually higher when using a 3rd-party publishing tool.
It's now time we test 3rd-party apps publishing to Instagram.
I didn't find any blog posts or research from others regarding any penalties by Instagram when using a scheduling tool to post to Instagram–other than anecdotal rants by people on Facebook.
Someone will often post one piece of content with a publishing tool and the performance is lower on that one particular post, leading the user to say Instagram must be punishing the 3rd party apps.
This is not science!
I can't see any reason or proof that Instagram is diminishing the reach of posts made by legitimate 3rd party scheduling tools, so here's my hypothesis:
Hypothesis: Posting content to Instagram with a 3rd party publishing tool will not result in any punishment of Reach or Engagement.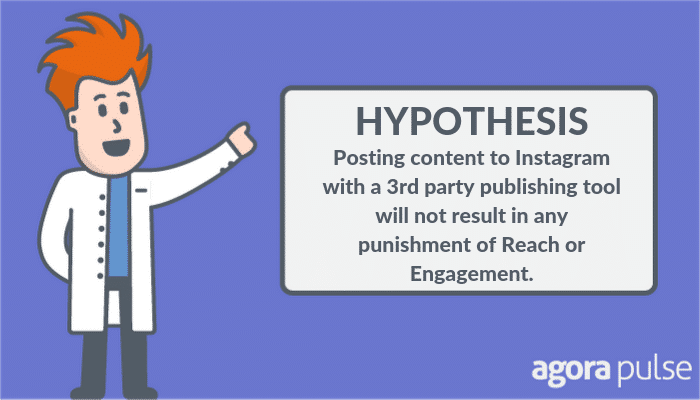 Our research on other social platforms found no penalty when using scheduling tools, and I can't see Instagram being any different. (They are owned by Facebook after all.)
Testing 3rd Party Scheduling Tools on Instagram
Let's detail some elements of the testing.
Instagram Accounts
The Social Media Lab prefers to run our experiments across different accounts in various industries to ensure we are testing the algorithm, not an audience.
For this test, we used established Instagram accounts in the following industries:
Animals

Fitness

Motorcycles

Trucking

Motivation
We will not link to the accounts in our experiments or show their names as we are doing our best to keep the audiences' followers interested in the content. These accounts are primarily for engagement purposes, but in the future, ads will be run using these accounts for testing.
Types of Posts
Consider these caveats:
No hashtags were used in the posts.

No location tags were used.

We did not tag any other Instagram users.

These posts were not used in ads.

Posts were not shared to

Instagram Stories

.

Images used were relevant to that account.
These details are important as the only way to test is to remove all anomalies.
I would recommend using hashtags to increase your chances of being discovered by Instagram followers, but hashtags also can sway testing results. If you need some tips on using hashtags on Instagram, check out this test on where to place your hashtags.
Here are a few examples of posts from each Instagram account.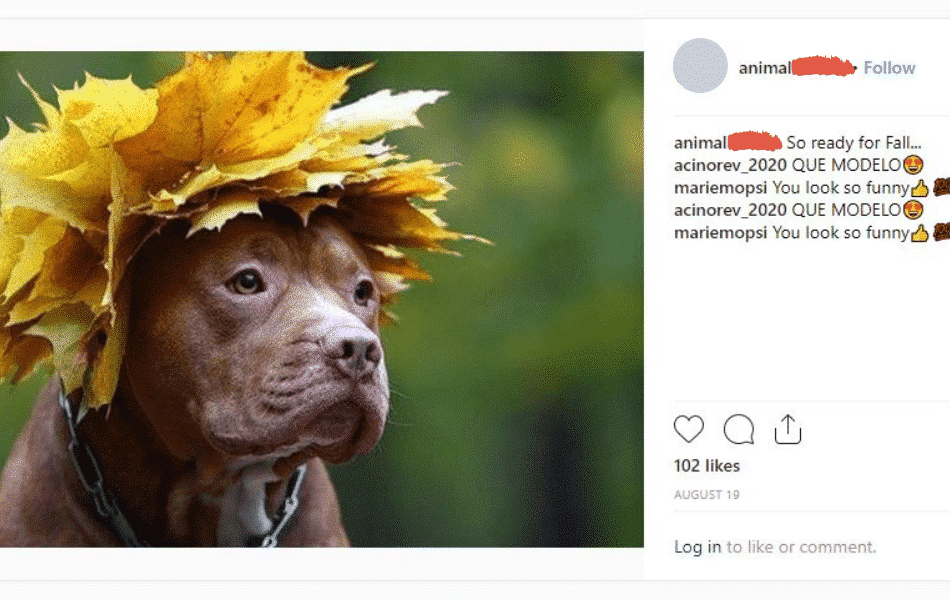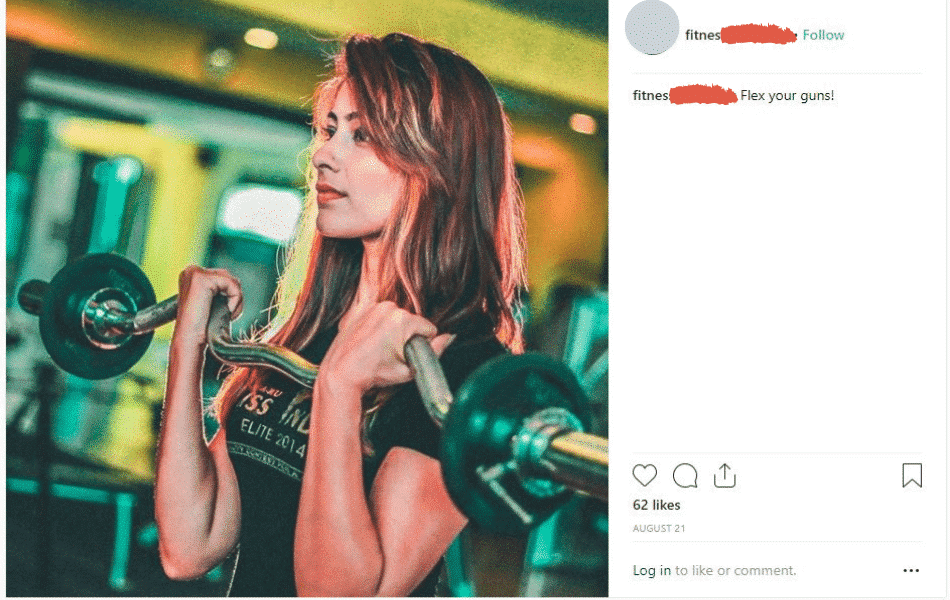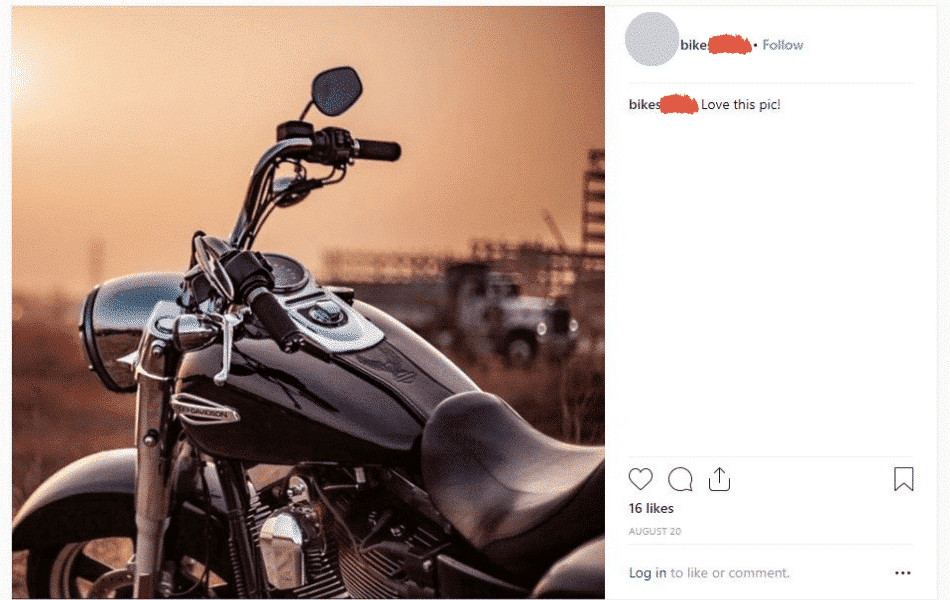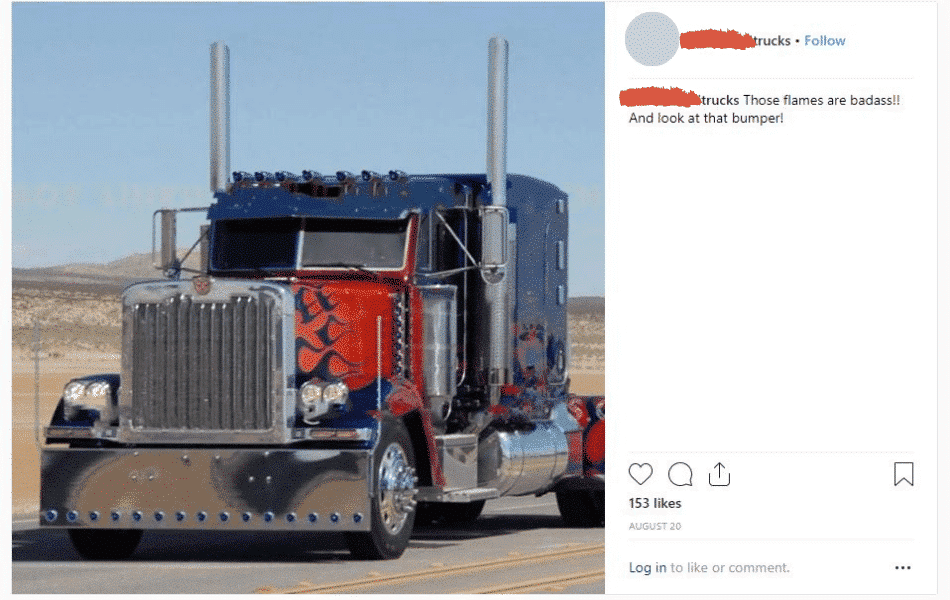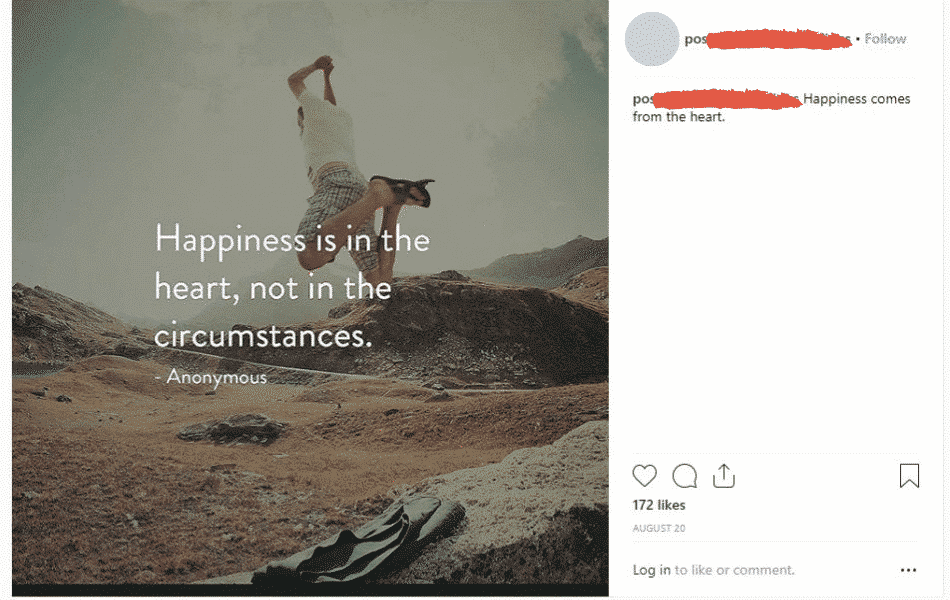 3rd Party Schedule Tool Used for Testing
In our experiments testing 3rd party scheduling tools on Twitter and Facebook, we saw no difference using multiple 3rd party apps to schedule content. The results per-app used were relatively the same and had no bearing on the test.
Therefore, we will only use Agorapulse to schedule the Instagram posts for this test.
Doing so makes setting up the test easier and removes anomalies, such as outages by any apps, or accidentally over posting.
Scheduling Instagram Content from Facebook Creator Studio
Recently, Facebook and Instagram launched the ability to schedule Instagram posts from a desktop computer inside Facebook Creator Studio.
It's a free way to schedule content to Instagram feed posts and IGTV posts from your computer — it's cumbersome and I hated using it.
Here's what part of the schedule for the fitness Instagram account looked like on Facebook Creator Studio: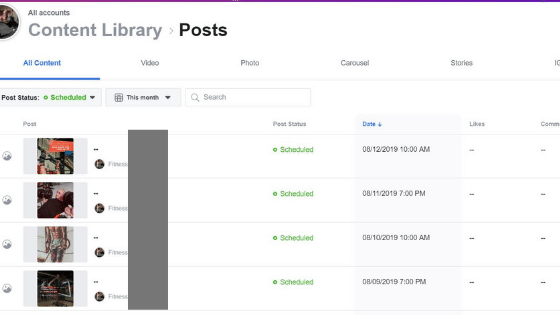 This new feature came in handy for this experiment. I've been holding off testing 3rd party scheduling tools on Instagram vs natively for some time because trying to post on a regular schedule via mobile manually isn't ideal.
Schedule
Each account used will post twice per day, once in the morning and once at night.
This will occur for one week using the Agorapulse app, and one week using Facebook Creator Studio.
To stay consistent across all the Instagram accounts used for testing, we used the same times, which were chosen at random during the testing setup. For testing purposes, once the times were set up on 1 account I just used for all others.

Data on 3rd Party Apps Publishing to Instagram
Be sure to watch our Facebook Live show about this topic below:
After at least 1 week all the data was pulled from each Instagram account and averaged together—according to what was used to publish the content.
On all but 1 account, the animals related account, posts scheduled using the Facebook Creator Studio performed lower regarding likes, comments and reach. But even on that account, it was almost dead even.
Showing the data in percentages is much easier to digest, so here's what we found when we averaged all 5 Instagram accounts together:
Likes: 95.48% higher using Agorapulse

Comments: 28.36% higher using Agorapulse

Reach: 31.88% higher using Agorapulse
If we had only evaluated the animals account to draw a conclusion we would have had false data.
We are testing the algorithm here, not the audience. And that's how we all should be testing.
Drawing a Data-Based Conclusion on 3rd Party Scheduling Apps and Instagram
Based on the data, you can see posting with Agorapulse led to more engagement and reach.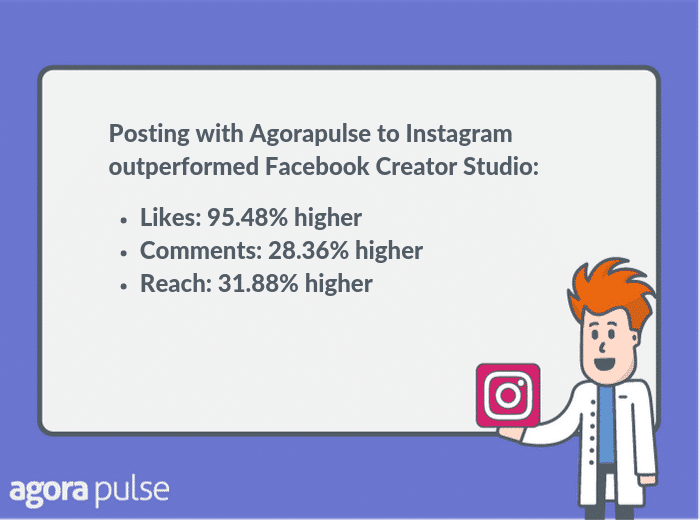 But can we say it will always produce those results?
Certainly not. And that wasn't our goal.
But what this test does prove is there is no penalty for using a scheduling app to post content to Instagram. The increases seen on these accounts could just be pure coincidence—albeit it one we love to see here at Agorapulse!
SHARE THIS POST!
Click To Tweet
A test like this is tough to plug into a Statistical Significance calculator and get verifiable results.
However, if we do compare the reach and number of likes produced by posting with Agorapulse versus posting with the Facebook Creator Studio, we do find that those results are statistically significant.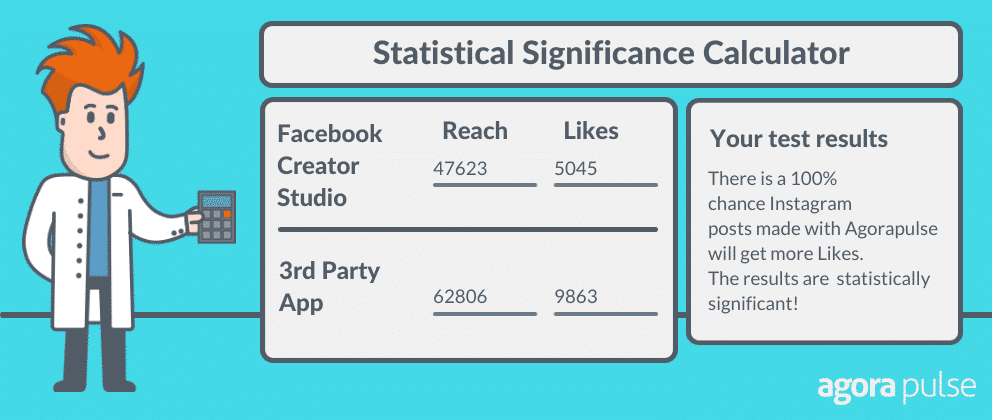 *The numbers above reflect the total Reach and Likes of all 70 posts in each category.
Based on this knowledge, as well as the higher Reach achieved, my conclusion is posting with a 3rd party scheduling app to Instagram is not penalized. And in fact, it might lead to higher reach.
In the end, as long as the reach isn't lowered that's all that mattered in this test.
Have confidence in scheduling your Instagram posts with your favorite 3rd party scheduling app.
Don't miss an experiment!
New experiments and exclusive content straight to your inbox