You probably run marketing campaigns on more than one social network. Most companies do.
That's why it never hurts to take a broad view of the industry and the high-level social media stats you can use to optimize all your campaigns.
Thanks to this popular infographic from Mainstreethost, it won't take you very long to do it.
We've broken up the 10 points, but if you want the full picture – everything at once – just scroll to the bottom.
1. Best Retweeters

Odds are, your first impulse is to watch the Twitter accounts with the most followers. The popular ones. And it's a natural impulse; they have the most visibility, after all. But the majority of your re-tweets come from everyday Twitter users.
Don't forget to take care of them, too. Reply to their tweets and settle any of their complaints and criticisms – 6% of brand mentions are negative – just like you'd do with influencers and power users.
Don't have time? Twitter management software can get you to inbox zero in no time.
[Tweet "Twitter: don't only watch power users. 9/10 brand mentions come from <500 follower accounts."]
2. Twitter Communication Networks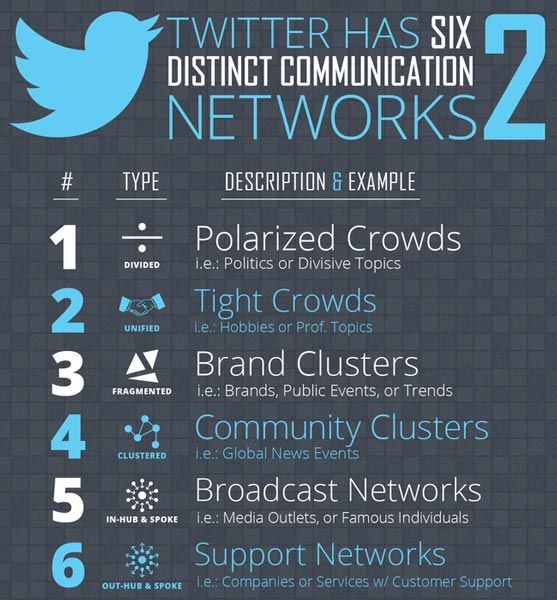 There are patterns in what users post and how they interact with each other. On Twitter, most of what you'll see falls into 6 networks, and your brand is likely part of one.
If you regularly post about global events – you might be marketing a newspaper – you're in the community cluster. Targeting niche markets like high-end cigar smokers? You're part of the tight crowd network. Take your customer base – the people who buy from you the most – and make sure you're tweeting in their network.
Need help finding them? Twitter monitoring tools will make it easy.
[Tweet "Twitter has 6 communication networks. Which one do you fit in?"]
3. Original Written Content is Still King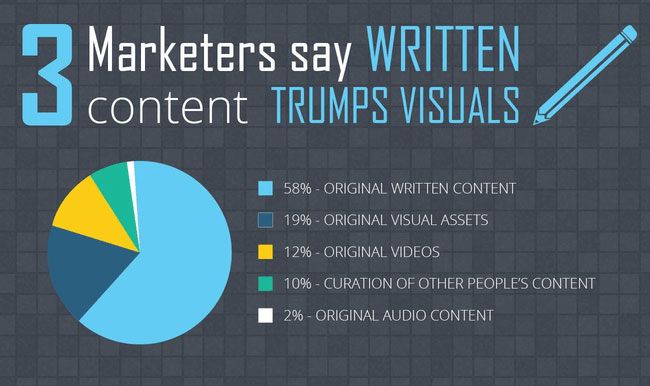 Digital marketing is a dynamic, fast-changing industry. If you don't stay current on what's happening you'll be outpaced by those who do. That's why it's nice to know that still – even in 2015 – original written content is the most valuable content investment you can make.
Knowing that, it's usually best to direct most of your focus there instead of paying more for lower-performing types, like audio content.
[Tweet "6 out of 10 marketers agree – the best content is the kind you write yourself."]
4. No Time to Waste on Twitter Responses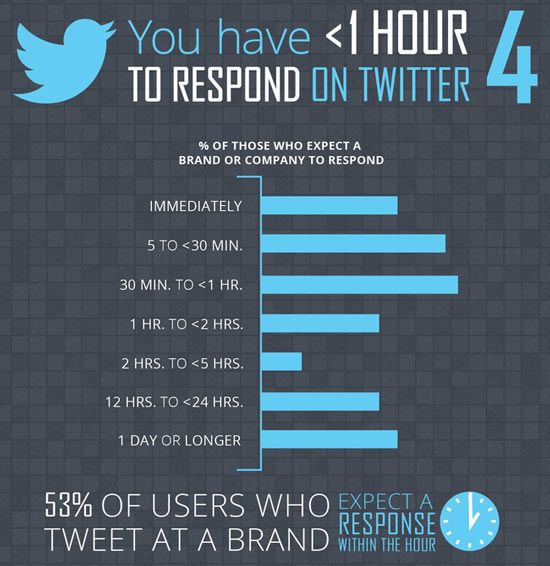 It's no secret that social media users, like web users in general, have a short attention span. On Twitter, that span lasts about an hour. You have to act fast when you're tweeted at.
Try a social media management tool like AgoraPulse and put these 10 Twitter monitoring tactics to work.
Related Post: Social Media Marketing 101
[Tweet "If you don't reply to tweets in under an hour, you're late. Most users expect a 60-min turnaround."]
5. Retweets Don't Come Early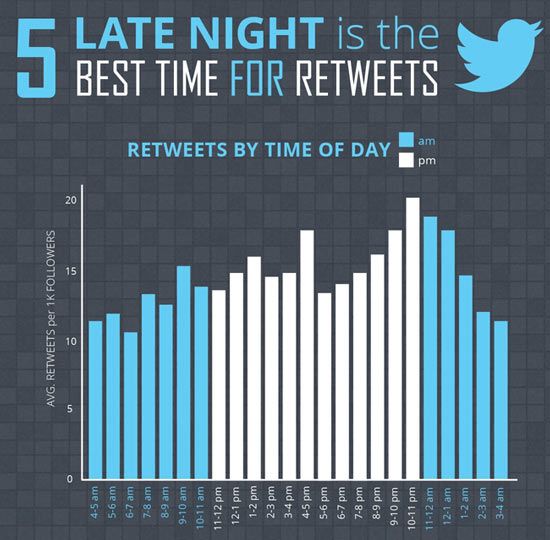 Chances are, you're being retweeted at night. Most Twitter accounts are. While 10 to 11 PM is a particularly active hour, being on either side of it isn't bad either.
Knowing this, you should schedule your tweets close to midnight. Of course, it's important to test what times work best for you – when your tweets get the most retweets – but if you're at a loss it's best to skew late.
[Tweet "Most retweets happen at night. Less competition, more visibility for your content."]
6. Friday is More Engaging
From Sunday to Saturday, engagement is fairly consistent on Facebook. Major events and holidays aside, you won't see any dramatic highs and lows for the most part. But there is one day that gets more engagement than the others – Friday – and when you're talking about large fan bases on Facebook that difference is significant.
So, publish a post every Friday. Make them your better ones, too, so they can benefit the most from that scheduling advantage.
Need help? Click to find out which subject materials resonate best with your audience.
[Tweet "Publish important posts on Fridays to get more comments, likes, & shares."]
7. More Shared Posts are Photos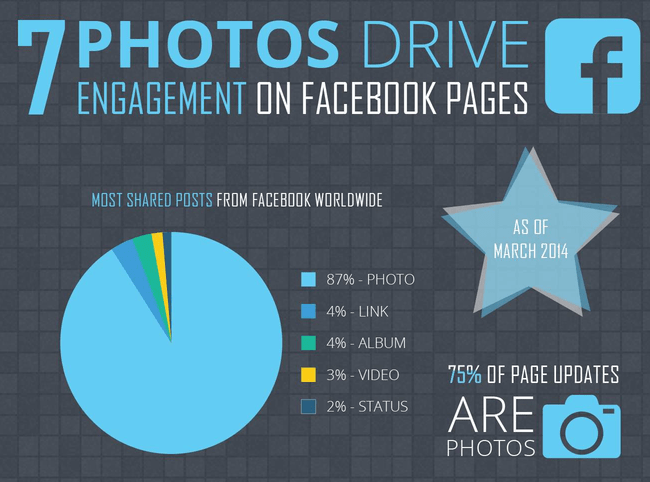 Predictably, most Facebook engagement comes from photos. We expected that. What is surprising, however, is how much more engaging those posts are – 87% of the posts that get shared are photos.
If you're not posting any photos on Facebook – or not posting them very often – you have work to do. It's simply the best chance you have of driving engagement on your page. You should also considering branding your images when it's appropriate, as it'll only add to your brand awareness when they're shared.
[Tweet "Include photos in your posting strategy. 87% of the time, they're what users share."]
8. Top Networks for Driving Traffic
Taken at face value, social media stats can be deceiving. While YouTube ranks highest in average time-on-site, it doesn't produce the most traffic. That distinction belongs to Facebook, Pinterest, and Twitter. When you're vying for reach, it pays to go with those three.
Facebook and Twitter have been known as effective marketing platforms for a long time – they're part of the original social marketing canon – Pinterest has only recently come up. But it's been a big year for Pinterest, so think seriously about creating your brand account now if you haven't already. Being a (relatively) early adopter has its advantages.
[Tweet "For heavy site traffic, invest in Facebook, Pinterest, & Twitter. They deliver the most reach."]
9. Setting Interaction Goals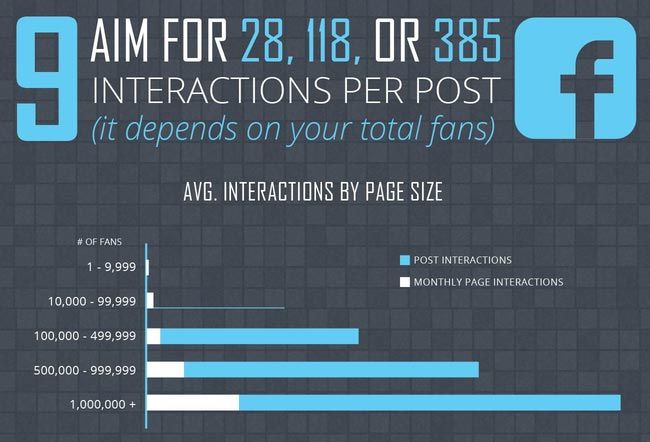 Interaction is why you're on Facebook in the first place. You want fans and you want them to engage. The trouble is knowing what a good level of interaction is – the point where you can say you're doing well on Facebook.
As you might expect, that number changes, and it changes based on how big your page is. That's why you see 3 numbers above, not 1. Don't forget, though, to benchmark your page against the industry averages (according to page size) on our Facebook Barometer tool.
[Tweet "Set Facebook interaction goals by the size of your page. More fans, More interactions."]
10. Best Day for Every Topic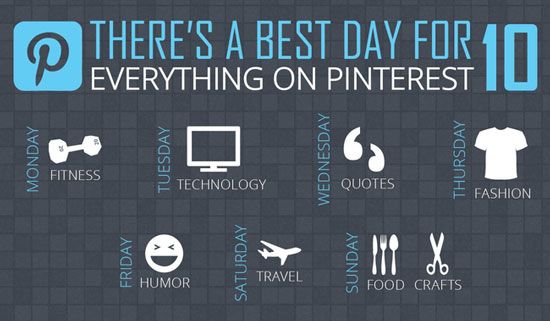 It might sound weird, but certain topics on certain days get more engagement than others on Pinterest. It's one of those strange patterns that come from sifting through high volumes of data, the kind of thing you'd never pick up on yourself but still impacts the results you're getting.
The takeaway here is simple – post about what's popular on any particular day. If you're in the hospitality industry, post hotel gym pictures on Monday, image quotes about the value of a vacation on Wednesday, and sightseeing pictures on Saturday.
[Tweet "Time your Pinterest posts by subject & day of the week. Tues best for tech, Fri best for humor."]
Your social marketing strategy, like your overall business strategy, works best when it's comprehensive. And Facebook, Twitter, and Pinterest are the platforms to start on.
Leave us a comment below with your thoughts, and don't forget to take a look at the original post from Mainstreamhost.