Shopping for Twitter management tools? Our survey of community managers all over the globe returned seven universal features you must look for.
With a gazillion Twitter management tools out there, how do you find the perfect match for you and your business?
As a social media manager, you don't have time to try out each one you hear about! But spending time using a suboptimal tool can:
Slow you down
Create miscommunication within your team
Disrupt your workflow
Cause you to lose leads and customers
Make you more inefficient than before
Whether you work for a social media agency or a small business, you can increase efficiency, streamline your workflow, and improve teamwork with a single social media management platform.
So, how do you choose from among all the social media management tools?
For Twitter specifically, you need a Twitter management tool that can handle the following seven essential tasks.
1. Schedule Tweets in Advance
Even if your brand makes a point of posting some tweets in real-time, you can schedule many tweets ahead of time.
While virtually every social media app lets you schedule single posts in advance, you can get even more out of a Twitter management tool with options like:
Bulk publishing
Why upload one post at a time when you could schedule dozens of posts at once? Bulk publishing can save you tons of time, especially if you have a full calendar of Twitter content to schedule.
Publishing queues
Although you might want to publish time-sensitive posts on a defined schedule, you might not have to be so specific about scheduling evergreen content.
Instead, you can set up queues that publish the next post in line at a predefined time each day or week.
Content labels
When you want to keep track of the type of content you're publishing, labels can be lifesavers. Define a set of labels in your Twitter dashboard, and then apply them to relevant posts as you schedule them.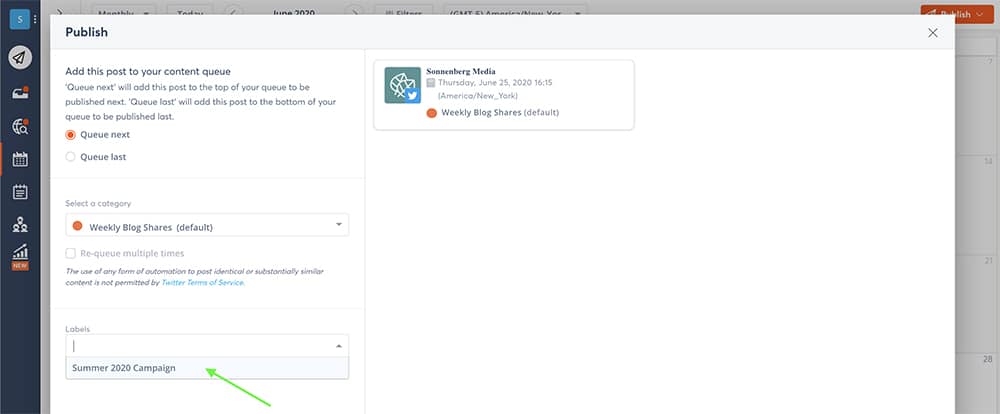 2. Create Content Approval Workflows
Work with agency clients or corporate colleagues? Either way, you probably don't plan or create Twitter content independently. Instead, it's a team effort that requires input and approval before content goes live.
Have a great workflow, avoid these issues
If you skip the approval process, you could run into serious issues like:
Your company's new social media intern might publish off-brand content that confuses or alienates your audience.
Multiple social media managers might unknowingly schedule competing content for the same brand.
Your social media scheduler might publish a questionable post that ends up causing an easily avoidable PR crisis.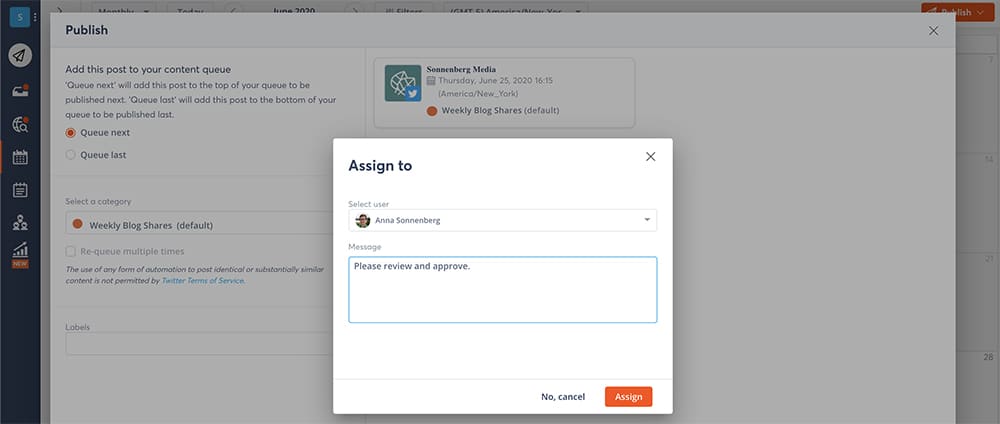 To make sure you prioritize the right campaigns, maintain on-brand messaging, and avoid social media crises, you need a Twitter management tool that works with your team's approval process.
What to look for in a Twitter-management tool
Seek out a tool that lets you assign draft posts to your marketing manager, CMO, or another responsible party, so the right person approves all your content before it goes live.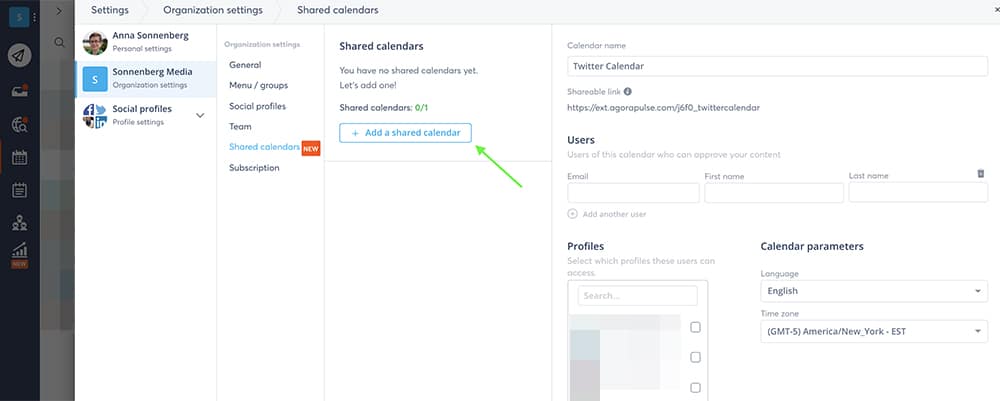 In some cases, your clients may not need to approve every post you create.
Instead, they might prefer having access to a calendar that shows all their upcoming posts. Look for a tool that offers shared calendars so you can keep clients in the loop without having to do additional work.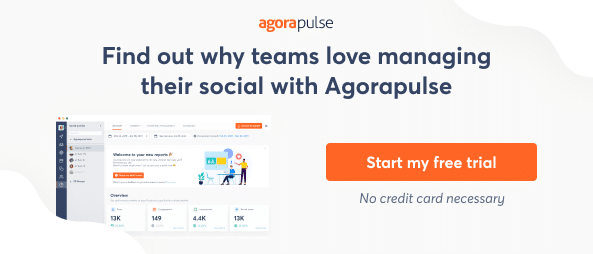 3. Respond to Mentions, Replies, and DMs
If you run a busy Twitter account, one of your biggest challenges is bound to be the volume of tweets that you have to manage. It's all too easy to get lost in the ever-growing noise of your Twitter feeds.
To simplify your engagement strategy, you need a convenient way to handle mentions, replies, comments, and DMs.
Look for a Twitter tool that lets you monitor and respond to all types of engagement in a single inbox.
What to look for in a Twitter-management tool
To streamline your Twitter engagement strategy even more, make sure the social media dashboard you choose allows you to reply as quickly as possible. The most efficient tools let you save standard replies, so you can respond to frequently posted comments or commonly asked questions with just a click or two.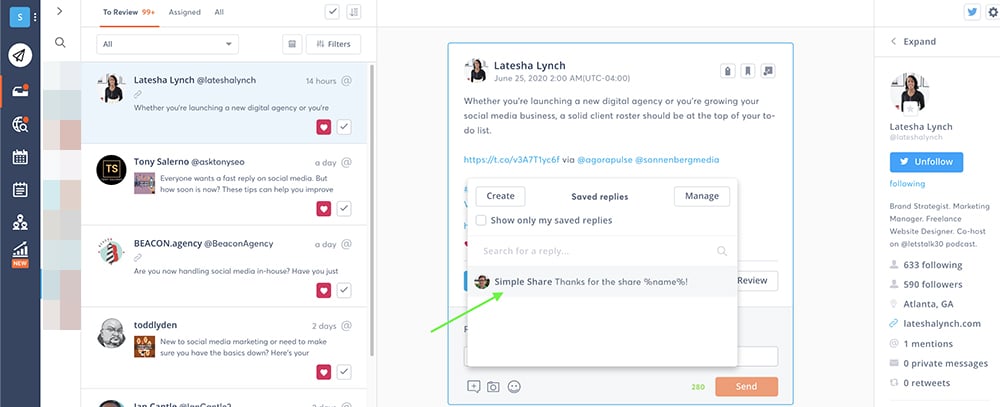 Your Twitter dashboard gets bonus points if it also has automated inbox features.
When you can program your Twitter inbox to automatically archive certain generic replies or bookmark important messages for future follow-up, you can reach inbox zero even more quickly.
4. Assign Responses to Team Members
No matter the size of your social media team, there's a good chance that a limited number of people are responsible for handling daily engagement. You may be able to respond (without your eyes closed!) to common questions.
But what happens when followers request information that requires research or someone else's input?
Sure, you can shoot off an email to a colleague or send a message to your team's chat app.
But once you take the task out of your Twitter inbox, things can get complicated. You have to flag the message for follow-up and wait for a response from your colleague.
Once they reply, you have to remember which DM you were talking about in the first place and find it in your inbox.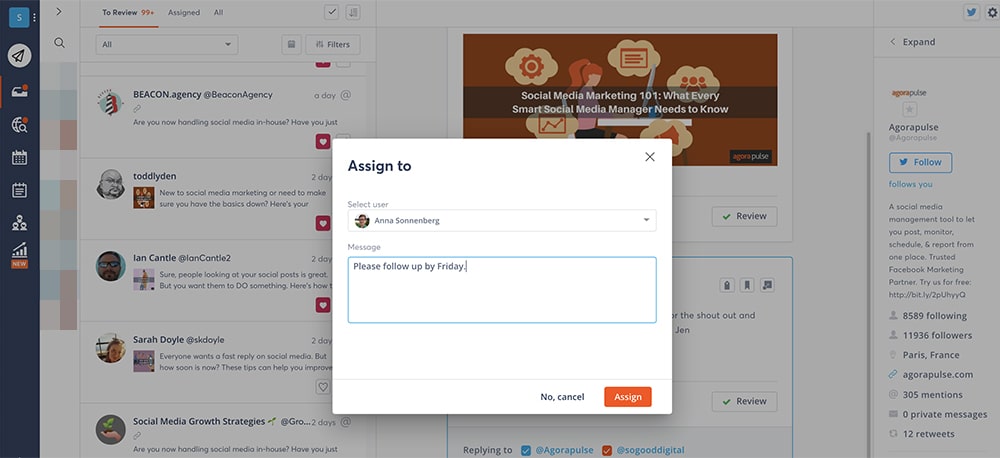 Rather than complicating your workflow, your Twitter management tool can help you complete more challenging requests efficiently—without leaving the app.
What to look for in a Twitter-management tool
Look for a tool that lets you:
Automatically assign DMs and mentions to team members based on keywords.
For example, you might want to send pricing questions right to your sales team to save time.
Manually assign inbox items to team members as necessary.
For example, you might want to run mentions from verified users past your CMO.
5. Build Relationships with Followers
Engaging with followers on Twitter is a must, but building relationships can be time-consuming. The process can easily become clunky, especially if you don't have a simple way to keep track of your efforts.
What if you could spend less time on engagement with better results?
To get to know your followers, you need a dashboard with a built-in social media customer relationship management (CRM) tool.
What to look for in a Twitter-management tool
With a social CRM, you can:
Track every interaction you've had with a Twitter user in a single location. So you can quickly see how many times they've mentioned, retweeted, or messaged you—effectively giving you a snapshot of your relationship history.
Apply custom labels to users. You then can filter users who fall into groups like top fans, potential customers, problem users, or industry figures—allowing you to prioritize certain relationships.
Add notes about users that only your internal team can see. Make sure everyone on your team knows where you stand with your most important followers.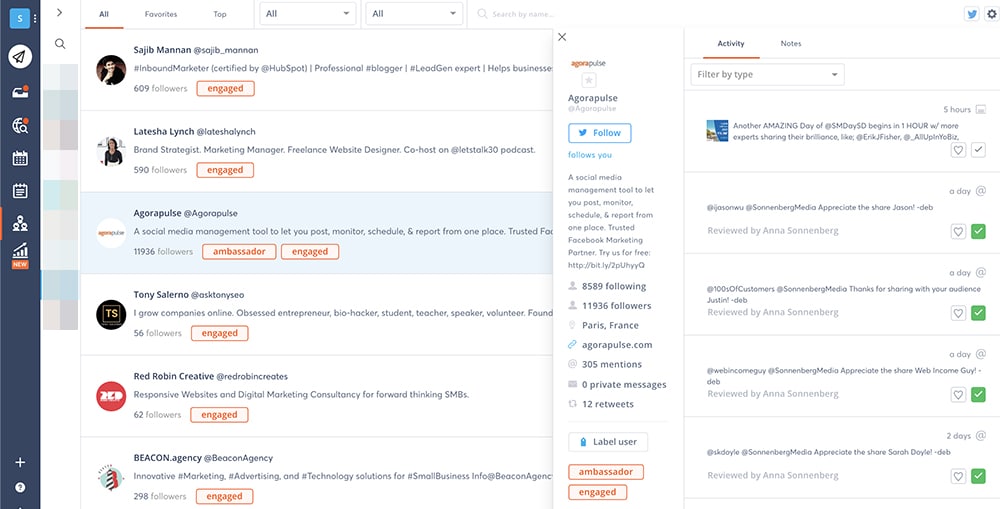 6. Find and Join Important Conversations
Growing relationships with followers is a critical task for every company.
But it's important to realize that not every Twitter thread about your business or industry will show up in your mentions.
After all, Twitter users who aren't yet loyal fans might not think to @ you when talking about your brand—and upset customers might actively try not to mention your brand in an attempt to cover their tracks.
If you fail to monitor these conversations, your business could:
Lose customers with unresolved complaints
Fail to connect with potential customers influenced by upset users
Miss a chance to gain valuable feedback on your product or service
To make sure you never miss an important conversation, you need a Twitter management tool with built-in social listening features.
When you take advantage of social listening, you can set up automated Twitter searches that let you keep an ear out for keywords. Look for a tool that can:
Listen for brand mentions without an @—including various spellings and abbreviations.
Search for tweets that feature your branded hashtags so you never miss a shoutout.
Filter industry-specific hashtags so you can stay on top of breaking news.
Monitor other brands' mentions and hashtags to keep an eye on the competition.
Automatically assign customer service issues, industry threads, or competitor intel to team members for follow-up.

7. Track and Improve Performance
You can find tons of information on impressions and engagement by accessing Twitter's native analytics. But this data isn't easy to plug into reports, and it doesn't always reflect the metrics that matter to your team.
Fortunately, some third-party tools are designed to help you monitor your progress and optimize your performance.
What to look for in a Twitter-management tool
You need a Twitter dashboard that can:
Provide audience, engagement, and brand awareness analytics instantly—and allow you to export your results to a report that you can share with clients, colleagues, and other stakeholders.
Offer insight into your followers' activity, so you know the best times to post for maximum engagement.
Share a glimpse of your brand awareness score and assess, at a glance, how well your brand is performing on Twitter.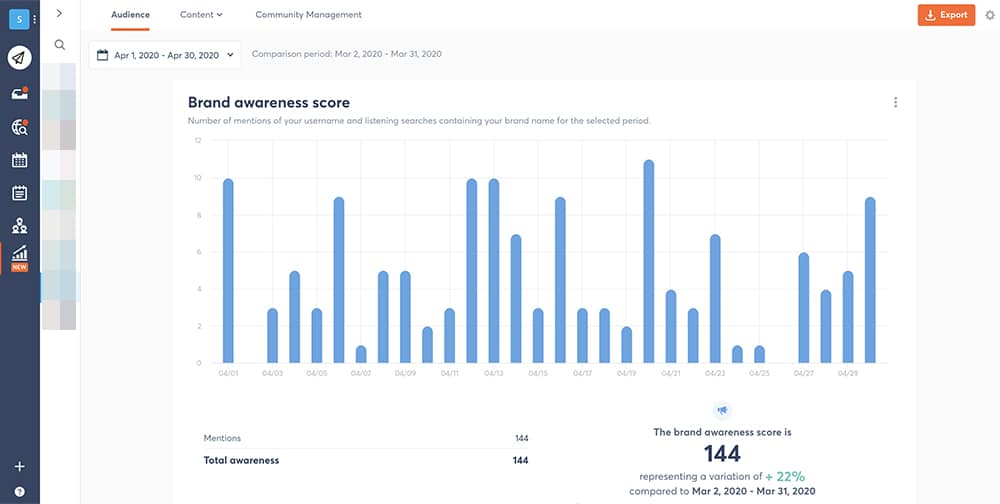 You may want to dig into these Twitter metrics to see what exactly you should be looking for.
Conclusion
When you want to use Twitter to grow your brand, you need an app that can do it all.
Choose a Twitter management tool that can handle everything from scheduling Tweets to optimizing performance so you can get as much as possible out of this social media platform.
Get started on saving time and energy on your own social media management! Check out our free trial of Agorapulse to help you schedule, track, and measure all your social media efforts.