One social media account is a lot to keep up with. Most businesses are tackling anywhere from two to five, and social media managers are tackling many, many more.
If you've ever felt like you're drowning in direct messages, comments, and (of course) complaints, I can promise you that you're not alone.
We've all been there.
That terrible feels-like-you'll-never-catch-up feeling is exactly why social media management software was created. Cohesive inboxes for all your social activity, all on one dashboard, was an excellent way to simplify things. But if you have active social profiles (and hopefully you do), that alone often isn't enough to keep the chaos at bay.
Some amount of automation is needed.
Fortunately, we have access to that thanks to Agorapulse's Inbox Assistant. In this post, we're going to take a look at how to use this feature to automate your inbox's moderation and streamline your marketing (and hopefully save your sanity).
What Is Agorapulse's Inbox Assistant?
When you use Agorapulse, all messages coming to your social profiles show up in the inbox dashboard. This includes posts from users, comments on your posts, and private messages.
This is already a huge advantage when it comes to simplifying things. Our Inbox Assistant takes it one step further. It consolidates your messages and reduces clutter thanks to the automatic moderation rules it offers.

Automatic moderation rules allow social media managers to set specific actions when posts or messages containing keywords or phrases show up on our pages.
The comments could be flagged for review, assigned to a team member, hidden, or even deleted depending on what you choose. You can also bookmark or label certain comments, or have an email sent to you under the same conditions.
Automated moderation make it easier to declutter your inbox while simultaneously drawing your attention to the potential customers who need it most.
This lets you stay on top of things, whether a customer has a question about sizing or one angry person is trying to disparage your brand with false narratives in a comment on an ad.
6 Ways to Streamline Your Marketing
Like everything else in marketing, automatic moderation rules are most effective when implemented correctly. While effective moderation looks a little different for each individual business, there are 6 moderation rules that I set up for all of my clients almost without fail.
These can help you manage your social media profiles more efficiently.
1. Flag questions for review
Questions from your followers–and potential customers– should be addressed as soon as possible. Not only does this show that you have excellent customer service, but a fast response could also be the difference between a big sale or no sale.
In many cases, customers asking questions is a sign of purchase intent. Answering promptly can give them the information needed to make a purchase.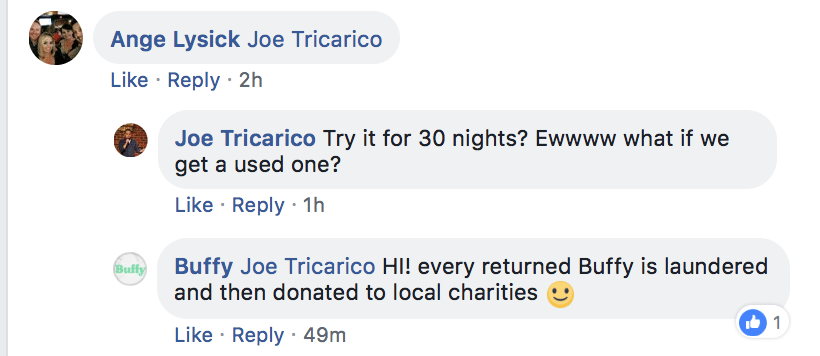 Flag questions for reviews by adding moderation rules for phrases like "do you," "what if," "can you," and "what are." Industry-specific examples could include phrases like "what ingredients" and "what software."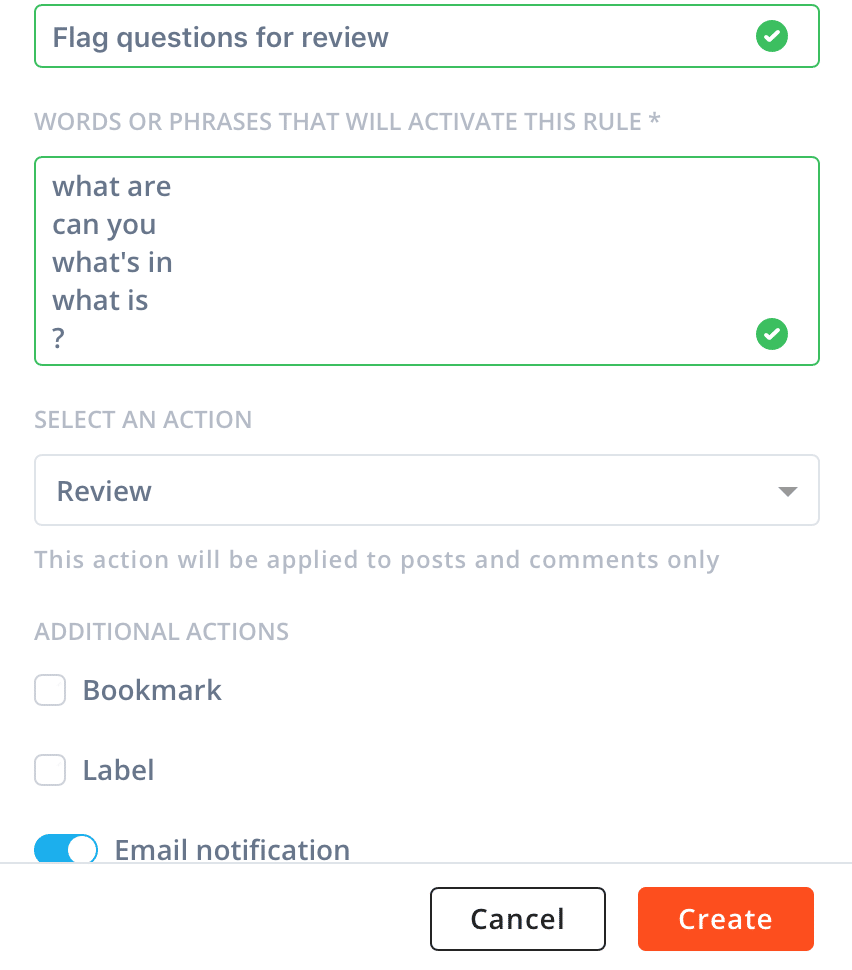 Want to make sure you're on top of answering all questions that cross your digital doorstep? You could automatically assign them to team members if you find this yields faster results or send yourself an email alert in addition to flagging them for review.
2. Identify frustrated customers early on
The last thing we want other customers to see is comments or posts from frustrated customers. "This doesn't work" or "it broke in two days" aren't doing you any favors and can tarnish how new potential customers see you.
Use automated rules to identify frustrated or angry customers early on and do what you can to 1) resolve the situation and 2) protect your reputation.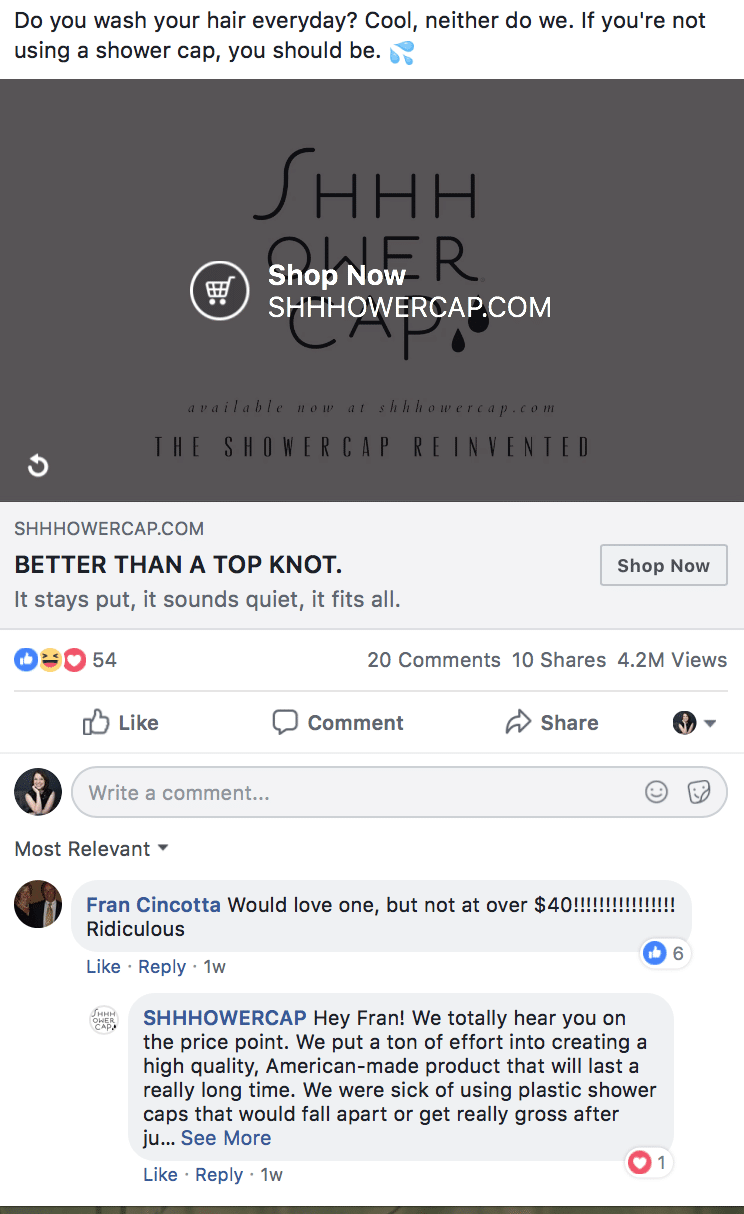 For this rule, I recommend targeting base keywords like "crap," "doesn't work," "glitchy," "waste," "not worth it," and "I tried," along with any other phrases you see frustrated customers using.
I recommend assigning this to a team member so that it's addressed as quickly as possible because you don't want these comments to be posted without a response for long.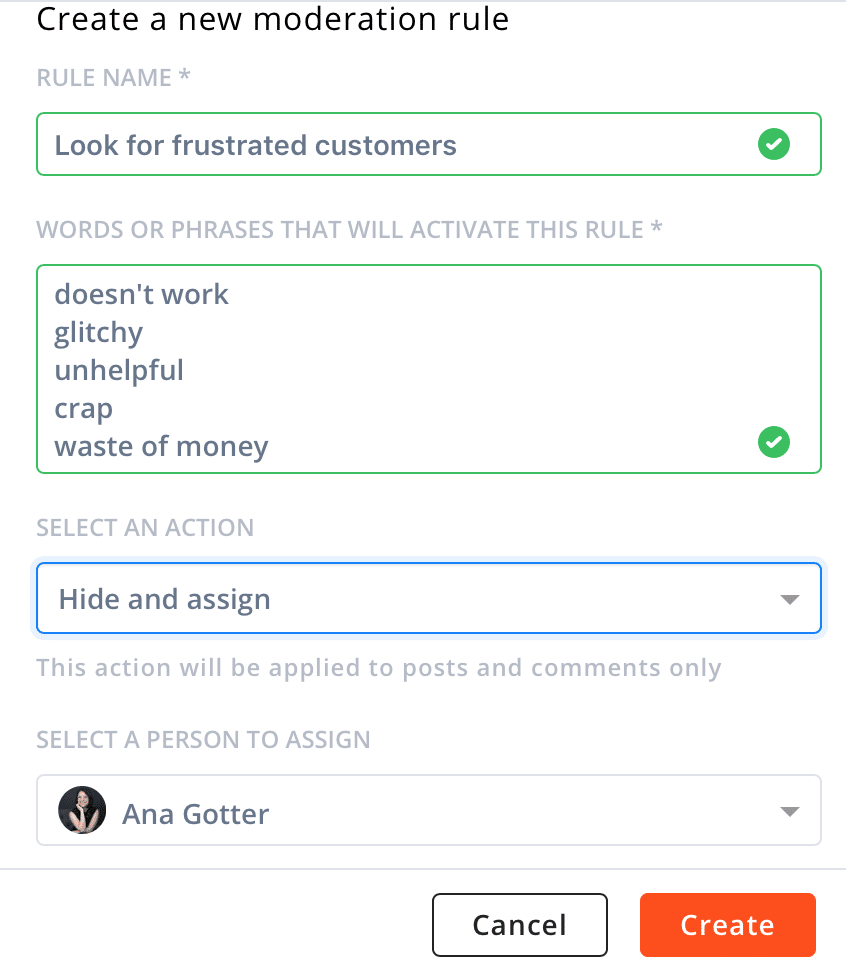 Really worried? You can hide the comments and assign them for review at once, which gives you a little more time to do some research and respond. You can always unhide them later.
Want to really go for broke? I also bookmark these messages and posts so that I can follow up a week or two later if necessary.
3. Automatically delete spam
The bigger your page becomes, the more likely it is that you'll get spam, especially on posts. It typically involves a link with someone (or a bot) trying to send you somewhere off-platform. You'll see this a lot on Twitter and YouTube channels, but it can be found across the board.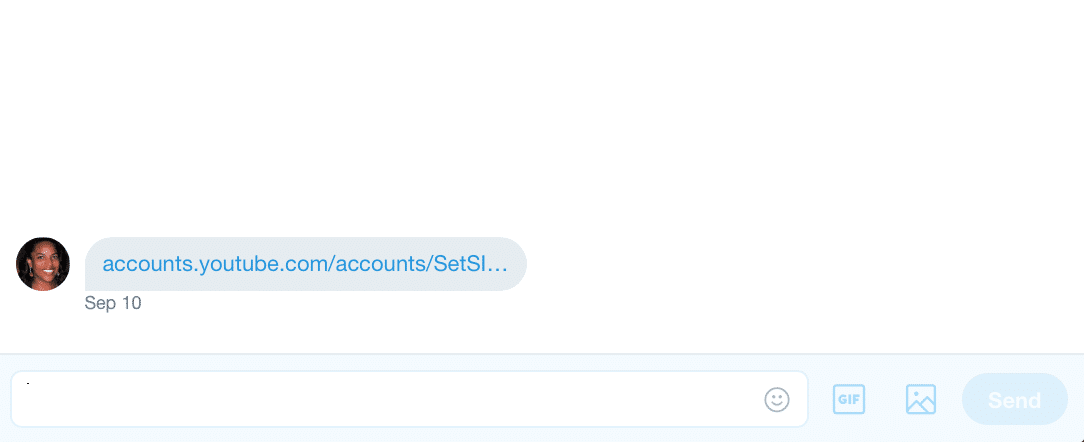 If you catch on to any of these links and see them popping up, go ahead and create a moderation rule that automatically deletes the comment. This works for your private messages too, will save you a ton of time and significantly declutter your inbox.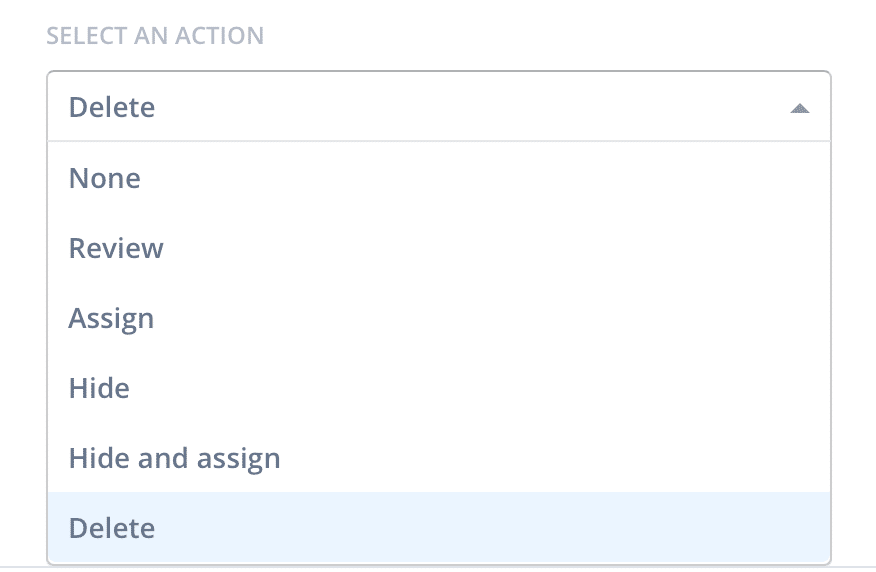 4. Remove offensive content before it appears
There's no need to explain this one. Do you really want foul language, racism, sexism, or too many political messages all over your content? No. But that's exactly what the internet is giving us these days. Trolls are running rampant.
Go ahead and set up "hiding" or "deleting" moderation rules for any keywords you don't want associated with your page– you know the ones. While this does mean typing out all of those fun words into the moderation box, it's better that they live there than on your public pages.
5. Send customer service questions to a single team member
Have you had an influx of specific customer service questions? Do you have a team member delegated to answering them? Automatically send the questions their way by assigning them the messages, saving you some time and freeing up the inbox.
One company I worked with had a specific team member answer questions about available menu items; they worked in store, and didn't do any of the other social media marketing.
Another client had one person handling all questions about shipping and tracking, or requesting demos. Still others may have salespeople to try to help with advanced order questions or schedule demos.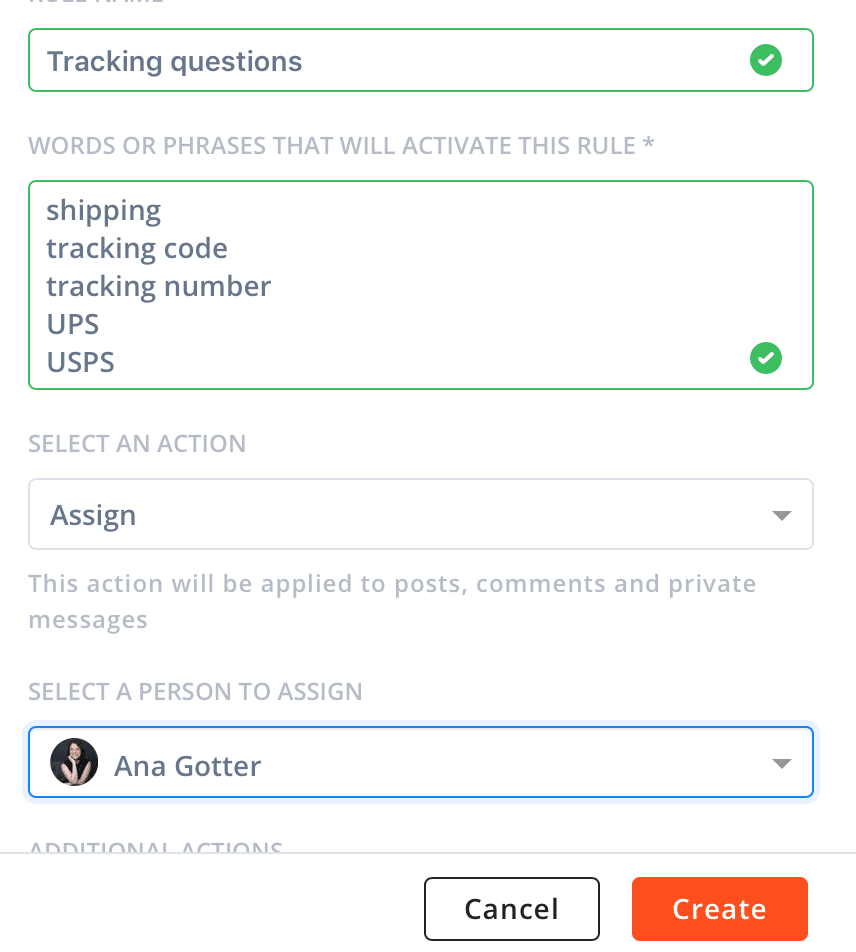 If this is the case, identify the phrases most often used to make these requests and automatically assign all comments and messages to that individual.
In the case of the client who had the customer service rep handling shipping questions, we used "shipping," "tracking," "ship," "when will it get here," and "mail."
6. Bookmark positive user comments
Positive comments can make you feel all warm and fuzzy inside. That's great. But they can also make a positive impact on your business. In addition to providing strong social proof, they can provide testimonials to use later (with permission) and even help you to identify potential brand advocates.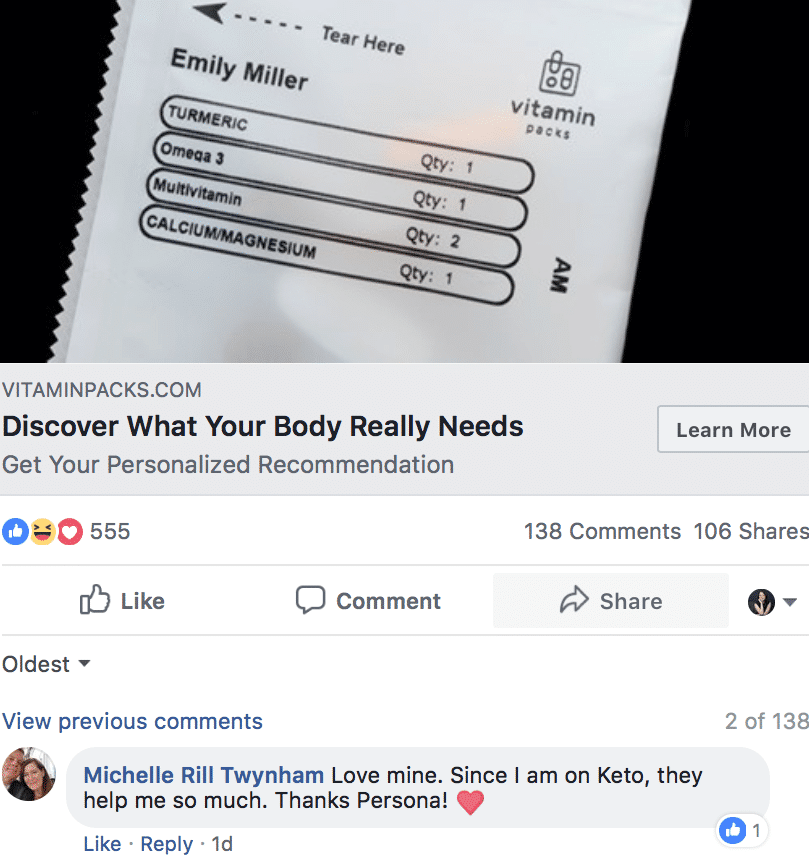 Bookmark these comments automatically so that you can come back to them when needed. Opt for phrases like "love" and "great" and "best."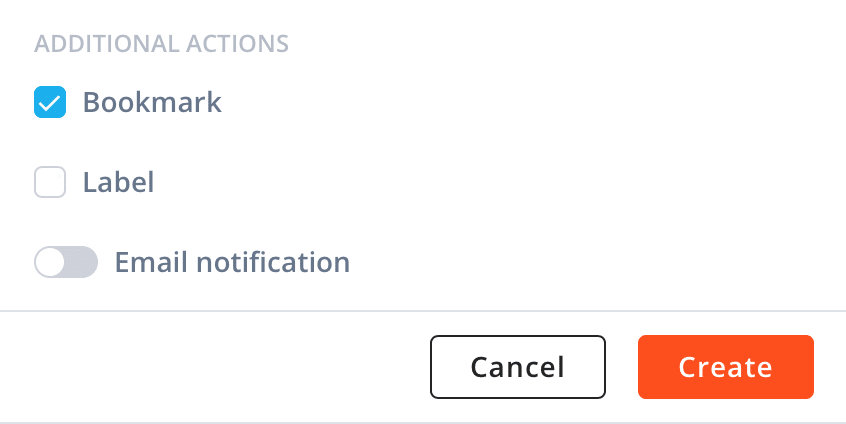 Creating Automation Rules Like a Pro
Social media management can make you feel like you're putting out a small stovetop fire while someone is behind you cackling with a flame thrower.
But you can make your life easier by implementing common-sense automatic moderation rules with Agorapulse's Inbox Assistant.
The ability to flag questions, delete spam, hide questionable content, and identify customers who need help within seconds of the message appearing is exceptionally valuable. Now you can put out fires before they start, making everyone a lot happier in the process and improving your brand's reputation.
* * *
Sign up now for a FREE demo.