Social media automation can be evil. But it can also be a lifesaver.
I get angry at the "set it and forget it" mentality some people promote.
If I had to summarize what "bad" automation is, it would probably come down to this: If an automation tool is used to "set it and forget it," it's probably taking you to the dark side of automation.
What then is "good" automation?
To put it simply, "good" automation is automation that helps us do something we'd do manually if we couldn't automate it (as opposed to something we'd never do manually anyway).
Let's see what that might entail.
Social Media Automation: Have Everything in One Place
Automating your social media tasks is about saving time.
If you're performing a multitude of tasks in a multitude of places, the first "hack" to save time is to get everything done in one place. This incredibly efficient and potentially less expensive!
If you're using one tool to post updates on your social media profiles, another tool to respond to your private messages on Facebook or Twitter, a third one to get your reports, a fourth one to listen to mentions of your brand or product, and then have to end your day on YouTube to respond to your channel's comments there, you're already spending way too much time on social media.
A social media management tool like Agorapulse allows you to perform all of these tasks using a single tool, saving you hours of work every week (and potentially eliminating additional tool subscriptions).
Obviously, Agorapulse is not the only social media management tool that allows you to do it all in one place, but it's been highly ranked by prominent trustworthy sites, such as Capterra.

Automate Tedious Tasks in Your Social Media Inbox
The real value of social media is based on conversations and interactions between human beings (us, businesses, and all the prospects and clients we can engage with).
That means, as a good social media manager, you're probably spending most of your day in your various inboxes making sure you're taking care of all these incoming messages, comments, mentions, etc.
As you do that, you're probably liking, replying to, hiding, or deleting a LOT of messages, mentions, and comments, all of which you do manually, one after the other.
If you're doing this as a team, you must also sure the team is aligned and doesn't do the same work twice.
Let's face it, it's tedious.
You have to do it, it's crucial. But it can be overwhelming.
Any click that can be avoided, text you don't have to type, or actions you don't have to take repetitively, can make a BIG difference.
That's where Agorapulse's automation features come into the picture.
1. Keyboard shortcuts
When you reply to, or like, or hide, hundreds of comments per day, chances are you have to do a lot of clicks. We even have users who handle a stunning 3,000 comments and private messages per day on their Facebook pages. Ouch.
With Agorapulse's keyboard shortcuts, you can perform these actions with just a few keystrokes.
This may not sound like a big deal, but when you're dealing with a high volume of comments or private messages, this simple feature can save you hours every week, and a lot of headaches.
2. Saved replies
This is probably one of the biggest time-saving features of Agorapulse. It's also a pretty unique one. Most other tools, if they offer this feature at all, it's only included with their more expensive plans.
A saved reply allows you to send a templated response to the most common questions you receive, in just one click! You can even customize the name of the recipient automatically.
I use the saved replies to thank people for retweeting my tweets.
Look at how fast this is (no typing at all!):
And think about the time saved with longer responses…
Learn more about saved replies:
3. Automated moderation (Inbox Assistant)
Our Automated Moderation (or Inbox Assistant) feature is my favorite automation feature. You can do so much with it!
It triggers automated behaviors based on keywords or key phrases.
Here are a couple of examples you may find useful:
Automatically review (archive) automated tweets containing a spammy phrase, like "buy followers"
Automatically assign messages that contain the keyword "delivery" or "problem" to a support team member
Automatically hide comments that contain profanities
Automatically tag and bookmark comments that contain positive keywords such as "love", "great", "helpful", etc.
With a high volume of incoming content, this automation engine can really save the day.
Here are examples of automation rules we've seen for a Facebook page: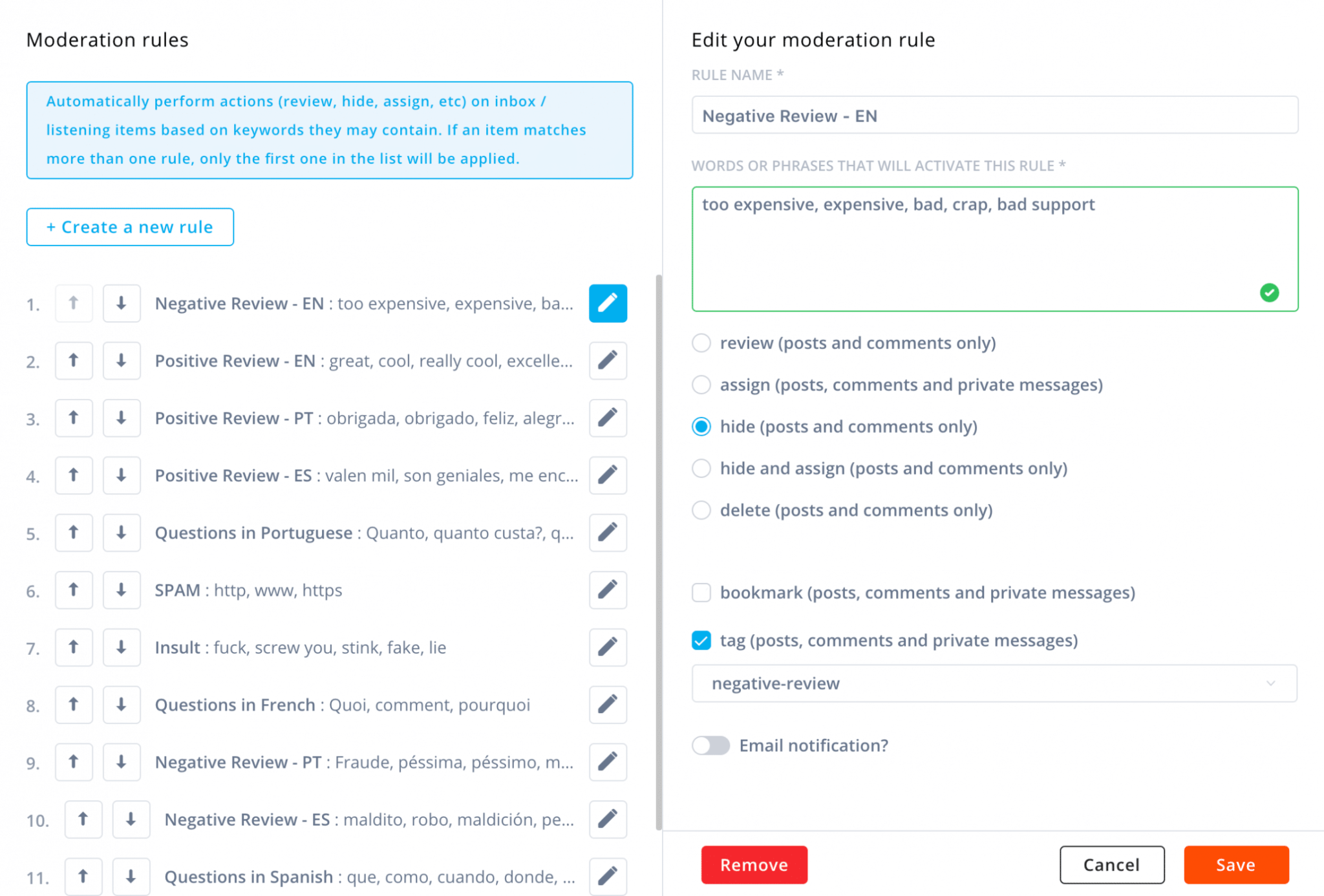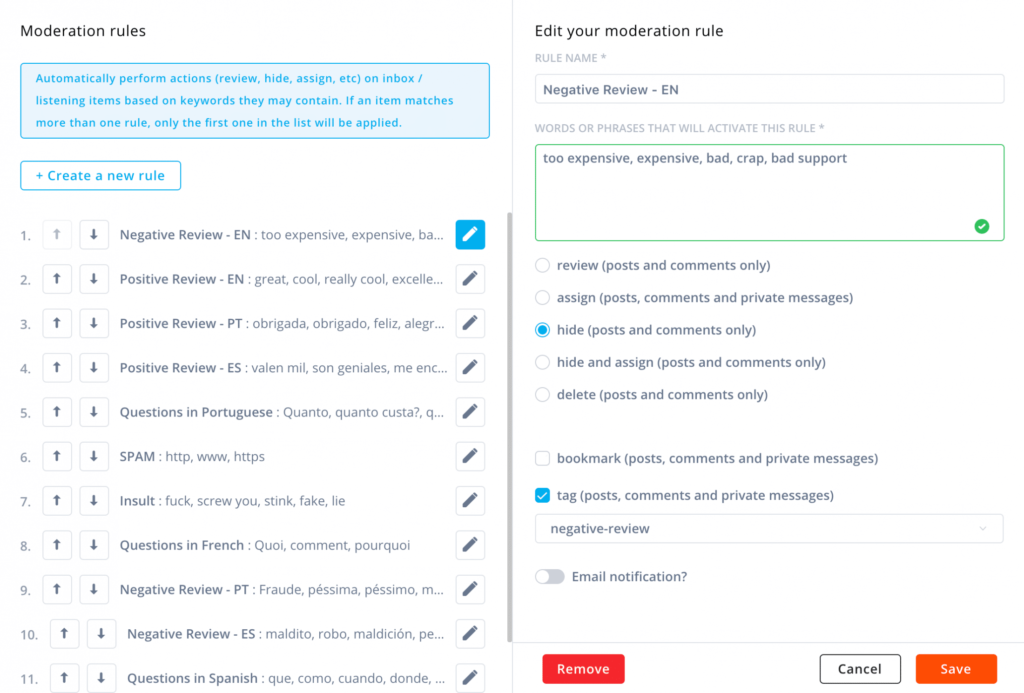 4. Auto Advance
Agorapulse's Auto Advance feature has been designed to help users with a HUGE volume of comments or messages in order to reply to them with maximum efficiency.
Basically, the default behavior of our inbox is that, once you've replied to a comment or message, you remain on the reply. Most users prefer this as it allows them to read their reply and make sure it's good.
But this makes you click on the next item to reply to it. It's fine if you have a few dozens per day. It's not if you have hundreds!
In that case, you can choose to automatically move to the next comment or message in the list, saving you hundreds of clicks per day.
Is Automate Content Publishing Worth It?
Let's face it, the last few years have seen more "social publishing" automation tools popping up than there are Instagram lifestyle influencers.
(Well, OK, almost.)
This tells me one thing … The market is hungry for automation. Users need to save time and automation can be the answer.
When you look at these tools' websites, there's one clear message: They promise you to save time AND get more traffic from social media.
How? By repeating your posts automatically.
The first question you may ask yourself is: Is it worth it?
Absolutely yes
Well, the answer is a resounding yes!
But don't take my word for it. We love running tests, so we launched a blog dedicated to this, our Social Media Lab. And we've run many tests on this topic.
Repeating your posts on social media works, we have proof!
Proof that automation works wonders
The very first test we ran was on LinkedIn.
Like everyone else, I would post to LinkedIn once. Our LinkedIn referral traffic was merely OK.
Then Agorapulse released a new feature allowing to repeat posts automatically and I decided to try it out.
I ran a simple test. I took one of my best Medium posts and, instead of posting it once, I repeated it 5 times, every 10 days. That "hack" provided 24 times more impressions than what the first post would have provided alone.
You can read about the whole experiment here: How I Got 24 Times More Views on LinkedIn.
To be honest, that test got me excited!
It's not only the number of views that was exciting, it was the potential to get more traffic from Linkedin without lifting a finger.
I went to our Google Analytics account recently and I realized that since we've implemented that habit to repeat our LinkedIn content (in the winter of 2017), our traffic from LinkedIn has doubled!
Here's proof: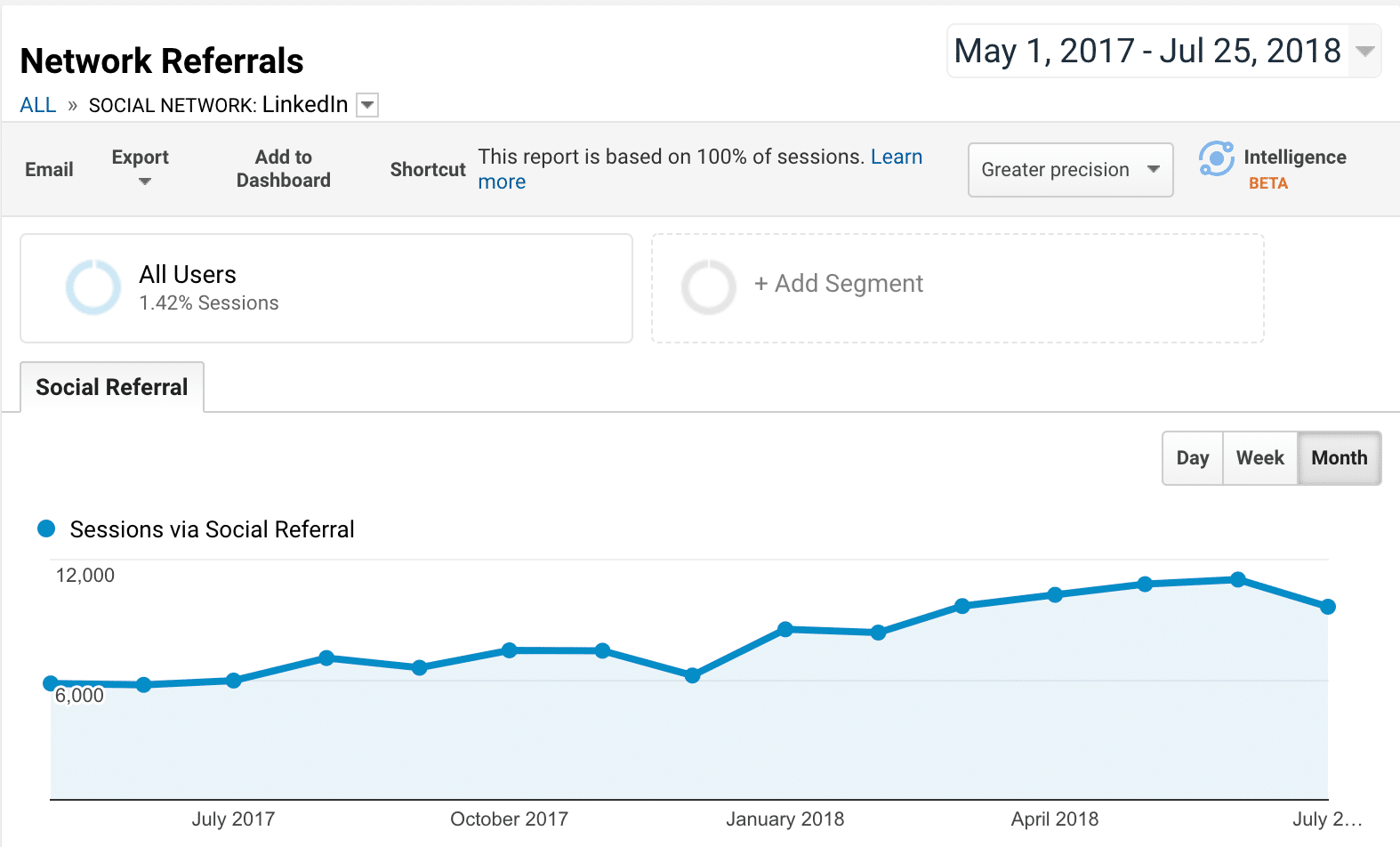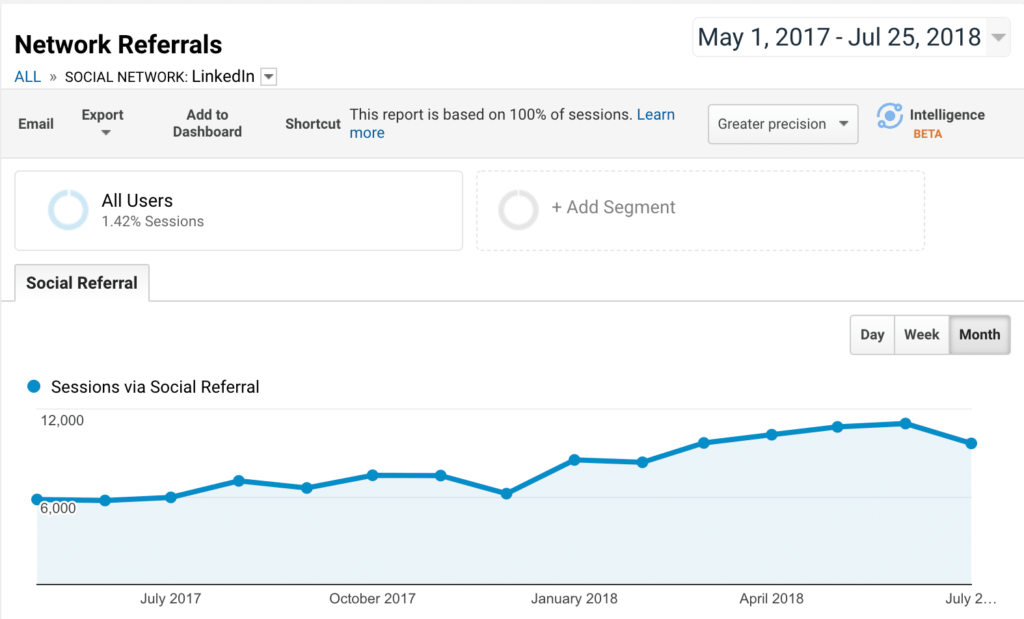 Keep in mind that we're still publishing the same amount of content on LinkedIn. The only difference is that we don't post them once anymore, now we repeat each piece three times.
The best part is that this strategy also works on Twitter, and even Facebook!
On Twitter, we ran a test on several Twitter accounts and found that republishing evergreen tweets was a massive success. You can read the full test here: Is Evergreen Content on Twitter Dead?
We also ran a comprehensive analysis of Jeff Bullas' Twitter posting habits, and the results were astounding. Jeff publishes every 15 minutes from a pool of more than 450 blog posts and repeats these tweets every 5 days, indefinitely!
He gets 15,000 clicks per month. Wow.
You can read the full Jeff Bullas case study here: Tweeting Evergreen Content on a Massive Scale!
Finally, we ran a test on Facebook with Mike Allton. In his test, Mike posted 12 blog post to his Facebook page 3 times a day for 28 days. That was a repetition of each post every 3 days (7 times each total).
What he learned is that 66% of the engagement and 69% of the clicks came in after the initial post! That means he would have missed out on about 70% of his reach and engagement had he shared these posts only once.
Does it mean that you should always repeat your content on Facebook? Of course not. But it means you should not disregard that possibility and test it for yourself.
You can read more about this test here: Will Evergreen Content on Facebook Hurt Reach?
Now that we know this works, how can you do it? You're not going to manually publish these repeated posts right? That would be a nightmare…
That's where Agorapulse comes into the picture!
Four Publishing Automation Features of Agorapulse
1. Repeating content
Agorapulse advanced publisher offers the ability to create multiple schedule slots for any given post.
For example, if you're promoting a webinar for this Friday at 4PM, you may want to promote your webinar on Tuesday at 10AM, then at 5PM, and again on Wednesday at the same times, and finally on Friday morning.
That's easy to do with our "multiple scheduled times" option: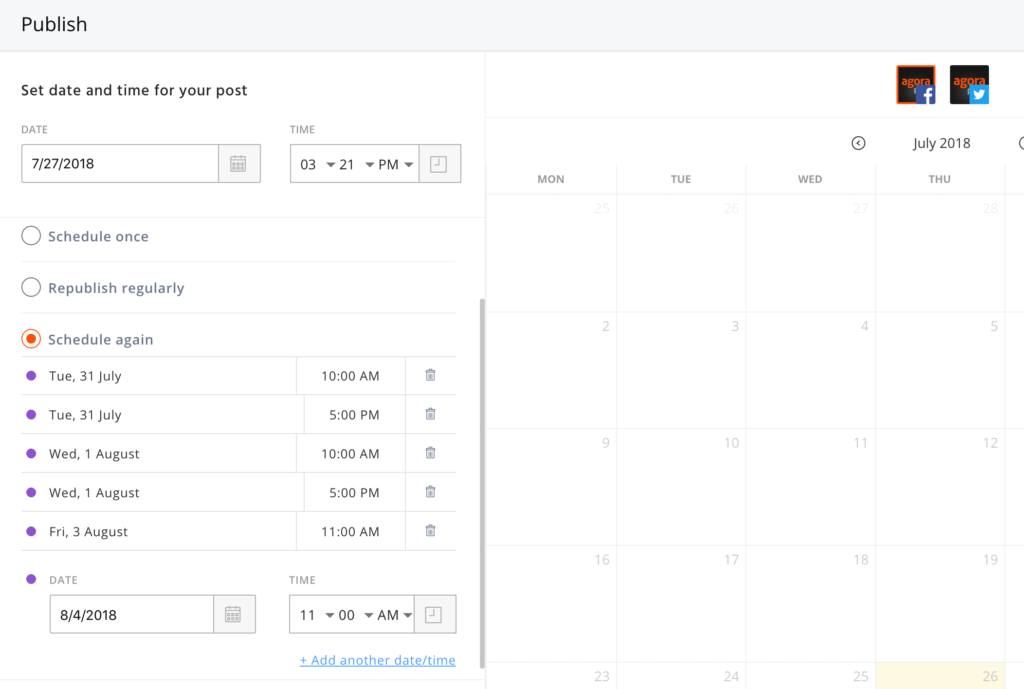 If you have a recurring event, you can also choose to post at regular intervals with the repeat option.
Running a weekly Twitter chat on Monday?
You can easily post the same welcome tweet every Monday at 10AM.
Have a weekly live Q&A on your Facebook page?
Post a reminder on Facebook 1 hour before it every week.
Want to wish "happy birthday" to a VIP user on Twitter every year?
Easy! Create an automated tweet and schedule it for once every 12 months!
The possibilities are endless.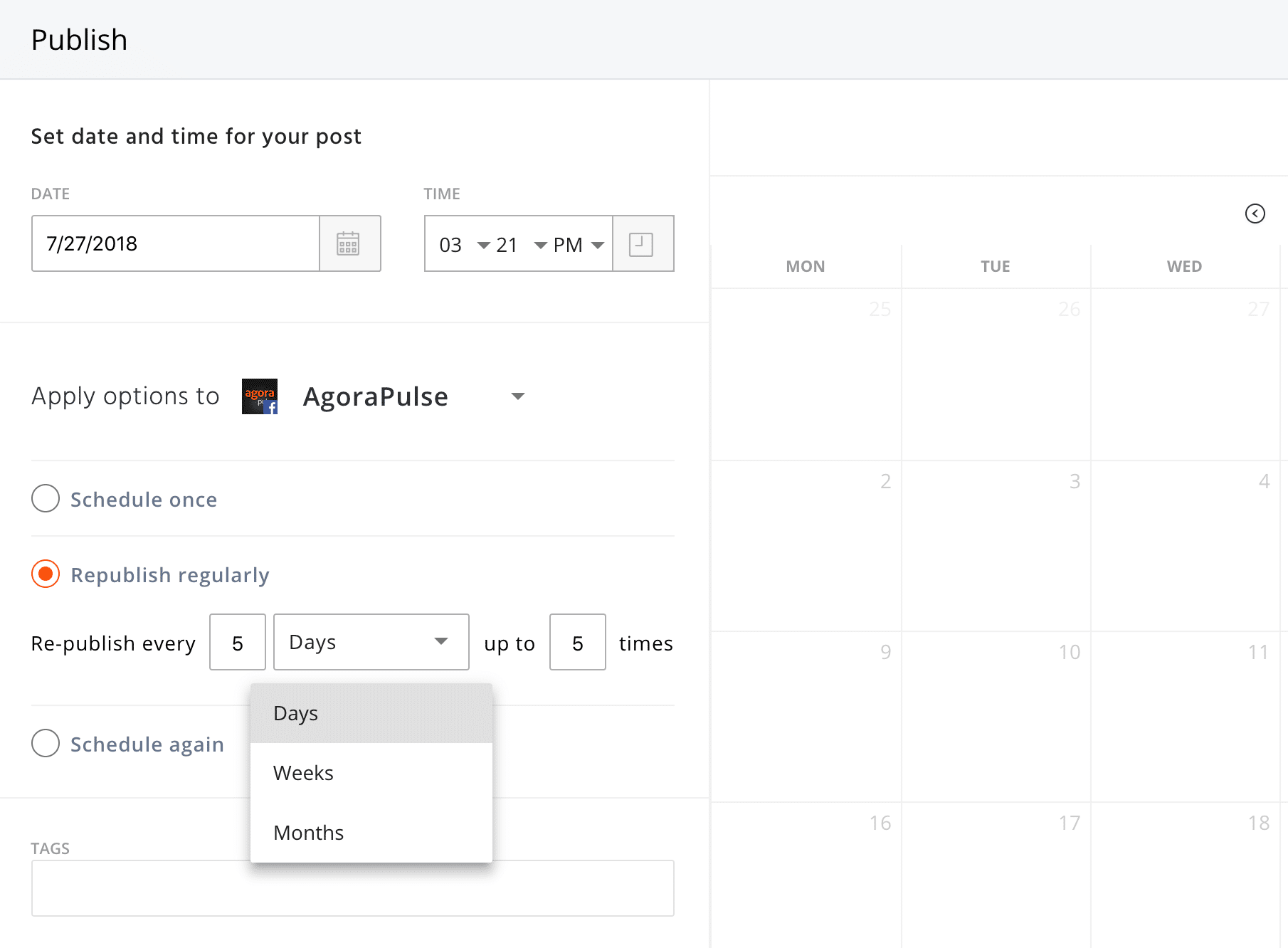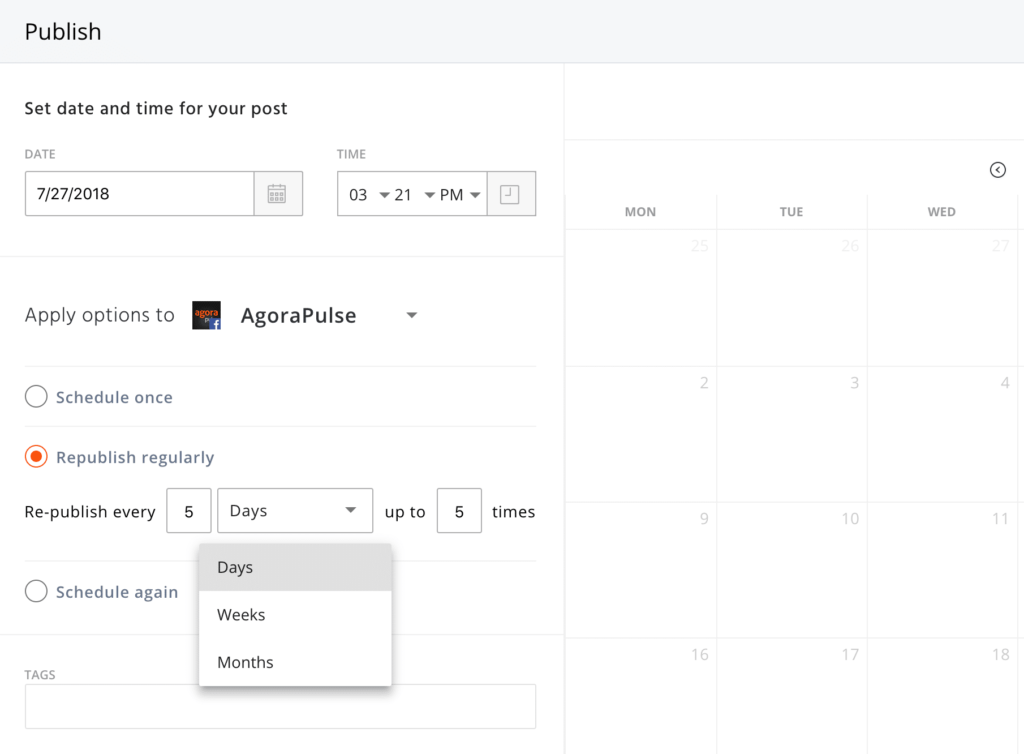 2. Re-queuing content
If you have a lot of evergreen content, then you should probably use content queues rather than scheduling each piece one by one. That's a significant time-saver.
The beauty of our content queue system is that it doesn't stop there: you can actually set up content categories and, more importantly, automatically re-queue each piece as much as you'd like.
This "re-queue" option is ideal for posting your evergreen content multiple times in a matter of seconds!
Some of our users have hundreds of posts in their content queues, ensuring the "recycling" of the content with a sufficient time gap between each repetition.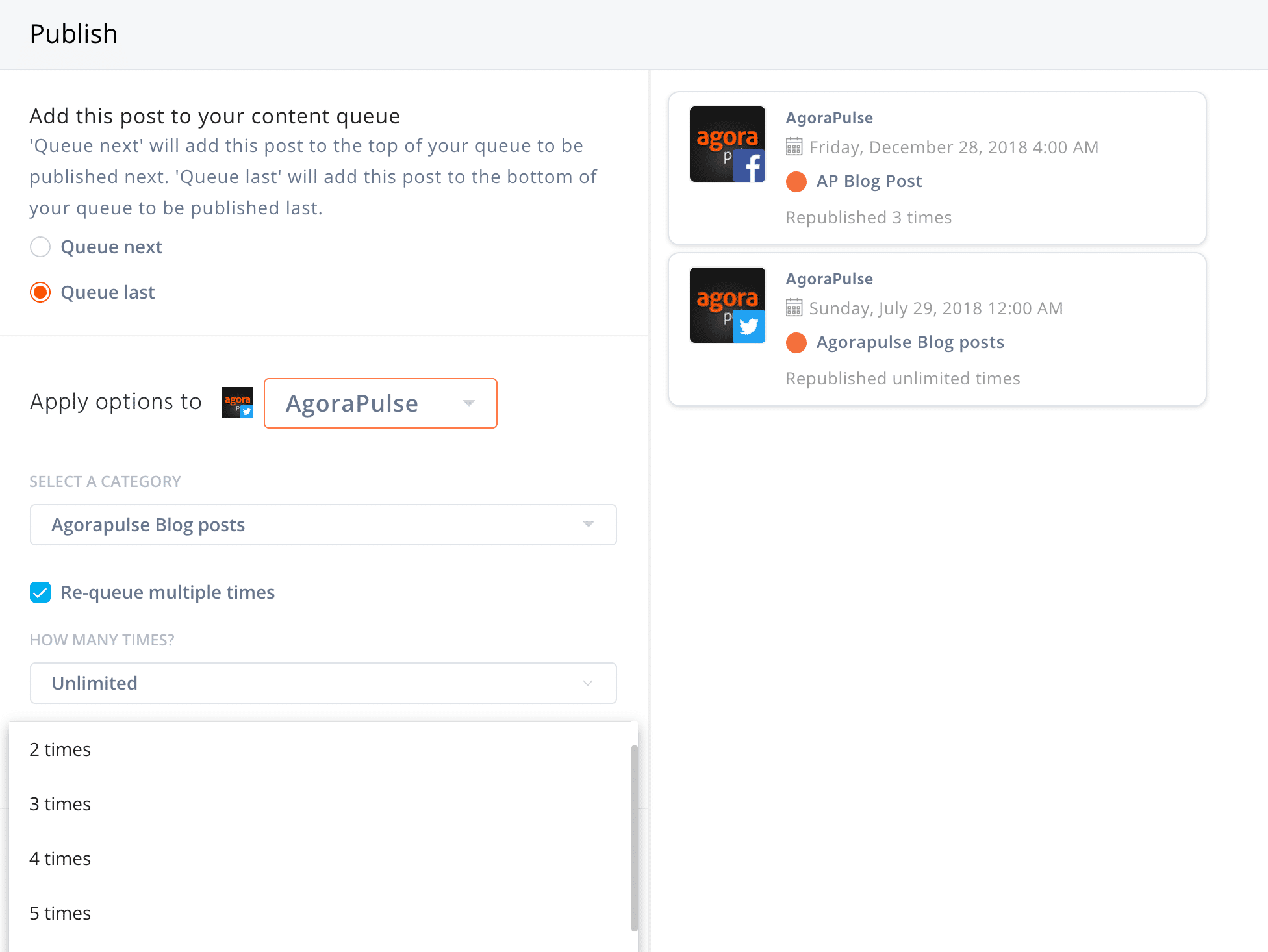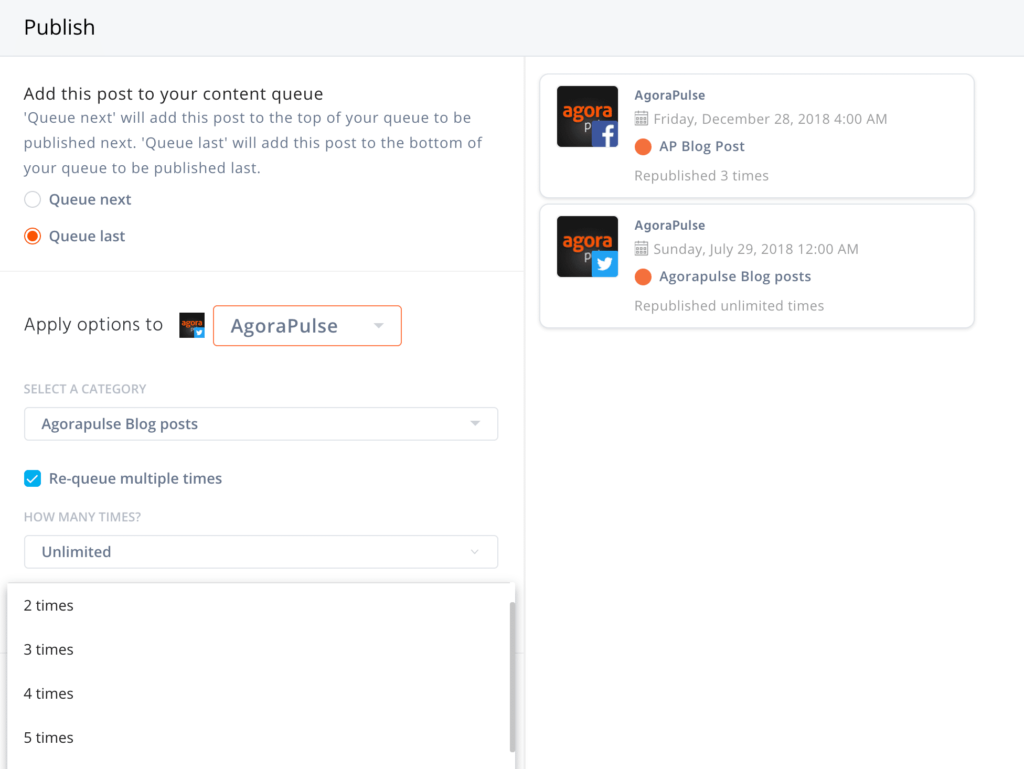 Learn more about re-queuing content:
3. Bulk CSV Upload
Have a lot of pieces of content to publish at once? Or perhaps you need to collaborate with your team, or with a client, on the posts for an entire week or month?
You'll probably want to work on a Google sheet with your team to get everyone on the same page.
But once you have all of that content ready to be published, do you really want to spend hours manually creating all of those posts?
That's where the bulk publishing feature of Agorapulse comes in handy!
Just download your content in a CSV format, open Agorapulse, and upload your CSV into the system. All your posts will be imported into our publishing system, and you'll even be able to see a preview for each post and edit them as needed.
4. RSS Publishing
RSS publishing is another tremendous time-saving feature.
Perhaps you have a blog where you post a lot of content. Or maybe you share other people's content on a regular basis. This feature will turn 2 hours of work into just 5 minutes!
In the animation below, I created 20 tweets from our blog's latest 20 posts in 45 seconds! And I was able to repeat them 4 times, filling my Twitter account with 20 fresh pieces of content from our blog in less than one minute. How efficient is that?
See for yourself: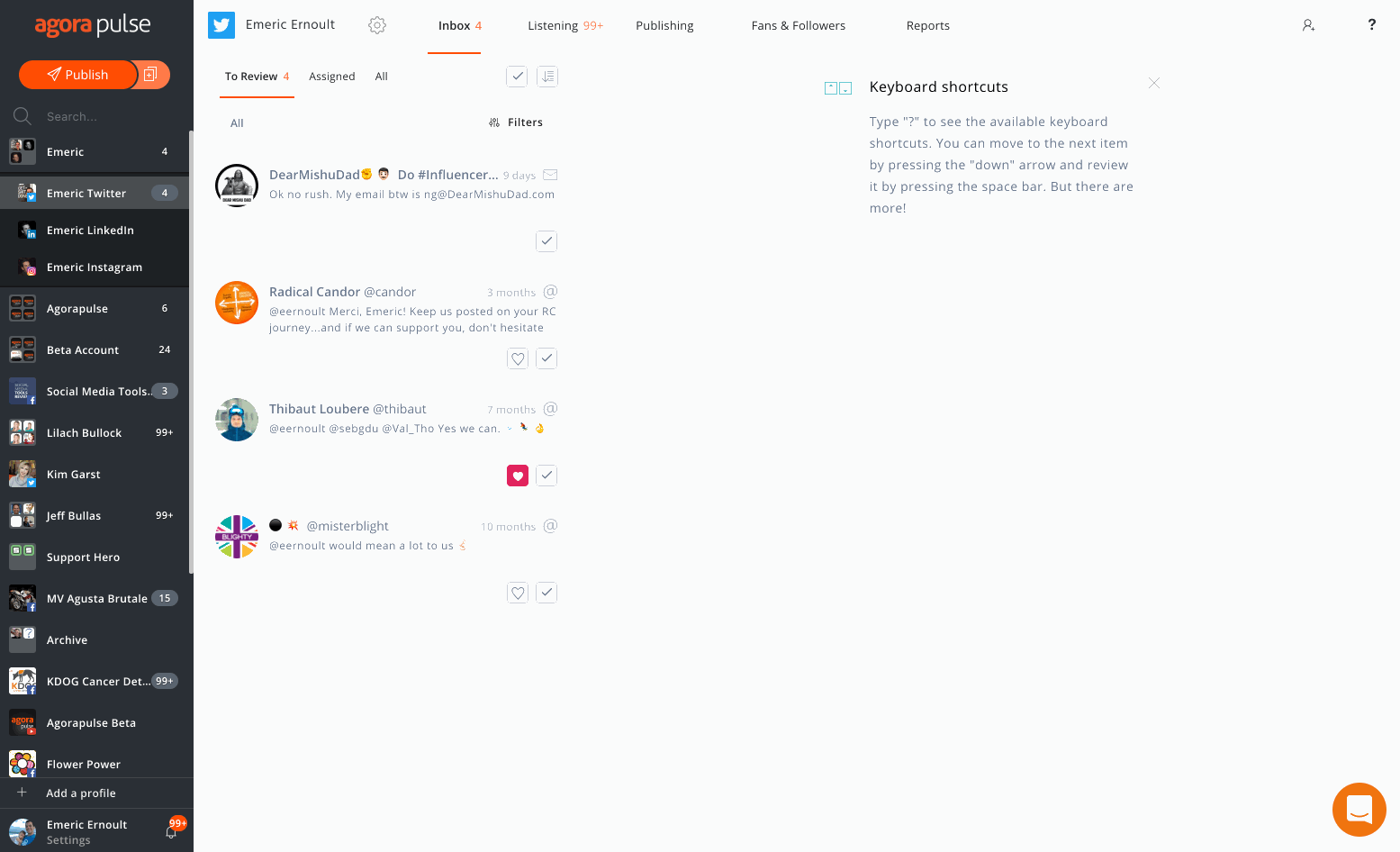 That's it! These were the 8 social media automation features our users love the most in Agorapulse.
I'm sure you, too, can save hours of tedious work every week using them (or some of them).
If you aren't already using Agorapulse, just sign up for a free trial here and get started. You'll have full access to use and test all of these features.