Founder, Chairman and CEO of Amazon, Jeff Bezos writes, "The best customer service is if the customer doesn't need to call you, doesn't need to talk to you. It just works."
Sometimes it just isn't that simple and nowadays fewer people are picking up phones, they're engaging in public, using social media sites to share both their praise and complaints. Smart businesses and industries are taking notice of this trend and responding.
In the case of Twitter, if your customer tweets applause for you in some way, you can respond with a grateful tweet. On the opposite end of the spectrum, when they complain or criticize, you still have the opportunity to appease them in some way and offer them a solution to their problem. Either way, you are showing all the consumers out in the Twitterverse that you care.
Social customer service is the key to your business's reputation.
Plenty of brands are leveraging Twitter to their reputation's benefit by providing public customer service. If they can do it, you can too. Here's how.
MANAGEMENT & MONITORING
Companies are using Twitter to grow their brand awareness, gain leads and drive sales, but it's also extremely important to manage and monitor your tweets. They are easily searchable on Twitter, Google and other applications. Therefore, you can now quickly respond to any negative attention that you may be receiving. Look at this example from Toyota in response to a concern over a recall of one of their Lexus models. One Twitter user publically asked Toyota what current Lexus GX460 owners should do:
Problem addressed and solved — on a public level — using Twitter awareness.
TWITTER ANALYTICS
Let's say you are offering your customers a great deal, valuable discount or a spectacular offer. Posted on Twitter it may look something like this: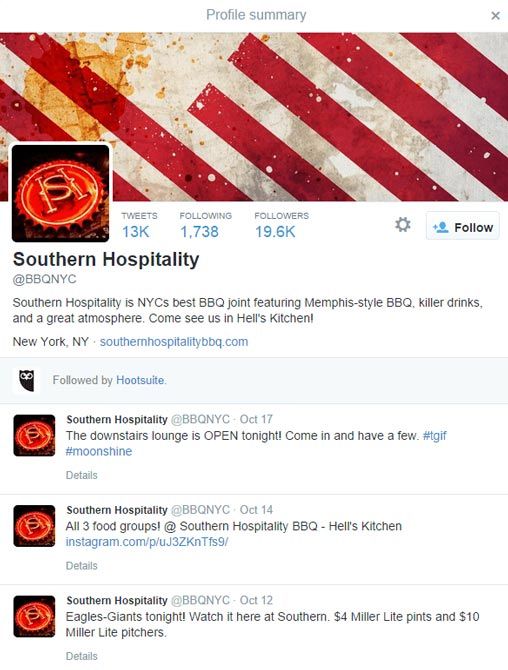 You can easily see that some of your happy customers and followers are responding, but what if it isn't that simple? What if you need more information and data?
By simply logging into their analytics tool, you can take a look at your followers in a more in-depth fashion. You can track marketing strategies, examine trends, look at engagement rates, compare impressions and much more at no cost. Everyone should learn how to use these powerful features Twitter makes available for free.
CABLE GIANT VS BLOGGER:
Here's an example of how this Comcast customer was able to effectively leverage the cable giant into a significant credit for services unrendered. After being denied the ability to cancel a service, she explained during a phone call that she had difficulty getting through on their lines. After missing a deadline for cancellation of a basketball package, Rebecca Kelley had a very heated discussion with one of their reps and was denied credit. She made this simple post on Twitter, "I hate Comcast" and was surprised to see ComcastBill respond with "What's the issue".
A Twitter conversation ensued wherein she repeated her dilemma in a few back and forth tweets with the this Comcast representative but to no avail. So she reached out to a few of her Twitter buddies, including @Tom_Schmitz, @DJpaisley and @Toddysm, who all pitched in to continue complaining about the situation.
After more tweets and retweets, she got a private message from the representative at Comcast that initially tweeted her stating "Don't worry about it we are crditing $170 to your account".
Once again a happy customer, she returned the favor with another Tweet to her cable service provider stating "Thanks so much for your help. Looks like I'll be writing a nice blog post about Comcast's Twitter rep. management :D".
To which @ComcastBill replied "it all comes down to we know what's right and we have no problem fighting for the customer as long as it is a legit issue :)".
In this instance, everyone ended up happy in the long run. Even though she started out with a hateful statement, she rallied her Twitter troops and maintained good social etiquette in the end. We should learn from her example and see how we can effectively manage and maintain good customer relationships online.
This article was written by our newest contributor, Dave Landry Jr..
Dave is an online business writer with a background in business communications and finance. As a writer, he covers SMB and global telecommunications, social media, international branding and virtual technology.
Your turn: leave us your comments below.