When you think about law enforcement in the US, popular agencies from New York (NYPD), Los Angeles (LAPD), and Chicago come to mind. But what if we told you that the police department in Brimfield, Ohio runs a Facebook page that is significantly more popular than the three earlier mentioned ones? Here's how they do it.
They Are Open to Reviews
One thing that separates Brimfield Police Department's Facebook page from their big city counterparts is that they allow reviews on their page.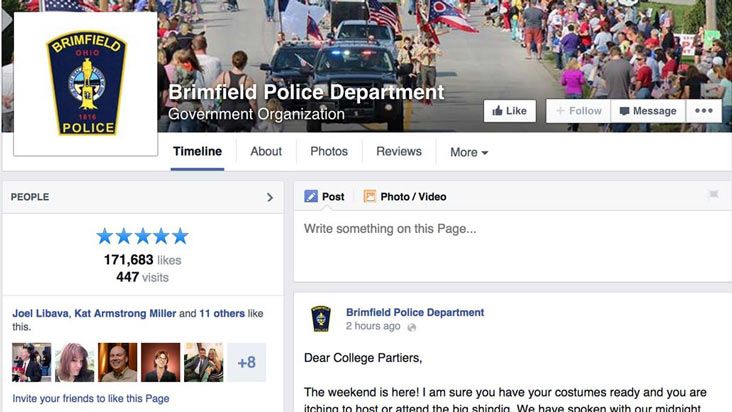 The page has over 4k reviews, 3.8k of which are 5-star reviews. The reviews are from the local community about the police department itself and from fans worldwide that are impressed by how they run their page.
They Talk to Specific Audiences
If you scroll through the latest updates from the NYPD, LAPD, and Chicago PD, you'll find interesting posts, but all are general news items. Brimfield PD, on the other hand, addresses specific audiences for some of their posts. Their latest post, for example, goes out to college students who like to party.
//
Addressing specific audiences can help catch the eye of those who fit the description. Any college student who saw this post come through their newsfeed would likely pay attention, and anyone who knew a college student in the area would likely share it with them.
They Are Fun…
Brimfield PD makes their updates fun to read, even if they are sending out a serious message.
//
The main point of this update is to share what Brimfield PD has been up to lately. It serves two purposes – to inform the community of what is going on and to let people know that they want to stop driving while impaired. And it achieves those purposes without being stuffy and boring.
But Serious When Needed
Of course, not everything a police department posts is going to be fun and games. After the shooting of army reservist Nathan Cirillo, Brimfield PD expressed their sorrow along with the rest of the world.
//
They also shared the photo of a sergeant from a neighboring county who lost his battle to cancer.
//
As you can see from the engagement on both posts, it shows that their fans are not there for just the entertainment, but also for support of the law enforcement community at large.
They Reward Their Growing Audience with Fun Prizes
Ok, so they don't really giveaway prizes. But periodically, they celebrate a new fan milestone with fun updates.
//
They did note in the comments that a few people have come to their office to claim the prize. So if you are going to go with this tactic, you might want to have a prize on hand or a disclaimer in your update.
The Results?
How has Brimfield PD's Facebook strategy paid off? The numbers speak for themselves.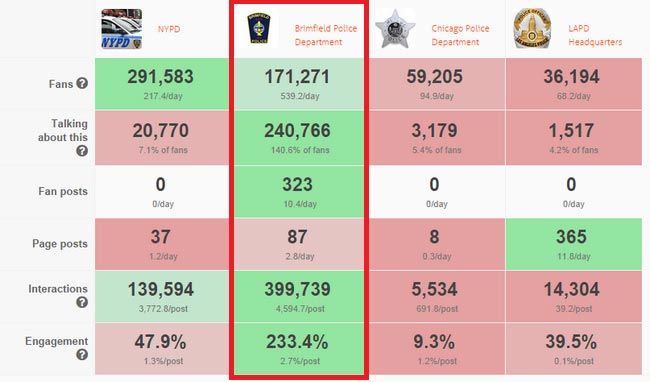 Considering that Brimfield has a population of 10k, while the other cities have millions of residents, these are some pretty significant numbers. Brimfield beats all of the other agencies in the number of people talking about their page, fan posts, interactions, and engagements. And Brimfield technically beats LAPD in posts per day if you consider the fact that Brimfield posts directly to their page and the LAPD just feeds their tweets onto their Facebook page.
Brimfield PD even uses the success of their Facebook page as a message, hoping that other police departments will follow suit to boost a positive image of police offers nationwide.
//
Takeaways for Your Business
Just because you have a serious business does not mean you have to be serious all of the time. Your Facebook page like the Brimfield PD's can help you share a serious message in a way that is fun for your audience to read. You can also use your Facebook page to boost an overall positive image of your business to the community. Let's face it – not a lot of people are fans of law enforcement. But in Brimfield's case, they are thanks to Brimfield's ability to communicate with the public.