This post is part of a weekly series by Ravi Shukle auditing the best performing Facebook Pages to give you real life best practices that will help you improve your Facebook content strategy.

We all love sharing photos on Facebook with our friends & family — be it from days out, birthdays, food or even our pets. But is there a way we can encourage users to share these same images with our business or brand?
Glad you asked!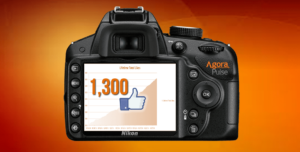 The simple answer is YES! In order to achieve this, your business has to focus on the following three key words: "User Generated Content," also known as (UGC).
UGC is also defined as: "A term used to describe any form of content such as video, blogs, discussion form posts, digital images, audio files, and other forms of media that was created by consumers or end-users of an online system or service and is publicly available to others consumers and end-users. User-generated content is also called consumer generated media (CGM)."
Asking for user generated content is a great way to get your fans involved & provides content for your Facebook page ~ Click to Tweet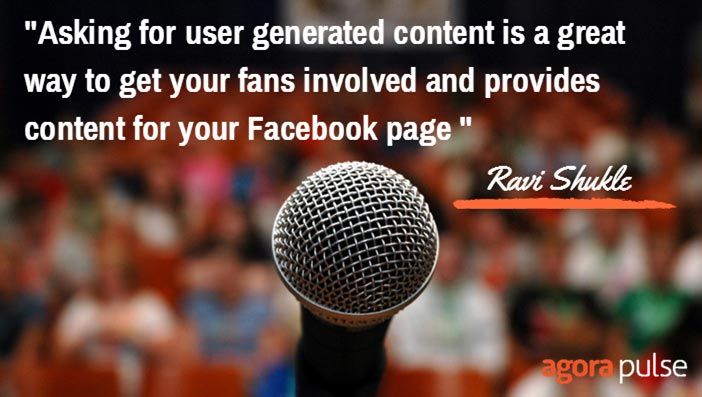 So now that we know what user generated content is, in this post we will break down exactly how Nikon successfully encourage their fans to provide content for their page through a smart use of Facebook photo contests and became one of the best Facebook pages. I will also show you how you can apply specific techniques to get your fans to create content for your business.
The best part is — these are all techniques you can test out with your business today!
What industry are they in?
Nikon are in the photography industry focusing on the love of photography & the Nikon brand.
When was the page created?
The Facebook page was created back in December 2007.
How many fans do they have?
At the present time, the Facebook page has a total of 2,259,461 fans.
How many new fans are they getting daily?
By looking at our Competitor Analysis tool, we can see that Nikon are getting on average 1,347 fans a day.
How often do they post?
Nikon typically post just once a day.
% of fans engaged
Nikon have a total of 9,820 interactions on the page with over 400 fans engaged per post.
4 reasons why Nikon are seeing results through User Generated Content
1) Creation of a dedicated Facebook App for Fans "My Nikon World"
Nikon realise that their fans are passionate about sharing their stories through their images – whether they are professional photographers or people picking up a camera for the first time. To cater to this & spotlight their fans, they have created the "My Nikon World" Facebook app, which is a content hub designed to house all user-generated content provided by fans.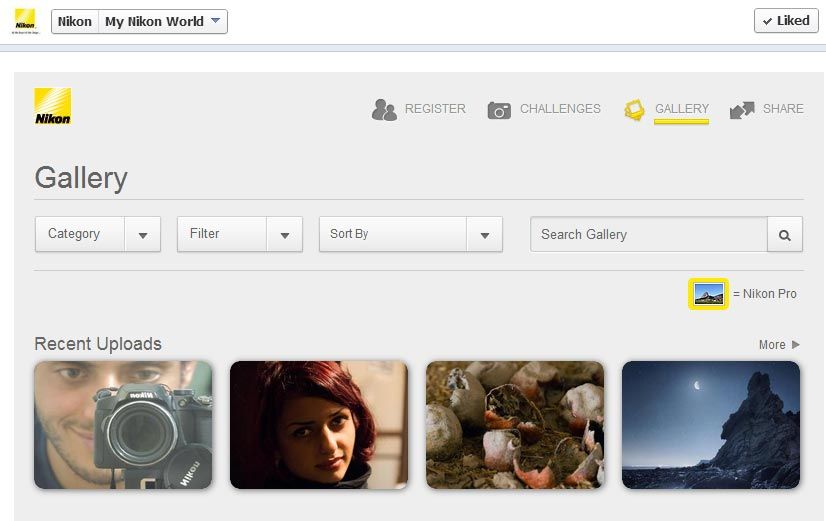 Now that they have the app, how do they encourage their fans to submit their content?
Having the gallery wasn't enough — Nikon still needed a way to drive traffic to the app to encourage user submissions — and this is how they achieved it.
Step 1: Created a Facebook app & customised thumbnail to attract fans that visited the page directly. *It is important to note the app has been featured in the top 3 so fans see this as soon as they land on the page, and it has been well branded to stand out.

Step 2: Created a separate gallery within the app where fans can submit their favourite photos taken with their Nikon Camera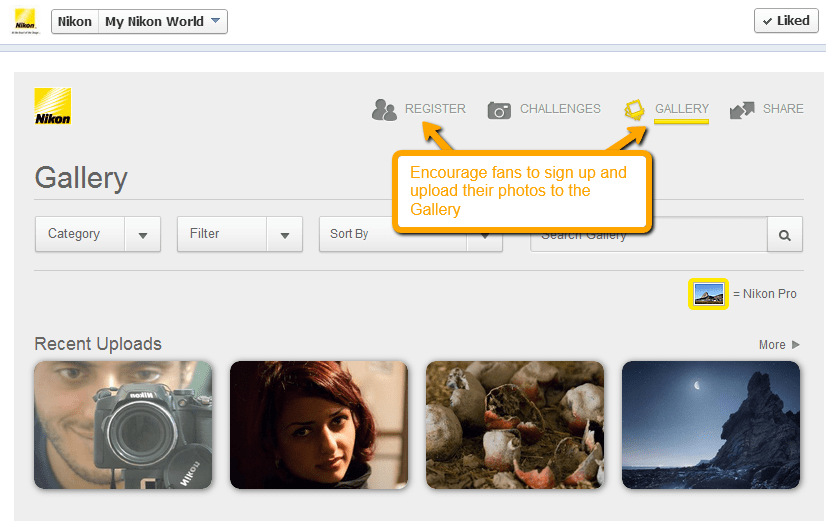 Step 3: Here comes the clever part. If fans enjoy the images they see, Nikon have made it very simple to share these images with their friends on Facebook. All they have to do is click the "Share" icon in the top right, which will generate a Facebook share box so they can let their friends know what they have seen. This not only helps the content to spread wider, but also encourages more users to sign up should they enjoy the content shared from their friends.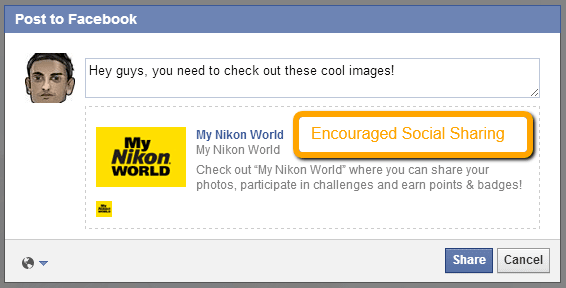 Step 4: To help drive traffic to the app, Nikon regularly create Facebook updates encouraging their fans to share their submissions. These are usually themed to help encourage participation. The example below shows how Nikon have used this tactic to help create more submissions during Valentine's Day.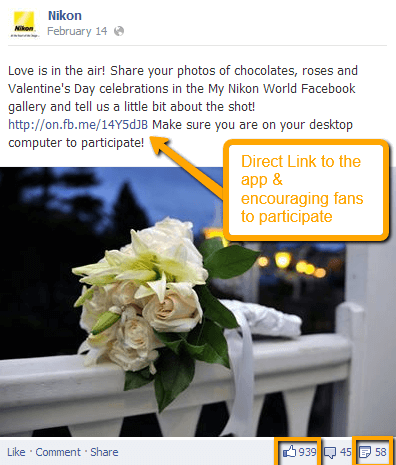 2) Feature fans via their cover photos
The biggest piece of real estate you have on Facebook is your cover image. Use this to showcase what your business has to offer ~ Click To Tweet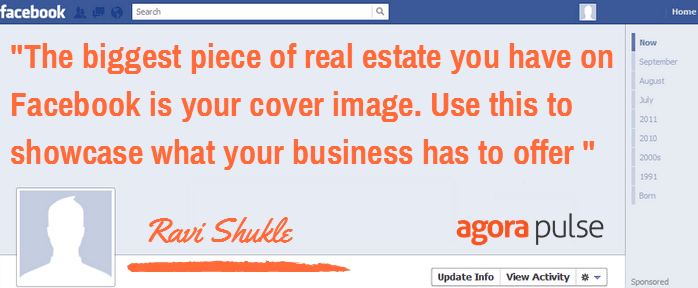 The cover image can be a great way to help drive your fans to action, although it doesn't necessarily have to be something your business is selling. It could also be a free EBook or offer for your email list or even a description about what your business does. Another great way your business can also utilize its Facebook cover image is to spotlight its workforce or fans/customers.
Here is how Nikon have used this concept to spotlight their fans. To help create user generated content, they have chosen to ask fans to share their top Nikon images to be considered. The image that gets selected will be the cover image of the month & will be featured on the Facebook page.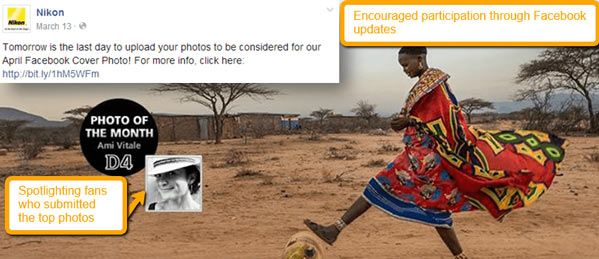 3) Creating challenges for fans to take part

Another clever way Nikon encourage user generated content on their Facebook page is by using social currency.
What is Social Currency?
This basically means fans or participants get rewarded for their actions. In this case, Nikon are paying their fans in points & badges for taking part in their challenges.
A great way to encourage user generated content on your page is to recognize & reward the fans that contribute ~ Click To Tweet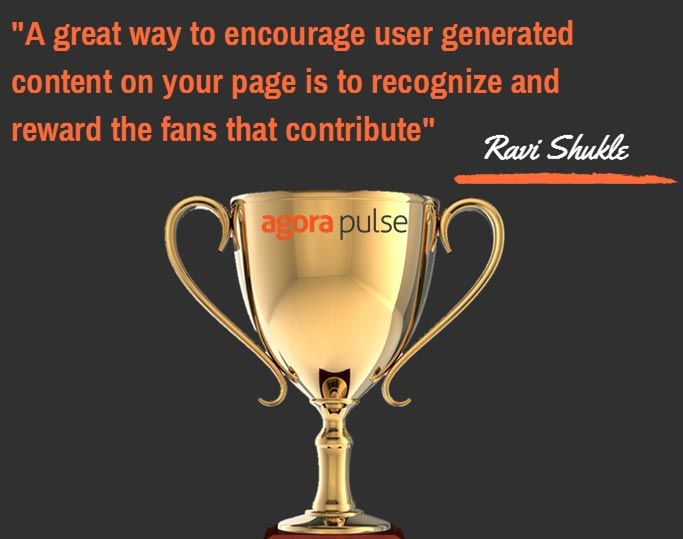 Now this doesn't necessarily mean your business needs to give your fans cash rewards every time, but rewarding your fans can also mean recognising their content & highlighting them on the page. This is a great way to encourage fans to share their images with other like-minded individuals.
Nikon have achieved this through their Challenges app, rewarding passionate photographers who have taken part with points. The competitive element through the use of points is a great way to encourage users to keep coming back & to compete with their friends & other like-minded photographers.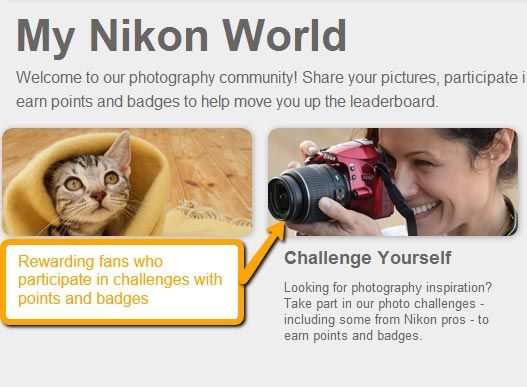 4) Photo contests rewarding the top pictures with prizes
One of the leading ways to encourage users to share their content is to host a Facebook competition ~ Click To Tweet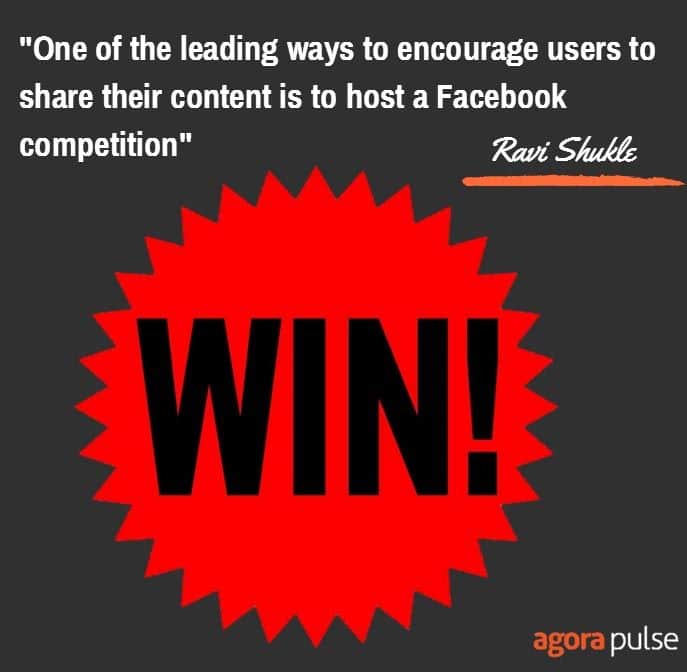 One of the many reasons a Facebook competition works so well in encouraging user generated content is because the fan has the chance to win a prize, which heightens the incentive to take part. There are two main ways your business can create a Facebook competition — via a Timeline contest & through a Facebook contest app.
Not only is creating a competition on Facebook a great way to receive user generated content, it can also offer the following benefits:
o
A great way to build your community
o
Incentivizes people to take part & follow your brand
o
Helps to build awareness for your Facebook page
o
A great way to build your email list
o
Increases engagement & people talking about your business
Here is how Nikon have used a Facebook competition to encourage fans to share their top images that depict one of the four themes they had chosen.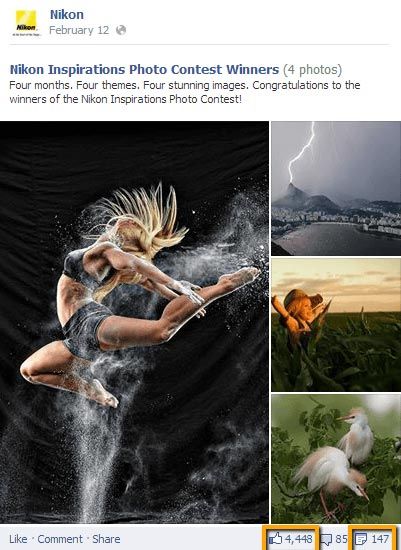 How they compare against the competition?
When auditing the performance of a Facebook page, we always find it interesting to compare it head to head against other brands competing in their space. We selected 3 brands that compete in the camera brand category:
canon France — https://www.facebook.com/canonfrance – 276k fans
Samsung camera — https://www.facebook.com/fujifilmcameras – 61k fans
Olympus camera — https://www.facebook.com/getolympus — 442k fans
Canon UK — https://www.facebook.com/CanonUKLtd — 53k fans
This is how the benchmark looks like (using Agorapulse's built-in Facebook competitors benchmarking tool):

As you can see, Nikon is far ahead in terms of fan count and is adding a whooping 1,450 fans per day. Much, MUCH more than any of the competing page. The number of fan post is also pretty high. But the engagement rate is much lower than the others, especially than Fujifilm.
The first reason I see is that Nikon is not publishing very often: 0.8 per day on average, when Fujifilm is publishing 3 times more often.
The size of the page (over 2 millions) could be one explanation.
But if I was the community manager for Nikon, I would definitely go check the Fujifilm page to see what type of content they post to generate such a high engagement. Canon UK may be worth checking out too as they post 0.8 post a day on average as well but get more than 12 times the engagement.
What they could do to improve?
The page is doing a great job at using high quality images & promoting user generated content from fans — however, here are a few tweaks they could make to help give them the edge:
o
Increase post frequency to more than once a day
o
Use SMART URLs for Mobile users when sharing links to their Facebook app
o
Utilize the Facebook cover image to let fans know how they can have their images considered for photo of the month
o
Create more Facebook competitions to help capture leads
o
Optimize their Facebook "About" section to include their URL above the fold

o
Check their competitors' content strategy to find inspiration
What are the key takeaways you can apply to your page?
Now that we've gone through & broken down the key ways Nikon are encouraging their fans to share content, here are a few key actions you can take today to help encourage your fans to take part & share their content:
o
Recognise & reward fans for sharing content on your page
o
Showcase your favourite content shared by fans on the page
o
Create Facebook competitions that encourage your fans to submit content as an entry (e.g., photo contest)
o
Encourage your fans to share their images via your Facebook updates
o
Cross-promote images shared by your fans from other social networks on your Facebook page (e.g., Instagram, Pinterest or Flickr)
It's important that you remain consistent when asking your fans to share content on the page. If this is not the case, you will find fans sharing the content once, then engagement dropping. This involves you mixing up your content from competitions to themed posts. By applying these techniques to your page today expect to see more great user generated content from your fans.
When was the last time you shared an image with a fanpage? Comment below