Let's begin with a reality check: A whopping 74% of brands have no meaning in consumers' lives. And why would they?
Why should we care about the company that makes our washing powder or bakes the bread we eat? The trust for official corporate messaging at an all-time low with 84% of millennials saying they do not trust traditional advertising and only 6% of millennials considering online advertising to be credible.
Consumers don't care about your brand or your marketing message—unless it resonates.
Enter storytelling.
Brands can increase the value of a product or service by 20 times with storytelling. After all, 92% of consumers prefer ads that feel like a story. Here are five brands acing storytelling on social media and some actionable takeaways.
Related Post: Social Media Marketing 101
1. AFLAC
Our favorite brands use characters (e.g., the Charmin Bears, Tony the Tiger, and the Keebler Elves) in their marketing messages and for good reason. Research shows that social media shares are boosted by 585% by using a brand character. Compare enjoyed an 80% jump in Internet traffic following meerkat Aleksandr Orlov's first TV ad appearance. And Churchill's famous nodding dog boosted pre-tax profits for the Direct Line Group by almost 50%.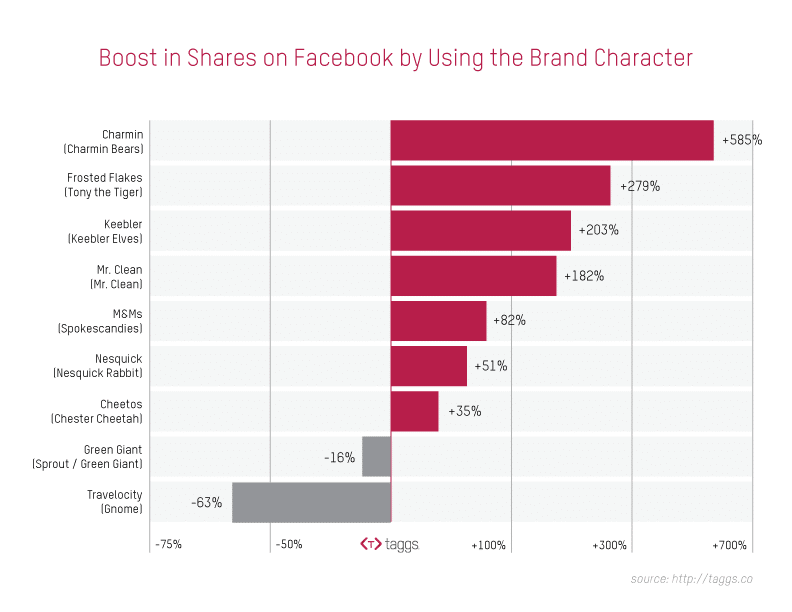 One of my favorite character examples is the Aflac Duck. This character came to light when an agency creative realized that the name of the insurance company sounded like a duck's quack. The cheeky white duck went on to become the star of numerous ads stealing the show on social media too.


The Alfac Duck has 784,000 followers on Facebook and 65.2K followers on Twitter (as of this article's publication). He's cheeky, funny, and 9/10 people in America and Japan recognized the brand just by seeing the duck!
Storytelling Tips: Having a consistent brand character is great for storytelling on social media and brand recognition. But only if it's done right!
Have a strategy. Think about the character, personality, and why the character is a good fit for your brand. If it's a real-life animal like a cat, you will (sadly) need to think about a replacement mascot at some point.
Know your storytelling approach. Think about how your new character will tell stories. Will it be using your products or is it a member of your team? Remember not to make it too promotional or you will defeat the object.
Create Instagram stories. You will need lots of photos and videos of your character for Instagram and Instagram Stories. This type of ephemeral marketing is super popular especially with millennials.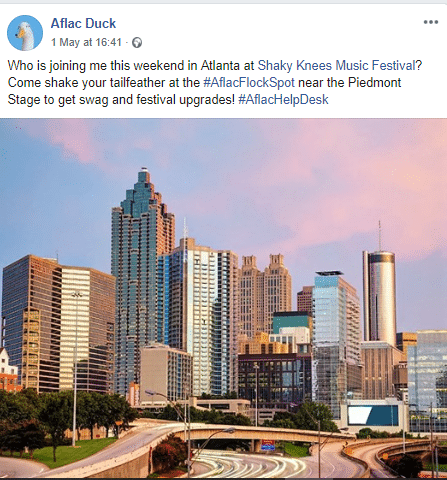 2. Humans of New York (HONY)
Humans of New York is a photoblog of street portraits and interviews by photographer Brandon Stanton. Started in 2011, the pages now have a phenomenal following of 18 million+ on Facebook and 9 million+ on Instagram. Stanton has collected portraits in over 20 countries and interviewed former US President Barack Obama in the Oval Office. So, why are we talking about HONY? Because of its legendary storytelling.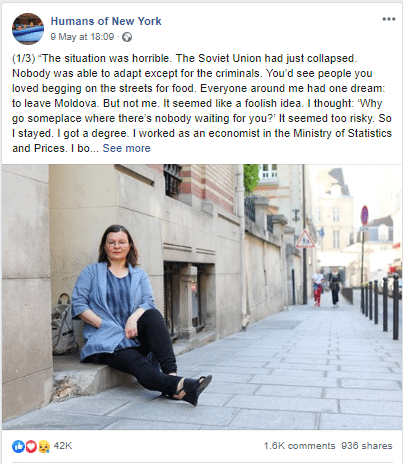 Interestingly, most of the posts on HONY's Facebook Page are long and require people to click on the "See More" button to read the full posts. They are also split into threads 1/3, 2/3 and 3/3 for example. But here's the thing: When the story is good and we have connected with it, we will read more. In fact, by splitting the stories into different images and parts, HONY creates suspense in the readers.

Storytelling Tips: HONY is successful because of its incredible stories, stunning photography, and philanthropic approach. However, commercial brands can also steal some tips from HONY.
Create a photo series. Take a series of photos to share on Facebook or Instagram that effectively tell a story. It could be something as simple as a before, during, and after in a hair salon.
Split your story. If you are storytelling, think about how you will split your story to match the photo series. Create suspense and intrigue by ending each post on a cliff-hanger. For example, "Will Kate love her new cropped hair? Find out later!" Instagram captions are limited to 2,200 characters, and after three lines of text, the captions become truncated.
Create chapters. HONY started in NYC but has since traveled around the globe highlighting the plight of refugees and those living in difficult circumstances. HONY introduces these in a series style. This provides readers with plenty of stories neatly cataloged so they can choose the ones that interest them.

Put the spotlight on your users. Feature product users, fans, and everyday people in your social media posts for fresh, engaging, and humorous posts.

3. Netflix
Can you imagine life before Netflix? Everyone's favorite household name is also pretty good at social media storytelling. Netflix knows exactly how to create intrigue, engagement, and social virality. With sharp captions, trailers, video clips, and movie snippets, the brand has racked up 6 million followers on Twitter.
So, how is Netflix doing storytelling on Twitter?
First, it's worth noting that Netflix has more than one Twitter account. So, it can create its own dialogue. Aside from the main Netflix account, Netflix also has accounts like "Netflix Is A Joke" as well as separate accounts for its original content like "Stranger Things." Dialogue between the two accounts spreads awareness and amplifies the storytelling effect.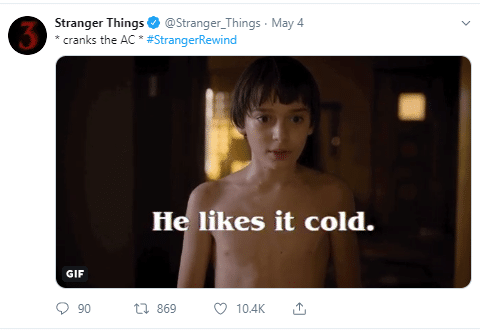 Of course, Netflix isn't going to tell you the whole story on Twitter, the aim is to get you to subscribe to its service. Instead, Netflix provides you with little snippets of the story to create intrigue and prompt discussion.
Research by Twitter tells us that tweets with photos get 313% more engagement. While most tweets have only one image, attaching multiple images to a tweet is a great way to tell a story. Netflix rocks this with its montage tweets. You can easily create this look using an image tool like Canva.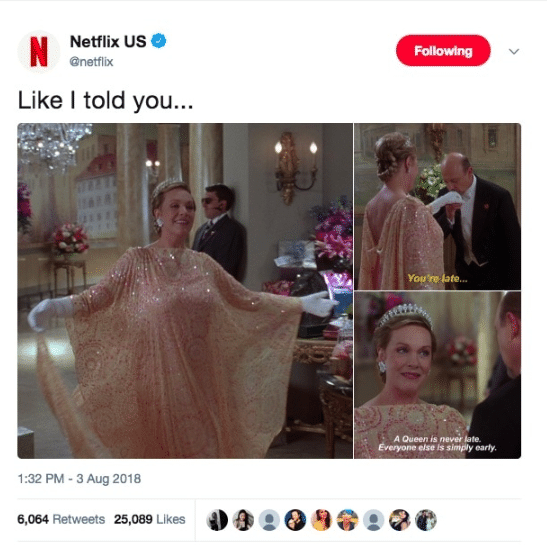 (Interestingly, Netflix doesn't market on Facebook and hasn't done for a year.)
Storytelling Tips:
Tweetstorm it! A tweetstorm is a series of tweets or threads like mini-essays. Start each tweet with a number to indicate the sequence.
Curate user-generated content. UGC is a powerful storytelling technique as it means recruiting your customers to tell their own stories. Netflix actively encourages fans to share their reviews and thoughts on its social media channels.
Collate stories with hashtags. Hashtags such as #LikeAGirl, and #ThisGirlCan became amazing collections of stories. These can then be used later for your blog or a video.
Create a Twitter Moment. Twitter Moments enable users to stitch together multiple tweets into slideshow-like stories. Though Twitter removed moments for mobile devices last year, it's still available for desktop. It's a great way to tell stories. Like tweetstorms but more interactive, creating a Moment can really drive engagement with your story.
Create memes. You can count on Netflix for great memes. Create some topical and funny memes for your brand or reuse a relevant one.

4. Nike
In recent years, Nike has aced storytelling for social media. In fact, Nike nailed the art of brand storytelling long before it became a marketing trend.
One notable example was the famous Equality campaign. In it, Nike shone a spotlight on disparities using key sportsmen and women and inspired people to act. Fast forward to 2019, and Nike is still owning the storytelling space. With its video Dream Crazier, the brand powerfully represents women in the sporting space and their achievements over adversity. "Having a baby and coming back for more? Crazy, crazy, crazy, crazy and crazy."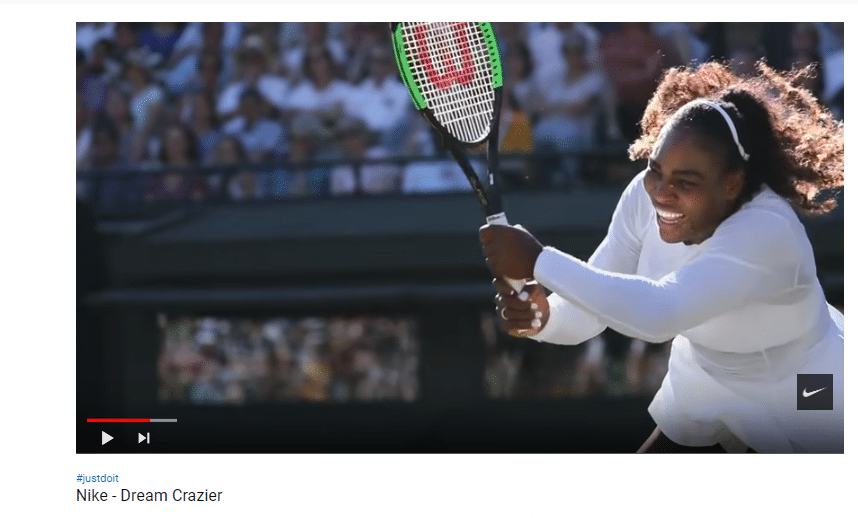 And Nike is right on the marketing money. Studies show that 92% of consumers say they have a more positive image of a company when the company supports a social or environmental issue.
So, how does Nike ace storytelling on social media?
Its content strategy and use of hashtags and inspirational quotes from athletes and various sources prompt constant sharing. Nike always pairs its videos with a hashtag. Its "What Will They Say About You?" ad got 75,000 Twitter shares within 48 hours all using the hashtag #Believeinmore #JustDoIt. As with all Nike's campaigns, the hashtags are used in everyday life, even by users who didn't watch the original video.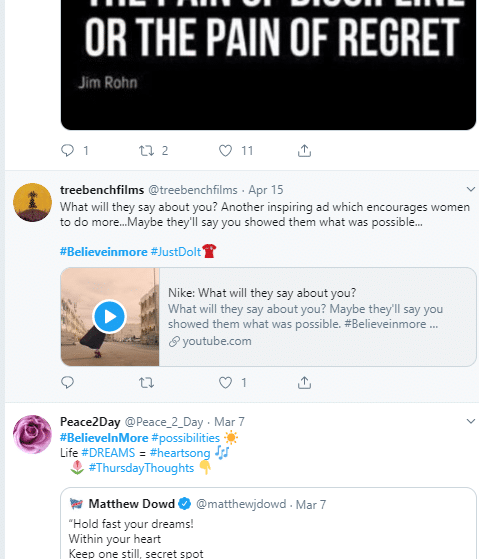 Storytelling Tips: Nike's integrated social media approach spans across all online channels. Here's how you can set the pace like Nike:
Create campaign hashtags. If you're planning a storytelling campaign, research the right hashtags to use. Your hashtag should be easy to remember and, more importantly, unique. Check it hasn't been used for anything negative in the past.
Connect your product to the message. A punchy tagline, great hashtag, and powerful message are great for storytelling. But only if you've connected it to your brand in an authentic way.
Utilize influencers. Perhaps you don't have Nike's big bucks to leverage influencer marketing in your storytelling. But if your stories have social value or are for charity, you may be able to connect with influencers for free. Remember not to be promotional if this is your plan.
5. Intel
Part of storytelling is framing your brand and establishing its timeline in your viewer's minds. Intel does this well on Instagram, where it uses powerful images and captions to show the brand's history, founders, products, and notable employees. In fact, it has created an iconic timeline through storytelling even though the brand was only established in 1968.
Check out this great International Women's Day post: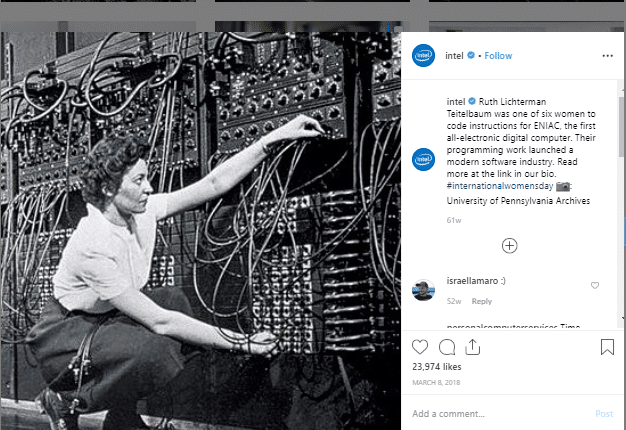 Just looking at the old black and white pic tells us that this is a company well-established in tech history. We also understand that it has always been a progressive company utilizing the skills of women in tech when many brands would not have entertained the idea.
Storytelling Tips: Want to create a timeline for your brand and position it as significant in the minds of users? Here are some tips to try:
Mix it up. Combining the latest technological innovations with historic archives shows you as an established brand that has evolved over time. If your brand is new, you can still compare your technology to old archives.
Show your human side. Showcase the human side of your company with a short story about your company's origins or founders. Try Instagram videos for this. At just 60 seconds long, the videos are ideal for a time-lapse, an interview, or a flashback. If followers can see the faces behind the brand, they will feel more connected and trusting.
Use a multichannel approach. Intel's Facebook is rightly different from its Instagram. Here it showcases more modern videos and stories showcasing its technology in use.
Here are some more storytelling ideas for social media:
Create an infographic. Infographics are great for visual storytelling. Turn customer stories or even more complex blog posts into one simple infographic that tells a story.
Use Twitter Threads. Utilize your Twitter app by creating story threads for your brand. These will draw users in, making them more invested in your brand.
Create a SlideShare. Over 70 million people visit SlideShare. Slideshares are a visual way to tell stories. Plus, they are easily sharable across all social media platforms.
Create a YouTube playlist. Steal Airbnb's style by creating a storytelling playlist on YouTube. Airbnb Stories contains sweet, funny, and remarkable stories from the Airbnb community.
Sign up now for a FREE demo.