Images and graphics have an important role on Instagram, but videos are starting to take center stage on the social media platform. So, including videos regularly into your content mix can improve your engagement and help you define your brand.
Branded videos can have a huge impact on the platform. They give you the opportunity to tell your brand's story and explain what makes you different in a way that emotionally connects with your target audience. Whether used in feed content or through Stories, video is often much more effective at conveying emotion.
Creating great videos, though, can be intimidating. Many social media managers believe video marketing would be too expensive to invest in, which is why they're not using it properly.
In reality, with the right Instagram video tools at hand, you can create incredible video campaigns yourself—without ever having the cost of hiring anyone else.
In this post, we're going to look at the top Instagram video tools that can help you create stunning, high-converting brand videos for your business.
1. Video Template Software
Subscription services offer libraries of hundreds of different video templates available online. Those templates typically include different slides, where you can upload images or videos, customize text, create an outro screen, and even add in some don't-worry-about-copyright music.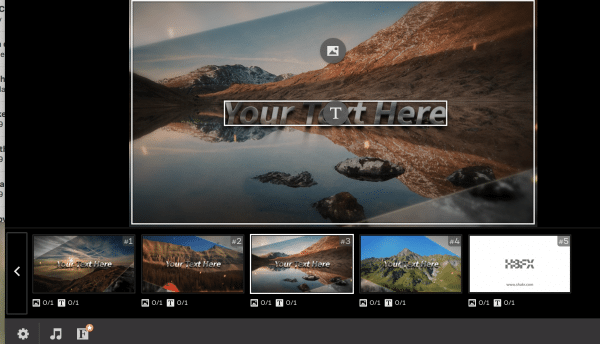 Options like Shakr (my favorite and pictured here) and Animoto have a variety of templates featuring different lengths, dimensions, and even styles.
Want to create a retro-feeling video in a few minutes? Now you can. Need a vertical, 15 second video for Stories? They've got those, too.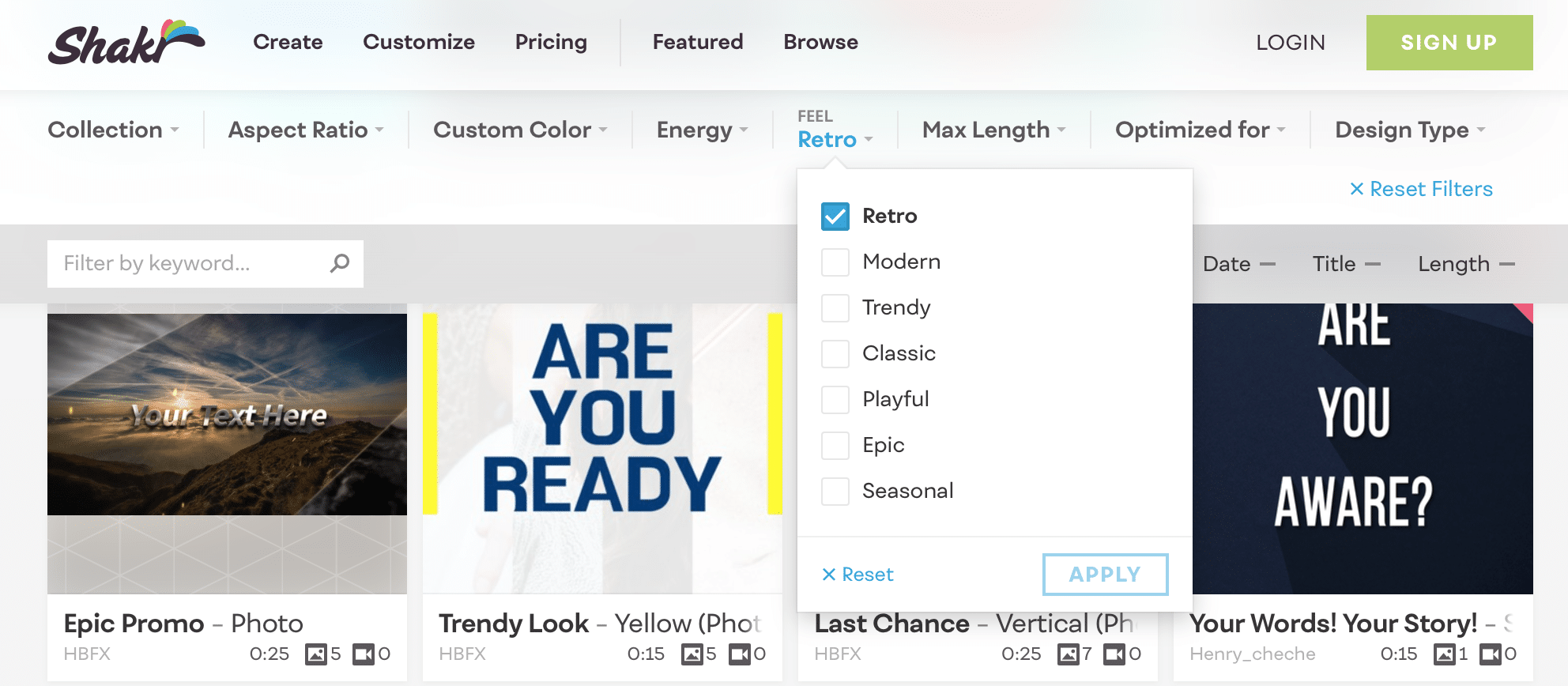 You will need to create the actual video clips and images that you want to upload and upload them previously. But these templates will help you compile them into a stunning, dynamic video. Many have transition effects added in, and again, the ability to use their library of music is an incredible advantage.
2. Special Effects Apps
Know how some videos seem to have incredible effects—like time lapses and fading transitions—added in? You don't need to use expensive or complicated software to get these results. You can use a number of apps available. Many are free or incredibly cheap, and can be used right on your phone.
A few examples include…
Native Instagram effects like Super Zoom
These quick effects will take your Instagram videos from something standard and just OK to something that looks professionally put together and keeps users engaged.
3. Video Editing Software
Whether you want to clip or stack together clips, add voice-over narration or music, or adjust some visual elements of your video, you need video editing software. This software can have an enormous impact on the overall look of your videos. (Instagram users have high standards, so this is important.)
My personal favorite is Camtasia, which I've found to be the most user-friendly. It also lets you record screen-shot videos. It does cost $250, but it's a one-time fee. If you're looking for something a little different, the following options are great, too:
4. Drag-and-Drop Graphic Design Tools
Too many brands forget about the very important video thumbnail (or that crucial first screen). In some cases, like those using video editing templates, you should also create great graphics for outro screens.
A custom image is the way to go.
Drag-and-drop design tools come into play here. They allow anyone to assume the role of a talented graphic designer without the cost. Because these tools help in producing other marketing content (think infographics and adding text overlay to pins), they're a great investment.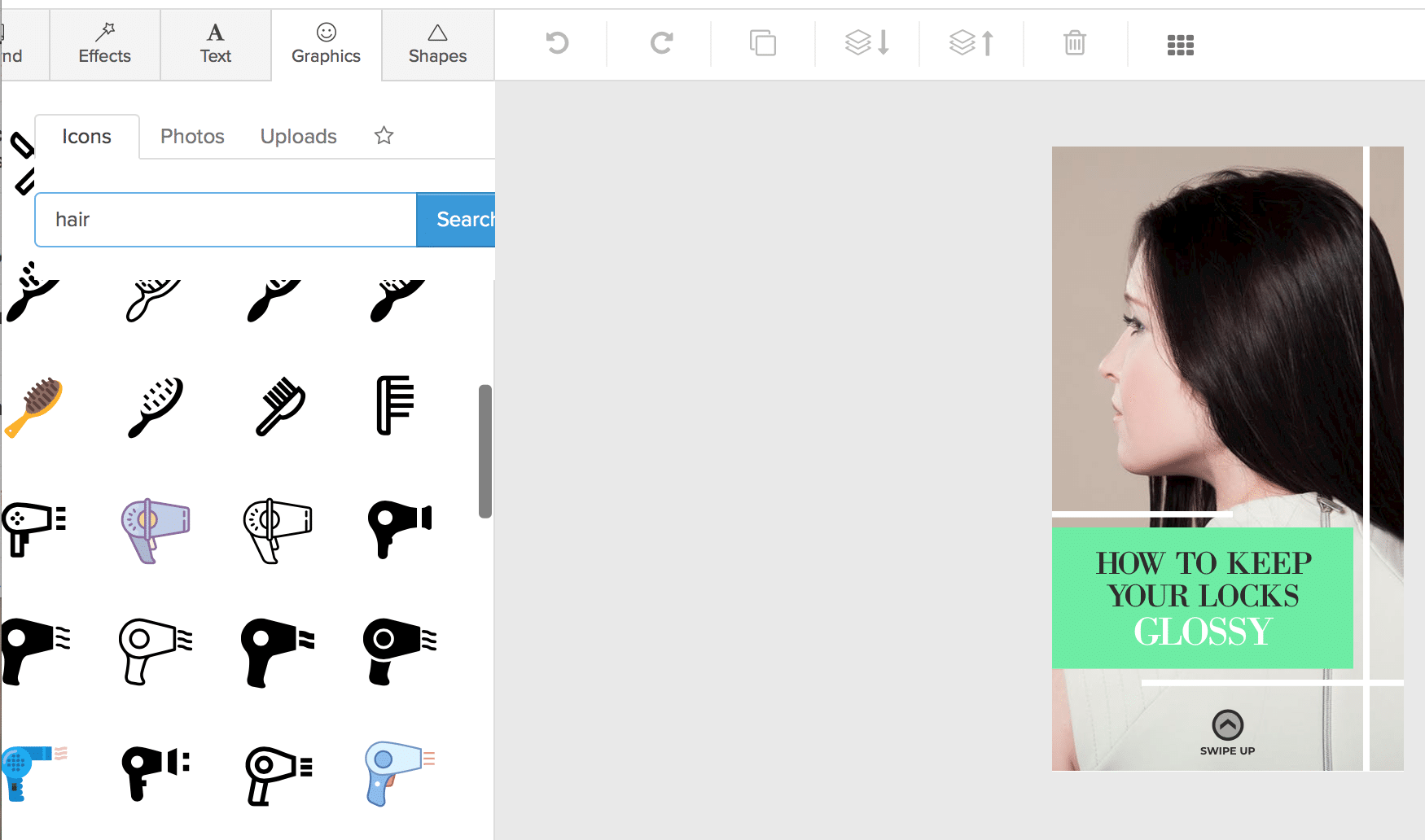 My go-to is Snappa, which is the interface that I've found easiest to use. They have a number of templates available you can use to create thumbnails or outro screens for both Instagram posts and Stories. They also have plenty of stock photos and graphics that you can use to get the results you want.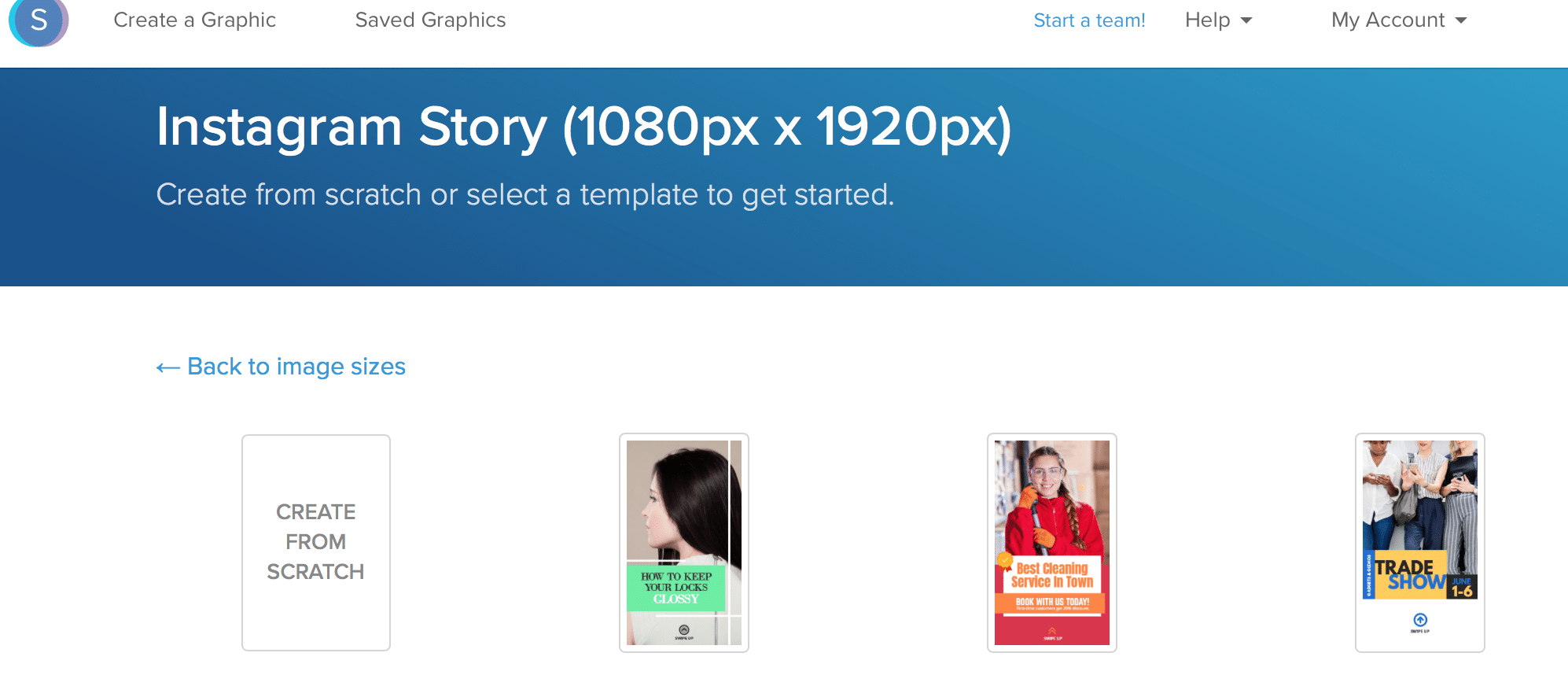 Other great options are are …
5. Explainer Video Software
Having a custom video explainer made from an expert is typically unbelievably expensive. Sometimes, they cost at least several thousand dollars for a 60 second video.
If you need an explainer video to explain what you offer and establish brand awareness, check out Animaker. I've never seen another tool like it. They have an enormous library of graphics and animated characters, and six different video styles you can choose from. You can also add background music, sound effects, and direct voice recordings to the video as it is created.
You can see more about how to use the tool here:
If you need to create explainer videos but you're on a tight budget, this is the tool to use.
6. Video Scheduling Software Like Agorapulse
Video scheduling software is going to be the last crucial type of tool that you need. It's not enough to create gorgeous branded videos … You also need to effectively promote them if you want them to reach their full potential, too.
Agorapulse will be your one-stop-shop for this. You can schedule and publish videos directly to Instagram to ensure they go live at peak posting times. Also, you can have a list of saved branded hashtags that you can quickly apply to multiple videos in your overall campaign to save you time while maximizing their impact.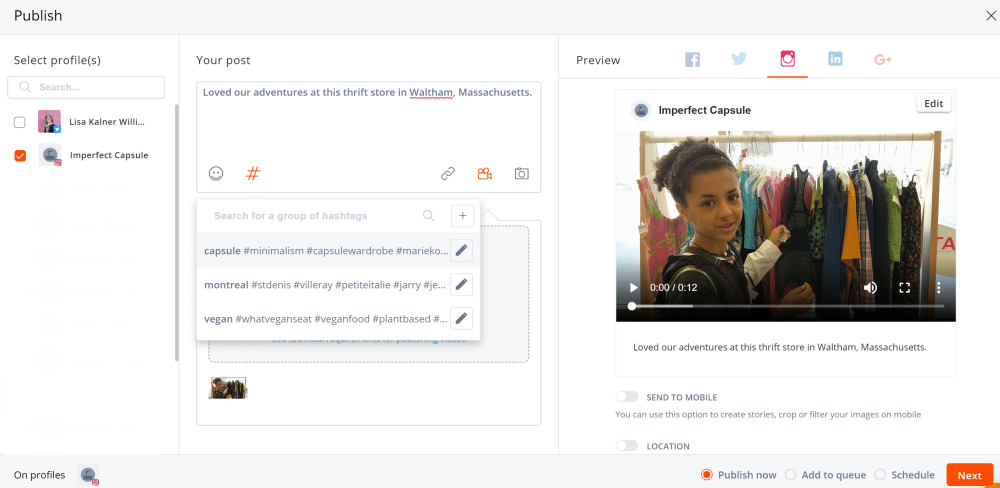 As your video campaigns progress, make sure that you monitor their results through our reporting section and get details regarding how each video is performing in terms of engagement and viewer retention.
***
If you want to create incredible, stunning branded videos that will knock your Instagram followers out of the park, you have a lot of steps to take. However, having the top Instagram video tools will make the process a lot easier.
These five types of Instagram video tools—and the specific tools featured in this post—will help you create gorgeous videos for brand awareness, lead generation, conversions, and more. Most tools have free trials; check them all out and see which Instagram video tools are best suited for what you're looking for.
Pin This Post About Instagram Video Tools