As an independent institution of higher learning, Hillsdale College needed to educate itself on what social media management tool would best serve its purpose. Enter Agorapulse.
Hillsdale College is an independent institution of higher learning founded in 1844 "to furnish all persons who wish, irrespective of nation, color, or sex, a literary, scientific, [and] theological education" outstanding among American colleges "and to combine with this such moral and social instruction as will best develop the minds and improve the hearts of its pupils."
Fortunately, Hillsdale discovered a social media management tool that best meets its needs.
We recently had an engaging conversation about social media management with Gianna Marchese, social media coordinator of Hillsdale.
1. What social media management tool were you using before Agorapulse?
We were using Hootsuite and Crimson Hexagon, if that counts.
2. What made you start looking for a new social media management tool?
We were using Hootsuite! Ha, ha. Really, though, we weren't happy with our old tool and had been reverting back to using each individual platform natively. I figured there must be a better way to manage all these accounts!
3. How did you discover Agorapulse?
I did a lot of market research and tried out a bunch of different software. Really, just a good old Google search helped me find Agorapulse.
4. What made you decide to go with Agorapulse?
Agorapulse was a breath of fresh air.
Using it was simple and straight forward, the interface was simple and easy to understand, and I love how customer service is always ready when you need them!
5. How has using Agorapulse helped you?
We saved a lot of money switching to Agorapulse. By switching, we canceled not one but two services (Hootsuite and Crimson Hexagon) and saved over 100K annually. Not even kidding. In terms of time spent, we only ever have to check one app to do it all! Posting, responding, monitoring, and reporting is all done in Agorapulse which means I only have to train my employees on one platform as well which saves me a ton of time.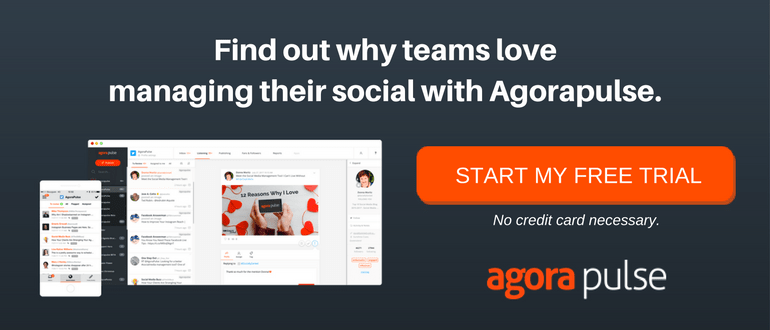 Q: Have you seen other benefits of using Agorapulse? Please elaborate.
I log on to Agorapulse first thing in the morning like my email.
Having different access levels is so handy because I don't have to give my employees individual access to our Facebook, Twitter, and Instagram accounts, which is also quite risky. I can just have them learn Agorapulse, and I can trust that they have the right level of permissions.
My clients can also pop into Agorapulse when they need to in order to check on things and read comments, but I can also rest assured knowing that they won't be able to accidentally mess anything up while they're in there!
I run 19 accounts through Agorapulse, and I can't believe how well-organized it makes me look.
I can compare my projected content calendar I create for my staff with the actual published calendar to make sure they're on track, while also comparing the time each individual spent monitoring their pages, which helps me keep an eye on the 17 staff members I have on my Agorapulse team.
The filters help me keep out people being profane without me even having to worry about my constituents seeing any foul language.
Having saved replies also saves me worlds of time and frustration from typing the same message over and over again. It also gives my staff helpful macros, so they don't have to make up an answer by themselves.
I also love how Agorapulse lets you preview your post, so you know how it will show up in newsfeed! So handy when teaching new content creators how to create visually pleasing content!
I am such a big fan of Agorapulse, and I make sure everyone knows it!
Hopefully, I have allowed others to see the glory of Agorapulse, so they can have their lives changed (and social media managed) just like I have.
* * *
Take control of your social media! Check out our free trial of Agorapulse to help you schedule, track, and measure all your social media efforts.