Facebook advertising can connect your business with a massive audience of nearly 3 billion users. But if you don't know the basics of how to run Facebook ads, you could end up targeting the wrong audience, aiming for a mismatched objective, and wasting a lot of ad spend.
Whether you want to promote your own company or a client's brand, building successful Facebook ad campaigns requires reaching your ideal audience, perfecting your message, and tracking key conversions.
So where should you start? Use this guide to learn everything from setting up a Facebook ad account and launching a campaign to monitoring metrics and optimizing outcomes.
How to Run Facebook Ads: Account Setup
Before launching a Facebook ad campaign, you'll need to create an account and set up conversion tracking.
Here's where to start:
Open a Facebook ad account
To create a new Facebook ad account, open Facebook Business Manager. Click the gear icon in the lower left corner to open Business Settings.
Under the Accounts dropdown menu, select Ad Accounts. Click the blue Add button and select Create a New Ad Account. Then enter all the required information about your business and payment method.

After creating an ad account for your business, make sure the right people can access it. Keep in mind that anyone who creates, monitors, or optimizes ad campaigns needs access.
Locate your ad account in Business Settings and click the gray Add People button.
Select the team members who need access to your company's ad account and give them appropriate permissions. You can grant people either partial access or full control over your ad account. Click the blue Assign button to complete the process.
Connect data sources
In some cases, your ad campaigns may focus on generating conversions on Facebook. For example, campaigns can center on brand awareness, post engagement, or Page likes.
But in most cases, your ad campaigns will focus on generating conversions outside of Facebook. You may want to get more website visitors, drive e-commerce sales, or improve lead generation.
You can track just about any off-Facebook conversion as long as you use the right data source. Navigate to Facebook Events Manager and click the green plus icon to link a new data source.

Choose the type of data source you want to connect and follow the steps to complete setup. Most options require installation on properties like your website or integration with your customer relationship management tool (CRM).
Note that most businesses don't need to connect every type of data source. At the minimum, however, you should connect a Facebook Pixel to track website conversions and a Facebook Software Development Kit (SDK) if your business has an app.
Related read: Supercharge Your Facebook Engagement with Messenger Ads
Add catalogs
Does your business sell products online? If so, you'll find it helpful to add a catalog to your ad account.
Open Business Settings and select Catalogs under the Data Sources dropdown menu. Click the blue Add button and select Create a New Catalog. Then choose the type of catalog you want to set up. Give team members access and link it to the Pixel you created.

Then navigate to Facebook Commerce Manager to add and manage catalog items. You can input them manually, upload your data feed, rely on your Pixel, or connect with a partner platform like Shopify.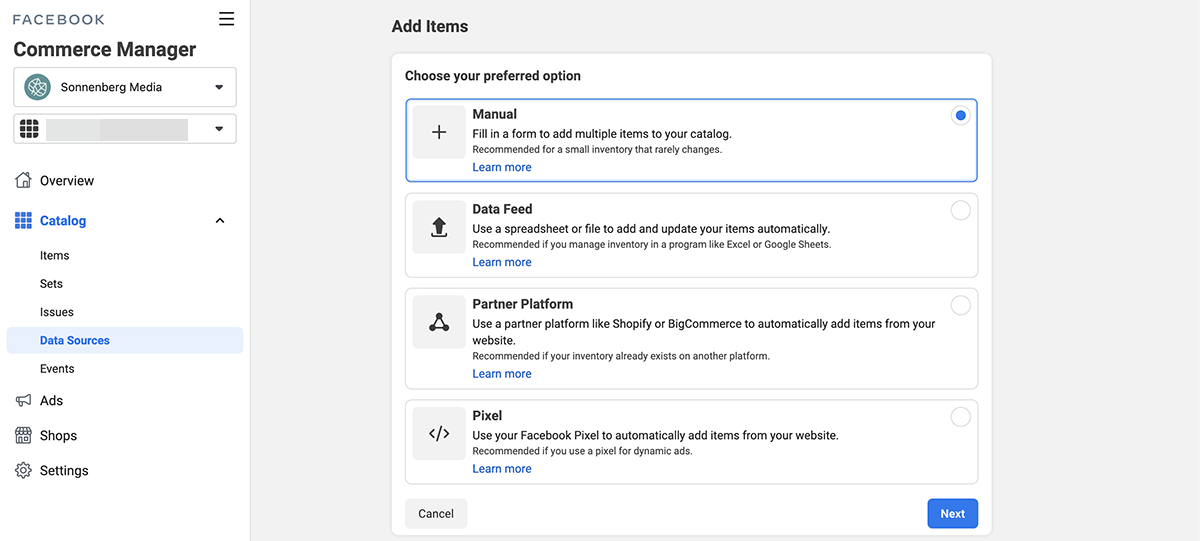 Configure conversion events
Once you've added data sources like a Pixel and a catalog, there's one more step to take before you can track conversions. Go to Events Manager and select the Aggregated Event Measurement tab. Click the gray Manage Events button.

Then click the green Add Event button to select the conversion events you want to track. Facebook allows up to eight conversion events, including everything from purchases to leads to content views.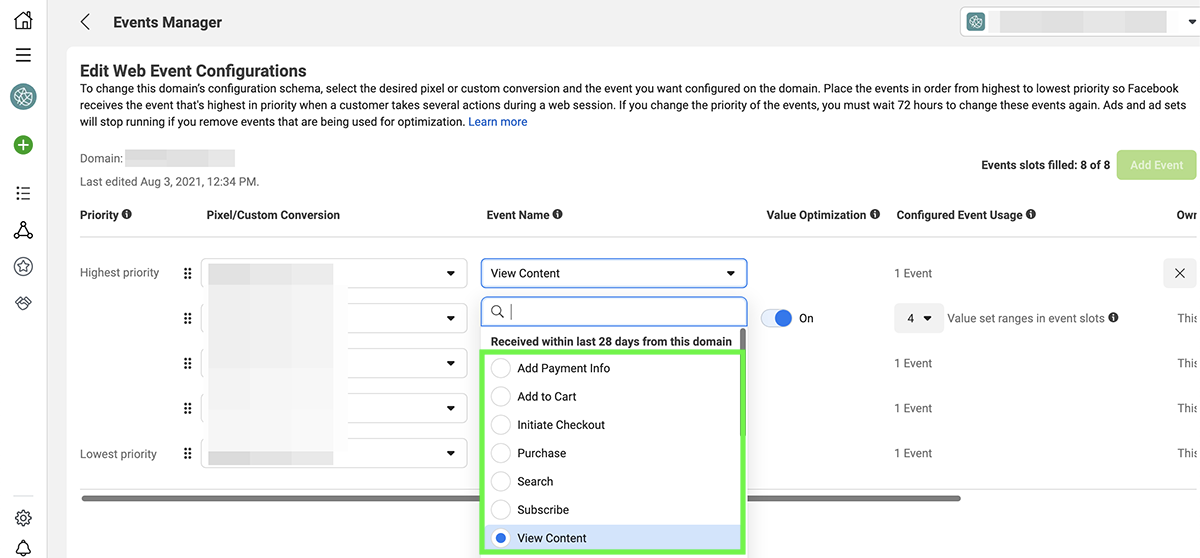 Do you want to go beyond standard results and track outcomes that are unique to your account? Create a custom conversion and add it to your event configuration.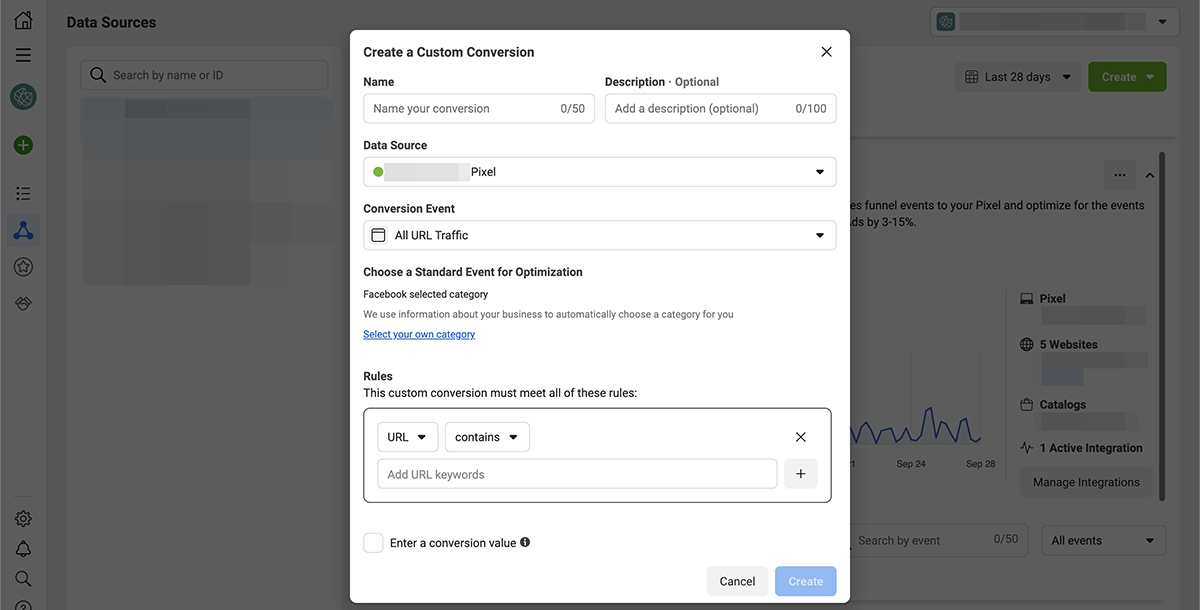 How to Run Facebook Ads: Launching an Ad Campaign
After setting up your Facebook ad account, you can run your first campaign.
Here's how to create a Facebook ad campaign:
Choose a campaign goal
Every Facebook ad campaign starts with an objective. Choose wisely, as the objective has a huge impact on how your ads function and who sees them.
That's because the Facebook algorithm automatically targets people in your audience who are most likely to complete your campaign objective. For example, if you want more website traffic, Facebook shows your ads to people most likely to click through.
So how do you pick the right goal for your campaign?
Choose a Facebook ad objective that aligns with the customer journey stage you want to target.
Awareness
Awareness objectives include:
Brand Awareness. Introduce your business, products, and services to new customers. This objective works well when you launch new products or services.
Reach. Connect with as many members of your target audience as possible to deliver your message widely. This objective is ideal when you expand into new markets.
Consideration
Consideration objectives include:
Traffic. Get people to click on your ad and visit your website. This objective works well when you want to build a remarketing audience or get people to read your website content.
Engagement. Get more comments on your posts, responses to your event, or likes for your Page. This objective is ideal when you want to grow your audience or get a wider range of reactions to your content.
App Installs. Encourage people to download and use your app. This objective works well when you want to increase your app's user base.
Video Views. Get more people to watch part or all of your videos. This objective is ideal when you want to share your brand story and get prospects to consider your business more seriously.
Lead Generation. Get people to express interest in your business and fill out a lead form. This objective works well when you want to generate leads and follow up with prospects outside of Facebook.
Messages. Start conversations with people over Messenger, WhatsApp, or Instagram Direct. This objective is ideal when you want to guide customers toward a conversion.
Conversion
Conversion objectives include:
Conversions. Encourage people to complete an action like downloading a lead magnet, signing up for a mailing list, or adding items to a shopping cart. This objective works well when you want customers to do more than just visit your site.
Catalog Sales. Display products from your catalog to drive sales. This objective is ideal for e-commerce retailers.
Store Traffic. Invite local customers to visit your brick-and-mortar business. This objective works well when your business has a physical location where you can serve customers.
Build your ideal audience
The audience you target also has a massive impact on campaign success. Naturally, you want to reach people who are likely to take you up on your offer, not people who are likely to scroll right past your ad—or worse, hide it.
Facebook gives you several options for building your ideal audience:
Core Audiences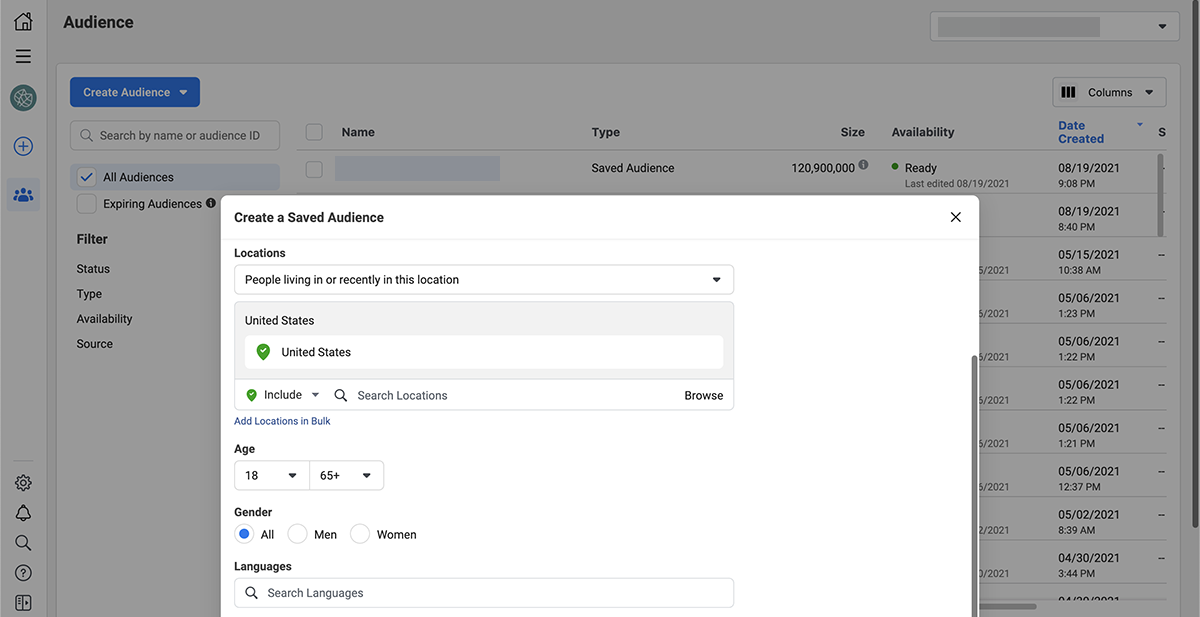 If you want to use your customer persona to target Facebook users, Core Audiences are a smart pick.
You can adjust targeting based on:
Demographics like age, gender, and location
Experience like education and job title
Interests, behaviors, and device usage
Connections to or interactions with your Page
Although Core Audiences can work well independently, you can also combine some elements with other audience types. For example, you can often layer Core Audience targeting onto Custom or Lookalike Audiences to narrow your reach.
Related reading: What's the Future of Advertising?
Custom Audiences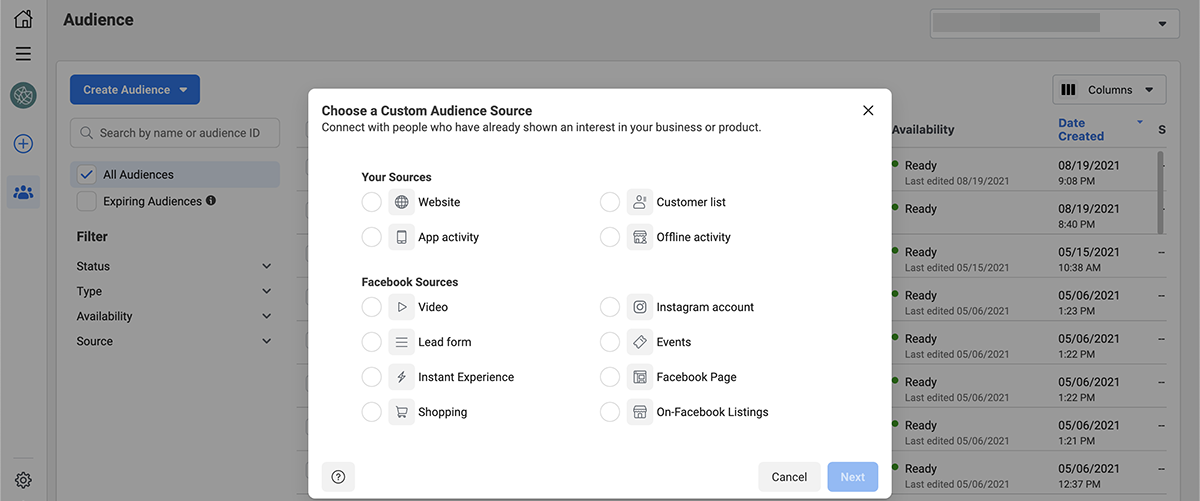 When you want to use your own data to connect with customers, choose Custom Audiences.
You can create audiences using:
Customer data that you retrieve and upload from your CRM or tools like your email marketing platform
Facebook Pixel data, which can identify users who have visited your site, viewed certain content, or completed specific actions
Facebook SDK data, which can identify app users or people who have taken certain in-app actions
Lookalike Audiences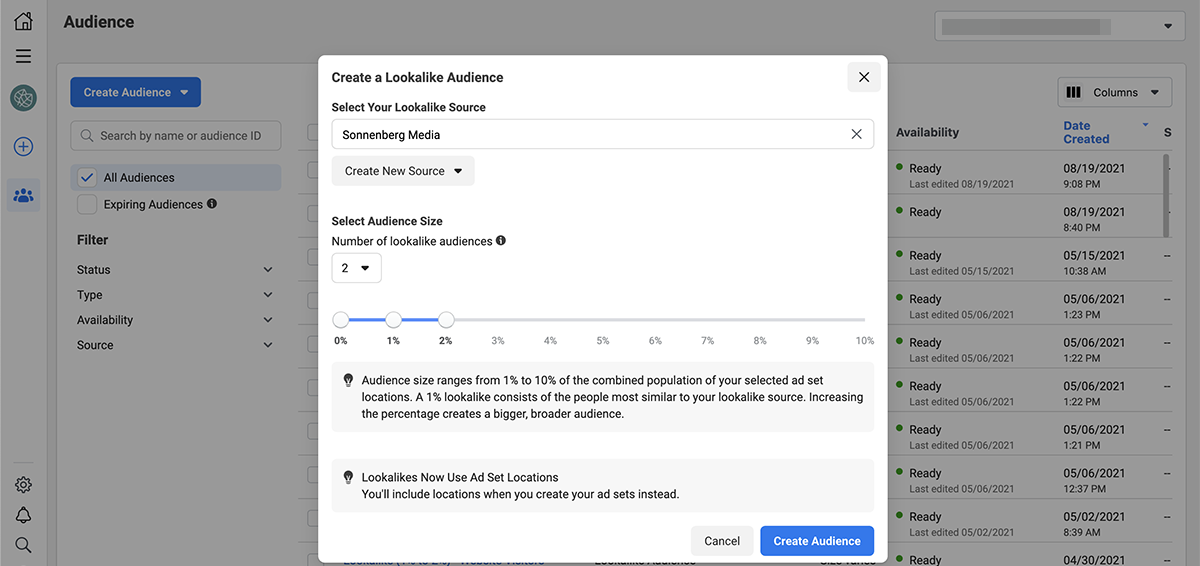 If you want to reach more customers similar to those you already have, go with Lookalike Audiences. You can use Custom Audiences as sources, which means your Lookalike Audiences can resemble your most engaged or valuable customers.
Depending on your goal, you can create smaller Lookalike Audiences that are more similar to the source or broader Lookalike Audiences that aren't as close of a match. You can also create multiple Lookalike Audiences to fine-tune your targeting and bidding strategy.
Pick the best ad format
Finally, choose the ad format that best conveys your message and showcases your creative. As an advertiser, you can choose from the following Facebook ad formats:
Photo
Photo ads may be the most basic option, but this format is more than capable of helping you reach awareness and consideration goals. When creating photo ads, strive to use as little text as possible to optimize delivery and results.
Video
Video ads can help you tell more complex stories about your brand or show people how to use your products. If you have a limited budget, you can even use Facebook's slideshow creator to animate a series of still images.
Stories
When you want to connect with customers on a more personal level, Stories can help. These immersive ads tend to appear more authentic, which can make them more effective overall.
Carousel
When a single image won't do, create a carousel ad instead. This type of ad displays between two and 10 images in a scrollable format. Each carousel card can have its own call to action (CTA) button with an external link.
Collection
If you want to drive sales, collection ads can be a great pick. This ad format displays a hero image or video alongside three product images. When users click on a collection ad, they go right to your Instant Experience, which can be a storefront or a look book.
Messages
Facebook delivers message ads directly to users' Messenger, WhatsApp, or Instagram Direct inboxes. In addition to images and text, message ads can incorporate clickable buttons and interactive elements that encourage engagement.
Playables
If you want your audience to install and use your app, a playable ad can help you meet your goal. These immersive ads show users how your app works and allow them to test it out for themselves.
How to Run Facebook Ads: Monitoring and Optimization
When you create a Facebook ad campaign, don't expect to get it exactly right on the first try. Most campaigns require ongoing testing and updating to optimize performance.
Test Facebook ad campaigns
Facebook Ad Manager makes it easy to test any campaign, ad set, or ad you run. Here's how:
Create an A/B test when you launch any Facebook ad campaign. Switch on the A/B Test slider at the campaign level. Immediately after publishing, Ads Manager will prompt you to create a test version.

Create an A/B test from any ad set or ad. Duplicate any ad set or ad and select New A/B test. Then choose the variable you want to test, including the creative, the audience, or the placement.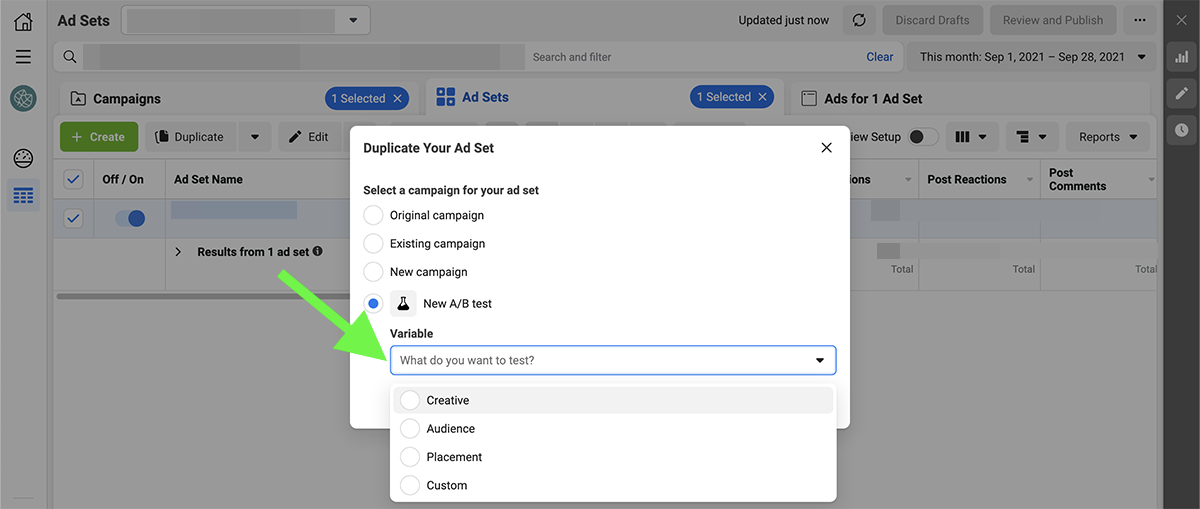 Set up a manual test for any campaign component. Duplicate any campaign, ad set, or ad and adjust the element you want to compare. Run it alongside your existing campaign and compare results. Then spend the rest of your budget on the winning combination.
Monitor Facebook ad campaign results
Once you launch a Facebook campaign, monitor results regularly. Use these tools to keep an eye on the metrics that matter and identify areas for optimization:
AdsReport
AdsReport is a free tool that makes it easy to track important metrics like reach, impressions, and clicks. With this tool from Agorapulse, you can also monitor click-through rate (CTR), cost per click (CPC), and cost per thousand impressions (CPM) to gauge the value the campaign is delivering.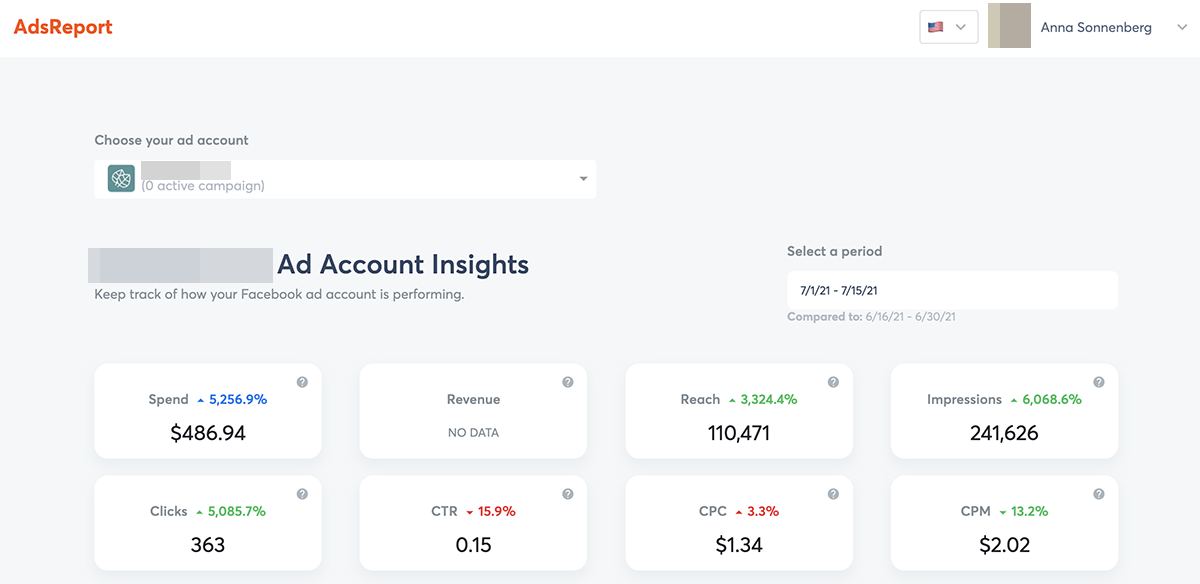 With AdsReport, you can also track off-Facebook conversions like adds to cart, purchases, and custom Pixel events. This tool even identifies the top-performing ad from your campaigns so you know what works best for your audience.
Ads Manager
When you need to create ad reports to share with your team or access more detailed analytics, use Facebook Ads Manager. This native tool has about a dozen premade templates and custom reporting options so your team can track what matters most.
Find the best time to run Facebook ads
There's no universal best time to run Facebook ads. Fortunately, you can use your data to find the optimal time for your audience.
Go to Ads Manager and create a report showing results by day, time, or both. Then sort the data to identify when your ads get the most impressions, clicks, or other results.

You can adjust the schedule for your campaign so that it runs at the optimal time for your audience. You can also use your findings to set a successful schedule for future campaigns.
Determine ideal campaign length
As your ads run, be wary of two common reactions from your audience.
Ad Fatigue: Happens when your target audience sees your ad too many times and a) glazes over them, b) rolls their eyes at them out of boredom c) becomes overly annoyed and hides all ads from your Page. This hurts you no matter what because your ad becomes less effective and your return on ad spend (ROAS) suffers.
Ad Blindness: Occurs because consumers are inundated with ads. As ad copy and images are "copycatted" and users see them more and more frequently in their feeds, they become "blind" to stale ads and tactics. This is why it's SO important to test copy, images, colors, and to make sure your ads put an emphasis on being unique.
So how long should your Facebook ads run? Determining the right campaign timing isn't a one-size-fits-all approach. You should let the data tell you what to do.
Here's how:
Make sure your budget-to-audience ratio makes sense. The smaller an audience and budget, the more your ad will be shown to chosen users, and more chance you have of ad fatigue or blindness.
Stay on top of it. Regularly check metrics like frequency, which is the average number of times your ad has been shown. The higher that number, the more likely your audience will get exhausted.
Be a watchdog with your click-through-rate as well. Using this in conjunction with frequency can help you see patterns.
Rotate your images. Use Facebook Carousel Ads for variety or test out dynamic ads to optimize creative elements for each user..
Watch for warning signs. Are metrics like CTR decreasing or cost per result increasing over time? Monitor your Ads Manager reports for spikes and trends in the wrong direction, as they can be signs that your campaign is too long.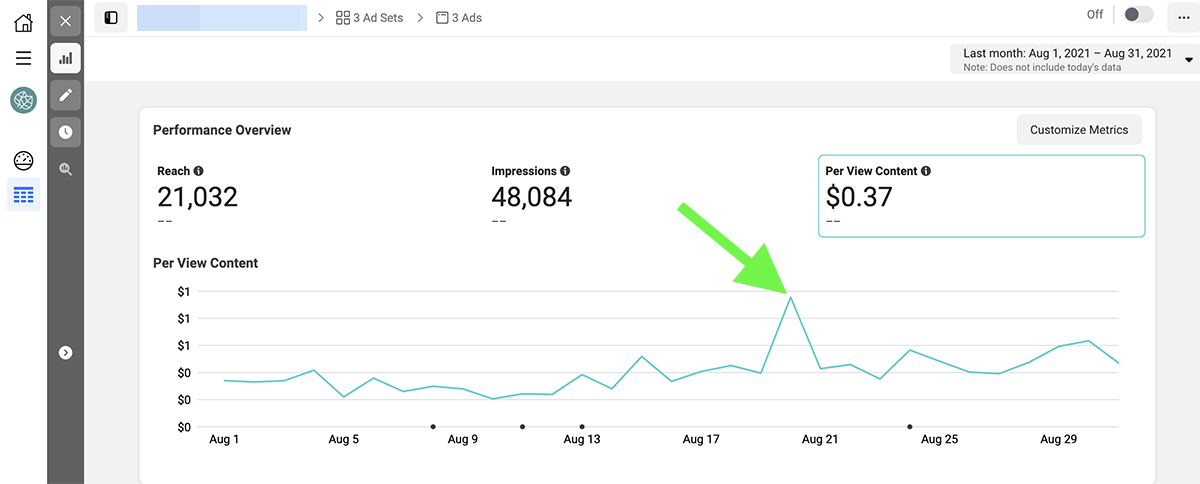 How to Run Facebook Ads: Client Account Management
If you've mastered the process above, you already know the basics of how to run Facebook ads for clients. But if you're managing ads for agency clients rather than for your own business, you'll need to add a few extra steps to your workflow.
Add client ad accounts
Rather than creating new ad accounts for clients, you should request access to their existing ad accounts. You can do that from the Business Settings in your Facebook Business Manager.
Select Ad Accounts and click the blue Add button. Choose Request Access to an Ad Account and input your client's ad account ID. Pick the permission level you need. and submit your request.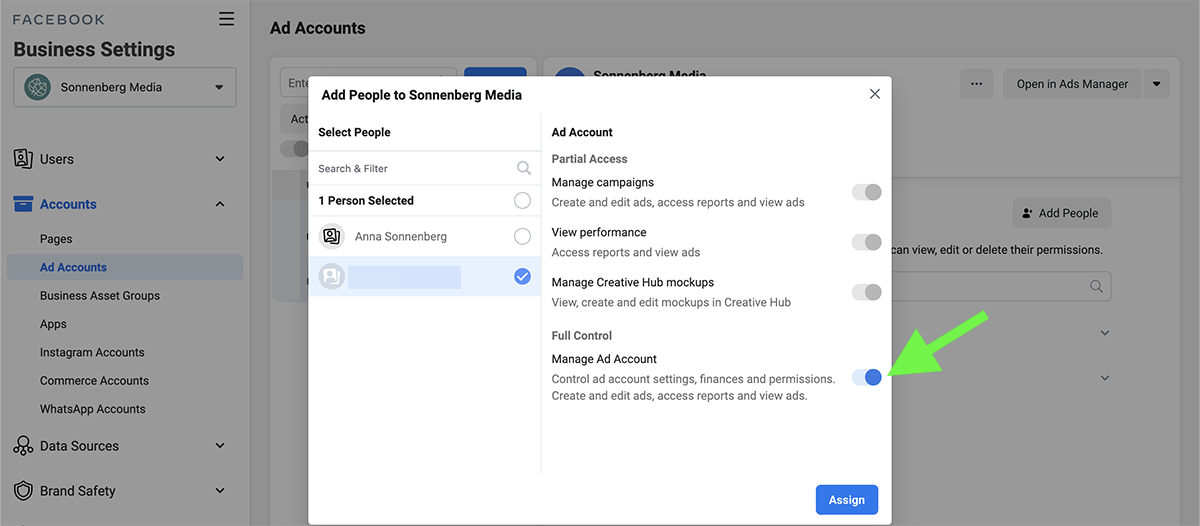 Alternatively, you can provide your clients with your agency's ID and ask them to add you as a partner.
Collaborate on campaign creation
If your Facebook ads need client approval before publishing, use a tool like Facebook's Creative Hub to collaborate. You can build ad mockups in Creative Hub, share them with clients, and get approval.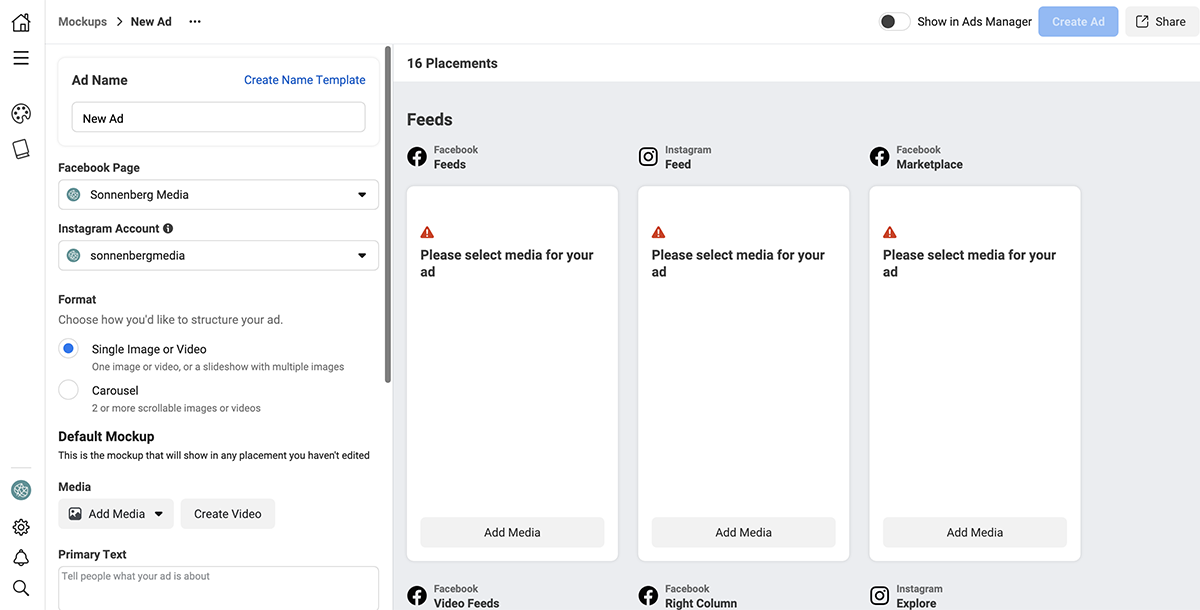 Then you can transfer mockups to Ads Manager with a single click. That way you can get campaigns up and running efficiently.
Share Facebook ad reports
Whether your clients expect reports every week, every month, or at the end of every campaign, you can easily share them from Ads Manager. Create a custom report for your client and click the gray Share button.

Then click to share the link with people who have access to the ad account or other external stakeholders. Alternatively, you can download any report from Ads Manager and email it to your clients.
In Conclusion
Now that you know how to run Facebook Ads for clients or for your own business, you can start connecting with your ideal audience at scale. Make a point of testing, monitoring, and optimizing your ads continuously so you can grow your business while achieving the best possible results.
* * *
Take control of your social media! Check out our free trial of Agorapulse to help you schedule, track, and measure all your social media efforts.