Do you need data on your Facebook followers, so you can create better organic content or set up more accurate ad targeting? Have you been looking for the old Facebook Audience Insights tool but coming up empty-handed?
Facebook retired the platform's much-celebrated Audience Insights tool in July 2021. But that doesn't mean it's impossible to access follower analytics or get information on your Facebook audience.
Instead of relying on the limited data available through native Facebook apps, you can get more in-depth insights via Agorapulse.
Find out how you can use Agorapulse's reporting and monitoring tools to learn what works best for your audience and your clients' Facebook followers.
Why Do Audience Insights Matter?
First, let's answer an important question. Why do audience insights matter anyway?
Audience insights provide the data you need to know your customers better. This data can tell you everything from your customers' age and gender to where they live and what they like. You can also find out what they think of your brand and what type of content they find most compelling.
Knowing how to use Facebook Audience Insights is essential. You can take what you learned to create organic and paid content that truly resonates with your audience.
It's a win-win situation: Your audience gets content that speaks to them, and you can achieve your marketing goals more efficiently.
How to Access Facebook Audience Insights
Are you wondering why you can't seem to find Facebook Audience Insights? Facebook once hosted its Audience Insights tool in Ads Manager. There, social media managers could get data about people connected to their Page or research audiences across Facebook.

This tool allowed you to build audiences that you could use for advertising and get insights about user interests and behaviors. Then you could test out your audiences in ad campaigns, making continuous adjustments based on your research and results.
Unfortunately, Facebook closed down Audience Insights on July 1, 2021 to encourage social media managers to transition to new native tools in Facebook Business Suite and Business Manager.
Where to find the new Facebook Audience Insights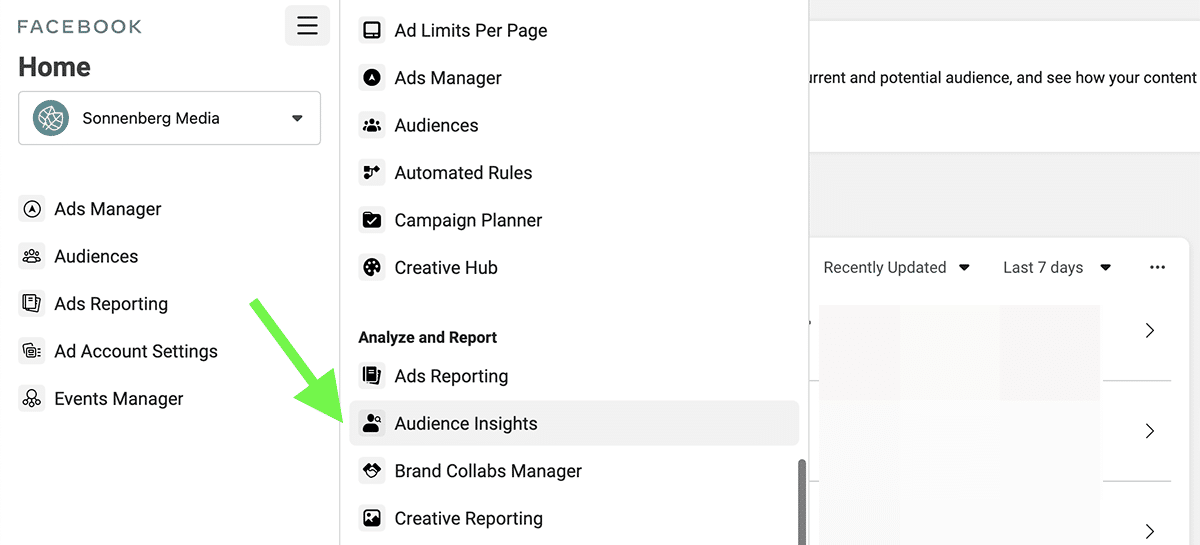 Now you can access the new Facebook Audience Insights from Business Manager or Business Suite. But the new tools have completely different—and much more limited—features.
When you visit the new Audience Insights, you can access data on your current audience, including:
Age
Gender
Top cities
Top countries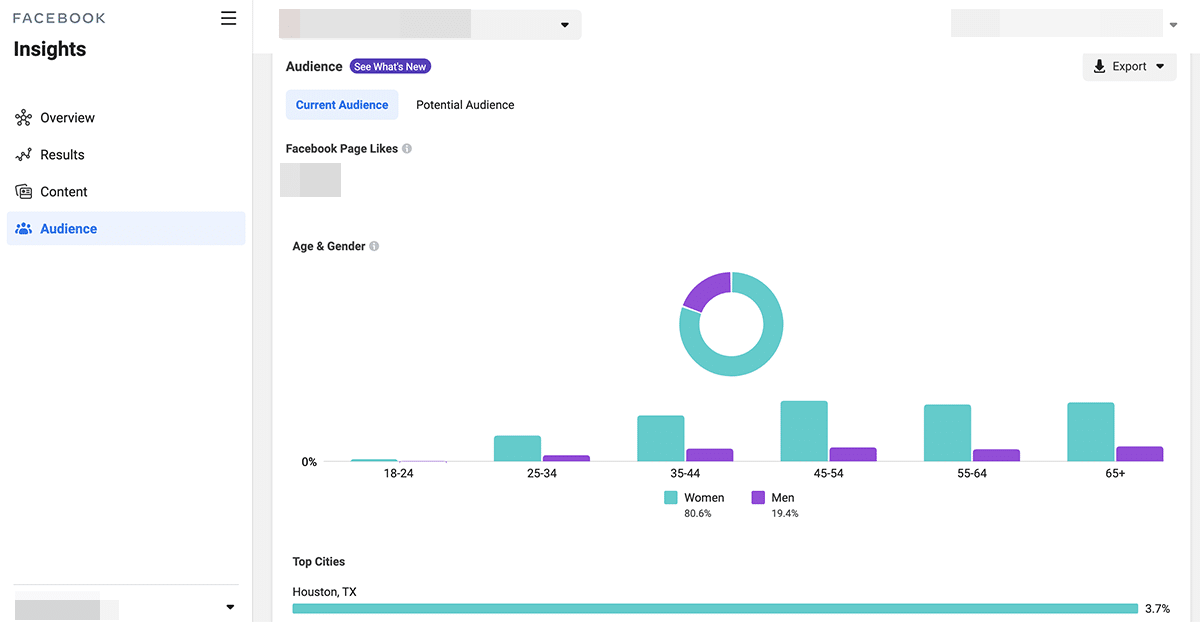 You can also research your ideal customers and build target audiences that transfer directly into Ads Manager. Audience Insights lets you target based on demographic and interest data, using the tool's limited Top Pages information to learn about your customers' likes.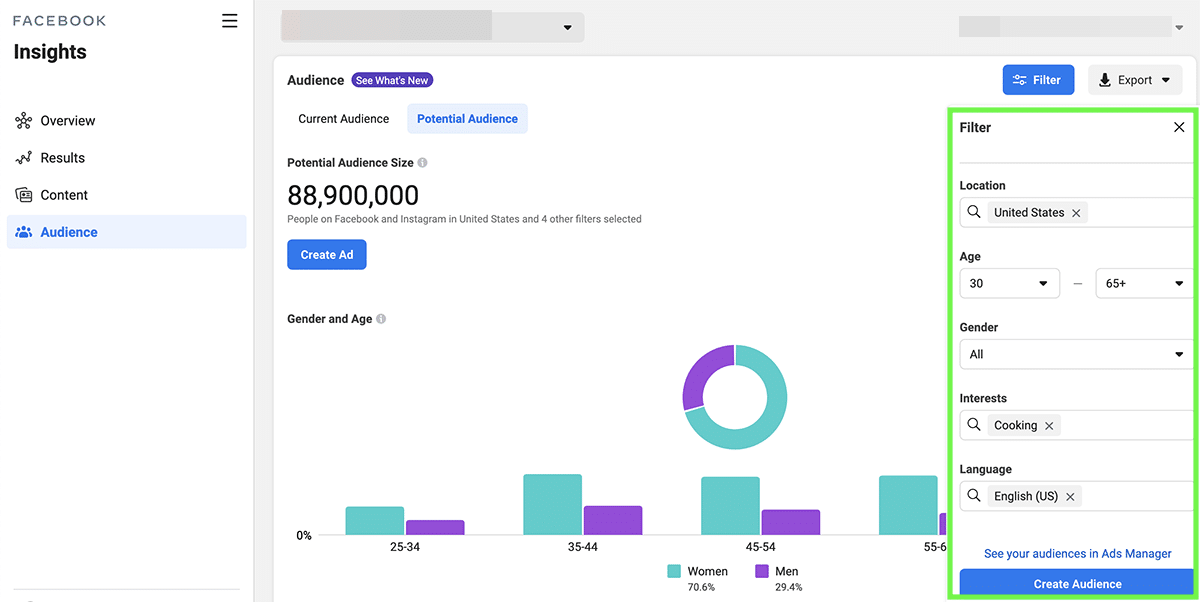 Alternatives to Facebook Audience Insights
If you were expecting the features and functionality of the old Facebook Audience Insights, then the new native tools will probably disappoint. But it's important to remember that the old Audience Insights tool also had serious limitations.
Sure, the old tool could tell you which Pages and categories your customers liked. But it didn't give you much data on what your audience is actually talking about or how your customers really react to your content.
Fortunately, Agorapulse can do just that. With Agorapulse Audience Insights, you can get valuable information about who your followers are, what they like, and how they behave. Then you can translate the data into more effective paid and organic content.
How to Access Agorapulse Audience Insights
To access Agorapulse insights, go to the Reports tab of your dashboard and select the Facebook Page you want to explore. Then use the tips below to learn more about your audience—and how to give them more of what they want.
Audience demographics
Do you want to know who follows your Page and what they have in common with one another? Go to the Audience tab of your Facebook Page report and scroll to the end.
Agorapulse displays the following demographic data:
Your average fan, including the age, gender, and location of a typical follower
Age ranges, including what percentage of your audience fits into each bracket from 13-17 years to 65+ years
Gender, including what percentage of your audience is male or female
Country, including your Page's top six countries or regions and the number of followers from each
City, including your Page's top six cities and the number of followers from each
Language, including your Page's top six languages and the number of followers who use each as their primary language
What can you do with this demographic data? You can use it to research both positive and negative aspects of your audience.

On a positive note, you can use the data to learn more about your audience and identify important shifts. For example, you might find that your Facebook Page followers skew older or more male than your Instagram followers.
You can use that knowledge to create content that's more likely to appeal to your Facebook audience.
You can also use demographic data to identify potential issues with your followers. Are a lot of your followers from regions your business doesn't serve? Is your Facebook audience becoming increasingly misaligned with your target customer? Your audience may be experiencing natural shifts—or your Page could be attracting spam accounts that you'll want to identify and ban.
Audience growth
Whether you've set ambitious growth goals for your Facebook Page, it's important to keep track of how your audience size changes over time. By identifying normal patterns and unusual activity, you can determine what helps your audience grow—or what turns followers away.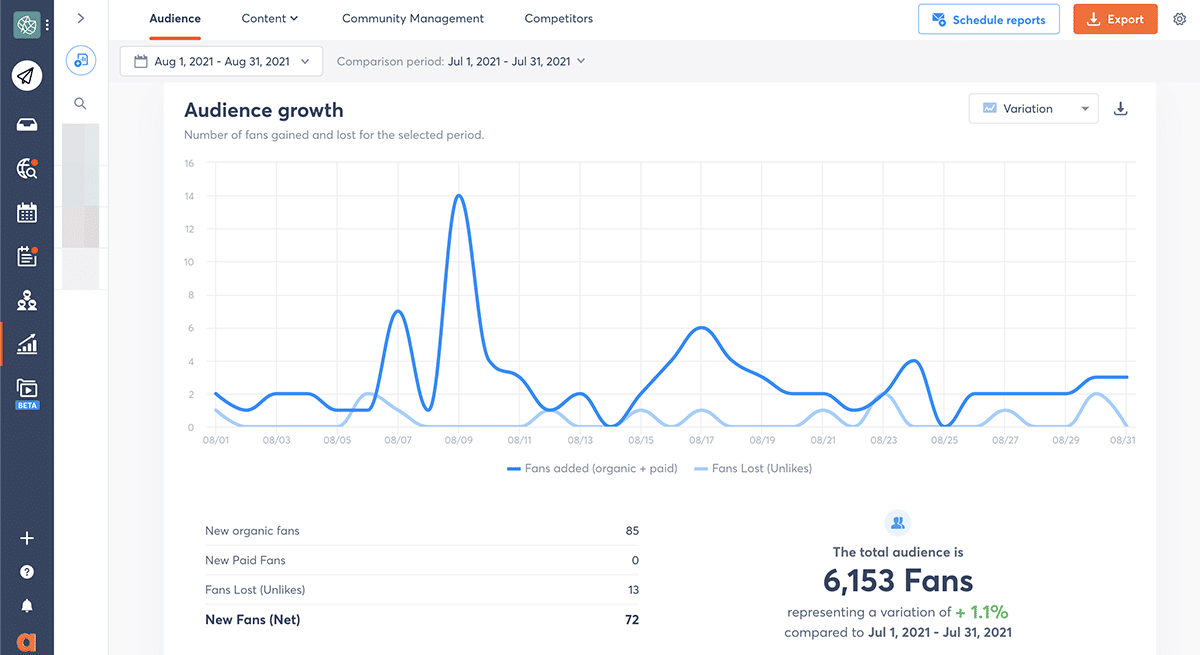 To access audience growth metrics in Agorapulse, go to the Audience tab and scroll just past the overview section. You can see how many fans your Page has gained and lost during the time frame you selected.
From this chart, you can learn:
Whether your audience grew or declined overall. Agorapulse tracks both likes and unlikes so you can see how many followers you lost compared to the number you gained.
If organic or paid efforts contributed more to audience growth. Agorapulse separates new fans by paid and organic methods, so it's easy to identify what's working best for your Page.
When you gained or lost the most fans. Did your audience numbers change significantly on a certain day? Identify what happened, such as a viral post or an influencer partnership. Then think about how you can replicate your success or prevent a bad situation from happening again.
Audience impressions
Is your audience actually seeing the content your team publishes on Facebook? Agorapulse's Impressions report can reveal how many times your content appears in Facebook users' newsfeeds.
From this report, you can see how organic impressions compare to paid views. You can also spot instances when your content went viral.
To act on the data, look for days when your Page's impressions were particularly high or even viral. Confirm what type of content you posted that day or how you promoted it. Then brainstorm ways to replicate the outcome so you can continue to maximize impressions.
Facebook engagement
An engagement overview is essential for understanding what prompts the biggest responses from your audience. Naturally, when you know what drives engagement, you can create more compelling content.
To find your Page's engagement report in Agorapulse, open the Audience tab. You can view daily and aggregated:
Reactions, including likes and loves as well as haha, sad, and angry responses
Clicks, including interactions with links, photos, and videos
Comments
Private messages
Shares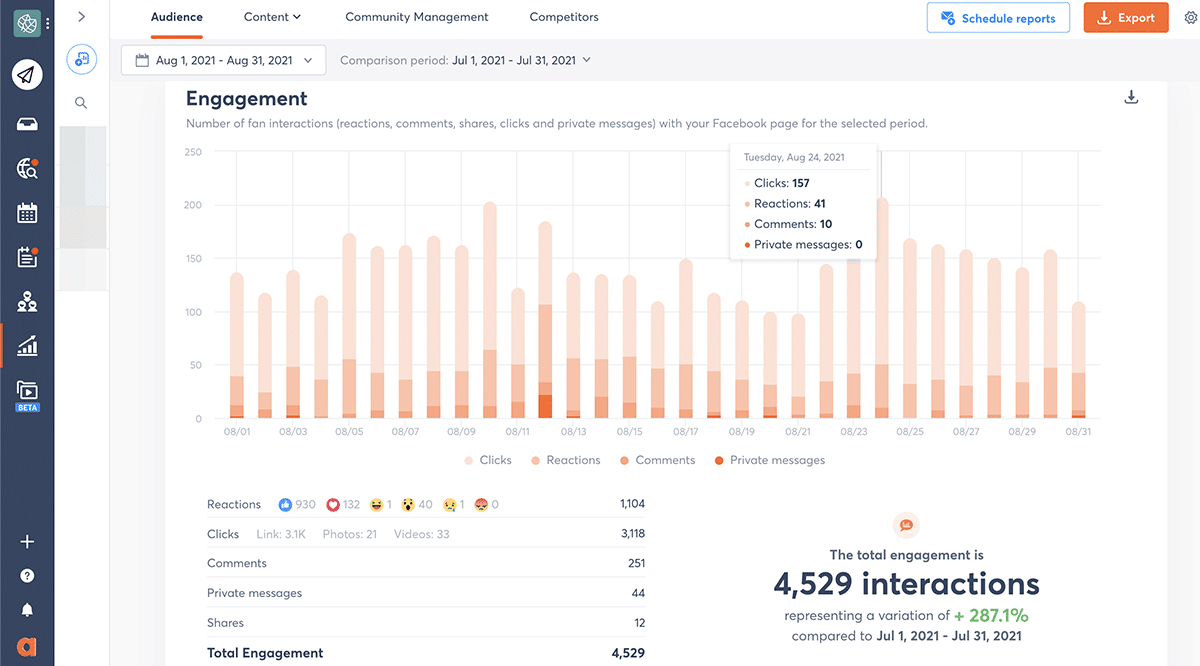 Using these analytics, you can get a better sense of when your audience reacted and what type of engagement they use most. You can also select different time frames and compare metrics from week to week or month to month.
With this data, you can see if your audience's reactions or modes of engagement have changed over time. You can also pinpoint patterns, such as increased engagement on weekends or more private messages when you post certain types of content.
Best time to publish on Facebook
Do you know when your audience tends to be most active on Facebook? Knowing when followers are most likely to respond to your posts can help you pinpoint the ideal time to publish and get maximum engagement.
Agorapulse gives you two ways to monitor audience activity:
Users' activity. On the Audience tab of your Facebook Page report, you can see when users interacted with your content most. The averages are based on inbox activities rather than reactions and clicks—so you can see when your Page is most likely to receive comments, private messages, and user posts. At the very least, you may want to be online to manage engagement during the busiest times.

Best times to publish. On the Global Content tab, Agorapulse estimates the best times to post. You can base Agorapulse's recommended times on engagement or reach. That way you can have a better chance of reaching the goal that matters to your team.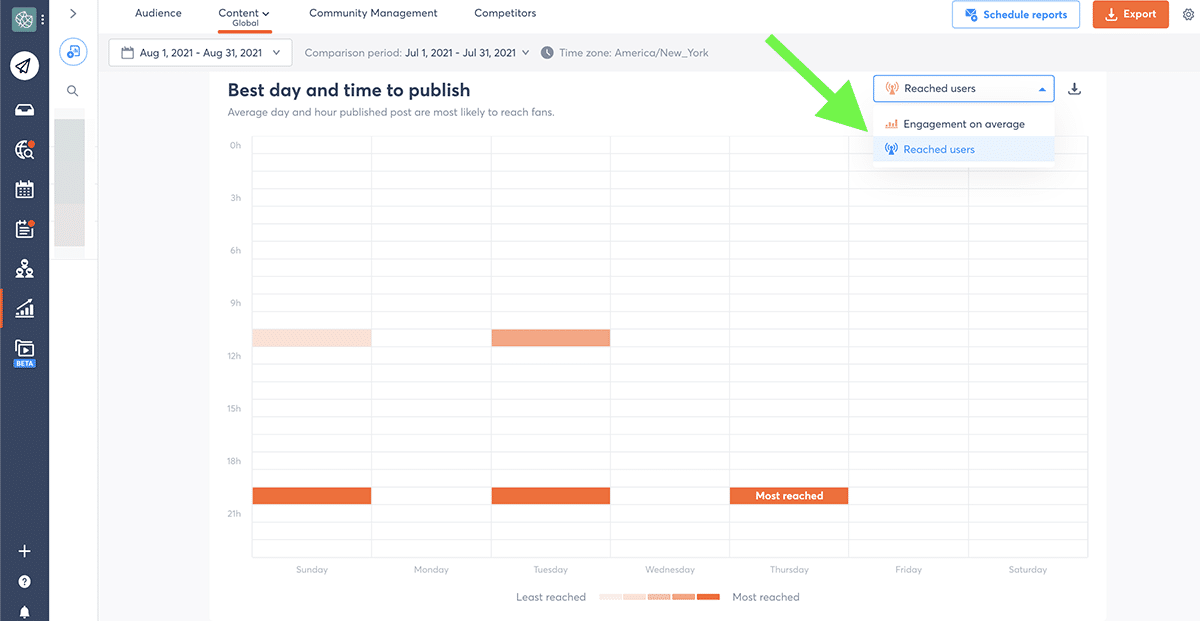 Best post type to publish on Facebook
Now you have a better idea of when your audience is likely to see or engage with your content. But what should you post?
Agorapulse charts all the types of content you publish—including image, video, link, and text posts. On the Global Content tab of your report, you can see which post type is most likely to generate engagement or achieve reach.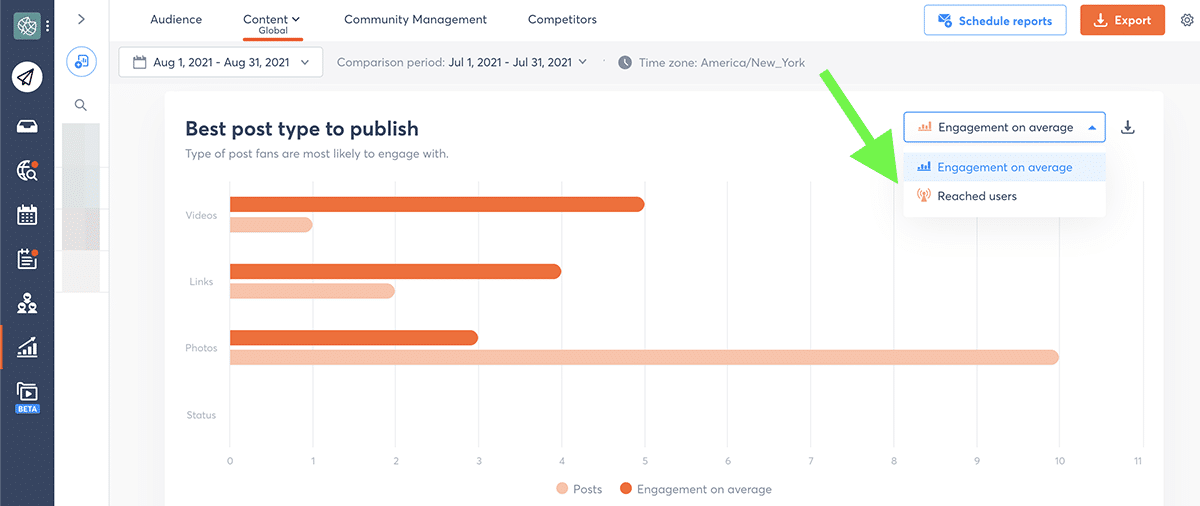 The results might surprise you. For example, you may find that videos generate a lot less engagement than you would have predicted. Instead, you may find that links or even text posts perform best with your audience.
Top-performing Facebook content
Knowing the post types that resonate with your audience can be incredibly helpful for planning future paid and organic content. But if you need more in-depth data about the content your audience likes?
Although Agorapulse doesn't track more in-depth content data automatically, you can start gathering more details with just a couple steps.
First, go to the Labels for your Facebook Page and configure the Publishing Labels. You can add your choice of tags to describe the content you publish—such as the topic, the source, or even the style.

Once you create labels, you can add them to the content you schedule with Agorapulse. You can add labels when composing posts or edit labels on items you've already published.
On the Global Content report tab, you can sort your publishing label report by engagement or reach to see which types of content resonate best with your audience. For example, you may find that your audience loves hearing about your products or that they respond best to user-generated content (UGC).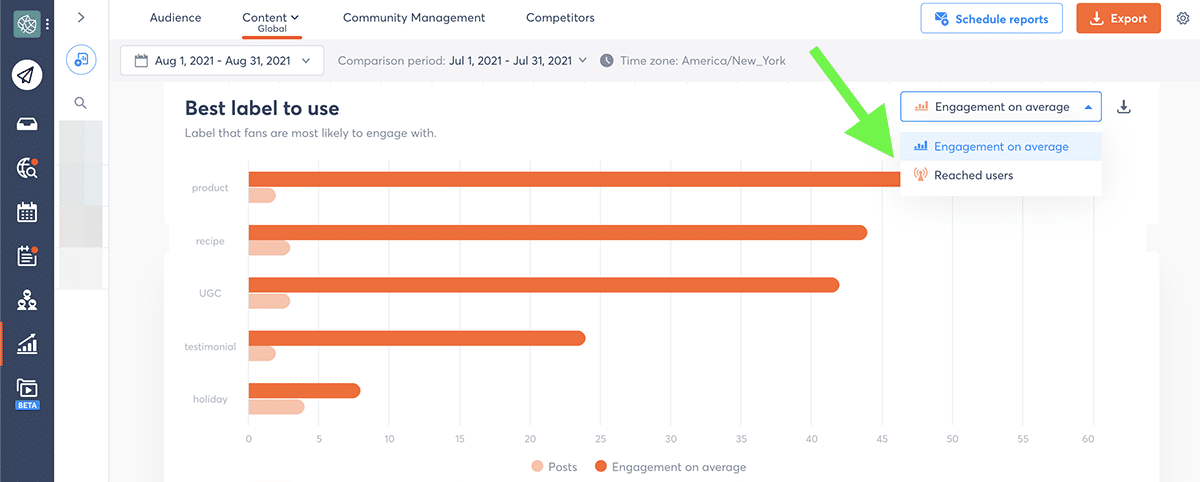 You may also find that some topics, sources, or styles simply don't generate a response from your audience. You can consider phasing those types of content out of your strategy to make room for something else more engaging.
Facebook comments and messages
Now you have a better idea of what type of content inspires the most comments and messages on your Page. But what are those messages about—and are they positive, negative, or somewhere in between?
Again, Agorapulse doesn't automatically track the sentiment or nature of your Facebook Page engagement. In just a few minutes, you can set up a labeling system and start tracking data.
Go back to the Labels for your Facebook Page and add some inbox labels. For example, you may want to monitor positive and negative sentiments or track common questions.
After creating inbox labels, you can apply them manually to any items that appear in your Inbox or Listening tab. Alternatively, you can set up automated rules and let your Inbox Assistant do the work.
Once you set up a labeling system, you can begin tracking the topics your audience talks about. You may be surprised at the balance between positive and negative sentiment or the types of questions your audience asks.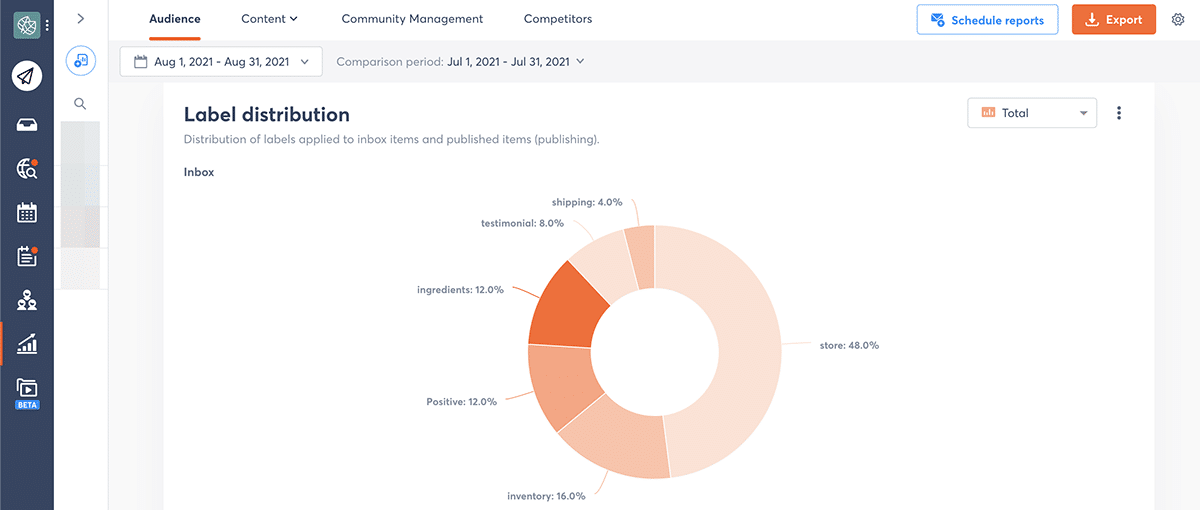 No matter what you find, you'll have the data you need to understand your audience better. Then you can create content that shifts the sentiment in the right direction or posts that respond to common customer questions.
Facebook mentions
Comments and private messages are great indicators of interest in your brand. But what if you want to track other types of engagement, such as shares and mentions?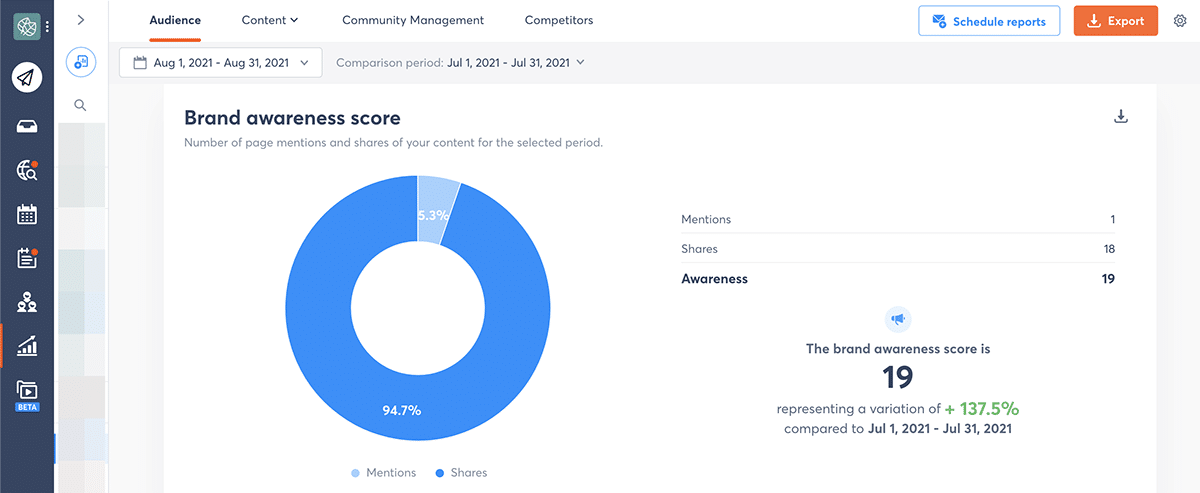 Agorapulse automatically monitors all the shares and mentions your Facebook Page receives. To see this type of engagement for any time period, go to the Brand Awareness Score section of your Audience report.
How to Create and Schedule Audience Reports With Agorapulse
In some cases, you can get all the Facebook audience data you need by downloading Agorapulse's default reports manually. But most of the time you can get added value by creating custom reports or scheduling them to arrive in your inbox automatically.
Customizing Agorapulse reports
To customize the results you see in Agorapulse, go to the Reports tab and click the Create a report button in the upper left. Then choose the type of report to create.
For a complete view of your Facebook Page performance and audience data, select Individual Report and add your Page. Then add all the audience insights, publishing recommendations, and label reports you want to see.
If you only want Facebook metrics related to a particular publishing label, create a Label Report instead. Then add relevant sections and dig into the details of the content type you selected.
Scheduling Agorapulse reports
You can always access default and custom reports in Agorapulse's Reports tab. But if you want to save time, you can schedule them to generate and send automatically instead.
You can schedule any custom report during the creation process. You also have the option to schedule default Facebook Page reports from your profile settings.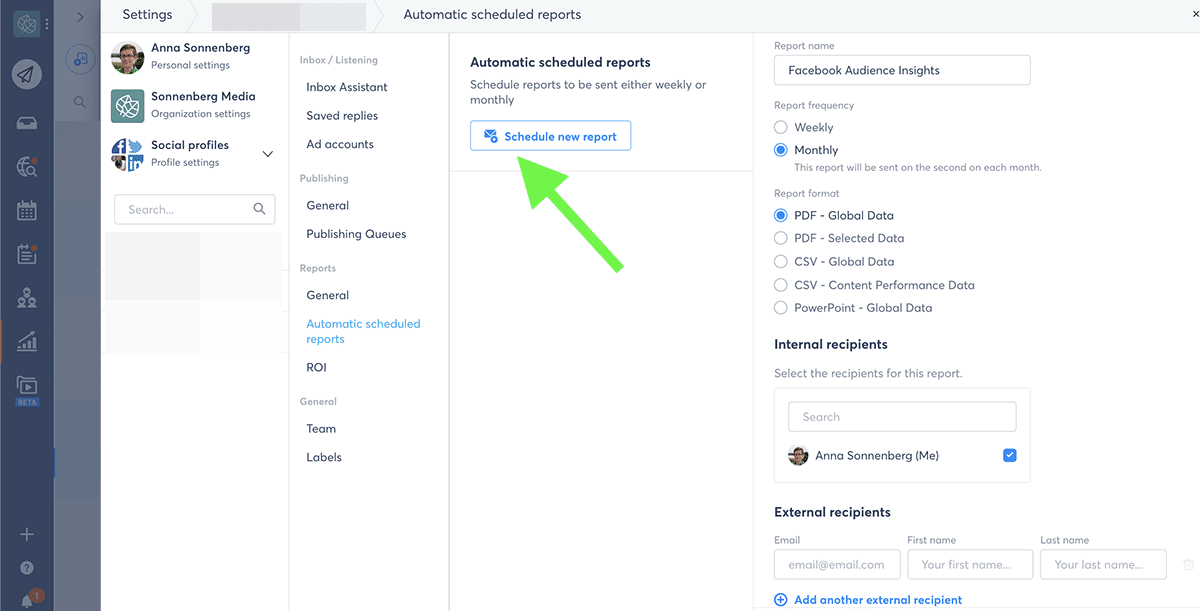 Go to Automatic Scheduled reports and click the Schedule New Report button. Choose the timing, the format, and the recipients. You can add internal team members or external colleagues and clients to the list of recipients.
If you anticipate needing to add your own analysis to the report, consider scheduling it to send just to you. Once you review it and write up your analysis, you can forward the complete report to everyone on your list.
In Conclusion
The new versions of Facebook Audience Insights may no longer be as useful for social media managers. But with Agorapulse's robust audience insights, you won't miss Facebook's native tools.
Using Agorapulse's reporting and monitoring tools, you can get wide-ranging audience data that helps you publish content your followers love so you can reach your goals more efficiently.
Get started on saving time and energy on your own social media management! Check out our free trial of Agorapulse to help you schedule, track, and measure all your social media efforts.