What's a community manager? And why should community managers have their own special day? Find out more about this special social media role and tips for celebrating Community Manager Day.
To celebrate Community Manager Appreciation Day on January 25, I'm shining a light on the digital role that nobody talks about and really should.
We'll look at the role of the community manager throughout history and how it has evolved. And we will also look at how to perform great community management for your brand.
What Is a Community Manager?
"An online community manager builds, grows, and manages online communities, performing community management, often around a brand or cause," according to Wikipedia.
A community manager is not necessarily the same person as a social media manager. For larger brands, it certainly isn't.
Having worked alongside large tech brands with my marketing agency Contentworks, I know that big brands have a team of community managers. Some of their tasks include:
Creating a buzz around new promotions and campaigns. (This is often on forums rather than the company's main channels.)
Responding to fan and non-fan comments online
Monitoring online reviews and incentivizing more
Organizing events to build community and boost brand awareness
Responding to comments under articles using tools like Disqus, IntenseDebate, and Viafoura
Working alongside sales and marketing to stay updated on new products and features
Building relationships with forums, micro-influencers, and third-party sites
Sometimes, community managers have a number of accounts and will also write reviews and comments from a fan perspective.
In recent years, community managers are also tasked with weeding out imposters and fake brands set up on channels like Telegram. This is particularly prevalent in the finance and cryptocurrency spaces.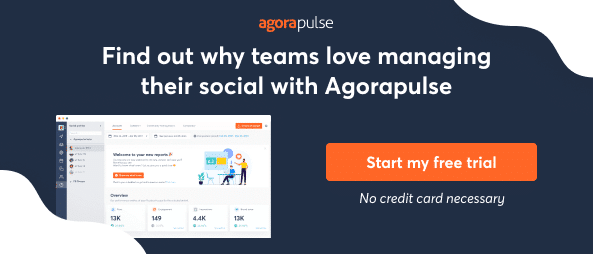 A Brief History of Community Management
If you travel back in history, you will always find community managers.
Pre-Internet
Mayors, town criers, and community leaders were tasked with managing community issues, complaints, and events. Of course, their style of communication consisted mainly of shouting in the street and organizing local meetings.
Early Internet days
Fast forward to the early 1990s and the growth of mainstream online computer services such as America Online, Prodigy, and CompuServe. Those featured special interest groups, communities of interest, and so on. And their leaders were often referred to as community managers.
In the mid-90s. the role of "community manager" was mostly in the computer games sector with the advent of MMORPG (Massively Multiplayer Online Role-playing Games).
Today, gaming communities support open communications between the developer and player community, often via community managers.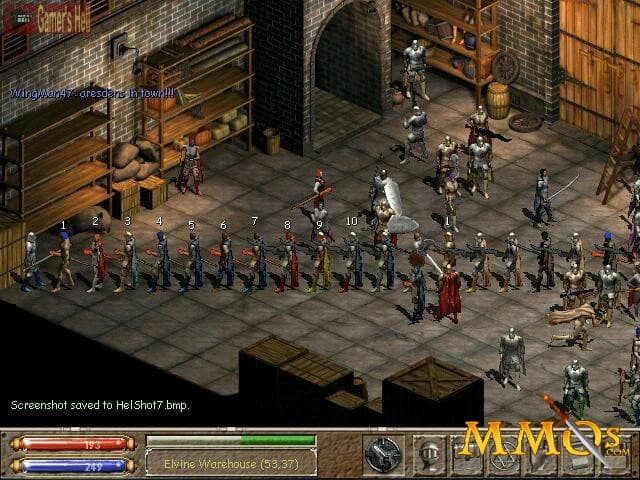 Fast forward again to 2006 and the original Brat Pack of social media networks (Facebook, Twitter, and Linkedin) has been launched.
With pages and groups to manage, brands began to understand that conversations were happening online that they needed to be a part of.
Community managers spent 24/7 checking trending topics, listening to forum conversations, and managing groups. This article from Facebook legend Mari Smith back in 2011 talks about how admins can manage the new style groups.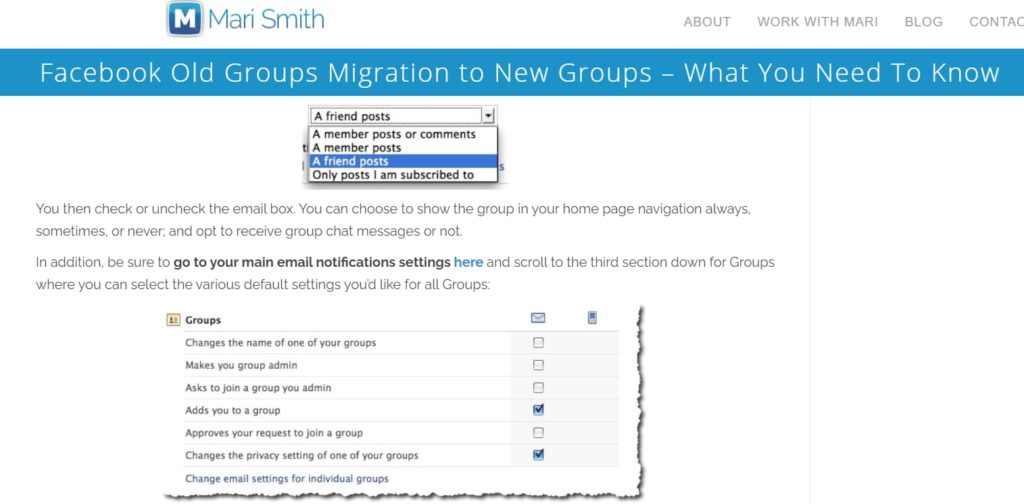 Today
And in 2020, community managers have the hardest job to date.
More social media networks to monitor, more messaging apps to handle, and infinite Internet forums to listen and respond to. Audience attention spans are shorter, response times quicker, and recent global lockdowns have pushed more users than ever online.
Why Do We Need Community Management?
1. To spread happiness
According to research, 57% of consumers during 2020's enforced lockdowns said social media helped them to feel less lonely and 48% stated social platforms helped them to feel less nervous or anxious.
When you can't go outside like you normally would, speaking to like-minded people online can stop you from feeling overly cut off.
And even seeing a brand launch their humor in a comments section can make the day worthwhile. I'm looking at you, Wendy's.
A Young Minds contributor also noted how social media has the power to unite, stating:
"I think right now social media can create a sense of community–seeing everyone tweet with their stories, share their support, share kind messages… it brings us all together."
Many brands have used their social space to address and make light of pandemic habits, from spending all day in pajamas to going a little overboard on takeaways.
After all, there's something heart-warming about a communal sense of "everything sucks."
Fashion brand New Look regularly floods Twitter with amusing pandemic Gifs and posts. From a marketing perspective, embracing the current climate is a must. There's absolutely no point in ignoring what's going on as you'll be out of touch with your followers.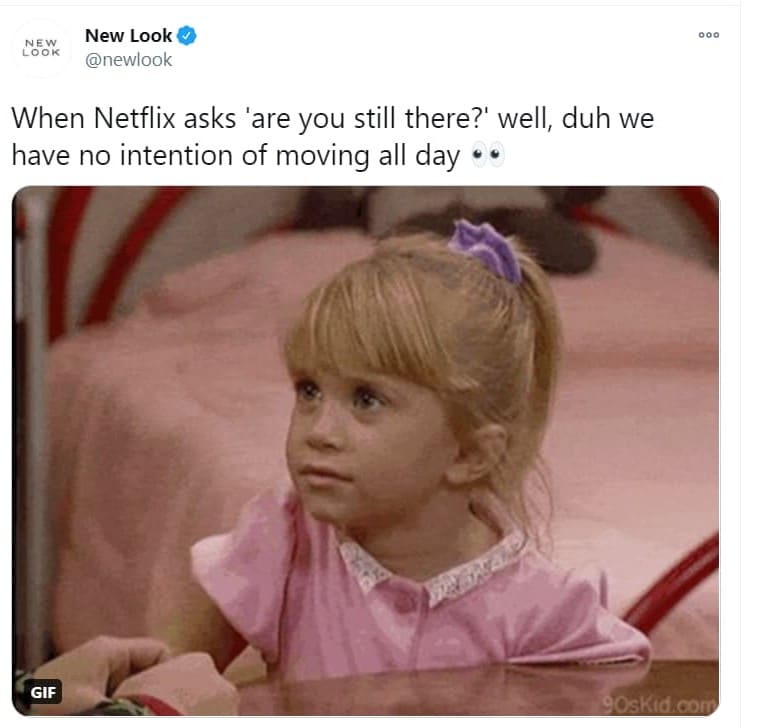 2. To assist with problems
Community managers are not only there for the fun stuff, they're there for the problem solving, too.
With more brands than ever conducting business online, community managers can help with questions surrounding account opening, shipping, delivery times, and faulty goods.
Community managers replace old-style call centers and instead exist on chat, social media platforms, and forums.
One brand I love for community management is fintech brand Revolut. On Twitter, its community management team solves problems in a friendly, timely manner.
Having used them myself, I can confirm their response time is FAST! As the brand is financial, they respond to users publically then encourage the conversation through private messaging (a very important technique for community managers).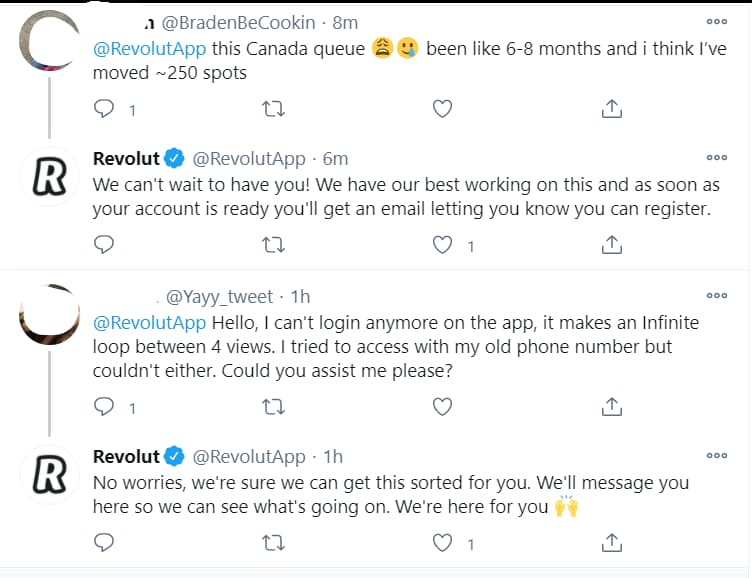 3. To safeguard online reputation
Your reputation is what people say about you when you're not there.
In community management speak, dissatisfied customers or those looking to seek out new services will not comment on your official channels. They ask the Internet.
Reddit and Quora are the kind of forums that attract questions. If I ask a question like "Is Red Bull good for you?" the unofficial Quora answers rank higher than Red Bull's official site. This is where big brands may sow community management seeds!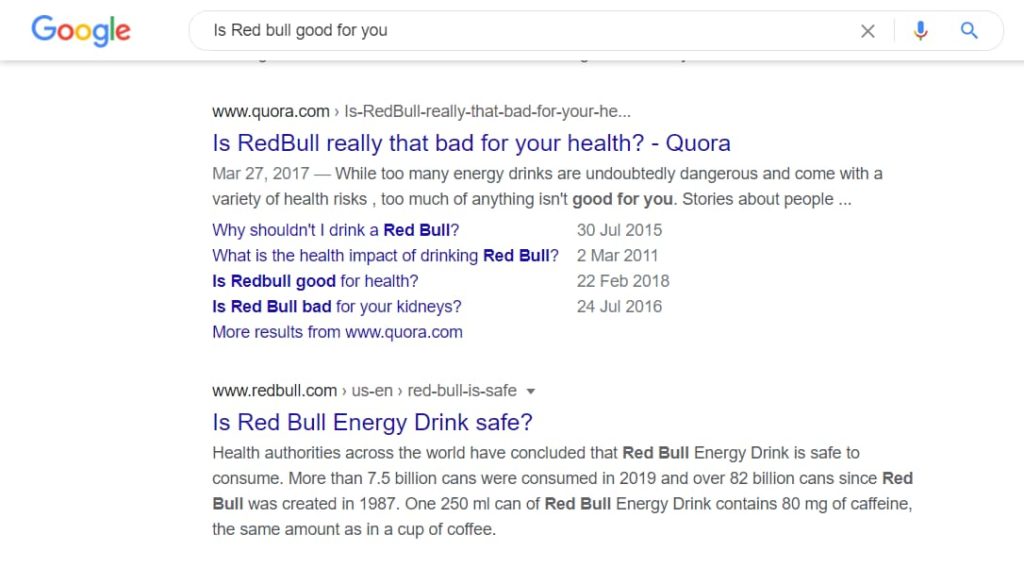 Community managers also listen for brand mentions using tools like Agorapulse. Not only brand mentions but mentions of products similar to their own.
For example, the below screenshots show mentions of Contentworks on Twitter. But we could also listen out for marketing agency, content marketing, good marketing agency, and so on.
That way, a community manager can choose to insert their brand into the conversation.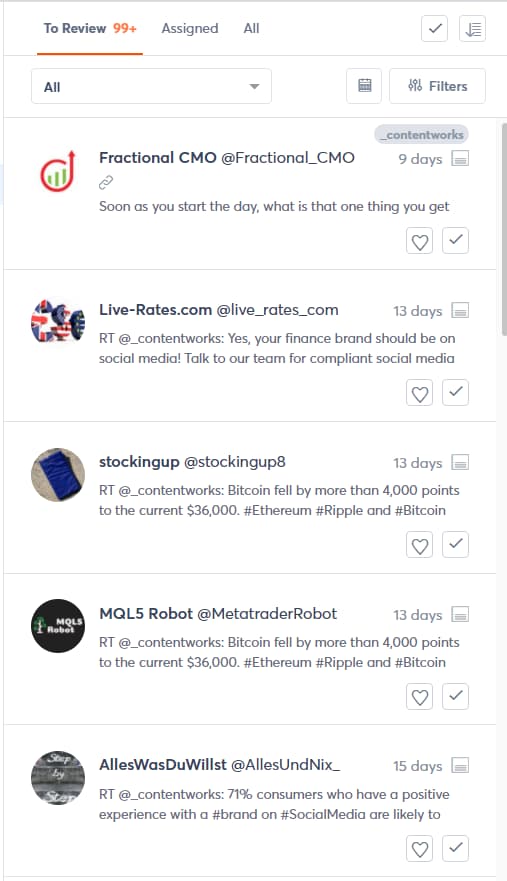 How Can You Nail Community Engagement on Social Media?
A strong social media community is good for brands because it:
Enables brand awareness on a global scale and encourages interaction
Gives consumers a voice helping brands to learn more about their audience
Allows for interesting, engaging, and thought-provoking conversation
Offers an avenue for exclusive content giving users a reason to return
Facilitates brand creativity to excite and engage consumers
So, what's the secret?
Here are some community engagement tips.
1. Initiate conversations
In regards to community management, it's crucial to get people talking. Posts should facilitate conversations and encourage followers to respond.
That could be on or off your official channels.
Step 1: Ask your community a question prompting stories, anecdotes, and strategies.
Step 2: Retweet or share the best responses and tag the original poster as this will inspire others to comment on your posts. (You know that feeling when a celebrity likes your Instagram comment? That's the sort of buzz followers get from being acknowledged.)
Step 3: Go the extra mile and reach out to authors asking them to expand their original post into a guest blog for your brand.
Tip for community managers
Never delete comments, even if they are negative. This is the fastest way to annoy your community.
You could also team up with influencers or users that match your brand to spark conversations.
For example, PampersUK collaborated with LadBabyOfficial to discuss life as a dad. The post encouraged users to share stories about what being a dad means using the hashtag #HappyFathersWay.
Creating a hashtag allows your community to easily follow and join in with conversations. Your content also becomes more searchable.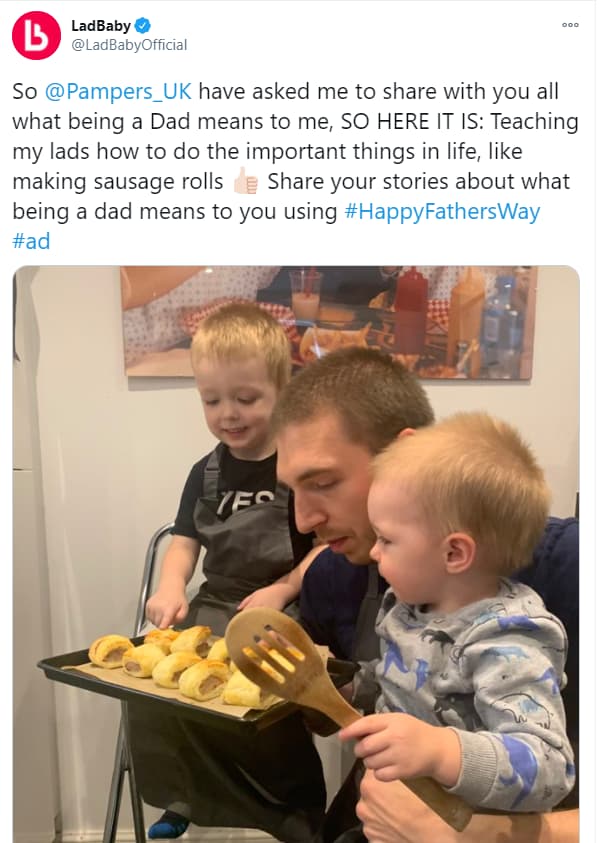 2. Provide the right support for your community
All social media communities are different, so it's important to understand what people want from your platform as this will help you to deliver the right kind of support.
If you're a gaming brand, your followers are likely to be avid gamers looking for hacks, problem solving and games release information. They might want to discuss game elements in detail or hear how users accomplished certain levels.
Leading game World of Warcraft is a community that gets people talking and one that has numerous community managers.

And while it looks like fan complaints and comments on social media are only answered by other community members.
In fact, they have dedicated forums with community managers ready to assist gamers on various issues.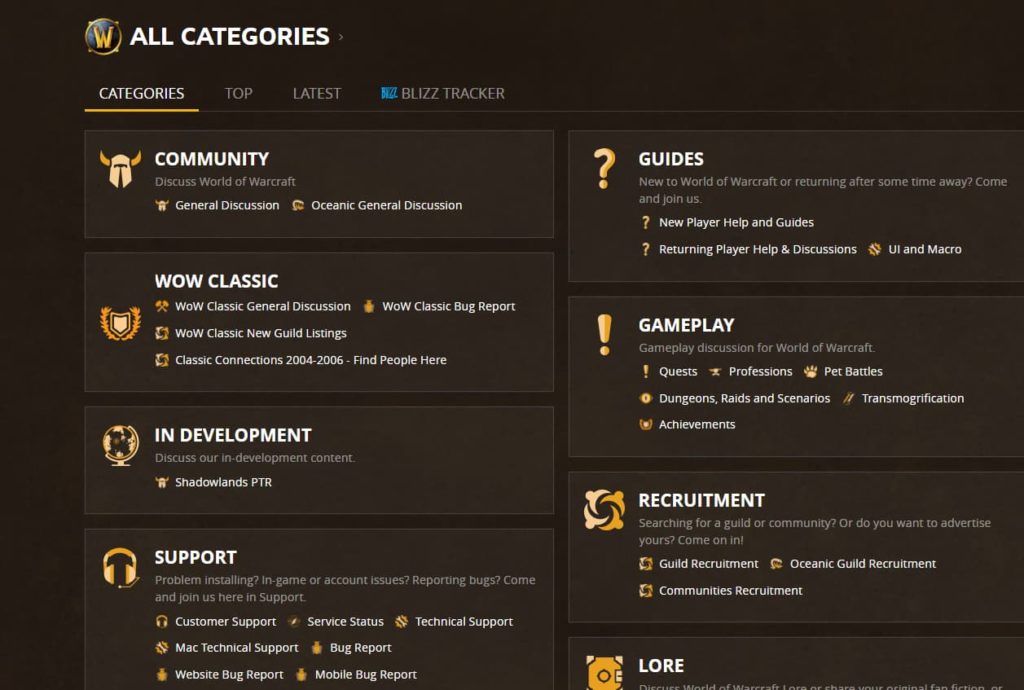 Other brands such as ASOS, an online retailer, focus their attention on social media community management. In addition to manning comments on their page, the brand also has a group to encourage community interaction.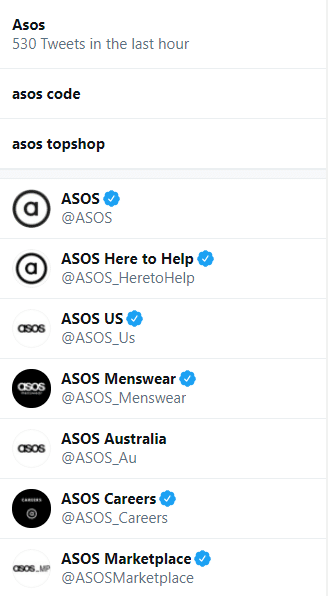 Whilst it's mostly fun and humorous interaction, ASOS is ready to address serious questions when it needs to. In fact, they have dedicated Twitter accounts for exactly that and closely monitor online conversations mentioning the brand.
3. Create exclusive opportunities in your community
One of the best ways to build a strong community is to offer exclusive content that's only available via a specific channel. This will give people a reason to visit your site or join your group. Exclusive content could be webinars or behind the scenes videos uploaded to Facebook. It could be challenges on TikTok, exclusive discounts or community only promotions.
Community managers are online all day and in touch with their fans or potential fans, so they are often best placed to suggest new promo ideas.
Need to cheer up your audience or get them more engaged with your brand? Run a flash giveaway that involves new fans needing to follow you like Artesian Builds.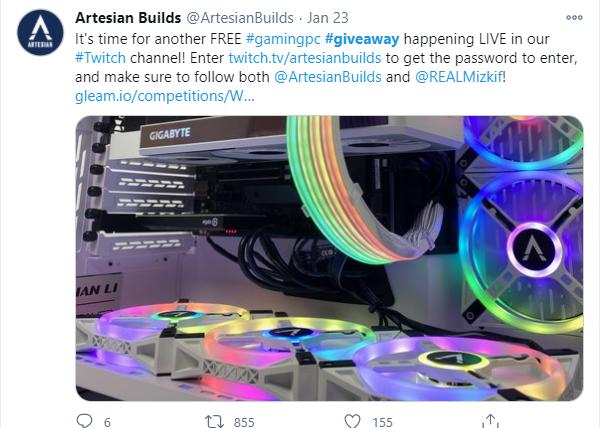 Or simply reward followers with a discount or coupon like Krispy Krème did.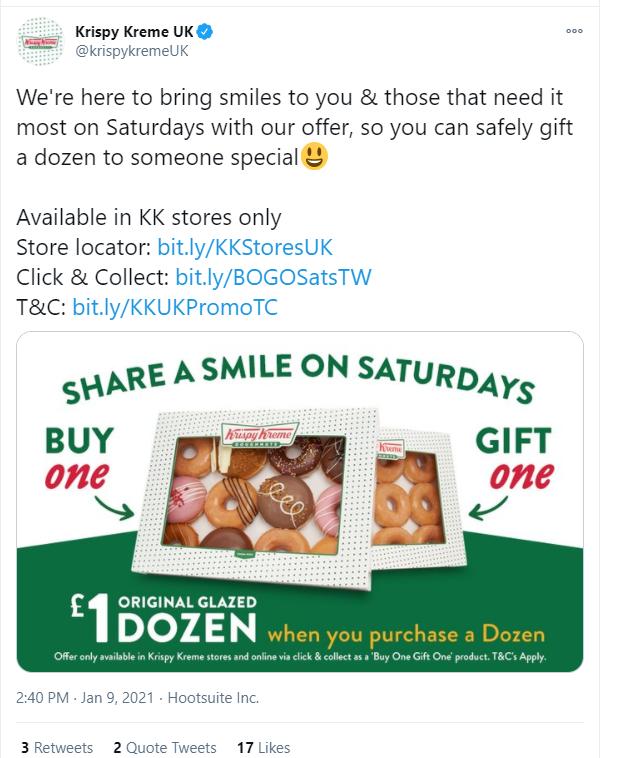 Cryptocurrency exchange Binance frequently drops giveaways for those who follow its communities. And it actively encourages web visitors to follow official channels: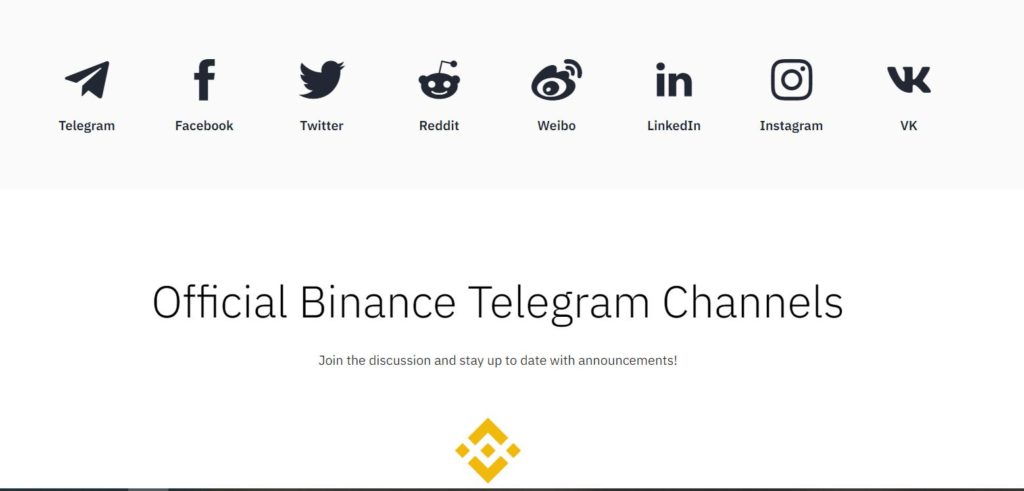 Where they can get support, information on the latest products and tools and of course, those all-important treats!
Tip for community managers
Time your giveaways when you know your community is more likely to be online or in the mood to enjoy them. For example, Friday afternoon or on weekends.
In Conclusion
Community managers are the glue that holds big brands together on social media, forums, and sites that allow comments via tools like Disqus, IntenseDebate, and Viafoura. They are in tune with the sentiment surrounding your brand, what your competitors are doing and what fans love and hate most about your offering.
So, this Community Manager Appreciation Day, give your community managers a round of applause and some donut vouchers. They absolutely deserve it … and more!
Get started on saving time and energy on your own social media management! Check out our free trial of Agorapulse to help you schedule, track, and measure all your social media efforts.