Want more ideas for your content marketing? These types of content can help your brainstorming content for social media channels for you and your clients.
As more brands are investing in creating content, you may find it is getting harder and harder to catch online users' attention.
Today's consumers are constantly moving through online social media feeds. They are hard to surprise or impress.
You need to constantly experiment with new types of content and formats. Doing so allows you to market through more social media channels and discover more tactics that work.
Now that your target customer is likely switching two or three social media networks daily, your content needs to be everywhere.
So, content diversification is a must.
Here are some types of content to make sure you include in your marketing mix.
1. How-to articles
How-to search queries are the ones that provide the most important marketing opportunities for content providers.
While we search for all kinds of questions online, the "how-to" article is the most engaging one.
Imagine yourself searching "What is SEO?" vs "How to do SEO?" In which of these cases are you prepared to dive deep into a document once you start reading?
How-to questions are the most popular types of questions people ask online.
Besides, the problem-solution nature of how-to content provides lots of conversion opportunities.
This is where you can "soft-sell" your (clients') products or services without ruining or interrupting your site users' reading or browsing journeys.
Check to see how your how-to content performs
If you use Agorapulse, you can review your content's performance via its reports. You can see if your content is receiving comments, likes, engagement, and reach.
When you see what content's doing well, you'll want to create more content on related topics or even deeper dives into the main category.
2. Video tutorials
The top four content categories watched by YouTube users are comedy, music, entertainment/pop culture, and "how-to," according to Google.
I am sure these stats are going to be even more skewed towards how-to video content demand now, with more people comfortable with online learning and remote work.
There are lots of types of video tutorials you can easily include in your content marketing calendar.
Ideas for video content
Every time you or your team is working on a new how-to article, make sure to put together one of these video tutorials:
Product walk-throughs
Whiteboard videos
Step-by-step video slideshows
Annotated screencasts
Animated video tutorials
Tips and ideas to help you create great video content
3. Flowcharts and checklists
As instruction-based content is getting even more popular, you'll want to create even more content types addressing all kinds of problems and visualizing solutions.
Visualizations will not only make your instruction-driven content more useful (and easy to follow), they will also let your content do better on sites like Reddit and Pinterest.
Fortunately, you can choose from many powerful visual creation and marketing tools that let users create professional infographics on a doable budget.
4. Comparisons
Across all industries there's one clear trend: Buying journeys have become much more complicated due to the fact that customers spend more time researching their choices online.
Your content creation strategy can help you become part of those increasingly complex buying journeys. You need to know your competitors and clearly state why your solution is better (or how it fits a more specific need).
An easy place to start: Type your brand name in Google's search box and add "vs" for Google to instantly suggest competitors that often appear next to your name in Google.
Now, create content to target those search queries.
Example of comparison content
Agorapulse recently published a comparison of two major social media management tools. The article, "Hootsuite vs Sprout Social: Which Social Media Management Tool Should You Pick?", was a prime example of comparison content and covered subtopics found in popular Google searches.
It also included visual content to support the written content.

When you create content, remember that you can use more than one type of content in a particular piece.
5. Video reviews/testimonials
Likewise, as we are dealing with the "curious consumer" who tends to research just about any buying decision, creating video reviews (as well as testimonials) to clearly show the selling points of your solution is a must.
Apart from creating alternative content for your most curious consumer, this strategy will also help you dominate more of your brand-driven search queries as Google loves using video carousels to feature related video content: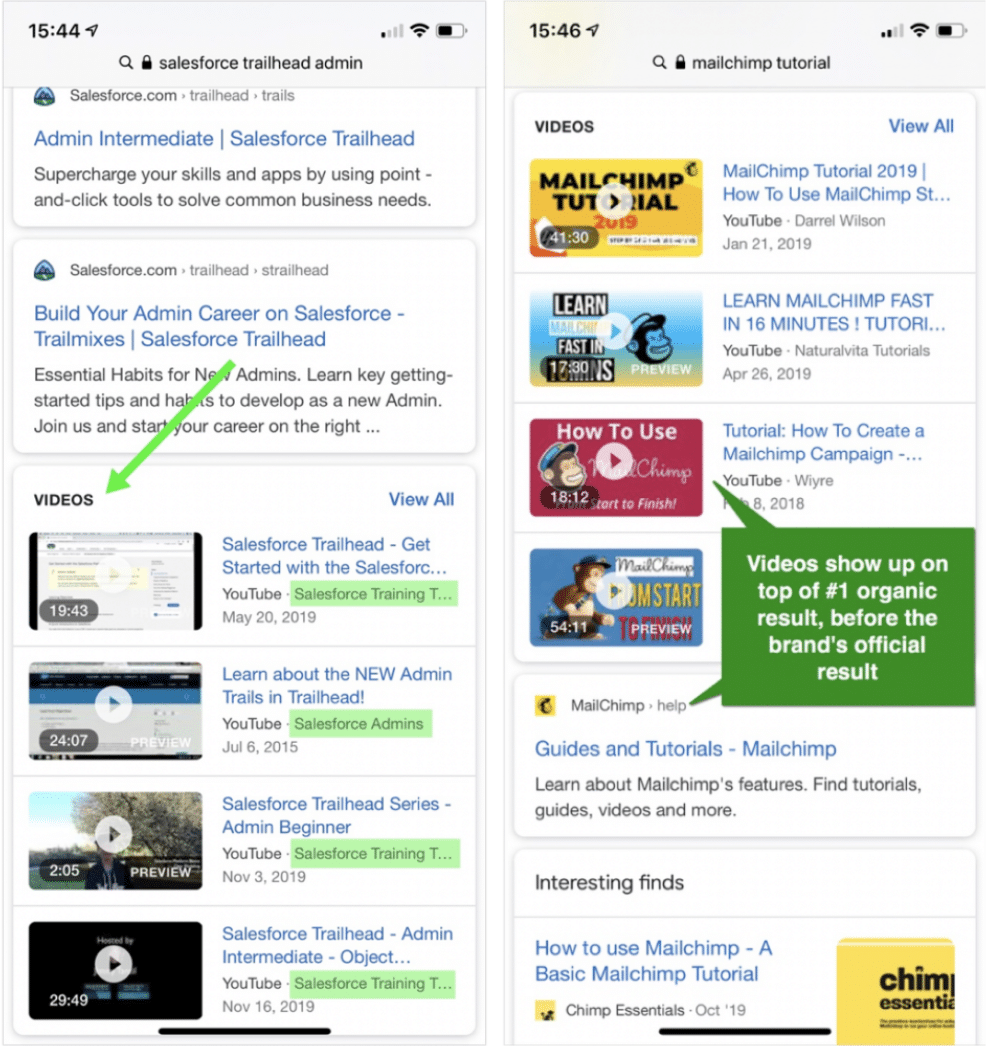 How to find positive reviews
If you want to share content that features positive reviews and testimonials, you need to make time to monitor your brand mentions and/or the brand mentions of your agency clients.
Use Agorapulse's monitoring feature to discover online reviews and comments, such as tweets and retweets.

6. Listicles
Many marketers would advise against creating listicles (in other words, "best of" type of content) because this strategy has long been overused. There are two many listicles all over the web.
But they still work, so why stop creating them?
Listicles provide a highly entertaining, easy-to-digest, and very engaging reading experience, so they remain one of the most popular types of digital content.
Not all of your content needs to be a heavily researched study! Sometimes, content is created to be an enjoyable distraction, and it's perfectly fine!
How to write a strong listicle
Copyblogger's article about lists suggests that content creators and writers make sure to:
Understand what problem you're solving.
Know the goal of your content.
Make sure your content is quickly scannable.
7. Seasonal Content
Seasonality is a powerful way to create content that converts well.
Create content to target seasonal search queries right at the peak of that seasonality-driven interest. That will most certainly result in lots of clicks and engagement.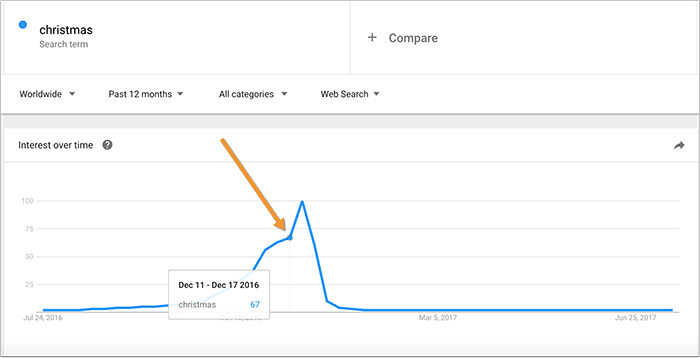 Seasonality is the most effective force behind viral content, so make sure to make the most of those yearly opportunities.
Example of seasonal content
Seasonal content helps meet the needs of your audience during peak times. For example, on the Agorapulse blog, articles during November and December focused on the specific goals of that time of year: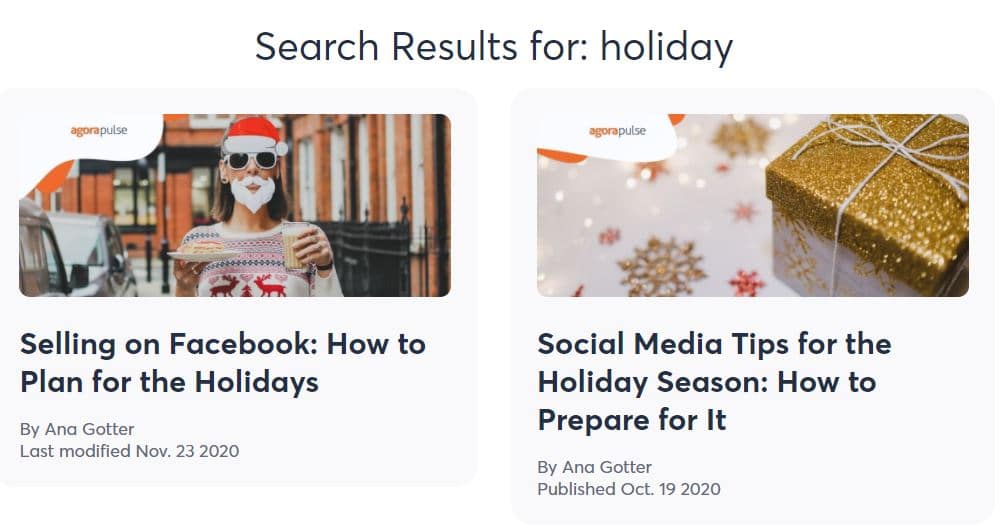 Find more inspiration for types of content.
8. Case studies/use cases
Some customers may come to you in search of a solution to their current problem.
However, many of your target customers may not even know they need your product or service. They may be totally unaware of any existing problem that can or should be fixed.
This is where content that explains how your product can be used will come in handy.
Explain the concept from various angles based on different needs. Clearly show how different features apply to different scenarios.
Example of use case
The following video from Doc Rock showed not just his enthusiasm for the products mentioned in his video but also how he used them.
9. Ebooks, whitepapers & other downloadables
Downloadable content means that your readers will take part in your brand home and (if you did a particularly good job) that they may send it around to their friends.
The power of downloadable content is that it creates new channels and new brand visibility channels you couldn't even imagine. And yes, it is also a great lead magnet. (Readers would be more willing to subscribe to your email if they get a free download in return.)
Creating free downloads is also easier than you may think.
You may be able to easily repurpose your existing content into an e-book or by hiring a white paper writer.
Here's also an easy way to add ebook downloadables to your WordPress site.
Example of a download
This article's about creating content, one of the biggest struggles that digital marketers (any type of marketer, really) has. So, we've provided an easy-peasy form to download a content calendar packed with ideas for your social media channels:
10. Collaborations
Even though this comes at #10, I think this is, by far, the most important type of content you should be creating.
Collaborative content is any content that involves other brands, niche experts, or social media influencers.
Having other people contribute to your content increases your reach to those micro-communities of users who follow and engage with those niche experts on their sites or social media channels.
Types of collaborations
There are many forms of collaborative content you can create.
These include:
"Top experts talk on…" listicles. This one works particularly well for newsworthy or trending topics.
Webinars where niche experts are invited to discuss a particular topic
One-to-one interviews with a well-known public figure in your industry.
Whichever format you decide to start with, don't forget the two most important things here:
You need to really develop your relationships with those experts who agreed to work with you on a content asset.
You need to do good research to come up with interesting questions that may also bring in some extra search engine visibility.
11. Quote cards
Have a quote that you know will resonate with your audience? Did you read something that struck you as powerful, funny, interesting, etc.? Then share it via visuals.
How to use Agorapulse's Canva integration
If you use Agorapulse, you can take full advantage of the Canva integration to create amazing visually appealing posts.
12. Curated content
You've read about all the types of content. So, you probably think you need to create it all.
Nope.
You can actually curate content.
Content curation is the act of finding already created content and sharing it responsibly online. (That means giving credit where it's due, not violating copyright, etc. You know, playing fair.)
How to find content for your social media channels
You can find content to curate in different ways.
Of course, you can do a Google search and just look for your brand.
But two of the best ways are by monitoring hashtags (so you can see what is being said about you and where online)
With Agorapulse, you can monitor up to 30 unique hashtags on Instagram over a rolling seven-day period.
You can also do Facebook listening, YouTube listening, and Twitter monitoring to hear what's being said.
Conclusion
Content diversification is one of those marketing trends I love watching. I hope this article will inspire some new content tactics for you and your team!
Ready to take control of your social media? Start your free trial with Agorapulse here!