Discover how to glean the data you need from a social media report to produce remarkable content for your audience. When you create a social media report, you use charts and data to illustrate what you've accomplished. But these summaries are much more than progress reports that reflect on the past.
Your social media report can also help you look forward and plan ahead. Find out how to use the data from your social media reports to learn more about your audience and create content that your fans will love—while helping your brand grow.
1. Speak to Your Audience Specifically
It doesn't matter if you work for an established brand, want to build your company's social media presence from the ground up, or work for a social media marketing agency. No matter where you work as a social media manager, you must make sure that the content you publish speaks to your audience.
How to use data for content-creation
Every time you create a social media report, take the opportunity to review your audience data. Pay special attention to demographics, so you can answer questions like:
Where are your fans located?
Is your audience concentrated in a city or region?
How old are your fans? (What age brackets do they fall into?)
Are your fans men, women, or a bit of both?
Check native social media analytics for even more detailed data. For example, Facebook Audience Insights reveals your followers' education level, relationship status, interests, and other statistics.
Once you have a better understanding of your audience makeup, let your newfound knowledge inform the content you create. For example, if your average fan is a woman between the ages of 45 and 54 years old, tailor your content to her interests, needs, and goals.
2. Study the posts that can bring in more impressions
Steadily increasing your brand's impressions each month or quarter can signal solid social media growth. But if you look beyond the chart, you can find out what's fueling your growth—and create content with even more reach.
Review why certain social media posts are doing well
Review your content performance, and sort your posts by reach. Zero in on the posts that far outperformed your typical content. Think about what sets these high-performing posts apart:
Does the content focus on a hot topic?
Do the images stand out in newsfeeds?
Did you test out a new post format or media type?
Then use your analysis to shape your content calendar. For example, if your current event-focused posts went viral, consider publishing more timely content that explores hot topics.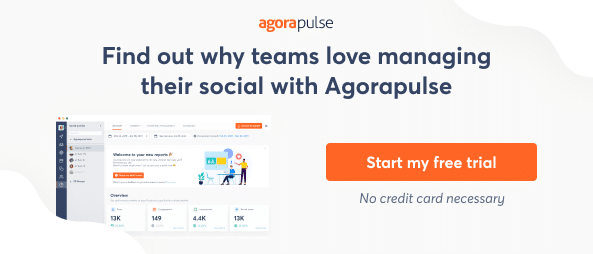 3. Improve Social Media Engagement
Publishing engaging content is essential for connecting with your audience and growing a vibrant online community. Likes, shares, and comments can lead to greater reach, so improving engagement is important to brands in every industry.
To dig deeper into your engagement metrics, sort your content performance report by likes, comments, saves, or engaged users. Then take a closer look at the top-performing posts:
Don't hesitate to get granular as you analyze your social media reports. Decide on the engagement metrics that matter most to your teams, such as comments or engaged users. Then find the best-performing posts in each category, and identify what makes them stand out. Use your findings to produce content that generates even more clicks or likes in the future.
Get more ideas: 12 Types of Content That Grab Attention and Encourage Social Sharing
4. Experiment With Post Types
Every brand is different. So, the type of content that resonates most with your audience might fall flat with other social media users. That's why it's so important to find the kind of content that works for the fans you want to attract. (If you need inspiration for your social media content, download our free social media calendar, packed with ideas, links, and planning space.) As a social media marketing agency, you'll want to know the specifics for each client.
To find out which content works best for your clients' audience, review the best post types to publish. Depending on the brand's goals, sort by average engagement or average reach. Then confirm whether status, link, photo, or video posts generate the best results.
As you develop content for upcoming campaigns for clients of your social media marketing agency, keep your best-performing post types in mind. For example, if photos and videos tend to lead to the highest engagement and reach, consider scheduling a new photoshoot or contracting a video editor to create content for a brand. Choose the best post format or media type that resonates with your audience.
5. Optimize Posting Times
Your brand or your clients' might have an incredibly engaged audience. You might publish content you know your fans or theirs will love. But if you post at the wrong times, your content may never generate optimal results.
Identify your users' activity via a social media report
Fortunately, your social media report can help you identify when to publish content. View your chart of best days and times to publish based on when you're more likely to reach fans or when your followers are more likely to engage. You can also review your user activity chart to find out when your followers are most or least active.
Then adjust your publishing schedule to take advantage of the optimal times for your audience. Resist the temptation to stick to the same publishing schedule for months on end. Instead, review your best times whenever you produce a social media report to make sure you're always posting at the right time.
6. Boost Brand Awareness
Whether your company is large or small, increasing brand awareness can help you maintain consistent growth. But what's the best way to boost brand awareness organically?
Check your brand awareness score regularly to keep track of when social media users are talking about your company. Your brand awareness score can include mentions, shares, and branded hashtags. Those tools make it easy to see when your brand is in the spotlight.
Discover what increase mentions of shares for your brand
From there, you can find out what prompted those mentions or shares:
Did you publish a popular post that resonated with your audience?
Did a fan or a partner share your content and amplify your brand?
Identify what drove your biggest brand awareness gains — and find a way to incorporate these strategies going forward.
7. Join the Conversation
No matter what the niche, monitor conversations about your industry and other key business topics. After all, you want to join timely conversations and publish relevant content.
While you should include social listening in your daily management strategy, you can also use listening searches to shape your content calendar. Review stats for the listening searches you've created, and identify patterns:
Which of your search terms are the most popular?
When do the search terms appear most often—on a certain day of the week or month?
Are your search terms growing in popularity or losing steam?
Then use your analysis to inform your own hashtag usage. For example, you might phase out some less popular terms or publish content with certain hashtags on certain days.
8. Stay on Top of the Competition
Whether you want to generate more engagement, grow your audience, or meet other goals, you need to work toward key performance indicators (KPIs) that matter to your team. Yet it never hurts to keep an eye on your competitors. After all, you want to know if your competitors are outperforming your brand in a big way.
See what the competition is doing by using a social media reporting tool
To compare your brand against other major players in your industry, check your competitors' table. Review how you compare in terms of audience size, posting frequency, engagement, mentions, and other metrics.
Be sure to focus on the social media metrics most important to your team, such as engagement, mentions, or account growth. If your competitors regularly outperform your brand, check their pages to see how they generate such great results. Then consider how you could adapt some of their tactics for your brand.
9. Save Time with Your Social Media Reporting
If you want to customize your social media reports but don't want to spend each month building them from scratch, try Agorapulse's Power Reports. Save custom social media reports and schedule automatic reports from your dashboard—dare I say, "Set 'em and forget 'em?"
Learn how Power Reports can help you with your social media reporting.
In Conclusion
You don't have to let your social media reports focus solely on the past. When you analyze the data, you can create better social media content that can grow your brand and help you accomplish even bigger goals going forward.
Sign up now for a FREE demo.