Is social media reporting your least favorite task of the week, month, or quarter? Wish you could compile analytics more efficiently so you can share actionable insights with your team or clients?
Creating reports doesn't have to be as annoying or time-consuming as you might think. If it's a current challenge, you're not alone in the struggle. According to a recent Forbes article, client-facing data quality and also the measurement of PR are two of the 15 biggest challenges that agencies currently face.
With the right social media reporting tool, you can automatically pull analytics, benchmark results, and share takeaways that stakeholders will actually read and understand.
In this guide, we'll cover everything you need to know about social media reports—from essential analytics to efficient workflows. That way you can start creating social media reports that people will actually read—and like.
What Is a Social Media Report?
Social media reports collect and organize analytics from social profiles and marketing campaigns. Although some include raw data, most reports focus on visual displays—such as graphs and charts. Many also include marketers' insights and actionable recommendations.

For most social media marketers, the key to creating a social media report that stakeholders actually want to review is presenting the information in an understandable way. That means focusing on the social media metrics that matter to the organization and interpreting the data to give team members useful takeaways.
Why You Should Create a Social Media Marketing Report
A social media report offers tons of value for organizations of every size and in any industry. Take a look at a few of the most important reasons to create reports for your team.
Track progress toward goals
For most organizations, social media—like all marketing efforts—has its own set of goals and key performance indicators (KPIs). When you prepare social media reports, you can easily see whether you've reached your goals or how efficiently you're progressing toward them.
If you find that you've reached your social media marketing goals, you can suggest revised KPIs. That way, you can continue to move your organization forward and get value from your social media marketing efforts.
In contrast, if you find that you're struggling to reach your goals, you can suggest methods for improving performance or rethinking KPIs. For example, you might recommend investing more in content production or influencer marketing.
Establish performance benchmarks
Working toward specific goals is essential for most social media marketers. But in competitive or fast-paced industries, it's easy to become overly focused on one-off goals and lose sight of the bigger picture.
Social media reports can help you keep track of both current goals and long-term performance. Many social media report templates feature comparative overviews that show how your social media profiles or campaigns are performing compared to previous time periods.
Those comparative reports allow you to establish benchmarks for profiles and campaigns. They also allow you to keep social media performance moving in the right direction over the course of the year, even when you have short-term goals to achieve.
Discover top-performing content
Creating content that works with (rather than against) each social media platform's algorithm is essential for success. But if you aren't paying attention to what's performing well, you could waste time and resources on content that just doesn't work.
With a comprehensive social media report, you can easily identify top-performing content based on the most important metrics for your organization. In other words, you can use impressions, engagement, clicks, or other metrics to find your top content.
Using what you've learned, your social media team can create more of the content that works—and produce less of what doesn't deliver results. Then you can continue to make progress toward your goals while feeling confident about how you've invested resources.
Find out what and when to publish
Does your audience respond better to videos, photos, link shares, or text posts? In addition to showing you the topics your followers like best, social media reports can reveal the types of content that generate the best results.
If your team can't decide when to post content, social media reports can give you data-backed answers. Many tools can report on user activity, revealing the times of day when followers tend to engage with your content.
You can use these insights to make data-driven decisions about when to publish content. Then you can create a schedule for your social media content and reliably connect with the maximum number of followers.
Quantify return on investment (ROI)
Whether you manage social media for your employer's corporate accounts or for agency clients' profiles, you have to be able to demonstrate the value of your work. There are two key reasons why quantifying return on investment (ROI) is so important.
Your boss and your clients need to know what types of content and campaigns generate the most revenue for the business. With this information in hand, your marketing team can develop campaigns that align with business goals.
Knowing the value of your work can help you make a case for a promotion or for retaining a client. After all, if your social media marketing efforts have generated significant revenue, your boss or clients may be more likely to reward your work with promotions or contracts.

Different Types of Social Media Analytics Reports
The social media report category includes a wide range of formats and schedules.
Let's look at some of the most helpful kinds of reports you can create for stakeholders. Keep in mind that you don't have to limit yourself to just one. Instead, you can produce them all or combine some as necessary.
Angles
These types of social media reports focus on various performance aspects:
Audience reports focus on follower growth, impressions, and brand mentions
Content reports center on post engagement and content recommendations
Community reports quantify engagement and team performance
Competitor reports compare your profile's metrics to other brands in your space
ROI reports reveal the value of your content and campaigns
Timing
You can prepare reports at various intervals:
Campaign reports monitor performance for specific social media initiatives
Weekly reports track performance from week to week
Monthly reports summarize performance over the course of a calendar month
Quarterly reports help marketing teams track longer-term goals
Annual reports wrap up performance for calendar or fiscal years


10 Key Items to Add to Your Social Media Reports
Whether you're preparing a report for a social media campaign or for a certain time frame, it's helpful to include the key components below. If your boss or your clients prefer to focus on particular aspects—like audience or content only—you can omit irrelevant elements.
1. Audience growth
Is your social media audience growing, or have your accounts lost followers overall? Has your account growth been steady compared to the previous week, month, or quarter? Where have your new fans come from—organic content or paid advertising?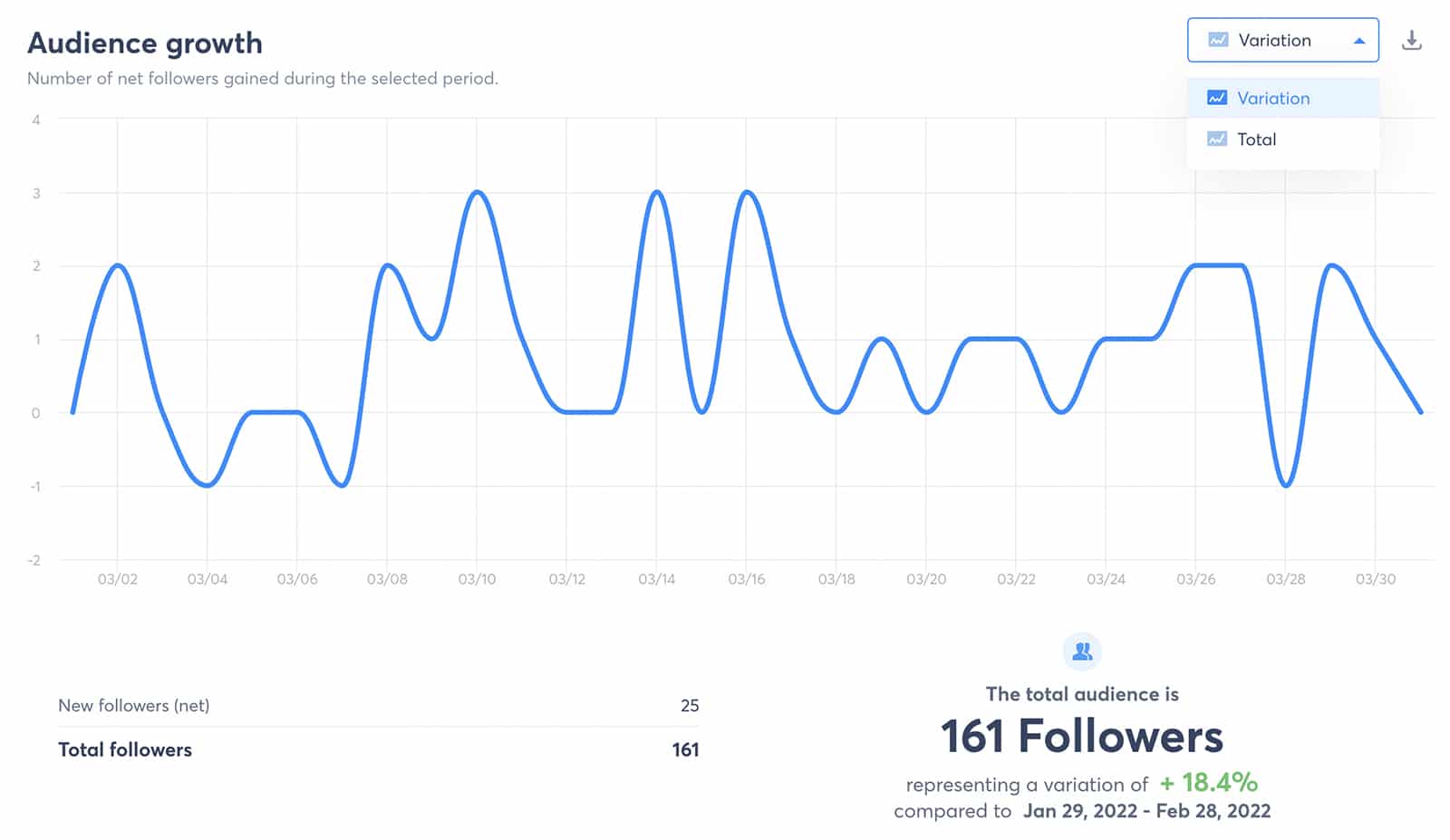 An audience growth chart can answer all these questions and help you stay on track toward your goals. When you use Agorapulse to prepare reports, you also have the option to view both total growth and daily variations.
2. Impressions and reach
Does your content have the reach you expected? How do your organic and paid impressions compare? Has your content generated any viral impressions?
By monitoring impressions, you can make sure your content is reaching your audience. Using what you've learned, you can determine whether to allocate resources to paid or organic campaigns.
3. Engagement overview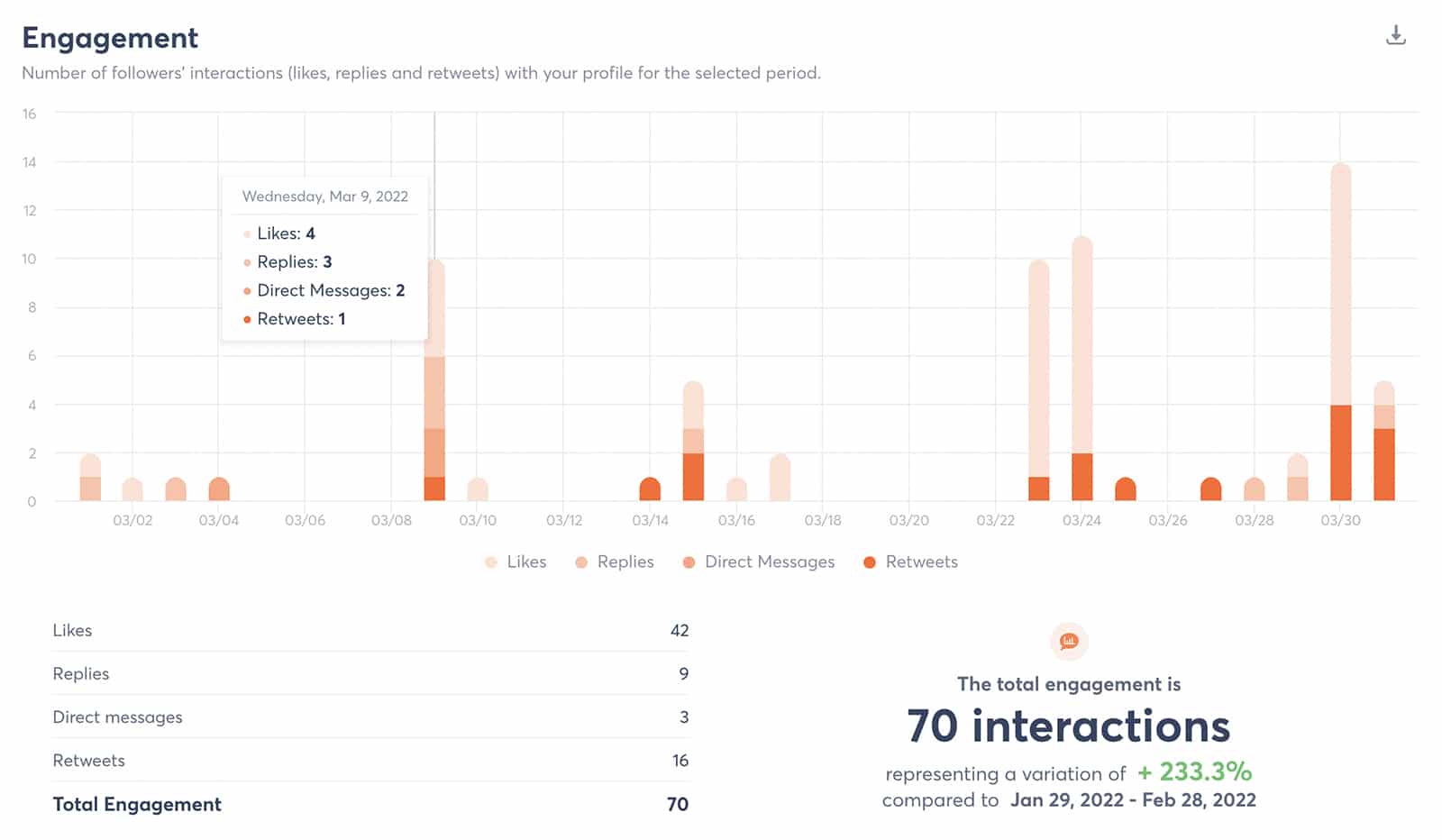 From likes and comments to direct messages (DMs) and shares, engagement analytics can help you ensure that your content is truly connecting with your audience. Agorapulse's engagement chart automatically breaks down follower interactions by type and day so you can easily see when and how your content resonated.
4. Top-performing content

Which posts are driving the most likes, clicks, or overall engagement? Agorapulse automatically identifies top content based on your preferred metrics. You can also use the content performance chart to sort by reach, engaged users, and other metrics that matter to your stakeholders.
5. Brand awareness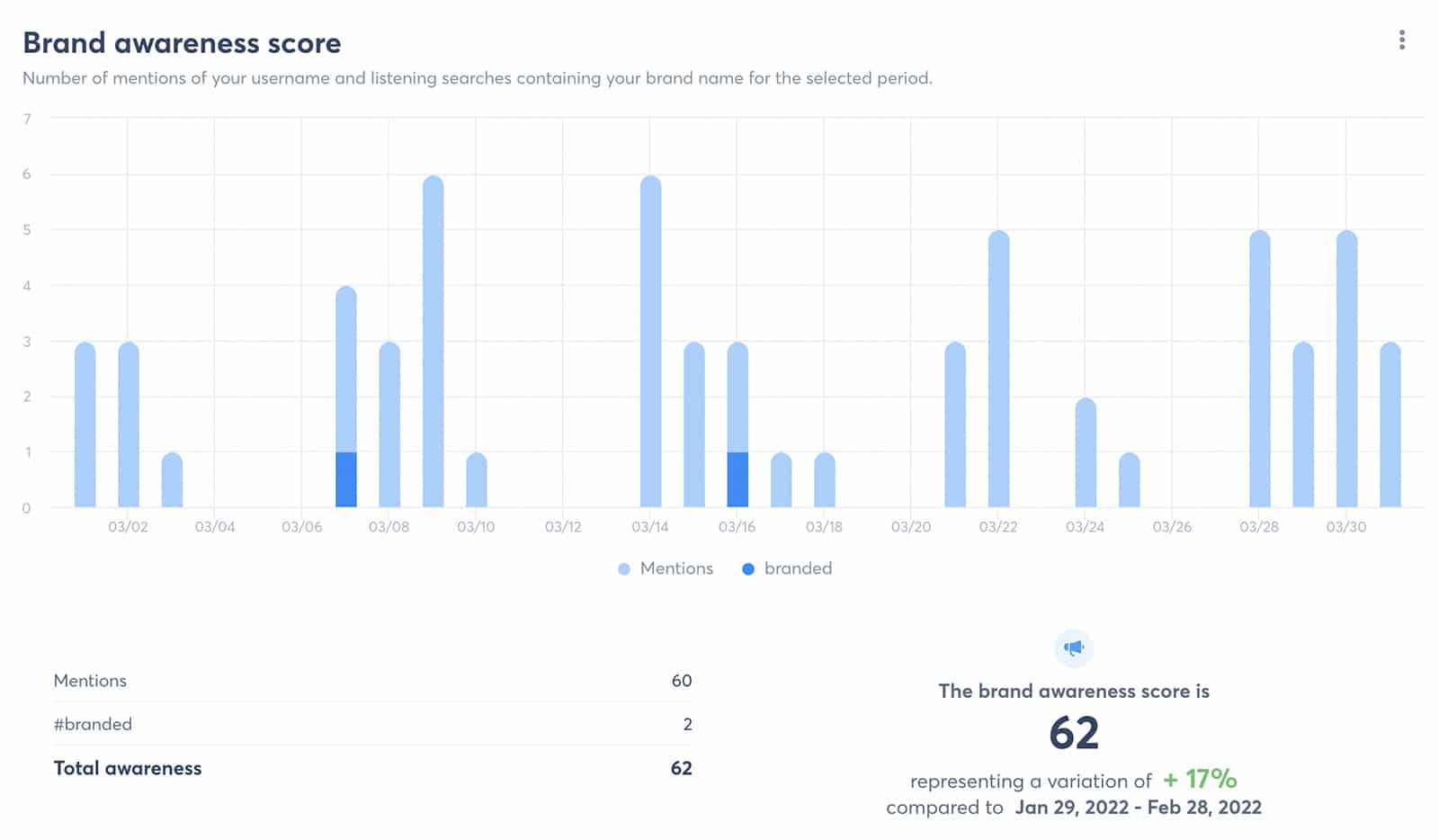 Are you successfully creating buzz around your brand on social media? When you monitor brand awareness, you can track the number of shares and mentions your brand has generated. Using the comparison tool, you can see how brand awareness has changed over time and maintain momentum.
6. Social listening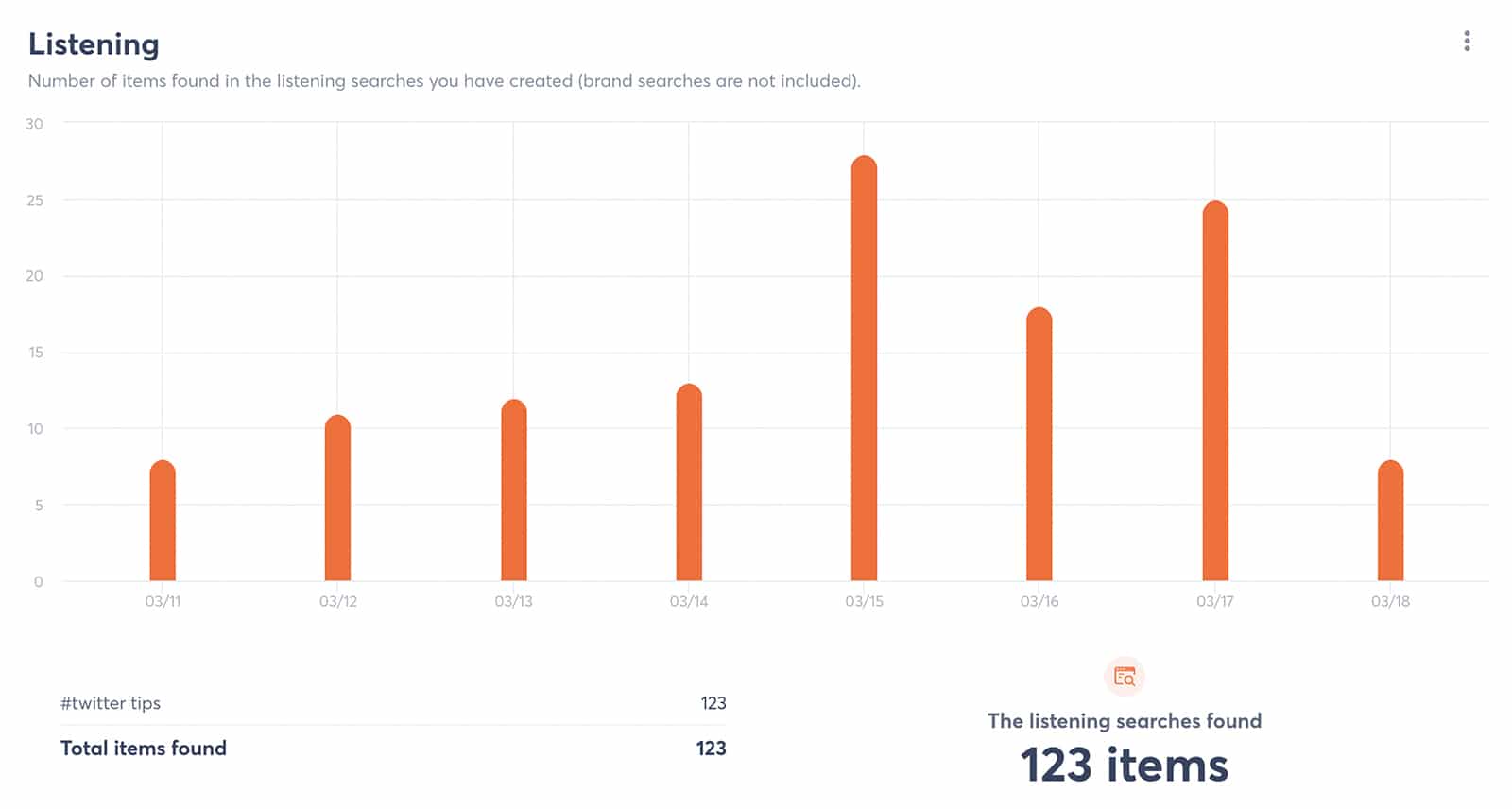 Whether you're running a social media campaign or keeping an eye on industry trends, social listening reports are critical for tracking hashtags. Add campaign, industry, or location hashtags of your choice to the social listening tab in your Agorapulse dashboard and track them in your listening report.
7. Hashtag interactions

How is your audience interacting with the hashtags on your content? With Agorapulse's hashtag chart, you can quickly assess which hashtags are driving the highest engagement rates so you can make smarter decisions about which to use with future posts.
8. Social Media ROI
With Agorapulse's ROI tracking tools, you can easily identify which content, campaign, or channel creates the most value for your brand. First, link your website's Google Analytics account and use Agorapulse's built-in campaign tracking tools to create UTM parameters.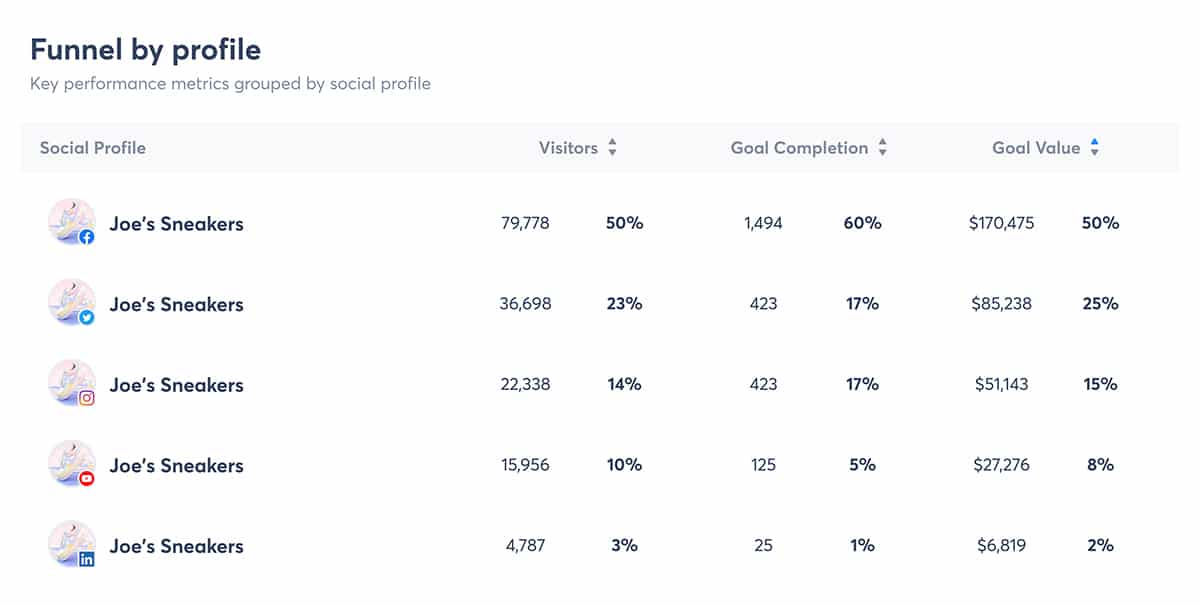 Then you can go to the ROI tab to monitor all visitors, transactions, and revenue generated by social media content. You can also view these metrics by channel, campaign, landing page, or even team member to gain even more insight into your highest-value efforts.
9. Recommendations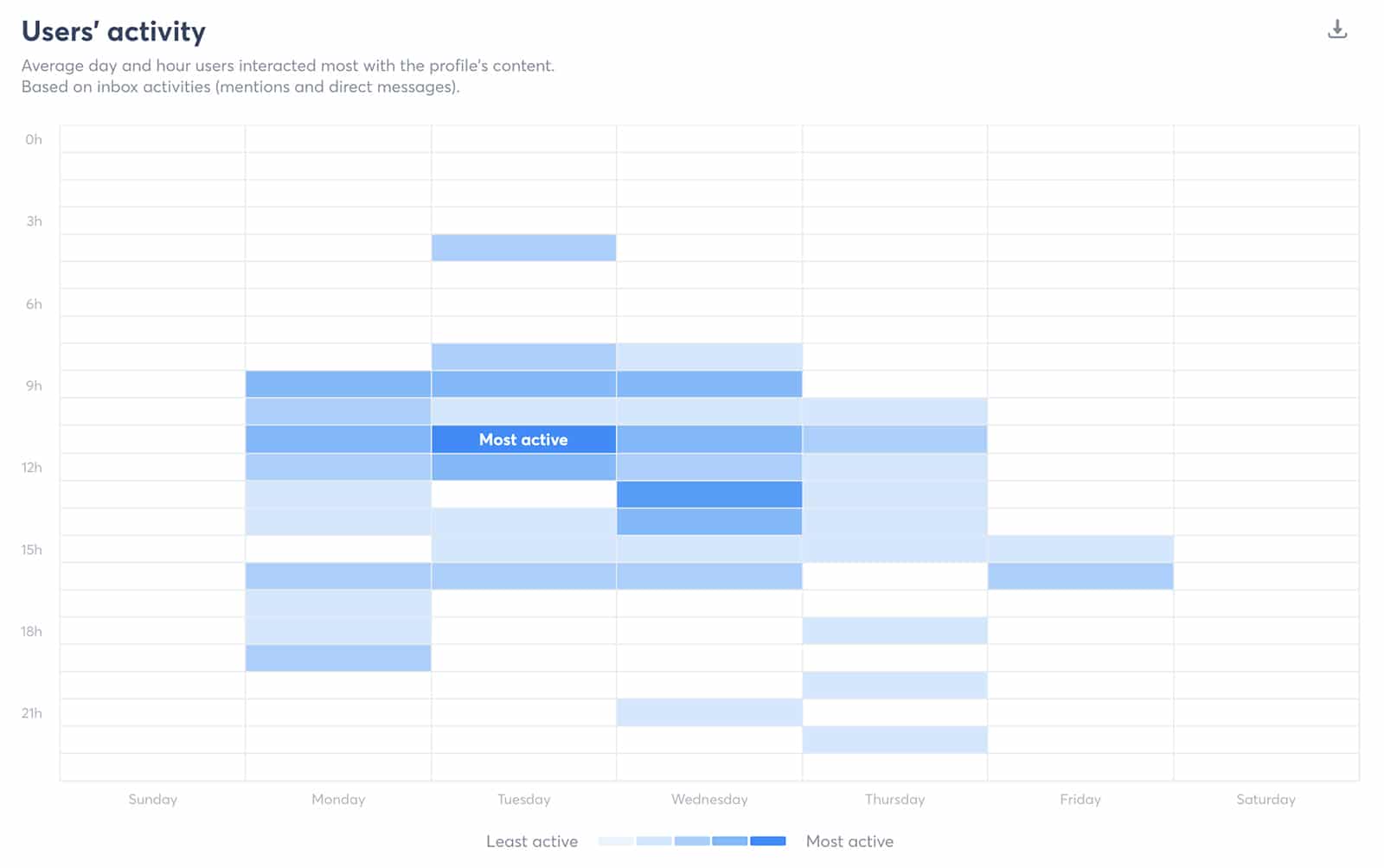 Using Agorapulse's publishing and user activity reports, you can make informed recommendations to improve social media performance. Find when users are most likely to engage with your published content or DM or mention your brand so you can time your posts and plan your real-time community management more effectively.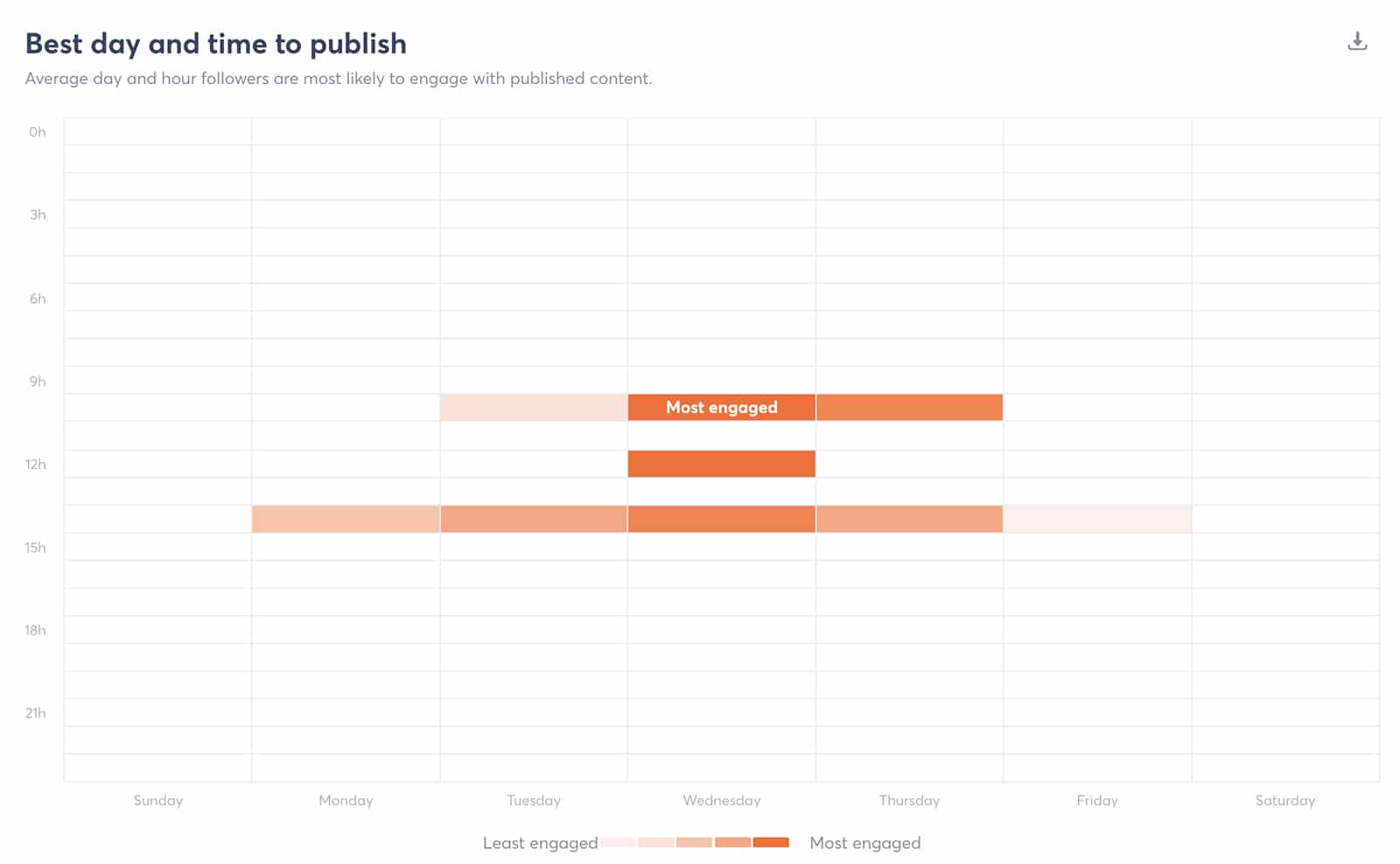 10. Insights
Once you've reviewed all the components above, it's time for the final step—your unique insights.
By reviewing your team's marketing goals and your profiles' performance, you can share your thoughts and suggest data-driven strategies for creating content, allocating budgets, or launching campaigns.
As a social media manager, you need a way to create social media reports efficiently.
Here are a few options to consider adding to your workflow.
Social media reporting templates
If you've ever tried to rely on native analytics from channels like Facebook or Twitter, you've probably found that it's impossible to download graphs and charts. Instead, you're stuck downloading data in spreadsheets—which you have to organize in a visual format.
An easy way to tackle this issue is to find a social media reporting template that works for your company or clients. Design apps like Canva can help. Search for a template in the app, modify it to work for your brand, and use it to generate a report every week or month.
Keep in mind that this will be incredibly time consuming – particularly if you are managing multiple clients and multiple accounts for each client. You will need to pull the data from each channel, put it into the template or spreadsheet yourself, do any calculations required, create graphics and charts, and still write your insights and recommendations at the end! There definitely is a much more efficient way to do things – but it requires using a third-party social media tool, rather than the analytics on each platform. But, once you see how much faster the reporting process can be, you won't ever want to return to using the native analytics, guaranteed.
Social media reporting tools
There are a number of options out there for social media reporting tools, but for the purposes of this article we will show you how Agorapulse reporting works because, well, we think it's pretty great. (But I will admit we may be a bit biased!)
If we had to pick some other tools that can be useful for social media reporting, we'd have to say that Google Analytics is definitely a must-have because it helps you track the entire buyers journey more accurately. And, by the way, you can integrate your Google Analytics data with the data in Agorapulse with click of a button.
But that's not the only reason we think Agorapulse is a great social media reporting tool…
Social Media Reporting With Agorapulse
As a complete social media solution, Agorapulse makes the reporting process easy. Take a look at how this social media reports tool can help you streamline your workflow creating reports for Facebook, Instagram, LinkedIn, Twitter, and YouTube profiles.
Automatic scheduling
Does your team need frequent social media marketing reports? You can save time by using Agorapulse's automated reports tool. In your Agorapulse dashboard, go to the social profile settings. Select a profile and go to the Automatic scheduled reports tab. Then click the Schedule new report button.
Give your report a name and choose the frequency. If you opt for a monthly report, it will automatically send on the second of the month. Weekly reports go out on Mondays.
Next, choose a format. PDF and PowerPoint reports are typically best for stakeholders, while CSV reports are better for team members who need to process raw data.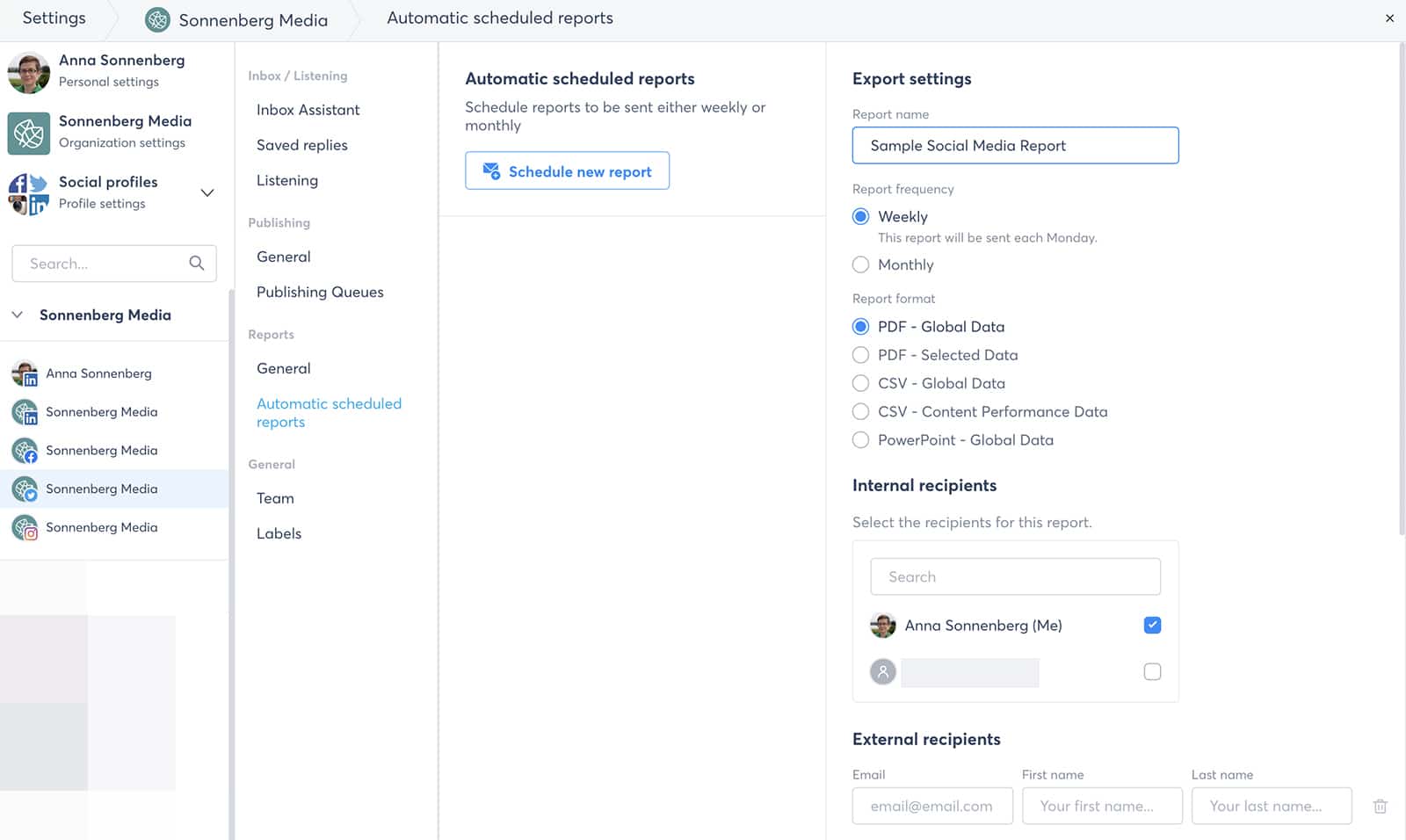 Then add all the recipients for the report. You can add any team members who share your Agorapulse subscription. You can also enter email addresses for external stakeholders like clients and colleagues in other departments.
Finally, configure the settings for the report, so it's easy for your team to interpret. You can adjust the time zone, date, and time format, and even when your weeks start.
When you're finished, click the Save button. Your report will automatically send weekly or monthly.
Do you want to review reports or add insights before sharing them with your team? You can always send reports to yourself automatically—and then forward them to your team along with your recommendations.
Publishing labels for campaign insights
Agorapulse automatically tracks all the content you publish on social media. But you have the option to create campaign reports that feature select content only.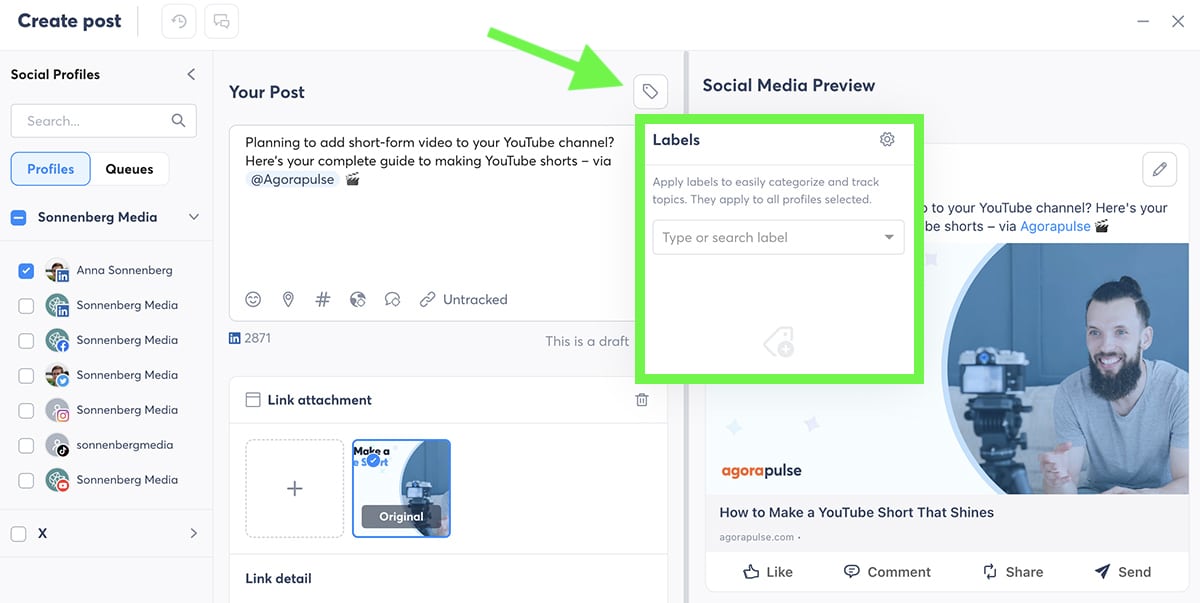 You can lay the groundwork for these reports by using your Agorapulse dashboard to add publishing labels. Then you can create a Power Report based on any publishing label to build a custom campaign report. (More about Power Reports down below!)
Team tracking for optimized performance
Looking for a way to incentivize your team or keep everyone on track? With a social media reporting tool, you can monitor performance automatically.
On the community management tab, Agorapulse automatically tracks the number of items each team member has reviewed and calculates their average response time. You can use these metrics to ensure your team is responding efficiently.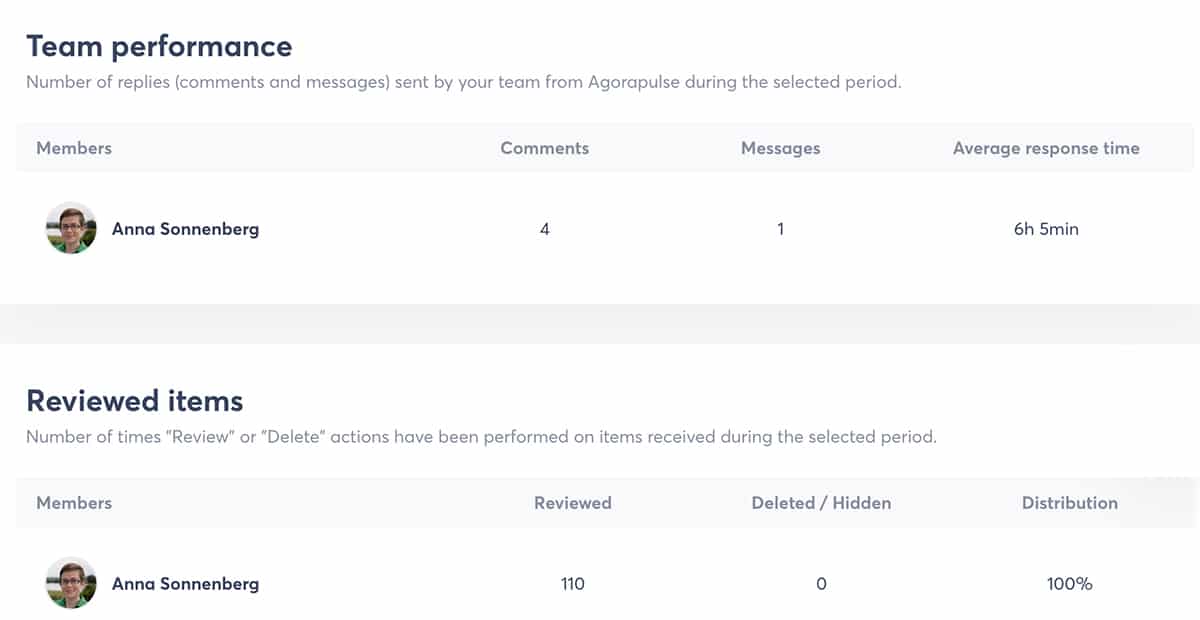 On the ROI dashboard, Agorapulse displays the website traffic and revenue each team members' work has contributed. You can use these metrics to see who's creating the most value for your company or clients.
Power Reports
Is your boss or client looking for specific data rather than a complete social media report? Agorapulse's Power Reports add-on lets you create a customized report format that includes only the analytics you need—without overwhelming your team with unnecessary information.
To customize your social media report, open the Reports tab in your Agorapulse dashboard. Click the Create a report button in the upper left corner. Then choose a social media reports template.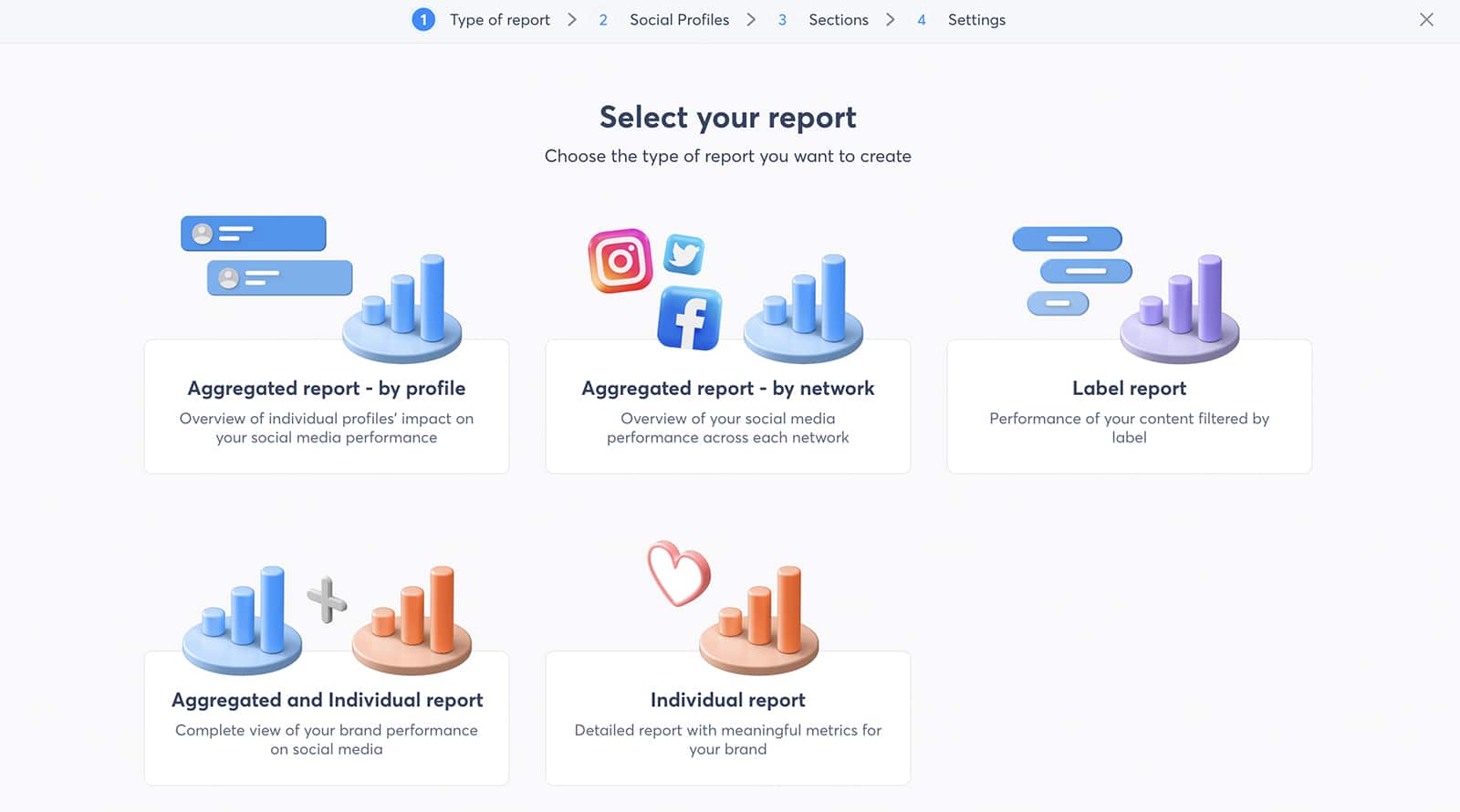 Note that for all custom reports, you can create custom titles and covers with company logos—which is especially ideal for agencies. You can also schedule custom reports to distribute automatically, similar to the workflow above.
Aggregated report by profile
When you want to see how certain social profiles have affected your brand's performance, this report can help. Choose at least two profiles, and then select the data you want to display.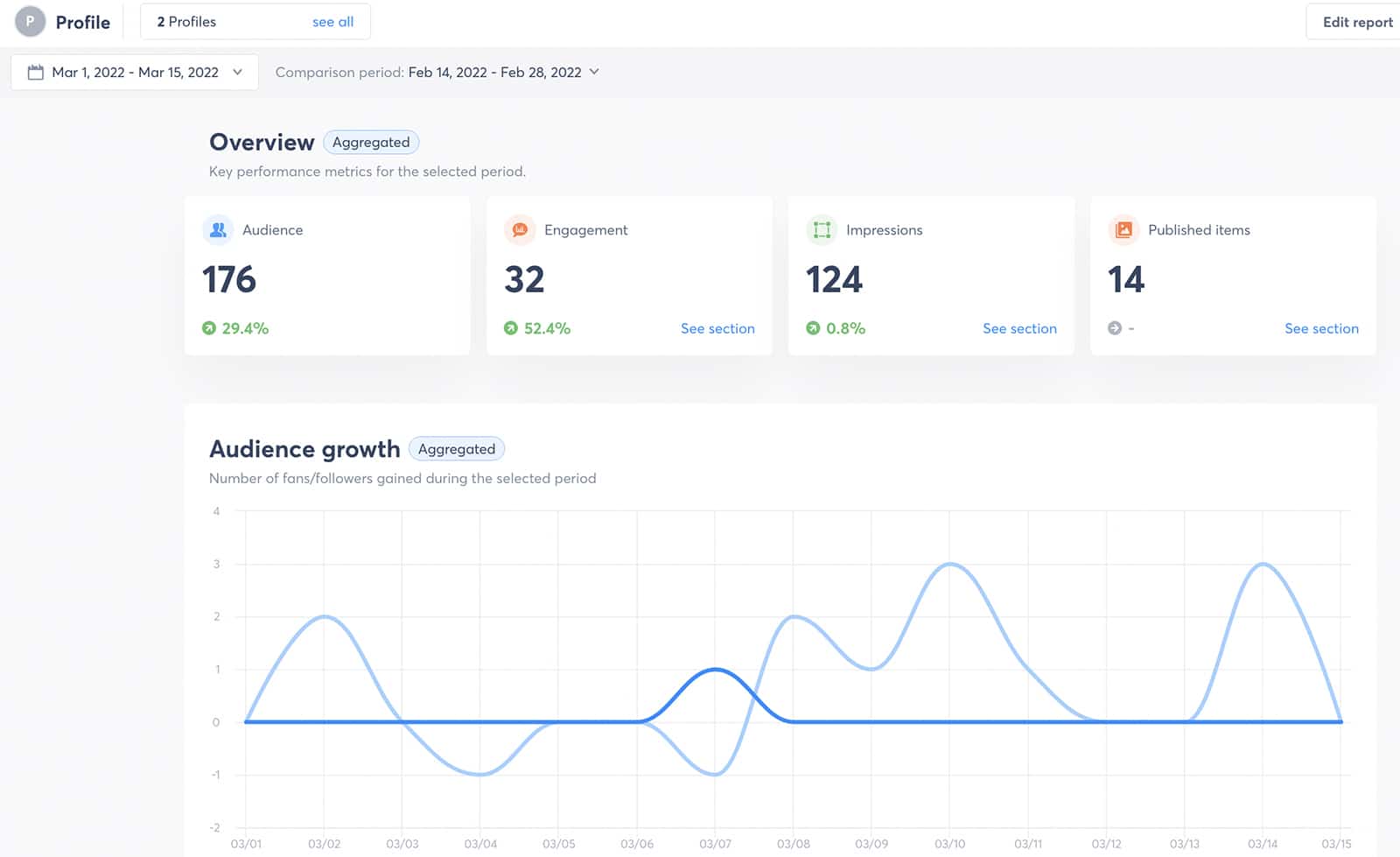 This custom report can show a complete overview of your social media activity as well as audience, content, and community management metrics. When creating this report, you can also choose how to determine top-performing content—based on reach or engagement.
Aggregated report by network
If you'd rather focus on the impact of certain social channels, choose this network-based overview instead. You can add up to 12 social profiles to this report, making it a great option for evaluating the overall effect of multiple profiles across a single channel or brand.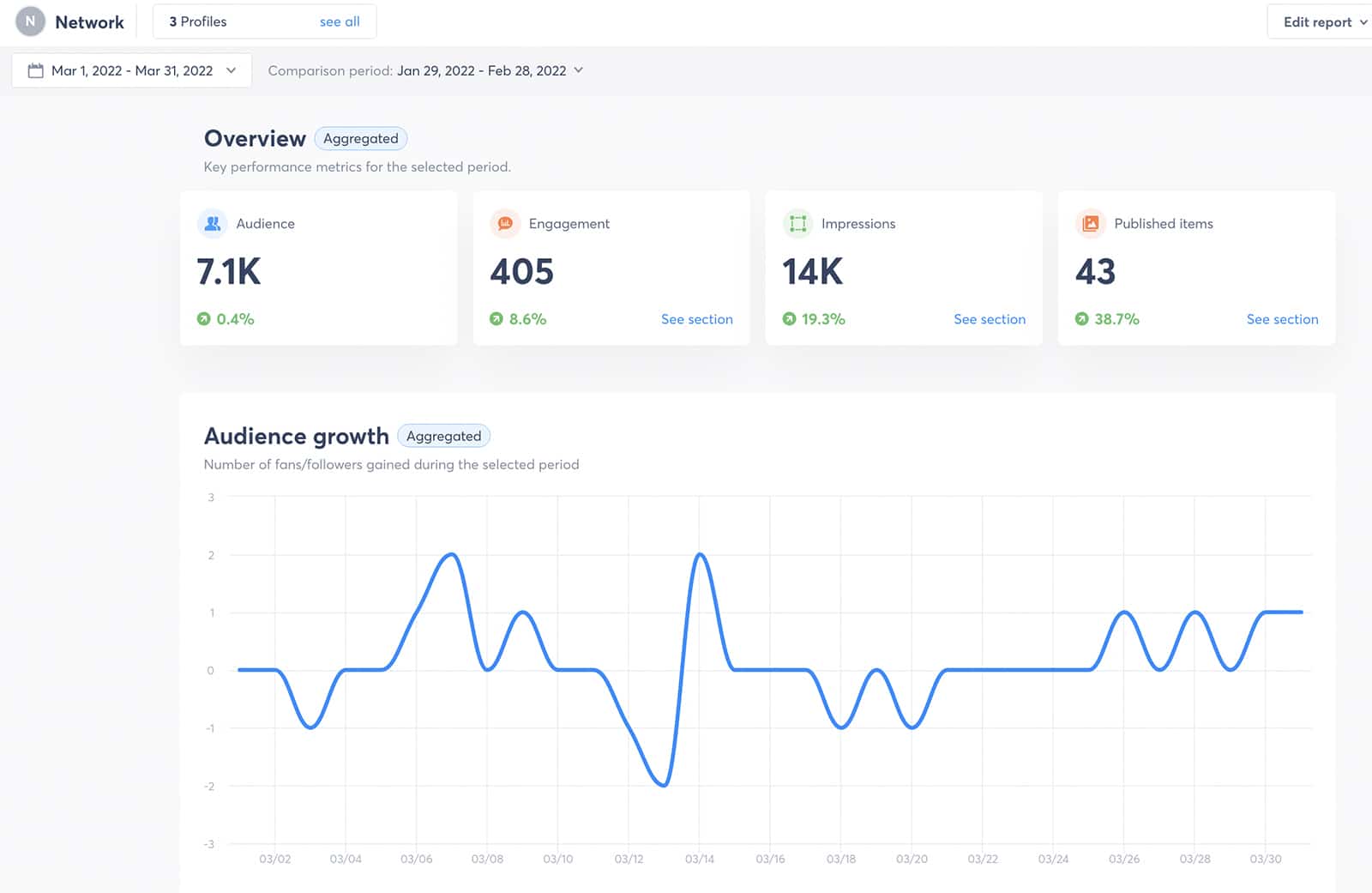 While the previous custom report breaks down analytics by individual profiles, this report shows the total impact of all selected profiles. Using this template, you can assess the total effect of your work—from audience growth and engagement to content and publishing.
Label report
Do you need to report on a social media campaign rather than preparing a complete performance overview? When you go to create a custom report, choose Label report and select the publishing labels to include.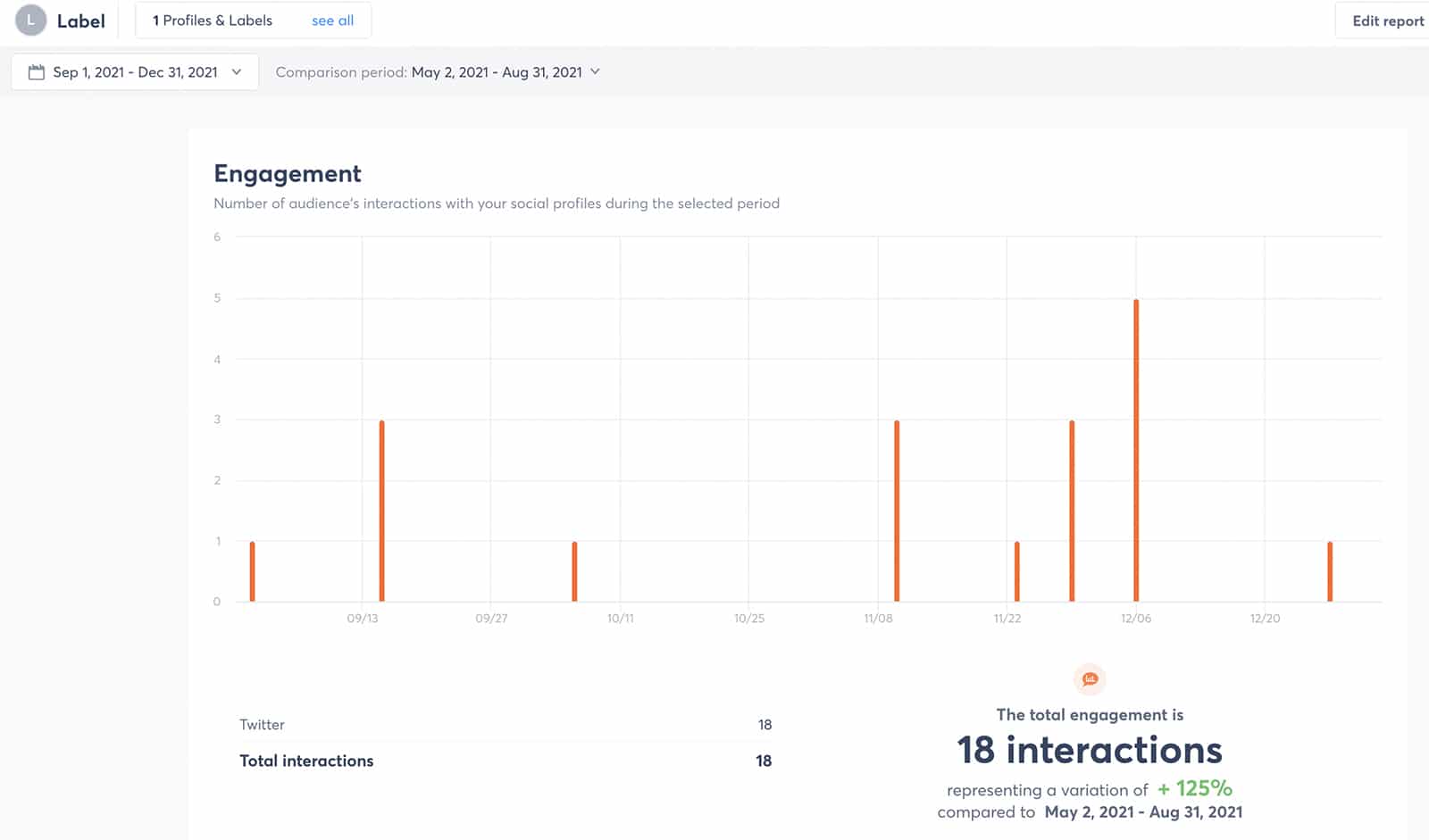 Note that you'll need to add publishing labels to the content you publish via Agorapulse prior to using this workflow. Then you can easily create reports that focus on certain content sources or marketing initiatives.
Individual report
To access detailed social media metrics for one or more profiles, choose Agorapulse's Individual report option. This option is similar to Agorapulse's standard reports, but with a couple of key differences. You can opt to omit certain metrics, and the entire report displays in a single, easy-to-scroll interface.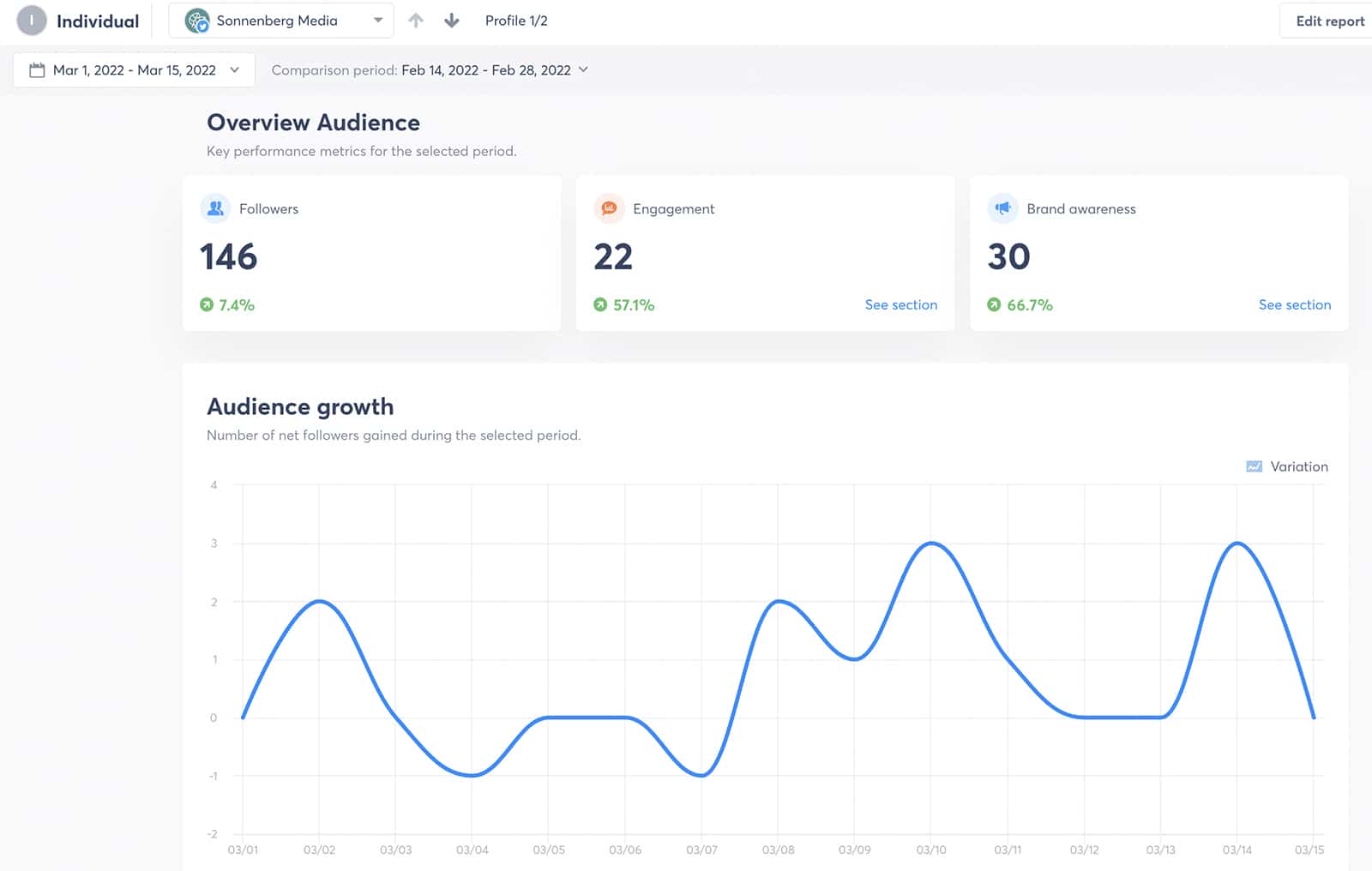 If you add more than one profile to the report, you can toggle between them using the arrows or the dropdown at the top of the dashboard. Like other custom Agorapulse reports, you can also schedule this one to send like clockwork every week or month.
Aggregated and Individual report
When you want to go completely custom, choose the Aggregated and Individual report. Select up to 12 social profiles and decide which aggregated and individual profile analytics to include in the report. Then use the dropdown menu to toggle between sections.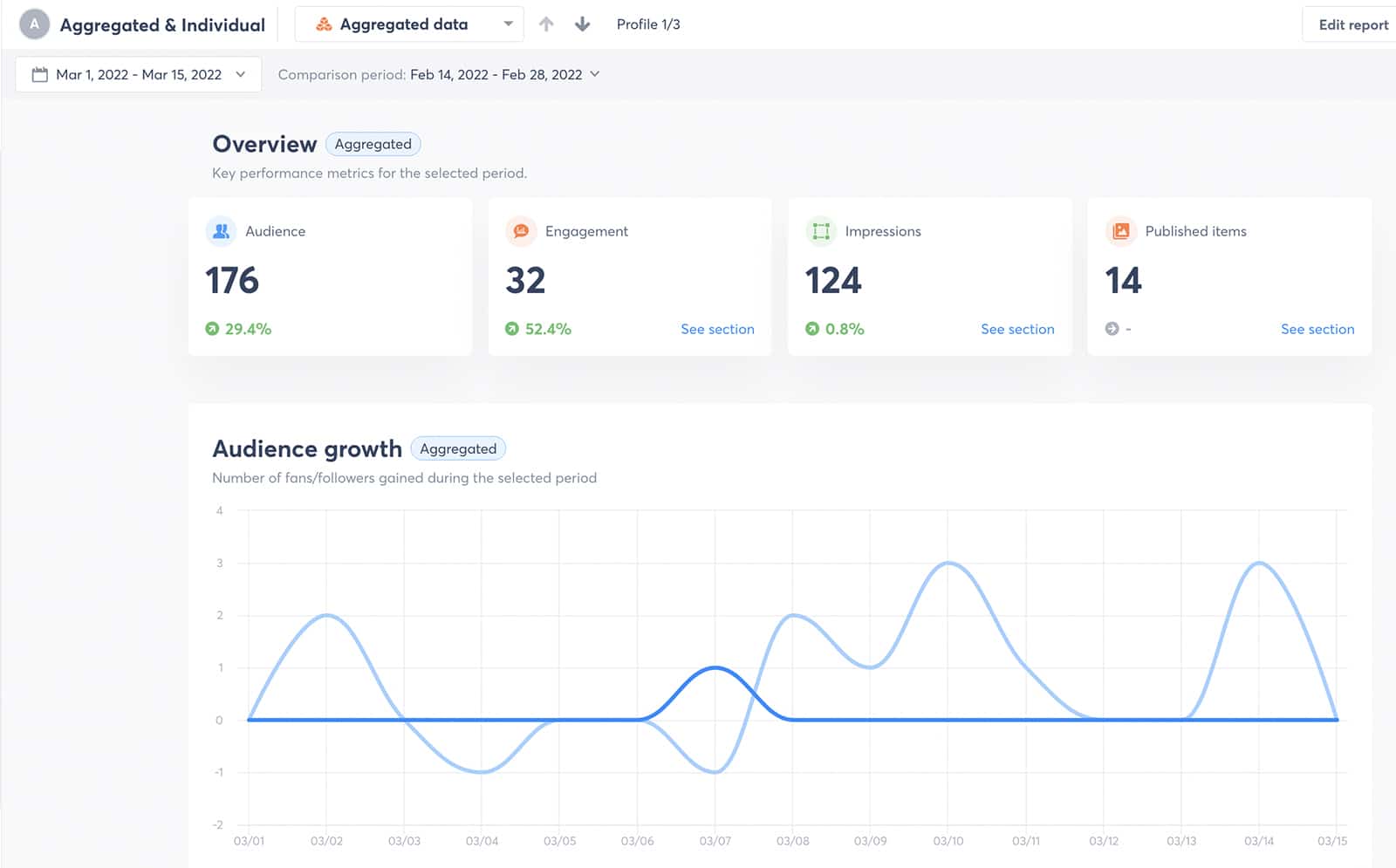 Like other Agorapulse custom reports, this option allows you to choose any comparison period—allowing you to compare performance across months, quarters, years, or other time frames. You can also use the export and schedule tools to share this report with your team.
Wrapping Up What We Learned About Social Media Reports
Manual reporting can be frustrating and arduous. But with the right social media reporting tool, you can access analytics automatically, customize output as necessary, and even schedule ahead for added efficiency.
When you automate much of your social media reporting process, you can devote more energy to analyzing reports, making informed decisions, and developing smarter strategies that make a measurable impact on your company or clients.
Whether you need a simple report or a complete overview of your brand's social media performance, Agorapulse can help. Create and schedule standard summaries in seconds or use the Power Reports add-on to customize social media reports for your boss, clients, and other essential stakeholders.
Check out our free DEMO to see how Agorapulse can help you schedule, track, and measure all your social media efforts.